Episode 93
What you'll learn in this episode:
Why jewelry is a fascinating part of our daily rituals

How Raïssa developed her earring subscription program, and why it's a viable way for jewelry artists to make steady income

What Art Jewelry Forum is, and how it has helped Raïssa and other jewelry professionals and enthusiasts learn and connect

How a developing a studio practice is similar to cooking
About Raïssa Bump
Born in 1980, Raïssa Bump earned a BFA in metals from Rhode Island School of Design in 2003 and studied jewelry with Giampaolo Babetto at Alchimia in Florence, Italy. She has been actively involved in the contemporary jewelry field and is well versed at making both intricate one-of-a-kind pieces and beautiful edition collections. Raïssa's work is collected widely and has been included in various Lark Book publications and in the pages of Metalsmith magazine. She exhibits with galleries such as Sienna Patti Contemporary, teaches workshops at Penland School of Crafts , Haystack Mountain School of Crafts, Arrowmont School of Arts and Crafts, and is on the board of Art Jewelry Forum. Raïssa grew up in the Hudson River Valley and currently lives and works in a storefront in San Francisco, CA, with her husband Jonathan Anzalone.
Additional resources
Photos: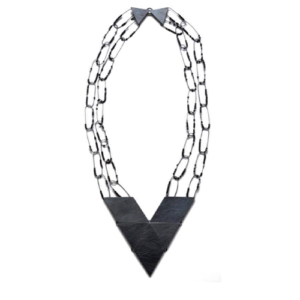 Triangle and Diamond V Necklace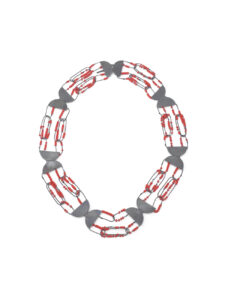 Triangle Drop CONSTELLATION Necklace
sterling silver, glass beads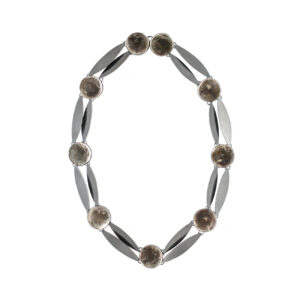 Catcher Mica Necklace- Sterling Silver, Mica
Mica used is a composite mica which is a combination of two natural substances: the mineral mica and shellac (a resin secreted by the female lac bug). Resulting mica is unique in color, I use a greyish smoke and a golden color. Please understand that part of the beauty in working with any kind of mica is its one-of-a-kind nature. Each disc is slightly different than the next.