Episode 191
What you'll learn in this episode:
How Melanie discovered that classic pearls could be seen in a new light.
Why younger people, especially men, are embracing pearl jewelry in a new way.
How Melanie's collaboration with Tasaki broke barriers for Japanese customers.
The difference between types of pearls, and what it's like to work with them.
How launching her brand right after art school gave Melanie a crash course in the jewelry business.
About Melanie Georgacopoulos
With a background in sculpture, jewellery designer Melanie Georgacopoulos works with materials in new ways to release their potential and stimulate new interpretations. She began her exploration of the pearl during her Master's degree at the RCA in 2007, after which she worked as a freelance designer under Antoine Sandoz for major international brands, before establishing her eponymous label in 2010.
In Melanie's work the paradoxical, intriguing nature of pearls and mother of pearl is at the core of every piece, whilst the aesthetic remains simple, structured and timeless. She continually strives to challenge the existing preconceptions of these organic materials and that of traditional jewellery design itself. It is this unique approach which has given her the opportunity to showcase her pieces regularly at fairs, exhibitions and galleries worldwide.
Melanie became well known internationally for her work with pearls, leading to her collaboration with TASAKI, which began in 2013. Directional line M/G TASAKI was born, marring Melanie's flair to cross design boundaries with the Japanese jewellery company's world renowned craftsmanship. Following the huge success of the seasonal collections Melanie was appointed Head Designer for M/G TASAKI in 2015. She has been a visiting lecturer at Central Saint Martins for the last four years whilst she continues to create her own collections and one-off pieces for special projects.
Additional Resources:
Photos: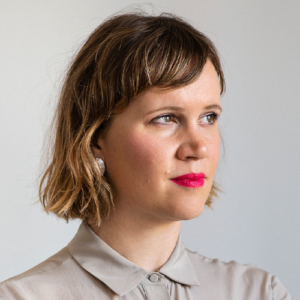 Portrait by: Kasia Bobula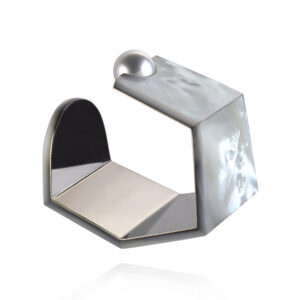 Melanie Georgacopoulos 'Exposed Pearl Nacre Bangle' 18ct white gold with white mother of pearl and 13mm white South Sea pearl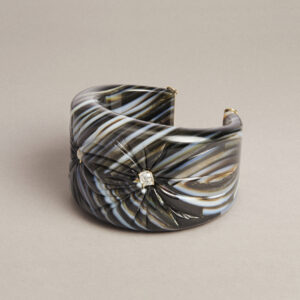 Melanie Georgacopoulos 'Diamond Fishbone Bangle' Recycled 18ct yellow gold with peacock mother of pearl and old mine cut diamonds (2.12cts)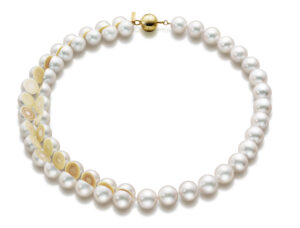 M/G TASAKI 'Sliced Necklace' 18ct yellow gold with white freshwater pearls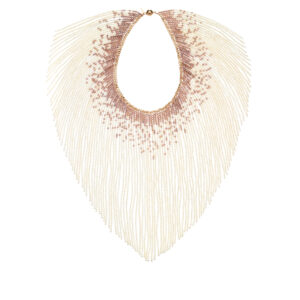 Melanie Georgacopoulos 'Palm Tree Necklace' Rose gold plated sterling silver with 3mm white & lavender freshwater pearls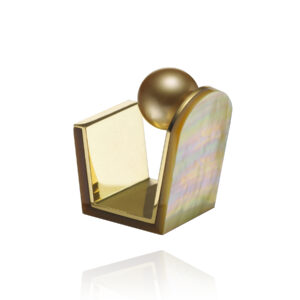 Melanie Georgacopoulos 'Asymmetric Nacre Ring' 18ct yellow gold with golden mother of pearl and 13mm golden South Sea pearl
Transcript:
Melanie Georgacopoulos has done a few things to pearls that would make an old-school pearl lover gasp. She's cut them, drilled them and combined them in taboo ways, but the result is elegant, modern jewelry for a new generation. She joined the Jewelry Journey Podcast to talk about her collaboration with Japanese pearl brand Tasaki; which types of pearls she loves to work with; and why she didn't appreciate pearls until she saw what was inside. Read the episode transcript here.
Sharon: Hello, everyone. Welcome to the Jewelry Journey Podcast. This is the second part of a two-part episode. If you haven't heard part one, please head to TheJewelryJourney.com. 
Today, we're talking with Melanie Georgacopoulos. Melanie occupies some unusual niches. She's a specialist in designing with pearls, which is very unusual. For those of you who are listening who think that pearls are too old-fashioned or too formal, she has really changed the way pearls are viewed. She lives in Hamburg but has her office in London. She's also the Chief Designer for a collaboration with a Japanese company, Tasaki. Welcome back. 
Do you work with pearls in all colors?
Melanie: Absolutely. This journey over the last few years has also been a journey for myself. I also started with this idea that there are only white, round pearls out there, and that's not true. There are Tahitian pearls, South Sea pearls, Akoya pearls. There's a whole world of natural pearls. There are different shapes, different sizes. Some are extremely rare, like conch pearls or melo pearls. Some are very common, like freshwater pearls. 
During this journey of discovery for myself, I've tried to launch some collections which focus on a certain kind of pearl to highlight it. For one of the collections I did, the Nacre Collection, I paired a pink pearl with a pink mother of pearl in way that's like the return of the pearl to its oyster, or a golden South Sea to the golden sea mother of pearl shell. Sometimes I'm sent messages through Instagram by suppliers or pearl farmers who say, "Hey, have you seen this? Do you want to work with what I make?" I'm like "Wow! This is new to me." I've been working with pearls for 10 years and it keeps on giving. I find that fantastic.
Sharon: Do you have a favorite pearl? Do you think one is better than another? Is a South Sea pearl better or easier to work with than an Akoya? 
Melanie: I don't think there's a better one. In terms of value, of course the more expensive the pearl, probably the better it is for investment. Another common thing I've heard said is that at the end of the day, you just have to like what it is you're buying. You want to wear it. You don't want to necessarily buy it and put it in the safe because you're too scared to wear it or use it because it's something too valuable.
I really enjoy working with South Seas because they are so large. I've almost finished a bracelet which has a mix of Tahitians and Akoyas, and it's black and white. So, I'm mixing different kinds. The challenge with pearls is that they don't all come in all the sizes and the colors you want. So, depending on the size or the color you want for a design, you have to get it from a specific place. A lot of times, people don't mix a Tahitian pearl with a freshwater pearl because it's not considered to be right. You just have to use Tahitians or you just have to use freshwater. Because I'm very design-led, I will say, "No, if I want to have a pearl graduation from a two-millimeter pearl to a three-millimeter pearl, then I'm going to mix the pearls." But color-wise, they're going to look exactly the same and they're going to match together. So right now, it's definitely South Seas, but ask me next year. I might have a different answer.
Sharon: I want to know where you find a three-millimeter pearl. That's a big pearl. 
Melanie: You wonder if it's hiding something inside. 
Sharon: Do people come to you and say, "Here are my grandmother's pearls or my mother's pearls. I want something different made out of them"?
Melanie: I have that too. They're probably the most challenging pearls to work with because first of all, they're very sentimental to their owners. It's the one thing you can't throw away, but you also don't want to wear it and you don't know what to do with it. A lot of those poor pearl necklaces stay in boxes, and it's challenging to say to someone, "Can I drill that necklace? Can I change it quite a bit? Are you sure, or do you want to keep it original the way you inherited it?" 
But I have some great clients that text me photos and are like, "Oh, I have this necklace and I don't know what to do with it. Maybe you have an idea." Then I say, "O.K., but then you have to tell me who you are," because it's designed for them. It's not even a piece they chose to buy themselves. It's something they inherited. They never decided, "This is the pearl size I like or that suits me." A lot of times, I need to add or change it quite dramatically so they can incorporate it into their daily life and feel that it's part of them. But I love those challenges, I have to say. I invite those challenges. I learn a lot from them.
Sharon: Do you look at a necklace and see what it could be?
Melanie: I have to get the measurements. This is the age of digital now, which means photos. I ask them to take a photo of the necklace next to a ruler so I understand how big it is, how long the necklace is or how big the pearls are, because you're not going to ask a person you've never met to send you their pearl necklace. We have a lot of conversations before anything actually happens. I need to understand what their budget is—that's also important—and what their expectation is. Sometimes they want a bracelet; sometimes they want earrings. So, we need to discuss that. Then see what I can actually do with the piece they have, because sometimes they have unrealistic expectations. I have to rein them in a little bit.
Sharon: When you say unrealistic expectations, do they expect you to make the pearl larger when it's really small?
Melanie: Yeah, I think sometimes they have an idea of a pearl necklace or a piece of jewelry, a bracelet, and that's not possible with the pearls from the necklace they have. So, we either need to add pearls, or we need to start fresh and use the existing pearl necklace for something else.
Sharon: You also mix gold and other things with your pearls. You had a couple of necklaces with gold woven in.
Melanie: Yeah, I use gold, 18 carats. I also use diamonds. I've worked with sapphires before, anything really. I used silver chains at the beginning. A few years ago, I was doing larger pieces, so it made more sense to use silver. I used palladium at some point. 
You can't do everything with everything. The best thing is to figure out what you want to make and then the best way to make it. Sometimes it's a question of cost. Sometimes it's a question of what the client wants. Sometimes it's what I want the design to be and how much I'm willing to compromise, but at the end of the day, it needs to be a piece of jewelry that can be worn and enjoyed. That's when the piece of jewelry really becomes alive.
Sharon: So, you have your own brand and your Tasaki collection. That's a lot of designing. 
Melanie: Yeah, I love it. I'm really lucky. It's exactly what I wanted. 
Sharon: Have you ever been approached by other places who see what you do with the pearls? Do they say, "Hey, that's really different. Why don't you come do it for us?"
Melanie: Yes, but so far, my relationship with Tasaki is working so well that I don't need to look anywhere else. I'm also not greedy. I'm very loyal. I want this to run its course, until whenever it's meant to go, and see what happens. Obviously, there are elements I can control, and that is how much I love to work for them and how good the designs are. There are a lot of cultural, social, political elements I can't control. There's no way to know when this is going to end or slow down, but for now I haven't found another partnership that has offered me the degree of freedom I have and the satisfaction I get from seeing the M/G Tasaki pieces on demanding Japanese clients. 
Sharon: Has anybody ever brought you a whole bunch of conch pearls or melo pearls or natural pearls and not realized what they had?
Melanie: Not yet. I think that's part of my wish list, that someone comes with a suitcase full of conch or melo pearls and says, "How much are these strange-looking pearls?" I would send them straight to the bank or to an auction house. I think it's the age where more people know what they have because they're able to find a lot of information on the internet. I think more and more it's the sentimental aspect of what you have. Of course, if you are a millionaire, then it's different, but I'm not. I think a lot of times, we cherish things that have no monetary value, but they're highly, highly sentimental. So, we'll see. Maybe someone does have one. 
Sharon: Do they bring natural pearls to you?
Melanie: Some do, yes. They have natural pearl strands, but the pearls tend to be quite small. They were made at a different time. A hundred years ago, you didn't have access to cultured pearls. That trend had just started. So, there are still people who have inherited a small, thin strand of natural pearls.
Sharon: You won a prize for the Diamond Fishbone Bangle, which I thought was gorgeous. Tell us about the prize and how you heard about it. Can you wear this bracelet with the mother of pearl? It looks very fragile. That's what it looks like.
Melanie: It's not as fragile as it looks. No one really goes around banging their hands when they're wearing jewelry. I think you're a bit conscious when you wear something. Even when you're wearing a nice pullover, you're not going run your arm on the wall. You're a bit more self-conscious. The prize was great because it's a wonderful group, the Cultured Pearl Association of America, if I'm not mistaken, and Jennifer Heebner is the executive director. We've been in touch with her. It's a great recognition. It's always nice when your peers recognize something good you've done. 
Recently I got another award in London from the Goldsmiths, which is a very old institution. They awarded my lapidary work. I submitted a bangle made of mother of pearl which was carved. I had two old mine-cut diamonds inserted and set with gold prongs. I think they recognized the audacity and the search to present something new. This is how I took the award, and it gives me energy to carry on what I do. But I get the award and then the next day, I still wake up and take my kids to school. Life goes on very quickly after the awards, but it's still a nice recognition.
Sharon: Why did you name it the Diamond Fishbone?
Melanie: Because I'm not very good with names of jewelry. I always try to stay quite close to reality. Because the sheets of mother of pearl are layered in a fishbone pattern, I thought I would name it the Fishbone.
Sharon: I see, O.K. Originally, I thought, "Why is it a fishbone?" Did the prize make any difference in what you do?
Melanie: If it had been accompanied with a check of $500,000 U.S. dollars, it could have made a big difference. I could have bought some conch or some melos. No, it doesn't really, but it's a nice recognition. Unfortunately, they don't come with monetary prizes, which would be nice, to be honest, because it's nice to get that kind of support. But it's already a really nice accolade. That's why I entered last year also, and that's why I try and present work to these awards. I think it is important that other people become aware of the work I do. I think it's quite inspiring to students to see that these pieces are possible to make and that someone is doing them.
Sharon: Some people feel like they entered and didn't win, so why are they going to all this trouble? Do you feel that way at all?
Melanie: No. I entered the Susan Beech Award recently over Christmas. I spent a big chunk of my Christmas writing that proposal. I didn't get shortlisted, and that's O.K., but that was quite a difficult entry for a competition. You have to write down the budget, and it was a lot of work. It wasn't just, "Oh, I'm submitting a photo and the dimensions of the piece." 
Sometimes someone comes a few years later and says, "Hey, I was part of the award panel, the judging panel. You didn't get it, but I still remember that piece you did. Maybe you want to do something now." So, even if the result is not immediate in that I might have expected to win the award, other things are happening in the background that I'm not necessarily aware of and which might surface a few months or a few years later. So, it's a process. It's not really about winning. It's more about making steps, connecting to people, being active and not expecting things to come to me. I really see it like this.
Sharon: I have questions about several things you said. I read this on your website or Tasaki's website; I don't remember where. Actually, I remember a couple of things. You talked about a statement piece. I happen to like statement pieces, but every time I look at statement, they're not my kind of statement. But you had really different statement pieces, so I thought, "Well, that's interesting." You described pearls as gems. Do you consider them a gem of sorts?
Melanie: They are officially gemstones.
Sharon: Are they?
Melanie: Yeah, they are classified as gemstones. There are other organic gemstones such as coral, but there was a time when pearls were considered the only organic gemstones. That's why I also call them gems. I think the way they're made is fascinating, because even if they're cultured—most pearls are cultured these days—you still need a little oyster to do the work for a couple of years to get one. Of course, the oyster is inseminated, but you still need that little animal to do this. For me, this is magical. It feels like a gem anyway because it is precious, but I think officially we call them gemstones.
Sharon: I don't think of them as gemstones, but that's interesting. What I was surprised at was that you developed cufflinks for men. Not many people design jewelry for men. What does that do for you?
Melanie: I think this is a sector which is going to grow. I think more and more men are interested in their appearance. You see the cosmetic industry growing. Fashion, of course, is growing. If you look at red carpets, the Oscars, you see more and more men wearing not only jewelry, but pearl necklaces. That has happened in the last year, year-and-a-half. It's always the classic white pearl necklace, because I think this is the contrast they're looking for in terms of cultural significance. I don't know if it's going to progress into different kinds of pearl jewelry, but there is a lot of interest from men now to extend their style into jewelry, and cufflinks are quite a big part of how they dress formally, although not in their everyday lives necessarily.
Sharon: I have been told that men collect cufflinks. My husband doesn't wear them, but I have been told that men do collect cufflinks. You're very international. Is it that your dad is Greek and your mom is Greek and French? 
Melanie: My dad is Greek. My mother is French. Now I am married to a German, hence living in Hamburg, and my brother lives in Switzerland. We're still European, so I guess not that international, but it's interesting to grow up with two languages. It's the same as my kids now, growing up with two languages and just being open to the world.
Sharon: So, you learned French before, and then you learned English just by going to school and learning?
Melanie: Yeah, English is the first international language taught in Greece. From the age of seven, I learned Greek at school. Then when I was able to study in Edinburgh, that's where I really learned English in the sense of everyday life. Now I've learned German, so I speak my fourth language.
Sharon: Wow! How does it happen that you have a London office? You live in Hamburg, but you have a London office. How did that come about?
Melanie: That is because after I finished my studies at the Royal College of Art, I stayed there. I had my office and my business, and when we moved to Hamburg seven years ago, I decided to keep that. Moving to Hamburg was for personal reasons, and it made sense to keep all my contacts and my clients and my business where it started. Of course, there was Covid in between, but now what I'm trying to do is grow the German part. The business in London is still there. I have someone working for me there. 
I'm able to fly quite often now after Covid, and now I'm in the process of looking at what kind of fairs I can do here in Hamburg. Of course, in Munich, there is a very big jewelry scene. I was at Munich Jewelry Week last week. I think there's a lot to do in Germany because there's a lot of jewelry manufacturing, and there are a lot of jewelry artists and practitioners. I haven't had the opportunity to connect with this part of my life here in Hamburg yet, but I'm in the process of doing that now. It's exciting.
Sharon: Were you unusual in that you opened your business right after school, right after the Royal College of Art? 
Melanie: I don't think so. That's a positive and a negative, but if you finish a college like Central Saint Martins or the Royal College of Art, you are expected to be a designer or to start your own practice. I say it's a negative because a lot of times you're not encouraged or not given the possibility to work for other people so you really learn more about how a business is run with all the steps. You're supposed to start everything from scratch by yourself. Obviously, this has its own challenges, but I think lots of us started our own brands straight after. Of course, over time, some people do end up working for others, and some people continue to do their own practice like I have.
Sharon: That's very hard. Did you have business classes in school?
Melanie: No.
Sharon: No, nothing.
Melanie: After all the possible mistakes—and I'm going to make more—I've come to a conclusion that I've learned a lot from all the mistakes, and I've figured out how to do things my way. If I could go back, I think I would work longer for someone else, simply because it's an invaluable experience. Once you've started your own company, it's hard to then work for someone else, but it is what it is. I feel like I can stand on my own two feet now.
Sharon: Well, 10 years is a long time. It's a short time and it's a long time. 
Melanie: Hopefully it's a short time for me.
Sharon: Thank you so much for being with us today. We really appreciate it. 
Melanie: It's been a pleasure talking with you Sharon. Thank you.
Sharon: We will have photos posted on the website. Please head to TheJewelryJourney.com to check them out.
Thank you again for listening. Please leave us a rating and review so we can help others start their own jewelry journey.