Episode 191
What you'll learn in this episode:
How Melanie discovered that classic pearls could be seen in a new light.
Why younger people, especially men, are embracing pearl jewelry in a new way.

 

How Melanie's collaboration with Tasaki broke barriers for Japanese customers.

 

The difference between types of pearls, and what it's like to work with them.

 

How launching her brand right after art school gave Melanie a crash course in the jewelry business.

 
About Melanie Georgacopoulos
With a background in sculpture, jewellery designer Melanie Georgacopoulos works with materials in new ways to release their potential and stimulate new interpretations. She began her exploration of the pearl during her Master's degree at the RCA in 2007, after which she worked as a freelance designer under Antoine Sandoz for major international brands, before establishing her eponymous label in 2010.
In Melanie's work the paradoxical, intriguing nature of pearls and mother of pearl is at the core of every piece, whilst the aesthetic remains simple, structured and timeless. She continually strives to challenge the existing preconceptions of these organic materials and that of traditional jewellery design itself. It is this unique approach which has given her the opportunity to showcase her pieces regularly at fairs, exhibitions and galleries worldwide.
Melanie became well known internationally for her work with pearls, leading to her collaboration with TASAKI, which began in 2013. Directional line M/G TASAKI was born, marring Melanie's flair to cross design boundaries with the Japanese jewellery company's world renowned craftsmanship. Following the huge success of the seasonal collections Melanie was appointed Head Designer for M/G TASAKI in 2015. She has been a visiting lecturer at Central Saint Martins for the last four years whilst she continues to create her own collections and one-off pieces for special projects.
Additional Resources:
Photos: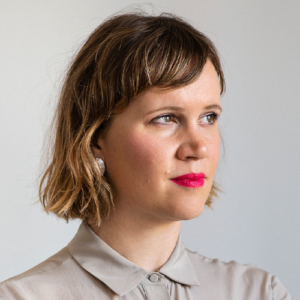 Portrait by: Kasia Bobula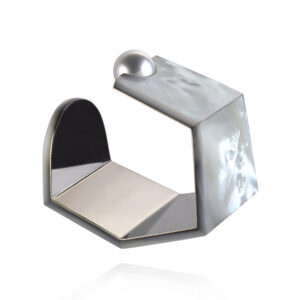 Melanie Georgacopoulos 'Exposed Pearl Nacre Bangle' 18ct white gold with white mother of pearl and 13mm white South Sea pearl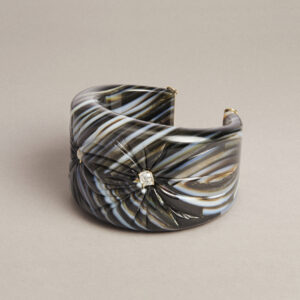 Melanie Georgacopoulos 'Diamond Fishbone Bangle' Recycled 18ct yellow gold with peacock mother of pearl and old mine cut diamonds (2.12cts)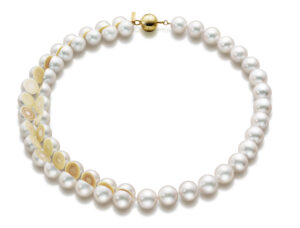 M/G TASAKI 'Sliced Necklace' 18ct yellow gold with white freshwater pearls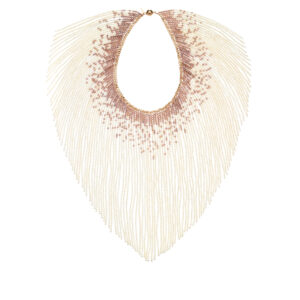 Melanie Georgacopoulos 'Palm Tree Necklace' Rose gold plated sterling silver with 3mm white & lavender freshwater pearls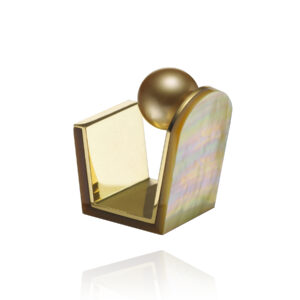 Melanie Georgacopoulos 'Asymmetric Nacre Ring' 18ct yellow gold with golden mother of pearl and 13mm golden South Sea pearl
Transcript:
Melanie Georgacopoulos has done a few things to pearls that would make an old-school pearl lover gasp. She's cut them, drilled them and combined them in taboo ways, but the result is elegant, modern jewelry for a new generation. She joined the Jewelry Journey Podcast to talk about her collaboration with Japanese pearl brand Tasaki; which types of pearls she loves to work with; and why she didn't appreciate pearls until she saw what was inside. Read the episode transcript here. 
Sharon: Hello, everyone. Welcome to the Jewelry Journey Podcast. This is the first part of a two-part episode. Please make sure you subscribe so you can hear part two as soon as it's released later this week. 
Today, we're talking with Melanie Georgacopoulos. Melanie occupies some unusual niches. She's a specialist in designing with pearls, which is very unusual. For those of you who are listening who think that pearls are too old-fashioned or too formal, she has really changed the way pearls are viewed. She lives in Hamburg but has her office in London. She's also the Chief Designer for a collaboration with a Japanese company, Tasaki. We will hear all about her jewelry journey today. Melanie, welcome to the program.
Melanie: Thank you for inviting me, Sharon. I'm delighted to be here.
Sharon: Melanie and I went through a lot of iterations with the time, so I'm glad we did connect. Tell us about your jewelry journey and how you started working with pearls. 
Melanie: I have to say I am very lucky, because I've known from quite a young age that I wanted to be creative, and more specifically that I wanted to work in the field of jewelry. I must have been around 12 or 13 years old when I started making things with my hands. I didn't quite know what to do with them, so my brother suggested I use them as jewelry somehow. That gave me a purpose to create objects that related to the body somehow. By the time I finished school, I was 100% focused on the idea that I wanted to involve myself in jewelry. 
I grew up in Greece, by the way, so my first step was to study in Athens. I found a private vocational school where I learned about traditional Greek jewelry techniques, handmaking and production. It was more focused on technique rather than design. After those three years, I decided to broaden my horizons, so I went to Edinburgh College of Art and studied sculpture. I went from something quite small to something very large. I did a BA there. After that, I felt that I still needed help to figure out exactly what my voice was. 
I was very lucky; I applied for the Royal College of Art and got a place in the jewelry department, which is a master's of two years. I had a fantastic time there. It was during those two years that I discovered pearls. At the time, I was working with a lot of different materials, and I was designing a lot, but I hadn't really found my voice yet. By chance I started working with pearls. My first thought was, "What's inside them? They look intriguing." I cut one up and saw those broad circles, and I was fascinated; I was surprised; I was intrigued, and I started learning about pearls. I graduated from the RCA, the Royal College of Art, with a collection of deconstructing the pearl necklace.
After graduating, I decided to stay in London. I worked as a jewelry designer for a brand. We designed for other companies. A few years later, I decided to start my own brand because there was still a lot of interest in what I was doing, and I felt there was a niche to be explored. That was 10 years ago already. There was a niche to be explored about contemporary pearl jewelry. There wasn't really anything exciting being done in the field, I felt. This is how my journey started into pearl jewelry.
Sharon: Did you have the emotional support of your family in this?
Melanie: I was very lucky. My parents encouraged me from a young age to find what I was interested in and pursue it. I was very passionate from a young age, and they recognized and encouraged that. They supported me for my studies, which in hindsight I'm also very grateful for because I was completely free to focus on my studies without any financial constraints. They said to me, "We just want you to find what you're really interested in and the rest will follow," and it has, actually.
Sharon: Did you come from an artistic family? Were they creative? Were they sculptors?
Melanie: In a way. My dad is a lawyer, but he always liked to build things with his hands and work in the garden. He really enjoyed that. My mom is an interior decorator. We always credit her for the artistic name in the family, but I think my dad secretly was also quite artistic, just not for his work. My brother ended up becoming an industrial designer. We were both encouraged to be quite creative. There were no constraints. At the time in Greece, there was a lot of focus on either becoming a doctor or a lawyer. Thankfully they kept us away from that career path.
Sharon: I'm very surprised that English schools would accept somebody who hadn't already gone through their system. 
Melanie: I think I was lucky. Going to the Royal College of Art was easier because I had graduated from Edinburgh. In order to get into Edinburgh, I needed to pass an English exam for the language and submit a portfolio which I had worked on. It wasn't just, "O.K., if I show up, I'm going to get a place." I had to compete for that. 
I have to say it was quite a shock culturally to move from Greece to Scotland, but at the same time, it was an excellent training for my English. It was a place where you have to figure things out by yourself. There is no one there to hold your hand, so it made me quite resilient from the beginning. Also, I think it might be the English or British mentality that you have to work hard for what you get. No one is going to be there to hold your hand and provide things to you. You have to find your own way to make things happen, which is what I have continued up until today.
Sharon: When you went from Edinburgh to the Royal College of Art, was it a big change then, or was it just a continuation?
Melanie: It was a big change because I basically had no understanding of the impact it was going to have on me. I was moving to an extremely creative environment, very competitive, but also the people who are chosen to go to the Royal College of Art are extremely talented, extremely focused, extremely passionate. You come in thinking, "Oh, I'm going thrive here. I'm going to be the best," and you realize that the other 20 people in your class are exactly the same as you, if not better. But it was a very nice context. It wasn't competitive in a bad way; it was actually competitive in a good way. 
It was very international. I still have contacts all over the world because I studied there. It was also a change because London is still a very international city in comparison to a place like Edinburgh. In hindsight, I'm so grateful to have come to Edinburgh because I did get a taste of Britain, whereas in London, you get a taste of the world, but not necessarily that much of England. 
Sharon: So, you were studying, and you saw a hole in the marketplace? Tell us about that.
Melanie: When you do a master's, you obviously try to do a lot of things at the same time. You're trying to figure out who you are relatively, what is your own point of view in whatever you study, but let's say it's jewelry. I was trying to find my voice because there are all different kinds of jewelry, as you know. There's high jewelry, artistic jewelry, fashion jewelry, and I was trying to figure that out. At the same time, you study a lot of things. You have to write essays. You have to do projects with market research. You have to do specific projects with companies during your studies, like a weeklong project, for example. Part of those projects is to understand not only the context you're thinking of going into in terms of jewelry, but understanding the general context of what is out there. I think it helps you to find your place if you find certain niches or areas that you feel are potentially unexplored. 
When I came across pearls, at the beginning, I had absolutely no prior relationship to them the way some cultures do. I didn't really understand the impact of pearls or their cultural significance. I also had no fear because after all these years, I realized people have a lot of connotations about pearls. Wit the more valuable pearls, you are to treat them with respect—I put that in brackets. You're not supposed to cut them, and you're not supposed to do things to them. But because of my sculptural context, I actually saw them as a material, not necessarily as a precious gemstone. That made me free to explore them as a material, but also culturally and design-wise in my subsequent designs. I think that was a very good start for me, to be in this comfort zone of studying where I could be very experimental and put down some solid foundations, which then I was able to grow and expand after my studies as a young professional and as someone who has to make a living out of what they do.
Sharon: When you first looked at the pearls, did you just see, like most people do, strands you put around your neck? 
Melanie: Absolutely, yes. The context was really the single pearl strands, the little earrings. There was hardly any pearl jewelry—and by that I include fashion jewelry—on the high streets. Slowly but surely I started seeing fashion jewelry on the catwalks, with brands like Alexander McQueen. Later there was Christopher Kane. Now, for example, there is Simone Rocha, who started putting pearl embellishments on her clothes. All this has the effect that it trickles onto the high streets. Then, the 14, 15, 16, 17-year-olds start wearing plastic pearls, and they slowly understand that it's not that old-fashioned. Then by the time they're 30, they can pay a bit more. They want to wear more expensive jewelry because they can afford it. They start to invest in fine jewelry and keep progressing.
Over the years, I realized I have two sorts of clients. One is the older client who has the classic necklace and earrings, probably the white ones or the darker ones depending on where she's from. She's looking for something different, because I think now is the time that people look for individual jewelry that expresses their style rather than copying something they see in a magazine.
The second type of client is a younger customer who is not particularly interested in pearls but likes the design. They might also happen to have pearls. I think it gives me a nice challenge to try and create pieces that attract both of those clients, because clearly, they look for different things, different scales. Also, they have different budgets. 
Sharon: Besides the one in Japan, do you design for companies? Do people come to you and say, "I want my pearls different"? How does it work?
Melanie: I have been in touch with Tasaki since 2012. By that time, I had already started my brand. I was wholesaling in a few stores, and I decided to focus on pearls. When Tasaki approached me, they wanted to take the sliced idea I was known for and turn it into M/G Tasaki Jewelry. They wanted to slowly build an M/G Tasaki brand with me. Unfortunately, my last name, as you know, is very long, so we decided to do M/G Tasaki rather than Melanie Gerogacopoulos, which would be far too long. So, I design exclusively for them.
Then on the side, I have my own brand where I'm able to be creative completely without any boundaries. This is also where I have expanded the last two years on working with mother of pearl, as you may have seen. So, I have clients who approach me because they've seen my work for Tasaki and they want to buy Tasaki pieces, which they can also do through the Tasaki website or in the Tasaki shops. I also have clients who approach me because they want a special piece, a commission, something else I have done for my own brand.
Sharon: When I look at mother of pearl, it looks very fragile or like you have to be very careful with it. Am I wrong with that?
Melanie: You have to be careful, but it's not as fragile as people think. Actually, mother of pearl has been used quite a lot in watches and dials. It's been used in fine watches for a long, long time. We've seen it more and more in fine jewelry in the last few years, but you have to treat it differently than pearl. This is one aspect of it that I find fascinating. It's so close to a pearl. It's the actual oyster that makes the pearl, but you buy it in flat sheets. It's translucent. It's also got the same colors as pearls. You can do different things with it. Even though it's like the first cousin of the pearl, it allows you to do other things that you wouldn't be able to do with pearls. It's a similar material. It's in the same family, yet it's a completely different thing altogether.
Sharon: Do you buy your pearls one by one, or do you say, "Send me a batch and I'll pick the ones I like"?
Melanie: It depends on whether I'm designing a collection. In that case, I have suppliers, for example in Hong Kong, for freshwater pearls. I ask for different sizes and strands that they have in different colors. They send me photos and price lists, and then I decide. I always try to buy more than I need because I think there's no point getting something sent from Hong Kong if it's just for one pearl. So, I'm trying to buy a bit more to have more stock in the office. 
Then I have suppliers in London. If I have a special commission, there's a system where they can lend you a few pearls or strands on approval, which means you can borrow them for three weeks, I think, to show them to the client. They can keep them for a few days, and then they return them to you when they've made a decision. It's part of the experience when you work with a private client; they get that extra service so you can customize something for them. You give them the luxury to look at the gemstones, in this case the pearls, before they are mounted on a piece of jewelry. They can look at the pearls against their skin color, for example, and decide before having the finished piece of jewelry in their hands. 
So, how I source the materials depends on what I intend to do with them. Because I make collections as well as individual pieces, I have suppliers who can give me access to pearls or other gemstones, depending on what I'm going to be using them for.
Sharon: Did Tasaki approach you because—if you think of Japan, you think of pearls. Well, I do at least. 
Melanie: I think we all do, yes. I think it was just extremely good timing. They saw my pieces in the High Street Market in London, which is a big shop and a very conceptual store. They found the products interesting because I was cutting them and joining them and making necklaces, and they were selling very well. They thought, "O.K., someone's doing something interesting. We've never seen this before. It's different than what exists out there, what other competitors are doing." 
I'm sure you've heard of Mikimoto as being a Japanese pearl brand, and they were looking to offer a different perspective on pearl jewelry at the time. So, I was lucky that they saw my pieces when they were searching for new ideas. They suggested we do this joint brand. Every time I think about this, I'm so grateful they placed so much trust in me, a young 30-year-old, Greek/French sculpture jewelry graduate with a young brand, a creative person. A year after we met, we launched the first collection. Luckily it went well, but it could have equally been rejected by the very discerning Japanese customers.
Sharon: You're saying you did the collection a year later. Do they have their own stores, or would they put it in department stores?
Melanie: Yeah, they are a pretty big company, but they're not very well known in the west. They're working on that, but they have a lot of stores in Japan, Korea, China and Taiwan. They're actually quite well-known there, and they were able to place the collection straightaway in their stores and some of the biggest department stores there. Since then, we've made on average one or two collections a year. We launch between 20 to 30 different pieces a year. I've designed over 30 or 40 collections and we're still working together, which is a huge compliment for myself to be designing for a Japanese company for so long.
Sharon: If they're so well-known, is it like if your boyfriend brings you into Tiffany? Your boyfriend brings you to Tasaki?
Melanie: I guess, yeah. I have to say, I really admire that they are Japanese. The stereotype of Japanese people making things extremely well, that's totally true. Being appreciative of tradition and craftsmanship is totally true, but at the same time, they're really wanting and looking for something extremely avant garde. You can see that in the fashion and the fashion companies. I find it very brave of a company to go in that direction in pearl jewelry, because pearls are very culturally significant in Japan. They have a completely different relationship to them than we do. To propose sliced pearls as a first collection, I think that was very daring, and it worked. 
Sharon: How did you introduce it? Let's say somebody is 50 and has their pearl necklace they've had for 30 years. You were slicing pearls and doing different things. How did you move them to a younger vibe?
Melanie: I think people always look for something they don't have. There's no point in making another classic pearl necklace if someone already has it, and you're not going to persuade a young person to buy one if they are associated with their grandmother, or the one that stayed in the safe for the last 30, 40 years. I am particularly interested in design more than as a jeweler, more than the value of stones. I feel that my strong point is to create designed pieces which are hopefully innovative and stand through time, but represent the time we're in. They do stand the test of time, and I hope this is what attracts younger people to the jewelry. It's something they haven't seen before, something they feel represents the time we're in now. The way to do that is by introducing good design. This is my hope for the jewelry that I present.
Sharon: We will have photos posted on the website. Please head to TheJewelryJourney.com to check them out.