Episode 87
What you'll learn in this episode:
Why Fabergé isn't the only Russian treasure that jewelry collectors and enthusiasts should care about.

How Russia's 18

th

Century empresses shaped jewelry trends of the time.

Why Jérémie Pauzié is the best jeweler you've probably never heard of.

How Marie leads tours to jewelry capitals in Russia and Europe.

What is included in Marie's new book, "

Beyond Fabergé: Imperial Russian Jewelry

."
About Marie Betteley:
Marie Betteley is a leading authority on Russian jewels and Imperial Russian decorative arts, and the President of Marie E. Betteley, Inc., an online shop where customers find exquisitely crafted jewels and treasures from the most fascinating places in the world.
 Beginning her career at the New York branch of Christie's auction house, Marie quickly moved up in the company working in the Russian department. After 10 years, Marie opened her own gallery in New York and started trading in Fabergé and jewels.
 She regularly consults for auction houses, museums and private collectors globally, and is a respected private dealer, professional speaker, tour guide and author of Beyond Fabergé, Russian Imperial Jewelers.
Additional resources:
Episode Transcript
Photo Descriptions
Russian grand collar of the Imperial Order of St. Andrew set with diamonds, ca. 1795. Diamond Fund of the Moscow Kremlin. Photo by Nikolai Rakhmanov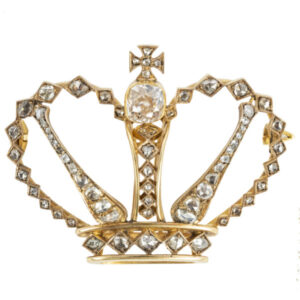 Diamond and Gold Crown Pin, 19th century. A royal crown of stylized design, bezel set with a cushion-cut diamond below a rose diamond Maltese cross, the borders and bands set with rose diamonds that graduate in size, many within diamond-shaped bezels. Mounted in 18k gold.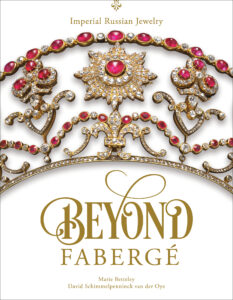 Cover of Marie's upcoming book: "Beyond Fabergé: Imperial Russian Jewelry," October 28th release. Now available by preorder on Amazon. With Beyond Fabergé you'll discover there is so much more to Russian jewelry than Fabergé.