Episode 86
What you'll learn in this episode:
The inspiration and process behind Andrea's beaded and embroidered cuffs.

How to source and re-purpose vintage beads.

Why the symbiosis between jewelry artist and technical jeweler is important for the success of a piece.

Global trends in jewelry, and why some locations prefer "bling" rather than art jewelry.

Why the art world is hesitant to accept jewelry.
About Andrea Gutierrez:
Andrea Gutierrez is the owner and designer of Andrea Gutierrez Jewelry. Age-old artisanal techniques have always given Andrea Gutierrez Jewelry its muscular, roughed-up glamour. The refined yet imperfectly shaped spheres, dagger-like spikes and scarred surfaces offset with precious gemstones and marble-size pearls are an edgy presence in the world of fine jewelry.
Inspired by art and architecture, engaging both the Brutalist and the Baroque, Andrea prodigiously produces unique modern designs with heirloom potential. As fearless and committed as any sculptor, Andrea hand-carves and casts her pieces in solid gold and solid sterling silver, often accented with a spray of precious or semi-precious stones and maybe a Tahitian or South Sea pearl as big as a gumball. 
Bold but never vulgar, brilliant but not glitzy…more Met Museum than Mar-a-Lago, these pieces project their polyglot appeal with exquisitely layered and imaginatively applied materials referencing both ancient and modern culture.
Additional resources:
All Photography by: Elio Tolot: www.eliotolot.com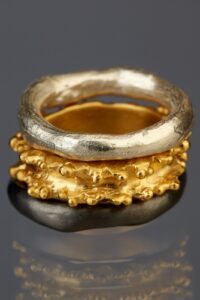 Ruffle band in 18k yellow gold, uneven band in sterling silver and uneven band in black rhodium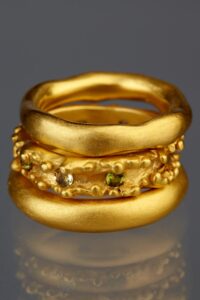 Two uneven bands in 18k yellow gold, 1 ruffle band in 18k yellow gold set with green tourmalines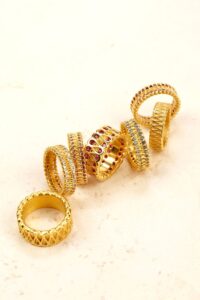 Wide and narrow collar rings in 18k yellow gold set with rubies, white diamonds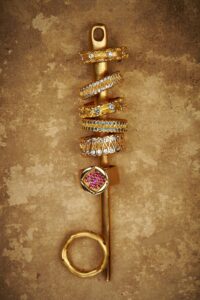 Couture Cuff – Circles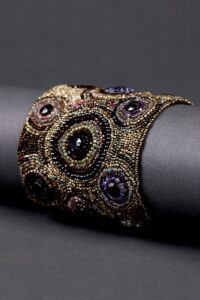 Hand embroidered vintage and antique round and cut glass and metal seed beads on silk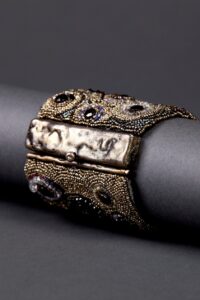 Couture Cuff – Circles – Sterling silver clasp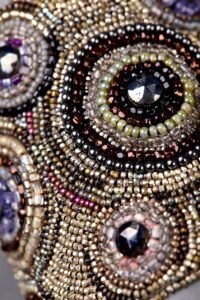 Couture cuff – Circles – detail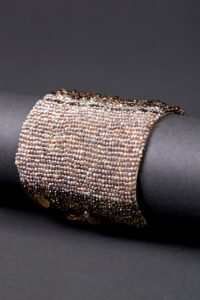 Couture Cuff – Sunday Afternoon – seed pearls, rutilated quartz, vintage round and faceted seed beads, Thai silver, sterling silver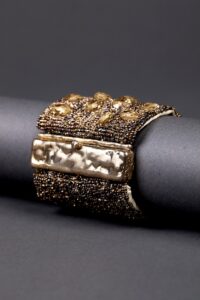 Couture Cuff – Sunday Afternoon – Sterling silver clasp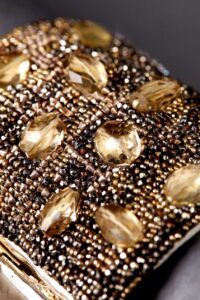 Couture Cuff – Sunday Afternoon – Detail – Thai silver, vintage beads, rutilated quartz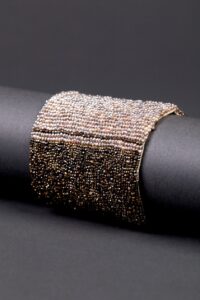 Couture Cuff – Sunday Afternoon – another view