Episode 211
What you'll learn in this episode:
What the difference between an artist and a designer is
The barriers that can make it difficult for solo jewelry artists to enter the retail market, and how Colette overcame them
What Colette has discovered about her creative process by working with George Brown College psychology students on a research project
Why it's important for artists to avoid looking at trends in stores and on social media too frequently
How a spontaneous haircut sparked Colette's creativity and paved the way for her future business
About Colette Harmon
Colette Harmon's one-of-a-kind accessories are a dazzling blend of crystal, mixed metals and semi-precious stones. With an appreciation for meticulous craftsmanship, the metal meshing and intricate beadwork in each of her statement pieces are an audacious departure from mainstream minimalism.
Born in Sisters Village, Guyana, Colette studied fashion design in Toronto before apprenticing as a belt and handbag designer for a leather goods manufacturer. Harmon soon founded her own eponymous label, whose name became synonymous with maximalist glamour.
Harmon's modern approach to vintage flair has earned her a devoted following of customers, fans and fashion stylists from across North America. Her pieces have been sold in Saks Fifth Avenue and Holt Renfrew Canada, and her work has been featured in Elle Canada, Flare, Martha Stewart Weddings and Nylon. She currently focusses on one-of-a-kind couture creations for select clientele.   
Additional Resources:
Photos:
24kt gold plated chain and crystal necklace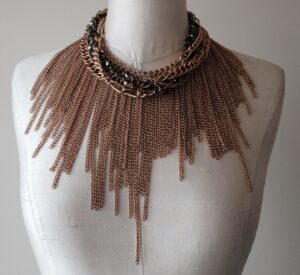 24kt gold plated, multi-strand collar, bib necklace – mix of crystals, semi-precious stones, glass beads, filigree and metal castings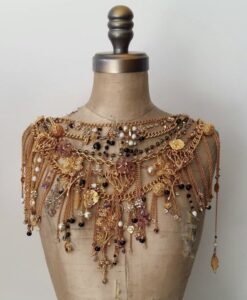 Charm necklace – mix of crystal, semi-precious stones and glass beads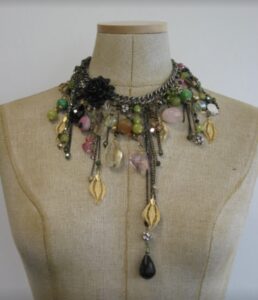 Facetted crystal and chain beaded caplet – photo by Tash Damjanovic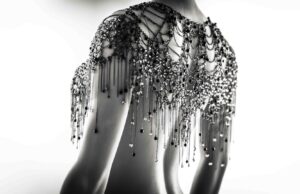 24kt gold plated chain and rhinestone cascading waterfall necklace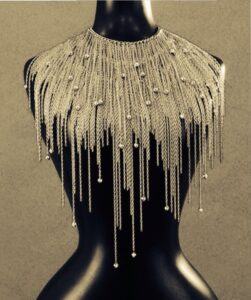 Multi-strand bib, collar necklace – mix of semi-precious stones, crystal and glass beads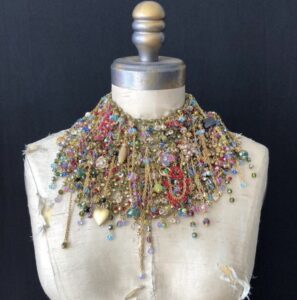 Transcript:
Colette Harmon has seen many trends come and go over the course of her career, but she has never let that influence her work. She has always found an audience for her one-of-a-kind jewelry, even when her hallmark maximalism is supposedly "out." She joined the Jewelry Journey Podcast to talk about why she defines herself as an artist; how she nurtures her creative vision; and how her job as a leather accessories designer led to jewelry (and how that experience may come full circle in the near future). Read the episode transcript here.
Sharon: Hello, everyone. Welcome to the Jewelry Journey Podcast. This is the second part of a two-part episode. If you haven't heard part one, please head to TheJewelryJourney.com.
Today, my guest is Colette Harmon, who is speaking to us from Canada. Toronto to be more specific. I have to say I've never met her, and I've never seen her jewelry in person, but it's my kind of jewelry. It's over-the-top kind of jewelry. You may have seen it on a celebrity on the stage or screen, but if you've seen it, you'd remember it. Welcome back.
Do people bring the dresses? Do they bring the materials or some things?
Colette: Yeah, sometimes they do. If they bring the actual garment, then I can see how the neckline falls and how the piece of jewelry would sit on the dress.
Sharon: Has somebody, a client or a stylist, ever come and tried the dress on and you just didn't like the dress? Forget the necklace; you just didn't like the dress on them.
Colette: Oh yeah, but if they're wearing it, I can't say, "I don't like your dress." Yeah, there have been people who have.
Sharon: You told us that you like the fact that people like your stuff, that's pleasing to you.
Colette: Mm-hmm.
Sharon: What are some of the bigger obstacles you've encountered besides sales, let's say?
Colette: In terms of?
Sharon: In terms of anything. Being in the business, what are some of the obstacles?
Colette: I mentioned before I found wholesaling difficult. Being a small business, I found that doing wholesale was challenging at times. Just being a one-woman show can be tough at times. There were times when I had people helping me, but often when you're creating—as I'm working with the students at George Brown, it was difficult to tell someone because I don't sketch. I create as I'm going. They are helping me create these pieces, but it's difficult to tell someone what you're creating if it's in your head. A lot of times I might say to them, "O.K., do this this way," and then they start doing it, and then I see something else and they have to undo it. It's easier for me to create the original piece and then have someone duplicate it, as opposed to having people helping me create something.
Sharon: You said the college is George Brown. That's the university?
Colette: Yeah, it's a college here in Toronto. They're doing a case study of me where they're studying my creative process and documenting how I create.
Sharon: What's the first step they documented of you creating?
Colette: The first session was just an interview of me and my background. The piece that we're working on now—I brought a bunch of materials. I had no idea what I was going to do with them. So, they're watching how I work and how I put things together. They're asking me questions as I go on, like why did I do this? They're documenting how I go from start to finish, if that makes any sense.
Sharon: Are they talking to a lot of creative people?
Colette: I think what happened was Leah saw my work on Instagram. I'm not sure how she found me. She found me on Instagram, but I'm not sure how she found my work on Instagram. She was really inspired. In her words, she said she was blown away by my pieces. Because we're both in Toronto and she's been in fashion for a number of years, she wondered why she didn't know who I was. So, she contacted me and I went to see her. She asked me to bring some of my pieces, so I did.
Then she came up with this idea and approached the college for a grant. There's myself, her, and two students she recruited, and they're documenting my creative process. Like I said, there really isn't a creative process. I feel like—what's that word when they say that—people will find out I'm a fraud because there really isn't a creative process. I can make it sound more than what it is, but I just play. I think everybody has a gift, and my gift is just the way I put things together. There isn't anything technical.
Sharon: Can you tell us more about what you see the end product being with these students?
Colette: That's the thing; I have no idea. I could send you a picture of the piece I'm creating now. I can tell you a little bit about that, but it would be—
Sharon: I'll talk to you after the podcast about what we need for pictures. I want my listeners to know that usually I have a picture of somebody, even though I only post the audio, but I don't even know what Colette looks like.
Colette: Oh, I can send you a picture.
Sharon: Are you the exotic-looking one in the ads?
Colette: In the ads? Which ads?
Sharon: The ads for the website, let's say.
Colette: On my website?
Sharon: Are you the model? Do you have a model?
Colette: Sometimes I model. I'm not sure which images you're referring to, but I think there are one or two images of me on the website. There are a couple of me on Instagram. I wouldn't call myself a model, but I do model my jewelry on occasion. A number of the images of myself were taken by a friend of mine, a photographer whose name is Michael Chambers. I've done some work with him over the years.
I wouldn't call myself a model, but I have modeled my jewelry. I have a shaved head, and I can tell you the story about that. My cousin worked in a hair salon. One day I was visiting, and there was a gentleman there; his name was Stephan. He had this beautiful, long, curly blond hair. He looked at me one day and said, "You know, I'm going to shave your head." I was young, and when you're young and crazy, I said, "O.K." So, he took a straight razor—I would never do it again with a straight razor—and shaved my head.
Then we did a photoshoot where he made bird's nests out of—I couldn't even remember what it was made out of. I think maybe feathers and all these different, crazy things, and he put them on my bald head and we did this photoshoot. But I didn't like it because I was young, and I was wearing a lot of hairpieces. Hair was very important to me and to everyone, so I didn't like it. I don't know if I told him I didn't like it, but I was like, "Oh god, what did I do?" I remember I came home, and my mom was like, "Why did you do that?" Everywhere I went, everyone hated it. This was a time when there were no bald women around. It was before social media. I didn't know that in Africa there are tons of women like that, but you didn't see any bald women around.
I remember I would be walking by, and I would hear people whisper, "Maybe she has cancer." A lot of people didn't like it because it was such a drastic change from what I looked like before. Now all of a sudden, you have no hair. But I kept it for spite. Just because people didn't like it, I thought, "I'm going to keep it." I think I would shave it every week, like once a week or something. The more I did it, the more I liked it. Now that I'm saying it, I think that played a role with the jewelry because I would have this bald head, so the jewelry became more elaborate.
Stephan saw it. My logo is now my head, like a silhouette. The silhouette of my head is my actual logo. I think he saw something I didn't see. Do you know what I mean? A friend of mine designed my logo. He took a picture of my shadow against the wall with the bald head. Then he took a picture of my jewelry and scanned it onto the image of the head. I would never change that. I think it's such a beautiful logo. I love my bald head, and I think it really works with the jewelry. It's so striking, for a lack of a better word.
But I always remember after I did it, for years my mother kept saying, "Why don't you grow your hair?" Then one day she looked at me and said, "You know what? I think of all the hair styles you've ever had, that suits you the most." I do have a nice-shaped head, if I can say so myself, but everybody always compliments me on my—I can't remember what your question was. I went off into a tangent, but I think you asked me. I don't think of myself as exotic, but I think other people might use that word.
Sharon: The model on the website is Black. You're Black, right?
Colette: Yeah, I can't remember what's on there. I think there are a couple of images of Black models on there. I think there are one or two of me on there with a shaved head, and then there are a couple on Instagram.
Sharon: You're Black though, right?
Colette: I am a Black woman, yes.
Sharon: Do you sell a lot through Instagram? You mentioned it several times.
Colette: Do I sell a lot on Instagram?
Sharon: Mm-hmm.
Colette: No, I never pursued doing sales on Instagram. That's why I was thinking of creating a collection of simple pieces like belts and bags, where I could sell online through social media. I find that the pieces I do, you have to try them on. If you're not able to try it on, I think a lot of things would end up coming back just because you have to be able to see the scale.
I've never had a problem with returns. In all the years I've been doing this, I think I've only had one piece returned. It was a charm bracelet. It was a woman in one of the eastern states. She saw it in a magazine. She ordered it, and she sent it back because it was too big for her. She wasn't used to wearing that. It's a lot. You have to try it on. That's why I was thinking of doing some simpler pieces where I could sell in volume if some pieces come back, if one or two are returned. But I think the pieces I create now, a lot of them would end up coming back just because you need to try them on.
Sharon: I never thought about that before, that if you don't have hair, you need something else. You need the jewelry. You need something to replace it in a sense, to draw the eye.
Colette: I don't think you have to, but I think it works well with the jewelry. It's like a blank canvas. There is no distraction. Your eye goes straight to it. I have necklaces. I have a preference when I create. If it's a line, I always start off with the necklace, and then I create pieces that go with that. It always starts off as an elaborate neckpiece. Then I might simplify it or do some more simple pieces that are very similar: earrings or bracelets, a belt, maybe a beaded belt or a chainmail belt or something. But for me, it always starts with the neck.
I used to wear earrings a lot when I was younger, but I haven't worn earrings in years. Now, I mainly wear necklaces. I don't like things on my hands, only because I work with my hands and I don't really like things on my hands. It's mostly neck pieces. I do a lot of belts, beaded and chain belts. A lot of the pieces I create in general are very versatile, where you can wear it on your neck or you can wear it on your waist. There are pieces I have that you can wear as a shawl; you can wear as a necklace; you can wrap it on your waist and wear it as a belt. A lot of the pieces I do are versatile. You can wear them many different ways. I do that purposely. I always try to create pieces that you can wear in multiple ways.
Sharon: I'm surprised to hear that. What I have seen are the photos that are online, which are just repetitions of what's on your website. Were you influenced by the baldness? I went through a period where I was bald, but I had people come up and say—
Colette: You did?
Sharon: Yeah, I did. People came up to me and they would say, "Oh, I wish I had the guts to do that." Do they come up and say that to you or anything?
Colette: Not so much anymore. You see it now everywhere, whereas when I was doing it, when I started, there was hardly anyone. Now, nobody even notices. People just walk by, whereas when I first did it, people would actually stop and stare. Now nobody cares because you see bald women everywhere, especially on social media. There are bald women. You see it quite a bit. For how long did you wear your hair bald?
Sharon: Probably for a year, a year-and-a-half maybe.
Colette: What made you decide to do that?
Sharon: Well, basically I was going through chemotherapy and I lost my hair, but it really made me understand how important hair was to a woman or a man, what you did with it and all that. I hadn't thought about it.
Colette: Right, I think hair is important to a lot of people. People think, "Well, why would you shave it?" but I've never really cared about what people think about anything. As long as I like something, I don't care. Your thoughts are your thoughts. I don't mean you specifically, but whatever. Your thoughts are your thoughts and what you think about me is—why should I worry about what someone thinks about me? I've never really cared about what people say or think about how I look or about my appearance.
Sharon: It's interesting. I think most people think, "What will somebody else think if I do A, B, C or if I wear—?"
Colette: Yeah, I think so too. I think as I got older, when I stopped caring about what other people thought, it was probably at the age of 16. I remember if I went shopping with friends, if you're trying something on and they say they don't like it, I was like, "Well, I'm going to get it just because you don't like it." If I like something, it doesn't matter to me who likes it or who doesn't like it.
Sharon: I suppose you have to be that way with your jewelry. Your jewelry is gorgeous, but—
Colette: It's not for everyone.
Sharon: Exactly.
Colette: It's not for everyone. There are a lot of people who think that's gaudy. Maybe it is gaudy, but I like it. I don't really care what people think.
Sharon: It is an acquired taste. I flipped over it because I happen to like big, bold things, but there are some people who like delicate things.
Colette: Who like delicate things, exactly. A lot of times, people will come to me and say, "Why do you do stuff like this?" People are always giving you advice, "Why don't you do this?" and "Why don't you look at this person and do what they're doing?" Why would I do that? That's her and I'm me. I have to be me. Why would I look at someone and imitate what they're doing? For me, I always have to be true to myself. I have to create what is in me. I think that's what makes us all unique; we're all different. I find a lot of times, everybody's trying to create or do what everyone else is doing.
The last time I was out in the shops, it was maybe a couple of years ago. We have a mall here called Yorkdale. I was at Yorkdale Mall. I don't know if you're familiar with that. It's a high-end department store here in Canada. I'm looking, and there was—I can't remember the names, but I'll just say there was a Gucci chain bracelet. Then I would go somewhere else, and it was Yves Saint Laurent, but it was the exact same bracelet. It was just a different label. I'm not joking. It was the exact same. I don't understand that.
I find everybody, even with jewelry, it's all the same. I don't know if it still is because I haven't really looked at anything, but it's all the same. I've heard people say that to me too, that when they're out, everything looks the same, like no one is different. I guess something sells, so everybody does it. There's some jewelry, I think it's Tiffany that does it. I don't know what it's called, but it's links and it has balls on the end. It's a chain link at Tiffany. I think Tiffany did it originally, but I see that everywhere, even high-end designers with the same link they just copied from Tiffany. I think, "Why not just create your own?" Anyway, I guess if something sells, everybody does it.
Sharon: We're going full circle to why you're an artist and not a designer, why you call yourself an artist. I really appreciate your being with us today. I hope we can do this again. Thank you very much, Colette.
Colette: Thank you so much for having me, Sharon. It was a pleasure. Thank you.
Sharon: It was great. We will have photos posted on the website. Please head to TheJewelryJourney.com to check them out.
Thank you again for listening. Please leave us a rating and review so we can help others start their own jewelry journey.