Episode 210
What you'll learn in this episode:
How Gabriela made the leap from air traffic control to jewelry design, and when she knew it was time to quit her full-time job
Where the inspiration for Latitude Jewelry's collections came from
How Gabriela navigates selling her jewelry internationally
Gabriela's advice for people who want to take a risk in their careers
About Gabriela Rodrigues
Gabriela Rodrigues is the CEO and jewelry designer of Latitude Jewelry. Born in Brazil, her lifelong love affair with aviation and travel was sparked at an early age by her mother, Lúcia who was an air traffic controller.
Gabriela has always had an artistic side and a flair for fashion, having studied for a degree in Fashion Design at college. Her interest in designing jewelry began later, when she did a yearlong goldsmith course to indulge her creativity. It was also a welcome escape from her stressful and challenging work life in air traffic control. Friends and family wanted to buy her designs and her very first jewels were inspired by her experiences and travel background. Latitude Jewelry was born in 2019, and Gabriela took Amelia Earhart, a pioneer in aviation, as the inspiration for her first commercial range, the A.E Collection.
Additional Resources:
Photos: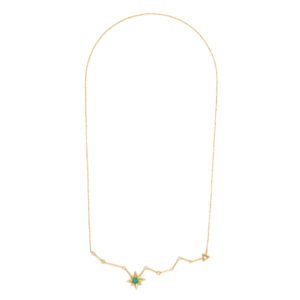 1) ENROUTE NECKLACE – 18K YELLOW GOLD WITH DIAMONDS AND EMERALDS
https://latitudejewelry.com/products/enroute-necklace-2×1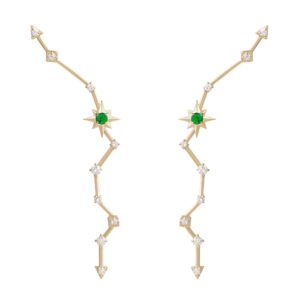 2) ENROUTE EARRINGS –  18K YELLOW GOLD WITH DIAMONDS AND EMERALDS
https://latitudejewelry.com/products/enroute-long-earrings-2×1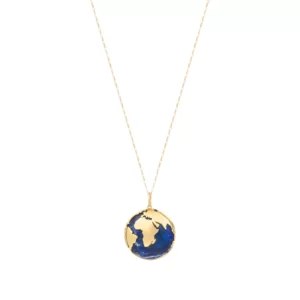 3) WORLD PENDANT – LAPIS LAZULI  – 9K OR 18K YELLOW GOLD
https://latitudejewelry.com/products/world-pendant-1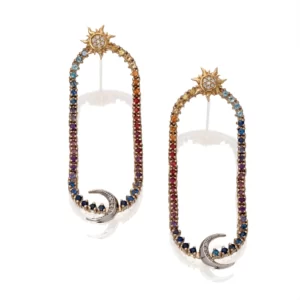 4) 24 HOURS EARRINGS –  18K Yellow, White and Champagne Gold, Gemstone: Diamonds, rubies, citrines, amethysts, sapphires.
https://latitudejewelry.com/products/24-hours-earrings-1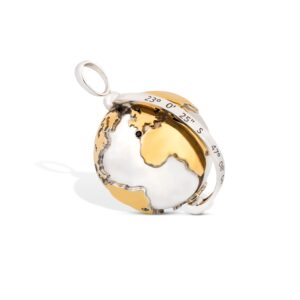 5) NEW AROUND THE WORLD PENDANT – Featuring the relief of the world crafted in 18K gold and set against a sea of white gold, and a white diamond on the handle. Customers looking for a bespoke design can choose different precious metals, from black gold and white gold, or rose gold.  
(This piece is not online yet).
Transcript:
Gabriela Rodrigues changed careers from air traffic controller to founder and designer of Latitude Jewelry, but she didn't leave her past behind. Her jewelry collections are inspired by everything from the sunsets she saw from her air traffic control tower to the aviation icon Amelia Earhart. She joined the Jewelry Journey Podcast to talk about how she undertook her career transition; how she fleshes out her many ideas; and how her past career prepared her for the challenges of entrepreneurship. Read the episode transcript here. 
Sharon: Hello, everyone. Welcome to the Jewelry Journey Podcast. This is the second part of a two-part episode. If you haven't heard part one, please head to TheJewelryJourney.com.
Today my guest is Gabriela Rodrigues. She's founder and CEO of Latitude Jewelry. She's speaking with us from Portugal, but she was born in Brazil and lived there for many years. Welcome back. 
How else were you prepared? Were you prepared for the changes or the fast pace of business?
Gabriela: Since I decided to open this business, my goal in this business was always to be sold in all places—in as many places around the world. So, I was preparing myself for this. I studied about taxes, customs, pricing, currency and everything. I was very well-prepared, not only about the designing part of the business. I studied how to develop a collection, branding, marketing, but also how to manage a business, pricing jewelry, because it's very different from other kinds of products. I'm always studying and preparing myself to be where I am. Does it mean I know everything? No. I'm far from it. I'm always desperate, but I think I'm doing my best to be here. So, I've been preparing myself since I decided to have a business.
Sharon: How is pricing jewelry different from other commodities?
Gabriela: That's another problem from Brazil because we deal with the gold prices now, but this is something that everyone deals with in the industry. We also have the problem of currency because we negotiate all gemstones in dollars. The ups and downs of payout in dollars make it a mess for us to price our jewelry there. It's kind of crazy because one day the currency exchange is O.K., the other day the dollar goes up. It's insane how we do things there. 
Of course, the gold is something the industry, wherever you go, is having trouble with. If there's a rise in gold prices, all the industry will suffer from this. The dollar price exchange with the Brazilian real is a mess. It complicates a lot of our business there because we are not selling in dollars; we are selling in real, so if the dollar goes up—our costs are in dollars and also the gold prices. It's insane, but we do our best.
Sharon: Does the inflation allow you to make money overall?
Gabriela: I think inflation doesn't really get to people who have money to invest in jewelry. In general, of course. It's more about reaching your target. I don't think about inflation, but I think about the mood in the countries. If you try to understand how everything is going during a political problem, this can make it worse or better, but not inflation itself. People who really have money to buy jewelry, it won't affect them that much, I think. So, you're able to make money.
Sharon: You've mentioned that Amelia Earhart is an inspiration to you. Why is that?
Gabriela: Even before working on that airline, I knew her history about being a pilot during a time that there weren't many women pilots. She was so adventurous, so smart. She worked as a nurse during the war. She had her own clothing line. She was an amazing and complete woman, not only a pilot. She was always challenging herself. Even before working in aviation, she was an inspiration for me. 
So, when I came up with the name and what I was doing for my first collection, I felt she was a great person to take inspiration from for my first collection because of her strength, her adventurous spirit. I liked her even before working in aviation. So, that's it. 
Sharon: I didn't know that she was all those things, besides being a pilot whom everybody knows. You mentioned a collection. If you have one pendant, that's not a collection. Is it a connection to things? What is a collection?
Gabriela: The first collection we made was to Amelia Earhart. It was five or six pieces of jewelry, like earrings, necklaces, all with the same motif, the compass and her last flight route. That was one collection. I also have an Around the World collection where I have these pendants. This is a kind of collection that I consider Latitude classics. I'm always adding designs to this collection. It starts with small pendants, and now I have a smaller one. I have a locket. Now, we are about to launch a spinning globe where you can set stones in the places that are important to you. So, this is a collection I'm always adding new jewelry to, new designs.
There is the Twenty-Four Hours collection that was inspired by my sunset. Usually when I talk about collections, I mean at least three or four jewelry pieces with the same motif. But I always do one piece or one jewel or one ring outside of the collections just because I feel like it and I have an inspiration I think will work. So, I create pieces without collections also, not being part of collections.
Sharon: The pieces that aren't part of a collection, do you think someday they might grow into their own collection?
Gabriela: The first collection grew. The first collection was the first five pieces. Now there are more than 10 because I'm always adding designs to this collection. Around the World also started with only one pendant and now we have pendants, earrings, necklaces, lockets because it's all about the globe. Twenty-Four Hours is another collection. I want to add some new designs to this. If my mind and my creativity give me another idea, I can add a new piece to these collections. I don't have any problem with it. I just do whatever my mind asks me to. 
Sharon: What is your favorite gem you like to work with, like behind the gold map? Let's say you overlay something.
Gabriela: Lapis lazuli. It's my favorite since before having Latitude. I love the intensity of the blue, and I think it matches the globe perfectly, the map. The stones have inclusions, these fades, sometimes in white and gold, so it looks like you're actually looking at the earth from outside when you put it behind the map. I love the way it looks in the world pendant, but it's a gemstone I really liked even before. I really liked the color. I used to work with it on the bench with contrasting color stones. I have an earring I made myself with lapis lazuli and another stone. The contrast of the colors is amazing. I love that earring. Yeah, it's my favorite stone, lapis lazuli.
Sharon: Is it harder to work with than other stones? Is it more difficult or less pliable, or does it shatter more easily?
Gabriela: No. This design is like a rounded cabochon behind the map. I have done it with different quartzes, smoky quartz, onyx. Malachite also looks great. It's just your favorite color. You can choose and put it behind your favorite stone. There's a friend who wants me to make one in amethyst. I promised her. I need to take care of it. I'm going to do it.
Sharon: Do you have a list on your website where the customer chooses the stone and sends it off to you for the order?
Gabriela: No. We have many options separated so you can choose, but we also have the contact form if they want. If they want to change any color or any stone, just contact us. If it's a stone we don't have and we've never worked with before, we are glad to look for it and tell the client if it's possible. We will work on it. If it's not possible to have it on that piece, we are very open. We like the ideas that sometimes come up. They come up with nice ideas, so we are there for them. We just want it to be meaningful to the person who buys it.
Sharon: You have talked about the map of the sky that looks like you're looking down at earth from the sky. Have you considered making a map of the sky or a celestial map?
Gabriela: Yes, actually, I have a client who keeps asking me to design—we have a constellation in Brazil. We see it from there and it's very known. I have this client. She keeps saying to me, "You need to design that." I've been thinking about how to get this constellation into a piece for her. Sometimes I have this idea of working with stars and constellations, but I have so many ideas. I need to organize my mind step by step, choose what I'm doing next. I keep my ideas, my notes. One day.
Sharon: How do you home in on what you want to do next or what you're doing now? How do you narrow it down? 
Gabriela: I don't. I'm a total mess in this case. I'm always doing one million things and seeing what's coming, what's ready first. I keep a huge amount of notes, a huge amount of designs. I send them to the manufacturer, to the 3D modelists, and I work with what I have in my hands. Someone gave me back this one that works, so let's do this. Sometimes I sit down and organize everything. 
We had a child's collection in Brazil. That was very nice to work with. I had a person help me with the design, the sketching. The ideas were mine, but we worked together and created this beautiful collection for kids. Sometimes I just choose what I'm doing next, but I'm usually overwhelmed with ideas and designs. I never know exactly what is next. That's how my mind works.
Sharon: Do you ramp up for the holidays? I realize you haven't been in business that long, but do you do more because of the holidays, because of Christmas and New Year's and everything that's coming? Do you ramp up?
Gabriela: Yes, we usually get prepared four months before. We reorganize our inventory, see what has sold better. Maybe sometimes we come up with a new design to sell during the holidays. I think it's the best time to sell jewelry. It's Christmas and Mother's Day, maybe, but mostly Christmas, Valentine's—not for Brazilians. Valentine's is another date; it's not the 14th of February. In Brazil, we celebrate it in June, I think. It's also a good time to organize and make pieces and to think about how to offer this jewelry and make more sales.
Sharon: When you were designing jewelry and doing air traffic control at the same time, did you daydream about being a full-time jewelry designer?
Gabriela: Yes, all the time. Since I decided to go with opening the company, opening Latitude, that was always my dream. But it's hard because I had a very nice job, and every month my payment was there. It's not a decision you make just because I wanted to live from my jewelry and from my creativity. It needs to be calculated. So, when I felt I was comfortable with the brand, the brand was reaching what I expected from it, then I decided to quit. For example, I wasn't able to travel because of my job. It was contrasting. I couldn't do what was needed for Latitude because I had a job. When it came to this, I decided to quit, but it was like four years of wanting to but I couldn't. I'm not impulsive at all, so I do very calculated things to do them the best way possible. 
Sharon: What was your calculation to leave? You couldn't travel, let's say. What was your catalyst? What was the big steppingstone?
Gabriela: I don't think there was a big step, a milestone, for this. It was just step by step, seeing how Latitude was growing and selling better and appearing in some magazines, seeing that people really liked my jewelry. I wasn't happy in my job. Now I remember. I was about to take part in Inhorgenta in Munich, the jewelry fair. I was working, and I said, "I won't send anyone in my place to take care of the Latitude stand. I need to go there. I need to see how people react to my jewelry. I want to participate in that and then I can create." By that time, I couldn't have any vacation or holidays. I said, "O.K., Latitude is working nicely, making some money. I'll be able to leave for Latitude. Now it's demanding my full attention." I think it was this, participating in Munich in the Inhorgenta fair. I needed to quit because I couldn't send anyone else in my place. I really wanted to be there representing my designs, representing my brand. That's why I think I was there.
Sharon: Was that part of your calculation, that you had to be in charge, or you had to be on the front lines seeing what people thought?
Gabriela: Yes, I think it's important for you to see how people react to your product. Of course, we are designers; we love to create things. Sometimes, when you are a designer, you don't really care about how people react to your business because you just want to create something that fulfills your creative side. But when you have a business and you need to make money from that, it's your business; it's your way of life now. You need to see how the customer will react to your product, and you need to make adjustments if they're needed. Nobody better than me. Anyone could do this. Someone could be there in Munich and say, "People like your jewelry," and those were the comments, but I needed to be there to see how they reacted. I'm the designer, but I'm also the owner of this company. I need to make it work. 
Sharon: What were some of the comments you got that motivated you to take the next step, to leave air traffic control?
Gabriela: I was growing. I was appearing in some magazines. I was starting to sell more frequently, and I was unhappy in my job. It was more about how I was feeling in that job, and how I felt that I was failing with this new business because I couldn't have my attention fully directed to the business. It was a time that I couldn't keep doing that the way I was. It wasn't about what people think. 
Actually, people always say—not my mom; she was always very supportive—but people say, "You're going to quit this job? It's such an important job. You have your payment every month. You are going to follow your dream?" I went, "Yes, that's it." I don't regret it at all. I miss my friends. I miss the job. At the end, I wasn't happy, but I was proud of being an air traffic controller. But it wasn't what I wanted to be anymore. People were saying, "Don't do that," and I went and did it. I quit and I'm very happy now. I'm happier than I was, and that's it. You don't have to follow the others. Just go with your plan. I always planned in advance, so it wasn't a surprise to anyone that I quit because I was doing it step by step. When the moment came, I just quit. You don't have to involve the others. Just don't do it.
Sharon: Pardon?
Gabriela: Don't care about the others' opinions. Just don't do it. If they really want what is best for you, it's their idea of best and not yours. It's not what's going to really fulfill you and your dreams in your life. So, just go for it.
Sharon: That's good advice. Thank you very much for being with us today. We really appreciate it.
Gabriela: Thank you, Sharon, for having me. It was a pleasure to talk to you. 
Sharon: We will have photos posted on the website. Please head to TheJewelryJourney.com to check them out.
Thank you again for listening. Please leave us a rating and review so we can help others start their own jewelry journey.