Episode 210
What you'll learn in this episode:
How Gabriela made the leap from air traffic control to jewelry design, and when she knew it was time to quit her full-time job
Where the inspiration for Latitude Jewelry's collections came from
How Gabriela navigates selling her jewelry internationally
Gabriela's advice for people who want to take a risk in their careers
About Gabriela Rodrigues
Gabriela Rodrigues is the CEO and jewelry designer of Latitude Jewelry. Born in Brazil, her lifelong love affair with aviation and travel was sparked at an early age by her mother, Lúcia who was an air traffic controller.
Gabriela has always had an artistic side and a flair for fashion, having studied for a degree in Fashion Design at college. Her interest in designing jewelry began later, when she did a yearlong goldsmith course to indulge her creativity. It was also a welcome escape from her stressful and challenging work life in air traffic control. Friends and family wanted to buy her designs and her very first jewels were inspired by her experiences and travel background. Latitude Jewelry was born in 2019, and Gabriela took Amelia Earhart, a pioneer in aviation, as the inspiration for her first commercial range, the A.E Collection.
Additional Resources:
Photos: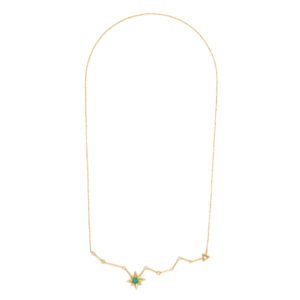 1) ENROUTE NECKLACE – 18K YELLOW GOLD WITH DIAMONDS AND EMERALDS
https://latitudejewelry.com/products/enroute-necklace-2×1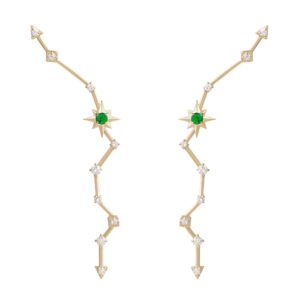 2) ENROUTE EARRINGS –  18K YELLOW GOLD WITH DIAMONDS AND EMERALDS
https://latitudejewelry.com/products/enroute-long-earrings-2×1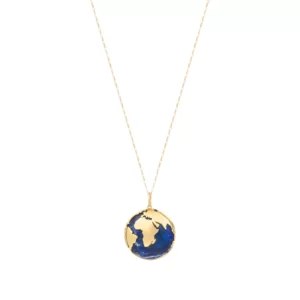 3) WORLD PENDANT – LAPIS LAZULI  – 9K OR 18K YELLOW GOLD
https://latitudejewelry.com/products/world-pendant-1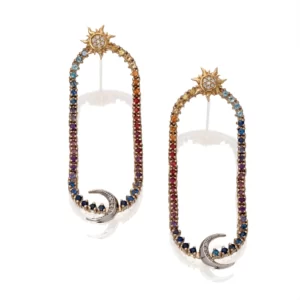 4) 24 HOURS EARRINGS –  18K Yellow, White and Champagne Gold, Gemstone: Diamonds, rubies, citrines, amethysts, sapphires.
https://latitudejewelry.com/products/24-hours-earrings-1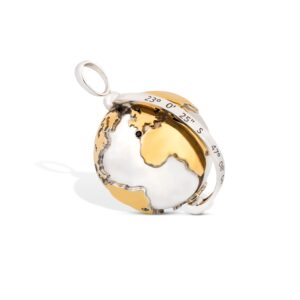 5) NEW AROUND THE WORLD PENDANT – Featuring the relief of the world crafted in 18K gold and set against a sea of white gold, and a white diamond on the handle. Customers looking for a bespoke design can choose different precious metals, from black gold and white gold, or rose gold.  
(This piece is not online yet).
Transcript:
Gabriela Rodrigues changed careers from air traffic controller to founder and designer of Latitude Jewelry, but she didn't leave her past behind. Her jewelry collections are inspired by everything from the sunsets she saw from her air traffic control tower to the aviation icon Amelia Earhart. She joined the Jewelry Journey Podcast to talk about how she undertook her career transition; how she fleshes out her many ideas; and how her past career prepared her for the challenges of entrepreneurship. Read the episode transcript here. 
Sharon: Hello, everyone. Welcome to the Jewelry Journey Podcast. This is the first part of a two-part episode. Please make sure you subscribe so you can hear part two as soon as it's released later this week. 
Today, my guest is Gabriela Rodrigues. How do you say your whole name?
Gabriela: Gabriela Rodrigues da Cunha, but Gabriela Rodrigues is O.K.
Sharon: And you're founder and CEO of Latitude Jewelry. She's speaking with us from Portugal, but she was born in Brazil and lived there for many years. In 200 episodes of the Jewelry Journey, I've talked to people all over the world. I've also talked to many people who did not originally start out in jewelry. Maybe they were in finance or another profession they didn't find creatively fulfilling. Somehow, they discovered jewelry, and they were put on that path. I've talked to many guests, but this is the first time I've talked to anyone who used to be an air traffic controller. After working in this profession in Brazil for seven years, she decided she wasn't being creatively fulfilled and started her jewelry journey. We'll hear all about that today. Gabriela, welcome to the podcast. 
Gabriela: Thank you, Sharon, for having me. I'm very glad to be here.
Sharon: That's such a big swing, an air traffic controller to jewelry.
Gabriela: Yes, certainly. It's been a crazy path.
Sharon: Had you ever studied jewelry making before?
Gabriela: Yes. In 2017, I was very stressed by my job as an air traffic controller, and I found out there were jewelry places in my city, as in most cities. I was very surprised. I went there to calm down my mind. Here I am now, a jewelry designer with my own brand.
Sharon: Did you think about designs as you were beating with the hammers to make something?
Gabriela: Yeah. The first day I entered, I learned some techniques. It was a very basic class just to show me what it was about, but in the second class, I was full of ideas. I created a ring that was my best seller then. It was a very nice and inventive ring. People loved it so much that I had to make a rubber mold of this ring. I sold like 10 of it, and I said, "Maybe I can do that." That was how my business started and this new job and profession. I've always been creating things in my mind since that time.
Sharon: Did that ring, that rubber mold, encompass the latitude on the world map?
Gabriela: No, that was another design. It was like 2017, but it was very nice. I really wanted to bring it to my business, but it was kind of narrow, and it was for two fingers. It was a two-finger ring, and it was very inventive and beautiful. Latitude came in 2019, two years after, when I really decided to have a business. I did all the branding process to understand what I wanted to create, what I wanted to sell. Then we had all the development of the collection with the compass. The world pendant has another nice history. I can tell you.
Sharon: Please tell us.
Gabriela: It's funny, because I was doing the class just to calm down my mind. I created this beautiful ring, but on the very first day, I also had this idea of creating the world rolled in gold and lapis lazuli. I created that pendant in my mind the very first time I went to the class, the second time. I could only see it in gold and gemstone four years later. I spent all the time doing this class with this piece in my mind. It was just a class where I wanted to create beautiful things and calm my mind, but that was the first piece I imagined. It was the globe with lapis lazuli and gold.
Two or three years later, when I decided to have my business and was doing the branding, I came up with the name. It was kind of a coincidence. One year or six months later after the launching of Latitude, I made that piece. I think it was meant to be called Latitude and be about travelling and my passion. So, the pendant came first. Latitude came after. It was like a coincidence, a very nice coincidence and maybe destiny, I might say.
Sharon: Like your fate, your destiny. Did you consider anything else besides jewelry when you wanted to start your own business?
Gabriela: I was very stressed in my job. I was always trying to figure out something to do, maybe clothing, shoes. I had been a shoe designer before, but I was like, "I don't really believe in how fashion is going nowadays." You have to create pieces, new collections, like every two weeks or you're left behind. So, I wasn't sure. I knew I wanted a business, a new life, but I couldn't figure out what I would do. 
Then I went to the class not thinking at all about a business, and I just fell in love. It wasn't a choice. Jewelry chose me. That's how it had been. It wasn't my choice, like "I'm going to work with jewelry." No, I just noticed how amazing this business is, to create something from metal and gold and how much effort and work you have to put in your creations. So, jewelry chose me, and I just follow it. 
Sharon: What made you think you could run and build a jewelry company?
Gabriela: Good question. I wanted a business, and I wanted to quit being an air traffic controller. That wasn't really a choice. I just did what I needed to do to accomplish what I wanted, which was working with something that fulfills me in other ways creatively and being able to travel to meet people around the world, creating beautiful and meaningful things that people connect to. I think it was natural. I just wanted people to get to know my pieces, my jewelry. It was natural that was creating a business.
Sharon: You became an air traffic controller because of something your mother said to you. What did she say to you? That's what your website says. 
Gabriela: Actually, she was an air traffic controller. So, it wasn't something she said, but something she was. She became an air traffic controller when I was 15. By then, I understood what the job was. It's hard. It's stressful, but I didn't have an idea of how challenging, how difficult and how smart she needs to be. When I was older, I went to work at an airline in the same airport where she works. She's still an air traffic controller. I started to talk to the pilots and they said, "Your mom is an air traffic controller? Oh, she must be awesome. I want to meet her. This is such a hard job. She's probably very smart and intelligent. I want to meet her, and I want to visit the tower." I was like, "Oh." 
Working in aviation, I started to understand how big and important this job is. Then that spark hit me, and I said, "O.K., I can do that." I always admired my mom, but I really didn't have an idea of what she was doing until I started working with an airline. Then I went for the tests and all the training, and I became an air traffic controller myself for almost eight years, I think. 
Sharon: When you decided to go into other things, because you did a few different things before you ended up in jewelry, did she say, "Gabriela, why are you leaving? You've put so much into this"?
Gabriela: I think she was always supportive. Anything I wanted to do or decided to do in my life, she was always there for me, supporting me. Of course, giving me advice and trying to show me what she thinks is best, but she was always very supportive. It wasn't a quick change. I didn't decide to start the jewelry thing and quit immediately. I worked in both jobs for almost four years. Since I decided to open Latitude, I spent four years working both in the company and in air traffic control. I quit air control to take care of Latitude full time last year in February. It's been like one-and-a-half years that I've been only an entrepreneur and owner of Latitude and a designer. So, it was a long process that brought me here, and she was always there supporting me.
Sharon: Your website says you have a flair for fashion. Can you give us some examples of that?
Gabriela: Yes, when I was child, I really wanted to be a fashion designer or a costume designer. There was a time I really wanted to design costumes for movies and TV shows. I was always passionate about this. I know a bit about how to make clothes and design clothes. I was really into fashion. My major in college was fashion. I have a fashion design degree. I also worked as a footwear designer for a while. Almost a year, I think, I'd been designing shoes. 
Sharon: If you were pursuing fashion, did you know you were going to be an air traffic controller at that time?
Gabriela: No. What happened is when I went to college, I really didn't feel like I fit. I wasn't comfortable there, but it was my dream from my teenage years, my childhood. I was like, "What am I doing here?" After graduating, I went to design shoes. I was a bit happier, but I still was not feeling like I belonged there. I was very emotional and sad, not knowing what to do in my life, and my mom told me, "Come back and start working at the airport." 
I found myself a job at an airline and I was thinking about my life. By then I was like 20 years old, 21 years old. I was very young. Then working at this airline, I decided to follow my mom's steps. I've been totally in aviation. My mind was totally on aviation for 10 years. I can't remember a day that I'd pick up a pencil to design anything. It was like 10 years of blank in my creativity. I didn't create anything during this time. 
Sharon: When you did travel, did that influence how you saw jewelry or how you drew jewelry? Did it influence you?
Gabriela: Now, when I travel, I'm always inspired, not only to design jewelry. When I'm traveling, I get overwhelmed with things. I see the color, the people, this mall of places and food, and I start creating everything. Even homeware is floating in my mind. I have so many ideas, and the way I choose to translate these ideas and these thoughts is jewelry because I feel comfortable designing jewelry. I think it's a very meaningful object, and it's long lasting. Jewelry is forever if you take care of it. I think the best way to translate my experiences is in jewelry. My travels help me to keep my mind running and full of colors and ideas. 
Sharon: Do you ever take a pencil to paper and put down some of these ideas, the housewares or other things?
Gabriela: Yes, I actually have many ideas for housewares or leather goods. I want to have some leather goods in addition to jewelry because I think it matches. Like the cover of a jewelry box, those kinds of things. Yes, I'm always creating. I have notebooks full—and yes, they're real notebooks, not iPads or anything. I like paper. I'm always sketching things, like, "One day I'm going to build this," and maybe I will. I keep my ideas well preserved and saved for the time I will need them. 
Sharon: Did you see jewelry as a way to connect to people?
Gabriela: Yes, most of the time it's about family traditions and family histories. I want mine to be that. I create my pieces to connect people and start conversations, to make people talk about their experiences, their memories, their dreams, their wishes, their adventures. Jewelry is able to create these connections to people. I'm very proud to be working with such an amazing object.
Sharon: Do you consider jewelry, your pieces specifically, a conversation starter?
Gabriela: Yes, I think so. If you're living in my world, I think most of the people who buy my jewelry have this kind of lifestyle, the same wishes and dreams. If I see someone with a piece of jewelry like the ones I design, I'm always getting information and trying to understand what the meaning behind that piece is. I'm sure my jewelry does this to people, because I receive emails from clients sometimes. All this is so meaningful. Someone started to talk to me, and I had to tell him about my history with this country or the Morocco collection. I told this person about the history of this pendant and how it is meaningful for me. So yes, I think my jewelry starts conversations and inspires people. They start talking about the meaning behind this jewelry. 
Sharon: Have you ever seen somebody wearing a piece and gone up to them and said, "Hey, that's mine," or "Why are you wearing that?"
Gabriela: No, not like that, because the people that I would be able to meet, I've already had this conversation with them before they buy from me. But they always tell me why they are buying and how meaningful that jewelry is for them because of the stone, because of the history behind it, because of their lifestyle, their adventures, their spirit. I'm always in touch with these clients to know why they are buying this jewelry. They are always very happy to tell me. 
Sharon: It's like a focus group, but they're not a focus group. They give you feedback, but they're not formally giving it to you.
Gabriela: Right.
Sharon: On your website, you also say that you have some moments of pure beauty. They're few and far between, but can you tell us some of them?
Gabriela: Yeah, on the website, we're talking about the sunsets I experienced from the tower when I was an air traffic controller. I missed this view so much. I used to work in a very high tower with a view. The weather in Brazil at some times of the year is very dry, so the sky during the sunset gets the most colorful shades I've ever seen in the sky. It goes from very light blue, it becomes pink, and then you see that it's red. The sky is fully red. Then it starts to become orange, then it's violet, and here comes the night. It's so beautiful. I've been traveling a lot. I've been to many of the most beautiful sunsets in the world, because every place you visit has the most beautiful sunset, but I've never experienced a sunset as I experienced in my tower where I used to work. It was just amazing. This view was the best ever during sunset.
Of course, I'm always traveling, so I've been seeing many beautiful things. My first trip was to the U.S. alone, by myself. I remember getting to the Grand Canyon, and it was such an amazing view. I was mesmerized. I didn't have any reaction more than just looking. I was thankful and grateful. I was like, "This is what I want to do forever." It's just being able to see the beauty in the world. The Grand Canyon was a great experience. I think that was the place that started my wish to travel and experience the most phenomenal world. 
Sharon: I'm impressed that you went to the U.S. by yourself and you traveled around by yourself. Wow! Tell us how your business works. Who are your clients? Do you have male jewelry? Do you just design? How does that work?
Gabriela: I mostly sell online in Brazil and worldwide. In Brazil, we usually work from Instagram and WhatsApp. We have an online store, but all sales are mostly done on Instagram and the international website. I can ship to any country in the world now. We have some genderless jewelry, but we are working on a male collection, and I think they're liked. We're also trying to get some retailers. We've been talking to some. Soon, I think the jewelry will be available in some stores around the U.S. and in Europe. Let's cheer for the best. I think we'll be taking over the world soon. I hope so.
Sharon: I hope so too, if only for your sake. So, you design and then you give it to somebody else to make.
Gabriela: Yes, I make all the designs. The designs are exclusive. I do everything, and I have the manufacturers here in Portugal and in Brazil produce the jewelry. I have a high standard of quality with gemstones and everything. I'm very careful with the quality of the product.
Sharon: I don't know how it works, but you have an Instagram. If I order something from Brazil, is it the same as ordering from an international Instagram?
Gabriela: No, I have the same Instagram, but I have two websites. If you search for Latitude online if you're in the U.S., you'll find out our international website. If someone in Brazil searches for Latitude Jewelry online, they will find our Brazilian website. The Instagram is an account where we show our pieces, our jewelry. It's still only one account, but I'm probably getting an international Instagram. In Brazil, all the business I make is on Instagram and WhatsApp. They just reach out to me and ask whatever they want to know about the jewelry they are buying. Of course, we can change to WhatsApp, but here and internationally, it's only online. If someone asks me on Instagram, I can help, but the business is here. Internationally, business is done online, not on Instagram. That's the difference between places. 
Sharon: I know you can sometimes order from Instagram if you click "Buy" or whatever. What's the most surprising thing you've encountered being an entrepreneur with Latitude Jewelry as opposed to an air traffic controller? What did you not expect?
Gabriela: I expected everything, to be honest. I was excited to open the business. I was very prepared emotionally for the pressure I would find, maybe not as much pressure. I'm used to working under pressure as an air traffic controller, but I think running a business, running a company, there's a lot more pressure. So, at least I was well-trained as an air traffic controller. I can do pretty well with the pressure of being an entrepreneur. I wasn't surprised because I was very well prepared to be where I am now.
Sharon: We will have photos posted on the website. Please head to TheJewelryJourney.com to check them out.