Episode 208
What you'll learn in this episode:
How Kentshire's partnership with Ulla Johnson came about and what they hope will come of it
Why Matthew doesn't want his clients to keep their fine jewelry in a safe deposit box
Why "Do I love it?" is the first question Matthew asks when looking at jewelry, and why things like designer or carats may not be as important as you think
How Covid changed the vintage jewelry market
How dealers work together to source the best jewelry for their clients
About Matthew Imberman
Matthew Imberman, along with his sister Carrie, are the co-presidents of Kentshire Galleries. Established in 1940 and spanning three generations of family ownership, Kentshire Galleries is one of the foremost dealers of fine period and estate jewelry. In 1988, Kentshire established a free-standing boutique in New York's premier luxury store, Bergdorf Goodman. Their antique and estate jewelry department continues to occupy a select location on the store's seventh floor. As the third generation of the family to lead Kentshire, Matthew and Carrie continue to refine the gallery's founding vision: buying and selling outstanding jewelry and objects of enduring design and elegance.
Additional resources:
Photos:
A Retro "Torsade" ring of tapering ribbed design centered by a multi-gem pavé panel of diamonds, sapphires, rubies, and emeralds, in platinum and 18k gold. Suzanne Belperron, France. With a certificate of authenticity from Olivier Baroin.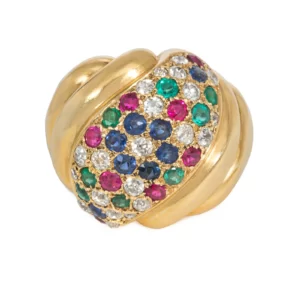 A Retro gold strap bracelet of scaled links terminating in seven tassels with a buckle closure, in 18k. France. Maker's mark A.M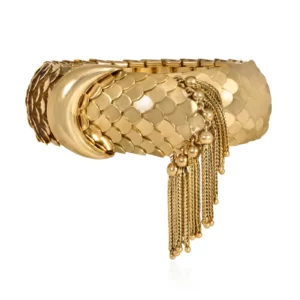 A very fine antique diamond-set brooch in the form of an inverted Japanese maple leaf in a fitted box with removable pin-stem and hair comb attachment, in 18k gold and silver. France. Atw diamonds 3.00 cts.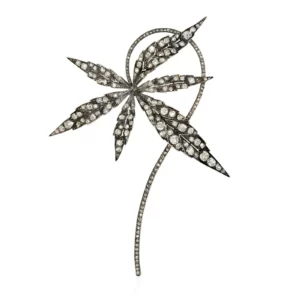 An Art Nouveau adjustable woven gold bracelet in the form of a coiled serpent with a rose-diamond set head and ruby eyes, in 18k. France
Serpent jewelry is a perennial theme. The motif reached a feverish level of popularity after Prince Albert
gave a snake engagement ring to Queen Victoria. The snake in this
case signified eternal love. But snake jewelry dates back to ancient times. For the Egyptians, the creature represented royalty and the divine; for the Greeks, the full circle formed by a serpent eating its tail – the ouroboros, which literally means "tail-devourer" – evoked the circle of life. Snake jewelry continues to make a striking statement, and many pieces feature eyes and
foreheads encrusted with gemstones, as seen in this extraordinary example.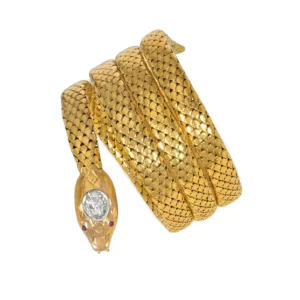 A pair of chrysoprase, diamond, and gold doorknocker hoop earrings with oval-shaped lobed chrysoprase hoop pendants divided by five rows of diamonds, in 18k. Bulgari, Italy. Atw 1.85 cts.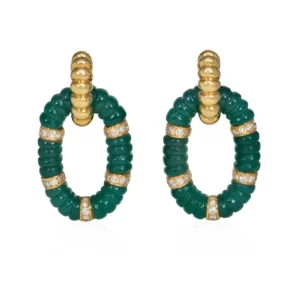 Transcript:
Through a partnership with fashion designer Ulla Johnson, Kentshire Fine Jewelry will have a permanent presence on the West Coast for the first time. While other dealers might change their approach to appeal to a new market, co-president Matthew Imberman continues to buy jewelry based on one criterium: whether he loves the piece or not. He joined the Jewelry Journey Podcast to talk about the history behind the collaboration with Ulla Johnson; why following trends isn't the best way to buy jewelry; and how Covid changed his business in surprising ways. Read the episode transcript here. 
Sharon: Hello, everyone. Welcome to the Jewelry Journey Podcast. This is the second part of a two-part episode. If you haven't heard part one, please head to TheJewelryJourney.com. 
Today, my guest is Matthew Imberman, who, along with his sister, Carrie, is Co-President of Kentshire Fine Jewelry. Welcome back. 
And that's what you look for in the jewelry you're purchasing, whether it's Bergdorf—
Matthew: Absolutely. Look, it's not to say there aren't some things that excite that are unusual or might be something we've had before, but we still love them. There are certain archetypes of jewelry, like a great French tank bracelet. Those are out there, but there are great ones and then there are O.K. ones. I think we're always looking to find one of the best or better versions of what we can find in the category. Are we going to say that every single item we get is unique? No, that's not the case. These things were made in stereo even in their lifetimes, so we're looking for the best examples, in the best condition and the best materials for those kinds of items.
Sharon: Do people bring you jewelry and say, "My mother died, and I want to sell this"?
Matthew: Yes, we certainly get that, or "This was in my safe deposit box." Certainly, it's part of it, which is a good part of it. There are times when we are able to source good pieces from our clients. I think it depends, because we deal in nostalgia and people who come to us with pieces that were left to them by family members. There's a nostalgia link, and there can sometimes be a bit of telephone between what they were told. Let's use, for example, if they say, "My grandmother left this to me, and my grandmother told me that this is where she got it. This is what it was." The stories sometimes change over time, not from any evil intentions, but just because people didn't save receipts or they don't know exactly what it is. 
So, somebody will come up and say, "Oh, I have this piece. It's just like what I saw in your store, and my grandmother left it to me. I want to bring it in." They'll bring it in, and when you hold what they brought and what we're selling next to it, they're very, very, very distant cousins. It's not that theirs is inherently bad, but it's not exactly the same thing. But people tend to look at items through a nostalgic viewpoint. So, they say, "Oh, I was left this," "My grandmother told me this diamond ring is worth X amount." It puts us in the awkward position of saying, "Well, it's a lovely thing, but it's not exactly what you were told it was." Those are some of the stories, but by and large, we're given the opportunity to see wonderful collections from our clients. We're fortunate enough to have them be loyal, if they have more pieces, and to come back to us. We don't frequently buy from the public, but it's not something we never do. 
Sharon: Where do you source a lot of your things from? Do you ask? Do you source it from abroad or whoever walks in the door?
Matthew: We mostly work with a small group of dealers like ourselves. They're people who have been in the trade a long time. Trust is still a big part of our business. We have to know each other. We're dealing in valuable items, things where trust is important and you want to know who you're buying from. I think that's the case in any business for the most part. But we mostly buy from dealers like ourselves who are in this world. Whether or not they're retailing, they're dealing with other jewelers to sell pieces they understand so they can place them.
For instance, I might have a client for a piece and one of my colleagues in England I know might have a version of what I need and I can call them up. In that way, it allows me to have a greater reach than just my inventory. The colleagues are not competition in the sense that we need each other to stay in business. It's a small group of goods that we all admire and we all like to buy and sell, but we also have to do that with each other so we can have the inventory we need to service our clients. One of my colleagues in France can have something if they need it. So, it's really an old-world business that way. 
Then auctions are really hyper-retail, at the end of the day, for a lot of pieces. I think they've done a great job of convincing people that there's a steal to be had, but when you look at the prices and how they land, if you're buying a bracelet, it's going to end up for around the same price, if not more, than what you'll pay in my store or one of my colleague's stores. But it comes with a three-inch-thick binder about why, if something's wrong with it, it's not their fault and how they don't offer any post-sale service and yada, yada, yada. We all deal with the auction houses to a certain extent out of necessity, but we're not very bullish on them, and I think for pretty understandable reasons. Every once in a while, we look at estate sales. People who buy estates are buying the entire thing, and we're cherry pickers. We're looking for the three or four really interesting items, and to do that, you usually have to buy the entire estate. So, we rarely do that, given that we're working with a specific and small group of goods.
Sharon: Have you always been involved? You had a career before this, right?
Matthew: At this point, I've been in the business for about 22 years, I think, if I'm doing the math right. Not always on the jewelry side, although always around it. Like I said, we also had a large business in antique furniture, English and continental furniture and decorative arts at the same time we had jewelry. I was originally on that side of the business. Before that, I did a master's in art history, so I was gone for a while. That was part of what made sense in terms of coming in the business, but also in terms of lending itself to jewelry. The specific studies we did, it was in decorative arts. You're covering a lot of the different motifs and the techniques that were also happening in jewelry at the time. So, that planted the seed. I spent some time in contemporary art before that, working at the Met on their website, but that's ages ago now. 
Sharon: In the past few years, you mentioned people being less formal. Out here we're so casual. Here you can wear nice jewelry, but a pair of shorts and a T-shirt. Have you seen a change in the kinds of things people buy? What are the trends you see?
Matthew: I think it's challenging sometimes for people like us, who aren't dealing in manufactured goods, to look at the trends and to understand if these are actually sales-driven trends or things that are catching an eye on social media. Instagram will load your feed with them, but does that translate to what is actually being bought and sold meaningfully? It's interesting when I see little trends pop up on Instagram and people start running with them. Whether it's a designer or a type of good or it's the newest thing, they're talking about vintage jewelry. They're talking about something that people have been buying and selling for decades, if not centuries at this point. It's always the phase of, who is deciding which trend is in? 
For us, we're trend agnostic. I don't buy something with the idea of "This is going to be the next big thing," or "Everyone right now is focused on this." There's been a moment of people buying Georges L'Enfant jewelry, but people have been buying Georges L'Enfant jewelry for a long time in America without knowing necessarily who the maker was. They're just now catching up on, "Oh, that was a maker who was making for Hermès, VanCleef, Cartier, and who in their own right was an incredible designer who was making pieces for bigger houses." They may know the bigger houses without knowing the maker. That can raise the price of L'Enfant overall, but for us, it's not going to change specifically how we buy because we have to find a piece. If I walk out tomorrow and see three L'Enfant pieces, and those three L'Enfant pieces don't belong in a collection, it doesn't matter that they're buying L'Enfant. It doesn't matter that that may be trendy. If I don't think they belong in a collection, then they don't belong in the collection. 
My sister has extremely rigorous standards, and I do too, so we buy the best examples of what we like. People say that all the time. They say, "What do you buy?" and we think "We buy what we like." We wish we could explain it better, but it's just how we are. Every couple of years, people will launch an article and say, "Oh, the brooch is back," and I think, "That's a bit lazy. The brooches never got away." Some people will feel less comfortable wearing them, some people will feel more comfortable, or people might say, "Oh, it's old-fashioned," and this or that. But for dealers, we all buy and sell brooches. It doesn't change my feeling. If I see a beautiful one, a beautiful pin, we want to buy it. If my sister sees a beautiful 18th-century brooch and she thinks it's great, she's not going to say, "Huh, well, brooches don't sell." Is it the right brooch? Does it represent something we think our clients should own? 
One of my friends who's out on the West Coast said, "Oh, so you're going to bring a lot of astrology signs," and I said, "If we have nice ones, absolutely." I understood what they were saying. There certainly is a great market on the West Coast if you have a wonderful Cartier zodiac collection, for sure. We're not going to buy that because they could do well out there. That's not who we are. If we see one that's particularly interesting and has a great weight and represents an acceptable value given how those have crept up in price over the years, yes. But just because we're there, we're not going to be doing that, if that makes sense.
Sharon: If somebody brings you a pair of earrings that don't fit with what people are going to wear today, but in your opinion they're well-made and well-priced, would you be interested?
Matthew: Absolutely, because we don't approach it through other people telling us what people won't wear today. We have clients in a lot of different areas of the world, different ages, different price points for what they're buying. We can just look at it and say, "You know what? We think this is a good looker." If there are 10 articles tomorrow by somebody in the know saying, "No one is wearing this kind of earring anymore," that's not going to affect our thinking because we're not buying pieces retroactive to what trends are happening. We're buying what we like, and we like to think that anyone, whether they're trend-driven or not, can come and see our collection and find something that might speak to them.
Sharon: Have you seen a decrease in the age of people who come in and can't find anything because maybe they're looking for something that isn't jewelry?
Matthew: I think for us, the understandable barrier to entry is always going to be price, withholding our costume collection, in which you can find pieces that are in the hundreds of dollars range. Fine jewelry in our collection by and large starts at $3,000-ish and creeps upwards to millions of dollars. We understand that not everyone puts the same value on jewelry as we do. So, for some people coming in, if they're looking to buy a piece of jewelry, they might have a totally different price point in mind than what our collection is, and that we certainly understand. We've always tried to have a range of prices. 
Part of the challenge, though, is because we deal in pieces that are made up of commodities, gold, diamond, things like that, and those commodities have prices that fluctuate. As gold has gotten very strong, the price for us to buy good gold jewelry has gone up because the gold is more valuable, so the price for our clients is more expensive. That's also a good insurer for them, in that if you own gold jewelry, the value has continued to grow as the price of gold goes up. We don't really buy that way. There are some dealers who will buy very specifically based on what the piece weighs if they have to scrap it and what the value of gold is today. We're not buying pieces that we hope anyone would melt down at any point, especially when you're looking at antique pieces. The amount of gold in an antique piece, because of the way they were constructed for the most part, they're not going to be particularly heavy in terms of how much gold is going to come out of them. So, the value isn't in the actual materials there. I think it just represents something a little bit different. 
Certainly, on Instagram we get more information about what our younger clients are looking for. Everyone sees value in different places. How they want to spend it changes, and how we're able to conduct the business in terms of skewing towards younger clients changes, but we've been encouraged to see our client base on Instagram start to fall in line toward what we see in the store. It really represents the spread of ages. 
Sharon: There's all this talk about younger people. I'm not talking about 18-year-olds or younger. Everybody in the world is younger than I am, but you hear about younger people not wanting to buy jewelry. They don't buy as much jewelry even though they could afford it. They just don't buy as much.
Matthew: I will say that our main client was never a "young" client simply because of the prices we're talking about for most people. Even if they didn't want these things or maybe were saving for a house, I think what's different is if you look at the advent of how handbags have become such a status symbol, the prices of handbags are commensurate, if not much greater than a lot of fine jewelry. That creates a really interesting secondary market for handbag resale. 
I think the story people got in the pandemic was everyone saying, "Oh, they just want experiences," but we're talking about a time period when everyone was fetishizing experiences because we were all locked inside and couldn't do anything. We had robust sales, surprisingly, during Covid, and when we were coming out of Covid, too. We had a steady increase in new clients because I think people were excited to be out again, excited to be wearing something, excited to not just be dressed for a Zoom meeting. I think jewelry plays a part in that story most remarkably. It's wearing your sculpture around and drawing attention to yourself in what we'd like to think is a unique way, hopefully wearing something that not everyone else has.
Sharon: You answered the next question before I asked it, which is did you see a change? I heard from jewelers that they were seeing an increase during Covid because people weren't going to fundraisers or whatever, but they were spending their money.
Matthew: It's interesting I answered something where there is sort of a long family story. I have a meandering way to answer any question, I know, but I'm glad I had one at least. Did we speak during Covid or right before when we had our first interview? I can't remember, but I do remember thinking when Covid hit, "We had a really good Christmas. If we don't sell another piece of jewelry for a year or so, we'll be fine. We'll just batten down the hatches," but like anything else, people still wanted to collect. People wanted to look at something new, boost their spirits, what have you. People weren't going to fundraising dinners or vacations, so this was something where they said, "Normally I would spend X amount eating out, but now it turns out I've saved all this money not eating out. I can afford a beautiful bracelet." We were surprised that happened.
During Covid, the real challenge became finding goods. We could sell things and send them, but it became very challenging to see our colleagues, to find pieces, to do all that. That's where we had to get a lot more clever and targeted for how we acquired things. Coming out of Covid, I think we're all playing catchup, and not just from our business' standpoint. Everyone is. Everyone's calendar has changed a little bit. A lot of our clients who would go out to the Hamptons for the summer but would be here during the year realized that their job is more portable than they thought, or they've changed how they work altogether so they're out of their house a lot more. So, they're shopping on our website now instead of coming into the store. Or, they're out at their houses, which they're fortunate enough to have wherever they are, at other parts of the year, so when summer comes, they're in New York at times and we don't expect them. 
Weirdly, our summers used to be rather quiet but tolerable at Bergdorf, and we would expect to get some of our bigger administrative projects done. Now we find that people are coming in and tourists are coming in in the summer, when it used to be very slow. We have to change when we take our vacations, when we need to do our projects, how we plan for the fall season, which has come and gone in terms of when the planning has to happen. It keeps us on our toes, but part of what's good about being a small ship is that we're nimble, so we're able to course correct pretty quickly if we have to. We've been in Bergdorf long enough to know the rhythms of the store. 
What I don't think any of us anticipated was what tourism would be like in New York, especially with the story being what it was elsewhere. We found ourselves really blown away with the reaction of people coming back to the city and how many people were coming through. In my short walk between Rock Center, where we have our offices, and Bergdorf, which our staff will do multiple times a day bringing goods back and forth, it got to a point where you couldn't walk down Fifth Avenue. I'd go to Sixth Avenue and walk down there because it was so busy. It's been interesting to see the resurgence of people visiting the city. We have more people coming to Bergdorf, which leads to more sales. We keep ourselves busy trying to find new pieces. 
Sharon: That's very interesting. I hadn't thought about that, especially when you say the jobs are more portable. I think I'm the only one who's at home on their couch looking at Instagram.
Matthew: I can tell you from behind-the-scenes looks at our Instagram numbers, you're not. Even for us, we have to be in our offices because we work with a physical, tangible good. I couldn't be a person who works from home all the time. I also don't think I would be well-suited to the routine of being in an office. But we need to be in and around the jewelry district to see new pieces as they come in, to run a repair. We physically have to be there, but even in the realm of what we do, we're more flexible. If I need to work on the road or work from home or do something here or there, the technology has made it so we can do that, too. For all our clients, it's the same thing. 
The social calendar in New York has changed dramatically as some events have changed over and come and gone. What people feel they need to go to, how people are dressing for them, that's changed a bit, too, so it's changed how people buy. Obviously, the holiday season is always a very strong season for people in our world and when we do a lot of business, but we find it's spread out around the year a lot more now as people are not buying for occasion-specific pieces. They're not just saying, "I've got this birthday, this anniversary." The pace of their lives has changed it.
Sharon: That's interesting. You preempted my question. I was going to ask you about changes. Does that impact how you think about Los Angeles or the West Coast, where there are no seasonal changes really?
Matthew: In terms of seasonal changes, I have friends who work in different areas, whether they're in a hifalutin financial position or they're consultants at luxury groups, and they come and say, "We want to help with this." They'll look through and figure out how to optimize or create a strategy. When they spent time with us, they realized, "We do not know how you do what you do." It doesn't really subscribe to the more traditional models of how somebody might run this kind of business. 
I understand that if you are Tiffany and you're doing things on the West Coast, you might change how you skew your line sheet for what kinds of pieces people might wear, because that kind of style isn't going to work when somebody is wearing a shift versus a sweater. We are not clever buyers like that. Again, we look at things and think, "This is a great thing. We can see one of our L.A. clients wearing this. Let's send it out there." So much of what we do is by feel and a kind of very educated guess. It's easier in some ways, the variety of pieces we can send out West because we're not worried about people taking gloves on and off when it's a ring. When you're in the city and you're taking a ring on and off, maybe it could get caught. I don't know how much they're concerned about that in New York now. We tend to think the same way. 
If you're a collector of vintage cars and you understand you're buying a vintage car, you know it's going to require special handling at times. You can't drive it down every road. You might need to bring it to a different mechanic than where you bring your daily driver. We expect, to a certain extent, that people buying fine vintage jewelry understand the spirit of that too. They're not bringing it to the person at their mall to have it fixed. They're not wearing it in the pool. There are parts of these changes we're happy to walk people through, but whether you're East or West Coast, there's a certain sensibility we think goes with wearing the pieces.
Sharon: Do you think people gear up for the holidays? You said you also do during the year, but do you gear up?
Matthew: We acquire year round, and we put out a catalogue usually in the fall. That's always a challenge for us in that we love doing it and we spend a lot of time putting it together, but as we finally get to finish the product and it goes in the mail, the pieces have already been available. So, you get this heartbreaking moment when a client calls and says, "I got this catalogue. I'm out in California. What's on page three?" and we say, "I'm so sorry. It's sold." But it allows you to start the conversation and say, "We can try to find you something you like. Maybe we have something that wasn't in the catalogue that's new, and we can talk you through it."
We have a sense for how people respond, but in terms of the West Coast specifically, I don't know. We're curious to see what that's like. I assume that titans of retail who also make their money on the West Coast around the holidays are doing things somewhat in lockstep with what we're doing on the West Coast. People still celebrate holidays and buy gifts out there. We think it's probably going to be the same way, but again, we don't live or die based on holidays. People come every day and say, "Oh wow! That must be crazy," and I say, "You know, we're not the right lid for that pot." Not to say we don't sell things based around that, but we're not specifically holiday-driven dealers. We're not looking to get in a million hard pieces for Valentine's Day and have everyone get something for their sweetie. Our core client is women who are buying jewelry for themselves. It creates a different experience than when you're making a gift purchase.
Sharon: That's interesting. Matthew, thank you very much. I hope we all get to come out to Bergdorf and see your stuff. I hope you're not deluged with people coming to your administrative offices. You can direct them to Bergdorf. Thank you very much. I learned a lot today. Thank you. I really appreciate it.
Matthew: Thank you for having me. We look forward to seeing you out West soon.