Episode 208
What you'll learn in this episode:
How Kentshire's partnership with Ulla Johnson came about and what they hope will come of it
Why Matthew doesn't want his clients to keep their fine jewelry in a safe deposit box
Why "Do I love it?" is the first question Matthew asks when looking at jewelry, and why things like designer or carats may not be as important as you think
How Covid changed the vintage jewelry market
How dealers work together to source the best jewelry for their clients
About Matthew Imberman
Matthew Imberman, along with his sister Carrie, are the co-presidents of Kentshire Galleries. Established in 1940 and spanning three generations of family ownership, Kentshire Galleries is one of the foremost dealers of fine period and estate jewelry. In 1988, Kentshire established a free-standing boutique in New York's premier luxury store, Bergdorf Goodman. Their antique and estate jewelry department continues to occupy a select location on the store's seventh floor. As the third generation of the family to lead Kentshire, Matthew and Carrie continue to refine the gallery's founding vision: buying and selling outstanding jewelry and objects of enduring design and elegance.
Additional resources:
Photos:
A Retro "Torsade" ring of tapering ribbed design centered by a multi-gem pavé panel of diamonds, sapphires, rubies, and emeralds, in platinum and 18k gold. Suzanne Belperron, France. With a certificate of authenticity from Olivier Baroin.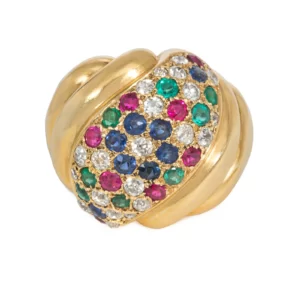 A Retro gold strap bracelet of scaled links terminating in seven tassels with a buckle closure, in 18k. France. Maker's mark A.M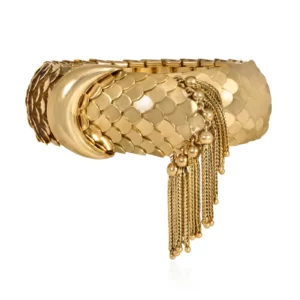 A very fine antique diamond-set brooch in the form of an inverted Japanese maple leaf in a fitted box with removable pin-stem and hair comb attachment, in 18k gold and silver. France. Atw diamonds 3.00 cts.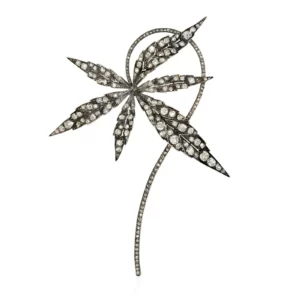 An Art Nouveau adjustable woven gold bracelet in the form of a coiled serpent with a rose-diamond set head and ruby eyes, in 18k. France
Serpent jewelry is a perennial theme. The motif reached a feverish level of popularity after Prince Albert
gave a snake engagement ring to Queen Victoria. The snake in this
case signified eternal love. But snake jewelry dates back to ancient times. For the Egyptians, the creature represented royalty and the divine; for the Greeks, the full circle formed by a serpent eating its tail – the ouroboros, which literally means "tail-devourer" – evoked the circle of life. Snake jewelry continues to make a striking statement, and many pieces feature eyes and
foreheads encrusted with gemstones, as seen in this extraordinary example.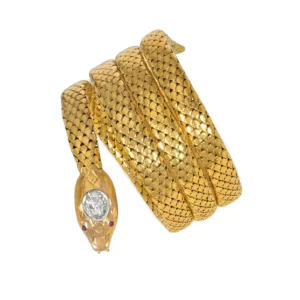 A pair of chrysoprase, diamond, and gold doorknocker hoop earrings with oval-shaped lobed chrysoprase hoop pendants divided by five rows of diamonds, in 18k. Bulgari, Italy. Atw 1.85 cts.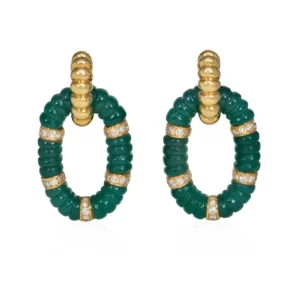 Transcript:
Through a partnership with fashion designer Ulla Johnson, Kentshire Fine Jewelry will have a permanent presence on the West Coast for the first time. While other dealers might change their approach to appeal to a new market, co-president Matthew Imberman continues to buy jewelry based on one criterium: whether he loves the piece or not. He joined the Jewelry Journey Podcast to talk about the history behind the collaboration with Ulla Johnson; why following trends isn't the best way to buy jewelry; and how Covid changed his business in surprising ways. Read the episode transcript here.
Sharon: Hello, everyone. Welcome to the Jewelry Journey Podcast. This is the first part of a two-part episode. Please make sure you subscribe so you can hear part two as soon as it's released later this week. 
Today, my guest is Matthew Imberman, who, along with his sister, Carrie, is Co-President of Kentshire Fine Jewelry. At Kentshire, fine jewelry encompasses almost everything that you would categorize as fine jewelry: bridal, engagement rings, signed pieces, retro and even fine costume jewelry. They're the third generation to be involved in jewelry. Their administrative office is on Fifth Avenue in New York, and their retail location is on the seventh floor of Bergdorf Goodman.
Matthew is a returning guest who was with us several years ago in the pre-Covid days. Now, I'm excited to hear about his collaboration with the designer Ulla Johnson in their new store in West Hollywood. It's not often that New York jewelers come out this way, so I'm looking forward to hearing all about it. Matthew, welcome to the podcast.
Matthew: Thank you for having me.
Sharon: I'm so glad you're here. What about the West Coast clientele surprised as you were doing the store?
Matthew: We have deep roots on the West Coast despite not having our own Kentshire branded store out there. We've been longtime exhibitors at the San Francisco Fall Show. The show has had some changes through the years, but we've been exhibiting for more than three decades, easily. Because of that, we've tracked with some of the West Coast feeling of our clients. Throughout the years, we've done different shows in L.A. At one point, we did have an agreement where we sold our pieces at Gump's. It's not that we are new to the West Coast, per se, but we have taken a bit of a hiatus. So, we were interested in getting out there and bringing what we have to our clients who are there. 
But by and large, it's not that we have a different sensibility about what we do for the West Coast versus the East. Kentshire has its viewpoint, which is a simple one. Carrie and I buy things that we think to be interesting, made well, rare. Whether it's from a famous designer or not, something that's not something you see every day and that we think will please a variety of our clients' sensibilities, but primarily it also has to please ours. At the end of the day, we end up looking at the pieces, whether they're with us for just a day or whether they're with us for a few years, so we buy things we like. We think that's a good viewpoint for anyone. 
So, for our West Coast clients, we are not such nose-in-the-air New Yorkers. We love our West Coast clients. We have family on the West Coast. We've spent a lot of time there, so for us, it wasn't like, "Oh, my god! We have to think through a whole new client type." It was, "No, we're so excited to bring something we do to clients that, in some cases, do know us because we've been out there or they visit us at Bergdorf, but also clients who we haven't seen and who are friends of friends or know us through Ulla." So, we touch all bases there.
Sharon: I think you mentioned earlier Gump's San Francisco Show. I don't even know if they're still having that show.
Matthew: It did take a few years off during Covid. It is happening again. I believe it's the 14th or 15th of October—I'll have to look back on the dates—at the Fort Mason Complex in the Festival Pavilion. I know this year Lauren Santo Domingo from Moda Operandi is attached as one of the social chairs. They have a fantastic gala evening. The show is run by Suzanne Tucker's entertainment team, who is just a consummate professional. What a combination of taste and savvy there. So, we're excited to be there, but we did the show when it was at the Santa Monica Air Hangar in the years back. We've done different shows off and on. It's been harder, I think, for a show to stick there, so to speak, but we also think it's a good fit for us. We've certainly started and stopped a few different shows in L.A., but it's been a long time since we've been in the city proper. 
I should add, actually—I'm leaving out the most glaringly obvious thing we did there. When Opening Ceremony had their larger line with accessories before the company went through restructuring during Covid, we also had our fine jewelry in Opening Ceremony. That both had a fashion bent and had a lot of store-within-a-store feeling, similar to what we're doing with Ulla. We had a targeted collection that was there in L.A. that represented us on the West Coast. We did that for, oh gosh, at least five years, I think.
Sharon: I must have missed that because there's not any fine jewelry, except for maybe the big, commercial jewelers that are out here in Los Angeles. From what I've been told and from what I see, the clientele is very different.
Matthew: It's funny. You know more because your boots are on the ground. We have a different feeling, but I'll say even looking at clients reaching out to us through Instagram or our website, we find that certainly the West is very well represented. The information, the data behind it, can sometimes be skewed because we have clients who come into Bergdorf, and they must happen to mention to us, "Oh, I'm visiting from the West Coast." Maybe we'll get a little more granular detail, but I do know that when we look at the information, which we try stay up on for how people approach us and our work, we certainly feel that the West Coast is no slouch when it comes to looking at jewelry. I think that also shows with some of the dealers out there.
Sharon: There's money out here to buy it. Maybe it's because I'm not really wild about the kind of jewelry they tend to wear. Who did you work with in terms of Ulla Johnson? Did they come to you, the designer?
Matthew: I wish Carrie were here for a number of reasons. She's my business partner and obviously brings a tremendous wealth of knowledge and experience to the business, but she and Ulla have been longtime friends. I've known Ulla for a very long time, too. Ulla's husband and her family have been close for a long time because my sister and I share a friend group, and she's got some really wonderful friends. They've just had an affinity for each other and known each other, came up through a variety of different jobs together, and have always been very close. 
Ulla has always had a fantastic eye and really understood antique pieces, understood how a combination of design, manufacturing and color all come together to set some of these pieces apart. Throughout the years, she has grown in her notoriety, which now is incredible to see looking at the store on the West Coast in a picture, which we don't get to see in person until we go out in September. We're going to do a little trunk show, which I'll do a shameless plug for, on the 20th of September. We'll have more info for you as plans come together.
Ulla has been a client of ours and borrowed things from us. We've worked together because we're friends, but sometimes friends don't always work well together. In this case, it's been beautiful because she's got such a clear vision of what she designs. It suits our inventory. Again, there's a reason she and her are friends. People tend to share a visual vocabulary. It's been a really good, seamless blend of both being in allied fields, jewelry and fashion obviously marching together to the same step, but also our viewpoints of what matters in terms of how things are designed, how things are proportioned, how colors work together or don't work together, how these things can interplay. We've been fortunate to count Ulla as a client, but much more fortunate to count her as a friend and somebody who inspires what we do when we look at things and address clients. What is she looking at?  How are those things playing together? There's a lovely synergy there. 
Sharon: Were you involved in picking the jewelry, or was it Carrie and Ulla who picked the jewelry to go in the store?
Matthew: I take a much more hands-off approach in terms of that because Carrie and Ulla do not need to hear from me. I'm always happy when my opinion is asked for, but I also understand, and given that Carrie and Ulla are old friends—really, friends are not the same. They're very, very close. My influence is surplus to their needs. They've got it beyond spades, what they need to do, and they play off of each other. 
Ulla has a very clear vision of what she wants. She'll look at our collection or see things as they pop up on Instagram and get in touch and say, "What about this? What about that?" Similarly, when Carrie and I shop—because, again, we look for clients that we like. We love clients who are buying for themselves with a clear viewpoint, and that is Ulla to a T. So, we'll look at things as we're buying them and say, "This is the kind of thing that is for Ulla or her store or this kind of client." One can never expect that means if you buy that piece, it sells in that way, but it does pull a spring at times on how we're acquiring certain parts of our collection. Thus far, it's proved pretty accurate.
Sharon: I'm surprised. I'm the same as you; I've only seen the pictures of the store. There doesn't seem to be a lot of jewelry, at least from the pictures.
Matthew: In the press pictures, it's hard to see. When they did the press pictures and when the store opened are largely different things. Obviously, one has to get the message out ahead of time before they open the doors. In one of the pictures, you can actually physically see the showcases, but I can send subsequent pictures that show you the jewelry displayed in them. There are two lovely floor cases, top-down vitrines that you'd be looking into. 
We're not looking to have 20 showcases. Given our requirements for how we purchase things and what they need to look like and the requirements we have for how we buy inventory, if we needed a whole new inventory for an entire store of jewelry, it would be extremely difficult. Right now, with the stock we have—not that everything sells immediately, but buying things is challenging because we do have a viewpoint and specific standards. Not to say there aren't a few things here and there that might be more bread and butter or commercial pieces. 
Even when we're sending things out to Ulla, we're looking for things where it doesn't matter. It's not like, "Oh, we're sending them out to another collection, so it can be different from what we put at Bergdorf." Everything has pretty strict standards. In Ulla's space, they have two lovely, very interestingly built cases, I have to say. They're things I would never be clever enough to design in a million years, but it's displayed very, very beautifully. It's a very focused collection. We're not talking about 500, 600 pieces.
Sharon: So, you do have vitrines and showcases. 
Matthew: Yes.
Sharon: Nothing shows. It looks like you just have a few pieces.
Matthew: That's just in the press photos. I understand with these things, there's always pressure to get the press photos out so the major press can be done, and the major message there should be Ulla. We are kind of an inclusion below the fold, but inasmuch as we are there, as they merchandise and get the pieces out there, this is the soft opening, as they say. Every store has to work out some of the kinks when it opens. In this case, it's easier for us given the nature of what we sell and it being valuable things that can't be just mixed in and around the inventory to cover Ulla after the fact. 
The formal opening is going to be closer into October, when we come out. By then, we'll have better photos of how everything is displayed in the store. People will come here and say, "There's always a new way to do design that somebody hasn't seen." At the end of the day, it's still jewelry on props. Whatever they are, you still want people to see it and go after it. I think it's a tremendous success, given that they have a wonderful designer they worked with. Ulla herself has such a vision, and we were happy to be in the mix.
Sharon: I think it's a really nice idea. It adds a lot to a store because you usually see—I don't mean to disparage it—but costume jewelry or whatever the store is selling. You don't see fine jewelry. How do you keep it secure?
Matthew: It's all locked up at night, similar to what we do at Bergdorf. Things are in a locked case. If a client wants to see a piece, they work with a sales associate who will show it to them, and then everything is secured at the end of the day. Any proper jewelry store should be doing that. We're extremely careful and have all our little operations in place. We know their team is a crack team, too, and we will be doing everything to keep it very safe.
Sharon: It looks like quite a large store from the pictures. Everything I'm talking about is from the pictures.
Matthew: Yeah, but if you think of it this way, we operate in Bergdorf, which is a tremendously huge store and has so much going on. Once you know the order of operations and the sales associates understand the specific rules for showing jewelry, it's fairly straightforward and pretty easy. 
Nowadays it's different. Everything is very secure. Everyone has cameras in their spaces. We were doing retail for quite a long time before the advent of cameras and different sensors and all these ways of keeping things safe through technology. We feel very confident.
Sharon: Do you think it's bigger than most of the stores in that area? That was my impression.
Matthew: This is where I have to say I couldn't myself say. I am not an expert on that area of Beverly Boulevard or how the different retailers are size-wise. I know that when we started, it was quite a large store. We felt very comfortable because we're working with partners who we know well, who are leaders in their fields and have people working with them that are excellent. 
Given that Ulla is quite an accomplished designer and has a sizeable presence in New York already and obviously sells in other outlets and units, I would imagine that her store is commensurate with the level of success she's seen in our store, which is to say appropriate to what she does. Whether bigger or smaller than one of her colleagues, I don't know.
Sharon: Do you or Carrie have any input in the design of the store?
Matthew: No. Again, this is a lovely partnership and a meeting of minds, but our partnership is—like you said, where some retailers out there might fill their jewelry section with costume jewelry they've licensed out to someone else to design, or maybe they have a third party doing it. I think what Ulla saw in us is the idea that we have a similar viewpoint for how we present what we do. Part of the reason, even when you see on social media—if you look at Ulla on the internet, you see how she's wearing her own designs and her jewelry. It works so well together. 
Similarly, with the store, our input wasn't needed or even appropriate because it's Ulla's space to let her designs shine. But we know that whatever she does, her pieces are going to look good within the context of that collection. Despite what the store looks like, the main imprint is still, visually, that all of her wonderful clothing designs and our pieces have worked thus far. We obviously have the utmost confidence in both her and her designer to create an environment that would be wonderful for us to show our jewelry.
Sharon: I don't know what Bergdorf carries, but do people come to you with one of her designs and say, "What can you recommend to go with this?"
Matthew: I could certainly ask my sales staff. At Bergdorf it's not uncommon, whether it's Ulla or other designers, because we work across the store. We have our own specific private salon right on the seventh floor next to the restaurant. It's a little different than the main jewelry shown the ground floor. It's just our material, just our sales staff that works for us specifically, and we serve as an outlet for the rest of the store for what is essentially the antique and estate department at Bergdorf. 
What happens frequently is, whether it's an associate who is working in Ulla's section or somebody working in Chanel, they'll come and say, "I have a client who's looking at a gown and needs something to wear with it. This is a picture of the gown. What can you recommend?" Then the client would be able to try on the dress or whatever they're looking at with our pieces. If something works for them and they like it, then great; we can help them out that way. Certainly, that's part of it. 
One of the benefits for us to be in Bergdorf, aside from the fact that obviously it's Bergdorf and it gets a wonderful assortment of people who come to shop at the store, it puts us in the context of what people are wearing. While we have collectors who might specifically collect the pieces and wearing is secondary, by and large, our goal is for people to wear what they buy. We firmly believe things should not sit in the safe deposit box. They interact with the designer's clothing while the client is trying it on with our pieces. That's the best effect overall, I think, for a client looking at how the pieces are represented when they get them home and when they wear them. They look at them with the real eye.
Sharon: Is there a decrease in the kind of people who are buying a Chanel piece, let's say, or a Chanel gown, a red carpet look?
Matthew: Oh gosh, in terms of a red-carpet look, that's where my knowledge of Bergdorf sell-through would be behind. "I don't know" is the answer, but I can certainly say Chanel is experiencing a slowdown, at least judging by the number of people who shop at the Chanel departments at Bergdorf. Overall, I don't think I'm any genius or original thinker for thinking this. People have become less formal overall, but that hasn't really changed what we do. 
Yes, we have pieces that might be, to some clients, extremely occasion-specific and one or two pieces that would have to be worn for a red-carpet look, but what we're mostly buying is something that, given somebody's own personal comfort level, they can wear with anything. Whether it's a Deco diamond bracelet or it's a really simple pair of gold earrings, it's not for us to say, "Oh, you can only wear that at a fancy dress occasion," or "Oh, that's just casual." We like to think that's where one's own sense of creativity comes into play, because we buy things with the idea they'll be worn. We're not looking to pass on family heirlooms to sit in a box all year long. We really love our clients to experience their goods, wear them, have the confidence to wear them however they're going out. At the end of the day, it's one of those simple, little items that can really change how an outfit looks or how you feel.
Sharon: I keep thinking about the jewelry in L.A. The collaboration you have, did that come about because you all were having dinner one night and you said, "Why don't we do this?" What happened?
Matthew: In this case, Ulla, in opening her West Coast store—and I'm speaking secondhand because she and my sister initially had the conversations, but Carrie and I do everything together. So, it became a discussion we all had at one point. I think it was something as casual as, "I'm opening up a store on the West Coast. It would be great to have some Kentshire pieces there." 
We feel so fortunate to have Ulla as a partner in this, specifically because she's such a good friend and has been so supportive of us when we took over the business. She has been herself one of the more inspiring collectors we have. Looking at the variety of pieces she's purchased that range from very modern to very old to things that are almost costume to things that are extremely fine—everything together, there's such a personal viewpoint about how these pieces come together. I took it as an incredible honor when she said she wanted to include us, because I don't think Ulla necessarily needs us to sell her fashion. She's so capable of creating a look that is beyond what we're able to think about. We're jewelers. We don't think about fashion that way necessarily, although we're certainly around it and we love it. 
In this case, I think it was a much more casual meeting of the minds where she said, "You know what? We all love each other. Let's work this out." Then Carrie and Ulla talked about the details and figured out how it would work, and I played a supporting role in doing whatever I could do. Now we're seeing the fruits of that together as the collection is coming out West and people are starting to see it.
Sharon: You mentioned some of the—I'll call them baby things you've tried out here, but do you think this is a beginning? Do you intend to do other things and make your brand more known out here?
Matthew: Certainly, we would like our brand to be more known out there. In some ways, it's the biggest no-brainer for us, in that we have a lot of clients out on the West Coast, not just specifically the Northeast. We have a lot of clients who've purchased from us over the years. The challenge for us is always that I can't call up the factory and say, "Send me another 300 of those antique bracelets I sold." We're a piece at a time. So, the challenge is always finding enough material that meets our qualifications so we can service all our clients. 
I think what we're hoping to see happen, all of us, is that this becomes successful, and we continue to grow our presence with Ulla and create a bigger collection for her there, which allows us to run similarly to how we run in New York. It's a comfortable setting for us, being in a fashion space and having clients coming in we know are already in the mindset of looking at jewelry and clothing together. I don't know if we necessarily have the appetite to open our own store out West, all things being equal, simply because it's more than a full-time job between Bergdorf and the website. So, for us having a partner like Ulla who can handle the day-to-day operations—and her team is so wonderful. To be able to do that is invaluable to us. 
We'll be doing trunk shows out there where we come and meet people at Ulla's store and introduce them to her brand and our brand, absolutely. That's something that will be starting in September on the 20th in the afternoon there. Then we'll continue as it goes and as we all find a good rhythm for how that works. 
Sharon: So, she did buy high-end. She bought what I call regular pieces that you wear every day and really high-end, over-the-top, red-carpet stuff.
Matthew: We don't deal in things that we think are over the top simply because we're not looking to sell such specific pieces that way. It's not to say we never have, but it's by and large not a focus of our collection. I think what is incredible about Ulla's eye is she's looking specifically for what she likes. She's not looking at the of-the-moment piece or asking, "What do I see happening in the next year?" and it shows with her clothing. Ulla has this specific viewpoint. She'll see something in our collection and the first qualification isn't, "Oh, does it cost a lot or a little?" or "Is it by this designer?" It's, "Do I like it?" It's the simplest question, "Do I like it?" 
I think that nowadays, it's easy to get misled, even in the vintage jewelry world, with what's the hot thing now or who's the hot maker. At the end of day, for us, the most important consideration is, "Do you love it?" I know it sounds pedantic to say that, but I think it's easy sometimes to have the other parts of the piece drive it. Somebody will say, "Oh, who is it?" first or they'll say, "How much is it?" or "What's the size of the stone?" or what have you. This can all be important. I'm not saying they're not, but I think we're a good match for Ulla because we all approach the concept first of, "Do we love this? Does this excite us?" And then, "Why does it excite us?" Then, as you start to uncover the parts of what the piece is, if it's by somebody, if it's from a certain place, if it's from a certain time period, if it's got a rare stone, then those add to the excitement. But it has to be something inherently beautiful and unusual.
Sharon: We will have photos posted on the website. Please head to the JewelryJourney.com to check them out.