Episode 205
What you'll learn in this episode:
How Joe's family history in the Thai diamond trade influences his business today
How Joe generates publicity for his brand without a large PR budget
Why Vilaiwan Fine Jewelry focuses on selling one-of-a-kind pieces to select clients
How to wear bold, colorful jewelry without getting lost
Why fine jewelry doesn't have to be limited to precious metals and gemstones
About Joe Vilaiwan (Polthakorn Viboonviriyawong)
Vilaiwan Fine Jewelry is the work of creative artist and designer Joe Polthakorn Viboonviriyawong, a second-generation jeweler. In his native Thailand, Joe grew up in his family's diamond jewelry business and developed an instinct for identifying quality stones and metals. A natural-born artist, Joe began designing jewelry at age 14, when he created avant grade diamond rings that hinted at his future career.
As an independent visual concept designer for major retailers in the United States and Asia, he quickly became known for his bold, eye-catching store window installations. In 2005 in Los Angeles, Joe returned to his roots and launched Vilaiwan Fine Jewelry, which caught the attention of store buyers who recognized his unique blend of art and ornamentation. His meticulously hand-crafted, statement necklaces, cuffs and earrings became top sellers in museum stores and exclusive boutiques as stylish women in international fashion capitals began wearing and collecting his glamorous wearable arts.
A favorite among fashion editors, stylists and celebrities, Vilaiwan Fine Jewelry has been featured in magazines, on runways and in film. Joe recently collaborated with Disney Consumer Products to create the couture jewelry collection for the major motion picture, "Oz the Great and Powerful."
Additional Resources:

Photos:
Joe Vilaiwan (Polthakorn Viboonviriyawong)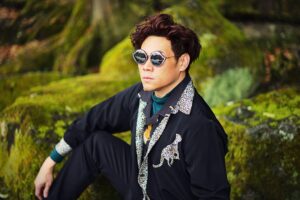 Abalone shell, pave diamonds, crystal and opal cuff.
14k white gold plated over silver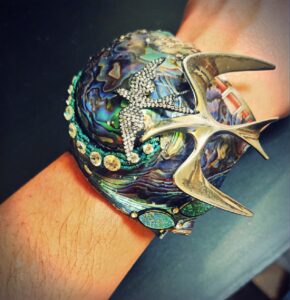 Amethyst, Turquoise, precious stones, pave diamonds, embroidery with silk threads necklace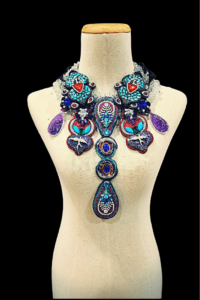 Baroque pearl , pave diamonds, ruby and blue sapphire ring
22k gold plated over silver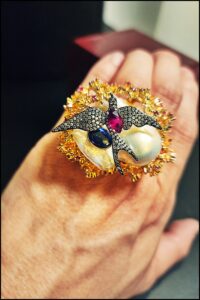 Baroque pearl, purpurite cabachon, rubies, blue sapphires, peridot, embroidery with silk threads statement brooch.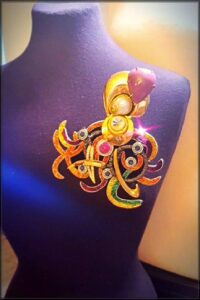 Mother of pearl, tooth pearl , orange sapphire, hematite, 18k gold.plated over silver shells, embroidery with 18k gold silk threads.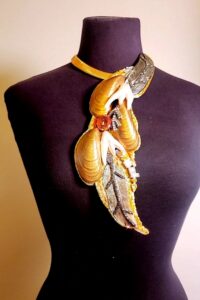 Transcript:
Although Joe Vilaiwan is known for creating large, over-the-top jewelry, he insists that anyone can wear his work—and almost everyone has, from Joan Rivers to Iris Apfel. As the founder of Vilaiwan Fine Jewelry, he has made it his mission to find the perfect piece for every client who connects with his work. He joined the Jewelry Journey Podcast to talk about how he gets inspired; how he sources the unique materials he uses in his jewelry; and how he has gotten A-list press for his brand without a large budget. Read the episode transcript here. 
Sharon: Hello, everyone. Welcome to the Jewelry Journey Podcast. This is the second part of a two-part episode. If you haven't heard part one, please head to TheJewelryJourney.com. 
Today, Joe will tell us how he started his business and who his clients are. Also, we'll hear how he comes up with his ideas. Welcome back. 
Do you find that your jewelry sells better in a certain part of the country?
Joe: If I find my right clients, I believe that in every part of the country or a certain part of the world, I think every part of the world, they will have a group or niche who are beautiful inside and out, who are intelligent, who have great taste, a good sense of design. They're very niche, but if I find them, they'll always be my clients. It could happen any time. I have rare clients. There are clients in Palm Springs, in New York, in Europe, in Paris, in Asia. I don't think there's any particular area, but if I find the right group, obviously everywhere in the world they will be my clients. 
Sharon: Your company name is Vilaiwan Fine Jewelry. To me, it's wonderful jewelry, but it's also fashion jewelry. Have you considered changing the name?
Joe: No, not at all, and I intentionally called it that. Actually, we also have a fine jewelry collection. You must see it. I do not bring it to the Beverly Hills Art Show because it's a little dangerous because it's outdoors. But we've had a fine jewelry collection for the last six or seven years already, and it's actually been doing very well. We use diamonds, real gemstones, because I have my family backing me up on that in the factory and with sources. My parents bought them in cash and it was a kit, so we have a great source of stones.
However, even when I started with custom jewelry, I still want to call it fine jewelry. For me, fine doesn't have to be diamonds. It's just personal taste, but fine for me means fine craftsmanship, fine material, fine production. You find out about the inspiration and the way I design them. Everything is for fine people. That's what the meaning of fine jewelry is for me. That's why it's become fine jewelry for everyone. Even though it is crystals and shells, the way it's made is not different from the production we use with emeralds or blue sapphire or anything. The craftsmanship is always the best. I think I might be the only company in the world that has a lifetime guarantee. If something happens in the next five or six years when you wear it and you break it, we fix it for you. 
Sharon: That's good to know. Is most of your jewelry made here in the States? Where is it made?
Joe: Everything is made in the States. However, I do have a lot of suppliers all over the world in terms of the craftsmanship or some stones. Some type of the necklace might be made in Thailand, might be made in Italy, because in its culture, they might be very, very good in some particular process. Makers in Thailand are very good at finding all those gemstones, the collections for the fine jewelry. In Italy, they are really good with the way they work with metal. So, I have a supplier who has expertise in different techniques, but everything is completed and finished in the U.S.A. 
Sharon: Let's say they're good at something in Italy. At the same time, do you go around to different stores and show them their things and hope they'll buy something?
Joe: No, usually I view them as the artisan in his country. I just use them as my suppliers. There are some companies where I don't even know what the finished product will be. Let's say it's the pearls you got, right? Those are actually made from seashells. They blend them and then put them together as a big, look-alike, gigantic pearl. My source for that pearl is South Korea; however, they don't know what I'm going to do with the pearl. I'm the one who puts together the necklace and everything. Therefore, they will not know what the finished product would be, and I don't need to go to South Korea and see who is also using it. 
Just by myself with my private clients, I almost don't have enough jewelry to sell to them. Mostly we used to do trade shows, and most of the clients who went to my trade show were museums. We're in museums in London and San Francisco. We are in over 34 art museums all over the world that carry my line, and they've been selling very well. The Metropolitan Opera sells very well with my jewelry. Those are the people and the buyers who will meet me two times a year at the trade shows. 
I'm very picky about who's going to carry my line. I'm very picky about my clients as well. I'd rather have a good amount of clients, but they're quality clients. Then we can create a friendship, a relationship. Life is too short, and I like to work in that way so I can be happy and enjoy their company and they can enjoy my company. We can actually have interaction towards my art, and I think that will make everything fun and loveable.
Sharon: If I go to one of the museums in London, and I want to buy a necklace but there isn't one there, is that it?
Joe: That's it, yeah. You will be the only one who has it. That's why having my clothes in your closet, you see they have my signature on it. People really collect them. In the past, we had some collections that have art pieces for design, but the maximum is the other pieces. Some pieces have eight to 10, but that's it. That's the maximum. This way, everything is one of a kind. There's only one of these necklaces in the world, and you will be the only person who has it. I love it that way.
Sharon: I like to know that, but I'm surprised to hear that. Do you have certain craftspeople who work for you?
Joe: Yes, I do have a good team of people who work for me, and I help them as they are single mothers. I give them projects so they can work at home. We meet and I teach them how to do it, and then they can just submit their work that we are planning to do. My things are not mass-produced; they are not machine-made. 
That's why I say it's important that these pieces carry the energy of me, who designed them or made them, and the craftsmanship of the people. This is not talking about the stone itself. That also has its own particular energy. It's the cosmic, pure energy to be a great piece of art. We can actually feel that. People can sense that energy. That's why it's important to give the right piece to the right person because then the magic happens. It's going to make you feel completely different. It's like you find the best version of yourself. I do believe everyone deserves that throughout every life. 
Sharon: That's good to hear. I'll think about that when I wear it. I haven't worn it yet. You said you named the company after inspiration from your mother, or you attribute it to your mother. Where do you get your other inspiration from?
Joe: I have inspiration all over. I don't have a program of design. My challenge is to start designing. I get inspired so easily. I could see the dirt on the floor and think about the textures, and I have to write it down or schedule it so quickly. One of your questions is do I find the stone first and then design it, or do I design it first and then find the stone? It happens both ways. Sometimes I find a stone that is very interesting and see the picture of the design in my head right away. Sometimes I have the design in my head, and then I find some stone that will suit that design. 
For me, inspiration comes from everything. I think you can use this with every perspective of your life if you persevere. You can get inspired from everything around you. You can look at the sky; you can look at nature; you can look at what people wear. I've gotten inspired many, many times with the way the homeless dress in L.A. We have the homeless, and sometimes they dress very funky, very inspiring, and I get inspired from that. You can go to museums or look at things around you. If you are creative and you can actually manage that in your head, you can get inspired very easily. 
I get inspired getting things I haven't made yet. Actually, I have to screen that and think about how I'm going to put it into the collection. What would suit what clients if this piece is coming out? Who is the client I would think of? That's how I use my knowledge of advertising, to screen those designs and see what the best time to launch that collection is, who the best people to show this to are. But prior to getting inspired, it's so easy for me. It's not a big thing at all.
Sharon: How do you turn it off? Are you going to bed at night?
Joe: Yeah, that's very challenging. That's what my problem is. My friend was helping me try to find something that pulls my attention. I really can't turn it off because I enjoy it so much. For me, it's like playing. Sometimes I really need to get away and watch something completely different or go work out or travel so I can turn it off. If not, I would always get excited, like, "Think about this. It's going to be so cool." For me to keep it balanced at this point, my age is very important.
Sharon: Have you thought about or have you had men ask you to design something?
Joe: Yeah, I have a lot of new clients that come in both sexes. A lot of them are gentlemen who are very busy, and they know their wives would love my jewelry. I have a big group of those clients. I always choose the gift for their wives for their anniversary. I have a group of gentlemen who also like big and bold jewelry. Once in a while, I do make some men's jewelry as well. I have clients who love buying men's cuffs and men's rings from me. I do have those kinds that buy for themselves as well. So, it's two groups of gentlemen buying. They are very fun, and so far, I have never failed them in choosing the right piece for their wives or their girlfriends. They're all very good about this.
Sharon: Do they call you or your assistant and say, "It's my wife's birthday"?
Joe: Yes. They call me directly or they call my assistant, or they will make an appointment. For my clients, I only take private appointments. If I'm in town in L.A. or even in New York, people will come to New York and everyone will make an appointment. I have a client who is the first person to make an appointment when I go to New York. She wanted to be the first person to pick everything. I usually have a private appointment for those clients, for some family close to their anniversary or their birthday or a special occasion. They come to an assistant or they call me, and then we'll make an appointment. We'll discuss the design I already have and anything particular or special they want to have in the piece for that certain occasion, and we make it happen. 
I have to say that not only do we do jewelry, but we also do a presentation for them. We wrap them. We have the flowers in the box. If their wife collects teddy bears, we have little teddy bears on the card. The gentleman just needs to sign. They appreciate it so much because my team and I prioritize not just the beauty of the creations, but also the feeling, the energy, the complement of the relationship we have with our clients as well. For me, that's the part I enjoy the most: meeting my clients and having my clients in my life. I want to continue doing that. It's not always the product or the jewelry itself. The experience of it is also important for us. 
Sharon: Does a person ever come to you and say, "I don't really know what I want," and you can look at them and see something in them?
Joe: Many times, they say, "Is there something you think will be me?" Many times, I introduce new colors into their lives. I have clients who only wear black all the time, and I introduce a new way for them. I say, "You have to do this because it will make you have much more fun in your life." I had one client who has now become one of my collectors. I said, "In three months, I'll take it back. You can exchange it to be any black piece you want." Now she has new colors in her life. Now, she buys red shoes. Now, she wears some lipstick. Introducing new colors in people's lives is something I really like to do because people have to have fun. Colors are made to go. They give you so much fun, such a sensibility in your life, and you should enjoy it. It's my honor to be able to do that and help them have more fun because colors are designed in their lives. Sometimes they just don't know they could pull that off. 
At the same time, if they find something I don't think would suit them, I would be honest with them. I would say, "Don't get this because I don't think it will actually complement your skin very well. If you have it, return it." I would be honest with them. I want to choose the piece that would help them make the neck look longer, make them look taller, complement their eye color. That is my job, to suggest those to them.
Sharon: Do you have people who bring you their designs? Do your craftspeople ever bring you their designs and say—
Joe: No.
Sharon: "I think this is a good design"? Never?
Joe: Never, because people know I want to custom make for clients. I only design what I design. I have only made what I design. So, no, I never have anyone that brings in their design and asks me to do it, because for that, they don't need me. They can go to any jewelry production or jewelry company, and they'll have them do the work. It's easy. They come to me because they want my signature and my design and to wear them. 
Sharon: Has anybody ever said to you, "I want this piece incorporated in what you're making. I want this flower. I want you to put this in the necklace somehow"?
Joe: So far, for the past 16 years, I never had that before, maybe because of my brand and my personality. My work speaks very strongly of who we are. People perceive them very quickly and get very quickly that we are one of a kind; we are special; we are unique. People respect that. They know if they ask us to put something, they will usually come in to find my creation that will suit them or ask me to help them find my creation that will suit them. I think that would be the best answer to that.
Sharon: If somebody wants to get ahold of you, what's the best way?
Joe: The best way to get ahold of me is through social media on Instagram, @VilaiwanJewelry. The website is Vilaiwan.com. People often send me messages through Instagram or email me at Joe@Vilaiwan.com. That's the best way you can reach me. Mostly I will post my answer back myself because I like to be involved. I like to know, and I'm excited to know, who is interested in my jewelry because my jewelry is not for everyone. I'm fine with that. I like to look at it that way. If it's not for everyone, then I want to know there is that one person who thinks they will potentially be my client. I would love to know them. So, I always respond to those messages myself.
Sharon: You mentioned, for instance, that in fall you have dark colors and the old color scheme. What if somebody says, "This spring, the colors are"—I don't know what they are, but maybe melon and bright green. Do you have colors that go? Are you influenced by the colors that are popular?
Joe: I'm not influenced by colors so much. The people that know me know I always put together very interesting colors, very unique color schemes. I love to put very dark green with salmon pink, or I would put orange and purple together. That's my signature, too, the combination of colors that people cannot think of, or the colors that people did not know could create a harmony that's interesting. It doesn't have to be a popular color. It can be any colors at any time. If I get inspired and feel like it will be interesting, I will put it together with the design I have, and it will be a fantastic piece. I don't know how to explain it, but if you go through the pictures or see my Instagram, you will see a lot of those pieces I have posted are very unique colors. There are a lot of colors that not a lot of people would think to put together, and those mostly sell very quickly.
Sharon: I was going to ask you, is there anything left? If somebody sees something on Instagram or Facebook and they say, "Joe, I like that one and I really want to get it," is that left?
Joe: The best is to say, "I want it definitely," and then they're presented right away. I will put what's sold in the books. I will post "sold" in dollars, and many times, people say, "Well, can you make it again?" and I say, "No, we cannot make it." A lot of times, it's only one piece of that scale of ruby that I find. So, they are unique. That's why we don't even have enough pieces to supply. With only my private clients, I was still swamped with it. I appreciate that, and I'm really grateful for those clients and the support they have for me through our pieces for 15, 16 years.
Sharon: Wow! I didn't realize it was that long. 
Joe: Yes.
Sharon: Thank you so much for being with us today and for telling us. I'm glad things are going so well.
Joe: Thank you, Sharon. Thank you so much for having me. It was great meeting you at the Beverly Hills Art Show. We'll be there again in October, and you will see how completely different it is. Everything you saw at the Beverly Hills Art Show that day is ours. It will be completely new collections that you will see. I'm looking forward to it.
Sharon: So am I. Thank you very much.
Joe: I had so much fun talking to you and your friends. I like people that enjoy life and appreciate art. I appreciate things that are very similar. I think that's what makes it fun, right?
Sharon: That's right. Thank you so much.
Joe: Thank you very much.
Sharon: We will have photos posted on the website. Please head to TheJewelryJourney.com to check them out.
Thank you again for listening. Please leave us a rating and review so we can help others start their own jewelry journey.