Episode 205
What you'll learn in this episode:
How Joe's family history in the Thai diamond trade influences his business today
How Joe generates publicity for his brand without a large PR budget
Why Vilaiwan Fine Jewelry focuses on selling one-of-a-kind pieces to select clients
How to wear bold, colorful jewelry without getting lost
Why fine jewelry doesn't have to be limited to precious metals and gemstones
About Joe Vilaiwan (Polthakorn Viboonviriyawong)
Vilaiwan Fine Jewelry is the work of creative artist and designer Joe Polthakorn Viboonviriyawong, a second-generation jeweler. In his native Thailand, Joe grew up in his family's diamond jewelry business and developed an instinct for identifying quality stones and metals. A natural-born artist, Joe began designing jewelry at age 14, when he created avant grade diamond rings that hinted at his future career.
As an independent visual concept designer for major retailers in the United States and Asia, he quickly became known for his bold, eye-catching store window installations. In 2005 in Los Angeles, Joe returned to his roots and launched Vilaiwan Fine Jewelry, which caught the attention of store buyers who recognized his unique blend of art and ornamentation. His meticulously hand-crafted, statement necklaces, cuffs and earrings became top sellers in museum stores and exclusive boutiques as stylish women in international fashion capitals began wearing and collecting his glamorous wearable arts.
A favorite among fashion editors, stylists and celebrities, Vilaiwan Fine Jewelry has been featured in magazines, on runways and in film. Joe recently collaborated with Disney Consumer Products to create the couture jewelry collection for the major motion picture, "Oz the Great and Powerful."
Additional Resources:

Photos:
Joe Vilaiwan (Polthakorn Viboonviriyawong)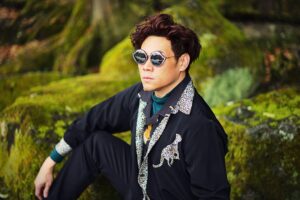 Abalone shell, pave diamonds, crystal and opal cuff.
14k white gold plated over silver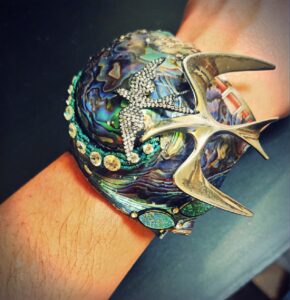 Amethyst, Turquoise, precious stones, pave diamonds, embroidery with silk threads necklace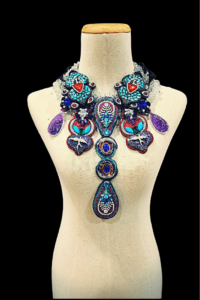 Baroque pearl , pave diamonds, ruby and blue sapphire ring
22k gold plated over silver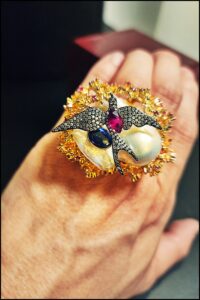 Baroque pearl, purpurite cabachon, rubies, blue sapphires, peridot, embroidery with silk threads statement brooch.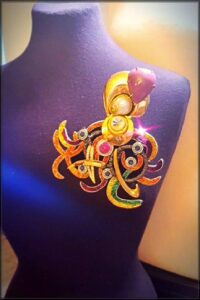 Mother of pearl, tooth pearl , orange sapphire, hematite, 18k gold.plated over silver shells, embroidery with 18k gold silk threads.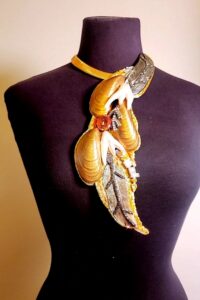 Transcript:
Although Joe Vilaiwan is known for creating large, over-the-top jewelry, he insists that anyone can wear his work—and almost everyone has, from Joan Rivers to Iris Apfel. As the founder of Vilaiwan Fine Jewelry, he has made it his mission to find the perfect piece for every client who connects with his work. He joined the Jewelry Journey Podcast to talk about how he gets inspired; how he sources the unique materials he uses in his jewelry; and how he has gotten A-list press for his brand without a large budget. Read the episode transcript here. 
Sharon: Hello, everyone. Welcome to the Jewelry Journey Podcast. This is the first part of a two-part episode. Please make sure you subscribe so you can hear part two as soon as it's released later this week. 
I was walking through the Beverly Hills Art Show this year. I always said I wanted to go, and this year I finally went. I went in the hopes of finding some unusual jewelry, and that's exactly what I found. If you know me, you know I like statement jewelry, and that's exactly what Joe Vilaiwan's jewelry is. He is the founder and creator of Vilaiwan Fine Jewelry. 
If you know me, you know exactly what I like. I couldn't decide what to choose: the over-the-top necklace or the more recognizable pearls with diamonds set in. The pearls were larger than anything you would see in real life, so you immediately knew they weren't real and presumed the diamonds weren't real, either. What to choose, the white pearls or the black pearls? They're both fabulous. Clearly, I wasn't the only one who had to have this jewelry, as the booth was swarming with people. Today, Joe will tell us how he started his business and who his clients are. Also, we'll hear how he comes up with his ideas. Joe, welcome to the program.
Joe: Thank you for having me. My name is Joe Vilaiwan. I'm the designer and owner of Vilaiwan Fine Jewelry.
Sharon: Fine jewelry. I didn't even try and tell you what his real name is because I don't think I could spell it, and I don't know if I could say it. 
Joe: Joe is my nickname in Thai because everybody in Thailand has a long, complicated last name. So, it's a last name. Everyone has a big name, so my parents also called me Joe. My friends call me Joe as well. Vilaiwan is actually my mother's name, which means beauty in Thai. I use that to honor my mother, who is my inspiration and who taught me about business. My family had a diamond business in Thailand. I grew up with it, and that's how I learned and got inspired and knew about jewelry.
Sharon: That's really nice, that it means a nice thing in Thai and that you wanted to honor your mother. 
Joe: Yes.
Sharon: Did you work for somebody else first or did you come here?
Joe: For the jewelry business, I have to say the only person I worked for is my mom and the other was a cat. When I was 12, I started helping my mom in her jewelry business, in her diamond business. I helped her when I was very young. However, I got my bachelor's degree in advertising. Then I came to the U.S. to continue my education and my master's degree, which is in interior design and research communications. I took my shot at being an interior designer and concept designer for many, many years and got really successful in that field. 
I wanted to have something on my own before I'm 30, so I decided that jewelry would be the best business for me. However, growing up, I'm learning about myself. I tend to notice that I've been drawn to big pieces or very bold and strong concepts of art and commercial arts. Therefore, I wanted to do more handmade, fine costume jewelry because I cannot use gems in big pieces of mine. That's how my business started. Vilaiwan Fine Jewelry was started in 2002. So, it's over 15, 16 years ago. 
Sharon: I saw that you have done a lot of work, and you've gotten a lot of press for your designs. I can see why that would be of interest to you. 
Joe: I'm very, very blessed with all of the praise and everything, considering that I don't have, or I've never hired, a PR firm. All the praise I got, it just went directly to me, with the project we did for Disney for the movie "Oz the Great and Powerful," with all those fine fashion shows, fashion weeks, the praise all over the world, all the museums that carry my creations. I'm very blessed that I met people who actually appreciate my creations and believe in my talents. 
Sharon: Would you say you decided to go after this PR, even though you didn't have a PR firm?
Joe: Yes, I did not have a PR firm. I did not hire a PR firm. I come from an advertising background, so I have a definite perspective about this even though I don't have it. That's why I say I'm very fortunate that those people and those players try to find me and contact me directly. That's how I got all that praise and all those awards. 
Sharon: Would you say that most of your jewelry or all of your jewelry is statement jewelry? I thought you had a great definition of it.
Joe: People now come to me, and I will not have simple little things or small, little diamonds or small, little pieces. People come to me because they want unique. Either size, big or small, that I create—the smallest one was too big for some people, but they come to me because it's very special. It's one of a kind. It's the sole concept itself. That's what I'm known for.
Sharon: If I had a special dress and I wanted you to design something for it, but I didn't know who you were or I didn't know anything about your jewelry, what would I do?
Joe: Usually people find me. I have to say I'm very blessed again, because the best thing that happened to my business is actually my clients. Mostly the clients recommend other clients. Good people will bring good people to your life. I have this empire of great clients because my clients recommend clients. When I say my clients, they're not just saying it to be nice, but they seriously make appointments for their friends or make sure their friends make appointments to come see me. Sometimes they even set their appointment so they can make sure that me and the friends come together, and that those friends get in to see my creations. All my creations are one of a kind, so they run out very quickly. They sell out very quickly, so they're always waiting for the new pieces that will come out and try to get them before anyone else. Basically, clients recommend clients. 
I also have social media. Do I want jewelry on my Instagram? Do I want fine jewelry on Facebook? People also can find me on those. The reason I don't carry in department stores is because, again, it's one of a kind, so they will run out quickly. I cannot go into the retail system. Also, I want my clients to be special, to be the only person who has the piece. When she wears that piece of jewelry to a particular event, she will be the only one. She would definitely be the star. I wanted to keep that spiritually and to be the lady of my life. 
Usually, I never have a client who actually brings me a dress and tells me to design something for that dress. Mostly, they get the jewelry and find the dress to work around my jewelry. If they have the dress and they want to wear that dress particularly, they will come and choose the pieces they already created and I already have. I will help them find the right pieces. I have never done anything custom for a particular dress before. I actually find something I already have, that I already created, and is suited. 
So far, for the past 16 years, we've been a success. There's actually an interesting story. Some of my clients who always wear big designer brands—you can name it from the top of the world. She was going to an event. One time, she bought this necklace from me. This necklace was very over the top, and she said she saw my fashion show in August. That one was in Palm Springs. It's called El Paseo Fashion Week. I had a silver and black dress, but it's a very sweet kind of dress, and she asked me, "Who's the designer?" She wanted to get one and buy that dress with my necklace. 
So, I sent her the recent necklace she bought with that dress in her size. I did not tell her who the designer was, and she wore it. She brought so much attention, so much praise about it. Finally, she asked me, "Who's the designer?" and I told her that the dress was only $19. I actually bought it in downtown L.A. and it could be worn in five ways. That was a shock to her. Basically, if you have my jewelry, you can honor it with other designer dresses, but you don't have to be caught up to wear something expensive or some very well-known brand. You can buy something very basic and simple. The first thing seen is not my jewelry; it's you. My jewelry is just supporting that dress to help you shine your own light at that particular event. 
At the same time, you do not need to wear it so dressy for a night event. Mostly all my pieces are practical because they are handmade. You can actually wear them casually with a T-shirt and jeans, and you will look like a rock star as well. That's why my clients love my jewelry; because they can wear it casually or dressy. Also, that's why they love to collect them. Mostly all my clients are collectors, and they are my clients for at least five or six years. I have many of them that have been my clients for over 10 years. When I say over 10 years, it doesn't mean they buy one time and then in the next 10 years another time. No, they've consistently been buying almost every month or every few weeks for the past 12 years or 13 years because they collect them.
Sharon: Do you have a seasonality? Do they come to you because they know it's the fall season and you're going to have new stuff? Is it something different for Christmas?
Joe: Interestingly, my jewelry doesn't have any season. I don't have a season where this piece will do well, then this piece or something like that. I know for sure that my vacation is during the holidays. Before the holidays, yes, it's busy, but during the holidays, everyone is doing our own thing. I also visit my family, and then it will get picked up again after the holidays in January or February.
I don't necessarily think the world now relies on, "Oh, it's spring and summer. You need to wear bright colors, pastel colors. In fall, you need to wear darker colors and something sparkling." I don't think those kinds of rules are any expectation anymore. Sometime in summer, I have something in white or something that really sparkles, too. People wear whatever they want to wear, whatever can make them feel good about themselves, whatever they are actually comfortable with. 
So, my answer is my jewelry is not seasonal. People will choose and always love what I create. They will wear what they want to wear in any time of their lives, in any season they want. They enjoy it because the most important thing is that when you put the right piece of jewelry on the right person, the combination of the energy of the person itself and the energy of the creator, the designer, the craftsmanship and everything, everything will be in harmony. That makes you grow. The aura comes, and it will make you feel good about yourself. 
The emphasis is on that because even though it's a big and bold piece of jewelry, I have to finish everything on the real form. It needs to blend in well with the ongoing structure. It's not going to be something that's big and bold and just attached to your body. It needs to blend in and be a part of your body, so you feel like this is a part of you. It will help complement your energy and your own ability, and that is why it sparkles. The smile will be more beautiful, and you'll become your own self and the best version of you. I think that's my job as a designer.
Sharon: So, people bring their dresses to you, and you make the jewelry. That's what you're saying?
Joe: No, what I'm saying is that mostly they will buy my jewelry and find a dress themselves. Or, if they bring one in, they will find what I already have.
Sharon: I see.
Joe: I will help them in that process, to help them find what I already have that will complement the dress they bring. Does that make sense?
Sharon: Yes, now I understand. Do you find that some people say, "Oh, that's too much. I could never wear that. It's too big. It's too over the top"?
Joe: Yes, I've actually experienced that many times. What I've learned from my experience is they will say that the first time, but once it's on them, once they try them on, everything's just fine. Then they will say, "I could not wear anything small anymore. I want something that's big and bold." They know it's not the size; it's the personality. That's what is actually more important. If you have a personality that's big enough, that's great enough, that's fine enough to carry my jewelry, whatever size that is, that's what you will find.
I have a client that's very petite and only wears big jewelry. Another client used to be one of my collectors as well before she passed away. She was very petite. Most people have necks that are 15 to 16 inches, but everything she bought, I had to customize the neck for her to be 14 ½. She's very small, very petite, and she only wears big, huge pieces of mine. Another collector only wears huge pieces of mine. Sometimes she will put two or three of my necklaces together on top of each other. It's not about the size, but yes, for people who've never known me, who have not seen my art jewelry before, sometimes the reaction is, "Oh my God, that is so big. That is so sparkling." I always request them to try them on because you will see that sparkle in the eye. You will know that's the right piece on the right person.
Sharon: Do you ever watch the red carpet, the award shows, and see your jewelry on them?
Joe: Yes. In the business, you basically have to pay for PR for those actors and actresses to wear it. I don't have a lot of PR money. Every season they contact me so I can have my pieces worn on those red carpets, but I don't believe in that. My pieces are doing very well. All my lovely clients, if they want my pieces, have to pay for them. I never give my pieces out for free. Every single client of mine pays the same price as my regular clients. All my clients are the same, as I always say, and I treat them the same. If you love it, you need to respect the artist and you have to possess them. I don't believe in paying someone to wear your jewelry on the red carpet. I don't believe in that. Therefore, when I watch it, it's mostly the brands that can afford it: Chopard, Cartier, expensive, real diamonds or pieces they have the budget to put in. 
For me, it's a little bit boring. Once in a while, I will see some pieces that are strong and interesting, but mostly it's not. I have a lot of clients who go to red carpets, not as an actress, but they go there as a producer, their lawyer, their agent and other things. They will buy my jewelry, and they bring more attention from all those stars. I don't attach to those kinds of things, that it needs to be famous on a red carpet. For me, all my clients are the same, whether you are a famous actress or you're a housekeeper. Everyone is treated the same.
Sharon: We will have photos posted on the website. Please head to TheJewelryJourney.com to check them out.