Episode 192
What you'll learn in this episode:
Who jewelry designer Bill Smith was, and why his work and life deserve to be remembered.
Why Bill Smith was a trailblazer for Black jewelry designers.
How JoAnne tracked down long-forgotten jewelry to create the exhibit "Bill Smith: Madison's Visionary Jewelry Designer."
Why Bill Smith's body jewelry was ahead of its time.
How jewelry trends trickle down from high jewelry to costume.
About JoAnne Spiller
JoAnne Spiller is the Director of Education at the Jefferson County Historical Society based in Madison, Indiana. She has more than two decades of museum education experience with an emphasis on children's educational programming. She recently organized the exhibit "Bill Smith: Madison's Visionary Jewelry Designer," and is currently conducting research for a book on Bill Smith's life and career. 
Additional Resources:
Photos:
lucite cuff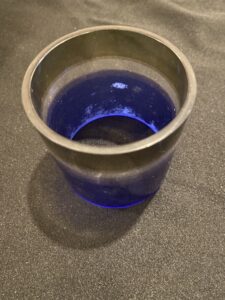 Zodiac belt for Richelieu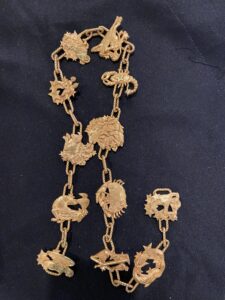 Smith-St. Jacques brooch back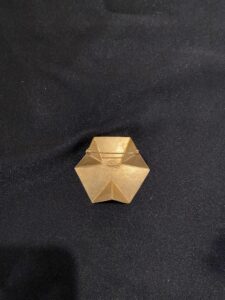 Smith-St. Jacques brooch front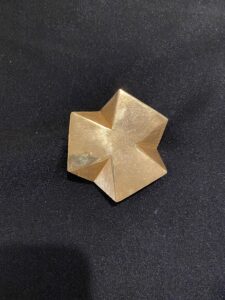 Ring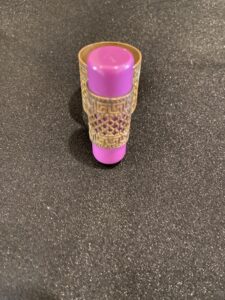 Transcript:
Bill Smith was a trendsetting Black jewelry designer who did everything from Cartier collaborations to costume jewelry. His designs were seen on the likes of Lena Horne and Cicely Tyson. Yet in the 30 years since his death, his impact has been largely forgotten. JoAnne Spinner, Director of Education for the Jefferson County Historical Society, hopes to change that with her recent exhibit, "Bill Smith: Madison's Visionary Jewelry Designer" and a forthcoming book she is currently researching. She joined the Jewelry Journey Podcast to talk about Bill's trendsetting designs; how he found his path as a gay Black man from a small town; and why his work is worth collecting. Read the episode transcript here. 
Sharon: Hello, everyone. Welcome to the Jewelry Journey Podcast. This is the first part of a two-part episode. Please make sure you subscribe so you can hear part two as soon as it's released later this week.
Today, we're talking with JoAnne Spiller, the Director of Education for the Jefferson County Historical Society located in Madison, Indiana. She recently curated an exhibition about Bill Smith who came from Madison, Indiana. A lot of you haven't heard of Bill Smith. I had never heard of him. He was one of the first, if not the first, Black jewelry designers to garner attention. He was very well-known in the 60s through the 80s but is just a footnote today. JoAnne is going to tell us all about Bill Smith. JoAnne, welcome to the podcast.
JoAnne: Thank you for having me. I'm very excited to speak with you.
Sharon: I'm so glad you're here. You came to Bill Smith through your education and your role. Can you tell us a little bit about that?
JoAnne: I have been the Director of Education here for 23 years. In the process of educating students, I have been building a file of famous Madisonians and Jefferson Countians from here who have gone on to do wonderful things. We are a very small community, and I think a lot of children don't feel like there's a lot of opportunity. Many of them don't leave here; they stay. Their families have been here for generations. I wanted to let them know, especially among our minority community, that you can come from a small town and go on to do big and wonderful things out there in the world. 
So, my file included Bill Smith. An article was given to us a few years ago with a note saying, "Hey, did you know anything about him?" and we did not. That started my journey of finding information about Bill. It has become quite an obsession if you ask anybody that knows me, especially my family.
Sharon: I had never heard of him, but he must have been something because he's all over Google.
JoAnne: Yes, he is. He was born here in Madison in 1933. He had one sibling. They were a working-class family, and he went onto IU at the encouragement of his art teachers here. He was very much into creating, sculpting, making jewelry, and he was also a dancer.
Sharon: That was his first thing, being a dancer, right?
JoAnne: Yes, being a dancer. He went to IU to dance. He took art classes and was extremely encouraged by the art teachers there. After three semesters, he left. His teachers felt like he was ready to move on and do big things, so he left to go to New York to become a dancer. He could not find enough roles as a Black man in the 1950s. He graduated high school in 1951, so this would have been about 1953 or 1954 when he went out to New York, and he just couldn't find the roles to support himself. So, he turned to jewelry making.
According to my research, he became an assistant or apprentice or helper to some jeweler in New York who needed help following some kind of accident. That's what I've read. Bill stepped in and was extremely talented at what he did. Somewhere in that process, he struck out on his own and had his own experimental design company. This was in the late 50s. He met Raymond St. Jacques, who was a Black actor out in Hollywood. He was in a lot of westerns and rough-'em-up kind of movies. Somehow, they formed a partnership and became Smith St. Jacques. Raymond was the financial backing for the early company, and Bill was the creative director. That business went on for several years until he caught the eye of Massimo Sargis at Richelieu, and then he started his big, wonderful costume jewelry career.
Sharon: He always worked in costume, but did he ever work in gold or silver? 
JoAnne: I do have an ad in a magazine that shows Cartier work. He did work briefly for Cartier and Georg Jensen, who was a silversmith. For Cartier, he had some pendants I've seen that are polished stones, flat, and they are embellished with gold, I'm assuming, because it's Cartier. They've turned them into belts, like some of his other funky belts we have examples of. But as far as I know, those two companies are the only ones that would have had the finer materials. I have read that he did work with some high-end materials early on, before Smith St. Jacques. He did special orders and he worked for some of the higher-end department stores, but I do not have examples of those. Everything I have seen and have my hands on has been costume jewelry.
Sharon: You have one of the largest, or maybe it is the largest, collections in the country that people know about.
JoAnne: It's possible. It is very possible. We have more than 100 pieces of Bill's. I would say two-thirds of them are signed. The others I can positively attribute to him because I have spoken with the person who helped with those designs. So, I can absolutely, concretely say that these things are his design. I personally have about 35 in my collection.
Sharon: In your personal collection?
JoAnne: Yeah, for my personal collection. They're ones that speak to me, or maybe they're duplicates of the ones we have at the museum, but I still like them. I actually wore one out the other night. Nobody understood it. They all looked at me sideways, but I had a good deal of fun wearing it. It was one of his early ones, the trueskin with the horse and the bird on a big, fat, heavy chain. People who know me know that's not really my style. I was feeling bad that day, so I wore it. I wanted to get the story out. I wanted people to comment and ask so I could share my knowledge.
Sharon: I guess that's leading into my next question. You curated this exhibit. What were the comments from people who came and had never heard of him?
JoAnne: They thought it was fantastic. I know they figured it was going to be this itty-bitty, halfway-put-together exhibit, and it wasn't. People were actually astounded at what we had on display. We may be a small museum, but we have the glass cases and panels and things like that. We really did put together a very excellent display on him, and it was up for about a month. It was supposed to be exhibited in July instead of October, but I did not feel like I had enough of a collection to do that. I ended up getting more information on him in September that led me down another route, and then it was time to put the exhibit together.
Sharon: People walked away saying, "Well, that's a great exhibit," but did they walk away saying, "I never knew about him"?
JoAnne: A lot of them did. When I spoke earlier, I said a lot of people don't leave this town—and they don't; their roots go back generations. I am not from here. I've been here long enough where you could maybe consider me a native, but a few people that went to school with him came in and said, "Oh, we always knew he was going to do great things because he had such talent." Unfortunately, they couldn't give me much more than that. I don't think they had a close relationship. They just knew of him and wanted to sneak a peek at what he had become later in life. 
We did have a woman who loaned us a suede choker from one of his early collections. It has brass cutouts on it. It looks like a dog collar. She loaned it to us for the exhibition, and after seeing the display, she gave it to us. She gave it to the museum. She said, "This is where this piece belongs. It belongs with his collection." Another woman, who is a recent native to our town, came into the museum three times to see this exhibit. Every time she came in, we had a discussion about it and she wanted to learn more. She would come in and say, "Hey, I saw this piece on eBay. What do you think of it?" She was bitten by the bug. She ended up gifting us an absolutely fantastic, rare piece before Christmas because she knew the story was important and she wanted to be part of it. She saw this piece and knew it was perfect for our collection, so she gave it to us. It was absolutely wonderful. It's one of the ones I show when I do show and share.
Sharon: What were his heyday years?
JoAnne: That is an excellent question. I feel like it came and went in waves according to the company he was working with. Some of it is difficult to ascertain because his work is not always signed. Unless you have the backstory or you happen to know concretely that he did work on this collection, it's hard to say when that big wave started. I do know that according to the 5½-inch binder of research I have—I'm not kidding you—most of the articles I have were from the late 60s into the early 70s. When he left Richelieu in 1970, he went to work for the parent company, O'Dell, which had Cartier and Ben Kahn fur. So, he did some furs. He worked for Mark Cross doing leather goods. 
I mentioned the Cartier jewelry earlier. There's a definite collection I know is his that's all arrows, because arrows are his thing. He's a Sagittarius, which he mentioned several times; it was the 60s. Arrows were very important to him, so I know that one of the Cartier collections with arrows is his, but it is not signed. It was very rare for a designer to sign their work at that time. For him to be able to sign it was pretty phenomenal.
Sharon: He didn't seem to work for Cartier for that long.
JoAnne: He did not. I guess that was under the parent company. Unless I can find an article or a magazine photo that attributes it to him, I can't be sure of all the collections he worked on. Of course, like any fashion, you design in one season, say the winter, but it's for the spring collection. He may have worked for one company or another designing a collection, but it was launched after he left. There's still a lot of investigation I need to do. The timeline for him, I don't have it quite tightened up yet. I'm still working on it.
Sharon: You mentioned some of the costume jewelry companies he did work for. Let's say O'Dell.
JoAnne: The parent company after Richelieu. He worked for Laguna. I do have a few pieces of his that are Laguna. 
Sharon: Are they signed?
JoAnne: Yes, they are. I missed out on an auction the other day, and I kicked myself for a week. I'm still kicking myself. There are things I look for to complete a collection. Laguna is one of the ones he designed for. That company, if you Google it now, is all beach ware; it's Laguna, California. It might be difficult to find things because I don't think he did too many collections for them.
He also worked for Hattie Carnegie, but I can't find anything of his that was signed. I have a newspaper article that shows a necklace, but the image is so poor I can't tell what it looks like. I could have one in my collection; I wouldn't even know it because I can't tell from the image. 
Sharon: What was his big break? 
JoAnne: It was the body jewelry. 
Sharon: The body jewelry?
JoAnne: The body jewelry he did with the pearls. I interviewed Clifton Nicholson, who himself is a very well-known designer in his own right. He lives 20 minutes from here. I spent an afternoon at Clifton's studio, and he gifted me probably 150 pieces of jewelry. 
Sharon: At one time?
JoAnne: Well, it was over two times. He came to see the exhibit in October. He called me a week later and came in with a big shopping bag full of jewelry that Bill had told him he could have when Bill was closing his Long Island studio to go work for Richelieu. Clifton grabbed whatever he saw. A lot of it was Bill's original designs that aren't signed but are definitely his. That was quite a gift. Then when I went back to have lunch with him and do an interview, he gave me another small bag of jewelry, still fantastic. There are several I have that are now positively identified because I found photos of them, so I can put the photos or the advertisements with the jewelry. I just love doing that; I love making that.
Sharon: Let's say you have an unsigned piece. Can you look at it and say, "Oh, that's Bill's," or "It looks like Bill's"?
JoAnne: I can because I've been looking at them daily. He has a certain flair. There was a woman that came in and said, "Oh, I have this Richelieu bracelet and it's a Bill Smith." I looked at it and said, "I'm sorry, but it's not. It's too late. It's too modern. He was not working for them at the time." It was a late 80s design, and I said, "He was gone by then. That can absolutely not be identified as his." I have a pretty good eye. I spend a lot of time when I travel looking at antique malls and flea markets hoping that something will call to me, and I will be able to find a piece I don't have or I've never seen before. Then I ask my husband for the credit card so I can buy it. But I do think I have a fairly good eye for that. I can tell. 
His early stuff is very rough and unfinished. Clifton told me a lot about the jewelry industry and designers and how that all worked. They riffed off each other all the time. You make a collection of crosses, and Avon's got one too, and Kenneth J. Lane has one too. They're all similar, but Kenneth's are very, very polished and look extremely high-end. Bill's stuff is a little more brutalist; it's a little more rough around the edges. So, I can look at something and go, "Hmm," or "It's a knock-off." Joan Rivers has stuff that looks like his early stuff. There's no new design in jewelry, but I think I have a pretty good eye. It's not fail-proof. Since Clifton gave me that early jewelry, I can look at it and get a feel for that time period. When I look at things online, I can say, "Maybe. That's a strong maybe." 
Clifton was also very helpful because I had created a catalogue, so to speak, of all the jewelry I've seen on the internet that I know is Bill's or maybe is Bill's. Because they worked together for two years, we flipped through the whole book and he would say, "Yes, no, maybe, yes, no." It was wonderful, because who else is going to be able to tell me that in a positive way? The zodiac collection, which I'm kind of obsessed with, is not signed, but Clifton, during one of my interviews, said, "Yeah, that's Bill Smith's design. He sketched it, I carved it," so I can say that is one of his pieces even though it's not signed. 
That was a gift to me from Bill from above, I think. He sent Clifton to me. Clifton needed closure. I needed to have a conversation with someone that knew Bill. We met, and it was wonderful. It's been so very helpful. I've been able to take my research to another level that I had not considered before. It was quite a blessing that Clifton came in, was wowed, and knew that this is where the pieces should be. He said, "I don't know why I've been keeping these all these years. It must be because of this." He's been hanging onto those as long as I've been alive, I'm telling you. The bag of jewelry and I are the same age. It's been a long time, but it was quite a gift. He knew we would take very good care of it, and he wants to help me to tell his story. 
Sharon: He was Black, but he was also gay. When he went to New York, did he find more acceptance in the design community there?
JoAnne: I believe he did. At the time, in the early 70s, there was a boom of Black designers that were finally getting noticed, whether it was fashion or jewelry or some other kind of art form. They were finally getting some recognition and publicity outside of the Black community. The Black community supported them very well. 
As far as the part about being gay, he was not as comfortable here in Madison as he would have been in New York. He needed to be away from a small town to be able to realize his potential. He could have gone to Chicago or Detroit, I suppose, but he took himself all the way to New York because he could, and he did. He knew that's where he needed to be, and he did not give up; he persevered. I think he really was more accepted there than he was here.
Sharon: We will have photos posted on the website. Please head to TheJewelryJourney.com to check them out.