Episode 190
What you'll learn in this episode:
How Thereza helps art collectors enter the world of contemporary jewelry.
Why contemporary jewelry shouldn't be a niche, but a part of the larger art and design scene.
How Thereza defines contemporary jewelry, and how she became interested in it.
How she selects artists for her art and jewelry gallery, Thereza Pedrosa Gallery.
Why even delicate art shouldn't be hidden away.
Why quality matters just as much as aesthetics in a piece of jewelry.
About Thereza Pedrosa
Thereza Pedrosa (Rio de Janeiro, 1985) is an art historian, independent curator and gallery owner. She graduated in Conservation of Cultural Heritage at Ca' Foscari University in Venice with a thesis on art works on paper belonging to the Peggy Guggenheim Collection. She continued her studies and obtained a MA in Management and Conservation of Cultural Heritage at Ca' Foscari University in Venice with a thesis on the use of niello in contemporary European jewelry. In 2009 she collaborated as assistant registrar at the Peggy Guggenheim Collection, cataloging all the museum's works on paper. Her work led to the exhibition Revealing Papers: The Hidden Treasures of the Peggy Guggenheim Collection, for which Thereza was the scientific coordinator (Lucca Center of Contemporary Art). Since 2011 she has been working as an curator, creating exhibitions, catalogues and projects for artists and galleries in Italy, Switzerland, Germany, France and the Netherlands. In 2012 she founded the blog Beautiful People Live Art, dedicated to art, design, architecture, photography and art jewelly. In 2019 she established with her business partner Elinor Garnero a contemporary art gallery with a focus on art jewelry, the "Thereza Pedrosa Gallery". In 2021 she joined as an expert the examining committee of the Alchimia Contemporary Jewellery School in Florence. She brings a genuinely international perspective to her curatorial activity also thanks to her residencies in Switzerland, Germany and, since 2015, the Netherlands.
Additional Resources:
Photos:
Thereza Pedrosa Gallery, Asolo, Italy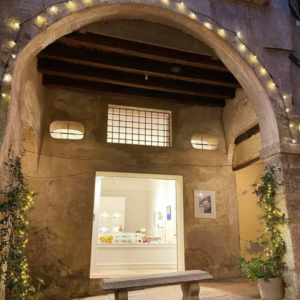 Philip Sajet, necklace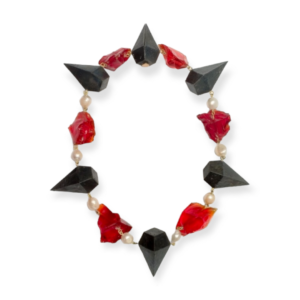 Peter Machata, brooch.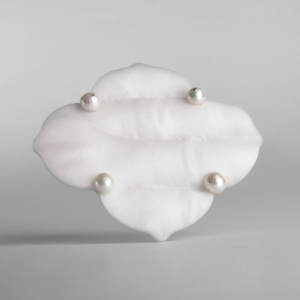 Orizzonti d'Autore, Giampaolo Babetto retrospective exhibition, Museo Civico, Asolo, Italy (2)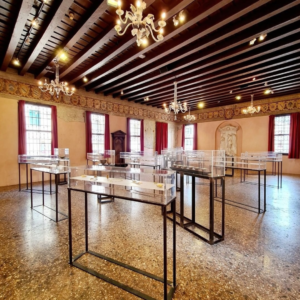 Orizzonti d'Autore, Giampaolo Babetto retrospective exhibition, Museo Civico, Asolo, Italy (1)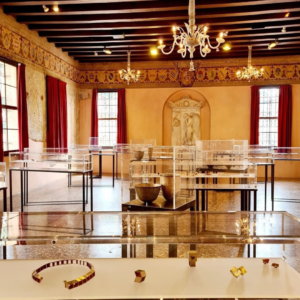 Orizzonti d'Autore, Contemporary Jewellery Biennial, catalogue of the exhibition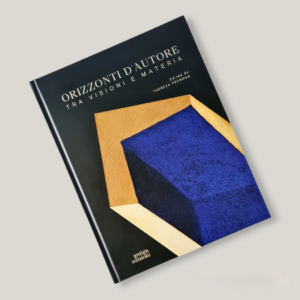 Orizzonti d'Autore Between Visions and Matter, Museo Civico, Asolo, Italy (2)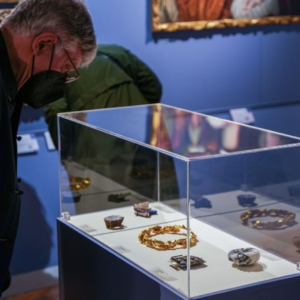 Orizzonti d'Autore Between Visions and Matter, Museo Civico, Asolo, Italy (1)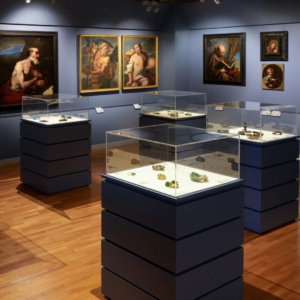 Maria Rosa Franzin, earrings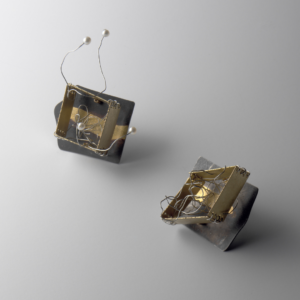 Lydia Hirte, necklace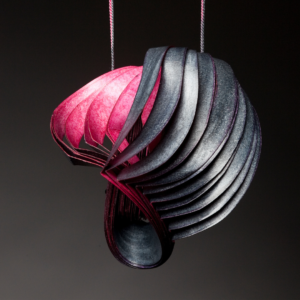 Kazumi Nagano, brooch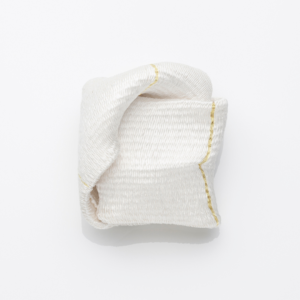 Gigi Mariani, bracelet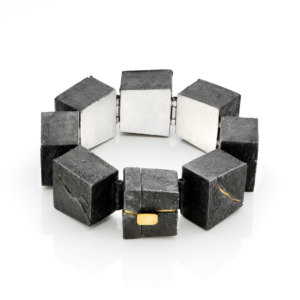 Giampaolo Babetto, ring.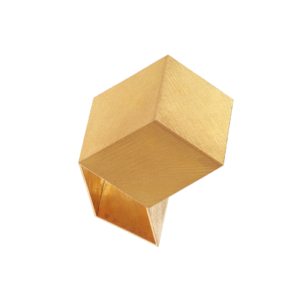 Babetto – The Entity of Being, Arnoldsche Art Publisher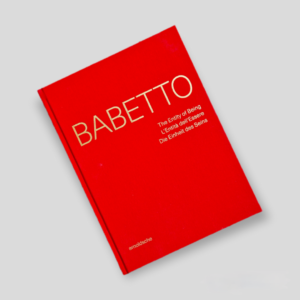 Archeometra Lifetime Achievement Award for Contemporary Jewelry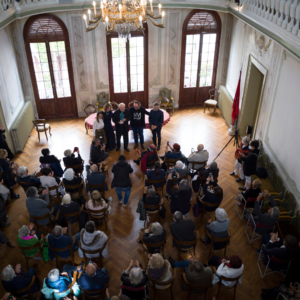 Transcript:
For Thereza Pedrosa, no form of art is more important than another. At her gallery, contemporary jewelry, sculpture, paintings and other fine art are all given equal standing, and she's helped numerous art collectors discover jewelry for the first time. She joined the Jewelry Journey Podcast to talk about why contemporary jewelry is still unknown to most art collectors and why that should change; how she balances raising children with owning a gallery; and what she discovered at this year's jewelry fairs. Read the episode transcript here. 
Sharon: Hello, everyone. Welcome to the Jewelry Journey Podcast. This is the first part of a two-part episode. Please make sure you subscribe so you can hear part two as soon as it's released later this week. 
Today, my guest is Thereza Pedrosa of Thereza Pedrosa Gallery. Thereza is speaking to us from Asolo, Italy—I don't know if I said that right—which is near Florence. It's supposed to be a very lovely medieval village. She and her partner and friend, Elinor Garnero, founded the gallery in 2019, and it features art and art jewelry. Thereza has been in many countries studying, curating and exhibiting. She just took part in Schmuck, which, if you don't know, is one of the world's biggest art jewelry exhibits. Everybody in the world is there. We'll hear all about her jewelry journey today. Thereza, welcome to the program.
Thereza: Thank you for having me, Sharon.
Sharon: So glad to have you. Tell us about your jewelry journey. Were you considered artistic? Are people surprised when you tell them what you do?
Thereza: I think someone who knows me from when I was a child would not be surprised that I work with art and jewelry right now. I grew up in the family as an artist. My father is an artist, and I always went with him to exhibitions and art fairs. I loved to go with him when he was making Murano glasses and blown sculptures. I would go to the studio with him and take photos of him working. So, I think those who saw me growing up will not be really surprised that I love art and work with art.
Sharon: It doesn't sound surprising at all. I didn't know you were really exposed to art. Tell us about your jewelry education, then. How did you learn about jewelry?
Thereza: I started out with my father because he's a plastic artist, mainly a painter and sculptor. Sometimes during the 55 years of his career, he made Murano glasses, sculptures, mosaics, paper, iron, brass; any kind of media. Around 2000, when I was around 15 years old, he made a collection of jewelry. To make this collection of jewelry, he bought a machine for soldering. He did this beautiful collection, and then he moved back to painting and other kinds of sculptures. I asked him, "Well, you have the machine. You know how to do it. Why don't you teach me how to solder so I can make some jewelry for myself?" He taught me the basics and I made some jewelry for myself. Then some design shops sold my pieces and they wanted to start selling them. This is how I started to get involved with contemporary jewelry. 
I grew up less than one hour from Padua, where there is a really important jewelry school, the Selvatico, where Babetto and Pavan and many others are from. Growing up, I saw some exhibitions of Giampaolo Babetto and Annamaria Zanella. I saw their works and I got to love their work. That's how everything started.
Sharon: So, you didn't learn classically, right? You didn't go to school and learn. That's not the way you learned.
Thereza: No, when I needed to decide what to study in university, I said, "O.K., I want to stay in the field of art," but I didn't see myself as an artist. I didn't think I had it in me to make things except for designing my jewelry. I said, "O.K., what can I study? If I study history of art, then I can go into teaching; otherwise, what do I do with history of art?" 
In Paris, in the university environment, there is this interesting course called conservation of cultural heritage. In conservation of cultural heritage, we had exams about the laws of art when you work in a museum or salon. Nationally and internationally for an exhibition, there are a lot of laws involving how long the piece can stay away from the museum and these kinds of things. I studied chemistry of conservation for paintings, drawings, and sculptures, and museography, which is what kind of temperature you need in the rooms and the lighting. So, everything you need for the economics, how to find funding for the exhibition. Everything you needed to be a curator or a registrar in a museum, that was what I studied. 
I thought I would love to work in a museum as a registrar because I'm shy. I didn't see myself as a curator that needed to be the first in line. I said, "A registrar, he's more in contact with the art pieces, but a little bit in the background." That was my dream at the beginning, but then I started moving around so much that it was difficult to find a permanent position in a museum. I started organizing exhibitions as a freelance curator for galleries in collaboration with some museums. 
Sharon: You did that on your own with a museum? Did you come up with the idea, or did they come up with the idea for the exhibitions you did?
Thereza: The exhibition I did was a coordination with the drawings of the Peggy Guggenheim Collection, a collection in Venice, and I did the coordination with the Lucca Center for Contemporary Art in Tuscany. The idea for the exhibition was mine, and it was based on my bachelor's thesis. When I was writing my bachelor's thesis, I decided I wanted to write about the Guggenheim Museum in Venice, but I wanted to write about something new. I told them I wanted to write about the drawings, and I asked if could study the archives. They said, "Yes, I'm sure it would be lovely, but we never made a catalog of the drawings of the museum." 
So, my thesis became the cataloging of all the drawings in the museum. It covered how they arrived in the museum, how they received them as a gift from the artist. She bought them from the artist or from some galleries, so that's how they arrived in the collection. I also cataloged which exhibitions they participated in, which books they were published in, the state of conservation, everything you needed to know about the drawings of the collection. Then we made the Peggy Guggenheim Collection, which was at the Lucca Center of Contemporary Art and was only about the drawings of the museum.
Sharon: That sounds like a huge thing, the Peggy Guggenheim drawings. How many were there?
Thereza: I think there were around 80. More than 70, around 80. Drawings are sometimes considered less important artworks, but I've always loved paper media. Actually, in the collection, there are many works that are not just a preparation for a big painting. They are actually works in themselves. Klee, Kandinsky, many important artists from the collections also have works on paper. It really was a beautiful collection.
Sharon: How did you come to own an art gallery, you and your friend Elinor? How did you start an art jewelry gallery, I should say. What happened?
Thereza: I was organizing exhibitions for other galleries. I opened some exhibition galleries in Germany, in the Netherlands, in France. At the same time, I was still making my own jewelry. Then I got pregnant with my first son, and I decided to take a break from my jewelry to organize exhibitions. When my second child, my daughter, was around six months old, Elinor and I were talking and I was saying, "I would love to open my own gallery one day, but I cannot do it now because my kids are two and six months old." They were too young, and I wanted to be there for them. I said, "I can do it in the future, but right now, I want to be flexible to stay with my kids. If I open a gallery, I need to be there." 
She told me, "Well, I don't feel like I can open a gallery alone," because her background is architectural. She was in architecture and then art management, but she didn't study history of art as a main course. She was thinking, "O.K., I could be at the gallery, but I don't feel like I can organize the exhibitions myself and do everything by myself." So, we complement each other very well because she's the one to actually stay at the gallery all the time, and I am the one that organizes the exhibitions and makes the selection of the artists for the gallery and the online shop, the online website. She's the one who stays at the gallery and deals with the collectors.
Sharon: How did you come to art jewelry? It doesn't sound like that was your initial interest. Did your father do art jewelry when he showed you jewelry? Would you call it art jewelry?
Thereza: Yes, he was an artist that made jewelry during some periods of his life, like many other artists like Picasso and Talbert. It was not their main thing, but between other things, they also made some jewelry. Also, in 2012, I opened a blog. The name was Beautiful People Love Art.
Sharon: Beautiful People Love Art.
Thereza: Yes, Beautiful People Love Art. I went on with this blog for seven, eight years. The main thing of the blog was to show how all forms of art are important and interconnected. All sides are the same thing. I don't see drawings as less important than paintings, or sculptures as more important than jewelry. I think they are all important, just different media. When I opened my own gallery, I decided we would be an art gallery. We'll have paintings and sculptures, but I was already showing a lot of contemporary jewelry with my blog. 
I fell in love with contemporary jewelry while I was visiting Schmuck and Joya Barcelona and getting to know the artists. Actually, when I was finishing my master's degree, I wrote a thesis about contemporary jewelry and the use of niello in contemporary jewelry. I got in contact with many artists, Giampaolo Babetto, Annamaria Zanella, Phillipe Cizetta. I got to know the field better and I really fell in love with it. 
When I decided to open my open my own gallery, I wanted contemporary jewelry to be part of it. I truly believe the contemporary jewelry field should be more open. Not a niche, but more open to art lovers in general. I think to be an art gallery, it helps to make contemporary jewelry be known to people that love art. Really often, they don't even know that contemporary jewelry exists. So, with the gallery we try to get the field of contemporary jewelry to be known outside of the field and the collectors of the field, to get it known to art collectors, design collectors, people that love art in general.
Sharon: Do you find a lot of resistance where people say, "I like the art, but the jewelry is just jewelry"? What do you find?
Thereza: We find everything. My experience at Schmuck was really interesting in this way, because we organized a contemporary jewelry exhibition with 15 artists we represent at the gallery. We were guests of Petenbone Auction House. They were having an auction week with design and glass, so a lot of people that were coming during the week weren't there for the contemporary jewelry exhibition. They would just come inside the auction house and look at the jewelry and go out. There were people coming to see the purview of the auction house and the design and glass. They were just there to see the pieces of the auction and go out without looking at the jewelry. 
But there were also a lot of people that came inside to see the jewelry, and they looked at me and were like, "Oh my God, these Murano glass pieces are amazing," or "Look at this piece from the 70s or this lamp from the 60s. There are so many beautiful pieces here." There were some people that came to see the purview of the design auction and discovered our exhibition, and they were like, "Oh wow, we've never seen contemporary jewelry before. We didn't know it existed," but they asked a lot of questions and were interested in understanding the different artists. There are some people that collect one kind of thing, and they want only that. Then there are people that love art in general and get excited about everything. It was very nice last week to see people going around and discovering contemporary jewelry or glass and design. It was a good mix.
Sharon: How do you choose your artists? When you have an exhibit, how do you decide which ones to have?
Thereza: For example, last week, we had an exhibition for Schmuck. We represent around 45 artists at the gallery, but we had limited space to show pieces. I wanted to show them as well as I could. I also wanted some space so you could enjoy each piece and show a little bit more of each artist, so even if you didn't know that piece, you could have an idea of his work. I decided to invite 15 artists and not bring all the artists we have at the gallery to permit people to enjoy the ones with small pieces and finalize the decision about, "O.K., I want to show a little bit of what we have at the gallery." 
It was the first time for us at Schmuck, so I invited some artists that are really well-established, who showed that we have masters of the field. I also wanted to show that we have young artists with careers and artists that work with traditional materials, and others that work with different materials like paper or food or plastic, resin and anything else. I really liked the mix. I don't like to show all pieces from the same artist here and five pieces of the other artist there. I like to mix them, and I like to have a dialogue between the pieces. I wanted the artists of the exhibition to have harmony when you saw it together. That was the important thing I wanted to get across with the exhibition, and I hope people enjoy it.
Sharon: It sounds like they would enjoy it and be exposed to things they wouldn't see a lot. Tell us a little more about who buys from your gallery.
Thereza: All kinds of people. We have contemporary jewelry collectors that love contemporary jewelry, and they come back all the time nationally and internationally. We work in an area where there were many important contemporary jewelry galleries in the past. In the last 10 years, they all closed. They closed more than 10 years ago, because the gallerists retired one after the other. For example, in Padua, there aren't any galleries specializing in contemporary jewelry anymore. We have a lot of collectors that live there who don't have a gallery close by anymore to find contemporary jewelry, so now they come to us.
We also have art collectors that love paintings and sculptures. They come inside to see the paintings, but then they discover contemporary jewelry. They get involved with contemporary jewelry and start buying contemporary jewelry also. That's very nice. We like it when that happens.
Sharon: When you say people are collectors of contemporary jewelry and art, are they people who might say to you, "I want a Babetto piece. Call me any time you get one," or do they just come in and look around?
Thereza: Both. Sometimes there is someone who is really looking for a Babetto piece, and they come to us because they are looking for a specific piece or a specific artist. We also have collectors that just come inside because they want to have a look, or they come every two or three months to see what is new at the gallery. 
With the internet, now we are working a lot online also. It happens often that whoever comes to the gallery was already checking our website, especially our Instagram page. So, when they come to the gallery—because we publish almost every day—often they come to the gallery and already know what they want to see in real life. They come and say, "Oh, I saw this artist and that artist on your Instagram page or on your website. I want to see this and that piece in real life and decide between them." 
There are people that come inside without knowing what they are looking for. There are people that come to have a look at specific pieces, and there are people that really collect. They decide before, "I want a piece of this artist," and they come to see what we have of this specific artist. 
Sharon: We will have photos posted on the website. Please head to TheJewelryJourney.com to check them out.