Episode 189
What you'll learn in this episode:
How Melinda created the definitive guide to the Napier Company.
What made Napier stand out from other costume jewelry manufacturers of the 20th century.
Why Chinese and Russian collectors are becoming increasingly interested in American costume jewelry.
How the dawn of costume jewelry changed the way we accessorize.
Why the craftsmanship of vintage costume jewelry is often as good as fine jewelry.
Why being part of a community can be the most rewarding part of collecting.
About Melinda Lewis
Jewelry historian Melinda Lewis spent 11 years researching the history of a single American jewelry manufacturer —The Napier Co. Determined to bring the first book about this company to the public, she interviewed over fifty former employees from around the country spanning multiple generations. Those interviewed included the great-grandson of William Rettenmeyer, the designer who started in 1891; to designers who worked for Napier from 1941 to the close of the plant; as well as executive management, including the former CEO, Ron Meoni; and traveling salesmen, whose careers were no less than 30-plus years with the company.
After publishing her book, Lewis and her husband have spent the last year curating an extraordinary collection of vintage jewelry from around the country for her customers with The Jewelry Stylist and Vintage Jewelry Collect.
Additional Resources:
FACEBOOK: https://www.facebook.com/thenapierbook/
THE NAPIER BOOK: https://napierbook.com
FACEBOOK: https://www.facebook.com/thejewelrystylist2
INSTAGRAM: https://www.instagram.com/thejewelrystylist/
THE JEWELRY STYLIST: https://thejewelrystylist.com
VINTAGE JEWELRY COLLECT:  https://vintagejewelrycollect.com
CJCI : http://cjci.co  This forwards to https://www.costumejewelrycollectors.com/
Photos:
NAPIER 1920S CUFF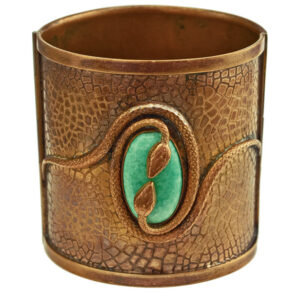 NAPIER 1950s CLUSTERED STONES NECKLACE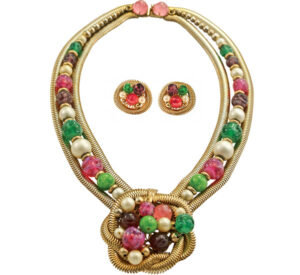 NAPIER 1950s FROSTED LEAVES PENDANT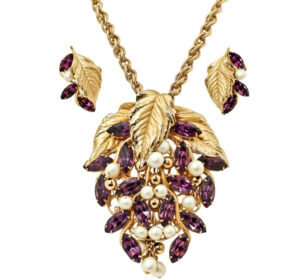 NAPIER 1950s ROCOCO DIE-STEMPED NECKLACE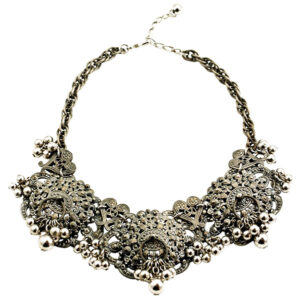 NAPIER 1950s TROPICANA BRACELET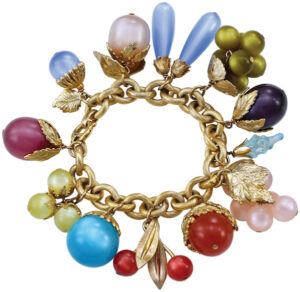 NAPIER 1992-GALLERIA COLLAR NECKLACE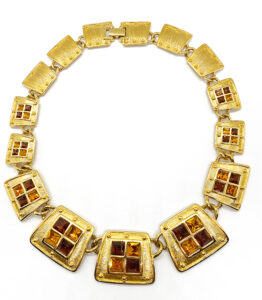 Napier book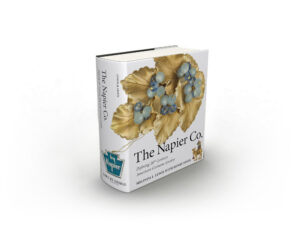 Transcript:
Some collectors don't give costume jewelry a fair shake, but for jewelry historian Melinda Lewis, vintage costume jewelry has only brought her happiness. She spent over a decade researching The Napier Company, an influential costume jewelry manufacturer, and created a community of fellow costume lovers along the way. She joined the Jewelry Journey Podcast to talk about the process of researching and writing her book, "The Napier Co.: Defining 20th Century American Costume Jewelry"; what costume jewelry is trending and where the hot markets are; and why the joy of jewelry often lies in connecting with others. Read the episode transcript here.
Sharon: Hello, everyone. Welcome to the Jewelry Journey Podcast. This is the second part of a two-part episode. If you haven't heard part one, please head to TheJewelryJourney.com.
Today, we are talking with Melinda Lewis, the author of the definitive work on Napier Company jewelry, "The Napier Co.: Defining 20th Century American Costume Jewelry." She's also one of the founders of Costume Jewelry Collectors International. If you look at their website, CJCI.co, you'll be able to find all you want to know about costume jewelry. Welcome back.
Why did they start making costume jewelry? What I'm always surprised by is that everything was just as nice about it, but it wasn't a real ruby. That's all. It was a synthetic one. [Repeat from Part one]
Melinda: I think the reason why it became popular was that it allowed more people to adorn themselves. If you think about it, you had a real piece that might cost $2,000, but you could offer a lovely, finely crafted piece of jewelry for $20. It allowed the average person to feel as beautiful as the socialite that was wearing the $10,000 piece. It made things more democratic. It opened up the market to people that perhaps would not have been wearing that expensive piece of jewelry. I think that's why it made it more accessible to the masses.
Sharon: Would you say it was manufactured? Everything about it was the same except that it wasn't "real"?
Melinda: A lot of the manufacturing companies used the same manufacturing techniques as fine jewelry. Many of the people, particularly in the 1920s, had come over from Europe and had worked for the jewelry houses of Paris, so their techniques, their skill levels, were unsurpassed. They were jewelry makers. That's why some of the early pieces look just like fine jewelry, because there really wasn't a difference in the manufacturing with the stones, the setting and the design aspects. We were really fortunate, if you think of it, to have all of these fine jewelry designers and manufacturers immigrate to the U.S. and give us, as a society, the opportunity to buy jewelry that wasn't $10,000.
Sharon: Is it still true? Would you say the quality is still as good?
Melinda: I think it's line specific, but certainly jewelry today is probably not made to the same quality standards as costume jewelry was during the beginning of the 20th century. There certainly are going to be pieces, but most of the jewelry we see in department stores is not made in the same way it was made a hundred years ago. I can't really explain it. Often, it falls apart. It doesn't have the same plating. We don't use the same quality stones. I don't think the designers have a full understanding of the design aspects or design aesthetics they had a hundred years ago. It's hard for me to say it has the same quality that it did.
Sharon: Are you a flea market junkie or a swap meet junkie?
Melinda: Yes, my treat to myself is to do that on occasion, to go to an antique fair. But Covid certainly changed a lot of things in the last three years. The majority of my acquiring comes from online, but there's certainly something about spying that piece in a pile of jewelry. Someone has no idea what they have, and that's when your years of study pay off. You're able to recognize something and think, "Oh, that has value."
Sharon: Do you still have a store online?
Melinda: I have three online stores. My husband and I have three. One is for the Napier book, and then two others are online venues for vintage jewelry. One sells Napier jewelry exclusively, and the other two sell regular costume jewelry.
Sharon: Except for this exposure to costume jewelry, I don't know that much about it. I hadn't heard about your website. I thought I knew everything about all kinds of jewelry. Tell us about your websites with jewelry.
Melinda: One is called TheJewelryStylist.com. That has higher-end costume jewelry. Vintage Jewelry Collect is my other website. That one has mid- to upper-level costume jewelry and probably a deeper array of things, from wood jewelry and Bakelite and rhinestone jewelry. My objective with The Jewelry Stylist is to have the higher-end collectables on that side. Then TheNapierBook.com is where I sell my book as well as vintage Napier jewelry.
Sharon: Do you have people—stylists I guess—who come to you because they're doing a movie or a TV show and they need something?
Melinda: I used to do that. In the early 2000s, I did a lot of work with Edward Enninful's team and had a lot of jewelry featured in Italian Vogue. I had my jewelry used for MAC cosmetics. I'm going blank on the other ads, but yes, I did do that in the early 2000s. However, it's a lot of work. It's not a paid gig; you do it for exposure. I stopped doing that probably around 2008 or 2009. It was a lot of fun and certainly exciting to see your pieces on the cover of Vogue Italia. My focus at that point was on the book, so doing that type of print work interfered with me moving forward with completing my book. So, I put it to the side.
Sharon: Did you stop everything and focus on the book? What did you do?
Melinda: I was trying to do both. We founded CJCI in 2009, so I had a lot going on. Incidentally, it's CJCI.co, not com.
Sharon: Thank you. It stands for—go ahead.
Melinda: Costume Jewelry Collectors International. We were formed to promote the study, enjoyment and promotion of costume jewelry. We started our club when we learned about the retirement of Lucille Tempestas' jewelry club. She had a jewelry club named the VFCJ. I knew there was going to be a void for people, because we really enjoyed getting together with jewelry clubs. I talked it over with my husband and decided I was going to ask my cofounder, Pamela Siegel, if she would join me on this journey of starting a new jewelry club. She said yes, and within three days, we had a website up; we had created groups on Facebook. Within three months, we had published our first magazine. In 2011, we had our first jewelry convention.
Sharon: You've had one every two or three years, like a convention or conference.
Melinda: We had one for seven years straight.
Sharon: Wow! It's a lot of work.
Melinda: It's a lot of work. Right now, our focus is on the website. We acquired a database from another website called Research In Costume Jewelry, which was a website created by Dotty Springfield. That's why people come to our website, to get information about jewelry marks. That was a very big project. We had to integrate all of the data from one website and incorporate it into ours. It was a costly and timely project, but we were able to do it. We get about 13,000 unique visitors a month to our website to look up jewelry marks.
Sharon: The marks specifically?
Melinda: Yeah.
Sharon: I did hear that you might have a cruise.
Melinda: One thing we're considering is perhaps doing a jewelry cruise next year. Pam and I will be talking about that this year to see if it's feasible. That might be in the works for 2024, but nothing's set in stone yet; we're just looking at our options.
Sharon: Nothing for 2023 this year.
Melinda: No. It was a tough decision. We had to make a financial assessment of whether or not it was viable for us, and still with Covid and the uncertainties and the contract obligations you have as an event promoter—if you don't fill it, you still have to pay the bill—we decided it was in our best interest to not have a convention this year. It was very sad choice for us, but one we needed to make.
Sharon: How did you and the businesses stay afloat during Covid? How did you manage?
Melinda: CJCI is donation based, so we were greatly affected by it and by not having conventions, which is our main source of income to try to cover the expenses of hosting a website and such. That income wasn't there. My personal businesses actually had a little bit of an uptick during Covid. That was a nice surprise, and certainly one I wasn't expecting.
Sharon: I've heard that a lot of jewelry websites or people who sold jewelry did find an uptick during that time because people were at home. What else did people have to do?
Melinda: Right, and a new buying community has opened up, like I mentioned with the Chinese market and Russian market. It's really gratifying to see other communities taking an interest in our American jewelry heritage.
Sharon: What are they looking for? Not that it's American, but that it's high-end or lower?
Melinda: High-end, and they're actually taking an interest in the history, which is fascinating and wonderful. I'm not sure that Americans in the same age group have the same interest in our history.
Sharon: I'm thinking about some of the smaller antique fairs I've been to. I don't collect costume jewelry specifically, but I've been surprised at some of the prices for high-end costume jewelry.
Melinda: It's been phenomenal. In the last two years, it has really peaked—perhaps not peaked; it has spiked.
Sharon: I'm sure it's good for you, yes. Sometimes I think, "Why didn't I start with costume jewelry?" You can buy a lot more, but it's really gotten expensive.
Melinda: Yes, it has. My advice to people is buy what you love and get the best you can afford. Grow your collection that way, but don't necessarily buy it for investment purposes. The market can be fickle, and it's generally a long game when you buy a piece. You have to have a pulse on the market. You have to know just the right time to offer it. Most people aren't following the market that closely.
Sharon: But that's something you do, follow the market for costume jewelry?
Melinda: Oh yes, every day.
Sharon: Do people come to you and ask you to appraise things?
Melinda: They do, but I don't offer that service. For one, I believe in California you have to be licensed to appraise. I give them guidance on what they can do. It's the same things I would do, like looking at closed auctions or websites that provide finished auction prices I do get that a lot, but I decline answering that question.
Sharon: I think you are correct in that you have to be licensed. Why should somebody like me, who clearly doesn't know that much about costume jewelry, why should I be interested? Why would I start turning my eye towards that as opposed to other antiques? Is it a progression? Do they go from one thing to another and end up with something else somewhere along the line?
Melinda: For me, with collecting costume jewelry, there is not only a recognition of the art form, but it's the community that is fostered during the research and the study. It's having that connection with other people who are interested in our history and the meaning behind that history. That is my biggest source of joy for collecting it. So, it is about the piece of jewelry, but it's not. It's also about the community that comes with the study of costume jewelry.
It's a wonderful time right now to become connected with others for research and collaboration and what I like to call jewelry genealogy. It really is, and that's exciting. When we learn a new detail about a piece of jewelry, there's nothing more rewarding. You get those endorphin hits. I think that's the thing I like about it. You get a surge of energy, a surge of joy. "Oh my gosh, I just discovered something new. I didn't know what that meant. Wow!" You collaborate with others and pull together your knowledge base. That's what makes it fun.
There are so many groups right now, like on Facebook, that people can join to aid them in their jewelry journey. These groups just weren't available a decade ago. It has expanded. In the last two or three years, the amount of jewelry groups for different aspects of studying it—and a lot of them specialize in one area. There are Schreiner groups. There's my page, and I have a group per se. There's the Alice Caviness group and the Hattie Carnegie group. People hone on in their interest and share their knowledge. That's the essence of what collecting is all about.
Sharon: Do you find yourself ever wanting to go astray? Do you ever see a piece of Hattie Carnegie, let's say, that you think is wonderful and buy it?
Melinda: Of course. I have a folder on my computer called "Want to Buys" for areas I want to learn more about. They are my bucket list pieces, and they're not Napier; they're other pieces. I'm like, "Oh, my gosh, I really want that piece. That is so polar opposite. I had no idea they made a line like that." I think that's true for most collectors. The great thing about being in a group with other jewelry collectors is that you expose yourself to things beyond what you're accustomed to seeing. It makes it wonderful.
Sharon: Do you wear a piece of costume jewelry every day or every time you go out, no matter what you're wearing?
Melinda: No, unfortunately where I live, I don't think it would be appropriate to wear a piece of jewelry. When we go out to dinner, I'll put on something, but I don't wear it every day. I play with it every day. I love handling it or picking up a piece or refreshing my memory about a piece. That I do, but I don't wear it every day.
Sharon: I find myself wondering—there are communities, but if you have more of a community because you wrote the book and developed this community, do you have more than other people? How do I have community if I didn't write this book?
Melinda: The book certainly helped form my community. My book actually wouldn't have been published without my community. That's very true. When I say my community, in that sense, I mean my costume jewelry collecting community. It wasn't a Napier community. My community supported me such that we were able to raise the funds to do the printing. The Napier book would not have happened without the jewelry community supporting me. There are groups on Facebook that have been formed that specialize in specific designers. They don't necessarily have a book behind them or an author behind that group, so I'm not sure.
Sharon: What's your next book on? Are you continuing this one? Is it part two, or are you starting fresh?
Melinda: I'm not sure if there's another book in me. It takes a lot of work. There are certainly revisions I would do. I hope once we sell out of the hard copy, if I do an e-book, it will have revisions and updates. I've learned so much since we originally published. I'm on the internet every day looking at archives, looking at newspaper ads and clippings and identifying more specific years that things were made. That's a habit for me, to try to collect articles to further my understanding of Napier.
Sharon: It does sound like it takes a lot of work, a lot of time. What would you revise first, prices or the pictures? Would you say, "This was done elsewhere"?
Melinda: The latter, yes. If I had dated something, say, at the late 50s, but I found the ad that said, "No, it was 1962," I would move it; I would put it in its proper age spot. Even though I was off by five years, I was trying to be as specific as I could. I would update some of the years for things and perhaps add more pieces or more dating I've since discovered.
Sharon: I don't know if there's any room for more pieces. You have so many. I was looking and I thought, "How did you do this?" The photos are really beautiful. They're clear and very detailed. It's very nice. Do people contact you because of the book itself?
Melinda: Yes, I do get that. When I was writing the book, I had a spreadsheet so I could keep track of everything. Everything was kept on spreadsheets, down to making comma changes and other things. I had a very extensive database so I could track where everything was to make sure it was in its proper place when I was laying out the book.
Sharon: Did your family help you? Or did they say, "Don't bother me," or "I'm tired of hearing about it," even though they were involved from a monetary standpoint?
Melinda: My mother helped with some of the editing. I had a number of friends helping me with the editing. My husband found the printer. We used the same printer as Condé Nast and Assouline Books. My husband went out and got the best printer we could get. In terms of the template for the book layout, he contracted with a couple of people that wrote for Consumer Reports, and they helped devise the template. From there, I worked with the template they provided to fill out the book. We had the foundation designed for us. My husband probably was my biggest support, following me all around the country. I couldn't travel without him. He was the one carrying all the equipment and what not.
Sharon: So, you would go to the collections? You would go wherever—
Melinda: Yeah, and I'd stay with the employees. They were most generous. I stayed with Henry for a week and talked Napier. We stayed with a gentleman named Bill Hurlbutt and his wife, Alice. We stayed with them for a week. We met with Napier employees on our honeymoon. I decided to go to Meriden and have a lunch date with Napier employees instead of taking a honeymoon. It was a lot of fun.
Sharon: I hope your husband had some inkling at the time when that happened. Thank you so much for being with us today. We'll look for part two. I'm sure all of us will be looking at jewelry and turning it over and trying to find the marks you've mentioned that we didn't know might be there. Thank you so much, Melinda.
Melinda: Thank you for having me, Sharon.
Sharon: We will have photos posted on the website. Please head to TheJewelryJourney.com to check them out.
Thank you again for listening. Please leave us a rating and review so we can help others start their own jewelry journey.