Episode 188
What you'll learn in this episode:
What jewelry can tell us about the aesthetics and values of a particular era.
Why sustainability in the jewelry industry is essential, and why the definition of "sustainable" is much broader than we might think.
Why maintaining purpose is the key to making our world and our creative work better.
Why the term "ethical jewelry" is less about materials and more about our choices as consumers and makers.
How Lisa decides which topics deserve attention at Initiatives in Art and Culture's conferences.
About Lisa Koenigsberg
Lisa Koenigsberg is President and Founder, Initiatives in Art and Culture (IAC) and an internationally recognized thought-leader in visual culture. Koenigsberg's work is characterized by commitment to authenticity, artisanry, materials, sustainability, and responsible practice. Over 20 years ago, she established IAC's multi-disciplinary conference series on visual culture and has since been responsible for launching its web-based webinars and other offerings. She has held leadership positions at NYU where she also served on the faculty, at several major museums, and at the New York City Landmarks Preservation Commission.
Koenigsberg's writings have appeared in such books as The Art of Collecting (ed. D. Jensen), Auspicious Vision: Edward Wales Root and American Modernism, Architecture: A Place for Women (eds. E. P. Berkeley and M. McQuaid), The Gilded Edge: The Art of the Frame (ed. E. Wilner), in journals such as Gems and Jewellery (the publication of the Gemmological Association of Great Britain), American Art Journal, Proceedings of the American Antiquarian Society, and Journal of the Society of Architectural Historians, as well as in magazines and in Trendvision's Trendbook.
A frequent speaker, she has also organized symposia and special sessions at universities, museums, and professional organizations throughout the US and abroad, including at the State Art Collections of Dresden, NYU, City University Graduate Center, the Smithsonian Institution, the Norton Museum of Art, and the United Nations, and has organized and chaired sessions at the American Association of Museums, the Goldsmiths Company (London), the Society of Architectural Historians, Yale University Art Gallery, the Aspen Institute, and the Jewelry Industry Summit and at JCK.
She holds graduate degrees from The Johns Hopkins University and from Yale University from which she received her PhD. She is president of the Board of the Morris–Jumel Museum, a trustee of Glessner House in Chicago, and is a member of the Advisory Board of Ethical Metalsmiths and of the board of the NY Silver Society.
Additional Resources:
Photos:
Miners affiliated with Moyo Gems. Photo courtesy of Pact.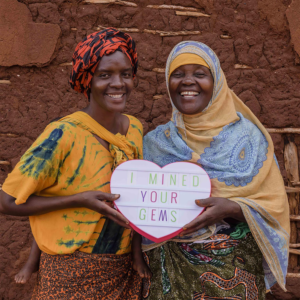 Viola Davis at the 'The First Lady' premiere wearing Satta Matturi's Kwe earrings, made with ethically sourced diamonds from Botswana provided by De Beers Group. Photo courtesy of De Beers Group.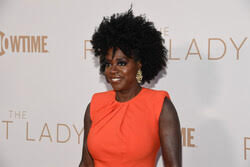 Merian Goldmine of Surgold, Newmont Suriname. Photo courtesy of ATV-Networks.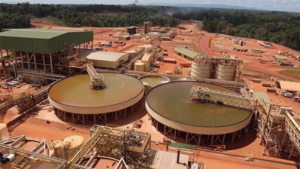 A rubellite extracted from the Cruzeiro mine. Photo by Leo Drummond/Nitro, courtesy of Cruzeiro mine.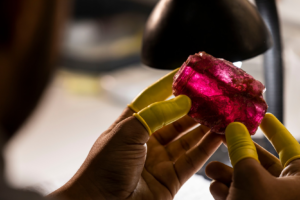 Transcript:
What is sustainable jewelry? According to Lisa Koenigsberg, it's about much more than the materials used. As founder of Initiatives in Art and Culture (IAC), Lisa has organized dozens of conferences to encourage people to explore sustainability, stores of value, visual culture and more, all through the lens of jewelry. She joined the Jewelry Journey Podcast to talk about what visual culture is and why it's significant; what it means for makers and jewelry professionals to maintain purpose; and what we can expect from IAC's upcoming conferences. Read the episode transcript here.
Sharon: Hello everyone. Welcome to the Jewelry Journey Podcast. This is the second part of a two-part episode. If you haven't heard part one, please head to TheJewelryJourney.com. 
Today, my guest is Lisa Koenigsberg speaking to us from New York and environs back east. She is the founder of Initiatives in Art and Culture, which is focused on a number of issues such as women in western art. There's also a conference, which I just noticed, on arts and crafts in the art world. She is an internationally recognized authority on material culture. This July, she is chairing an important conference called "Maintaining Purpose" with a focus on how to make something we all love, jewelry. Welcome back. 
Lisa: How do you get from that vision, the abstract vision, to its implementation? How do you transform? The other thing to be said about that is it's not only a question of science-based targets, which is a term you hear with regard to climate and ways of measuring carbon emission and reduction, but there is also a very real and human dimension to these practices that we use in terms of employment, in terms of organizing society, in terms of economics. Those can be measured as well, but there is also the internal will to keep going. That is always a challenge when you're setting out on something that is a long journey, being tired, being demoralized, thinking, "Am I getting there?" One of the things that is critical is to be surrounded by those who support and share your purpose, and perhaps when you are in a depth of quandary, their purpose reinforces your own will to go on.  
This is a question that's not only related to our carbon footprint, for example, or the issue of mining and miners, ASM and formalization of large-scale mining, or questions of recycling and thinking through recycling. These issues also confront the maker. How do I realize my vision? How do I create or find the tools and the materials that can allow me to make what I'm seeing in my head? How do I sustain the energy to keep going through experimentation with gauges and thinness and all of that in order to achieve what my goal is? 
There are people like Giovanni Corvaja, who makes some of his own tools and implements them, or somebody like Catherine Martin, who makes these absolutely exquisite platinum and gold woven pieces based on Japanese rope-making techniques. It's the understanding, the meticulousness involved with that craft. Maintaining purpose is both about how we ensure that we meet climate targets, that we think more consciously about mining and sourcing, but it's also about the will to continue with aesthetic vision and craft and creativity because a great object also involves artisanry, and artisanry gets better over time. They're twin steps of maintaining purpose. I think, given the challenges that we face, this is a subject of the moment for all of us as we strive to make the world and our work better.
Sharon: A big goal. I know you have two awards, but it's the 6th annual ceremony. That surprised me. I didn't realize you'd been doing it for so long.
Lisa: I'm sorry, it's actually our 13th.
Sharon: Oh, 13th, yes. 
Lisa: This conference started in 2011 and the vision has been refined over time. We owe an enormous debt to Mark Hanna from Richline, who has been an intellectual partner for all these years, helping us to come to the idea of seeing jewelry as a lens and never losing sight of the object. But the other thing we can never lose sight of is ourselves. Not in a narcissistic sense, but in the following sense: if we did not want or need, however you want to look at it, the object, the mining would not exist. With the various kinds of labor that bring up all kinds of issues, we are the ones who initiate this—I'm actually going to call it a jewelry journey. When we speak about ethical jewelry or sustainable jewelry, I'm not sure what that means, but in terms of ethical jewelry, it's not the jewelry that is ethical; we are ethical. It's our approach. We make responsible choices in terms of what we do to make the object. 
Jewelry has enough of a burden because on the one hand, we see; we gravitate. Every society gravitates toward this notion of adornment one way or another, adornment of the self and crafting. At the same time, we burden it with being called a luxury. Luxury has a negative connotation, whereas the adjective luxurious has positive connotations. So, jewelry has a lot to grapple with, but it's we who act. 
Along the lines of maintaining purpose, one of the things I would say is don't let the great be the enemy of the good. Here I'm borrowing from Mark Hanna, which is whatever step you take, whatever choice you make with regard to the material you use or the piece you buy for whatever reasons, that is movement. There is that old aphorism, "Rome was not built in a day." Worry about laying the bricks or painting the wall or paving the road. Collectively, if we all do that, we will get to Rome. At the same time, it makes the prospect of change and contributing action more possible to the self. 
For example, let's say you see a fantastic ring. It's got diamonds in it. You've never seen such an inventive use of the stones. You feel comfortable with whatever the source of metal is. You're intrigued by whoever the maker is. Where did those diamonds come from? Because with the creation of Dodd-Frank, we had the rise of something that everybody became conscious of, which is conflict gold. The analogue to that might be blood diamonds. A lot has been done in the journey of blood diamonds. There has been a lot of progress made, but having said that, there are certain things that may seem problematic manifesting themselves in a new situation. Conflict diamonds exist now, today. What do we do about them? There are new sanctions that have recently been issued by the U.S. government. What's your stance on that? What do you feel about where your stones come from and knowing the true trajectory? That is one example. I'm not saying that's the instance that you do something, but it's one small example of something you can do that makes a difference. 
Think about if you're a maker. "O.K., there's a group of responsible options for gold. What am I going to choose, and why am I going to make those choices?" As a consumer, the quality of the work and the integrity of the materials are part of what define the best of who we are today. Those are some of the things to seek. What's the aesthetic of today? What is the overriding thrust? What is the quality of the materials? Just as you would ask for anything else. If you're looking at a garment or a pocketbook, for example, they're all "luxury" objects, but what are the materials? How is it made? What are the choices that have gone into it? What do you want in the products you buy? By making some of those things clear, you can also make a difference.
Sharon: Do you think you'll have this conference but the title will morph into some other thing?
Lisa: Every year it has. The Gold Conference now is the Gold and Diamond Conference. Every year it has a different title. We've done "Values and Vision," acknowledging value as an alternative store value and currency values as in integrity, responsible practice, transparency, chain of custody. Vision can be in terms of aesthetic vision, but it can also be a vision for new ways of conducting business, new ways for training, new ways of integrating people into the world of jewelry so we have—I'll borrow from Joseph Alsop on art—a thriving jewelry culture. A jewelry culture is deeply linked to a cultural zeitgeist, the artistic sensibility of an age, the thinking of an age. All of these things are interconnected.
Sharon: Is that why you're having two jewelers? Who are the jewelers, and why are you having actual designers, jewelers, makers?
Lisa: As of now, we are having two jewelers. One of them is Satta Yei Matturi. Satta is an extraordinary jewelry designer who uses diamonds and other materials. She draws on her African heritage for design sourcing and inspiration and is intensely concerned with the craft that is used to realize the objects. She is also aware of the possibility of linking objects to socially transformative action. For example, the Kwe earrings that Satta made were worn by Viola Davis on the red carpet, which was a partnership with De Beers and an initiative called RAD, which is using the red carpet and other opportunities to effect social change. She's an enormously creative and gifted person. What drew me to Satta was actually because I saw those Kwe earrings before knowing anything of the whole story surrounding them and her other work.
Then we have Silvia Furmanovich, who is Brazilian. Brazil is a country we must give greater attention to. It's an extraordinary incubator of talent. The natural resources of Brazil are exceptional. We owe almost every breath we take to the Amazon, which of course is located there, but also if you look at the number of talented designers that have come from Brazil, it's quite striking. Fernando Jorge for example. One of the things Silvia does is explore world cultures, particularly cultures along the Silk Route, and she takes the techniques that are practiced in these various contexts, such as inlay or bamboo twisting or silk, the knotting that's involved in carpets, and she integrates and transforms those elements, making them part of her work. Her work is also enhanced by that referentiality and that connectedness to craft and tradition of other cultures.
Sharon: The "Maintaining Purpose" conference is July 17 to 19. Do I have that right?
Lisa: Yes, it is July 17 to 19. We will also be taking a field trip to RIVA, which is a jewelry manufacturing company located in Brooklyn and founded by Ted Doudak, who I find to be an inspirational person. He built this business from something he practiced in his basement to this fabulous company that has multiple dimensions and can deliver a design or a vision in reality. They have in-house skills ranging from enamel to lapidary, which they've recently added, as well as all the things one might traditionally think of. At the same time, Ted has a deep commitment to doing the right thing. His company is operated with integrity, with concern for the well-being of all and with a commitment to responsible sourcing. He's quite involved with Fairmined and issues pertaining to recycling as well. One of the other things about Ted is that he has mastered so many of these skills himself. During the pandemic, one of the things that was fabulously done was his videos on LinkedIn, in which you would see him tackling a task or a skill and showing us all how it's done. Consequently, I think this will be an exciting and rewarding opportunity. 
One of the things we believe in is the transformative power of place and experience, and also the fact—well, I think it's fact—that expertise doesn't lie in one particular source. If I put up 20 scholars of gold who are going to give you variations, they will be insightful; they will be important, but how many perspectives can we bring in? What can we learn from somebody who works with the metal? What can we learn from somebody who has a casting business? What can we learn from people who are grappling with creating standards, creating ways for young people to enter jewelry making? I'm a bit leery of this work, but I'll trust the jewelry industry in whatever way they wish.
Sharon: It sounds like a great conference, a very wide-ranging conference, and one that we'd learn a lot from. We'll have a link on the website to the conference along with any other images from past conferences. Lisa, thank you so much for being with us.
Lisa: It was my great pleasure to be here. I'm sure I left a lot out, but I so appreciate the opportunity to have talked with you and shared with your audience. It's great to be here.
Sharon: Glad to have you.
We will have photos posted on the website. Please head to TheJewelryJourney.com to check them out.