Episode 186
What you'll learn in this episode:
How Noel promotes Canadian and American jewelry artists throughout the world
How people who've never seen art jewelry should approach it for the first time
Why brooches are the best type of jewelry for artists to express themselves
How Noel selects pieces and artists to represent at his gallery
Why Noel is hopeful that the financial and artistic value of art jewelry will increase with time
About Noel Guyomarc'h
Noel Guyomarc'h is the founder of Gallerie Noel Guyomarc'h. Established in 1996, the gallery exhibits outstanding collections of contemporary jewelry and objects created by Canadian and international artists. The only gallery in Canada dedicated specifically to contemporary jewelry, it has presented over 100 exhibitions in its space, which is considered to be one of the largest in the world. This internationally acclaimed gallery is a must for collectors, museum curators, and anyone who wants to discover and become acquainted with art jewelry.
Additional Resources:
Galerie Noel Guyomarc'h Website
Galerie Noel Guyomarc'h Instagram
Galerie Noel Guyomarc'h Facebook
Photos:
 Hibernate 
Simultaneousness by the Finnish Collective Hibernate
with Helena Lehtinen, Eija Mustonen, Tarja Tuupanen, Jenni Sokura
(April 29 – May 29, 2021)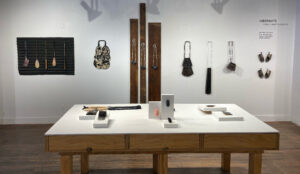 Installation AVM.
Animal, Vegetable, Mineral, Contemporary Jewelry Exhibition curated by Melanie Egan, Head of Craft & Design at  Harbourfront Centre, Toronto –
Invited artists –
Bridget Catchpole (Canada), Annette Dam (Denmark), Helga Mogensen (Iceland), Alex Kinsley (Canada), Tania Larsson (Gwich'in, Northwest Territories ), Helena Johansson Lindell (Sweden), Anna Rikkinen (Finland), Máret Ánne Sara (Sámpi/Norway) + matt lambert (USA/Sweden), Catherine Sheedy (Canada), and Despo Sophocleous (Canada)
(January 28 – February 25, 2023)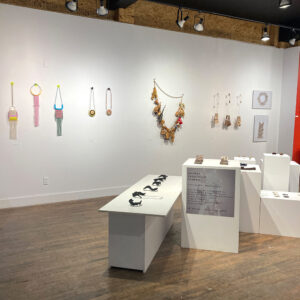 Le Fer Noir Trio
Le Fer Noir Trio, exhibition with Sophie Hanagarth, Bettina Dittlmann, Michael Jank
(March 29 – May 5, 2019)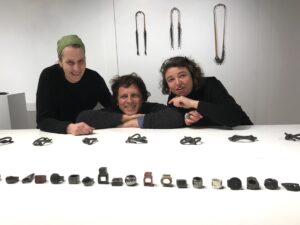 Slice
Slice, solo exhibition by Paul McClure
(March 25 – April 25, 2021)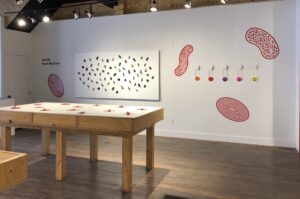 Le Poème
Le Poème, solo exhibition by Aurélie Guillaume
(February 11 – March 20, 2021)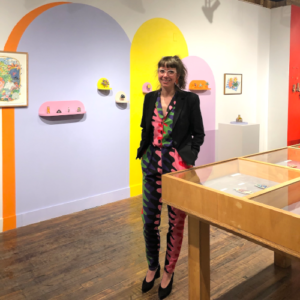 Transcript:
Although Canada's art jewelry scene is relatively small, it has a devoted champion in Noel Guyomarc'h. Noel founded Galerie Noel Guyomarc'h in 1996 and has spent nearly 30 years bringing art jewelry to Montreal—and bringing Canadian jewelry to the world. He joined the Jewelry Journey Podcast to talk about how he chooses artists and exhibitions for his gallery; how he introduces art jewelry to first timers; and his hopes for the Canadian art jewelry scene. Read the episode transcript here.
Sharon: Hello, everyone. Welcome to the Jewelry Journey Podcast. This is the second part of a two-part episode. If you haven't heard part one, please head to TheJewelryJourney.com. 
Today, we're talking to Noel Guyomarc'h in Montreal. He is the owner and founder of Galerie Noel Guyomarc'h. He wants people to see that artists create works of art and that these pieces, when they're worn, it amplifies their significance. A relationship is established between the person who wears the piece itself and the viewer. He encourages visitors to cast a new eye on jewelry. Welcome back. 
Do you travel a lot for your work? Do you go to New York City Jewelry Week or Munich Jewelry Week?
Noel: Yes, in fact, there are two fairs I'm doing now. There are two events. I've done the New York City Jewelry Week three times and I'm going to do my second edition at Munich.
Sharon: Oh, wow!
Noel: I've done it this past July.
Sharon: Munich, for those who don't know, is one of the biggest art jewelry fairs in the world. How do you decide what to show there? Is it larger than your gallery?
Noel: No. Have you been already?
Sharon: Before Covid I went.
Noel: So, you know you have all the events in the city, then you have the fair and the Schmuck exhibition. All around it's galleries, and I'm part of those galleries now. To select the work is quite challenging because you can't represent the same work in other galleries, so we have to do a selection that you can show in fact. I'm showing some Canadians, some Americans and many international as well, but those are very much represented by the other galleries. 
Sharon: Have you ever chosen work you thought you would show and then gone and seen—there's the handwerk mesa, which is the back commercial place, and then there are a lot of galleries all over the city. Have you ever gone and thought you'd show something, and then you saw that somebody else was showing the same thing and you changed your mind?
Noel: No, it hasn't happened yet, but it's the artists who have to let me know if they're going to show somewhere else. When I'm doing the handwerk mesa, I have no time to go to the city and look at what's on display because we're doing long hours from 9:00 in the morning to 7:00 p.m. It's very long hours. I don't have time to visit the other shows in town. We have to work with confidence with the artists. Otherwise it's not fair, but it never happened. The artist can tell me, "O.K., I may show some work with this gallery in town. It's not the same work." It's usually very different. It's not the same connection, so it's not the same work.
Sharon: It's interesting. I always think that for a person who's going to buy just a piece or two, it's a place to see what's going on in the world in terms of art jewelry or art things going on. Do you find that?
Noel: I went a few times to Munich before, but just as a visitor. Yeah, if you want to be aware of what is happening, you have to go there. It's what I did, and I still feel the same. It's very avant garde. If you want to see new ideas, new approaches, it's the place to be and to go.
Sharon: Have you ever seen an artist there and you said, "Oh, that's new. I think I'll ask them if they're represented or if I can carry them in the gallery." Have you ever done that?
Noel: Oh yeah. I even took some shows. I think it was in 2019, I went and there was a show with Taiwanese artists. I said I wanted that show in my gallery because I found the treatment, the ideas, the way they were working with materials, everything, it was very interesting, and I said, "O.K." At the end of the fair, we organized everything and I showed the work in my gallery. 
I'm meeting a lot of new artists. Last year I met Nikita—I forget his name. He's working with onyx, and he has done great work by carving onyx at Idar-Oberstein. I decided to show his work, and I brought it and showed it in New York City Jewelry Week. I was showing this work there. So, it happens sometimes that I meet new, fabulous artists. 
Sharon: Who is it, Idar-Oberstein? That's a gem-cutting center.
Noel: Exactly, yeah.
Sharon: He was cutting onyx there and then he incorporated it into jewelry?
Noel: No, they look a little bit industrial. It's like tubes, but they're quite large tubes carved in onyx. He built it to look like tubing, but it's not only tubing, it's also quiet and calm pieces. At first glance, they look like PVC tubes, but they're made of onyx.
Sharon: Wow, that would be hard to do.
Noel: Yes.
Sharon: Why do you stay in the gallery world? I presume it's difficult, but the gallerists I've talked to say it's hard. Even though they like it, it's hard. Why do you stay?
Noel: Why do I stay? I think I feel like I'm part of something bigger than just me. It's to help the artist pursue what they really want to do, to have a space for them. I like the contact with people also. For me, it's very important to know. Recently I met a young couple that are both living in the Montreal area. They jumped into the gallery by accident, and they found what they really liked. They were so pleased, and they never stopped coming back. Just to meet those people who are so open-minded and open to receive what I show them and explain to them, that's the reason I like to do this shop. 
I also like the idea of community, to be all together. I like when students have traditional training, but they come to the gallery and they're curious. I can explain to them what's happening in the field, because sometimes it's not taught when contemporary jewelry is. Also, it changes, communication with people I really like.
Sharon: Do you find that people come from all over Canada or the U.S.? 
Noel: All over the world.
Sharon: Yeah?
Noel: It's very nice. Some people recently came from Australia. We talked and I said, "There are really nice galleries in Australia," and they had never heard about them. It's nice to share that as well, "O.K., you can go to Funaki Gallery. You can go to other galleries there." They were shocked to learn that they have such places like mine, but in their own country. I think it's nice to share that, to be all of us in the community and support each other. It's nice.
Sharon: Let's say I'm an artist. How do I come to you and say, "Will you carry my stuff?" Do I send a picture, or do I come and bring the actual material to you?
Noel: I like when they make an appointment with their pieces at the gallery. I like it when we have an appointment because we're always working on projects, so we're always busy. Now, I'm working on Munich because Munich is in three weeks, so I have much to do. After that, I have a show with Monica Brigger, a German artist who lives in France. We're always working for the future. We're always working on projects, so that's why for the artist, when they come to the gallery, I like to be ready to receive them. So, it's nice to get an appointment. For sure, it's happened over 27 years. Some artists came and were wearing their pieces, and I said, "O.K., what's that?" and talked to them, but I like when it's organized.
Sharon: Have you seen an interest or understanding of art jewelry growing in Canada and/or around the world?
Noel: It's pretty difficult to answer that question. I think in the past 40 years, there were many collectors and buyers, and I think all the things we've seen have been very dynamic over the past years. Now I think we are in a challenging time because there are fewer and fewer collectors, and I think it's difficult to create new collectors. To pursue what the collectors did in the past and to add new collectors, it's very difficult. 
Sharon: Yeah, I think that's something that all jewelry organizations talk about. How do you get young people involved? What do you think? Do you think it's having a young collectors society? What's the demographic of the people who buy from you?
Noel: There are a lot of people because even if I have a gallery, mainly the reason is because I have collectors from outside Canada, not Canadian collectors. I have some very important American collectors, and some are international as well. It's very difficult because in Canada, there are just a few, not many, and they're not buying every month. If they can buy three or four pieces a year, it's already a lot. After that, to create new buyers like the couple I recently met, they're buying quite a lot because I know they want to build a collection. I always give all the right information for them to have and to get in their collection. Also, the pieces I've sold are not just for collectors. They're just people who like that specific piece and they're ready to buy it. So, they can buy a piece every two or three years in their goal to build the collection.
Sharon: How do you build a collection? Is it buying a certain artist? Is it just buying and keeping things? How does one build a collection? How do you build a collector?
Noel: What a challenging question! Because there are two kinds of collectors. I have some collectors that are just buying pieces by an artist. They have pieces not just by one artist, but they focus on a few because they like their work, and they believe in their work. They have bought pieces from different periods of time and different pieces and different collections, and they're building that collection because they like that work. They believe in what has been done and where this work is situated in the field and in the career of the artist. 
I have collectors that just fall in love with pieces. They like to buy and add pieces in their collection because it's very different. It's an interesting way of expressing what the artist did, so they're ready to buy that. They're not focusing on a specific artist, but other work. But to build collectors, it's another story. It's very difficult.
Sharon: I know. It's a hard question. It's hard to find them. I understand that. I hear so many definitions, but I've wondered about it myself.
Noel: I think it's different from painting and sculpture because in jewelry, we don't buy for an investment, which is the case sometimes when you buy paintings or sculptures. They feel like, "O.K., over the years, it's going to take a value." We're not sure that it will happen in this field, even if I can see an auction and think that some jewelry is selling very well and higher than what they were at the beginning. It's a good sign. It's a really good sign. I think you have to share your patience for that, and I think if there is somebody who likes it or receives it very well, you can mention that you are starting a collection. 
Sharon: That's interesting. Whether it's jewelry or art or sculpture, I think of a collector as somebody who buys and says, "I like this artist's work. I'm not necessarily going to wear it, but I like what they did," and then they take it home and put it in a drawer and never take it out again. So, I don't know what a collector is. Is a collector somebody who buys something, or is it somebody who collects because, like you're saying, they want to be able to show a progression or "He did this 20 years ago and this is what he is doing today"?
Noel: Yeah, it's difficult. I know that some very important collectors—you interviewed Susan Cummins not a long time ago. She's a major collector, but she's never worn a piece of jewelry.
Sharon: Yes, I know.
Noel: And she said, "They're in my drawers," but she's a very important collector. So, it's interesting to see that. Is it the right way to initiate people for contemporary jewelry and to start to collect? Because I think we have to show them. We have to show how they can be worn, what's happening when you wear them, because that's your behavior, the way you start a communication with others. Also, the fact that you're wearing a piece makes it different. So, is it the right way to introduce people to contemporary jewelry? I don't know. It's difficult to say that I like when pieces are worn, not just kept in the drawer.
Sharon: Let's say somebody comes in and doesn't know what your jewelry is and they buy a piece. Let's say it's their first piece. Maybe they have an intention to buy more. They don't know if they will or they won't buy more, but do you talk to them about a collection or say, "This is a great way to start a collection"? 
Noel: Yeah, I always mention that. I think for my 20th anniversary, I got some written notes, one from Susan Cummins, one from—
Sharon: Notes?
Noel: Just some words about the fact that it was my 20-year anniversary.
Sharon: Like testimonials?
Noel: Yes, a horrible word.
Sharon: O.K., and Susan Cummins is a very important collector. 
Noel: She wrote something about the collection, and then I put it on my wall so people could read the different testimonials I've received on the walls in the gallery. Just the fact that I have that, it's always a very nice way to introduce people. "Oh, O.K., jewelry can be collected." It's a step. Through that, I think it's nice, because I can't explain much more than those words on the wall. Then people are thinking much more about what they are planning to buy.
Sharon: Whether they are planning to buy a ring to match what they already have, or to buy another piece by the artist? Either way?
Noel: Yes, either way.
Sharon: Not to put you on the spot, but who else? You mentioned Susan Cummins. Who is a big collector in Canada that you can talk about, or anywhere in the world who you say is a big collector?