Episode 186
What you'll learn in this episode:
How Noel promotes Canadian and American jewelry artists throughout the world
How people who've never seen art jewelry should approach it for the first time
Why brooches are the best type of jewelry for artists to express themselves
How Noel selects pieces and artists to represent at his gallery
Why Noel is hopeful that the financial and artistic value of art jewelry will increase with time
About Noel Guyomarc'h
Noel Guyomarc'h is the founder of Gallerie Noel Guyomarc'h. Established in 1996, the gallery exhibits outstanding collections of contemporary jewelry and objects created by Canadian and international artists. The only gallery in Canada dedicated specifically to contemporary jewelry, it has presented over 100 exhibitions in its space, which is considered to be one of the largest in the world. This internationally acclaimed gallery is a must for collectors, museum curators, and anyone who wants to discover and become acquainted with art jewelry. 
Additional Resources:
Galerie Noel Guyomarc'h Website
Galerie Noel Guyomarc'h Instagram
Galerie Noel Guyomarc'h Facebook
Photos:
 Hibernate 
Simultaneousness by the Finnish Collective Hibernate
with Helena Lehtinen, Eija Mustonen, Tarja Tuupanen, Jenni Sokura
(April 29 – May 29, 2021)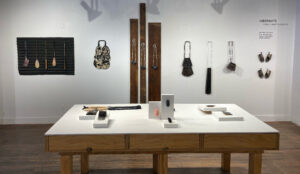 Installation AVM.
Animal, Vegetable, Mineral, Contemporary Jewelry Exhibition curated by Melanie Egan, Head of Craft & Design at  Harbourfront Centre, Toronto –
Invited artists –
Bridget Catchpole (Canada), Annette Dam (Denmark), Helga Mogensen (Iceland), Alex Kinsley (Canada), Tania Larsson (Gwich'in, Northwest Territories ), Helena Johansson Lindell (Sweden), Anna Rikkinen (Finland), Máret Ánne Sara (Sámpi/Norway) + matt lambert (USA/Sweden), Catherine Sheedy (Canada), and Despo Sophocleous (Canada)
(January 28 – February 25, 2023)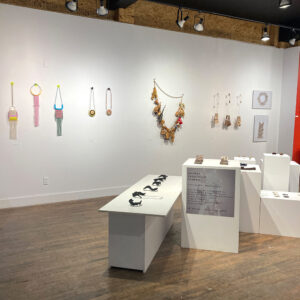 Le Fer Noir Trio
Le Fer Noir Trio, exhibition with Sophie Hanagarth, Bettina Dittlmann, Michael Jank
(March 29 – May 5, 2019)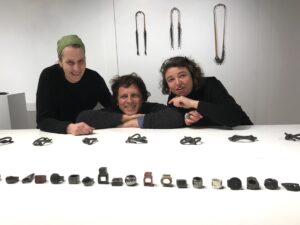 Slice
Slice, solo exhibition by Paul McClure
(March 25 – April 25, 2021)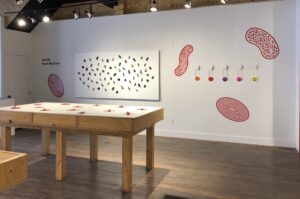 Le Poème
Le Poème, solo exhibition by Aurélie Guillaume
(February 11 – March 20, 2021)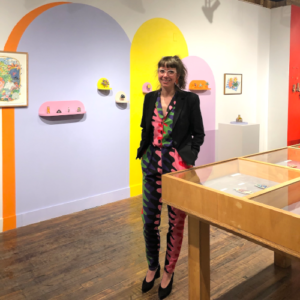 Transcript:
Although Canada's art jewelry scene is relatively small, it has a devoted champion in Noel Guyomarc'h. Noel founded Galerie Noel Guyomarc'h in 1996 and has spent nearly 30 years bringing art jewelry to Montreal—and bringing Canadian jewelry to the world. He joined the Jewelry Journey Podcast to talk about how he chooses artists and exhibitions for his gallery; how he introduces art jewelry to first timers; and his hopes for the Canadian art jewelry scene. Read the episode transcript here.
Sharon: Hello, everyone. Welcome to the Jewelry Journey Podcast. This is the first part of a two-part episode. Please make sure you subscribe so you can hear part two as soon as it's released later this week. 
Today, we're talking to Noel Guyomarc'h in Montreal. He is the owner and founder of Galerie Noel Guyomarc'h. He wants people to see that artists create works of art and that these pieces, when they're worn, it amplifies their significance. A relationship is established between the person who wears the piece itself and the viewer. He encourages visitors to cast a new eye on jewelry, which art jewelry really does. We will hear about all of this as well as how he came to operate a gallery and what he thinks about art jewelry in Canada. Noel, welcome to the program.
Noel: Thank you. It's nice to be here.
Sharon: We just had a long talk about how to say his name because there's an apostrophe before the H. Guyomarc'h. So, tell us about your jewelry journey.
Noel: I started about 35 years ago in Montreal. I was working in a jewelry place which showed fashion, some art jewelry and some antiques from Asia. It's there where I started to be more aware of jewelry, but there was no contemporary jewelry or art jewelry, a very small collection, in fact. That place closed, and I decided to support local artists. I said, "O.K., I should open mine," and it's what I did 27 years ago.
Sharon: Wow! That's a long time. You were the only place around. I only know of one other place in Canada that has art jewelry. 
Noel: Yeah, since the past 25 years, many places have closed. Now I think we have two galleries in Canada which are presenting art jewelry, so it's not much. The other gallery, Lapine Gallery, presents only Canadian artists, but all different crafts, not only jewelry. My gallery is only dedicated to contemporary jewelry.
Sharon: Oh, my gosh!
Noel: There is not much in Canada. It's really sad.
Sharon: When you look at a map, it's a big area.
Noel: Oh, yeah.
Sharon: We're a smaller area on the West Coast, but we don't have as much as the East Coast does. Tell us a little more. Would people be surprised if they found out this is what you're doing today? Were you artistic? Did you make jewelry?
Noel: From the people who knew me a long time ago, yes, they would be surprised because it was not what I was planning to do in my life. I was working in administration. I'm originally from France, and I moved to Canada 25 years ago. My background was more in economy and administration, so nothing to do with art or even jewelry. There were never jewelers in my family. When I moved to Canada, I met people who were making jewelry. In a way, I started to be more introduced to jewelry. 
Sharon: Tell us about your gallery and how you introduce people to it, because you have very alternative materials in terms of jewelry. How do you introduce people?
Noel: I like them to come in. They know already that there's something different because the front windows always display unusual work. So, when they come in, they are surprised by the diversity. They look at things, and when I see that there is some question in their eyes, I go to them and start to explain the work they're looking at. That way, they look at all the works in the gallery differently. Sometimes you're more attracted by one specific thing because of the colors, because of the materials, because of the idea. So, the fact that I explain the work, they understand that all the other works I have at the gallery are in the same group. They all have a specific meaning, a specific way of being done, of being worn, of being realized by artists. It's interesting, the effect.
Sharon: Are people attracted because it's work by artists or because it's just different jewelry?
Noel: They're curious because the format, the colors, the treatment of materials are very unusual. They're just surprised. It's funny because there are two sides of showing such jewelry. You have people who are curious; they want to learn more. There are others that say it's not jewelry because it's too stylized. It's very interesting to see the two behaviors in front of such work, in fact.
Sharon: Do you have people who come in and say, "Oh, this looks interesting," and they walk out with something they never experienced before?
Noel: Exactly, yeah. Very often it's not the first time they're going to buy something. They need to get used to looking at them, to get used to eventually wearing it. It's a process. It's a work in progress, and a working process as well because they have to get used to such pieces. It's very interesting.
Sharon: Are most of your customers women?
Noel: I can say yes, 75% are female and 25% are men.
Sharon: 25% is a pretty large amount.
Noel: Yeah, I don't know what's been happening the past 15 years. It's like the men started to wear jewelry or they started to buy for their wives, but they want to buy something they like more than their husband or wife will like. It's very interesting, but it's not the same. I don't know. The past 15 years I've seen a difference. Before, people wanted to buy something to seduce their wives or husbands, and now they're acknowledging—because of me, maybe; I don't know—but they want to be sure that the piece pleases them before it will please their wife or husband. It's a slightly different way of buying, which I like.
Sharon: Were you a jeweler? Did you ever make anything?
Noel: I took some jewelry classes before I opened the gallery, but I realized that was not for me. That was very fast. After a few years, I realized that no, it's not for me to make them. I had ideas, but I didn't have the patience for the making aspect. I was surrounded by talented people, so why do something I will not be pleased with? But it was a good thing because I learned many techniques that way, so when I look at some work, I know the quality as well. I can see if it's well-made or not because I took those classes.
Sharon: What do you consider art jewelry? What do you say when people come in and say, "What's art jewelry?"
Noel: I try to explain that it's a result of a vision, of questioning, of reflection by one artist about what jewelry can be. It can be inspired by real jewelry, by the environment, by the field as well. No matter the techniques of the material used, it's the expression, the idea. The main goal is for them to express themselves.
Sharon: Do you always say it's art jewelry by jewelers, or do you say it's jewelry by artists?
Noel: Most of the time, I say by artists. That's interesting because now—it's not new—there are some people that were in different fields and they started to make jewelry, but they don't have the background of it. Just the fact that they use different kinds of materials, they don't need to have that goldsmith or metalsmith training. They choose jewelry to express themselves. Sometimes they know silver or precious materials. So, it's more the artists than jewelers. It can be jewelry artists, which means they've had the training, and artists.
Sharon: Can you look at a piece and tell if it's somebody who has classical training, but then started to make jewelry with paper or plastic?
Noel: Oh yeah, we can feel it. But when you have many training experiences, it gives you freedom to do what you want. I think it's nice when you have good training, for sure.
Sharon: What was your catalyst for starting the gallery? Why did you decide, after working in these other places, to start a gallery?
Noel: I worked in that place for five years, so it's where I learned a lot of things. Slowly, that place was showing more artistic types of work. Among those jewelry artists there, there were a few that I started to be very close to. Then the place I was working at closed because of the economic situation, and I said to those artists, "I've got to open something in a few years to support you and encourage you." It's what I did after maybe three years that the place where I was working closed. I opened my gallery to support a few Canadian artists at the beginning, but it has grown very fast. We started to invite artists from everywhere and curate shows.
Sharon: How do you curate shows? How do you decide somebody warrants a whole exhibition or if it's a group showing? Tell us what you have now and what's upcoming, that sort of thing.
Noel: Sometimes it's curated shows. I did a few with invited artists or asked curators to do shows for the gallery. Sometimes, I'm doing a selection of artists because of their work. Sometimes it's from countries. I have done a show last year with Japanese artists. I selected seven with different backgrounds and different aesthetics, but I found it interesting to get them all together. Some of them have been trained in Japan and some outside of Japan, so the results were very different. Now, I have a show called "Animal, Vegetable, Mineral," and that show has been curated by Melanie Egan. She's the head of the Craft and Design department from the Harbourfront Centre in Toronto.
Sharon: What is her name?
Noel: Her name is Melanie Egan. She's the head of the Craft and Design department at the Harbourfront in Toronto. She curated that show. It was presented last September. I was part of the project in a way because she wanted that show to travel to Montreal. I said yes, but the show was really big, so I did a short selection of work because we don't have the same space, even if my space is big. It was very interesting to see why she selected specific work. It was about Nordic work. She invited people from Sweden, Norway, Iceland and from Canada, different places from Canada. It was a very interesting show.
Sharon: As you were going through to decide what to take from the show, since you couldn't show everything she had, how did you decide?
Noel: It was more simple because sometimes she had similar items. I said, "O.K., instead of six necklaces, I'm going to bring four over because I don't have space for more." They were by an artist from Finland. She has done huge, huge, huge pieces. They're not wearable art pieces. The dimensions are oversize. It's always more jewelry for the wall than jewelry for the body. So, it was big, big, pieces, and I picked the bracelet because it was three meters by two meters big. It was very big. Can you imagine if the bracelet was that size, what was in that piece? So, I just took the bracelet.
Sharon: Did you look at the pieces and how they were made?
Noel: Yes, I went to the opening in Toronto to look at all the work, to do the selection, to make the right selection for the gallery.
Sharon: What do you consider the right selection? What will sell?
Noel: Most of the pieces were not for sale because the Harbourfront Centre is a nonprofit organization. They invited the artists and got a grant to bring everything in. So, I have done that show in Montreal, but I'm not supposed to sell because all the pieces have to be returned because of customs issues. Finally, I sold a few so the artist had to ship them back to me, but at the beginning it was not a project to sell the work. But I had demand, so it was nice. It was great. It was a great turnout. 
Sharon: What's your favorite thing to sell? What do you like most about art jewelry? Do you like brooches? Men like brooches—I call them brooches. When I think of a man wearing jewelry who's not wearing a leather bracelet, I think of the brooches I see men wear, with lapel pins on their lapel. What do you like and what do you sell?
Noel: I have a lot of brooches at the gallery because I like the format. It's very nice for the artist. They like to work in that format because they can express themselves. They know much more challenging things. A necklace can't be too heavy, earrings not too heavy, well-balanced, rings not too big. There are always questions of sizes as well, so it's a challenge. The brooches are a very rare form to express themselves. So, I like them, but I don't sell many brooches. It's not the best-selling item, but I have a lot because I like them. 
The best seller is necklaces and earrings and rings. Those three are very good, but brooches, I'm wearing them a lot. Slowly I succeeded to sell a few because I'm wearing them. When people come in, it's like, "I never thought about wearing brooches," because they feel that it's not contemporary enough. The perception is like their grandmothers were wearing brooches, not them. But it's changing a little bit.
Sharon: I guess when I see art jewelry exhibitions, I always think of brooches. You only do one. With earrings, you have to make sure they match and that sort of thing. It seems better for an artist to do a brooch.
Noel: Yeah, but it's a piece that can encapsulate very nice ideas. I think that's why it's a favorite that I like to do. But sometimes, like I said, it's not always the best seller. 
Sharon: That leads me to the next question. They say that having a gallery, no matter what kind of gallery but especially an art jewelry gallery, is something of a passion. It's not because you want to make a lot of money; it's a passion thing. What do you think about that?
Noel: It's absolutely true. I'm pleased because I've succeeded to make a living from it, but for sure, it's not where you're making a lot of money. Even the six or seven first years of the gallery, I had a job outside the gallery just to get an income. It was very challenging at the beginning. Now, I'm glad because it's balancing well, but I do it just because I'm very passionate about jewelry and I like to show the artists' work. I like to present it, but the return is not much. The return comes from the artists or when you meet someone. You like the work and buy it, and that means that you have done a good job. 
From the beginning, I didn't want to have debts by running a gallery. For me, it was not the purpose. For me, it has to pay for everything, and as long as I can gain a little income from that, I feel O.K. But it's true that we have to be passionate about the selection of work as well. I think for the gallery, I'm not doing easy sales pieces. I always try to challenge myself and challenge the artists themselves, so I have to keep motivated to do it. At times, it's very challenging.
Sharon: Do you ever say to an artist, "This would be wonderful if you made it pink or blue or you added this," or do you just let them do it?
Noel: I don't want to be behind them and say, "You should do this because you're going to sell them easier." No, my job is to create wonderful settings. I really trust them. I believe them. I don't want to influence that.
Sharon: Do you see a difference in art jewelry between the U.S. and Canada or the rest of the world?
Noel: Yes, there are some differences. It's the fact that we don't have a long story here about art jewelry. It's not that old. And it's the fact that there are not so many schools as well in Canada, and the fact that we don't have so many galleries to show those works, I think it's—what can I say?—it's very challenging for the artist here. So, they're not making the same type of work. Sometimes they're doing a more commercial type of work and one other kind of avant garde of work, but there are not enough galleries to show their work. I think if there were more, it would be more motivating. I'm almost the only one here, and I can't say yes to everybody. 
It's going better for the jewelry fields because there are some platforms, like the one from Toronto. There are also some events like the New York City Jewelry Week. There are a lot of Canadians going there and going to Europe as well. There are some fairs where the artists can go so they can show their work, not always through a gallery, but they can organize by themselves or pop up at events to promote themselves. I think that helps for the creation as well.
Sharon: We will have photos posted on the website. Please head to TheJewelryJourney.com to check them out.