Episode 180
What you'll learn in this episode:
How Wayne used his trip around the world to learn the art and science of metalsmithing
Why it's important for emerging metalsmiths to understand they are part of a global mosaic of creatives
How Wayne made jewelry for the Grateful Dead and Blues Traveler
Why Wayne is selective about the jewelry shows he attends
Why teachers benefit from living as an artisan before teaching
About Wayne Werner
Jeweler, goldsmith, and educator Wayne Werner is a third-generation metalsmith from Maryland. He has been jewelry maker for over 30 years with clients worldwide.
Wayne Werner has traveled around the world to learn with metal workers from Italy and Egypt to Java and Bali. Specializing in cold forging precious metals, Werner has incorporated the traditional techniques of gold and platinum smithing with his artistic vision of paying homage to the fertility cults of the ancient world.   
Werner's work explores the relationship to metals liquid opus and the opus of mankind, both being a product of the earth cooling down. Through his work Werner attempts to remind people of the miracle of life and the cosmic happening that we all are.   
Primarily making a living retailing his work, Werner has participated in over 250 high-end craft shows nationally. He has received many awards for his work including the World Gold Council's Gold Distinction award and the MJSA Vision award for Mokume Gane. Werner is a former instructor at the Fuji Studio in Florence, Italy, and was adjunct faculty at the Maryland Institute College of Art in Baltimore for 17 years. He has also taught over 100 workshops in universities and craft schools around the country. In 2006 he was asked to demonstrate his craft at The Mint Museum of Craft and Design in Charlotte, NC, an event marking his 40th birthday. He is founder and host of THE ALCHEMIST PICNIC, a metalsmithing retreat at Touchstone Center for Craft, now in its 6th year. Werner is also an accomplished musician who has appeared on both television and movies as himself. His clients are some of the most interesting people on earth.
Photos:
Photos by Ralph Gabriner of New York.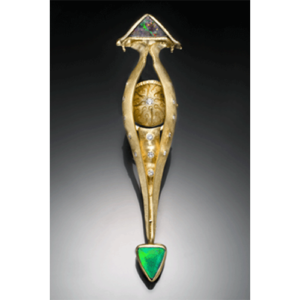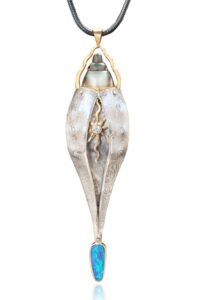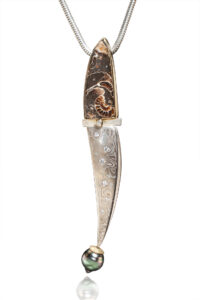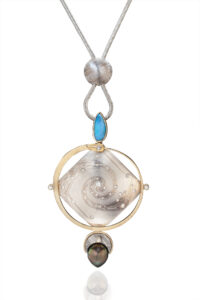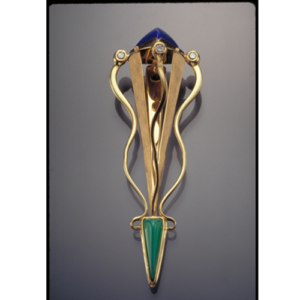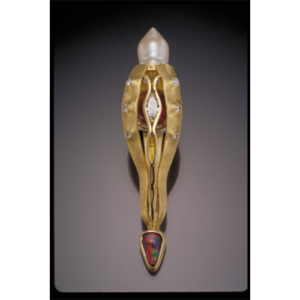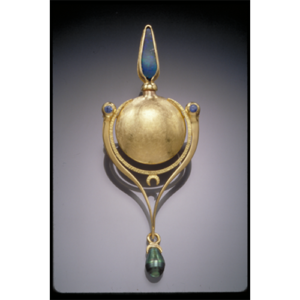 Additional Resources:
Transcript
Known for his psychedelic designs that reference ancient myths, fertility cults and the splendor of the sun, it's no wonder that metalsmith Wayne Werner has connected with clients like the Grateful Dead. A self-taught jeweler who learned traditional techniques by visiting metalsmiths around the world, Wayne has found success by selling his pieces at craft shows. He joined the Jewelry Journey Podcast to talk about his tips for building a long-lasting career in the jewelry industry; how he chooses the shows he attends; and why metalsmiths are all part of a global creative community. Read the episode transcript here.
Sharon: Hello, everyone. Welcome to the Jewelry Journey Podcast. This is the second part of a two-part episode. If you haven't heard part one, please head to TheJewelryJourney.com. Today my guest is Wayne Werner. Wayne is a very unusual and accomplished goldsmith. He is self-taught. As well as a goldsmith, he's an educator, artist and world traveler. Welcome back.
Wayne: I'm so lucky to have that energy be part of me profiting from a passion I have. I'm probably diverging. I'll have a sip of bourbon. 
Sharon: You were talking about developing your niches. One of the things you told me was that you limit shows. You say you pick and choose your shows so you don't have to go to a hundred shows. Yes?
Wayne: Yes. I'm at the ripe old age of 56 now. I started when I was, I think, 21. I've done over 350 shows. I did actually count them a few years ago. There were 350 shows all over the United States. I had some gallery representation for a while. It was something I didn't need as much of if I were doing lots of good retail shows. These are everything from a museum show and sale to the American Craft Council's show and sales to arts festivals or even just art in the park. I had gone out and done these and ran myself ragged. I decided what I was willing to do and not willing to do. 
In the course of that, I met my wonderful partner, Barbara Bayne, who is also a silver and goldsmith. Now we talk to each other and have these little executive board meetings in the hallway or wherever in the house. We say, "What do we want to do this winter? Let's apply to some shows in Florida. Where do we want to find ourselves in August? How about Sausalito Arts Festival"—when that was happening—"or go up to the mountains in Idaho." Now Barbara works with me, and she has a lot to say about setting the course. We go out and do shows in spurts. 
She's really good at throwing the applications out there, and we're really good at traveling together. Sometimes we'll share a booth, or we'll have separate booths and just help one another, but we're getting really selective. There are a lot of reasons. Sometimes it's places we want to be because they're pleasant at that time of the year. Sometimes it's the safety or the not safety of being in a big city. I have to acknowledge that running around America with all your work in a backpack can create some stress, let's say. I've never been robbed, but I'm always aware. 
Now we're doing between five and eight shows a year, the ones we want to do, the ones where we love and respect the promoter and we feel the love and respect back from the promoter. That's very important to me, because what I really want is that warm feeling. I made it and you bought it, and there's no middleman. I have grown to cherish that. It's become a focal point of my business, to say, "I make it, you buy it." There's nobody between the love or the affection towards my work. 
Michael Good grabbed me and said, "You know what your job is, Wayne? Your job is to connect and reconnect with the people that connect with you and your work." He walked away and I said, "Wow! Good lord, that's it! He just boiled it down." I thought about the Ramones; they're a punk rock band. They knew like four chords. All the songs sound about the same. It's just a bunch of guys with leather jackets, but they found a way to connect and reconnect with people that connected with them. They weren't the greatest at what they did, but they kept doing it and they made it available to their fans, their people, by doing shows and things like that. 
I've done a lot of shows around the United States. A lot of them were not worth my time, but I did learn from them. At a lot of them I met the most amazing traveling artisans of my life. The biggest and best influences I ever got were from visiting my mentors between shows and seeing their studios. I'd say, "Wow! This is what you get to do for a living." A couple of them said, "Yeah, it's a living, but you've got to be on top of doing this stuff. You've got to have that business thing going."
Sharon: Did you start becoming a teacher and educator because you wanted to share what you were doing? Was it because they inspired you, or it was happenstance?
Wayne: It was happenstance. It was a combination of a number of things. It was like finding another facet to your existence, another flickering point of what you were doing. In 1996, when I traveled around the world, I went to Florence, Italy and fell in with Kathy Knipple and Fuji Yamamoto. They had the Fuji Studio in Florence, Italy. I did a little residency there. They asked me to teach, and I said, "O.K., I haven't done that much teaching." In the back of my mind, I always felt that some teachers should make a living as an artisan before they teach. I thought, "Well, I'm going to try to teach," and I stumbled through it with Fuji Studio.
When I was back in Maryland, within a year or two after doing that, a friend of mine was working at the Maryland Institute of Art. It's a pretty prestigious private art school. It's a cornerstone of Baltimore and all the artisans there. I said, "Yeah, I'll come down and teach at the Maryland Institute of Art, but I have no master's degree. I have no degree in art at all." They said, "That's O.K. We're going to do it by recommending you. We're going to offer you an adjunct position." I didn't know what the hell that meant, but I knew this much: The person who hired me said, "You're going to make some waves here because you've got a job teaching with no degree." I said, "Then I want to do it. But I'm warning you. I'm going to use you all as my guinea pigs. I'm going to learn to teach here and get paid for it, and then I'm going to go and teach all over the United States at art centers and craft campuses like my mentors, like the people I know that are mainly artisans, but they go out and teach a few workshops." 
So, I started offering the workshops. The first thing I learned immediately was I wasn't a teacher. I was a maker. People got to watch me work and then I helped them work, but I would always say, "Mistakes are good. You need to make them. I'm not here to make your piece for you." Teaching was just another facet to polish up, and it's been very rewarding. It's been a little frustrating. I probably learned more about myself than anybody in the class doing metalwork, but I cherish the students and young people. 
These workshops are all ages, so you learn how to be in a group environment where you're not in control. It's very different than being in the studio or being at an art show. I joked and said, "At least in the studio, I can leave or ask somebody to leave." When you're in a room with 10 people and they paid money to learn to set stones, I'm a jester in the deck or a loose cannon. I've got to watch what I say. I can't joke around as much. There are powers that be that won't appreciate certain things I might say or do. 
It's interesting seeing somebody on the path they're on, and then I get to play the part of the person who gets to take them a little further down their path. It could be somebody who's just retired that always wanted to make a ring, or some 20-something-year-old kid that I look at and think, "He reminds me of me when I was that age. What an asshole he's going to end up being. He knows it all and he doesn't know anything," and then I get to be the big brother or the mentor figure. I've got some great relationships like that all over the country, all over the world now. I tell people, "Call me." I've made that mistake before. "Call me. I'm your pal. You don't owe me anything. Call me." 
I'll tell you this funny story. In 1986, I sold my work in the parking lot of a Grateful Dead concert for $20.
Sharon: Say that again. You sold what? Something for $20?
Wayne: Yeah, I sold hippie jewelry in a parking lot when I was young. Within 10 years from selling hippie jewelry in a parking lot at a Grateful Dead show, I was selling to a gallery on Madison Avenue in New York City. That still blows my mind, but anyhow, last summer, I went up to Philadelphia and I swear I saw myself. I met this young kid from Idaho. He was doing some crystal wrapping and casting. I said, "Wow, man, it's like meeting myself years ago." The young man came to my house a few days after this concert, and I gave him a bunch of tools and a little goldsmithing lesson. It feels great. It really makes me feel good.
Sharon: It makes you feel good because you're helping to put somebody on a path?
Wayne: Yeah. There's a vibrant community of makers around the country, making things and making jewelry, but goldsmiths and platinum smiths and stone setters, there's real demand for it. There's a big DIY movement that's been happening for many years, but there are going to be plenty of jobs for someone who wants to be self-sustaining as a metalsmith if they have experience in goldsmithing and stone setting and what I would call applicable skills to the trade. Now, you take those and do that and make a coin, but then you have money to go out and do far-out, really weird things or explore some other aspect of your libra. I'm a Libra, so I look for that balance. I still size rings and do antique restoration, but at the same time, I'm making pieces for an upcoming show I'm doing at the Boca Museum for an upcoming touring exhibition. I don't make money off my art jewelry is what I'm trying to say. I don't think my interesting pieces pay my rent and keep my boat afloat. I have to do production work to have at a show, and I do some repair and antique restoration. I spread it out.
That's kind of the thing I like to instill in these little creatures that say, "I'm going to be a metalsmith." I say, "Well, if you have this fantasy like I did about having a surreal job with rainbows and butterflies and psychedelic lights and everybody's going to throw money at you, well guess what? You'll come down off that cloud and you're going to say, 'Oh shit, today I've got to sweep to floor. Today, I've got to apply to shows. I've got to do my taxes or keep myself busy.'" That serpent that eats its own tail, that is the death of itself.
Sharon: Is that why you say you're the joker in the pack, the joker in the deck? You've used that expression with me.
Wayne: I think you had been to my website and looked at some of these crazy little pods and this fertility goddess worship I try to bring into my work. I heard a great word the other day, "cryptographic." They're little stories or things I like to put down about my fascination with life, with sperm swimming to eggs or our liquid opus, everything being liquid. A lot of my pieces, they're sexy; they're fluid; they're pods; they're coming from an ancient fertility goddess world. I always thought the joker in the king's court was pretty cool because he could be a fool and make a fool of himself, but at the same time he could speak divine truth, and because it was a ha-ha joke, he wasn't put to death by the king. 
When I talk about this infinite jest in making pieces that revolve around how amazing it is to be alive in the first place, a lot of people say, "Oh, this joker's just making these little designs, pressing buttons, trying to get people to think about stuff." That's really what I want. I don't mind doing that as long as the message gets through. I think you'd have to look at my work to delve into it and understand that, yeah, I'm putting these things together. They are sperm; they are egg; they are all about life and the creation of life. Joker in the deck. If that's the job to do today, I'm here showing up and punching my card. 
Sharon: Do you think about that when you start a piece? Do you have something in mind when you make a piece of jewelry?
Wayne: Yeah. The last cool piece I made—I think I sent a picture of it—was for the Tellus Museum. Elyse Zorn Karlin had a wonderful show at the Tellus Museum, and she was nice enough to tell me what it was about. It was called "Jewelry in the Space Age." They were looking for alternative materials, so I used some meteorite in a couple of pieces. With the meteorite, I also did this little design in the middle of a pod in the form of an egg being born in the top. In the middle of the pod was a little sun. The sun was shaped like little sperm swimming at the center of the piece, so it looked like sun rays. This was something that Rick Griffin, a psychedelic poster artist that worked for the Grateful Dead—he did the Aoxomoxoa album cover for the Dead—he had done that. So, I threw that into the piece.
The curator came to me and said, "O.K., how does this fit into my show?" I said, "Well, there's meteorite in the piece and it talks about star seeds and things like that. If you go back to ancient Egypt, you end up with this idea of splendor solis, the splendor of the sun, and how we are all creatures that are made possible by the splendor of the sun, the fertility of the earth, plants, animals, everything. It all goes back to the sun and sun worship. I used this sun pattern that came from ancient Egypt. I used meteorite, but I also wanted to use these other symbols of eggs and being born and gestation phases and things like that." She scratched her head and said, "Nobody's going to get that. Nobody's going to see that in your work." I said, "That's O.K. If they want to talk about it, that's O.K.," but I do think about that.
I've been told by different people, "You've got to get away from this theme of sex and fertility and things like that. You should get away from that theme," and then I said to myself, "Well, why? This is an ancient idea. Hermes and Mercury and Thoth and all these enlightened deities, that's what they were talking about." I try to stay true to it, but it creeps in all the time. I want to try to be a visionary goldsmith. I would like to have people scratch their heads a little bit, but whenever they get into it, they say, "Oh, that's interesting." 
Take a second and think that we're all cosmic miracles and little happenings under the splendor of the sun. If people thought about that more, I think they'd think less about walking into a grocery store and shooting up a bunch of people or going into a school and doing this. It's so disturbing to watch the news every night and see some of this creep up. If we would all just take a minute and walk around with our jaw open and go, "Wow! Far out! We're all a bunch of little miracles and cosmic happenings." We need to find a way for this to work, for us to appreciate each other and live with each other. Deep down a rabbit hole, Alice. Here we go.
Sharon: Is that the suggestion or advice you would give someone at the beginning? Somebody who says, "I don't know. This is a really hard path. Should I do this or should I go get a job?"
Wayne: Like advice for young people?
Sharon: What's your advice for emerging jewelers, let's say. People who are just emerging, just starting out.
Wayne: I'd say you're just as lucky as I am to have found this stuff and picked it up and touched it and for it to touch you back. Automatically they're lucky. Some people aren't going to do this for a living. They just want to explore the craft. Some people are like, "No, this is my living." I think a young person needs to know what they know and what they don't know, which means they can go about making jewelry with their skillset, but when it gets out of their comfort zone, maybe repair or doing something else for somebody, they need to know when not to do that. Hopefully they have in their group of friends or their tribe an older person or a younger person who knows how to do that. 
Another thing—I had this conversation with a fellow not long ago because he was frustrated. I said, "Look, we are a big mosaic. Metalsmithing and jewelry making is a big mosaic, and we all make up the picture. You're never going to know it all, do it all, be it all. It's not all about you or me. This is about a collective community that has been lucky enough to find materials and to have the patience to make things. Look at it like a big mosaic, and don't be so upset that all eyes aren't on you all the time, because it's not going to be that way. It's very flattering to be speaking to you right now at a heart-to-heart level. It's very flattering, but tomorrow, I'm going to be just another monkey on the vine of this big banyan tree of other metalsmiths." 
I have to realize that even the metalwork I don't like, I have to find something about that metalsmith or that work that I appreciate or respect, just because they're out there doing this stuff. The big mosaic is something I like to remind people of. I like to remind young people that it's the jewelry business. It's half business, half art, and if you have to split your day up that way, have at it. I'm a musician as well, and one of the best things I learned from one of my musician friends was, "You've got to be it all the time. You've got to take care of your business. You've got to plan what you're doing six to nine months from now today." 
Today, you have to concentrate on where you're going to be six to nine months or a year or five years from now. You need to consciously address that, whether it's applying to shows or getting your résumé together or getting slides taken or documenting or putting it on, whatever the hell it is. You need to think about what's far down the road, and then stop and go to the bench and do whatever the task of the day is, making jewelry or whatever. You need to have time to wear the hat of the businessperson. If you're not willing to do that, you've got to get somebody to do that for you, because business is everything; everything business. If you want to have a surreal job and be surreal busy, you've got to ride that surreal white horse to that job and do that job. 
Sharon: That's a great piece of advice—well, pieces of advice, but the last one resonates with me in other areas, not just jewelry. Thank you very much for being here today, Wayne. I greatly appreciate it.
Wayne: Thank you. Again, I'm flattered to be here, and I love what you're doing.
Sharon: We will have photos posted on the website. Please head to TheJewelryJourney.com to check them out.
Thank you again for listening. Please leave us a rating and review so we can help others start their own jewelry journey.