Episode 180
What you'll learn in this episode:
How Wayne used his trip around the world to learn the art and science of metalsmithing
Why it's important for emerging metalsmiths to understand they are part of a global mosaic of creatives
How Wayne made jewelry for the Grateful Dead and Blues Traveler
Why Wayne is selective about the jewelry shows he attends
Why teachers benefit from living as an artisan before teaching
About Wayne Werner
Jeweler, goldsmith, and educator Wayne Werner is a third-generation metalsmith from Maryland. He has been jewelry maker for over 30 years with clients worldwide.
Wayne Werner has traveled around the world to learn with metal workers from Italy and Egypt to Java and Bali. Specializing in cold forging precious metals, Werner has incorporated the traditional techniques of gold and platinum smithing with his artistic vision of paying homage to the fertility cults of the ancient world.   
Werner's work explores the relationship to metals liquid opus and the opus of mankind, both being a product of the earth cooling down. Through his work Werner attempts to remind people of the miracle of life and the cosmic happening that we all are.   
Primarily making a living retailing his work, Werner has participated in over 250 high-end craft shows nationally. He has received many awards for his work including the World Gold Council's Gold Distinction award and the MJSA Vision award for Mokume Gane. Werner is a former instructor at the Fuji Studio in Florence, Italy, and was adjunct faculty at the Maryland Institute College of Art in Baltimore for 17 years. He has also taught over 100 workshops in universities and craft schools around the country. In 2006 he was asked to demonstrate his craft at The Mint Museum of Craft and Design in Charlotte, NC, an event marking his 40th birthday. He is founder and host of THE ALCHEMIST PICNIC, a metalsmithing retreat at Touchstone Center for Craft, now in its 6th year. Werner is also an accomplished musician who has appeared on both television and movies as himself. His clients are some of the most interesting people on earth.
Photos:
Photos by Ralph Gabriner of New York.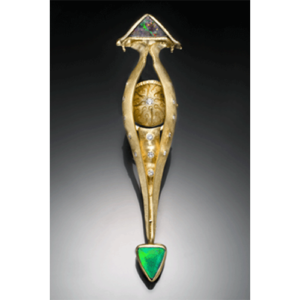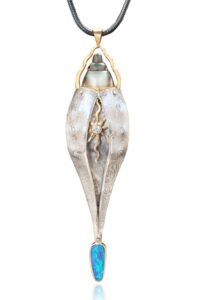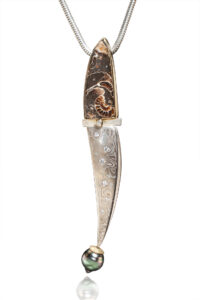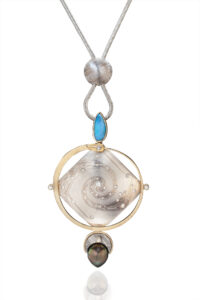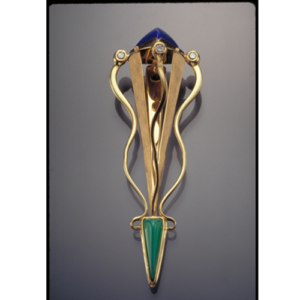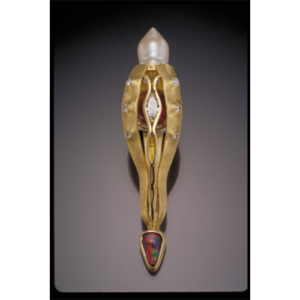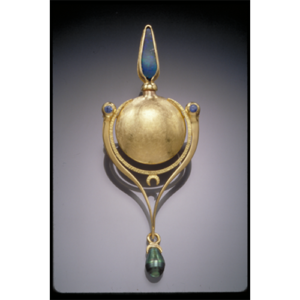 Additional Resources:
Transcript
Known for his psychedelic designs that reference ancient myths, fertility cults and the splendor of the sun, it's no wonder that metalsmith Wayne Werner has connected with clients like the Grateful Dead. A self-taught jeweler who learned traditional techniques by visiting metalsmiths around the world, Wayne has found success by selling his pieces at craft shows. He joined the Jewelry Journey Podcast to talk about his tips for building a long-lasting career in the jewelry industry; how he chooses the shows he attends; and why metalsmiths are all part of a global creative community. Read the episode transcript here.
Sharon: Hello, everyone. Welcome to the Jewelry Journey Podcast. This is the first part of a two-part episode. Please make sure you subscribe so you can hear part two as soon as it's released later this week. 
Today my guest is Wayne Werner. Wayne is a very unusual and accomplished goldsmith. He is self-taught. As well as a goldsmith, he's an educator, an artist and a world traveler. He has traveled from Italy to Egypt, Java and Bali to learn different metalworking techniques and to be the best possible metalsmith. We'll hear all about his journey today. Wayne, welcome to the program.
Wayne: Thank you, Sharon. I'm flattered to be here. 
Sharon: Thank you so much for being here. Tell us about your jewelry journey. You came from a family of goldsmiths, you said.
Wayne: Yes. I hope the journey has not already happened. I think it's still happening as we speak. But, yeah, I came from a family of makers, I would say. My one grandfather worked on the World Trade Center in New York and the George Washington Bridge among other things. He was an ironworker. My grandfather on my dad's side worked for the government. He worked for Aberdeen Proving Ground. He did metalwork. He made hand grenades and guns that shot around corners and weird things like that. 
My mom was a decorator, but it was my uncle Russ Springer who really blew my mind and affected me when I was a child. Russ Springer, a German immigrant on the east side of Baltimore, was a watchmaker, clockmaker and repairman. He made jewelry, but he also did movie projections. He was a projectionist. He did things like help put movies on airplanes back in the 60s. When I went to see uncle Russ, he was working at the Essex Movie Theater on the east side of Baltimore. My mother took me there. She would leave me at the movie theater because he was working in the projection room, and she would go shopping. I was there to watch 101 Dalmatians, but Russ had a work bench in there, and while he was running the projectors in this small projection room, he was working on watches and clocks and carvings. Imagine being six years old, walking into a tiny room with flickering lights and big wheels turning, movies turning, and there's an old man with a skinny moustache and a German physique hunched over a workbench over little mechanical things that look just like that movie projector. I didn't want to watch the movie; I wanted to be in this little room with flickering lights and my uncle Russ. For me, that was the most fascinating. It was something out of a carnival, but all on a microscopic level. It really affected me. 
The highlight of my six-year-old life was to go to Russ' house. He had a hundred clocks, and they would all chime or go off or do something. If I could just be at his house to hear all these clocks chime and go off at noon. It was Pink Floyd time. It was bing, bong, boom. It was so exciting, the anticipation and all that. So, Russ Springer was the one to hand me some wax as a child and light a fire of fascination with small things. 
One thing led to the other. I started sculpting with Sculpey and things like that. When I was a young kid, I'd go to Bethany Beach and pretend to be a sculptor. I'd hang out under the boardwalk and do sculptures out of clay. Lo and behold, a man came up and talked to me and gave me a commission—I think it was for six dollars—and these little things fuel your fire. So, I was sculpting and doing wax carvings. 
When I hit my teenage years, I was really getting into wax carving. The Grateful Dead came to town and my friends took me to a Grateful Dead concert. There were all these crafts in the parking lot and really cool counterculture stuff, so I started doing little wax carvings at 17, 18 years old and selling them in the parking lot of Grateful Dead concerts. I ended up selling work to the Psychedelic Shop in San Francisco and the Psychedelic Solution in New York City. These pieces were $12 to $20 each, but it fueled the fire for the next step. 
That next step was to discover the American Craft Council. That was a really enlightening thing for me. I had a teacher at community college who was upset that I wasn't an art major, and he said, "Go down to the Baltimore American Craft Council's show. I want you to see the business of art, of jewelers and silversmiths, glassblowers, leatherworkers, all those kinds of people." So, the American Craft Council in Baltimore was the first place I experienced contemporary craft.
Sharon: Did that make you want to go around the world?
Wayne: It's funny you should say that, but it did. I found myself, God forbid, growing up and needing to make money and do something, and I felt like I was getting good at metalwork. I was in California. I went to the Revere Academy for a few classes. I wanted to be in San Francisco around the Psychedelic Shop, but I was getting involved with shows. I met some successful craftspeople, and I realized it was something to commit to. Between the ages of about 22 and 29, I began doing ACC shows. I wanted to do crafts at Lincoln Center, which was interesting, but I put the brakes on it. I thought to myself, "I see how this could become you." Becoming a craftsperson was a commitment. I would do it, but it was a commitment. Before I committed to being in a bunch of galleries and doing a bunch of shows, I wanted to pause and take a trip around the world. At the time, I had just done a commission for the band Blues Traveler. They commissioned me to do platinum rings for the band. I had worked for other rock bands before.
To get back to your question, if it made me want to travel around the world, absolutely. My 30th birthday gift to myself was to take a trip around the world, and I did that. I planned it for close to a year. This was 1995. I wrote letters to some galleries, artists and schools saying I had an intent to travel and visit these places. I literally paused my creative endeavors of trying to have a studio and trying to be a contemporary American craftsman. I paused and said, "Wait, let me take a trip around the world first, because I don't think I will be able to do it later." This was pre-millennium and everything else, pre-9/11. I knew in my stomach that in the future, I felt like the world wouldn't be as easily traveled. Does that make sense?
Sharon: Yes.
Wayne: How did I decide to do that? I just wanted to do it. I wanted to say I did it. I wanted to visit metalsmithing places and villages, everything from King Tut. I wanted to see King Tut. I wanted to walk the Ponte Vecchio in Florence. I wanted to go see the metalsmiths in Java and Bali and get into their world, walk in and out of the door, at least for a day.
Sharon: Did you know they were metalsmiths? Did you know they had something you wanted to learn, something specific? Or did you just want to see what they did?
Wayne: A little bit of everything. One of the first things I did was go to Goldsmiths' Hall in London and see the show there. I had some friends there, made some friends, interviewed people like Wendy Ramshaw and Gerda Flöckinger. I was meeting people and I would interview them. I ended up in Pforzheim, Germany and Italy, but where it really got interesting was when I went to Egypt. I was in Cairo hanging around with metalsmiths in the market, who had all the time in the world but not the technology. 
One of my destinations I had to see was Java, to see the kris-makers of Java. They used to make knives out of meteorite and iron. They're kind of supernatural and super fascinating. A kris blade is something that every Indonesian man possesses. It was the same thing with the Balinese doing granulation work. I had it loosely mapped out in my head. I had written my letters. I'd gotten some letters back saying, "You're welcome to come here," or "You're welcome to come use the bench for the week." It was really cool that I found this global family, not just the American craftsman family, but this global family. They're still there. They're out there for all of us. 
Sharon: When you came back, did you find the travels influenced what you made or how you made it?
Wayne: Yeah, it really did. First of all, I realized there was some kind of metallic cultural heritage in different regions around the world. We talk about how in Toledo, Spain, they do inlaid work. I already mentioned the kris blades, Balinese granulation. That influenced me, knowing that being a metalsmith was being part of a cultural heritage. Being from Baltimore, the American Craft Council show was so important at the time. I realized I was a hammer person. I ended up using a hammer and forging when I did sculpting, and that led to Douglas Legenhausen, who I worked for. He worked for Ron Hayes Pearson. So, I found myself in that little tribe of makers. 
The other thing I was developing at the time was not just making craft, but I was trying to bring in ancient techniques or ancient religious ideas. A lot of the travels I did revolved around going to temples like the Temple of Artemis at Ephesus in Turkey and the Temple of Isis in south Egypt. Those were fertility temples, and a lot of my work was a quest to document how amazing it was to be alive and how mother nature and all these things were such a force. That was the story I was telling. It got influenced by these ancient temples and religious things. The facts that mattered to ancient culture were written in metal or stone. It all started churning up, fermenting, but it all started with my fascination with psychedelic art and the art of Rick Griffin. He was a poster artist, and he did a lot of work that revolved around these fertility cults and temples. So, did it influence my work? How couldn't it influence my work? 
You also have to accept the fact that there are some things that are much larger than any one maker. I realized I was in this mosaic of creative people; they just happened to be metalsmiths. They could have been musicians or poets or whatever, but they were metalsmiths. It was a crazy, life-changing adventure. It was survival. There were a lot of things that went wrong. There were a lot of things that happened that I never would have guessed. I didn't think I would have ended up in a workshop in Cairo, Egypt, looking over the shoulder of someone who was doing filigree work the way their father and father and father probably five or six generations before him had done. 
It was amazing to me to realize that if the workshop had a dirt floor, the people in that workshop were very in tune with their creative process and the material. When you got into a room with a concrete floor and all these fancy machines, I think it really separated them from the earth and the earth, air, fire and water scenario. I found that the primitive metalsmiths were more tuned into their material. It's when I started to really pay attention to the material and what it could do, what it would do, and especially what I could and couldn't do with the material. Did that answer your question?
Sharon: Yeah, you did. I'm wondering if what you're saying is what resonated with the rock musicians you also talk to. Maybe you're making a different ring, but it's a different story or a different piece of jewelry, I guess.
Wayne: We'll back up to Psychedelic Solution. I was in New York. Jacaeber Kastor was his name, and he had a gallery where you could buy rock-and-roll collectable things, not only collectable posters, but original artwork from different artists like Rick Griffin and H. R. Giger. I guess they're psychedelic artists, outsider artists, pop or visionary artists, whatever you want to call them. I also sold to the Psychedelic Solution in San Francisco. That was more of a head shop, but they had some collectable posters. Through both of them, I met a lot of interesting people. I was just a lucky kid who had a relationship with his creativity, which happened to be metal, and things would happen. 
Bill Graham and some of the Grateful Dead would have me do pieces. I met Jerry Garcia's guitar maker, and then Jerry Garcia said, "I'd like to have some little pins with my logo on them. I'm going to give these away." It was interesting to be near those people. Blues Traveler, I made some platinum rings from them. Prior to that, they were silver rings. I found myself growing comfortable around certain bands. I remember riding on the road with one of these musicians and I said, "Man, you've got the coolest job ever," and he said, "No, you've got the coolest job ever. You're playing with fire. You're sitting at home. You're listening to records, staying in your studio. You don't have to deal with what I have to deal with." It's kind of cool to have a rock musician say, "No, you have the coolest job, not me." 
They were into the same stuff. When I told somebody where I traveled, I said, "Yeah, I saw the pyramids a couple of times and I went to see my cousin, King Tut." He said, "Wow, man, that's great. Make me something. Bring these designs forward. Reinterpret them." Again, I'm just a regular guy who got fascinated with metalsmithing and history and world religions and things like that. Whenever I sat down to write a story, it was in metal. It was all part of the fascination. I was a guy on the hustle, Sharon, like you wouldn't believe. I was not, in any uncertain terms, going to get a regular job and have a regular life. I thought there was a way to have a surreal job and a surreal life as long as you were willing to work at it. To me, the artists, whether they were musicians or whatever, they were professionally themselves. They were outsiders. They may have been socially inept, but they figured out a way to be professionally themselves. That was the goal. "The harder you work, the more luck you will have," as someone said to me. I said, "All right. I'm going to go work hard at this surreal thing I have going on."
Sharon: Is that when you decided to go into jewelry making, because he said it was a neat job? Did you realize, "This my thing. This is the way I am creative the way I work hard and grow"?
Wayne: I think any creative person has a time in their life when they have to make a decision. Do you bet it all on your creativity, and then you have the business aspect of this creativity? Because business, no matter what you do as an artist, is super important. They call it the music business; they call it the art business, because of half of it is art and half of it is business. For me, I got to a point where I realized I was getting some chops. Honestly, I was told by JoAnne Brown, who ran the American Craft Council's shows, "Wayne, you're one of the youngest goldsmiths to do these shows as a goldsmith. Not as a silversmith, as a goldsmith. You're really betting it all here." I just had to laugh. I said, "I'm totally unemployable. I've tried it and I can't work for people. I have to figure this out." All I wanted to do was find my niches and find other facets of a creative career to go into.
It's funny; I don't know if I made the decision or the decision made me. I swear to God, if this didn't find me, I would have had a very different path in life. Probably it wouldn't have worked out so good, but I love it. I love the craft. I love the makers I work with. I love everything about it. Alan Revere said something I thought was asinine at the time. He said, "Wayne, you're becoming a metalsmith. You could become a lawyer and people would come see you when they're in trouble. You could be a doctor and people would come see you when they're sick, but you know what? You're going to be a metalsmith and a jeweler. People are going to come see you when they're in love. Whether it's a wedding band or a gift or whatever, they're going to come see you when they're in love. You're going to be part of their love, their relationship." I looked at him like he had two heads, of all the things to say.
After years of doing this, every time I make a wedding band, I thank the customer. I say, "You know what? Thank you." The ultimate compliment I can get is for someone to say, "Make my wedding ring." This week I'm restoring a wedding band that's close to a hundred years old. It was someone's grandma's, and that's pretty cool. I have to admit I'm so lucky to have that energy be part of me profiting from a passion I have.
Sharon: We will have photos posted on the website. Please had to the JewelryJourney.com to check them out.