Episode 179
What you'll learn in this episode:
How Ukraine's built landscape has inspired Inesa's designs
Why sketching jewels and gemstones is uniquely challenging, and which techniques can make this process easier
What Inesa's students learn through Draw Me a Jewel classes
Why technical and material innovation is essential for any jewelry brand that wants to last
How the ability to draw jewelry can help a designer expand and communicate their ideas
About Inesa Kovalova
Coming from the architectural background, Inesa Kovalova started her career in jewelry with an internship in Van Cleef and Arpels and then worked for international fine and high jewelry companies. Driven by the recent challenges of the luxury industry, Inesa moves on to create jewelry reflecting our life today.
Art, design and architecture inspired, Inesa's jewelry explores the relationships between material, craftsmanship and design. Her pieces range from re-defined precious classics to contemporary 3d printed art jewels.
She is also the founder of Draw Me a Jewel, a jewelry illustration school and community for professionals and jewelry enthusiasts. Since launching online in 2020, more than 500 students all over the world have taken her courses. Inesa also teaches at Central Saint Martins, the Victoria and Albert museum in London and DiVA museum in Antwerpen.
Additional Resources:
Photos:
Morphology earrings 3d printed in nylon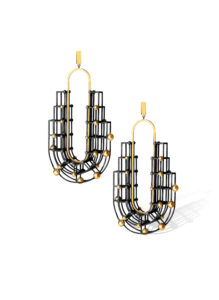 Pearl earrings « Ovals »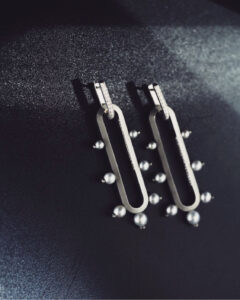 3d printed Nylon cuff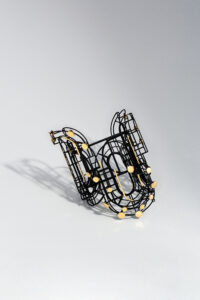 Work from Drawing Gems gouache illustration course taught at Draw Me A Jewel illustration school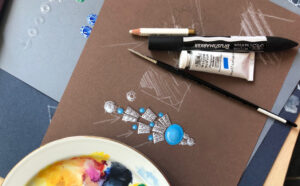 Work from Sketching jewelry with markers course by Iryna Vasylenko taught at Draw Me A Jewel illustration school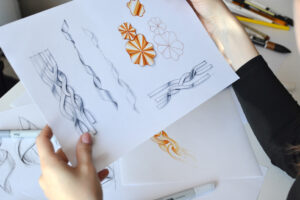 Transcript:
A jewelry designer doesn't have to draw to create beautiful jewels—but it certainly doesn't hurt. The ability to render gems and jewelry before creating them can help designers communicate ideas, market their brand, and show clients one-of-a-kind pieces before they're finalized. That's the idea behind Draw Me a Jewel, a jewelry illustration school founded by designer Inesa Kovalova. She joined the Jewelry Journey Podcast to talk about jewelry illustration techniques; why the definition of high jewelry should expand; and how her Ukrainian heritage inspires her architectural designs. Read the episode transcript here.
Sharon: Hello, everyone. Welcome to the Jewelry Journey Podcast. This is the second part of a two-part episode. If you haven't heard part one, please head to TheJewelryJourney.com. Today, I'm pleased to welcome Ukrainian jewelry designer Inesa Kovalova. In addition to her innovative jewelry designs, which clearly demonstrate her training as an architect, she's also the founder of Draw Me a Jewel, a school that teaches jewelry illustration. Welcome back. 
Are all your courses virtual, or do you teach them in person too?
Inesa: They are 90% virtual, but I also collaborate with museums. When I was living in London, I was teaching a drawing gems course in the Victoria and Albert Museum, so it was an occasion to go and learn offline. It was a couple of years ago. Here I also collaborate with the DIVA jewelry and diamond museum. From time to time, maybe a couple of times a year, I run weekend master classes. 
Sharon: This goes back to what I asked before. Can you teach this drawing virtually?
Inesa: Yes, that's very easy. It's video tutorials. There's online education everywhere. 
Sharon: I know you've lived all over the world because you're talking to us from Amsterdam. You've lived in London. You started interning at Van Cleef. How did you find the influence of architecture and being Ukrainian and high jewelry? How did you find that?
Inesa: In the very beginning, you can clearly read architecture influence in my jewels. When I think about the architecture that inspired it, it was really unconscious influence. I grew up in an industrial town. There was a lot of machine building production, as it is a big industry in the area. When you think about steelworks plants, you have a lot of straight lines, a lot of volumes intersecting, sometimes just due to practical reasons, not because of the design. The design is completely rational, and there's this heavy industry. It's how it looks inside. When you see the plant from a distance, you see a lot of straight lines intersecting, and then you can see lights blinking here and there. That's actually how things inside look. The same metalworks plant still exists in Donetsk. In my hometown, there was a commercial building plant. This was one of the largest in the Soviet Union during Soviet Union times, and on a Ukrainian scale, it was quite a big production center.
I never thought about this architecture as an inspiration for my work. I thought mostly about master plans. I worked in urban planning. When you look at the city, you see the master plan. Many cities have straight grids, so when I worked on my first collection that was called Urban, influences—
Sharon: Which was what? I'm sorry.
Inesa: The name of my first collection, which was my collection from Central St. Martins. I named it Urban.
Sharon: Urban?
Inesa: Urban, yeah. It was definitely an influence of architecture. Afterwards, when I started showing my pieces to my friends I studied with in Ukraine from the same landscape, they all recognized the influence of industrial architecture. They basically recognized all the commercial building plants. It was a friend of mine who said, "Well, I don't know what inspires you to design this way, but I can clearly see the metalworks part in it." It was really insightful. 
Indeed, when I look at my mood boards, I have a lot of grids; I have a lot of lines. I think it's all together. When studying architecture, I was really interested in industrial areas. One of my diploma projects was about revitalization of industrial areas, like how to bring abandoned industrial sites to life. I even forgot about it when I started designing jewelry, but all of a sudden it pops up very unconsciously.
Sharon: Do you find you have other influences unconsciously, say, high jewelry or modernist or art jewelry?
Inesa: Yes, obviously, like French modernists at the beginning of the previous century. They are my great inspiration. That's actually another point and driver of my research. I always look at materials and techniques, how they influenced the jewelry industry. When we think 100 years back, it was exactly what the Exposition of 1925 brought into jewelry. It was all about new materials. It was all about new industrial inspiration at that moment. Now our world has changed completely, so we have much more innovative materials developed that are not perceived as precious, but they do find their place in jewelry, including high jewelry. 
I really believe the definition of high jewelry should expand. The closest one, to me, seems to be the definition given by the Committee of Exhibition when they describe what modern jewelers should aim for and what they are willing to accept to exhibit at an art fair. They look for innovative and excellent craftsmanship and excellence in design. There are few companies that really make jewelry an art. Without any technical or material innovation, when we go back to traditional jewelry and we keep on producing the same things for 100 years, it becomes much less interesting. What I take from modernism as my inspiration is that I love to have jewelry that is from today, from this century.
Sharon: When did you decide you wanted to have part of your business be illustration, as opposed to 100% of your business doing design?
Inesa: When I started the illustration school, it was probably a lucky chance. It all came from passion. I really like jewelry painting and I love drawing by hand. There was a moment when I was not yet working anywhere abroad, but I saw more and more digital models replacing drawing, and I was worried that people had stopped drawing. I had students. I had people who wanted to learn, and it just grew naturally. There were people asking for classes. When there were too many people, it was completely reasonable to make a group and teach a group class. Then when there were even more people from different cities, it was completely reasonable to record. In fact, our illustration school is a wonderful community of people. I met so many people thanks to it. I love it.
Sharon: Do you teach other things besides hand drawing? Do you teach people how to use CAD?
Inesa: No, it's very specific. It's a couple of techniques I find important working in jewelry design. Gouache is a great tradition. It's purely for external communication when I talk to clients. Sometimes gouache might not be reasonable for smaller productions. There are people whose process through making, not through drawing. That's also completely fine, but when I think about gouache, I think of a particular craft that is a pleasure of its own and could have no practical implementation. As a sketching technique, it's essential for any designer who would make it specific for jewelry. We don't sketch a building or an apartment, but we do sketch a ring. So, it's something for people to understand. It's super helpful for many designers when they communicate with jewelers, when they communicate inside the company, when they quickly need to sketch their ideas to explain.
Sharon: Has anybody brought you a design or an idea that's art jewelry or made of very different materials, and you felt like, "What is this?" or "Can I help?"
Inesa: It's also myself. My 3D printed jewels, I cannot draw them. So, when making them, I don't start with a drawing. I do, but it's mostly a compositional drawing. Then I have my own process that is based on making. I cannot design that sort of jewel just with a pencil in my hand. 
Sharon: Have people come to you and said, "I'm afraid to take your class because you might steal my designs"?
Inesa: Yes. You may see my designs. Luckily, this didn't happen. Of course, confidentiality is a thing in the jewelry business, but there were more people coming and saying, "I'm afraid to take a class because I'm not sure if I will be able to draw it." Someone could stay afraid, but there are those who dare to try. They do.
Sharon: But they haven't brought you anything you couldn't help with, that you couldn't shed some light on?
Inesa: No, I haven't had that yet. When it's something I don't know how to draw, I try to look for a solution with the person. Last year, I ran a masterclass. They all had different ideas, very brave, very experimental ones. Something could be more difficult to draw than simple classical designs, and then I tried to break the jewel into smaller, more understandable parts. Sometimes I looked for examples of how it could be done to try to come up with idea of how to illustrate a jewel in a way that will translate what this jewel is about. We might keep some detailing, for example, that can give an impression of the volume. We can help a person to understand what is in front of us. 
Sharon: Do you consider yourself an artist or an illustrator? What do you consider yourself?
Inesa: I consider myself a designer. I like to think about ideas and concepts. Then, when it comes to designing objects, that is a result of an extensive thinking process and research.
Sharon: I also use the example of you're at a party or work event and people say, "What do you do?" You say you're a designer.
Inesa: I say I'm a designer. When they ask, "What do you design?" I say jewelry. Most of the people there are very surprised, because there are not many jewelry designers working on the streets. There are, but you need to know where to look.
Sharon: If I heard somebody say they're a designer, I'd want to know, "Can you design a cup for me? Can you design this for me?"
Inesa: When a person is a designer they can design anything. Of course, maybe you will need to study. You'll need to research how to design specific mechanisms. You need to learn the process, what is happening with the object, how people use it or what this object should do. Then you probably will be able to come up with a solution.
It's a great thing from architecture. It's all about thinking three-dimensionally. It's also about thinking about the contexts, about a bigger city as a living organism and the intersection of different spheres, like social, sometimes political. You think about all this when designing a city. Of course, you don't think that when designing a material; you think about other things. You think about the processes in your flat: how you open a cupboard, how you take your cup out of it, and that drives the design solutions.
Sharon: Do you ever look at people's jewelry they have on and say—
Inesa: I do look. I don't always dare say, but I memorize jewels well. I might forget the name, but I would remember the jewel.
Sharon: But do you look at the jewel and think, "I would have done it this way instead"?
Inesa: No.
Sharon: No, O.K.
Inesa: I think it's very personal. There are so many different reasons and so many different options a person chooses. I find it's very, very personal. You could just be happy that a person found what she or he likes.
Sharon: Do you start your school with people signing a confidentiality agreement? It seems like you would be inspired or have the influence to buy their ideas or what they're trying to do.
Inesa: No, we don't sign those types of confidential agreements because everything is not about design; it's about illustration. People can work with their own designs since they would like to illustrate during the process, but we also work a lot with references of existing jewels. You choose what you want to draw and then you draw it. 
Sharon: How did you learn about gems and jewels if you didn't study it? You studied architecture and illustration, and you said you learned about how light reflects on different gems and jewels. How did you learn about that?
Inesa: How light reflects in general I learned from art school. Then I studied in a creative academy. It's a private school run by Richemont Group in Milan. It's a very specific training for people who'd love to work as designers for luxury brands. The school teaches you a lot about the luxury industry, starting from marketing management and communication. They also have specific training in illustration and design and different techniques you might need to apply. So, the courses are a combination of what I practice myself as a designer and what I know from art and architecture school. I put together a lot of insights from different learning experiences, and, of course, it all comes from practice.
Sharon: Did you have to learn different illustration techniques for new things like 3D printing?
Inesa: Yes, I had to learn 3D. We design these integrated structures that I print with a 3D printer afterwards. I cannot brief anyone to design it for me, so I have to open the program and do it myself. I had to learn at least the basics of the program. I'm not a very advanced user. I know things that I need to create my volumes, but if I would need to create something else, I would look for tutorials and probably would do it that way.
Sharon: I really appreciate you being with us today. I hope next time we'll hear a lot more about the school and the people who come and your designs. Thank you very much.
Inesa: Thank you, Sharon. It's been a pleasure to talk to you.
Sharon: It's been so nice to talk to you.
We will have photos posted on the website. Please head to TheJewelryJourney.com to check them out.
Thank you again for listening. Please leave us a rating and review so we can help others start their own jewelry journey.