Episode 179
What you'll learn in this episode:
How Ukraine's built landscape has inspired Inesa's designs
Why sketching jewels and gemstones is uniquely challenging, and which techniques can make this process easier
What Inesa's students learn through Draw Me a Jewel classes
Why technical and material innovation is essential for any jewelry brand that wants to last
How the ability to draw jewelry can help a designer expand and communicate their ideas
About Inesa Kovalova
Coming from the architectural background, Inesa Kovalova started her career in jewelry with an internship in Van Cleef and Arpels and then worked for international fine and high jewelry companies. Driven by the recent challenges of the luxury industry, Inesa moves on to create jewelry reflecting our life today.
Art, design and architecture inspired, Inesa's jewelry explores the relationships between material, craftsmanship and design. Her pieces range from re-defined precious classics to contemporary 3d printed art jewels.
She is also the founder of Draw Me a Jewel, a jewelry illustration school and community for professionals and jewelry enthusiasts. Since launching online in 2020, more than 500 students all over the world have taken her courses. Inesa also teaches at Central Saint Martins, the Victoria and Albert museum in London and DiVA museum in Antwerpen.
Additional Resources:
Photos:
Morphology earrings 3d printed in nylon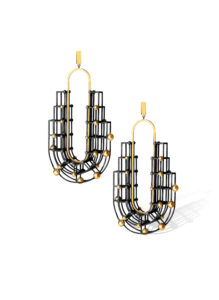 Pearl earrings « Ovals »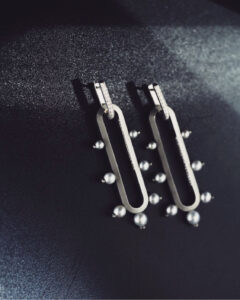 3d printed Nylon cuff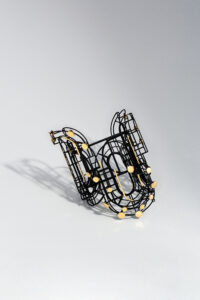 Work from Drawing Gems gouache illustration course taught at Draw Me A Jewel illustration school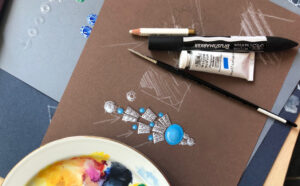 Work from Sketching jewelry with markers course by Iryna Vasylenko taught at Draw Me A Jewel illustration school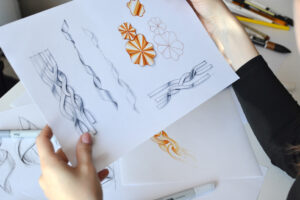 Transcript:
A jewelry designer doesn't have to draw to create beautiful jewels—but it certainly doesn't hurt. The ability to render gems and jewelry before creating them can help designers communicate ideas, market their brand, and show clients one-of-a-kind pieces before they're finalized. That's the idea behind Draw Me a Jewel, a jewelry illustration school founded by designer Inesa Kovalova. She joined the Jewelry Journey Podcast to talk about jewelry illustration techniques; why the definition of high jewelry should expand; and how her Ukrainian heritage inspires her architectural designs. Read the episode transcript here. 
Sharon: Hello, everyone. Welcome to the Jewelry Journey Podcast. This is the first part of a two-part episode. Please make sure you subscribe so you can hear part two as soon as it's released later this week. 
Today, I'm pleased to welcome Ukrainian jewelry designer Inesa Kovalova. In addition to her innovative designs, which clearly demonstrate her training as an architect, she's also the founder of Draw Me a Jewel, a school that teaches jewelry illustration. She has worked and studied at some of the most well-known names in jewelry around the world. Inesa, we're so glad to have you today.
Inesa: Thank you, Sharon. It's a pleasure to talk to you. I love your podcast a lot. That's the complete truth.
Sharon: This is a little different today, but we're managing. Tell us about your jewelry journey.
Inesa: I feel like I'm still in a journey. It's still a process. I'm Ukrainian, and I was born and raised in a small town in the eastern part of Ukraine, Kramatorsk. It's far away from where I've been. When I think about my jewelry journey, it feels like a time lapse. I'm remembering some moments, like me working in a small jewelry enterprise in Kramatorsk. Then five years goes in a blink, and I remember myself being in Paris. Then I have another blink that brings me to London. In a few blinks, I arrive where I am now.
Sharon: Does everybody ask you about the fact that you're Ukrainian? How do you feel about that?
Inesa: Nowadays, I'm asked a lot about this. Of course, I am Ukrainian, and I have my family and friends there. I'm constantly following the news and trying to help as much as I can these days.
Sharon: When did you know you wanted to become a jeweler? Were you artistic when you were younger? You're young now, but—
Inesa: I started in art school. It's a funny story. I definitely had no talent in music, so my parents brought me to drawing school to study art. I grew up drawing since I was very young. I didn't know that a professional jewelry designer existed, but I was always curious. I remember myself drawing elaborate garnets, with attention to earrings or necklaces. I clearly had this interest always.
Sharon: Could you see any of this around you? Was there a Tiffany or a Van Cleef?
Inesa: No, there was no Tiffany or Van Cleef. I didn't know these names, but luckily in my city, there were a few jewelry enterprises. They were basically small manufacturers producing mass market jewelry. That's actually how I started. My first experience working in jewelry was as a sales assistant in one of the small shops in Kramatorsk during the summer. The owner, who was also the manufacturer of a little jewelry brand, knew I studied architecture and I liked drawing. My mom is a lovely lady and suggested that I try to design something. I was clearly very keen to design something. 
Then the director of design for this small enterprise gave me a bag with a few sapphires and said, "Come back in a week and bring some sketches for them." I was shocked, but I tried to do some things. In a couple of weeks, I arrived back with a number of sketches. When she looked through them, 70% she chewed up. Then she picked up the others and said, "Yes, this can be done. Our jewelry designer will explain to you what to adjust, how to put things together, which details to add." That's how I was taught. 
Then I joined this company working for about a year. It was the place where I learned everything. For Kramatorsk, for the Ukrainian scale, it was quite a decent sized company. It was like 100 people working, and they had a full cycle of production. There were people who were working with 3D models. There were jewelers who were working on a piece from casting to setting everything. I didn't know anything about gemstones or production at that point, so I was really lucky to learn how the jewelry enterprise operates as a cycle. 
I read as many books as I could. I think the books in the library influenced me a lot, and I still have this passion. There was this book of modern design from a French jewelry brand. It was really one of the first books I got enchanted with. I started learning about high jewelry, the history of jewelry, how it caused a sensation in Paris. 
Sharon: Do you think architecture influenced the fact that you could draw?
Inesa: Yes, obviously. Of course, I have quite a good drawing background. I went to art school and was taught still lifes and drawing portraits. Ukrainian education in the field of architecture, when I started, was pretty based on construction and drawings. So, we had extensive training in drawing every week up to about week eight. We had 12 hours of drawing every week as well during the first years. So, the ability to draw and to synch dimensionally is something that is always helpful to have when it comes to designing anything.
Sharon: You started an illustration school to teach people how to illustrate the designs they have in mind. You have several courses. I'm looking at some of the things you have. If you wanted to design an engagement ring but you don't know how to express it, you could learn that. Did you find that people had trouble learning to draw?
Inesa: Yes, I definitely found that people have trouble learning to draw. I myself, knowing how to draw and having a very good foundation of drawing, when it comes to jewelry drawing, it's a specific technique. Partly it's a technique, and another part is an understanding of the volume. That's actually what I try to teach through my courses. Everything is based on understanding volume and thinking about light and shadow, how these volumes interact with the light and how we can depict them. It's actually a sequence of logical facts, like here have a shadow; here we have the light, and when we place them here and here, we will see it's a sphere or it's cube. 
Of course, jewelry is a different plane, but you can always break every complex object into simple ones. That's definitely something I take from architecture, from constructive, three-dimensional drawing, from this architectural background and understanding the volumes and how they're placed in space. It helps me teach and helps people clarify for themselves what they're drawing and why they need to do this or that. 
I'm a big fan of the question "why." Answering a question and making everything reasonable actually places me in illustration. You can have different types of illustration and a lot of thinking about it strategically. Which technique do we need to choose to draw a certain type of jewel? It also depends on what we want to tell, to whom we want to show it. I see illustration as a really important tool for communication in jewelry.
Sharon: I like that, communicating. That's very interesting. That's the problem. Do you find that people come to you—let's say they have an idea, but they say, "O.K., forget it. I can't do it. You do it. You make the item or draw it"? Do you make the item?
Inesa: The school is more about illustration, not the design. Clearly, we are not designing for our students, and the students come to learn from our templates. We have templates to practice gemstones. We have certain volumes, like when it comes to painting metals. There are templates to draw bowls, cylinders and everything. It's definitely not about designing a piece the students want to design, because design is a separate process. 
I cannot create a volume for a person who wants to design, but when they come with certain questions like, "I have this design and I need to illustrate it," then of course we can talk about it. When we have a course going on live, we have webinars. Students can come with their questions, and we can review what they need to do. I don't draw it for them, but I do explain how to approach it sometimes. I can help break the piece into smaller details and help a person see their volume. It helps them to proceed further. Then they can say, "Ah, understood. Yes, indeed. There is a cylinder, and then there's a line going there. It's bent." That's how we are communicating about it. 
Sharon: Let me ask you. I personally do not have any background in drawing human forms or architectural forms or designing jewelry or anything. Could you teach me? What happens? Who attends your school?
Inesa: We have students from different levels. There are indeed many people who have no background in drawing. Therefore, when it comes to very specific illustration, I try to simplify everything step by step. I would say it's a 90% chance that you will do everything good enough to evolve if you follow the step-by-step instructions. That's how the process is organized. We have step-by-step videos. At first comes the theoretical part, so you understand what is happening here and why we are drawing the shadow here. I quite enjoy breaking the diamond into two simple volumes and then analyzing the transparency and how the light shines through it. Then as a practical exercise, you would also need to learn which materials we use, how we use the brush. Most people succeed, and it's always a pleasure to see sterling examples. Our students' drawings are really good.
Sharon: Are they mostly young people? Are they people who work in the business? Do they come with different kinds of jewelry?
Inesa: I would say the audience is quite different. We have a very small percentage of professional designers who work in the industry. They come with very practical questions, and it's always a pleasure to teach them. You can go further with them. You can explain more, and you also enjoy their progress a lot. We also have a lot of people working around the jewelry business. It might be a gemologist; it might be a jeweler, but not all jewelers draw. Many jewelers come to learn to draw. Among these people, some have some experience but very little, or some of them start from the beginning. That is about learning tips and tricks. What would be the most useful for you in your business? Why do you need these drawings? Some of them need to illustrate their process to create social media content to communicate with their clients. It actually becomes very helpful to them. They can communicate more clearly, and there is always a certain magic attached to something created by hand by yourself.
You asked about age. They are all ages. The youngest participant I remember, it was years ago. She wanted to draw, and she found this course. I don't know if I was helpful to the parents, but she was keen to learn. She has a wonderful Instagram with many books she has already created at this age. We help many older people. I would probably say the same age as me. We have people about 50, 60. Recently we had a student who was 63. She talked openly about her age, so I think I can mention it.
Sharon: You mentioned gouache. Is everything done that way, or do you have different kinds of paint for different kinds of stones?
Inesa: We have two major courses. It's also about answering the question of what we need to draw. When we need to draw simple jewels with volumes and perspective, then there is a sketching course. In the sketching course, we work with markers. It's all about volumes, like how to sketch jewels in perspective.
Sharon: Which kind of course? 
Inesa: Sketching jewelry.
Sharon: Sketching.
Inesa: Yeah.
Sharon: We will have photos posted on the website. Please head to the JewelryJourney.com to check them out.