Episode 177
What you'll learn in this episode:
How Beatriz discovered and catalogued the 2,600 rings in the Alice and Louis Koch Ring Collection at the Swiss National Museum
How Covid lockdown changed how people wear jewelry
Beatriz's tricks for making a jewelry exhibit more engaging
What it's like to work with jewels uncovered from shipwrecks
How global trade has influenced how jewelry is designed and made
About Beatriz Chadour-Sampson
Beatriz Chadour-Sampson studied art history, classical archaeology and Italian philology at the University of East Anglia, and at the University of Münster, Germany. Her doctoral thesis was on the Italian Renaissance goldsmith Antonio Gentili da Faenza. In 1985 she published the jewelry collection of the Museum für Angewandte Kunst, Cologne. Since 1988 she has worked freelance as a jewelry historian, curator of exhibitions and academic writer in Britain. Her numerous publications on jewelry, ranging from antiquity to the present day, include the The Gold Treasure from the Nuestra Señora de la Concepción (1991), and 2000 Finger Rings from the Alice and Louis Koch Collection, Switzerland (1994). She was the consultant curator in the re-designing of the William and Judith Bollinger Jewelry Gallery at the Victoria & Albert Museum (opened in 2008), London and was guest curator of the 'Pearl' exhibition (2013-14). She is an Associate Member of the Goldsmiths' Company, London.
Today Beatriz Chadour-Sampson works as a freelance international and jewelry historian and scholarly author. Her extensive publications range from Antiquity to the present day. 
Additional Resources:
Photos:
brooch and earrings by Eve Balashova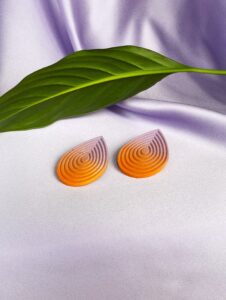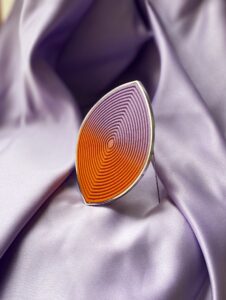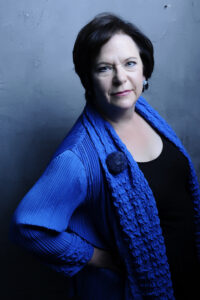 Transcript:
Working in jewelry sometimes means being a detective. As a freelance jewelry historian and curator of the Alice and Louis Koch Ring Collection at the Swiss National Museum, Beatriz Chadour-Sampson draws on her wealth of knowledge to find jewelry clues—even when a piece has no hallmark or known designer. She joined the Jewelry Journey Podcast to talk about how she creates jewelry exhibits that engage viewers; how she found her way into the niche of shipwreck jewelry; and what it was like to catalogue 2,600 rings. Read the episode transcript here. 
Sharon: Hello, everyone. Welcome to the Jewelry Journey Podcast. This is the first part of a two-part episode. Please make sure you subscribe so you can hear part two as soon as it's released later this week. My guest today is Beatriz Chadour-Sampson. She's been the curator of the Alice and Louis Koch Ring Collection at the Swiss National Museum for almost 35 years. She's also a jewelry historian, art historian, educator, author and a whole bunch of other things I'm sure I'm missing out on, but she'll fill us in today. Beatriz, welcome to the program.
Beatriz: Thank you very much for your invitation.
Sharon: Can you tell us about your jewelry journey? It's been quite a journey.
Beatriz: Yes, the journey starts many years ago when I was a small child, in fact. I'm not a young chick at the moment, but I started off in my childhood with jewelry. I have to tell you a little bit of the family history. I was born in Cuba. My father was Russian and my mother was British. There's a whole story of European history, including being five times refugees from Europe within Europe. That's the aside, but my father learned how to cut and polish diamonds during the war in Cuba. After the war, he opened an import/export business for gemstones. It's not unknown. You'll probably find on the internet a picture of me, age three, sorting stones in his office in Cuba. We left Cuba during the Cuban Revolution. I was a Cuban subject as well as my father, but we left and never returned. 
He opened a business called Chadour Charms, Inc. in New York. I always spent my holidays in New York. My mother was working in a company where I couldn't tag along. I spent most of my free time as a child on 47th Street, which was called the gold and diamond alley at the time. My father designed charms. He had the gold cast and then set the stones himself. On 47th Street we had many friends we visited. One had a refinery for gold and silver; the other one sold supplies for goldsmiths, which was quite exciting. I encountered pearls, corals, diamonds and all sorts of jewelry experiences. 
That was from three years to early childhood. It was about three years altogether in New York. Then my father was offered a job in Frankfurt am Main in Germany. He spoke fluent German. It was an American company building a pearl business in Frankfurt. That's when I got even deeper into jewelry. Of course, there was also the trade. You can call it child labor today. In those days maybe it was seen slightly differently, but I did my homework with the secretaries. After that, I was stringing pearls, writing invoices and doing all kinds of things with pearls. When I was slightly older, I was allowed to make pearl pairs. Don't think that a pearl is white. It's nowhere near white. There are so many different colors and lusters that come in the pearl. So, I was setting pearls, hundreds of pearls, sorting them by a quarter of a millimeter, and then pairing them for earrings and matching the pearls in their luster so they could be worn as earrings.
From there we went on to jewelry, so stones and charms. Something interesting with the charms—I have a little anecdote. I was researching a book, "The Power of Love," which came out in 2019, and I was looking in an auction catalogue for a famous love ring that Sir Laurence Olivier gave to the actress Vivian Leigh. Late at night, as I do very often, I was searching on the internet for the auction catalogue, and suddenly I see a charm bracelet. I couldn't believe my eyes. One of the charms she had on the bracelet was designed by my father. I can prove that because I have the same charm on my charm bracelet. It was a ship in the sunset, as you see in the background. So, that was going down memory lane. 
When I reached the age of 18, I said, "I don't want to have anything to do with jewelry ever again." I had enough. I grew up in the jewelry trade. It was all trade. Lo and behold, I then decided to study art history in Germany and England, but I did my thesis in Germany at the University of Münster. My subject at the end of this was Antonio Gentili, a Renaissance goldsmith. He came from Faenza. He worked for the Medici and the Farnese families, two very high families. He also did works for the Vatican. I remember in my early years after my dissertation, I used to see the Easter Mass on television in Germany. I was looking to see if the cross and candlesticks I worked on were on the show on the altar, which most years they were. 
I then got into goldsmiths' work. It's through my jewelry background and my thesis on Renaissance goldsmiths' work that I was awarded a scholarship to write the catalogue of 900 pieces of jewelry for what is now called the Museum for Applied Arts, the Museum für Angewandte Kunst. The collection covers 5,000 years of jewelry history. I was really plunged into the deep history of jewelry. There weren't so many books at the time. They were more archaeology books. This explosion of jewelry books is something that came after I had finished the catalogue. There was a lot of research that was quite complex, but I enjoyed it. It was wonderful to gain that experience and knowledge of a wide part of jewelry history. That was in 1981. I finished the catalogue. It was published. That was also my first experience doing an exhibition because when the catalogue was launched, we had an exhibition with the jewelry. More recently I've been with the Cologne Museum since 1981. It was the first time. They're now doing a new display of the jewelry. They're still planning it. I think it's due to come out next year, so there will be a new display of the jewelry I catalogued. 
Then I was offered a job in Hanau, Germany. Many will not realize that Hanau has a history in jewelry that goes back to the 17th century. Up to the First World War, it was a center for producing hand-manufactured jewelry. Today, they have an academy where you can learn how to make jewelry. That goes back to 1772. So, it's a city of great tradition of jewelry. I was Managing Director of the Gesellschaft für Goldschmiedekunst. I was organizing exhibitions and competitions and catalogues, and it was all contemporary jewelry.  When I was working in Cologne, that was my first encounter with contemporary jewelry. I met people who I became great friends with. I also took part in the many events of the Forum für Schmuck und Design, which still exists. So, those were my early experiences with contemporary jewelry, but when I got to Hanau, I was plunged right into it. I had all kinds of jobs to do, as I said, exhibitions, catalogues and competitions. 
I stayed there for about three and a half years. In 1988, I was asked if I would catalogue the Alice and Louis Koch Collection. Louis Koch was a very famous jeweler in Frankfurt au Main, Germany, and he and his wife collected rings, among many other collections. It was a family of collections. By 1904, they had about 1,700 rings. There are over 2,600 rings now. I was asked to catalogue the 1,700 rings, which took me quite a long time, but I was doing all kinds of other projects in between. The collector allowed me to do that, which was great fun. In 1994, the historical collection was catalogued fully. It's like an encyclopedia of rings from ancient Egypt on. It covers 4,000 years of jewelry history.
In about 1993, just before we finished the catalogue—and there are a few contemporary rings in the 1994 publication. I believe this collection from Louis Koch in 1904 went to a second and a third generation after he died in 1930. The fourth generation, we discussed it, and we came to the conclusion that they should make it their own and continue where their great-grandfather had finished. Now, their great-grandfather was, as I said, a very famous family jeweler in Frankfurt. The shop was called the Cartier of Germany, so you can imagine royalty wearing it and the national business. He was a quite a jeweler. They also expanded to Baden-Baden. He was a very fashionable jeweler, and he was a contemporary of René Lalique. He didn't buy rings from any other contemporaries, but he bought a ring by René Lalique, so he must have realized there was something very contemporary about Lalique. He was the modernizer of French jewelry at the time, using glass and gold that was unthinkable. 
So, we went on this venture from 1993 until the publication in 2019. We amassed a collection of 610 rings from the 20th and 21st century, which are all catalogued. Then the collection went into the Swiss National Museum. There was a small exhibition, but since 2019, there's a permanent display of 1,700 rings. May I add that the 610 contemporary rings are all on display, so we reduced repetitions within the historical part of the collection. Interestingly, this room's showcase is also round like a ring. With 1,700 rings, it's not an easy task because you have to go in a circle. We had big, brown panels of paper and played around with the rings. It starts with themes and then goes on chronologically to the contemporary. You couldn't make a mistake because once you got to ring 200, you couldn't go back to number 50. You can imagine going up to 1,700. I can say there are two rings that are not in the right place, but that's not too bad with 1,700 rings.
Sharon: Did you have to photograph them?
Beatriz: I'm very lucky to finish up on the Koch Collection. I'm now consultant curator to the Swiss National Museum in Zurich. I was responsible for the display there together with my colleagues in the museum. That was quite an experience. It's wonderful after 35 years to still be able to do this. I think they were a bit concerned about my babies and that I would want to run away from it, but that isn't the case. I really enjoy working with them. It's a pleasure. It's so rewarding, after 35 years, to see the collection on display, which was always in private hands from the 1900s onward.
I've just written six blogs for the Swiss National Museum. One is on the Napoleonic Wars, and the stories are all told by the rings. The next one coming out in November is on Josiah Wedgwood and his sculptor, John Flaxman. Rings tell lots of stories.
Sharon: Are the blogs in English? 
Beatriz: Everything in the Swiss National Museum is English, German, French and Italian. So, you take your pick which one you want.
Sharon: Did you have to photograph everything? When you say you catalogued them, I think of a catalogue being a photograph and description.
Beatriz: Oh, no. The photographs of the historical collection were all done by a photographer. It's very difficult because we had to choose one background for all. That was complex. It's pre-1994, so it's sort of an old, pale, gray blue. One color fits all because it was the encyclopedic nature of the books. 
With the 2019 book, I was working with the photographer in Zurich. I spent many weeks and months in Zurich sitting next to the photographer and choosing which angle because contemporary rings don't just have a hoop and a bezel. It's a piece of sculpture, so you have to know exactly which angle to take the photograph to show as much as you can of the ring. I was actually working together with the photographer. You learn a lot with such jobs. 
Sharon: Wow! Today there are all kinds of degrees you can get with exhibitions. Was it something you learned hands on or learned by doing?
Beatriz: I was working at the practice in my second home of the Victoria and Albert Museum, because I was consultant curator to the William and Judith Bollinger Jewelry Gallery. I worked there for four and a half years on the displays. When you see the displays in the gallery, the concept was from me. I had little black and white photographs of the old gallery, nothing in color. It didn't matter that I knew the pieces by heart and each piece of jewelry was about the size of a small fingernail, and I got a damp hand from cutting out 4,000 images of 4,000 pieces of jewelry, very high-tech, of course. I had my pieces of paper, and I started thinking that every board has to tell a story. For me with an exhibition, the exhibit has to tell the story, and the text below on the captions really helps you understand it. Visually, I think it's very important that the pieces also talk. So, yes, I started before the architect was allocated and we worked together with 4,000 pieces. My colleague, Richard H. Cumber, worked on the watches, but otherwise all the jewelry is designed on black and white photographs on white sheets of paper with double-sided tape.
Sharon: Do you have thoughts about why you got so immersed in jewelry? You said you didn't want anything to do with jewelry, but here you are immersed in it. What were your thoughts?
Beatriz: You mean deep diving in it?
Sharon: Yes.
Beatriz: I grew up in the jewelry trade and experienced the Cuban Revolution and hardships, being refugees in New York and so on and then moving again to another country. It was complex. As a child, it wasn't quite easy. It didn't do me any harm. I've survived, but it was a really hard trade. What I was doing later, and still do now, is historical jewelry. It's a very different thing. I think I've gotten my love of jewelry back, yes, but I'm very keen on the wide picture of jewelry covering thousands of years. 
In fact, I've been doing courses for the Victoria and Albert Museum since 2008. When I do the "Bedazzled" one, which is a history of jewelry, I start with 150,000 B.C. I jump off it pretty quickly, but for me, it's so important for people to go back to that time to understand what jewelry was about. To me, it was certainly more amuletic rather than status. It was status as well probably. We can't follow that, but certainly I think amuletic to protect from the dangers. They lived in a very natural world, so the dangers were much worse than we could imagine. I think it's fascinating to see what was in other periods of jewelry history. It makes it much more exciting to understand what's happening now.
Sharon: When you came to contemporary jewelry—it seems that you're pretty immersed in that also—what stood out to you? What made a piece different or jump out at you? There seems to be so much copycatting in many ways.
Beatriz: Definitely, a lot of copycatting. I've worked on a collection of 450 pieces of, and I can tell you that's one of the most copied ones. On Instagram, I have to be careful that I don't get nasty remarks because I do point out, "Yes, we've seen that before. He was ahead of his time, but his style is still modern today." When we were putting the Koch Collection together with the 610 rings, 20 from the 21st century, the individual l idea was very important for me. It has to be innovative; the idea has to be new; it has to be interesting. For the materials, it should be an experiment with new materials; different materials; materials you wouldn't use for jewelry. We talk about sustainable jewelry. Pre-1994 we have two rings in the collection made of washing-up bottles. We were way ahead of the times. Of course, Peter Chang used recycled materials, and we commissioned a ring from him. We did commission people that never made rings before just to put them to the test. It was very interesting.
Sharon: I didn't know that Peter Chang was recycled.
Beatriz: The materials are all recycled materials, yes. That is the amazing part, the recycled materials. These two crazy rings we bought from a German jeweler, it's just washing-up bottles. If you're creative and imaginative, you make something interesting. 
We have many important names who made rings. We have some wonderful rings from Wendy Ramshaw and so on. We have a lot of big names, but that was not the point. We have a lot of ones that just graduated or were young or completely unknown. It's more the idea and what they made. Of course, I was approached many times regarding rings and I had to decline, saying, "Sorry, we already have something like that." I couldn't say it was not exciting. The idea was already there, so it makes it difficult. Unless it was interpreted differently, yes, that's fine. 
So, I think we got a lot of crazy pieces. The collector always teased me. He said, "Can you wear the ring?" I said, "Of course, could you wear the ring? What do you think?" I always choose rings for wearing. Of course, I have to admit there are a few that are not wearable. I'll admit to that, but I think with a collection like the Koch Collection, you're allowed to do that. There are few you really can't wear, or you can wear them with great difficulty.
Sharon: Yes, I think about that. I always think about how it would be to type with a ring like that, or how it would be to work at a keyboard, something like that.
Beatriz: I always say you don't wear the big, high jewelry pieces when you go shopping or washing up.
Sharon: That's true.
Beatriz: I won't say any company names, but the high jewelers of New York, Paris, wherever, they make those pieces. Those are rings. If they look great, they're wearable, but you wouldn't wear them every day while you're washing up or shopping or doing other tasks around the house.
Sharon: That's true. That's probably why people don't buy them as much anymore. They don't have places to go, Covid aside.
Beatriz: I think with Covid, the interesting thing is that we have rings that are sculptures. If you're doing a collection and somebody makes a ring sculpture, I think it's valid to be in the Koch Collection. We do have a few ring sculptures, including Marjorie Schick. But it's interesting that you mentioned Covid and when the pandemic was on. I don't want to go into the pandemic, but we have a much-increased Zoom culture. It did exist before the pandemic, people trying to reduce travelling and climate change and so on. It did come before the pandemic, but it is definitely an increased media. You can't really wear a ring and say, "Well, here's my ring." You have to wear something that's in the Zoom zone. That's earrings and brooches. Fortunately, I'm somebody who likes earrings and brooches. I always have on earrings and brooches.
Sharon: What you have on is very Zoom culture. It shows up well.
Beatriz: The color shows up, yes. The earrings, they're made of silver and made by Eve Balashova, who works in Glasgow. Zoom is not a problem with this jewelry because, as I said, I love the earrings and certainly the brooch that goes with it. In fact, when I bought the earrings I asked, "Can you make a brooch I can wear with it?" 
Sharon: Wow! When you go out, do you see rings that make you say, "That should be in the collection"? Can you add new ones?
Beatriz: Since the display in 2019, there are only a few additions. It sort of finished with the publication and the display, but there have been the odd new rings. I write a lot about that. We have had a few, and I'm hoping that next year they will be on display. Maybe half a dozen rings; not many. We might have another exciting one, but we have to wait. Until the collector has actually gotten his hands on it, I don't want to jinx things. 
Sharon: But you identify them and then they say yea or nay.
Beatriz: Yes. They have bought things on their own as well, but we've done this together, yes. I've identified and advised. For me, it was wonderful. First of all, they don't know the collector. It's always the Koch Collection, but the family's name is different, so it was always very modest, without great names. I was the one who negotiated everything, and it always gave me great pleasure when I could stand up and say, "We've chosen a ring for the collection." You find this great joy on the other end, especially for those young or unknown ones. You could imagine what it meant for them. It's always great joy. 
I love working with contemporary artist jewelers. I worked for 13 years as a visiting tutor under David Watkins. I always said I learned more from them than they learned from me, but I helped them with their Ph.Ds. I really enjoyed working with them, and it continued with being able to buy or acquire what they made for the collection.
Sharon: You do a lot of teaching. You're teaching other classes in January at the V&A.
Beatriz: Yeah.
Sharon: It started online.
Beatriz: Yes. In 2021, I did an online course, "Bedazzled." Next year, in January and February, it's called "Jewels of Love, Romance and Eternity," which is a topic I've worked on because I published the book "Proud Love." We have a few other speakers who can bring another slant into it. Again, I start with antiquity, because you can't talk about love jewels without actually talking about Roman jewelry. Many people don't realize that the engagement ring or the proposal ring or marriage ring started with the ancient Romans.
Sharon: I didn't know that.
Beatriz: Diamonds in engagement rings started in the 15th century. It might be a little bit earlier, but that's more or less the dateline. So, there are lots of interesting things to talk about. 
As I said, I've been doing courses since 2008 at regular intervals. Also at the Victoria and Albert Museum, I was co-curator of the pearls exhibition. I did a lot of courses on pearls as well, and that is a fascinating topic. It was wonderful to work on that exhibition. It was together with the Qatar Museum's authority, but I was asked by the Victoria and Albert Museum to create an exhibition for the British public, which was very different to what they had in mind, of course.
Sharon: There are so many new kinds of pearls, or at least kinds that weren't popular before. Tahitians and yellow pearls, that sort of thing.
Beatriz: Yes, all these extra pearls are the cultured pearls. It's a history of the natural pearl. Qatar was a center where they were diving for pearls, so we did all the diving history, how merchants worked in that area in Bali and Qatar. The cultured pearl is, of course, Mikimoto. There are theories that the Chinese started the cultured pearls, but the one who really got the cultured pearls going was Mikimoto. He certainly did the science with it. He worked together with scientists and had the vision. Natural pearls were very, very expensive, and his philosophy was that every woman should wear a pearl necklace or be able to afford a pearl necklace. I think his task is fulfilled.
It's interesting because the natural pearl doesn't have quite the luster of the cultured pearl. By the 20s, you have the cultured pearls coming in, and then by the 50s—when I did the exhibition, we had so many stories being told. Of course, some ladies from the Middle East are probably kicking themselves because they sold the family natural pearls because they didn't have the luster, and they bought the nice cultured pearls that are more flashy. Of course, now the value of natural pearls is unthinkable.
Sharon: Was there a catalogue? 
Beatriz: With cultured pearls, you have the golden pearls and the Tahitian pearls and so on, but the color of the pearls depends on the shell they grow in, unless you have some that have been tampered with and are colored. But there are Tahitian pearls, golden pearls and all these different shades. Melo pearls have an orangey color. The color of the pearl is dependent on the shell it grows in. The rarest pearl is the pink pearl that comes from the Caribbean. That's the conch pearl; that's hugely expensive. You asked about the catalogue.
Sharon: We will have photos posted on the website. Please head to TheJewelryJourney.com to check them out.