Episode 176
What you'll learn in this episode:
How the jewelry industry has changed over the last 50 years
How the Women's Jewelry Association helped women jewelry professionals get the recognition they deserved
What it was like to work with Elizabeth Taylor and Hilary Clinton to design iconic jewels for them
Linda's advice for young jewelry designers
About Linda Orlick
Linda Orlick, a trailblazer and a pioneer with a vision and a mission, Orlick spearheaded the movement of creating brand recognition for fine jewelry designers in the early 1970's and has continued leading this movement throughout her fine jewelry career. She is co-founder of the influential Women's Jewelry Association, a volunteer organization founded in 1984 that began with 10 women in an apartment in Manhattan and blossomed to become a formidable entity and powerful voice for women in the jewelry industry worldwide. Linda served as its President
Additional Resources:
Photos: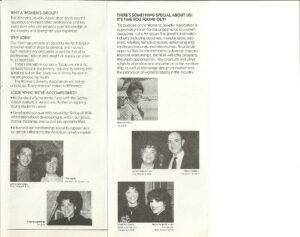 WJA First newsletter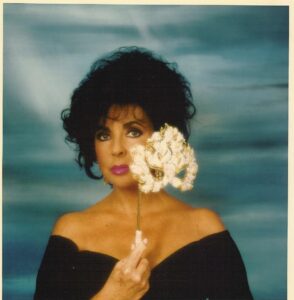 Elizabeth Taylor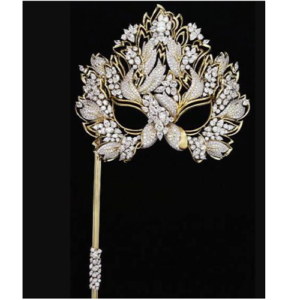 Henry Dunay's  LaChrymosa Mask showcasing 936 diamonds curtesy of Willam Goldberg, set in platinum and 18k gold. The LaChrymosa mask was designed for Elizabeth Taylor to carry at the AmFar event to raise awareness for AIDS. The mask was valued at $1 million and went on tour worldwide to raise awareness for AIDS.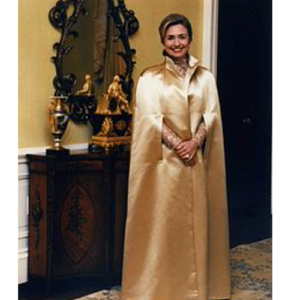 Hillary Clinton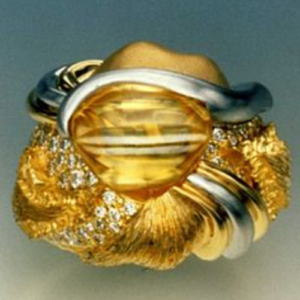 Henry Dunay's Cynnabar Ring, designed in 18K, platinum featuring a 4.25 carat canary yellow diamond mined in Arkansas created for Hillary Clinton to wear for both the inauguratal balls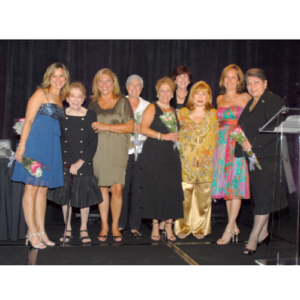 From left to right:
Women's Jewelry Association Presidents
Ann Arnold, Gerry Gewirtz Friedman, Linda Orlick, Tina Segal, Phyllis Bergman, Rachel Rosin, Helene Fortunoff, Yancy Weinrich, Anna Martin
Transcript:
Linda Orlick entered the jewelry industry when gold was $35 an ounce and jewelry designers were unknowns who worked behind the scenes. Due in no small part to Linda's passion for the industry and her work to brand and promote emerging designers, retailers and shows, jewelry is now a respected part of the American fashion scene. She joined the Jewelry Journey Podcast to talk about the history of the Women's Jewelry Association; why it's so hard for people to leave the jewelry industry once they enter it; and how she helped facilitate the design of the 4.25 carat canary yellow diamond ring Hilary Clinton wore to the 1993 inauguration. Read the episode transcript here.
Sharon: Hello, everyone. Welcome to the Jewelry Journey Podcast. This is the first part of a two-part episode. Please make sure you subscribe so you can hear part two as soon as it's released later this week. 
My guest is Linda Orlick. Linda has spent her whole career in jewelry. She has been very successful as a retailer and a consultant to retailers. She's one of the cofounders of the Women's Jewelry Association, and she helped build it into a powerhouse. I'm sure many of you are members of the Women's Jewelry Association. Today, we will learn a lot more about her jewelry journey. There's a lot to say. Linda, welcome to the program.
Linda: It's so good to be here. Thank you, Sharon.
Sharon: Tell us about your jewelry journey. 
Linda: Well, I hope we have a lot of time. In 1974, when gold was $35 an ounce—
Sharon: Wow!
Linda: I guess, wow. My family and a few friends spent the summer in the Catskills. At that time, there were three ladies who had a company and were selling a collection of gold jewelry to other women like a pyramid scheme. It was a combination of chains and necklaces and earrings. I said to a friend of mine, "We should do this." So, we went ahead and invested $400 each, and we got our first collection. 
We thought we would be brave enough—we lived in Riverdale in the Bronx—to take a trip into the city and go into office buildings in the garment center, introduce ourselves to the receptionist, go into the bathroom and set up wares. There you have it: we were selling our jewelry. Women used to come in and give us hundreds of dollars in deposits, and we would come back and deliver pieces to them. The two of us looked at each other and said, "I think this is fun. This is good. Better than doing it out of our home," because we both had small children. That's how it all started. Again, gold was $35 an ounce. Can you imagine that was 48 years ago?
My next introduction was to a silver designer by the name of Minas. He was from Greece, and he had a beautiful collection of 18-carat pieces. In fact, I'm wearing two of his pieces. I fell in love with his collection. I had never sold to a retailer before. I didn't know how to go about it. I walked into Bloomingdale's one day with my little jewelry roll, and I said, "Knock, knock; I'm Linda and I'd like to introduce myself." The buyer—her name was Susan; I can't remember her last name—said, "Do you have an appointment?" I said, "Oh, did I need one?" Before I knew it, I was showing her the collection. She fell in love with it also, and she bought a nice selection of it. Now, mind you, a ring like this was $22. Again, it was 18-karat gold and silver. Everything was very affordable, so they sold out immediately. I kept the money from the order, and then I started to work full time for Minas, and I kept the relationship with Bloomingdale's going. 
Along the way, gold went from $35 an ounce to $800 an ounce. It was at the same time that Minas decided he was going to turn his business into all 18-karat gold. He felt that staying in the United States, it would be difficult for him to continue to sell his collection in all gold, so he decided to go back to his homeland in Greece and continue with his collection. By chance, I was at the Sheraton Center when the JA had their shows there, and I got a part-time position with Marsha Breslow, who was a wonderful colorist. She used to do lapis and 18-karat bead jewelry for Cartier and had her special collection for them. She used to take semi-precious beads and make the most extraordinary necklaces and earrings. 
It caught the attention of Vera Wang, who was then an assistant at Vogue Magazine. Vera kept coming up to the office and working with us on different collections. Vera was working on a collection for Calvin Klein for one of his original runway shows. She asked Marsha to create a collection that would go on his runway. Excitingly enough, it also made the cover two seasons in a row of Fashion Times Magazine. For a jewelry designer to be on the cover of Fashions Times was unheard of. 
Along the way, I called Women's Wear Daily, who never featured fine jewelry. I believe it was Agnes Carmack, who was then an assistant, who answered, and I said, "I've got a gorgeous collection of earrings," and she said, "O.K., bring it over." We went up on the rooftop. I had a friend who was a model. This wonderful photographer they had, Tony Palmieri, photographed about six different earrings on her, and they landed on the front page of Women's Wear Daily. It was the first ever.
I started to think to myself, "If Seventh Avenue can promote by name, why shouldn't the jewelry industry?" I went back to Bloomingdale's and told them about the Marsha Breslow collection. After being in Vogue Magazine and with Vera Wang putting it on Calvin Klein, people began to really take notice of the designers and names. We were in Bloomingdale's, which was a Federated Store. The parent company was associated with Associated Merchandising Corporation. I became friendly with the CEO of AMC, Lee Abraham, and he called me one day and said, "Linda, I want something different for Bloomingdale's that no other store has." I said, "O.K., give me a few days to think about it." I called him back and said, "Lee, I want to have the first design boutique ever in a department store, and I want it to be in Bloomingdale's, in the 59th Street store." He said, "You got it. The buyer Marty Newman, whom everybody loves so dearly, and the DM will be visiting you in the next week."
Sharon: The DM is what? I'm sorry.
Linda: The department manager. "It's our secret, but they are going to listen to your story about a designer boutique and it's going to happen." Sure enough, a week later, I get a phone call from Marty Newman, who went on to be one of my dearest friends. He said, "I'm not sure what I have here, but I want you to create a collection. We can give you six feet of showcase space." If you walk into Bloomingdale's and see the Louis Vuitton store to the right, there's always that big flower. Exactly where that beautiful flower is was the showcase that he wanted us to work with.
So, we put in a collection. We were responsible for designing the showcase and hiring our own salespeople. They gave us a sales goal. We quadrupled that. Lee and the buyer were so impressed, he said to me, "Now you can go to the rest of the Federated stores," which included Woodward & Lothrop. I created the first designer boutique. What can I say? The rest is history. Marsha Breslow went into these stores and the word "jewelry designer" came along with it. 
It was a slow process because jewelry designers were still not recognized. It was a real uphill battle. In 1981, I was invited by the Manufacturing Jewelry and Silversmiths of America, MJSA, and I eventually met the man who became my former husband, Henry Dunay. I was invited to do direct mail advertising and public relations for the first group of American jewelry designers that were invited to the Baselworld Fair. Basel didn't want any Americans to come to it. They fought and said, "Americans, what do they know about jewelry design? They design in 14-karat gold. They have no sense of design." So, they stuck us in a little corner behind the cafeteria where nobody could see them. We did a mailing to hundreds and hundreds of retailers across the world. Little by little, when you have a designer like Henry Dunay or Jose Hess, names who were emerging designers, and they're not being sold by weight, which is what they did early on. You sold your jewelry by weight. People started to recognize it. They became a real force in Basel. They were invited back every year, and every year the collections grew more and more incredible. 
The American jewelry designers outdid all the other countries as far as designing metals and working in 18-karat and precious and semiprecious stones. I went to the Basel Fair for 21 years and became very friendly with the then-head of the fair. Eventually, the Basel Fair hired me to promote the fair to American retailers to try and get more American retailers to come to Basel. That was when there were so many competitions in New York. There was the emergence of JCK, the JA show, which launched the Couture Show, the JCK Show, which launched Luxury. They converged on Las Vegas and took over the ability for retailers to come to one place and see extraordinary designs. Then, of course, you had the European retailers wanting to come, too. It gave Basel a real run for its money. I had done public relations for the JA Show for many years, and I helped create a lot of exciting highlights for the Couture Show. I had a very close relationship with Robb Report magazine.
Sharon: Which magazine?
Linda: Robb Report magazine.
Sharon: Robb Report, O.K., yes.
Linda: Robb Report is very high-end luxury jewelry. I created a Robb Report event at the Couture Show after the major entertainment, which was always sponsored by Vogue Magazine. It had over-the-top musicians performing, and it was a luxury fair the couture jewelers could go to with over-the-top desserts and interesting things. That grew to be very big and kept the tour very special until Couture and JA decided to make its move to Vegas. 
When that program was over, I became the public relations and marketing person for the JCK Show. I was also watching the Luxury Show within the JCK Show. We came up with a lot of programs and conferences that would create wider visibility for the show. In fact, because of my 21 years in Basel and my relationships not just with jewelry designers, but with the watch companies, I was able to create the first watch luxury show. I introduced the concept to my colleagues at JCK and I brought my dear friend, Steven Kaiser, on board to oversee the show. The Luxury by JCK Watch Show is still in existence today and is the first and only luxury watch show in the U.S. So, that was very exciting. 
The rest, as they say, is history. I watched the industry go from $35 an ounce and deciding how much I should pay for this based on a scale, to a showcase with the most beautiful designs ever created in the world. I have to give a lot of credit to my former husband, Henry Dunay, because in my opinion he was—and still is—one of the greatest jewelry designers in the industry. He set the tone for finishes on jewelry with his love for pearls, his love for precious and semiprecious stones, his ability to search out stones and create a design around it. 
For instance, my dear friend who worked at the Diamond Information Center, called me one day and said, "I have a 4.25 canary yellow diamond that was found in a mine in Arkansas by a local jeweler. If Henry could create a ring for Hillary Clinton to wear at the inauguration, she will wear it." Henry was leaving for Europe the next day, and I said, "You're not going. To design a ring for Hillary Clinton and have her wear it at the inauguration, that comes first. Please put off the jewelry trip for another few days." Sure enough, he created the most beautiful cinnabar ring. It was from the argosy of Arkansas. You saw pieces of platinum and different textures in the 18-karat gold that depicted the topography of Arkansas, with the 4.25 diamond set inside. It was a cushion shape. It was never cut. It came out of the ground just the way you see it in the ring. It was extraordinary. 
Sadly, the jeweler wanted the diamond back rather than having the whole ring donated to the Smithsonian as it should have been, so Henry had to take the ring apart. He said, "One day, I'll have a stone made that looks exactly like it and I'll reset it." I don't think that ever happened, but people got to see it. It went on view in the Museum of Natural History. It became part of one of the exhibits at the Museum of Natural History. It was an extraordinary ring. I do have pictures of it to share with everybody.
Sharon: We'll have those on the website.
Linda: It's an exciting journey. Back in the early 80s, I made lots of good women friends in the industry. I think it was in 1982. There was a blustery, snowy night, and we were all at the JA show. It was at the Hilton in the Sheraton Center. We were invited by two representatives from New England to a meeting to tell us about the women's group they put together, New England Women in Jewelry. We thought it had a lot of merit, and my friends and colleagues and I kept going back and forth and back and forth. Do we need this organization? What do you think? 
We finally decided we would call our friend, Ronny Lavin, and 10 women we were close with to talk about it. There was Nancy Pier Sindt, who was an editor with National Jeweler; a designer, Joan Benjamin; Jo Ann Paganetti, who was a professor at FIT; Marian Ruby, who was the jewelry buyer at Finley at the time. I hope I'm not leaving anybody's name out. We said, "O.K., I think we should do this. Let's become mentors. Let's create a scholarship program. Let's create a platform for women to share their ideas and grow their businesses." We voted on the name Women's Jewelry Association. 
Nothing could have prepared us for what was coming next. I sent you our original newsletter. We came on like such a force that we expanded our bylaws to include the rest of the country. The New England group became our first general chapter, and the rest is history. Most importantly, of course, there was somebody we all loved and respected, Gerry Friedman, who was the editor in chief of National Jeweler Magazine, and we were going to ask Gerry to be our first president. She was like, "Of course." 
We had several meetings where we put together a group of programs of other women to talk about what's going on in the industry, what suppliers and vendors to use, the world of design and all different topics. Gerry always had a group to her home for dinner, and one day we were talking about what's going to make us stand out. There are lots of men's groups or enough men's groups, and they had dinners. All of a sudden, it came to me: We had to create the first awards in the jewelry industry for women, by women. We all agreed we would do this. Through Gerry's connections at the Lotos Club, we created the first Awards for Excellence dinner. It was at the Lotos Club, and it was a total sellout. We had to move it to the Harmonie Club, which was a little bit larger in space, again through Gerry's connections. Again, it was a sellout. We honored Helene Fortunoff and Bess Ravella. We honored Angela Cummings for best designer, Marian Ruby for best retailer. We had Nancy Pier Sindt for best editor. The list goes on and on. It became such a sense of pride for all of us, to recognize each other for our accomplishments in the industry. 
The award dinner kept growing and growing. We moved to Tavern on the Green, and again, it was a total sellout. We kept growing. For the last two years, it's been at Chelsea Piers. There are over 700 women and men that attend. The awards have literally become the ticket in the industry. It's a current event. It's a great place to network. It's a great place to catch up with your friends and your vendors in the industry, and it's a beautiful, beautiful evening. 
I am proud to say that from those original 10 women in Ronny Lavin's apartment, there are now 20 chapters all over the world with, I believe, a membership of 17,000 women and men worldwide. The Women's Jewelry Association is a force to be reckoned with, and now they have programs in all different regions. They have ongoing programs. When I look back on my career, the Women's Jewelry Association stands out as one of my greatest highlights. Along the way I've gotten beautiful emails from members who said I actually changed the course of their lives by creating the Women's Jewelry Association. I take those comments very seriously and to heart, because I was always trying to do something different and trying to make room for people to grow. If somebody got laid off from a job, I was the first person they would come to. I would always help them find a position or help them with what they're going through and perhaps help them look at a different career within the industry. 
When I started in the industry, there were barely any women. One of the women that stands out to me is Helene Fortunoff, because she was one of the very first women to ever have retail experience. She took all of her children to work with her every day. Five of her children worked with her every single day. Now not only are her children in the business, but Esther and Ruth have carried on their mother's incredible journey in the jewelry business. It's remarkable to see how, from the beginning to where we are now, the jewelry business has become one of the major industries in the world. Diamonds and precious and semi-precious stones, pearls, pearls, pearls—because I love pearls—are now the mainstay of what people look for when they're going shopping for birthdays, anniversaries, holidays, or just when a woman wants to buy her own jewelry.
Sharon: We will have photos posted on the website. Please head to TheJewelryJourney.com to check them out.