Episode 175
What you'll learn in this episode:
Why sacred geometry is the underlying link between Eva's work in jewelry, architecture and design
How growing up in an isolated Soviet Bloc country influenced Eva's creative expression
Why jewelry is one of the most communicative art forms
How Eva evaluates jewelry as a frequent jewelry show judge
Why good design should help people discover new ideas and apply them in other places

 
About Eva Eisler
A star of the Prague art world, Eva Eisler is an internationally recognized sculptor, furniture/product designer, and jeweler. Rooted in constructivist theory, her structurally-based objects project a unique spirituality by nature of their investment with "sacred geometry." The current series of necklaces and brooches, fabricated from stainless steel, are exemplars of this aesthetic. In 2003, she developed a line of sleek, stainless steel tabletop objects for mono cimetric design in Germany. 
Eisler is also a respected curator and educator. She is chairman of the Metal and Jewelry Department at the Academy of Arts, Architecture and Design in Prague, where she heads the award-winning K.O.V. (concept-object-meaning) studio. Her work is in the collections of the Metropolitan Museum of Art, Brooklyn Museum and Cooper-Hewitt, Smithsonian Design Museum in New York; Museum of Fine Arts, Boston; Museum of Fine Arts, Houston; Renwick Gallery, Smithsonian American Art Museum, Washington, D.C.; Montreal Museum of Fine Arts in Canada; Pinakothek der Moderne, Munich; and Museum of Decorative Arts, Prague, among others. 
Additional Resources:
Photos:
Sculpture, Mobius Series 2: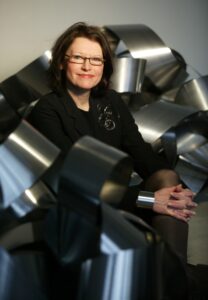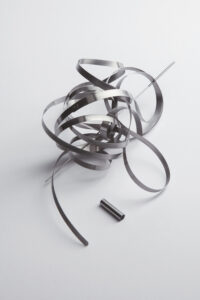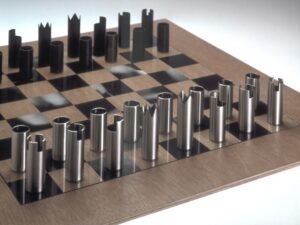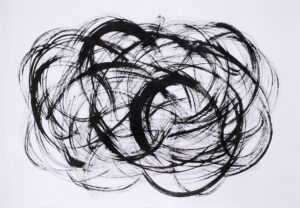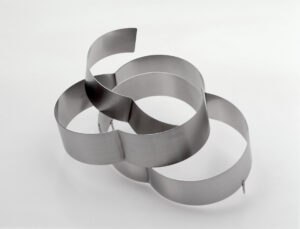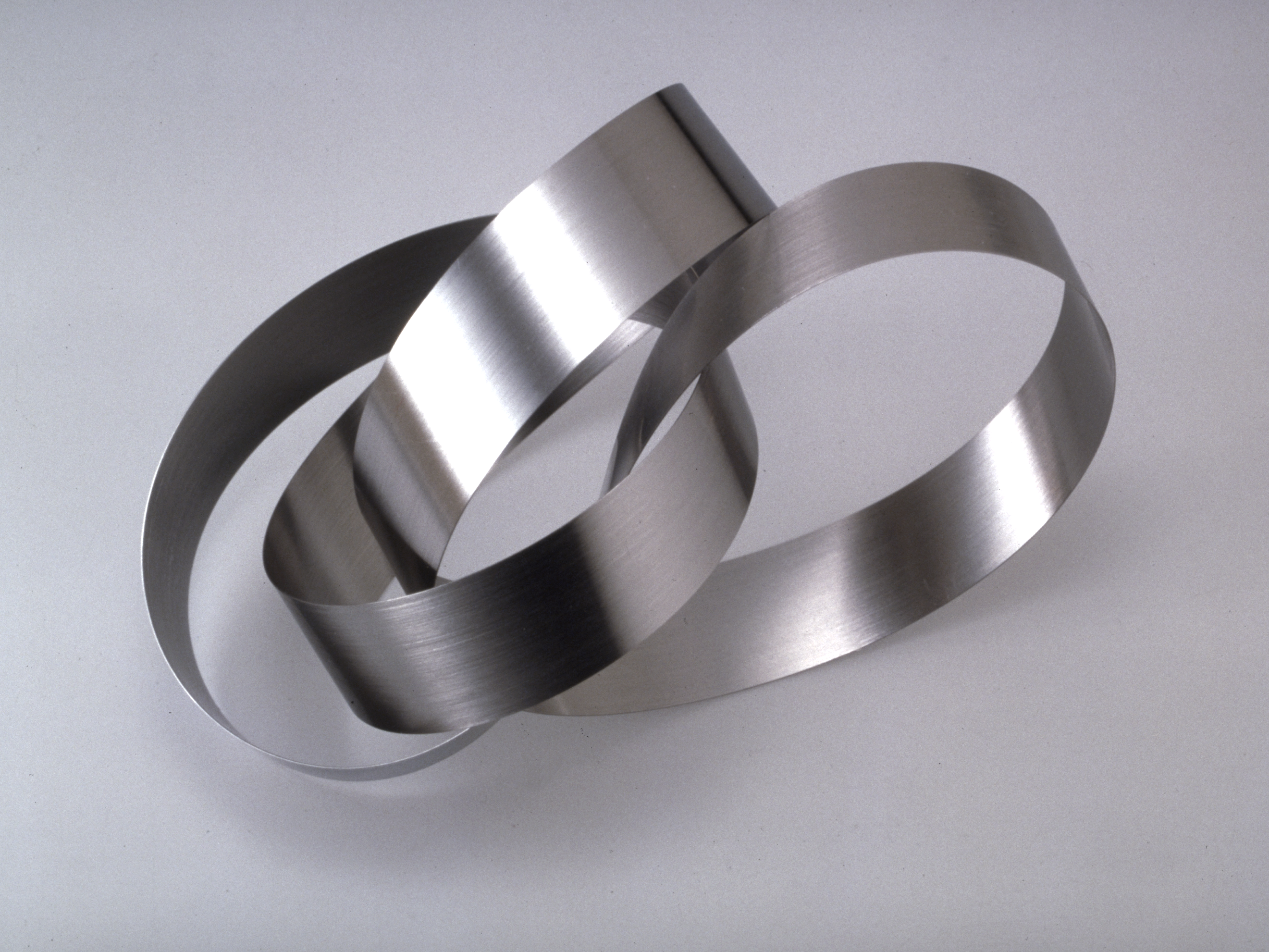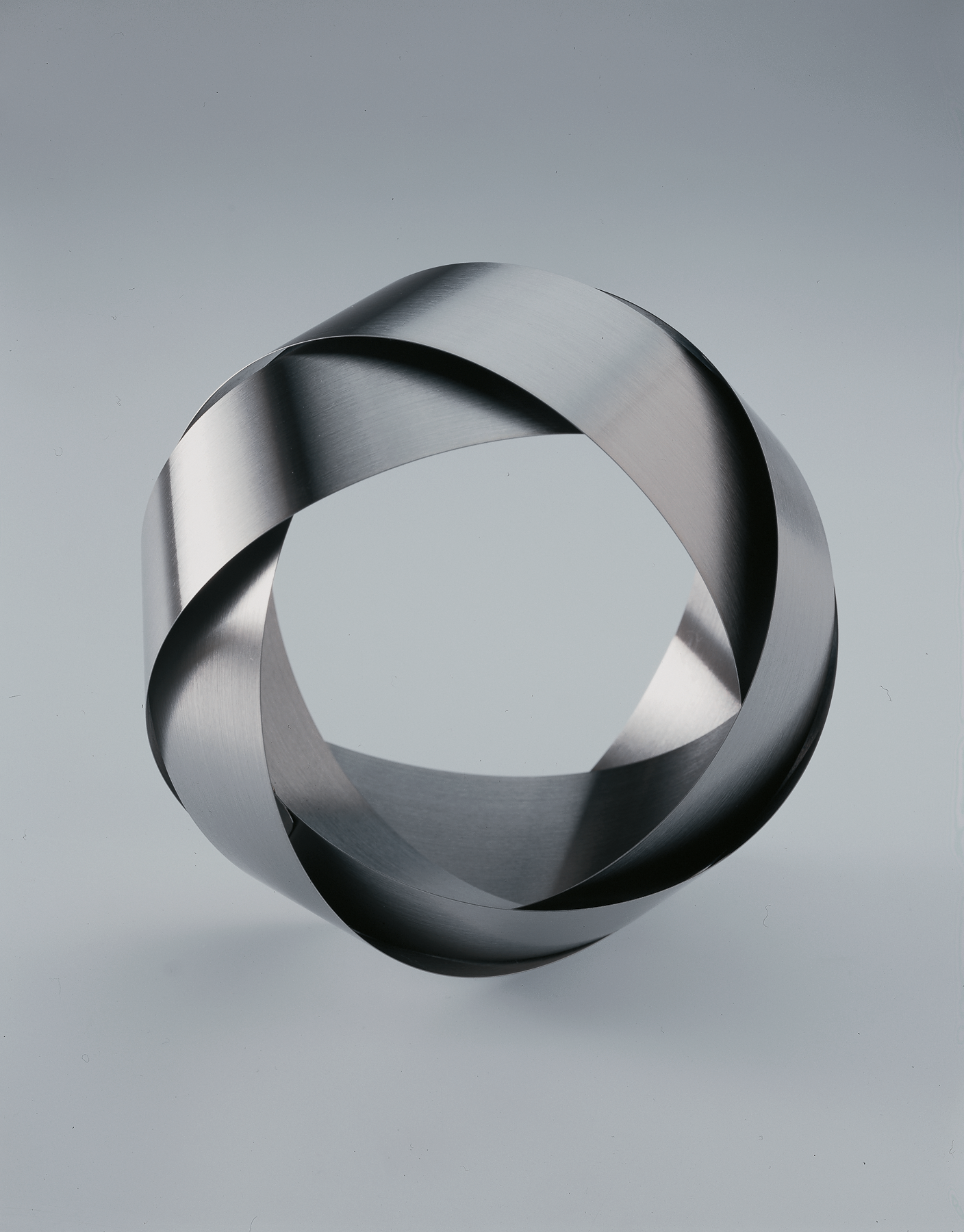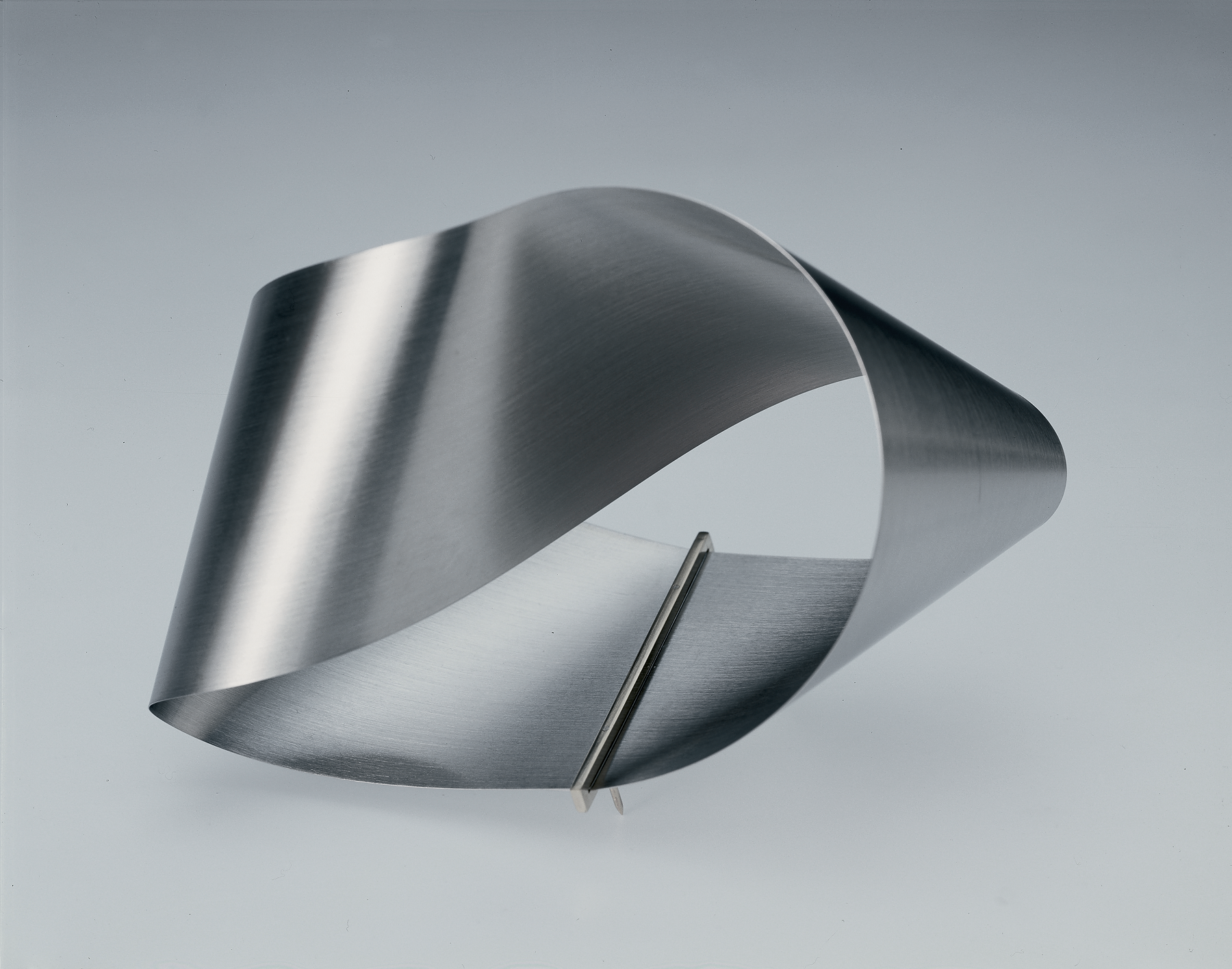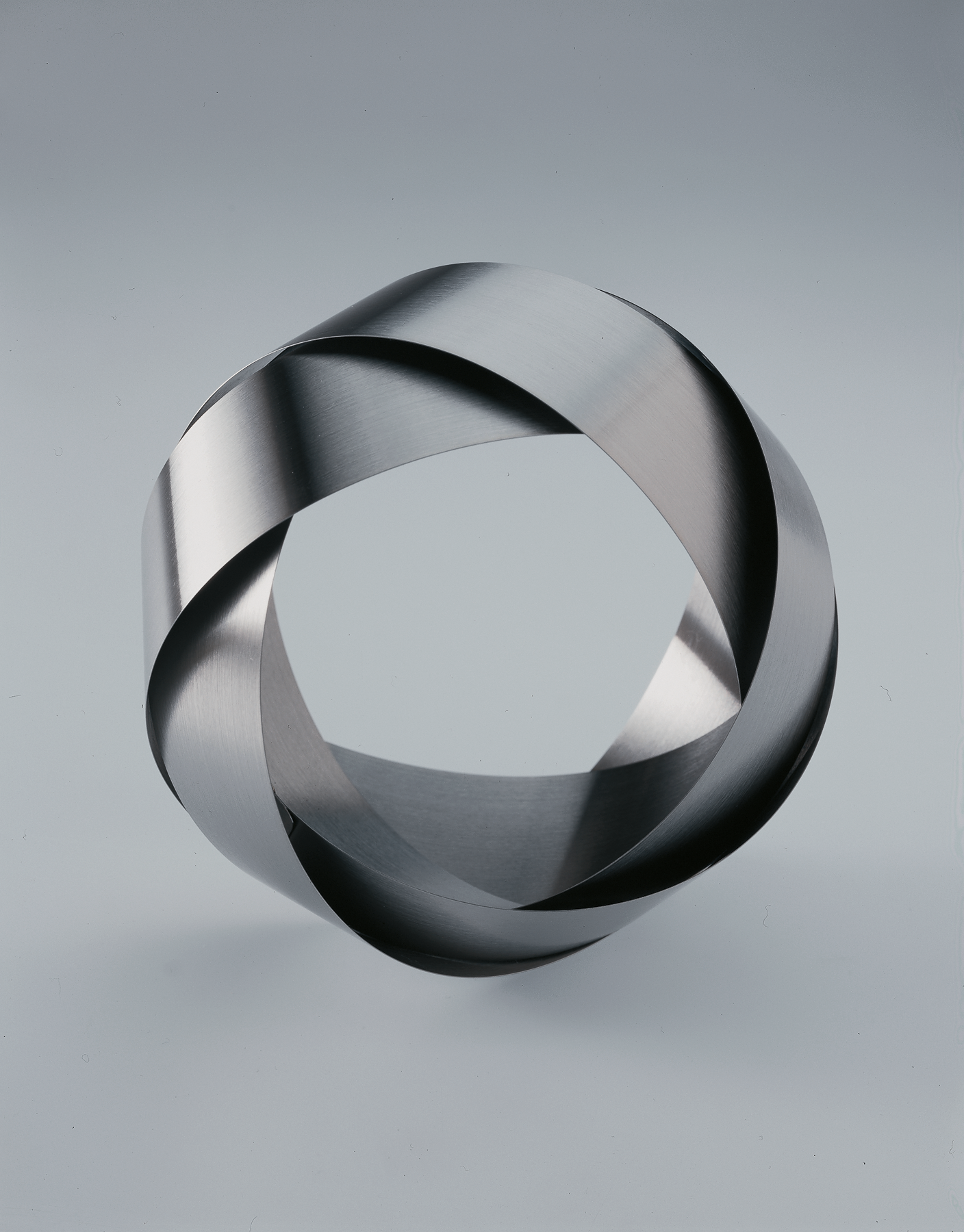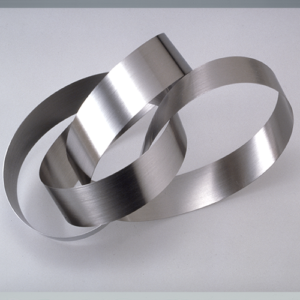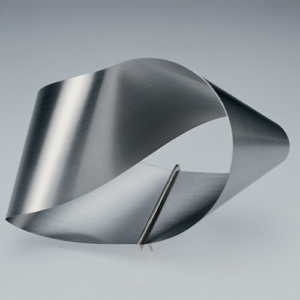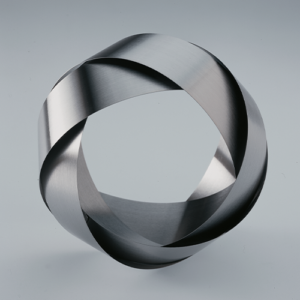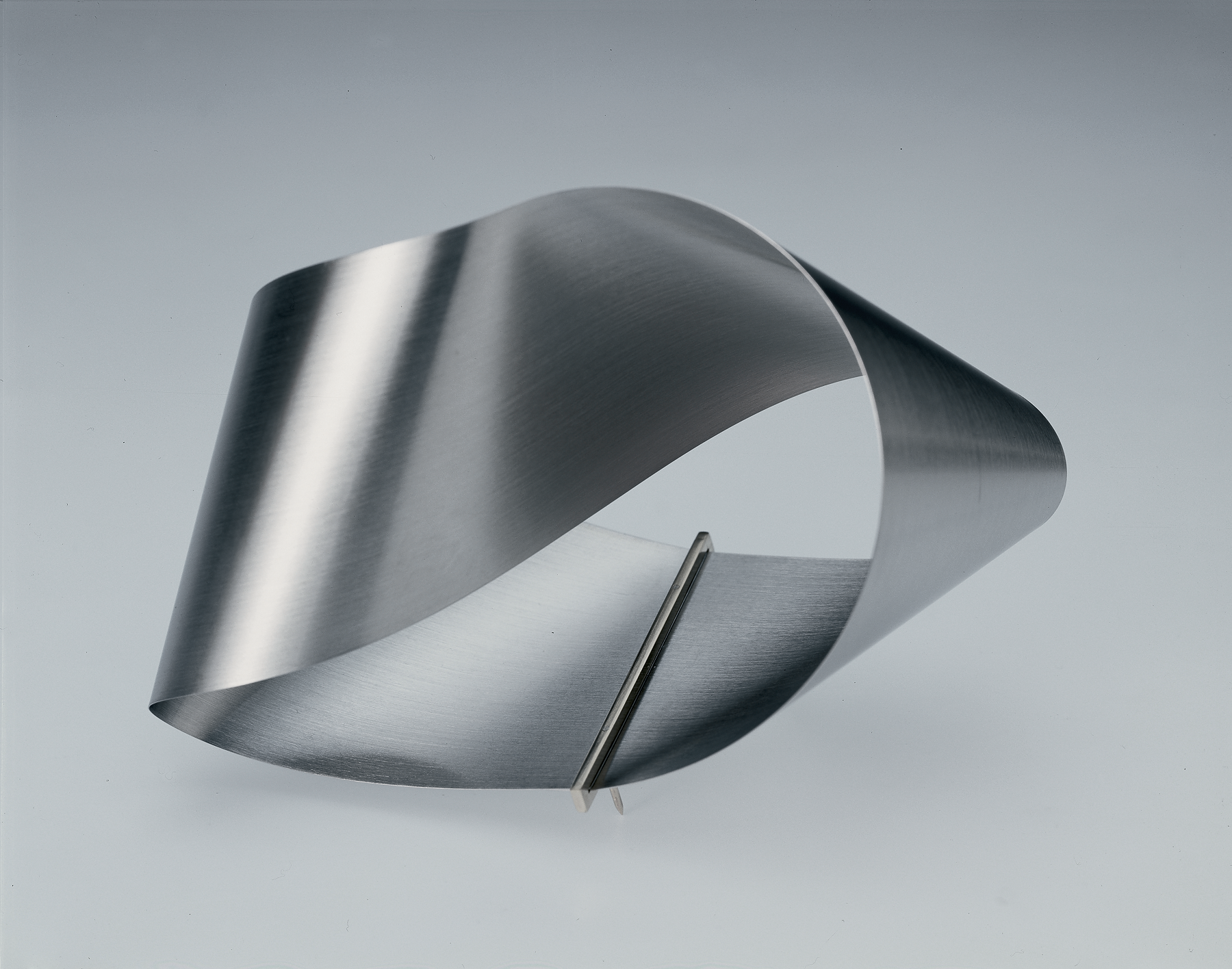 Transcript:
Eva Eisler is the rare designer who works on projects as small as a ring and as large as a building. What connects her impressive portfolio of work? An interest in sacred geometry and a desire to discover new ideas that can be applied in multiple ways. She joined the Jewelry Journey Podcast to talk about how she communicates a message through jewelry; why jewelry students should avoid learning traditional techniques too early; and her thoughts on good design. Read the episode transcript here. 
Sharon: Hello, everyone. Welcome to the Jewelry Journey Podcast. This is the second part of a two-part episode. If you haven't heard part one, please head to TheJewelryJourney.com. My guest today is Eva Eisler, Head of the Jewelry Department of the Academy of Arts in Prague. She's probably one of the most well-known artists in the Czech Republic. Welcome back. 
How long were you in New York? A long time?
Eva: 25 years. 
Sharon: Wow! I didn't realize that. And did you teach the whole time?
Eva: I taught for a few years at Parsons School of Design, and then New York University pulled me in. It was Judith Schwartz, who was the Director of the Department of Art Education, who wanted to expose the students to metalworking. So, she asked me to come and teach there.
Sharon: Did you do jewelry and other things because you wanted to have not so much grayness in the world, to have color, to have joy?
Eva: Are you asking?
Sharon: Yeah, I'm asking. Did you break out, in a sense, because of the world around you?
Eva: I think that one challenge after the other gave me strength and conviction. This is something I can work with, the medium of jewelry, because it's so communicative. I had so many incredible encounters through wearing a piece of jewelry. For example, I went to a party at Princeton University. I'm talking to this professor of physics. He's telling me how they are developing an artificial sun, and he's looking at my piece. When he finished talking about his project, he said, "Is this what I think it is?" I said, "Clearly, yes." It was a piece of metal bent into an S, one line and one dot. It's basically telling you that it depends on a point of view and how you perceive things. I used to like to come up with a concept that I would play with in different theories. 
Sharon: Did you expect to be in the States for 25 years? That's a long time.
Eva: No. We were allowed by Czechoslovakia to go for one year. After one year, we politely applied for an extension. It was denied to us. So, we were actually abroad illegally and we could not return because we did not obey the rules. 
Sharon: When you came back, did you teach? We saw some of your students' work. What do you tell them about your work? What do you teach them? 
Eva: It's a different system. In New York, you teach one class at a time if you're not a full-time professor at the university. In New York, it's very rare. The intensity and the high quality of professionals in all different fields allows schools to pull them in, so they can take a little bit of their time and share with students what they do. It's not that you devote your full time to teaching. 
In the Czech Republic, it's different. At the academy where I have taught for 16 years, you're the professor, and you have a student for six years with a special degree in the master's program. For six years, you're developing the minds of these young people. I don't teach them techniques. We have a workshop and there is a workshop master. I talk to them about their ideas. We consult twice a week for six years. It's a long time. I would be happy if somebody talked about my work for half an hour once a year. I would have to ask somebody because I need it as well. It's a different system, the European system of schools.
Sharon: You're head of the K.O.V. Studio. How would you translate that?
Eva: The academy is divided into departments, and each department is a different media: Department of Architecture, Department of Industrial Design and so on. We are part of the Department of Applied Arts, which is divided between ceramics, glass, textile, fashion. My studio is about metal, and for metal in Czech, you write "kov." When I took over the studio, I put dots in between the letters, which stands for "concept, object, meaning." In Czech, meaning isn't even a word. That way, I could escape the strict specialization for metal, because when you're 20 and you go study somewhere, do you know you want to work for the rest of your life in metal? No. Today, we are also exploring different materials, discovering new materials. I am giving them assignments and tasks. Each of them has to choose the right material, so the person comes up with using concrete or cork or wood or paper or different things, glass or metal.
Sharon: How do you balance everything? You have so much going on. How do you balance it? 
Eva: I have to do three jobs because teaching does not make a living, even though I'm a full-time professor. It's an underpaid profession, maybe everywhere.
Sharon: I was going to say that, everywhere.
Eva: Then I do my own art, and I do large projects like designing exhibitions, curating exhibitions, designing a design shop. Things like that to make money to support those other two. It's a lot, yes. I have grandchildren.
Sharon: A family. Yes, it's a lot. You've done jewelry shows and you've evaluated shows. What's important to you? What stands out? What jumps out at you?
Eva: I sit on juries. In 2015, I was invited to be a curator of Schmuck, the jewelry exhibition in Munich. It's a big challenge, selecting out of 600 applicants for a show that at the end has only 60 people from all over the world. When I looked at the work, we flipped through pictures one after the other. It's so incredible what jewelry has evolved into, this completely open, free thing, many different styles, many different trends and materials. There's organic and geometric and plastic. I noticed these different groups and that I could divide all these people into different groups, different styles, different materials. Then I was selecting the best representation of these groups. It made it quite clear and fast when I came up with this approach.
Sharon: Does something jump out at you, though, when you're looking through all these—let's say you've divided all the glass, all the metal—
Eva: Very rarely, because we go to Munich every year. I go and see exhibitions all over, so it's very random. You can see something completely different and new. I worked on a very interesting exhibition that year at the Prague Castle. Cartier does not have a building for their collection, a museum. They have the collection traveling around in palaces and castles and exhibition galleries around the world, and each place has a different curator. I was invited to curate it in Prague. It was the largest Cartier exhibition ever displayed. It was around 60 pieces for this show, and it was in Bridging Hall of the Prague Castle, an enormous space. 
That was very interesting because at the moment I accepted this challenging job, I had never walked into a Cartier anywhere in the world, in New York, Paris, London, because I was never curious. It was real jewelry, but when I started working with the collection, which is based in Geneva, and I was going to Paris to these workshops and archives, I discovered the completely different world of making jewelry, how they, in the middle of the 19th century, approached this medium and based it on perfection and mechanisms and the material. So, the best of the best craftsmen were put together in one place. It was very challenging.
Another exhibit I worked on was for a craft museum. It was called The Radiant Geometries. Russell Newman was the curator, and I was doing the display faces. My work was part of the show as well. That was a super experience. 
An interesting show I had was at Columbia University at the School of Architecture. The dean was Bernard Tschumi, the deconstructivist architect. He invited me to do an exhibition of jewelry and drawings for their students of architecture. Can you imagine? The students looked at the work, and they thought they were small architecture models. I developed a new system for how to hold them together. For that exhibition, I built cabinets that I later developed into a system with vitrines. After the exhibition with vitrines, I started making chairs and tables and benches, and later on I used it again for an exhibition when I was in Brussels. One thing leads me to another. One thing inspires the other. I go from flats, from drawings and paintings, into three-dimensional objects. I need a lance, so I design it and then some company makes it.
Sharon: Wow! What do you think has kept your attention? We'll have pictures of the jewelry on the website so people can see it. I love the necklace you have on. It's avant garde. Everything in the exhibit and everything your students did was avant garde. So, what holds your attention about it? How would you describe it?
Eva: I think making something like many people did before you doesn't make any sense. We are surrounded by so much stuff. It only makes it worth spending your talent and time when it's something new. You're discovering something new that somebody else can learn from and apply somewhere else. For example, this necklace is just held by the tension of the spring wire. Next time, maybe I can use it for some lighting. Who knows?
Sharon: I'd like to see that if you do it. What makes a good exhibit? You've been in charge of so many exhibits. What makes a good jewelry exhibit?
Eva: It should be based on a common theme or concept, and all the objects should together tell a story. Also, the exhibition design or architectural design of the show is very important. A lot of exhibition architects are creating something so powerful that you can't see the work that is showing. My rule is that the installation basically should disappear. The work is the most important thing, right?
Sharon: Yes, that's true. You mentioned a story, like each area or part should tell a story. Would you agree with that?
Eva: If it's large exhibition of jewelry in different styles, let's say, it should be grouped into similar topics so it empowers them. If you have one piece of this kind, another piece of a different kind next to each other, then—I don't know; it can be anything. It depends on the curator or the architect. Look at the Danner Rotunda in Munich. Their collection is strung together. Maybe the curator or the artist who did the installation wanted to create a dialogue of completely different characters, like when you have guests for dinner and you're thinking who sits next to whom. You want to create an exciting dialogue.
Sharon: When you came to New York, do you think you stood out? In Czechoslovakia did you stand out? Could you hold your own within these different parties?
Eva: I'm not the one who can judge it, but yes. I heard from different people what caught their attention, and why, for example, Judy Schwartz said, "I was waiting patiently all these years," whenever she finds the time to teach at NYU. I was always amazed by her education. Toni Greenbaum wrote a beautiful piece when we first met. She was intrigued by what I wore and how I looked, but mostly by a piece of jewelry I wore. I sewed the dress a day before because I thought, "What am I going to wear?" I designed it myself. If somebody asks me what I collect—mostly everybody collects something—I usually say I collect people. People together create society, create culture. One cannot stand alone. Through the work I do, it brings me to people. I try, and the results bring me to better people. That's what I value most.
Sharon: That's interesting. That was going to be my next question, but you answered it. Everybody does collect something, and people have different definitions of collections. Collecting people is a collection, yes, and you collect people all over the world. Thank you so much for being with us today, Eva. I really appreciate it.
Eva: Thank you so much for inviting me and talking to me. I'm saying hello to everyone who is listening.
Sharon: Well will have photos posted on the website. Please head to TheJewelryJourney.com to check them out.
Thank you again for listening. Please leave us a rating and review so we can help others start their own jewelry journey.