Episode 173
What you'll learn in this episode:
How Beth became a self-taught expert and collector of antique jewelry
The definition of antique jewelry, and how it's different from vintage jewelry
What separates an enthusiast from a collector, and why collectors have different goals for their collections
How to enjoy Georgian jewelry while keeping it safe
The meaning behind popular Victorian jewelry motifs
About Beth Bernstein
Beth Bernstein is a jewelry historian, jewelry expert and collector of period and modern jewels—a purveyor of all things sparkly. She has a romance going on with the legend, language and sentiment behind the pieces. Her love for the story has inspired Beth to pen four books, with a fifth one in the works, and to spend the past twenty years as an editor and writer on the subject of jewels-old and new. She is a die-hard jewelry fan, so much so that she has designed her own collection throughout the 90s and continues to create bespoke jewels and work with private clients to procure antique and vintage jewelry
She owns a comprehensive consulting agency Plan B which provides a roster of services in multiple facets of the jewelry industry. These include building, launching and evolving designer brands and retail brick & mortar/online shops and curating designer shows and private collections.
Additional Resources:
Photos: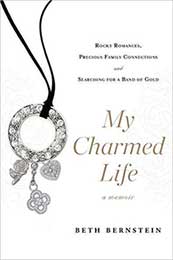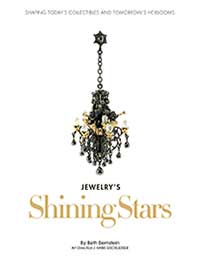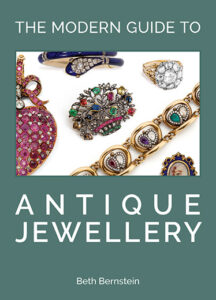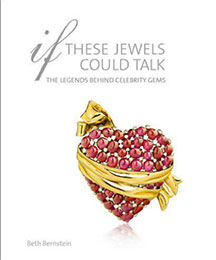 Transcript:
Diving into centuries of antique jewelry can be intimidating for even the biggest jewelry lover, but Beth Bernstein is proof that anyone can find their niche in jewelry history. A collector of sentimental jewelry across several periods, Beth is a jewelry consultant and author of "The Modern Guide to Antique Jewelry." She joined the Jewelry Journey Podcast to talk about how antique jewelry periods are defined; what make a collector a collector; and how to keep antique jewelry in good condition without putting it away forever in a safe. Read the episode transcript here.
Sharon: Hello, everyone. Welcome to the Jewelry Journey Podcast. This is the second part of a two-part episode. If you haven't heard part one, please head to TheJewelryJourney.com to heart part one. Today, my guest is jewelry author, journalist, historian and consultant Beth Bernstein. She is the author of several books. Welcome back. 
Tell us about "The Modern Guide to Antique Jewelry," your most recent book. I was a little put off  because I'm not into antique, but it's very readable and interesting. Tell us about it.
Beth: That was the whole point. I had read so many antique books, because I was given piles of them to read way back when. I have a library full of books on antique jewelry and vintage jewelry. There's really no difference between antique and vintage, which I write about in the book, but antique jewelry is 100 or more years old. From 2022, if you go back 100 years, it would be 1922, but we went up to 1925 because we wanted to get in some of the Art Deco period.
Anyway, I wanted to write it differently than the books I had read, and I had an aha moment in doing that. I was doing tours through seven centuries of jewelry at the Miami and New York antique shows that were produced by U.S. Antique Shows. They knew I knew a lot about antique jewelry, so it was the company's idea that I do these tours. It started out with one tour each show, then it went to two tours each show. Before the pandemic, it was going to go to three tours each show because people kept signing up. 
I took people through seven centuries of jewelry, from the Georgian era all the way through the 70s, from antique to vintage. I would take them to dealers that specialized in those time periods, and we'd talk about it. Then I'd have a Q&A for an hour, which always turned into a two-hour Q&A. Then we'd go to the next tour. People would ask me to take them back to some places and help them pick out jewelry, because I do have private clients. I love dealing with private clients who ask me to find antique things for them. Sometimes they're also at the shows. 
So, the aha moment came when I was doing these tours. I thought, "Oh, my god! I know all these dealers are very trustworthy. They all have different points of view. They deal in different time periods. Why don't I do museum-quality jewelry, but what's on the market today? Not what you can find only in museums, but what's out there today that's sold? Why don't I interview some of these wonderful experts I've been taking people to?" And that made it different and more readable because it was more interactive, more conversational. 
The beginning of the book is how to define your collecting style, and the last chapters are how to mix modern and antique. I did that chapter with Rebecca Selva from Fred Leighton, who's a mastermind of mixing modern, vintage and antique. So, that was really fun. Then there's how to shop an antique show, how to shop at auction. There's a lot of how-tos and advice given. I also brought the dealers and the stores in to give advice, and I didn't stick to just the biggest stores. Of course, I interviewed Wartski in London; I interviewed Fred Leighton and Macklowe Gallery in New York, but I also interviewed smaller dealers like Lothar Antiques, who is at Portobello. It's different companies and it's global. That was the fun of the book. So, it's part travelogue because I interviewed people across the United States, the U.K., Paris, Amsterdam and Belgium.
Sharon: Wow! Did you write the proposal and then go to the publisher? Did they come to you? How does that work?
Beth: I've always written the proposal and gone to the publisher. For this book, I went to my publisher for "If These Jewels Could Talk" because I thought they did a wonderful job. He kept going back and forth. He wanted it to be not so conversational at first. He wanted it to be more like the old antique books he published, because he published a lot of antique books. It's called ACC Art Books. It was Antique Collectors Club originally, but now it's ACC Art Books. Then, all of a sudden, he came around. He was like, "No, we shouldn't do it like that. We should do it the way you originally suggested." It took him a year to come to that. 
Then I wrote it, and there was an eight-month lag after I wrote it because of the pandemic. I wrote it at the beginning of the pandemic and handed it in on deadline, but it took eight more months for it to be published than it was supposed to. That was kind of interesting. People had to be put on furlough, and then there was a paper shortage, and it wasn't getting to the ports on time. When it finally came out, I was holding my breath until it finally came in. 
What I'm hearing from everyone that has read it and reviewed it—I write for Rapaport and Jewelry Connoisseur, and the editor-in-chief of those magazines, Sonia, read it. She said, "I read it straight through because it was so readable. It was like you wanted to keep going." That made me feel really good.
Sharon: And you're working on another book now.
Beth: Yeah, I'm working on another two books right now.
Sharon: Can you tell us anything about those? I said this book was an overview, but it's very specific. It's not an overview like some of the other books I've read on antiques.
Beth: No, it's very specific because it has all different time periods. It's an antique book, so it could only go to the beginnings of Art Deco. Vintage starts after that. So, it was very specific. I did the grand period as a separate chapter because the Victorian chapter was so big. Because, as you know, there are three different periods in the Victorian era. 
Sentimental jewelry is my favorite type of antique jewelry. That's what I collect the most of. That was its own chapter, even though it crosses over Georgian and Victorian. So, I pulled out some things from different periods and made them their own chapters. I also thought alternative materials should be its own chapter. Berlin iron went into alternative materials; rock crystal went into different materials, things that I thought would be interesting on their own and in their own chapters.
Sharon: Did you collect antique jewelry from the beginning, or did you collect all different kinds of jewelry?
Beth: I have collected antique jewelry for the past 25 years. Before that, I wouldn't call myself a collector; I'd call myself a person who wore jewelry I liked, and most of that was by modern jewelers. When I started collecting antique, like most people, I started with the Victorian era. It's easier to understand than the Roman period, which is the first period, and the aesthetic period, which is more fun. When Queen Elizabeth goes into mourning, it's very dark; it's very black. It's called the grand period. It's also where the archaeological revival period comes into play. I think all the things people are redoing today, the crescent moons and swallows and snakes—her engagement ring was a snake ring—I think are pieces with meaning. All those pieces from the Victorian period have meanings that align with flowers. All the different floral motifs have meaning. Those were easy to collect, you could understand them, and they were pretty. So, that's what I started collecting.
Then I went into the Georgian period, not so much the earrings, but the rings. I love Georgian rings. I have a whole collection of Georgian rings. It sits in a safety deposit box. You can't wash your hands with Georgian rings because there's a closed-back setting. During the pandemic, washing your hands so much, you cannot hold them. 
I think you asked me if I have different parameters when I collect antique jewelry compared to modern jewelry, and yes, there are parameters for me. I don't really collect modern jewelry. I buy what I like from modern jewelers, from different designers. Yes, I probably have one, two or three pieces from a collection because I like their design aesthetic. If it's wearable, if it's versatile, if it's made well and goes along with my style, I will buy modern jewelry, but I buy antique jewelry mostly for the character and the provenance. I tend to like jewelry that will appreciate with time, which most antique jewelry will, but also for the authenticity, the rarity and the museum quality of it. I also like sentimental jewelry the best. I tend to stick with those or jewelry with symbolism and meaning.
Sharon: You must have dealers who run the other way when they see you coming because you know so much.
Beth: Actually, the dealers love that because they don't have to explain it to you. You just pick up a piece and you'll ask some questions, but people that don't know anything ask way more questions than I will. Quite frankly, antique dealers and people that own antique stores love talking about jewelry. That's why they're in antique jewelry. They love talking about the age and what it is, if they're honest and honorable like the people in my book.
Sharon: I was reading about how there are so many different definitions of collectors. Somebody in the book, I can't remember who it was, had a longer version explaining who has a collection versus who's a collector. There are so many different definitions.
Beth: I don't think it was a definition between who's a collector and who has a collection. I think there are different types of collectors. One type of collector might collect only for historical reasons and never wear it, like art for art's sake. Other people will combine and collect some things for historic importance. For example, I have some pieces I know are historical and really representative of the time period. I don't wear those pieces that much because I want them in perfect condition. That's kind of for art's sake, but mostly I don't believe you should keep your jewelry in a safe or a safety deposit box. Now, those pieces are in a safety deposit box for that reason. 
Then there are collectors that only collect a certain period, like only the Georgian period or only the Victorian period. I'm a collector of different periods. I love Art Deco line bracelets with the different cuts of stone. I love the lacey feeling of Edwardian jewelry. I love Georgian rings. I love sentimental jewelry. So, I'm a multi-collector of pieces. Then there are collectors who want to wear their jewelry, so they only collect pieces they can wear every day. I don't think it's collection versus collector; I think it's the type of collector, and there are many types.
Sharon: When you said Georgian, that's my first thought. I have a couple pieces of Georgian, which are so delicate. I just couldn't wear them. A Georgian ring, as you're talking about, you can't wear it.
Beth: You can wear it once in a while. You have to be very careful.  Know how you can wear it and that you cannot get it wet. I've gone to shows where I've worn my Georgian rings. I put a bolt ring on a necklace and stuck it inside so when I washed my hands, I put the rings on the bolt ring so I didn't leave it on the sink. That's what I've always been worried about. You have to take it off to wash.
Sharon: That's a good way to do it. I hadn't thought about that. When does somebody cross over from being an enthusiast, which I consider myself? You might say I have a lot, but I've never discovered what I want to collect. I like bracelets, but I don't collect them. How do you cross over?
Beth: I don't know exactly how you cross over. I have two favorite stones, moonstones and rubies, I think because I'm a hopeful romantic. Moonstones are also lucky. They have a lot of meanings, and I love the fact that they change the light. A good moonstone will change the light. It's just magical. Rubies are all about passion, and I love the two together. They're beautiful mixed together, and I can enjoy antique jewelry or modern jewelry. Anyway, one of my first pieces was one of those slag moonstone necklaces from the Victorian period because I love moonstones. 
The second was a turquoise forget-me-not ring. Forget-me-nots have two different meanings. They mean "remember me" from the giver to the wearer, or in mourning jewelry that's all black, they mean the remembrance of somebody that's gone. Mine was a more of a lover's token. I also have a passion for hearts if they're designed well. Not like holiday hearts; more like a double heart with a bowtie. That was a ring I bought from a dealer. It was a Burmese ruby and an old mine cut diamond tied together with a bowtie, which means two hearts together tied as one. Finding out the meaning of these things is wonderful. 
I worked for a dealer at one of her shows, and she said to me, "You don't have to own everything you think is pretty. You can just look at it and think it's pretty. You don't have to own it just because you think it's beautiful." So, I became more selective of what I was going to own, not just because it was pretty. Also having private clients and knowing what they like, I started to buy things to resell, so then I could own them and think they were pretty and then resell them. I didn't keep them for my own collection. 
But I think it's a very fine line between being a jewelry enthusiast and being a collector and the type of collector you are. Like I said, I collect from different time periods. One time period I didn't collect from was the Art Nouveau period, except for some pieces that were plique-à-jour enamel that had romantic sayings because it goes along with sentimental jewelry. I thought it wasn't very wearable until I helped Macklowe Gallery and Peter Schaffer and realized there were different ways to wear them. It was a really good learning experience.
Sharon: I can see why. What do you look for? You say you became more selective. What do you look for?
Beth: Like I mentioned before, authenticity, verity. I don't see it everywhere. There are Victorian pieces that were made during the Industrial Revolution that you can find. They're either exactly the same piece or pieces that are like it that were made by the same maker. You can find the same snake ring by the same manufacturer again and again, even if it's a little bit different. I try and find the snake ring you can't find everywhere. I have five different snake rings. Two of them you can find in different places, I think, but I love them. I kept them because those are the rings you can wear every day. 
Sharon: As your knowledge and your collection, whatever you want to call it, has grown, do you think you curate it more in a sense?
Beth: Yes, I do. I think it's been curated now to be very sentimental, very meaningful. I also love different styles of chains and charms, so I love creating charm necklaces that have different meanings. One will be the travel charm necklace; one will be the love lock and protection necklace; one will be only the protection necklace. When I collect interesting charms, I'll make different necklaces out of them. They'll all be on different chains so I don't have to keep changing it around.
Sharon: Thank you so much for being here today.
Beth: Thank you for having me. I really appreciate it. Hopefully I answered all your questions.
We will have photos posted on the website. Please head to TheJewelryJourney.com to check them out.
Thank you again for listening. Please leave us a rating and review so we can help others start their own jewelry journey.