Episode 173
What you'll learn in this episode:
How Beth became a self-taught expert and collector of antique jewelry
The definition of antique jewelry, and how it's different from vintage jewelry
What separates an enthusiast from a collector, and why collectors have different goals for their collections
How to enjoy Georgian jewelry while keeping it safe
The meaning behind popular Victorian jewelry motifs
About Beth Bernstein
Beth Bernstein is a jewelry historian, jewelry expert and collector of period and modern jewels—a purveyor of all things sparkly. She has a romance going on with the legend, language and sentiment behind the pieces. Her love for the story has inspired Beth to pen four books, with a fifth one in the works, and to spend the past twenty years as an editor and writer on the subject of jewels-old and new. She is a die-hard jewelry fan, so much so that she has designed her own collection throughout the 90s and continues to create bespoke jewels and work with private clients to procure antique and vintage jewelry
She owns a comprehensive consulting agency Plan B which provides a roster of services in multiple facets of the jewelry industry. These include building, launching and evolving designer brands and retail brick & mortar/online shops and curating designer shows and private collections.
Additional Resources:
Photos: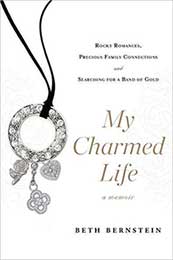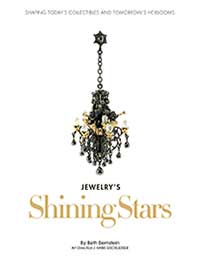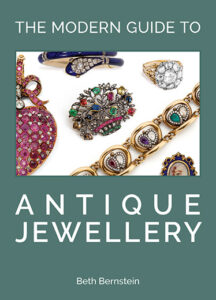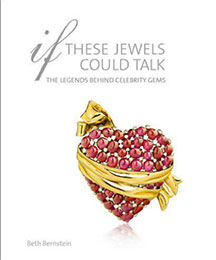 Transcript:
Diving into centuries of antique jewelry can be intimidating for even the biggest jewelry lover, but Beth Bernstein is proof that anyone can find their niche in jewelry history. A collector of sentimental jewelry across several periods, Beth is a jewelry consultant and author of "The Modern Guide to Antique Jewelry." She joined the Jewelry Journey Podcast to talk about how antique jewelry periods are defined; what make a collector a collector; and how to keep antique jewelry in good condition without putting it away forever in a safe. Read the episode transcript here. 
Sharon: Hello, everyone. Welcome to the Jewelry Journey Podcast. This is the first part of a two-part episode. Please make sure you subscribe so you can hear part two as soon as it's released later this week. 
Today my guest is jewelry author, journalist, historian and consultant Beth Bernstein. She is the author of several books including "If These Jewels Could Talk," "My Charmed Life," "Jewelry's Shining Stars" and the recent and very readable "The Modern Guide to Antique Jewelry." We will hear more about her jewelry journey today. Beth, welcome.
Beth: Hi. So nice to be here.
Sharon: It's great to have you. Beth, can you tell us a little bit about your jewelry journey? Did you like jewelry when you were young?
Beth: Oh, yes. My favorite thing was to wear a tiara. Most young girls, I would say, think they're princesses, but I have a cute little story to tell. I had my appendix out when I was six, which is really young to have your appendix out. For some reason, they made me a Frankenstein scar. I hated the scar. Back then, they kept you in the hospital for two weeks. It really was the most horrible scar, so my mom wanted to make me feel like I was beautiful. Back then, Bloomingdale's in New York was the store you went to. So, we go to Bloomingdale's—I always had dime-store tiaras, the plastic rhinestone tiaras—and in the window I see this tiara-like headband dripping with Swarovski crystals. Later I found out my mom described it as the most ostentatious headpiece or even worse than that. 
Anyway, we go in. I'm l like, "I want that. I want that." So, we go into the store, and she pulls over the salesperson. I didn't know this at that time, but I heard the story later on. She said, "Bring her out a lot of jewels. I'll make up a story about this one, but bring her out something for her age, like a little tiara-like headband thing." She said to me, "I have to tell you something the salesgirl just told me. The tiara you love is reserved for a duchess from a faraway land." I went, "Oh, my god, I have such good taste," and she said, "You have royal taste, right?" From then on, I believed I had royal taste, and I got a pretty seed pearl headband, quite advanced for my age. 
I've loved jewelry ever since I was young. My mom wasn't a big jewelry fan, but my grandmother was. My grandparents didn't have a lot of money, but she saved, and she'd go to secondhand stores. I think they were like pawn shops. She'd find these gorgeous Art Deco jewelry there, and she'd get them for a great price. She had some faux and real. I would go over to her house, and she'd let me stay up way past when my mother would let me stay up, and we would watch a Late Movie. Most people don't remember the Late Movie, but it had movies like To Catch a Thief and Breakfast at Tiffany's, and even melodramas like Madame X and Back Street. I would watch all these wonderful movies, Marlene Dietrich movies, and I loved the jewelry. So, we'd dress up in jewelry while we were watching the movies. She'd pour ginger ale in champagne glasses, and we'd drink like we were drinking champagne. The next day we'd go out and buy the jewelry at Woolworths, the five and dime, like we saw in the movies, but for 10 cents. It was all plastic and rhinestone jewelry. It was a lot of fun. So, yeah, I've always loved jewelry.
Sharon: Would you say that's why you started liking jewelry? Because of the tiara and dressing up with your grandmother?
Beth: Yeah, and the movies. I was always very into movies, which is why I wrote "If These Jewels Could Talk." It connects the celebrities in the movies to the back stories. I'm as much of a jewelry geek as I am a movie geek. I think it was the fun and the glamor of it as a kid. I'll be very honest; it was at a time when I was probably eleven and my parents started talking about divorce. They got divorced when I was 13. So, it was a time in my life when I needed something to escape from all of that. It was a good escape to get into the glamor of those old movies and the jewelry. When I was six, having my appendix out and having that horrible scar, putting that thing on my head actually did make me feel pretty and like a duchess from a faraway land. I did start believing I had royal taste. 
Sharon: That's funny. I've heard several people say they liked tiaras when they were younger. I'm not sure I knew what a tiara was then. As you got older, did your education bring you to jewelry?
Beth: Not really, because I was an English major and a psychology minor. Basically, I was writing poetry and short stories, wanting to be the great American novelist and poetess. I was doing really well in school. I was going to Boston University. I had some poetry and short stories published, and I was editor of the literary journal. My father owned textile mills in Italy and my mother, when she went back to work after my parents got divorced, became a senior vice president of a huge sportswear company. There were fashion and textiles in my blood. So, I was going to school, and my father said, "I'm not going to support you while you're a starving writer trying to write poetry or a novel. Write about what you know. Write about fashion." I said, "Absolutely not," even though I love fashion. But then I did start writing about fashion. 
My first story was actually for McCall's magazine about rust-proofing your car, because I was a non-fiction assistant editor. I got turned down from Condé Nast and Hearst because I didn't type enough words a minute. I was typing on a regular typewriter, and I was just under. But McCall's didn't give you a typing test, so that was my first job. After McCall's magazine, I started working as a freelancer. I wrote about fashion. I also styled fashion shoots, but my favorite thing to style was jewelry and, for some reason, shoes. When I went to the big houses in New York, like Carolina Herrera and Oscar de la Renta and Donna Karan, I loved to see what jewelry they were going to sell with their collections. Eventually, I continued to write about fashion for a bunch of magazines. 
Then, all of a sudden, I came up with an idea for a jewelry collection. Prior to that, I also became a wardrobe stylist for TV. I styled for MTV, Showtime, Comedy Central, all the cable channels. While I was doing that, because of all my contacts in jewelry through styling and by writing about jewelry and fashion, I had a sort of a collection. So, I knew who to go to to put the collection together. I went to this one company where I was very good friends with the owner, and he said, "Oh yeah, it's a great idea. I think it would sell great at Henri Bendel." This was when Henri Bendel was really cool. So, I thought it would be a collection for Bendel. He helped me put it together, because I didn't know about castings and all that kind of thing. It sold at Bendel. Then a friend of mine, who was an actor and a comedian while I was in wardrobe styling, said, "Why don't you start your own jewelry company? You have really great ideas," and I said, "You know what? O.K." That was how my life went. I was like, "O.K., I'll go from fashion into wardrobe styling then to jewelry," because I really did love jewelry. 
Sharon: You were designing it, too. Wow!
Beth: Yes, now I'm designing it. I started a small collection, and it sold to over 250 stores. However, I was selling to Barneys New York, Beverly Hills and Chicago and Barneys Japan, but that was Barneys first Chapter 11. They owed me a ton of money, and I didn't know how I was going to produce for the other stores. So, long story short, they owed me a ton of money, but they kept us all in the stores and paid us up front to keep going, but we never got the money they owed us. I was really stretched to the limit because I literally wasn't making any other money. 
So, I started writing about jewelry because I knew more about it. Now, I knew about casting and setting and how to do waxes and all that. I wasn't doing it, but I knew all about that, so I started writing about jewelry for magazines I had worked with and other people in fashion had recommended. I was also very good at revamping magazines, making them more modern and into the future. So, I started writing while I was also designing jewelry. That's how it all happened. 
With Barneys, I got 30 cents on the dollar. Six years later, which is when I finally closed my business—back then, they rarely liked independent designers. There was only so much money to be made. I made so many mistakes with reps. A jewelry designer who was very smart said to me, "The worst thing that could happen to you is not having your own name on a collection," and I said, "No, the worst thing that could happen is not having a volume, because I've been writing all my life." He said, "So, you have the answer. Go design for these big designers. Get paid well and keep your bylines. Keep writing." That's exactly what I did. 
Then I decided it was the smaller designers that needed my help. So, I started my own company to help small, independent designers with marketing, merchandising design and writing their press kits, as I was still writing for magazines. I'm answering you before you're even asking me a question.
Sharon: No, this is free form. Go ahead.
Beth: Basically, while I was doing all these different things, I started to collect antique jewelry. I had this feeling for antique jewelry. I love the idea of old mine cuts and the old rose cut diamonds. I didn't like a lot of bling or sparkle. I love the meaning behind Victorian jewelry. As I was collecting from the dealers, I was learning little by little. There were a lot of jewelers in New York back then. 
Eventually, I picked out a ring in the case at an amazing Madison Avenue shop, and she said, "It's one of my favorite rings in the case." She and I had just met, and she's since passed away. I usually dedicate my books to my mom or my grandmother or both. My mom passed away young, and my grandmother lived until 97. They were the real inspirations in my life, but I dedicated "The Modern Guide to Antique Jewelry" to Hazel Halperin because she taught me so much of what I know. 
When I picked out the ring, she said, "It's a favorite in my case. I do layaways, so you can pay it off." I'm like, "Great." Then she said, "Do you want to come work for me?" and I said, "You don't know me. How do you know you can even trust me?" She said, "I know I can trust you. Every ring you picked out in the case is my best ring. It's like you have an eye for this." She gave me books to bring home every weekend to read. I went to work for her on weekends. I was working seven days a week doing writing for magazines, still some consulting work, some custom work, and working for her, learning about antique jewelry on weekends. That really helped me learn how to collect antique jewelry. Through her, I was able to go to the big antique shows and meet other dealers, whom I still know to this day. A lot of them are still alive and are quoted in the book, because I've been dealing with them for 25 years. That's how that came about. 
Sharon: Did learning how to collect antique jewelry help you learn how to collect in general, or was it only antique?
Beth: Only antique. Because I designed modern jewelry, I knew what I liked about modern jewelry. With antique, she taught me things to look for, like if something was repurposed, if something was put together, like if the shank was added later than the actual front of the ring. She taught me a lot of different aspects about antique jewelry. She taught me about the time periods and how to identify them. She taught me so much, and the books she had me bring home to read taught me a lot, too. She was a wonderful teacher. She'd always throw in a little story about my life as it was at that time, and how dating would relate to some jewelry stories. She was funny and I just loved her. She really helped.
Sharon: Was she your inspiration? She was an inspiration for the antique jewelry book, but was she an inspiration for your other jewelry books, like "My Charmed Life"?
Beth: Well, "My Charmed Life" isn't a jewelry book. It's a memoir. It's called "My Charmed Life." Penguin published it in 2012. I'll tell you about why it's called "My Charmed Life." It's "My Charmed Life" and the subtitle is "Rocky Romances, Precious Family Connections and Searching For a Band of Gold." I was writing a memoir. It was a bit different because I also wrote first-person essays for women's magazines on dating, relationships and family. They always had to have some humor, so I knew that anything heartfelt also had to have a bit of humor. If it's grief, it has to have humor. So, I learned the combination of doing that, and I love writing those kinds of things. So, I was working on a memoir, and I kept hearing the word, "Platform. You need a platform." I thought, "I have a platform in jewelry, but that's not going to work with this memoir, so I need to change it up a bit." So, I connected different pieces. 
Every chapter starts with a piece of jewelry. There's love beads. There's solitary rings. There's the Claddagh ring from when I was going out with the Irish guy. There were a lot of different chapters. It was all metaphor for what I was talking about, and that was chapters from a young age up to age 50. It wasn't really about the pieces of jewelry; it was about what was going in my life and the jewelry related to that. People call it a jewelry book, but it wasn't. When you start reading it, you'll realize that it's really a book about life. It's universal. It's about parents divorcing, parents dying young, family relationships, relationships with nieces and nephews, being single when your younger brothers have kids, and all these different things women can relate to. What links do you like more than jewelry? It's the mosaic ashtray you make for mom in day camp that she still kept, or when she got divorced, how she traded in her Jackie O. pearls for love beads, which were my love beads. She was wearing my love beads because she was a young mom who got divorced. It was the 70s and she wanted to be cool. So, it was all about that. That was the first book.
The second book was about emerging modern jewelers who I got to know from consulting and writing about them. I wrote about 38 designers who I thought really had it. These days, the market is saturated with modern designers. Stephen Webster was an amazing designer. I thought, "Who can write the forward for this book?" I went to Stephen because we were friends, and they knew he'd do a great job because he was once an emerging designer himself. He was funny, and he had all that heartfelt humor. He was a bench jeweler. He wrote a great forward. He said, "You're going to have to really fix this up," and all I had to do was fix one word that I didn't think was right because it was very British, and I didn't think everyone would understand. Stephen had to fix one word. It was such a great book.
The next book was "If These Jewels Could Talk: The Legends Behind Celebrity Gems." That was about the stories behind celebrity jewelry and celebrity jewelry houses, like Van Cleef & Arpels, who made the jewelry for celebrities and films, and how the jewelry helped character development. I was very into the films, as I said. One of my friends said, "You wanted to write that book 20 years ago." I said, "Yeah, I did," because of my geekiness about film and because I could remember every line in certain films I loved.
I learned more about who owned the jewelry as I was writing the book. Back then, a lot of the big stars like Marlene Dietrich and Grace Kelly—when she was Grace Kelly and before she was princess of Monaco—wore their own jewelry. Joan Crawford wore all of her own jewelry in films. Elizabeth Taylor wore her own jewelry in certain films. When it came to awards shows, when they were televised, they wore their own jewelry. It was really interesting. I loved writing that book as well.
And then here we are with "The Modern Guide to Antique Jewelry." I'm not only writing a book about antique jewelry, but I think—once again, I'm going on without you asking me a question. 
We will have photos posted on the website. Please head to TheJewelryJourney.com to check them out.
Thank you again for listening. Please leave us a rating and review so we can help others start their own jewelry journey.