Episode 171
What you'll learn in this episode:
What's included in the Jill and Byron Crawford collection that will be auctioned by Bonhams on November 10th, and how they developed such a sweeping collection
Why buying jewelry at auction is one of the best ways to find real treasures
Tips for first-time auction buyers
Why working at an auction house is the best jewelry education
How collectors determine it's time to say goodbye to a piece
About Emily Waterfall
Based in Los Angeles, Emily Waterfall is the Director of the Jewelry Department for Bonhams Auction House. With over 16 years of experience, Emily is responsible for business-getting, client development, appraisals and sourcing property for jewelry sales in Los Angeles and in New York.
Emily began her career as an intern in London at an auction house where she caught her first glance of exquisite things in 2004. Once completing her internship, she worked in New York as a jewelry cataloguer for a leading international auction house for seven years working on several important jewelry auctions including the jewels of Kelly and Calvin Klein, Eunice Gardiner, Lucia Moreira Salles and others. Prior to joining Bonhams, Emily worked for a prominent jewelry buying firm based in Atlanta, GA from 2012 to 2018.
A native of San Diego, CA, Emily graduated with an undergraduate degree in Art History from Brigham Young University and has completed courses at the Gemological Institute of America and published articles in the American Society of Jewelry Historians newsletters.
Photos: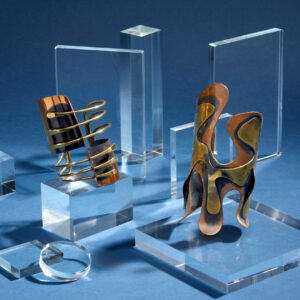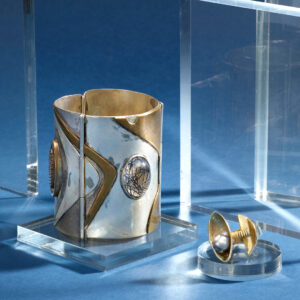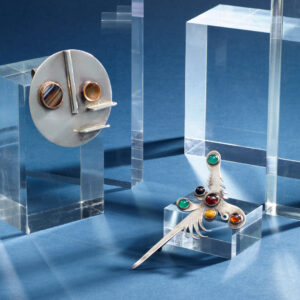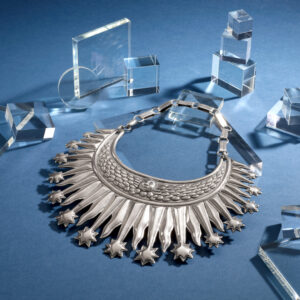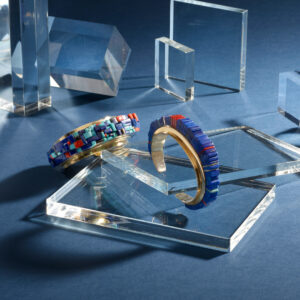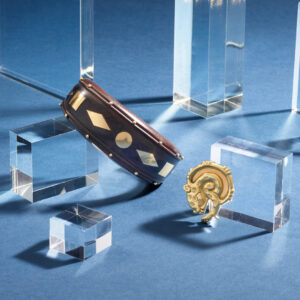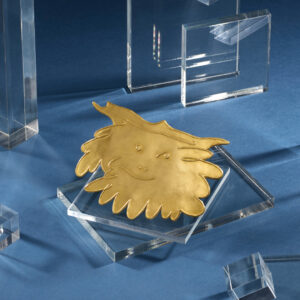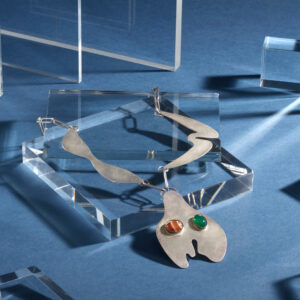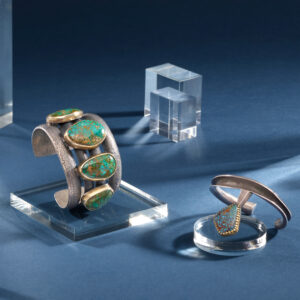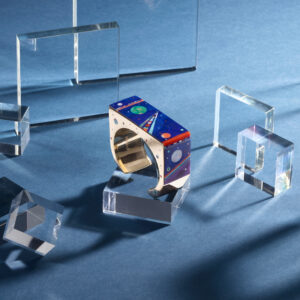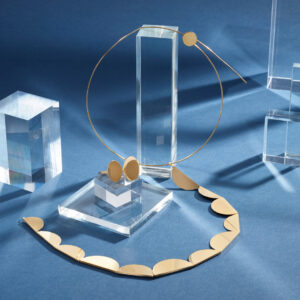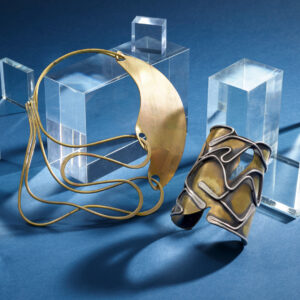 Additional Resources:
Transcript
Auctions can seem intimidating to first-time buyers, but they are the best way to get a deal on a true, one-of-a-kind treasure, and auction house staff, like Emily Waterfall, Head of the Jewelry Department at Bonhams Los Angeles, are there to help buyers through the process. Emily joined the Jewelry Journey Podcast to talk about what to expect at Bonhams' upcoming auction of the Jill and Byron Crawford collection of artist jewelry; the most impressive pieces she's seen during her career; and how collectors can enter the world of auctions confidently. Read the episode transcript here.
Sharon: Hello, everyone. Welcome to the Jewelry Journey Podcast. This is the second part of a two-part episode. If you haven't heard part one, please head to TheJewelryJourney.com. Today, my guest is Emily Waterfall, who is head of the jewelry department in the L.A. office of the auction house Bonhams. Welcome back. 
Tell us more about this auction coming up. You're previewing online. How do you handle everything? If you're the auctioneer, how do you handle it when—this is one reason I'm a little frightened by auctions, because there's the bid on the line and there's yours, and there are about five different people from all over the world. How do you handle it? Could I have a chance, basically, is the question.
Emily: Absolutely. There are various ways to bid. You can register a bid online. You can bid on our app. Maybe you have a busy day and you're running around. You can register to bid on the telephone on the Bonhams website, or you can leave an absentee bid. I get carried away at auctions. I'll do an absentee bid when I want to put myself on a budget and say I will not spend above this, regardless. That's a fantastic way. Or come and bid in person. 
Nowadays, we are very digital. Most people are bidding online. The days of auctions being full and everyone dressed to the nines are kind of over. Now, we're more online based. I'll be auctioneering, and I'll have bids from absentee bidders; I'll have telephone bidders; but I see a lot of activity online. It's funny to me, because I always say when I'm auctioneering, "I see you out there." I don't see them, but I know they're online, and I want to give them presence because they're just as important as any bidder in the room. I hope that explains that.
Sharon: Yeah. You say, "I see you out there." Do you have a computer? Is everybody on a computer, and you can see that this person has bid five times and their name? How does that work?
Emily: Everyone has a paddle number, like you'd have if you were in the room. We see those paddle numbers bidding on a computer screen in front of us, so I can track this person's bid a few times. Maybe we have a new bidder entering online. It's fascinating. For me, I love every second of auctioneering. It's exciting to see who's going to jump in and bid, and sometimes it's really nerve-wracking.
Sharon: Do you get flustered? When you say nerve-wracking, do you get flustered?
Emily: Absolutely. There are moments when I feel like my heart is racing. We all make mistakes, so I try to brush those off because it's a pretty intense moment. We have to give ourselves some grace, but in general, we're well-trained. We all go through very similar training, and it takes years to perfect the craft of it. 
Sharon: What kind of training do you go through to become an auctioneer?
Emily: It depends on your house. Everybody's different. They have their different styles of training, but you usually go through an intensive training where you just practice auctions over and over and over. You have people come in and observe you. They record you. You can see if you have any weirds ticks or anything like that. It's an interesting process. Then you're given an opportunity to start selling, but for short periods of time and just to start practicing. It takes years. It takes years to feel the flow and the energy of it, to know what to anticipate, to know how to engage an audience. We also have to engage them. So, there are a lot of layers to it.
Sharon: If a piece comes up and you know the history, will you say, "It comes from the collection of X, Y, Z, but the history is that they bought it in Mexico 40 years ago"?
Emily: I typically just say which estate it's from. We like to mention the provenance, but we definitely don't do anything historical. At that point, everyone who's bidding has heard me singing its praises, so we just notate the important provenance and that we're so excited to sell it, and then we go on to sell it.
Sharon: I have a friend who's really big on getting a deal. I don't feel so much like that. I feel like you're getting something one of a kind; there's not another one. Is it because it's one of a kind that people should be participating in auctions? I realize dealers sometimes do it for a deal, but why do you think people should participate in auctions?
Emily: There are all types of buyers at auctions. I think it's just particular to your taste. Absolutely, it's a great value. I cannot argue that enough. Jewelry at auction is substantially less than retail. We're determining the market daily, but what I'm covering typically has not been seen on the market for 20 to 40 to hundreds of years. It's the time to find true treasures. We have a lot of repeat buyers in every sale, and I love to see what they lean towards, what they love and want to buy. It shows me their personalities. We all have a different item that might our eye, right?
Sharon: Right.
Emily: And it's the hunt of it; it's the excitement of the auction. I think a lot of different things bring people to auctions, but we're uncovering property that genuinely has not been on the market. That's the best part of it.
Sharon: You can do that because people call you and say, "Hey, my grandmother died and she left all this jewelry I have no interest in." I bet you get a lot of those today.
Emily: I do. I wish I remembered this quote. There's something about how the new generation foolishly laughs at the past. It's interesting; there are always amazing collections that the next generation has no interest in. It happens often.
Sharon: That's true.
Emily: So, our job is to help protect that story, sell it well, promote it as well as we can to help the family. Our job is to help people. It's funny; a lot of people forget that. Our job is actually to work for the consigners, to help them and make the most amount we can for them.
Sharon: It's interesting, too, when you say that about the past generations. It's so amazing to me that people didn't like Art Deco or Tiffany and were like, "Where's the garbage can?" 
Emily: I think they should adopt me, all of them. I love history. The history of jewelry to me is the most fascinating part of this job. Every generation has its own amazing personality to it, and we have to learn how to appreciate that. 
Sharon: How is the history the most fascinating?
Emily: I love the stories of who owned it. I love the stories of how it was acquired. I love the stories of the makers and the periods of time that they were made. Jewelry is hand in hand with cultural events and fashion. Everything has evolved together. Jewelry has not been in a bubble by itself; it's a reaction to what's going on globally, and every area has had different events occur. 
Jewelry, to me, embodies artistic expression, and I love different periods of expression. Studio jewelry art was amazing when it was coming out because everyone was reacting to boring diamond jewelry. Then again, French Art Deco was very much a reaction, and the amazing results of creative thinking were happening together from poets and artists, interior designers and architects and jewelry. It's all hand in hand, and that to me is extraordinary.
Sharon: People can look at jewelry and say, "Oh, it's so dated," but you can look around the corner, let's say. Can you see what's next? Do you identify it? You don't have to say it, but can you identify what's next when you look at pieces?
Emily: I can't find out exactly what's next, but to me, it's funny that yellow gold is king right now, whereas 15, 20 years ago, it was all white gold platinum. Again, this is the generation shifting from what their mothers had or what everyone was wearing. Tastes are changing, so it's always evolving. I think there's room for all of it. I don't think anything should be neglected, because anyone who is expressing themselves expresses their view differently. It might be a chunky, 80s Bulgari gold necklace, or it might be a Graff perfect diamond necklace. Everyone has their different view of expression. 
Sharon: It's interesting; there are some pieces I'll avoid because I remember they were all trying to get rid of it 40 years ago, and now it's the hottest thing around.
This auction that's coming up on November do you have a favorite?
Emily: I don't think I can pick a favorite at all. To me, it's a great collection across the board. It's this idea that it's not about the monetary value of what's constructed; it's more about the theory behind it and what was made. I have some pieces by Claire Falkenstein which are really interesting. We have some great Zuni Tunes pieces, which are wonderful, magical, Disney-inspired rings, quite a large collection of those. I'm excited to be selling those, and that in particular I'm going to have my eye on. Then I have Spratling and Pineda which I loved selling. Some Jensen—
Sharon: So, Claire Falkenstein, the artist who did some jewelry. 
Emily: Yes.
Sharon: You're selling some of that. O.K. And then the Disney rings, you said Zuni Tunes?
Emily: Zuni Tunes.
Sharon: Were they made by Disney or by different makers?
Emily: No, this is Native American. This is made by Native Americans selling on the side of the road. These are interesting pieces. We see them on the secondary market. We've not had any international auctions, so this is our first attempt, and I'm really excited about them. They have a wonderful collection of Zuni Tunes. So, for any Zuni Tunes collectors out there, please contact me. I'm so excited to sell them.  
Sharon: You said William Spratling and Antonio Pineda?
Emily: Yes. I'm just looking at my list now. Los Castillo, Aguilar. It's quite an amazing collection of Mexican silver. One private collector in particular is a wealth of knowledge. I can't mention the name. I wish I could, but a very important buyer in that world is now selling their collection with me, and I'm honored to be selling that.
Sharon: Why would somebody sell a collection if they've spent years putting it together?
Emily: I think it depends on if we're wearing it, if it has use to us. They might have moved on. It's not ours to say. It's all per collector and where they're at. Like you were saying, there are some pieces you are willing to say goodbye to. This time, this client is prepared to say goodbye. 
Sharon: That's what I'm talking about with the hidden stuff. You mentioned a person in Orange County, which is not so far away. How do you find out about these things?
Emily: A lot of times people are recommended, which I'm honored by; I love those referrals. A lot of people saw how well we did with the Jill and Byron collection last October, and we are selling some pieces just because of that sale. We were contacted because it did well on an international market.
Sharon: Was that the first international modernist sale, you said?
Emily: It was for us. That was the first sale, and I believe that was the largest single collection to come to markets internationally at any house. It was an extraordinary event. We definitely broke records for certain artists like Betty Cooke. We had great sales for Native American of Laloma and Monongya and Spratling. Across the board, we commanded very high prices for some of those pieces. It was wonderful.
Sharon: As a buyer, I could understand that. If it's a Spratling, there's only so much Spratling around. I'm just using that because he's a known name. You say there's great value. Is there value because it's one of a kind? Is it something that a normal person on the ground should consider? What should I consider, and do I have a chance?
Emily: You absolutely have a chance. It just depends on how many people are interested in that one lot. If you're the only buyer, you're going to get it at a fantastic price with little competition, or there will be quite a bit of people bidding against you and you need to be prepared to fight for it. Every lot we don't really know who's going to be interested and who's going to bid until the auction starts, but it's absolutely worth fighting, hands down. My best advice is to be prepared, know what number you're going to spend, and just go for it. How exciting! It's a great story to tell when you wear it. You can say, "Oh, I bought this at auction." It's a great conversation starter, and jewelry sparks a lot of conversation. 
Sharon: I've only really looked at auction catalogues and online. Is it something where, if I talk to you or the specialist, you could say, "There's been a lot of interest in this piece. I've had a lot of calls about it," or "You're the first person I've talked to"?
Emily: We don't typically talk about interest because obviously we try to keep people's interest private, but we can say to you the importance of it. We can talk about it. Sometimes they're not one of a kind. With Spratling, there are several versions of some designs. So, we can speak on that for you. 
We can advise you, not necessarily on how much to spend, but what to anticipate. Our job is to be helpful. Our job is to help guide you through it. We can be on the phone with you and cheer you on, be with you, and make sure we don't let you go over a certain amount. We can be your buddy through that part of it. 
Sharon: Is it best to go through Bonhams for an auction, or is it better to bid online? There are usually about five different places.
Emily: We love it when people contact us. We want to be helpful and answer questions you might have. Some people are being honest and just want to bid online, and that's fantastic. Honestly, there are multiple ways today, but always ask an expert your questions. We definitely don't want buyer's remorse. We want to help you through the process and make sure it brings you joy. It should be a great experience.
Sharon: For example, let's say I won the piece. Then you wrap the piece up and send it out? What do you do?
Emily: It depends on what you'd like to do. You can either pick it up from us at our office, which we love—we love to see what people bought—or we can do shipments. There are all sorts of ways we can make it happen.
Sharon: What do you want to accomplish with the preview at Art Jewelry Forum on October 4? It's online. What do you want to do?
Emily: I want to express the breadth of all the amazing jewelry we have, let people know about it and discuss certain areas of it that are of interest. It's letting people know what we have. That's the most wonderful part of it, speaking to the importance of it. Again, I have an art history background. I know a lot about fine jewelry. I've been fortunate enough to have some phenomenal mentors in my crew, but art jewelry, to me, is a new market in terms of international recognition. I think it's time for it to be considered as valuable. It's time for it to be on the market on a regular basis. There are buyers all over the world for this, and I've seen that first-hand.
Sharon: Because art jewelry means so many different things to different people, are you talking about—is historical art jewelry different than Manfred Bischoff, who's still alive? What are you talking about?
Emily: It's across the board. It encompasses quite a large audience, being from different areas geographically, different time periods. I would like to encompass all of it. I would like it to be its own entity for auction and have regular sales and have property coming up for sale, because sometimes they're hard to find. It's a little more of a hunt. I would like to have artists that are here and artists of the past. I'd like to encompass all of it.
Sharon: Do you think Bonhams is pursuing art jewelry, in the sense of becoming the house you go to?
Emily: I'd love that, but I realize there's room for everybody. We tested the market last year. We saw a great response. This year, we already had a Clifford Mexican silver sale. I think we're just starting to step into the ladder of it and see what it is. I hope it evolves to where people choose Bonhams, absolutely. 
Sharon: What is my next step? If I am listening to this, what would the next step be for somebody like me? Do I go online to your site or go online to place a bid? I've never done anything like that. What would somebody do?
Emily: Yes, go to Bonhams. The sale will be published online around October 4. So, go on there and just shop. Look and see what you like. Contact us. All our information will be available for you online. See what you like. We aren't printing catalogues anymore. I've noticed that people that are very savvy to jewelry are looking on their phones, their iPads or computers. We'll have additional shots of the items. We'll have model shots so you can understand size and scale. From there, you can register to bid. And always ask us, the experts, for that sale. We want to help you. 
Sharon: I'm laughing because when you say it's online, who looks at a computer? I do if I'm at my desk, but I'm on my phone on Instagram. Some of the auction houses promote their auctions on Instagram. It's the only way you hear about them sometimes. 
Emily: Absolutely. Everything's now really digital, which is great because it gives us more room to reach out to more people. I love looking through attractions. I love looking at different angles of the piece, looking at model shots, reading the descriptions. It's very enjoyable.
Sharon: I bet it would be. I'm always surprised when there's only one angle of a piece showed. You're like, "Where's the back?" 
Emily: For modern studio jewelry, you need to see signatures. The signatures really matter. So do different angles, understanding scale. You want to know how that necklace will fit. You want to understand the scale of a brooch or a ring. You need to see it in proportion. That's very, very important.
Sharon: Emily, I really appreciate you telling us about all of this today. I will remind everybody that the auction itself is November 10th. It starts Los Angeles time, or does it start New York time?
Emily: Los Angeles time. It starts at 10:00 a.m. Pacific Standard Time.
Sharon: And it goes until everything is sold?
Emily: Yes, until the very end. 
Sharon: You have your work cut out for you. Then on October 4, I don't know about the other previews, but for Art Jewelry Forum, if you go online, you can sign up there. It's free. Thank you so much for being with us today. We greatly, greatly appreciate it.
Emily: Thank you so much. I loved all your questions today. It was great speaking with you.
Sharon: Thank you so much.
We will have photos posted on the website. Please head to TheJewelryJourney.com to check them out. Thank you again for listening. Please leave us a rating and review so we can help others start their own jewelry journey.