Episode 169
What you'll learn in this episode:
Why Native American jewelry has struck a chord with Australian shoppers
Why jewelry is so important to Native American cultures, and the history of jewelry making in the Southwest
Which characteristics to look for in distinct varieties of turquoise
How to make the most of a trip to Indian Market
Which Native American jewelry artists are ones to watch
About Jennifer Cullen
Jennifer Cullen is the owner of Four Winds Gallery, a jewelry gallery in Double Bay, Australia that focuses on jewelry of the American Southwest. Established in 1981, Four Winds boasts a collector's standard of traditional and contemporary North American Indian jewelry, pottery, sculptures, graphics and textiles. The gallery is the culmination of a long-term interest and passion for Jennifer. 
Photos:
Vintage turquoise cluster and Perry Shorty conch belts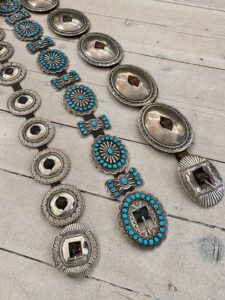 Blue Turquoise Navajo vintage jewellery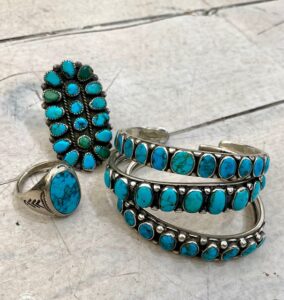 Contemporary shell and fossil ivory jewellery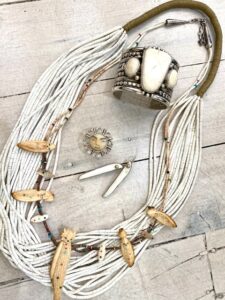 Historic green turquoise pueblo beads with joclahs and Navajo turquoise cuffs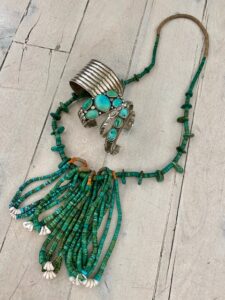 Vintage coral and navajo silver squash blossom necklaces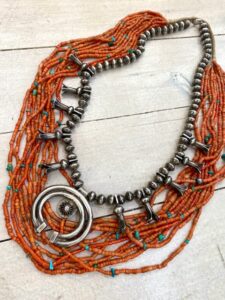 Additional Resources:
Transcript:
The suburbs of Sydney, Australia might be the last place you'd expect to find a Native American jewelry gallery, but that's exactly what makes Jennifer Cullen's Four Winds Gallery so special. After a lifelong love affair with the jewelry of the American Southwest, Jennifer opened her gallery in Double Bay, a Sydney suburb known for its high-end shopping. She joined the Jewelry Journey Podcast to talk about the history behind Native American silversmithing; how she educated Australian collectors about Southwestern jewelry; and why turquoise is the most personal gemstone. Read the episode transcript here. 
Sharon: Hello, everyone. Welcome to the Jewelry Journey Podcast. This is the second part of a two-part episode. If you haven't heard part one, please go to TheJewelryJourney.com. Today, my guest is Jennifer Cullen of Four Winds Gallery, an unusual jewelry gallery located in Double Bay, Australia. Welcome back. 
What about coral? You have the reefs there, and there's a lot of coral in Indian work, but I hear it's becoming very hard to find now.
Jennifer: We have no coral in Australia to work with. It's protected, and we have a lot of trouble with—what is it? The crown-of-thorns starfish. They're doing a lot about coral beds on the northeast coast of Australia, with all that big, beautiful coral. They're doing a lot to maintain that at the moment. All the coal that has been historically worked into North American Indian jewelry was traded in by the Spanish originally, so it's all Mediterranean coral. The earliest coral strands in the 1800s were drilled and rolled strands of beads that they would wear around the neck with cotton sinew or twill, or whatever was strung through the center of it. And there were webs of coral. They would wear ropes of heishi done in clamshell. Later on, as they got better equipment, there was turquoise heishi and jet heishi. Heishi is the traditional word for a handmade, small bead. 
Originally the coral was traded. The Native American groups loved the color. They had previously found their ability with color by working with the spiny oyster shell that comes out of the Gulf of Mexico. The spiny oyster shell comes in colors from reds similar to coral into purple and intense orange, like an Hermès orange. It's a beautiful color. I actually have a lot in my jewelry because I love it. I sell a lot of it here, and I wear a lot of it. I love the orange. I've always had a passion for these oranges and reds and purples. People in the Southwest embraced it pretty rapidly and started to incorporate it into their jewelry findings and body adornment. So, in the 1800s, it was works of coral predominantly. 
Then they started to learn how to work silver. That didn't start until about 1868. Prior to 1868, there was very little in silver. They actually started by heating up copper and brass cooking utensils. They were soft materials that were exposed to them by the soldiers and the Spanish and the Mexicans, and they'd make it into jewelry findings and body adornment. Then they discovered silver, which is found in the Southwest of the USA, and they started to make that into metal findings to house the stones. That was the process. 
When chatting at length with another one of my mentors, Lori Phillips, she used to talk to me a lot about the development of American Indian jewelry, history and development. She was a big dealer and collected from Pasadena in California back in the day. I was very close friends with her. Anyway, she taught me a lot. They started setting coral into silver vessels and housings and cabinets in about the early 1950s. There wasn't a lot of coral set into jewelry, other than strands or ropes of coral beads, prior to 1952. So, finding the odd piece of jewelry that did have a bit of coral in it is a very unusual thing. 
Generally, most of the coral still comes from the Mediterranean. It's traded in now by different dealers. It's become very expensive and sought after because they're protecting the coral beds in Italy. It's getting harder and harder to get it. 
Sharon: It's harder, yeah.
Jennifer: Yeah, but it's not Australian coral at all.
Sharon: You're so knowledgeable. Do you put on educational seminars besides flying in artists?
Jennifer: We used to write articles here in Sidney for the Antiques and Art Galleries Magazine every quarter. There were some pages of photographs and examples of things. Probably about seven years ago, when the paper folded and everything went digital, that's when we ended up with the New South Wales Art and Antiques Magazine. Maybe it went down into Victoria as well and Melbourne south of us, which is not a big town, but it's a cultural center. So, I used to write articles. I have been meaning to put together all those articles I wrote for so many years and so many editions of the Antiques and Art Galleries Paper in New South Wales and compile them into a book. That's on the to-do list. I haven't gotten around to doing that yet.
I used to do talks occasionally at clubs or different places where women would want to be spoken to about wearable body adornment. I did some radio interviews with Dan Kotch back in the day. He's a finance and investment guy who does radio interviews with people to talk about things that are considered good investments, that hold their value and appreciate over time, which jewelry does. Up in the Blue Mountains I did some talks. I was invited to talk to groups of artists that lived up in the mountains who did various forms of artwork. They wanted to hear about American Indian art in general, the textiles, the jewelry, the pottery making, how it was done. I've also done interviews with a local radio station here. They invited me to do a few talks on their Sunday afternoon program about jewelry. So, I've done a fair bit. 
I've done fashion magazines, Vogue and Harper's Bazaar and different things. I've done photoshoots of my jewelry over the years, where they've wanted to show unusual artwork. They often use it in their fashion shoots. They borrow jewelry and put it in their fashion shoots and give credit to the gallery, but then they'll ask me to write some information about the gallery and what's it all about, and then they'll put that into the magazine. Women of Individual Style was a thing that came out one time, and I was asked to be a part of that one issue. They talked about me and how I dressed and all the body adornment I wore and how I put it together. So, over 40 years, there have been quite a lot of things I've been asked to do. I haven't actually written a book and I haven't organized a group of talks. I probably could, but running a business, having staff, trading pearls, going on buying trips, organizing four exhibitions a year, it's a lot. You do the best with the bulls that are the most important for you.
Sharon: No, I understand. You have a lot of time left to do that. 
I've never been in the Indian Market. I've always wanted to go, but I've been scared off by the crowds. 
Jennifer: It is hectic. It is very hectic.
Sharon: Yes. You say when you come back, you have a buying exhibition?
Jennifer: Sure. I'm over there, often Instagramming things I'm finding and putting it on Instagram just to show people things I'm finding while I'm away. Then, when I get back, I have to ship everything home to Sidney and we go through it. We take a nice photograph of it, like a postcard, and I send it out. I have some 5,000 people on my mailing list. So, I send all my clients a huge postcard of beautiful jewelry. I'll have an odd, old carving in there or something to make it look beautiful. I send it out and say, "Hi, that's my latest buying trip. We'll be having a champagne opening"—it's usually the second week of September on a Saturday—"Please come see the collection, or you can view a lot of it online or you can email me." My clients look forward to that because they're not all traveling to Santa Fe and the reservation, so it's as close to it as they can get.
Sharon: Absolutely. Where else are they going to get it, unless they go to Santa Fe?
Jennifer: And even then, you're so overwhelmed. There's so much product over there. All of it's handmade by Native American artists. It's a crazy time to do it with a lot of shops. It's hard to find good quality material that's authentic as well. But a lot of my clients do end up going on a holiday over there and want to be there.
Sharon: What are you looking for when you're there? You say it's hard to find the right things. What are you looking for?
Jennifer: I'm often hunting for early pieces that are by great artists, or things that are unusually aesthetically beautiful that impress me and are different to what I've found before. Or maybe it's similar to something I've found before, but I haven't seen something like that in a long time. It's a hunt for the rare and the unusual and the beautiful. 
It's also visiting all my artists and seeing what is being made. In the winter, when they're planning to bring it to market in the summer, I'm talking with them about what they're going to make during the year. Am I going to set up a show with some of them? Can they make money if I buy from them at the Indian Market? Because they're trying to sell to the tourists at retail price. As a representative, I have to buy at a wholesale price, so I can buy it and present it to my clients here for a reasonable price. We talk about what they might build or make during the year. We talk about all of that. Would they like to come for a show? When would it suit both of us? It can't be in August, because I'm in America, or in September because I do my returns from my trip show. I have three other shows I do with my sister.  
Then I'm looking, not for a huge amount of them, but for artworks and artifacts that are interesting, that resonate with the Southwest. Recently I got an old hunting lodge elk horn chandelier with little parchment shades over the lights. My electrician has to rewire it for the Australian current to hang it in the gallery. We're still working on that project. We've got to get it rewired and hung up in the ceiling and get a secure hook, but I'm bringing things into the gallery that make people feel connected with the Southwest. 
There's something about that culture that—I don't know. I don't particularly believe in past lives and that kind of thing, but there's something about that culture that so resonates with me. I can't really explain it, but I just love it. It's the only place I feel at home when I get out of the plane and the Albuquerque airport, and I rent the car and head out to Zuni or wherever I'm going. If I'm driving across to Prescott or different places, I feel quite at home. It's a weird sensation. I also feel it while I'm here on the edge of the ocean. Those are two places where there's a sense of freedom and expanse and openness that I love. 
Sharon: I can understand that. I can understand both the ocean and Santa Fe, with the light and the sunsets.
Jennifer: What is it? The plains, the wide-open spaces. It's a very open, incredible feeling of freedom. I don't know how to explain it. It is beautiful, and Santa Fe is very pretty with the housing and the pretty streets. Everything is adobe-style, and I do love that as an architectural form. It's very lovely, but what really is amazing is driving around the country in the Southwest. It's so open. I just love it. Just talking about it, I love it.
Sharon: Is there turquoise all over the country, all over the U.S.?
Jennifer: Only in the Southwest, so Nevada, I think some in Utah, and the very southern states. It comes from copper and iron areas, where you find copper and iron is mined heavily, thus the color of the turquoise. It's developed in veins within these mines. A lot of the beautiful turquoise like Bisbee and Villa Grove and Lander and some of the very rare or early turquoises were from small pockets of turquoise mines that were mined out and are now exhausted. You can't get those stones anymore, unless you get them from jewelry that was made some time ago with this quality of stone. Maybe somebody has been sitting on some raw material that they've yet to make things out of. Sometimes you buy at auction or estates, and you find old jewelry that has great stones, but the jewelry is ugly, so you pull it apart and give it to an artist to remake into a great piece. 
A lot of the turquoise you get today, which is Sleeping Beauty or Kingman or from more general mines, it's more prolific in availability. A lot of it has been stabilized or treated so you can work with it. It's stronger and easier to work with, but getting good, natural stone is always my preference. If it's high grade, it won't change much in color because it's very dense and quite glossy. If it's more medium in grade, it'll be more porous, so more vulnerable to moisture acquisition. It will vary in color slightly over the years depending on your body oil. Not as much in the desert in the Southwest. The atmosphere there doesn't change it too much. Here in Australia, we're very humid, so it changes much differently than it does in the desert area. There's something charming about that. It's like it's alive. It's like it takes on some tones and colors of blue and green and everything in between depending on the wearer, the humidity, what country you live in. It's a very personal stone. It's like the stone and the sea. It's always changing. 
Sharon: Can you look at a piece of turquoise and tell where it's from or if it's old?
Jennifer: Yes, you can tell whether it's recent and hasn't been around for very long. You can generally tell whether it's high grade, medium grade or low grade, depending on the density, the patina, the veining, all that kind of thing. Labeling what mine it comes from is a very tricky process because you have all these different mines scattered around the Southwest. Manassa is traditionally green, Kingman is traditionally blue, Blue Gem is traditionally very glossy, high grade and more of an aqua color. You'll get variations within the mine as well that tend a little more green or a little less or more polished. So, it'll look a little bit like another mine.
Then how old is the piece? I've been in discussion with dealers who have been handling turquoise for a long time. That will also help you decide where that stone probably came from, because that was the sort of stone they were using back when Leekya, for instance, was carving his turquoise stones. He liked the gentle, aqua-colored turquoise, and that was a particular stone. A more recent stone, Sleeping Beauty, is a high-grade, intense bluish stone. If it's more recently made, it's probably going to be that rather than Villa Grove, which is an older, softer, very blue stone, more of a cornflower blue. So yes, like anything, whether it be opals, pearls, old furniture, textiles, whatever, if you do your thing for long enough, you get to know all about it.
Sharon: And that's how you learned? You didn't study it, right?
Jennifer: I have a whole library here of books on North American Indian art, jewelry, painting, sculpture, kachinas, pottery, textiles. I've written articles all my life. I've been over there twice a year. I've looked at millions of pieces of jewelry, although not as many pieces of textiles and paintings and sculptures or pottery. So, it's experience, knowledge, rating, education. The hands-on piece is always significant. People like Teal McKibben, Lori Phillips, people who were before me, women in particular who I identify with, who spent their lives studying American Indian art. They've all passed away now or they're in their 80s. They taught me a lot, saying "Look at these. Look at how this is made and look at this stone." It's been a life's education.
Sharon: It sounds like it. What's your favorite kind of jewelry? 
Jennifer: My passionate thing that I love more than anything to this day is very early Navajo silversmithing and turquoise. That's what they call Villa Grove, or a sky blue turquoise stone. It's not as high-end as Blue Gem or Manassa or Lander or Indian Mountain—there's a whole lot of them—but I love the color. I love the soft, simple, understated, courageous and brave form of silver that the Navajo did in their silversmithing from learning to be blacksmiths, which is what they were first told they had to do. They were on the reservations shoeing the horses of the soldiers and the English and the French. Their talent for silversmithing evolved from that, with their strength and the creativity and simplicity and the beautiful execution of silver body adornment. 
Originally it was all men making the silver things, so there's a masculine tone to it that I love as well. That's become the thing now. I'm wearing my salmon clothes. The balance of putting beautifully hammered, wonderful silver jewelry with simple sets of turquoise stone, on me, I just love it. Sometimes things are so beautiful. You look at so many things. How you can you tell why this one is better than this one? I say, "Well, look at it. Can't you see?" But that's me. So, that's probably my most passionate thing, early Navajo silver jewelry.
Then, after being in the business and dealing with it for a long time, I grew to really love Leekya Deyuse and Zuni carved turquoise jewelry. Leekya Deyuse was a Zuni carver that was probably working from the 1920s to the 1950s. He died in the 1960s fighting fires in Zuni. He was not all that old. Anyway, I have grown to love very much Leekya's carved turquoise. Not only turquoise; sometimes he did coral figures of leaves and bears and birds. His work is very hard to get, finely carved. He was one of the first guys who set the precedent of carving fetish necklaces on little animals and necklaces. He was one of the first to take the format of shell and stone and create it into a little medicine or good luck charm or protection from an animal. Then he took it another step further and started threading it on beads so you could wear it like a necklace. They are probably my two most favorite things to look for, really great Navajo jewelry and really great pieces by Leekya. There is certainly much more to it, but that's it if I was going to put it in a nutshell.
Sharon: Who should we keep our eyes on then?
Jennifer: Who's up and coming?
Sharon: Yes.
Jennifer: Cheryl Yestewa has been around for quite a long time, but I find her jewelry just fabulous and exploding in creativity in various ways. She works out of the desert, but she's into sea inspiration. Anyway, she's a wonderful artist. 
I think Keri Ataumbi, who is—let me get the tribe right. Keri Ataumbi is Kiowa. She does really great work. I'm very excited about her work. We've had a couple of exhibitions of her work now, and she should be coming to her first exhibition in Sidney this Christmas. 
Denise Wallace is a legend so she's not up and coming at all, but I think her son, David, is a great carver. Carving free form in ivory is a very difficult and challenging thing to do, and I think he's got a gift. I think David Wallace is somebody to watch. He's not putting himself out very much yet, but I think he's great. 
I think for lapidary work—and she's been doing it for a while—she's the daughter of Cheryl Yestewa. Piki Wadsworth does the most beautiful lapidary. I think she just grows and excels and gets better and better at what she does. She's Hopi. I think these are the people that come to mind at the moment. 
Every time I go down into Gallop, I have a look at different artists' works that are up and coming. A lot of them are doing some really interesting work, but a lot of them aren't wanting to go to Santa Fe or get high-profile or get noticed. I have to rely on people I know from that region to collect their work during the year. Then I go to them and see what they've made.
Sharon: It sounds very exciting. Thank you so much for being with us. It's been great talking with you.
Jennifer: It's been my pleasure and so much fun. I hope you do come to the Indian Market one day.
Thank you again for listening. Please leave us a rating and review so we can help others start their own jewelry journey.