Episode 169
What you'll learn in this episode:
Why Native American jewelry has struck a chord with Australian shoppers
Why jewelry is so important to Native American cultures, and the history of jewelry making in the Southwest
Which characteristics to look for in distinct varieties of turquoise
How to make the most of a trip to Indian Market
Which Native American jewelry artists are ones to watch
About Jennifer Cullen
Jennifer Cullen is the owner of Four Winds Gallery, a jewelry gallery in Double Bay, Australia that focuses on jewelry of the American Southwest. Established in 1981, Four Winds boasts a collector's standard of traditional and contemporary North American Indian jewelry, pottery, sculptures, graphics and textiles. The gallery is the culmination of a long-term interest and passion for Jennifer.
Photos:
Vintage turquoise cluster and Perry Shorty conch belts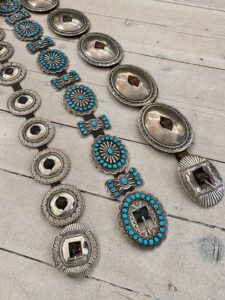 Blue Turquoise Navajo vintage jewellery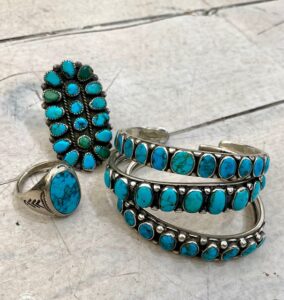 Contemporary shell and fossil ivory jewellery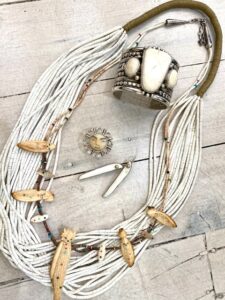 Historic green turquoise pueblo beads with joclahs and Navajo turquoise cuffs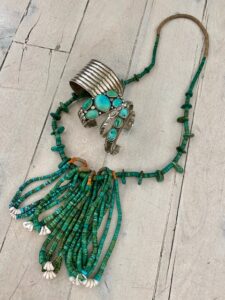 Vintage coral and navajo silver squash blossom necklaces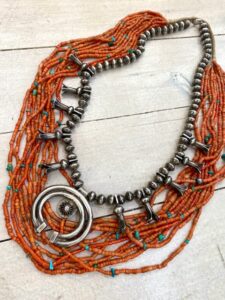 Additional Resources:
Transcript:
The suburbs of Sydney, Australia might be the last place you'd expect to find a Native American jewelry gallery, but that's exactly what makes Jennifer Cullen's Four Winds Gallery so special. After a lifelong love affair with the jewelry of the American Southwest, Jennifer opened her gallery in Double Bay, a Sydney suburb known for its high-end shopping. She joined the Jewelry Journey Podcast to talk about the history behind Native American silversmithing; how she educated Australian collectors about Southwestern jewelry; and why turquoise is the most personal gemstone. Read the episode transcript here.
Sharon: Hello, everyone. Welcome to the Jewelry Journey Podcast. This is a two-part Jewelry Journey Podcast. Please make sure you subscribe so you can hear part two as soon as it comes out later this week. 
Today, my guest is Jennifer Cullen of Four Winds Gallery, an unusual jewelry gallery located in Double Bay, Australia. Jennifer is talking with us from Australia today. I say this is an unusual gallery because it focuses on Native American jewelry and jewelry of the Southwest. When I look at the jewelry, I immediately think of Santa Fe, New Mexico. I love the jewelry. Santa Fe happens to be one of my favorite places. I saw these pieces on Instagram and I was blown away because I thought, "How can this be in Australia?" She has this gallery in Australia with these beautiful Native American pieces. I'm looking forward to hearing Jennifer's jewelry journey today. Jennifer, welcome to the program.
Jennifer: Good morning from Double Bay, Sidney, Australia. I'm sure it's a good evening over there. It's so fun to talk with you.
Sharon: It's great to talk with you. You were just telling me about your jewelry journey, and I want to hear more about it. 
Jennifer: Turquoise is my birthstone. This is how this whole thing started for me, back when I was teenager, born in December, being a Sagittarian. Australia doesn't really create turquoise as a birthstone here. We have little pockets of it, but it's waste. It's never looked at in the jewelry format. America is the land of fabulous turquoise. When I finished high school, my father happened to be CEO for Westinghouse, an American company. So, the family headed to the East Coast, as you would say. Westinghouse headquarters at the time was in Pittsburgh, Pennsylvania. When I went to the States, I put my university degree on hold here in Sidney and followed my parents. I wanted to buy some turquoise jewelry, and the first stop as a family traveling from Australia to America for the first time was Disneyland in California. We went to the gift shop in Frontierland, and I bought a great, big, funny turquoise, which I loved. My mother found it very curious, because my other jewelry was fine jewelry or gold jewelry that they had given me as they had gotten older. I loved it. 
We made it to Pittsburgh, Pennsylvania, which is where my dad worked. I did classical ballet and psychology part-time at the local Pitt University to fill my time. One afternoon after university, I went to the bathroom and took my ring off to wash my hands. When I walked out, I forgot to put the ring back on. I went back in, and it was gone. I was devastated. My parents said, "Don't worry. There's a nice gallery in Pittsburgh. They have American Indian jewelry. Go check it out." So, I went and found Four Winds Gallery in Pittsburgh, Pennsylvania and fell in love with the culture. The jewelry, the textiles, the pottery, everything American Indian and Southwestern that was in the gallery, I loved. I bought a new ring on layaway, as you call it. I spent a lot of time there talking about the jewelry with a guy named John Krena who runs and owns the place. He opened it in 1974. He taught me a lot about it and helped me understand it. 
After two years, we moved back to Sidney. I didn't want to finish my university degree; I wanted to stay involved in and surrounded by the beauty of the artwork that comes from the Southwest done by American artists, who are quite gifted. I was interested in old jewelry and new, as well as paintings and artifacts and pottery and textiles to a degree, but the focus has always been the body adornment, the wearable art.
In 1981, I set up a tiny store in Double Bay in Sidney. People would come and say, "Oh, hi sweetie, what's all this blue stuff? Do you make it?" "Well, no. I wish I was so clever, but it's turquoise. It comes from the Southwest of the USA. It's made by multiple American Indian artists." That's where it started. 41 years later, in 2022, I've changed stores a couple of times. I bought this store 3½ years ago. We're at it again, but it's been a journey, a hobby, a passion, a lifestyle and an income. It's something that I've enjoyed all my life. 
The gallery has four exhibitions a year. I try to fly out artists for two of those exhibitions to meet my clients, because people like to meet the people who make the things and understand where it comes from. They are always contemporary artists. A big part of the gallery as well is the historical worth of vintage and antique jewelry. When I went on buying trips, which were every August and February up until Covid, I would come back and have a "return from a buying trip" exhibition. That would be a general exhibition in August of all the treasures I found on that adventure of three or four weeks in Santa Fe, Gallup, Scottsdale, Zuni, the Pueblos and various shows and things I've been exposed to. So, that's a general show.
During the year, I'd have a specific show for one of the great artists I represent, like Mike Bird-Romero. McKee Platero was out here one time. Cody Sanderson has been out many times. These are all Southwestern artists. Denise Wallace of the Wallace family, I've adored and represented her work for many, many years now. I also represented her husband before he suddenly passed away some time ago, and her daughter, Dawn, and son, David. They're Alaskan. Their work is fossilized marine ivory with scrimshaw set in beautiful silver and gold housings. The Southwestern jewelry is turquoise and coral and lapis and cream clamshells and all the various materials that hail from that kind of jewelry more predominantly.
Sharon: All of your jewelry is beautiful and instantly recognizable, but the Denise Wallace is so different than the other stuff.
Jennifer: Oh, absolutely.
Sharon: You just look at go, "Wow."
Jennifer: And it reflects the Alaskan culture. She and her husband, Samuel, were obviously inspired a lot by her Alaskan heritage and where she comes from. The materials they work with are entirely made of silver and turquoise and whatnot, but in the museums over there, they'll start with masks and carvings that were done in the 1800s and early 1900s, and some earlier if you can find them in the different regions up there. She will study those and get inspired to turn the walrus mask, for instance, into a beautiful, big brooch. 
I have a whole collection of her jewelry all in creams as well. It's a beautiful, soft coloring. It's all creams and yellows and a brownish caramel color, which is nice to wear with clothes because we really have a long summer in Australia. It's warm here from about the end of October through April, so you tend to wear paler clothing and lighter clothing, and I like to wear more jewelry at work. So, her work is really lovely to combine since you're able to put it on all the time during the hot summer months. It's very nice. I like all the very early works of the Pueblo artists called heishi. It's cream, and it goes beautifully with that as well. 
But yeah, Denise's work represents the Alaskan culture and what goes on up there. Whereas in Southwestern culture, there are hundreds and hundreds of great jewelers who are doing beautiful silversmithing and lapidary. It's a very unique art form. Her son, David, I think he's one to watch. Dawn is already established as a great jeweler, and she's been working with him off and on for a long time. David is kind of quiet, and he doesn't like to get out in the public, but he's a great carver. I'm excited to watch him and see where he goes.
Sharon: When I go to Santa Fe, I love the Native American jewelry, but I have to temper myself because it's very easy to come back with all the Southwestern jewelry and artwork and go—
Jennifer: It's not relevant when you've gotten home and you're not going to put it in your home. Is that what you mean?
Sharon: I'll wear it. Here and there, I'll definitely wear it, but it's like, "Why did I buy 25 pieces? I'm not going to wear that all the time."
Jennifer: That's interesting. I dress as a city woman. I don't wear satin and lace. Maybe I do occasionally, but I wear fine wool things in winter, cashmere, black. I dress as a city woman, which I always have done; I'm from Sydney, for goodness sake. In Double Bay, it's like the heart of cosmopolitan. It's like being in New York or Chicago or any city environment. That is where I grew up. So, this is the way I am, but for some reason, I just love wearing interesting sculptural jewelry that is not traditional gold and diamonds, fine chains and little bits and pieces and pearls. I think that's very pretty, but it doesn't make a difference when you put it on. It's pretty and you can wear it with anything, which I guess is a good thing. You can wear it with any kind of clothing. 
This jewelry is a piece of wearable sculpture to me. It has impact. It has size. It has color. It has form. It has metal. It just makes me feel right when I wear it, and I wear it all the time. Even when I go to Pilates or I'm walking my dog, or when I'm down at the beach house, I wear a little pair of turquoise earrings. I always take a selection of blue turquoise pieces, maybe some green turquoise pieces to add to my orange oyster shell collection or my red coral collection. I always take plain silver. It's like a little black dress because it will go with anything. To me, it's worth putting on every day. It's to improve the way I feel and the way I look. As I get older, I like to wear even more pieces because I'm comfortable to do it. As I've grown up, the jewelry has become better, more significant, higher-end, and I don't worry anymore about, "Oh, what are people going to think if I wear this?" I just love it and I wear it.
I have a big following now nationally in Australia since the internet came to be and I got my website and all that business happened. When was that? In the early 2000s or something. You worry. You think, "Oh my gosh, now everyone can see what I'm doing. There's a whole load of beautiful galleries in America. Maybe business will change because everyone can look globally at everything." But it actually just reinforces that if you do something well and focus on the best, and if you're knowledgeable about it and you have great quality pieces that are beautiful and aesthetically pleasing, it holds its own. My business has gone from strength to strength since then. We're open six days a week, 10:00 to 5:00. I'm in here three or four days a week. I'm in the States usually all of August. It used to be two weeks in February, but after Covid, we'll see whether that's still happening. That was more on the West Coast, in the San Francisco region. Sometimes if I had enough time, I would go down to the Heard Museum afterwards in March.
Sharon: The Heard Museum?
Jennifer: Yeah, the Heard Museum. I'd see the show there with all the current artists. It's expensive being away from the gallery, with international airfares, hotel accommodations, car rentals. I'll take my manager with me, Leslie, who's been with me for 20 years. He's very supportive and helps me keep going when you're in the rental car driving and saying, "Well, I think I should go check these out." I wouldn't want to do it by myself. I've taken all of my daughters. They've been with me a few times. I have three daughters. They've all been with me. My sister's been with me. My mother's been with me. My father's been with me. Some girlfriends have been with me. My ex-husband has been with me a few times, but that didn't work too well. I never drive by myself. I like to travel with someone.
The whole overseas adventure is a very expensive one, to go there and spend a number of weeks and then come back again, but I have to go. I love to go. I like driving around over there, doing the reservations and getting out of the plane at Albuquerque, getting the rental car, driving into Gallop, going on the reservation, going out to Zuni, meeting different artists then ending up back in Santa Fe. I like going to all the old shows, meeting all the people that also love to collect and handle and look for this material, going to Indian markets, seeing more of the artists I've been representing for years who are all gathered together in the plaza for two days. It makes it easier for me to visit everyone. 
It's been a great lifestyle. I've thoroughly enjoyed it, and it is an oddity. Dealing in North American Indian art on the other side of the world, it's a very established business. I've built incredible relationships. I had hoped one of my daughters might step into it and continue the Four Winds, not that I have any intention of retiring any time soon. My middle daughter points out to me repeatedly, "What? Working for my mom?" I'm like, "Well, it would be nice to keep the operation going forever."
Sharon: Looking at the map, Double Bay isn't too far from Bondi Beach, is it? 
Jennifer: Oh no, it's probably 10 minutes by car. Bondi Beach is on the coast on the ocean, and Double Bay is on Sidney Harbor. It's kind of an elegant, harbor side, upmarket, expensive little shopping area that's also probably five to 10 minutes from the city. The city is on the harbor. Double Bay is also farther away on the harbor going towards the coast. Then there's a little finger of land that runs up and down, and then on the other side of the little finger of land is Bondi Beach. So, it's very close to Bondi Beach. 
People who come from other states and internationally stay in Double Bay in one of the hotels, or they stay in the city. We're very close to the city. They'll get a taxi or an Uber, or you can get a train or a bus; public transport here is really good. So, you're smack bang between the ocean coast and the city. I'm about halfway between. It's a very, very pretty harborside shopping area. I'm trying to think—you know Carmel—
Sharon: Yes, Carmel.
Jennifer: —in California, that feeling that you're not on a cliff; you're down on sea level.
Sharon: Are you near Sidney? When you say the city, is that Sidney?
Jennifer: It's Sidney. Double Bay is one of those smaller suburbs of Sidney. Sidney's a very big town. I think we have about six million people in Sidney. Double Bay is a five- or 10-minute cab ride from downtown Sidney. You can still call Double Bay Sidney, but it's a suburb of Double Tree close to Sidney. Most of my clients actually come from New South Wales, which is the state that Sidney is in. We have more clients from Australia now, New Zealand, South Africa, Paris, England, America, scattered all over the place. It's fun. A lot of people from France and England and New Zealand and different places come to Sidney in January, which is the peak of our summer, to get out of the winter or to visit family or friends they have in Australia. Or they come to see Australia. They visit and travel around.
Sharon: Do Australians wander into your shop and say, "Oh my God, what is this?" What's the reaction?
Jennifer: Yes, exactly. Back in the early days in the 80s, they would wander in. I was 21 years old back then, and the counter belt is at least $2,500. People would say, "Where do you sell these blue things? Do you make it?" I'd say, "I wish I was so clever. It's turquoise. It's made by artists from the Southwest of the USA," and the talking and educating would go on. We're starting from there. A lot of them would come in and go, "What is all this stuff, really?" 
Then I would get the odd person who was a big collector who would find me. He'd go, "I can't believe you're doing this in Sidney, Australia. I'm from London, and I'm collecting the Southwest," or "They've got a gallery where I buy things in London." You would get some people that knew about it who were already collectors. Then they would talk to other people and say, "Go to that store, the Four Winds Gallery down in Sidney. She has really good material. She's quite authentic." It was word of mouth for a long time, doing my shows, plugging away, talking, working six days a week, having no staff. It's the energy of a 21-year-old woman building a following for it. 
Now, 41 years later, I am in Double Bay. I've been around. I've expanded the gallery. I've owned a store, and I've been here as a very established business for a long time. Everyone in this region knows me. Anybody who knows anything about turquoise will be out in a restaurant in the city, and if somebody has something turquoise on, they'll say, "Oh, did you get that at Four Winds?" It's either, "Yeah," or, "No, I went on a holiday to Santa Fe." It's a commonly used reference point now. You still get the odd person walking in now, but it was more in the first 10 years of having the business that people would walk in who'd never been in before or never heard of it and say, "What's going on here? What is this all about?" 
American Indian jewelry has become more internationally and globally known with the internet, with social media, with all the things that are going on in America, the mining rights and water rights, going to reservations, the interviews that come on NBC or the radio stations or TV stations in America. I do interviews and stories on what's happening on the tribal reservations and the injustices that are happening. It brings it more to the spotlight, and then it melds into the artwork and what's going on. So, the beautiful Southwestern American Indian artwork is not as unheard of now as it was in the 80s in Sidney, Australia, when no one on earth knew what any of it was. It's been a progress of education.
Sharon: That's interesting. I remember ages ago buying one turquoise ring. Everybody had to have one turquoise ring, and that was it.
Jennifer: Also, when you look at the 70s and the hippie phase and the bikers and flower power, there was all that association with turquoise, bear claws and feathers, which was fun, but that was kind of insane. A lot of people didn't identify with that, right or wrong. It was like, "We're going to get into the hippie jewelry." But I think having all of that and recognizing it as fine art, the labeling doesn't matter, actually. Yes, it is Southwest and yes, it is Native American Indian. It is fabulous both historically and recently made. But it is a fine art form if you look at how it's made, how the silver is executed, how the lapidary is done, the history they've inherited for generations about how to work with metal or cut stone or drill shells. As a tribal jewelry form, it's the most sophisticated tribal jewelry form in the world, bar none to any other tribal group. It's just amazing as an art form. 
I like to think that you don't have to resonate with Southwestern, cowgirl, cowboy, denim, hats and whatnot to love and embrace this art form. It's just a beautiful, wearable art form irrespective. That's always been my belief. This is not a gallery where I come to work every day in jeans and boots and a hat. It's just my thing. It is if you're from the country or you've bought a cattle property, but we're city people and city folk. 
We have paintings and kachina carvings and some pottery. These are beautiful pieces, quite classic in somebody's home. It's white walls and timber floors. It's plain and very modern how people decorate today, but with this beautiful piece of artwork. They might have one or two great pots as feature pieces, but they don't become pottery collectors per se, as I see people in the Southwest do, where there are ledges and ledges built to house dozens and dozens of pots by a particular tribe because they're a collector. People don't do that here because our architecture and our lifestyle are very different. They have polished floorboards. They'll have a lovely, seasoned marble kitchen bench top, and everything's kind of washed and gray and black and modern and minimal, all of that. Then they'll have the odd piece as a beautiful art piece in their home, but they'll also have something from Japan, and they might have an early Australian aboriginal piece, rather than having the whole placed decked down in Southwestern artifacts or paintings.
With jewelry, you find that people can be general jewelry enthusiasts who collect great jewelry from all over the world, but you tend to find that people like the turquoise, the blues and the greys and the strong, big, sculptural silver. You think it's a really big piece of jewelry, but try and recreate that same belt, for instance, in 18-karat gold set with huge diamonds. It would be millions. It would be unapproachable for a lot of people. So, it's also the materials that are special. They're collectable. It's one-off. It's unique, but at this point, it's still not treated the same. For instance, this is a huge piece of turquoise in a ring by McKee Platero. That's large. If you try to replicate that size stone in a ruby or an emerald or a diamond, one, it would be very hard to find. Two, it would be extortionate because it's so big. But I can secure a natural piece of high-grade turquoise that's large and beautiful. It's not artificial and it's not a copy or a reproduction. It's the real deal, and that gives me a lot of joy, wearing a unique piece of sculpture.