Episode 168
What you'll learn in this episode:
Why being a jewelry artist is like being an engineer
How Barbara got her jewelry in the hands of famous rock-and-rollers like David Bowie and the Rolling Stones

 

Why Barbara doesn't separate her jewelry into women's and men's lines
Why talent is only a small part of what it takes to become a successful jeweler
About Barbara Klar
Barbara Klar was born in Akron, OH, with an almost obsessive attention for details. The clasps on her mother's watch, the nuts, bolts and hinges found on her father's workbench, the chrome on her brother's '54 Harley Hog…Barbara's love of hardware and metal and "how things worked" was ignited and continues to burn bright.
Coming of age in the Midwest, Barbara was part of the burgeoning glam rock explosion making the scene, discovering Pere Ubu, DEVO, The Runaways, Iggy Pop and David Bowie in out-of-the-way Cleveland nightclubs. Cue Barbara's love of music and pop culture that carries on to this day.
New York…late 1970's, early 80's. Barbara began making "stage wear" for friends in seminal punk rock bands including Lydia Lunch, The Voidoids and The Bush Tetras, cementing Barbara's place in alt. rock history as the go-to dresser for those seeking the most stylish, the most cutting edge accessories. She certainly caught the attention of infamous retailer Barneys New York, who purchased Barbara's buffalo skin pouch belts, complete with "bullet loops" for lipstick compartments. Pretty prestigious for a first-time designer!
Famed jeweler Robert Lee Morris invited Barbara into a group show at Art Wear and Barbara joyfully began to sell her jewelry for the first time. Barbara opened her first standalone store, Clear Metals, in NYC's East Village during the mid – 80's. In 1991 she moved that store into the fashion and shopping Mecca that is SoHo, where it was located for ten years until Barbara has moved her life and studio upstate to the Hudson Valley. She continues to grow her business, her wholesale line and her special commission work while still focusing on those gorgeous clouds in the country sky.
Barbara's work has been recognized on the editorial pages of Vogue, WWD, The New York Times and In-Style Magazine as well as featured on television shows including "Friends," "Veronica's Closet" and "Judging Amy." Film credits have included "Meet The Parents," Wall Street," "High Art" and The Eurythmics' "Missionary Man" video.
Barbara has been hailed in New York Magazine as being one of the few jewelry designers who "will lend her eclectic touch to create just about anything her clients request, from unique wedding bands and pearl-drop earrings to chunky ID bracelets and mediaeval-style chains."
Additional Resources:
Photos: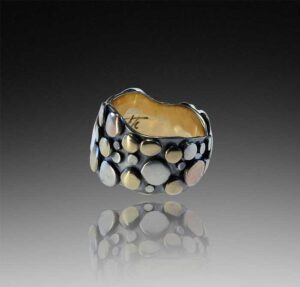 Art Smith reproduction ring (w/polka dots)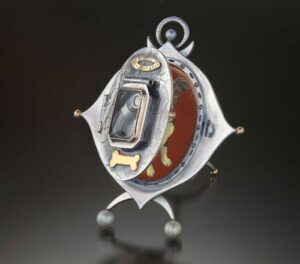 "My Buddy" Reliquary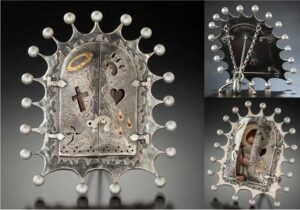 "The Seeker" Reliquary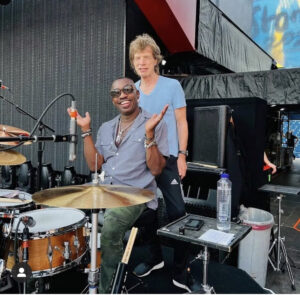 Steve Jordan (wearing my jewelry) w/Mick Jagger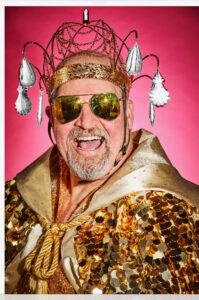 The Tiara I made for performance artist Chris Wells of "The Secret City" group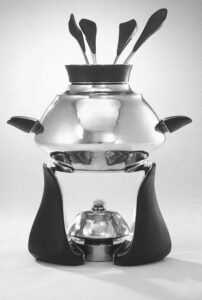 My BFA/CIA Thesis, The Fondue Set
Transcript:
Barbara Klar's jewelry has been worn by the like of David Bowie, Steve Jordan and Joan Jett, but Barbara's celebrity fans are just the icing on the cake of her long career. What really inspires her is connecting with clients and finding ways to make their ideas come to fruition. She joined the Jewelry Journey Podcast to talk about the crash course in business she got when she opened her store in 1984 in New York City; why making jewelry is often an engineering challenge; and why she considers talent the least important factor in her success. Read the episode transcript here. 
Sharon: Hello, everyone. Welcome to the Jewelry Journey Podcast. This is a two-part Jewelry Journey Podcast. Please make sure you subscribe so you can hear part two as soon as it comes out later this week. 
Today, my guest is Barbara Klar, founder and owner of Clear Metals. Barbara began her work as a jeweler in 1980 in New York and has grown her business from there. She has a roster of celebrity clients. She has also developed a successful line of men's jewelry. Steve Jordan, who replaced Charlie Watts throughout a recent Rolling Stones tour, sported her jewelry throughout. Most recently, Barbara has become interested in reliquaries. She is also writing a book. We'll hear more about her jewelry journey today. Barbara, welcome to the program.
Barbara: Thank you, Sharon. I'm so happy to be here talking about my favorite subject, jewelry.
Sharon: So glad to have you. I want to hear about everything going on. Tell us about your jewelry journey. Did you always like it?
Barbara: I was obsessed with my mother's jewelry box. She wasn't a huge jewelry collector, but she had some gemstone rings from the time my father and her spent in Brazil in the semiprecious capital, Rio. I just loved her selection and got obsessed. 
Sharon: Did you decide you wanted to study jewelry then?
Barbara: No, I really didn't. My sister was the artist in the family, and I was always trying to play catch-up with her. Eventually I took a class at Akron University in Akron. Well, I made some jewelry in high school out of ceramics. I loved to adorn myself. I loved fashion. I loved pop culture. I was always looking at what people were wearing, and jewelry was so interesting to me because it was so intimate. It was something you could put on you body, like a ring. You could look at it all the time, and it became part of your persona, part of your identity. Sometimes it represented the birth of a child. 
I used to go to the museum in Cleveland a lot, and I started seeing these top knuckle rings on women in the Medieval and Renaissance paintings. I ran home and went to my mother's jewelry box because I remembered she had my sister's baby ring in there. I put it on my little pinkie finger. She saw me wearing it and she got very upset, but I started scouting flea markets until I could find my own top knuckle ring. I wear a lot of them at this point in life.
Sharon: Wow! We'll have to have a picture of that. I can see your fingers. You have a ring on every finger, it looks like.
Barbara: Practically.
Sharon: So, you went to the Cleveland Institute of Art. Did you think you'd be an artist or a graphic designer? What did you think you'd do?
Barbara: Like I said, when I went to Akron University, I studied beginning jewelry. My teacher at the time noticed I had an aptitude, and he said, "If you really want to study jewelry making, you should go to the Cleveland Institute of Art." At that point, I made an application and I got in.
Sharon: Did you study metalsmithing there? When you say jewelry making, what did you study?
Barbara: It was called metalsmithing. It was a metalsmithing program, and at that point in time, Cleveland had a five-year program. You didn't really hit your major until your third year, so you had a basic foundation of art history and drawing and painting. It was really a great education. I feel like I got a master's of fine arts rather than a bachelor of fine arts. When we studied, our thesis was to do a holloware project. A lot of people did tea sets. I did a fondue set and it took me two years to complete. It was a great training, but it was also very, very frustrating because it was a very male-dominated profession.
Sharon: Do you still have the fondue set?
Barbara: I do. I entered it into a show, and they dropped it and it got dented. I have yet to repair that. Over the years, the forks have gone missing, but I have incredible photographs of it, thank God.
Sharon: Wow! So, you were the only fondue set among all the tea sets.
Barbara: Yeah, I was. I had to be different.
Sharon: You opened your own place right after you graduated. Is that correct?
Barbara: Pretty much. All my friends were moving to New York City, so I said, "Hey, I'll go." I'd been commuting there because my boyfriend at the time was Jim Jarmusch, and he had moved to Columbia to study. I had been going there off and on for a couple of years and when everybody moved to New York City. I was like, "Why not?" So, I went.
Sharon: How far is it from Cleveland or where you were going to school? 
Barbara: It's about 500 miles.
Sharon: So, you would fly?
Barbara: No, I would drive. Those were the days you could find parking in the city.
Sharon: That was a long time ago. I'm impressed that you would open your own place right after you graduated. Some people tell me they knew they could never work for anybody else. Did you have that feeling, or did you just know you wanted your own place?
Barbara: No, I didn't. It took me a couple of years. I was in New York a couple of years. I moved in '79 and I opened my store in '84. One thing I did discover in those five years is that the jobs I did have—thank God my mother insisted that I should have secretarial skills to fall back on in high school. She said, "You're not going to depend on any man." So, she got me those skills, and I became a very fast typist. I realized eventually that to save my creativity, I needed to have a job that was completely unrelated to jewelry work. I would work during the day, and I found a jewelry store where I could clean the studio in exchange for bench time. I started doing that. A lot of my friends were in rock-and-roll bands, and I started making them stage ware when I could work in the studio for free. It just evolved into that before I opened my store.
Sharon: Tell us about your jewelry business today. Do you still make it?
Barbara: Oh yes, I still make everything. I have one part-time assistant. I no longer wholesale. I do a little bit of gallery work. I wish there was more, but I consider myself semi-retired. I'm trying to work on my book. Mostly I do commission work, and I do maybe one or two shows a year. I like to say I have a cult following that keep me in business.
Sharon: When you say you have a cult following, do rock-and-rollers call you and say, "I need something for a show"? How does that work?
Barbara: Pretty much. I'm lucky enough to have been in this business since 1984, so a lot of my private clients, now their children are shopping with me and they're getting married. It's really nice. I feel very blessed to have that.
Sharon: Yeah, especially if it's a second generation. 
Barbara: That means something to me because they have a different sense of style. The fact that they would find my work appealing moves me, makes my heart sing.
Sharon: Do you find that you go along with their sense of style? If you have one style you were doing for their parents, let's say, do you find it easy to adapt? Do you understand what they're saying?
Barbara: I do. I try to understand. First of all, I listen. I'm a good listener, but I'm still old-fashioned. I still like streetwear. I still love pop culture. A lot of times I'll ask them what they're looking for, and I can always tell. Even when I had my store, when somebody would walk into the store, I can get a sense of their style. I'm one of these designers who can design very different, very eclectic work, from simple and modern to intricate and whimsical. That used to be a problem for me in my early days because the powers that be—I had a rep. They were like, "Barbara, your work is so different. Why don't you try to make it coherent?" I couldn't. I tried to and I came up with beautiful lines, but for me, the joy is the variation and never knowing what I'm going to come up with.
Sharon: Is that what's kept your attention about jewelry?
Barbara: I think so. And being challenged by commission work and by getting an idea and trying to make it come to fruition. I actually think jewelry designers are as much architects and engineers as anything else, because you get an idea and you're like, "How am I going to make that happen?" That keeps me inspired and challenged.
Sharon: I remember watching a jeweler making a ring. This was several years ago, but they were talking about how jewelry is engineering because of the balance and all of that. 
Barbara: Oh yes, totally. There was time when I really wanted to study CAD. I looked into it a bit, and I realized you also have to be able to draw in order to do CAD. It really helps if you have some knowledge of metalsmithing or jewelry making before you enter into a program like that, because you have to be able to visualize it and see how it's going to come together, how it's technically going to work. That interests me a lot.
Sharon: So, that's not a problem for you. You can do that in terms of visualizing or seeing how it would come together.
Barbara: It's a challenge. I'll find myself getting inspired by an idea and spending a couple of days or even a week thinking about how it's going to be engineered, how it's going to fit together. I made a tiara for the leader of a local performance group. He's very flamboyant, and he sings and has a beautiful band. I made him a crown out of a crystal chandelier that I got at a flea market. It was an engineering challenge. It was really fun.
Sharon: It sounds like it. I don't know if I could even imagine something like that. I wanted to ask you about something you said a little while ago, that you wished there were more galleries who wanted your work. What was it you said?
Barbara: I've been making my living doing limited-production items that sell very well. I have a classic piece—I call it the pirate, which is a lockdown mechanism earring that is kind of my bread and butter. But what I've been doing in my off time is making, like you mentioned in your opening, reliquaries or pieces that are more art than jewelry specifically. That's what I've been doing during Covid and everything. It's like a secret group of pieces I've been working on. It would be nice to have a gallery to show them in, but they're very unique and different, so I haven't found that yet.
Sharon: Tell us a little bit about the reliquaries. Tell us what they look like and what they're supposed to represent.
Barbara: I got obsessed with reliquaries when I was going to the Cleveland Institute of Art because right across the street was the Cleveland Museum of Art. I spent a lot of time there, and they have a fabulous armor hall for armor and a 17th century room that's filled with religious reliquaries. I was fascinated by how these fragments of bone or hair were incorporated into jewelry and what they represented as objects, how people would pray to these things or display these items with great meaning. It really moved me, and I started making them in college covertly. I continued that living through the AIDS crisis and now Covid. 
I did some pieces recently for people who had lost their loved ones, incorporating pieces of hair or fragments of letters from their loved ones. I find that so meaningful because you have something to hold in your hands that gives you a link to this person whom you've lost. I made a beautiful reliquary for an ex of mine which was based on the dog they lost. Buddy was its name. I got a piece of the dog's tail when he died and made a little charm out of it. It was under a little window. Then I had another artist make this beautiful portrait of the dog when it was a baby. I made a little locket-type thing that could be put on your desk, or it could be hung on the wall or you could wear it. That's what I describe as tabletop jewelry. 
Sharon: That's interesting. When I think of a reliquary, I think of exactly what you're saying, but without the jewelry—a piece of bone, hair, whatever, that people venerate. 
Barbara: Yeah, absolutely.
Sharon: How do you incorporate it? You're saying for this piece you put it in a locket, but how else have you incorporated it? 
Barbara: Pretty much lockets, things that open. I have another piece I made that was based on a monk. I found a little porcelain painter's image—it was about three inches tall—at a flea market years ago. I could hardly afford it. It was hand-painted porcelain. I kept it in my bench drawer for years, 20 years probably, and one day I pulled it out and thought, "You know, this monk needs to be seen." So, I made a beautiful locket. It's probably about four inches long that you too can display it on your desk. It has little doors that open, and you can hang it on your wall or you can wear it. It's a very large piece, obviously, if you're going to wear it, but it's a statement piece and it's very precious.
I did this piece actually about 10 years ago after living through the AIDS crisis. My friend, one of my clients, looked at this monk and said, "I know who that is." I did the research. It's on my blog. It is this monk who was from a very wealthy family that gave his life to treat lepers in Spain. He was the patron saint of healers. It touched me so deeply that I was creating this piece after everything I'd watched and lived through with Covid, with the AIDS crisis.
Sharon: Wow! Do pieces hit you as you're going through a flea market? Do they hit you and you say, "That would be perfect"? How is that?
Barbara: I'm a collector. I collect things. I'm fascinated. I love to look at things. One time at a flea market when I had my store in Soho, I found this—I didn't know what it was. It was like a little skeleton paw. It had no fur on it. It was a little skeleton about two inches long, probably a racoon's hands. I used to make incredible windows to get people to come into the store. It was Halloween. At the same flea market, I had gotten some of the old-fashioned glass milk containers that used to have the paper caps on top. So, I had gotten those, and I thought, "I'm going to do a Lizzie Borden window." I made Lizzie this incredible watch fob, and hanging from that was this little skeleton paw inside the milk container. It was great. You never know. I sometimes hold onto things until it's like, "Whoa, O.K. Now's the time."
Sharon: I'm imaging it. It's a drawerful of things, a shoebox full of things that you paw through and say, "Oh, this would be perfect."
Barbara: Absolutely. That's the great thing about being an artist. You never know when it's going to hit. Like I tell people, I would never not have my studio inside my home, because you never know when you're going to be inspired and have to make something.