Episode 167
What you'll learn in this episode:
How Kirsten's international upbringing influenced her taste in jewelry
Why relationships are at the heart of Kirsten's business
How Portobello Road has changed over the years, and why there's a dearth of good jewelry in the UK right now
Why buying well is the key to selling well as a dealer
Why the best business strategy is to sell jewelry you love
About Kirsten Everts
Kirsten Everts is a jewelry dealer and the founder of FRAM, a jewelry business specializing in buying, selling, and valuing 20th century jewels. Kirsten founded FRAM in early 2018 after completing the Graduate Gemology course at GIA and a further 20 years acquiring experience in fields varying from auction (Christie's, London and Bonhams, Paris) to retail (de GRISOGONO, Geneva) and art advisory (Gurr Johns, London). Kirsten holds a permanent stand on Portobello Road in London, and she participates annually at international jewelry trade fairs in Miami and Las Vegas.
Photos:
Gold and watermelon tourmaline necklace (earrings and ring not shown) by Meister (Switzerland), circa 1960s.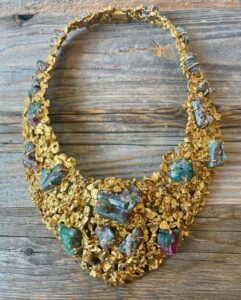 "Micro David" puzzle pendant  in 18k gold by Miguel Beroccal (Spain), circa 1969-1972.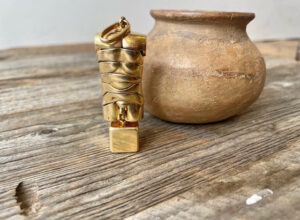 Gold, diamond and onyx pendant by Kutchinsky (U.K.), 1972.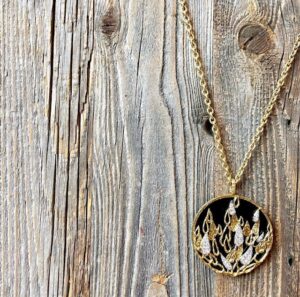 Coral, diamond and gold bangle (opens up), Professor Reiling for Meister (Switzerland), circa late 1960s.\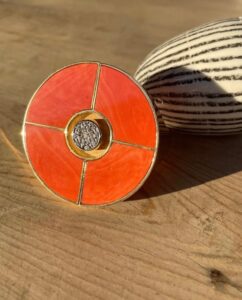 Gold, sapphire, ruby and diamond ring by Othmar Zschaler (Switzerland), circa 1960s.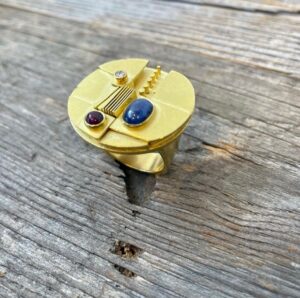 Gold and coral ring by Gio Pomodoro (Italy), 1970, numbered 9/12.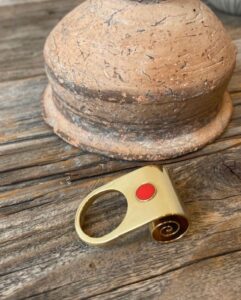 Smoky quartz (on reverse), carnelian and 18k gold mobile bangle by Anni & Bent Knudsen (Denmark), circa late 1960s/early 1970s, numbered 313.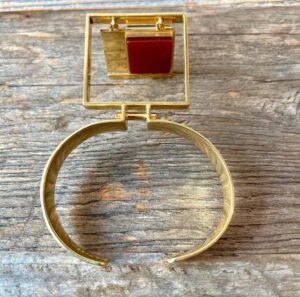 Additional Resources:
Transcript:
It's not easy to get a stand on London's Portobello Road, but with tenacity and some luck with timing, jewelry dealer Kirsten Everts scored a permanent spot to sell her unusual 20th century jewels. Since then, Kirsten has found a group of loyal clients who love "weird" jewelry as much as she does. She joined the Jewelry Journey Podcast to talk about why Portobello Road is changing; her strategies for choosing the best vintage jewelry; and why she will never sell another style of jewelry, even if it means making less money. Read the episode transcript here.
Sharon: Hello, everyone. Welcome to the Jewelry Journey Podcast. This is the second part of a two-part episode. If you haven't heard part one, please go to TheJewelryJourney.com. Today, my guest is Kirsten Everts. Kirsten is a jewelry dealer in West London on Portobello Road. Welcome back. 
Was it difficult? It sounds like it was difficult. You had to knock on a lot of doors to get into Portobello.
Kirsten: Yes, the two years before Covid, it was a very vibrant, highly sought-after, extremely busy Saturday morning market. Nobody wanted to cede their showcase to anyone new, but I kept asking. Then, what I was given at the time was a stand when someone was ill. I didn't know until Wednesday or Thursday of the week whether I was able to go. That left me two days to get my act together, and it was quite a challenge. Slowly it became a more general thing. I got my own stand in a different gallery, but I wanted to be in the one next door because that one had a better vibe, so I had to ask for that. 
These were very different times. This was when you could hardly even push your way through, there were so many people. That was 2018. I suspect in the 70s and 80s it would have been even more so. I'm quite sad I didn't see it then because it must have been something to be there. Portobello, sadly, is changing a lot. I'm quite sad to think that what's probably going to happen is we'll have more costume jewelry dealers who are going to take up more space than the actual antique and vintage dealers using real materials, real diamonds, real gemstones. I don't know how long this is going to last.
Sharon: I think being crowded is all relative. I haven't been there for a long time, but you still had to push past a lot of people. It was nice to see. It was more than pleasantly crowded. I would have loved to have had the place to myself to take my time, but it wasn't crowded the way I think of something being so crowded you can't move. What is it that you like about dealing and buying and selling jewelry?
Kristen: That's a good question. As a relative newcomer, I think it's the fact that you can buy something with your very own money. Buying is easy; buying well is less easy. But to buy something with your own money that you have to stand behind is another thing. For me, selling is a small victory each time not only financially—because sometimes it's not really a financial victory—but it's an affirmation of what you do, your style and your taste. 
For me, it's always about the relationships more than anything else, which might be the wrong way of business, but I don't feel that. Now, because I'm a little more established, I enjoy the fact that people come to me and say, "Oh, I think I've got something for you." There's nothing better. They might slightly put you in a box because you do midcentury jewelry. Maybe they think you do only that, which is untrue, but I think it's a huge compliment when people pull you over and say, "You must have a look at this," or "Have you seen this at auction? It's got your name written all over." I think that's a compliment. It shows that you've been around for a while, even though it's only been five years. I like that side of the business. 
I also like going into partnerships with people who have an equal eye for something more unique, as my jewelry can be, and who are willing to share knowledge or curiosity. I think that's what keeps it going, and the fact that you never really know what you're going to see on any day at any given time. I see jewelry all day long, whether it's on a screen when you're going through auctions, or when somebody calls you up and says, "Hey, my grandmother's just given me something. Can you help me?" More often than not, it's lower value or not that interesting, but it's still good to stay in touch with those prices and that kind of jewelry. 
Every now and then, you hit something and think, "My gosh, this is fantastic. I need to take it away and think about it because I can't give you a price now." Everyone's very happy; they just want an honest result. If that means you need to go home and do some research, most people are more than happy to do that, but I say that from my level. If we're dealing in hundreds of thousands of pounds, maybe people are expecting more. But for what I do, it's a very friendly give and take, and I enjoy that freedom. I can be exactly who I am. I have no employees, and I can be myself. I think that's really important.
Sharon: Do you find it hard to let go of certain pieces if you really like them?
Kristen: I have absolutely not a single inch of hoarding in me. If I like a piece—and I do like a lot of my own pieces—I will wear it for a week or so. After a week, something will change in me and I say, "I'm ready to sell you now." I've sold one or two things I know I will never again see in my life. I have always said to them, "If you no longer want this, I am happy to buy it back, because I will never see this again." So, maybe some of these pieces will come back. With regard to jewelry, I have no collector mind at all. I prefer to collect ceramics, or I prefer to collect memories sailing or going to the opera with friends. With jewelry, I'm very matter of fact. 
Sharon: It probably works better for you if you're not so tied to it. I think I'd have a hard time, and I hear dealers who say they have a hard time letting pieces go. Do people come to you and say, "I want a particular piece of jewelry; I'm looking for an engagement ring" or something like that?
Kristen: Yes, with regard to engagement rings, which is really not my thing because an engagement ring is a very emotional thing, and you're making something for someone who is so emotionally involved with someone else. I don't usually know these clients. They are referred to me. It can get quite emotional. I'm happy to do that; it's not what I enjoy most, but I'm lucky enough to be the exclusive, go-to person in this country for a professional sports bond, which means that the manager of this sports team, in this case golf, sends all these young athletes or professional golfers to me to do their engagement rings. That came out of the blue. It came through a contact of mine based in Europe who didn't want to do it. It's turned out to be a really good relationship, especially with the manager. These are all young kids. I've been there myself with an engagement ring. I know what it's like. And because they were referrals, a referral will come to you if the experience has been good. They always come to me having heard a great story from another golfer or friend, and it's actually an easy, pleasant job. 
I enjoy sourcing stones, in this case diamonds. I try and steer them towards what I prefer, which are old cuts, old European and mine cuts, rather than the brand-new stone that's fresh off the wheel. I much prefer those, but I do it gently because, of course, I cannot impose my taste. Funny enough, if I compare the two and show them both, they will go with the old cut, which makes it more pleasant for me because I prefer these diamonds. 
Before I would do all the jewelry making for them with my jeweler, but I realized that was very time-consuming and I didn't actually enjoy it. So, I sell them the diamond, everyone's happy, and then I send them to my jeweler and he does everything with them directly. First of all, it means they save a little money because they're not paying me a service charge, but they actually get to design it with the jeweler rather than me being in the middle with thousands of WhatsApps going between two entities. It works really well. They're happy, and they know they're saving money. So, I do enjoy engagement rings. 
Sharon: When you went first to Portobello, you said you hadn't known about it when somebody sent you there. What were your thoughts about it?
Kristen: It's extremely daunting. I remember coming there for the first time and seeing a very long street on a downhill slope. For me, I was still young to this country. I had lived here 20 years before, but I was very European. Hearing these wonderful London accents, people shouting at each other, setting up their stands, it was almost like My Fair Lady. I had no idea, but I loved it because you can feel that energy there. All the silver dealers were outside at the time—I don't know whether it's still like that—with plates and door knobs and all sorts of things, and you understand that behind the scenes, big things are happening for a lot of them. The knives and forks and the little Victorian brooches you see displayed are not what's keeping them going. I found fascinating. It was daunting, because you had to insert yourself with these people who run the place, who, by the way, are wonderful. Try and get an appointment with them. 
They were never where they said they were going to be. I didn't know which numbers belonged to which buildings in Portobello. It was challenging, but I understood it had to happen this way. This was going to be the part of my education I had never actually had. It's fine to sit in a nice, big chair behind a big, beautiful wooden desk at Christie's and have people check what you're doing, but the actual responsibility was not there. If I made a mistake, I wasn't going to be fired. I wasn't going to lose money. They weren't going to cut my salary. When I joined Portobello five years ago, I think I was a bit of a late bloomer, but at 45, I was actually ready to tackle that on my own and to make friends and see how these things worked. It wasn't easy. It was daunting. It really was, but they were encouraging. It was great fun, most of all.
What happened, and what still happens, is that you can lock up your stand, go for a little walk, and come across something where somebody doesn't know what they have, but you do. Then, all of a sudden, your output is better. You're there to see, but you're also buying. That also makes money. It really isn't just selling. When I'm at Portobello, I set up and actually go for a very long walk and see what everyone has. I ask them, "What's in your safe? Have you got something more than what you're showing?" I spend a lot of time trying to find something that will make me money. Then I'll go back when I know my clients come around, because my clients are mostly private clients. They'll come in from about 8:30-9:00, so I've got a good hour-and-a-half to do this for myself, and it works. So, I like doing both, and Portobello is extraordinary. I really hope it doesn't succumb to a lower level of jewelry or antiques.
Sharon: Do you see that happening now?
Kristen: Yes, sadly I do. I really do. It's not anyone's fault. It's just that at the moment in this country, I think there is a bit of a lack of jewelry. This comes through Brexit, mainly, through the climate post-Covid, through people packing up. I do see a slight decline at Portobello in the quality of goods since the last five years. Yesterday, a client called me up and said, "I've got about 40 pieces of jewelry to sell. Can you take them to Portobello?" That's rare, but I do have 40 pieces of jewelry to take tomorrow. There used to be a lot more with a lot more dealers. I don't see that anymore. I think everyone is a little bit in the same basket, where it's a bit more difficult to find jewelry. We've become, sadly, such an island now with Brexit. A lot of people are concentrating only in the U.K., and there sometimes seems to not be enough jewelry to go around.
Sharon: So, you don't think it's worldwide or Europe-wide?
Kristen: It could be. We see each other every Saturday in and Saturday out. When I go to Paris or the mainland, I get excited because I'm seeing jewelry I haven't seen. Likewise for American visitors or dealers; they're feeling a different vibe and seeing other jewelry dealers. When we went to the Miami and Las Vegas shows this year because we exhibit there—and when I say we, it's me and another dealer, and sometimes even three of us. There was a very different energy in America. I almost felt there was more money to spend there, or there was a greater need or thirst for antique jewelry. I do midcentury, so I have fewer clients coming from there, but they're very excited to see you in the flesh and to see something in the flesh, because otherwise it's on Instagram or in a photograph. I don't actually know about other countries, but I hear it because I speak to my colleagues and friends in Europe, and they are saying the same.
Sharon: What did you do during Covid? Did you shut down, or did you go online?
Kristen: I did shut down. I spoke with a friend of mine who does something to the likes of website analysis about what can be done for e-commerce and what can't, and I think his conclusion was, "I think your jewelry is so different that you can't actually sell this online." Selling online means—I will use a very blunt example, but let's say you have an enamel pansy brooch. If you're into jewelry collecting or if you're a dealer, you know approximately what it should feel like, what it should weigh, whether the enamel is damaged or not, is the pin on the back correct, has anything been altered. You know more or less what it should cost. 
But I have mobile bangles by people nobody's ever heard of. I know them because they're artists from Denmark or Sweden from the post-war era made in gold, which is superbly rare for Scandinavians, dated and signed from 1963. I can't sell that online. You can't do it. When that friend said, "I don't think you are a candidate for online selling," I thought, "O.K., well, then I'll do something else. I'll just build a website," which I had never gotten around to. So, that was interesting. That was a fun experience, to do a website on your own. That led to inquiries. It's not up to date now, but it should be and it will be. 
What I did do is I much more developed my Instagram. I spent a lot of time trying to make it look homogenous, trying to find the words that will get you the right customers. I had never really spent any time on Instagram. So, I did that, and that's turned out to be quite good. Even though my account is still quite small—I haven't got thousands and thousands of followers—the ones that follow me are good, kind and supportive.
Sharon: I would imagine, based on what you're describing, that it wouldn't be a real young customer because I think you would have to have some maturity to appreciate what you're looking at.
Kristen: Yes, exactly. That's why I love having these—we can call them mature—40-plusers because they concur with you. They say, "Yes, this is a very wacky mobile bracelet and I love it. I probably can't wear it much, but it is a work of art. I want this." That's wonderful.
Sharon: Do you think because you grew up in the Netherlands and around the world, you have more appreciation for these as art pieces?
Kristen: That's funny. I was thinking about that question even though you hadn't said it. I was questioning myself earlier today. I think there's something in me I can't quite explain which attracts me to, like I mentioned earlier, the industrial and the groundbreaking, a group of people who—we call it jewelry, but actually I think they were calling it wearable art. The Dutch in particular in the 60s were hugely sponsored by the government to get the country going again after the post-war period. There were some very nutty creations that came out of that, but there were some very important, groundbreaking forms and materials that were being used. That really resonates with me. I don't want to call myself modern, but I think I am. My flat is extremely modern. I don't like anything fussy. I think it's the Scandinavian things. I like practicality, but it's got to be adorning. I forgotten your question, but I'm hoping this is—
Sharon: I was asking if your appreciation for pieces of jewelry as art pieces is because of your background.
Kristen: Yes, wearable art jewelry, I need that. For me to have a fizzy moment, I need it to be very unique and groundbreaking and daring. I think that's great fun. For me, that's special. I'd much rather have something by a wacky Danish mobile maker who made for children in the 60s and 70s and make a bracelet for his wife, of which there's only one and that was never done again. It's different. The Calder jewelry, which I probably can never afford, or the Art Smith of America, I love all that. They were real artists. That makes me take much more interest than a love bangle or a Victorian enamel pansy brooch.
Sharon: Do you wear some of the unique pieces yourself, or do you just collect them?
Kristen: No, I wear them. I found a system where when I wear my own jewelry, I can quite easily sell it off my body, so to speak. Time and time again it happens: I wear something for myself and I'll cross someone in the street, not a random customer, but somebody who I know, and they will say, "My gosh, I would like to buy that." Sometimes when I'm tired of a piece and it needs to sell, I wear it and it will sell. So yes, I wear them. I've yet to find a piece that I fall completely in love with and am incapable of selling. I think I don't have that bug. 
Sharon: I suppose it's good for somebody in your business. We talked about this, but you said you made some notes about the questions I had asked. I want to know if I've covered everything or if there's more you wanted to add.
Kristen: I must have a look. As a jewelry journey, I think it was important for me to mention the university. I was lucky enough to go university, and for that university degree of applied arts, I was taught a section, a module, that I wasn't expecting at all to be taught. The module was maybe six months long. Sometime in that module, it spiked an interest in me for jewelry I never thought I would like. It's so inherently who I am that I almost had to make peace with falling in love with a type of jewelry that is from a really small section in the history of jewelry. 
I thought, "Can I survive loving this?" I think I go through ups and downs thinking, "No, I must start buying Victorian enameled pansy brooches because that will be my bread and butter." But when I do, it betrays who I am. So, I sell less, but I'm selling what I love. I thought that was important to put across because I struggle sometimes. I struggle sometimes when I'm not making as much money as I'd like. When there's a period of stagnation, I think, "My gosh, I really need to do something else now," but I can't sell my soul. I'm the worst jewelry dealer in the world because I actually care about what I sell, and I cannot diversify too much into other areas because I don't stand behind it. I'm shooting myself in the foot, but I think if you stick to it long enough, maybe something good will happen.
Sharon: I'm sure that's why people are attracted to what you have. If I wanted a pansy brooch, there must be a dozen places you can get one. If I saw one in your case, I would say, "What are you carrying that for?" 
Kristen: Exactly. There was one interesting question you had, which was whether the purchases made through my business were impulse purchases. My reply to that is yes. There always are impulse purchases because we fall in love. However, I think an impulse purchase can be something you love, but it can also be bought out of a panic because you need something to sell. 
Over the years, I've learned very much to slow down and take a breath and look at it again a bit better, maybe from below or beside. There are one or two dealers, who are much better dealers than I am, who come into my head. I can hear their voices saying, "Have you thought of this? Have you thought of that?" I think that only comes with the experience of spending your own money and sometimes not spending it very wisely. That can't be taught. You need to make a mistake, maybe even several, and you need to be happy with those mistakes. 
I have been on the verge of throwing jewelry away because I think I have made such a big mistake, but of course you can't because it's metal or gold, and it would be atrocious to throw a pair of earrings away just because you made a mistake. There will be someone for that pair of earrings. Just remember the mistake you've made. So, your question about impulse buying was an interesting one, especially if you're a dealer like me who likes to keep a tight style.
Sharon: That's very interesting. That's a lot to think about. I was talking to a good friend of mine, a jewelry buddy, about impulse purchasing. Not to resell, but in terms of buying. I probably don't analyze things as much as somebody else might because I like it. Don't tell me; I don't want to hear it. Kirsten, thank you so much for being with us today. It's great to have you.
Kristen: It was a great pleasure.
Thank you again for listening. Please leave us a rating and review so we can help others start their own jewelry journey.