Episode 167
What you'll learn in this episode:
How Kirsten's international upbringing influenced her taste in jewelry
Why relationships are at the heart of Kirsten's business
How Portobello Road has changed over the years, and why there's a dearth of good jewelry in the UK right now
Why buying well is the key to selling well as a dealer
Why the best business strategy is to sell jewelry you love
About Kirsten Everts
Kirsten Everts is a jewelry dealer and the founder of FRAM, a jewelry business specializing in buying, selling, and valuing 20th century jewels. Kirsten founded FRAM in early 2018 after completing the Graduate Gemology course at GIA and a further 20 years acquiring experience in fields varying from auction (Christie's, London and Bonhams, Paris) to retail (de GRISOGONO, Geneva) and art advisory (Gurr Johns, London). Kirsten holds a permanent stand on Portobello Road in London, and she participates annually at international jewelry trade fairs in Miami and Las Vegas. 
Photos:
Gold and watermelon tourmaline necklace (earrings and ring not shown) by Meister (Switzerland), circa 1960s.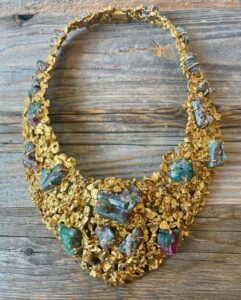 "Micro David" puzzle pendant  in 18k gold by Miguel Beroccal (Spain), circa 1969-1972.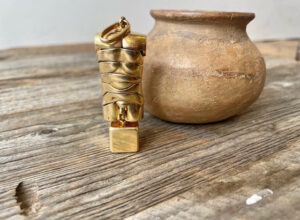 Gold, diamond and onyx pendant by Kutchinsky (U.K.), 1972.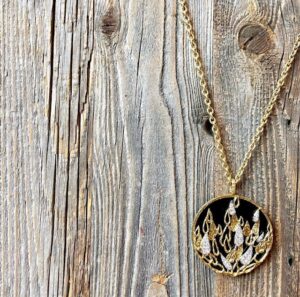 Coral, diamond and gold bangle (opens up), Professor Reiling for Meister (Switzerland), circa late 1960s.\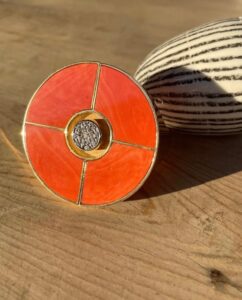 Gold, sapphire, ruby and diamond ring by Othmar Zschaler (Switzerland), circa 1960s.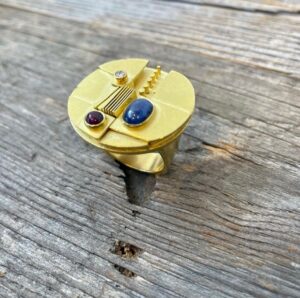 Gold and coral ring by Gio Pomodoro (Italy), 1970, numbered 9/12.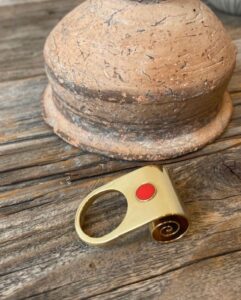 Smoky quartz (on reverse), carnelian and 18k gold mobile bangle by Anni & Bent Knudsen (Denmark), circa late 1960s/early 1970s, numbered 313.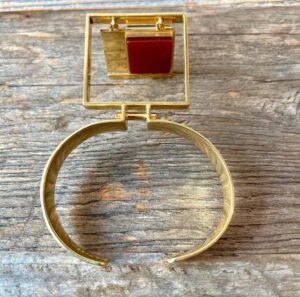 Additional Resources:
Transcript:
It's not easy to get a stand on London's Portobello Road, but with tenacity and some luck with timing, jewelry dealer Kirsten Everts scored a permanent spot to sell her unusual 20th century jewels. Since then, Kirsten has found a group of loyal clients who love "weird" jewelry as much as she does. She joined the Jewelry Journey Podcast to talk about why Portobello Road is changing; her strategies for choosing the best vintage jewelry; and why she will never sell another style of jewelry, even if it means making less money. Read the episode transcript here. 
Sharon: Hello, everyone. Welcome to the Jewelry Journey Podcast. This is a two-part Jewelry Journey Podcast. Please make sure you subscribe so you can hear part two as soon as it comes out later this week. Today, my guest is Kirsten Everts. Kirsten is a jewelry dealer in West London on Portobello Road. If you've been to Portobello Road, you know it's where you can find probably more antiques and vintage finds than anywhere on the planet. Kirsten is originally from Sweden and has lived in several places around the world. We'll hear all about Portobello Road and her jewelry journey that brought her there today. Kirsten, welcome to the program.
Kirsten: Thank you. I'm very pleased to be here.
Sharon: Tell us about your jewelry journey.
Kirsten: It started quite late in life, probably around when I was 13 or 14 years old, when I started accompanying my parents to viewings at Christie's and Sotheby's. I was maybe aping their style a bit. They were more interested in Russian silver and Fabergé and gold boxes. That was the way it was then, but it did pique my interest for small, historical, beautiful objects. Of course, it didn't hurt that they shone brightly, as they were adorned by gems and diamonds. 
At the time, I was young and easily enamored by things that shone, and there was these big estimates and results attached to them. I think at the time, the girls my age who were my friends were receiving fairly important gifts in the form of a Cartier love bangle or maybe a Chopin ring. It may have bothered other people to not get them, but it certainly never bothered me because I started to develop a fairly individual and non-branded taste at the time, even though this was a bit later. 
Because, as you mentioned, I've grown up in all these countries, some of which are not possible to visit safely today, I saw a lot of ethnic jewelry. It would be brass or copper and silver and feathers and wood. My mother never really wore important jewelry, but she looked absolutely tremendous in this ethnic jewelry. That marked me because not only was she beautiful wearing it, but I understood that these pieces meant a lot more to the tribes they were coming from than a love bangle that has been produced over and over. 
So, that's a little bit about how it started. It evolved later with studies in art history and applied arts. I was studying in Holland, and the applied arts and jewelry were being taught in certain modules. That really piqued my interest because post-war Dutch jewelry history has a lot to do with industrial forms and shapes and materials, and they were so out there. I realized I was actually very attracted to big, whacky and unique one-off pieces. So, it grew from there.
Sharon: This sounds like Swedish. You were born in Sweden—
Kirsten: Actually—I'm sorry to interrupt you—I was born in Holland. My mother's Norwegian, so that's a common mistake. Because they were diplomats, we traveled to these countries. I was happier looking at semiprecious stones, agates and wooden, beautifully handmade silver torques than more traditional jewelry, I suppose.
Sharon: You were close to ethnic jewelry. Were you in Iran? 
Kirsten: Yes. I was between all sorts of countries, but when I was 13, 14, we were living in Pakistan and India. There were trips to Afghanistan, but there was a lot of discovery of the country itself. My parents made sure we didn't escape at Christmas to the Maldives. We were there to understand the country, so our trips were very much in the country. As a result, we came across some wonderful things that are now no longer there, sadly. But it was always a lovely thing to come across these tribes and maybe buy a silver torque or a big pair of earrings that they wear so well. Of course, now in hindsight, with a little bit of knowledge, I can only imagine that Alexander Calder would have been influenced by the shapes and forms I saw then. It's just beautiful, big, bold things that really meant something to them.
Sharon: You say you came to it late, but it's something that started early for you in terms of—
Kirsten: Maybe I shouldn't consider it late. I think early teens is quite late. Some people say they were inspired by their mother's jewelry collection when they were five. I had none of that. It came and grew slowly and much more in my 20s, when it was presented by a professor and there was an actual module concentrating on these things. I didn't ever study the history of jewelry. That comes in free time when I feel like reading about something. Possibly like most of us, I'm quite self-taught when it comes to proper history. But yeah, maybe you're right; maybe it wasn't that late.
Sharon: Yes, people do start with it sometimes with their mother's jewelry box. My mom didn't have a jewelry box. Did you go into art history because it was the closest thing to jewelry or just because you love art history?
Kirsten: It's more embarrassing than that, really. I went into art history because at the time, it was an easy thing to study. I didn't know what I wanted to study, and it was an easy choice. My parents are artistic. We traveled a lot. There was a lot of culture growing up. It seemed to make sense to put these paintings and sculptures into a historical context. It was a wonderful study to do. If I look back now, I should have done it now rather than then, because it's such a wonderful thing to study at a later age when we have more maturity. So, it was more a default because I wasn't going to be a doctor or an engineer, and this seemed to be wonderful. It piqued a great interest in all sorts of things. Being able to put a painting or a bronze into a certain time lapse is quite a nice thing.
Sharon: As part of this, did you ever make jewelry? Were you a bench jeweler or a maker?
Kirsten: No. I did a course a couple of years ago in London because I found it important to understand how difficult it was. I thought that might let me understand the value of the piece or the workmanship behind it. I was thinking you need to get your hands dirty to understand it more. I did this ring course. It was a one-day thing. I'm so happy I did it, but it takes so much patience and a certain amount of creativity and ability to actually work certain metals. That was enough for me. I was never going to be a bench worker, but I'm really glad I tried. It took a day to make a ring, and I appreciate handmade jewelry a lot more because of it, because I had to spend this day at the bench.
Sharon: It does take a lot of patience, yes. I'm impressed you made the ring in just one day, because a lot of times it can take three days. The name of your jewelry company is FRAM. What does that stand for?
Kirsten: FRAM means forward or go forth in Norwegian. I thought that was appropriate for a young business that I was starting on my own. It felt like a positive note to it, but the true origin came from the fact that I have a passion for sailing. There's a ship called the Fram, which is in Norway in the Fram Museum. It's a ship that went to the Arctic and the Antarctic in the late 19th century and came back successfully, which can't be said for all expeditions at the time. I thought, "I love boats, especially wooden boats, but I can't put a boat on my business card; no one will understand why I'm doing jewelry. But I can call the business FRAM." It's easily remembered; it's easily spelled. Actually, as a result, I get called Fram a lot because people don't know my first name. I'm actually quite thrilled by that. It has nothing to do with jewelry; it's just a word that sounds nice.
Sharon: It's memorable. It's easy to remember, but it is like, "Why?" or "What's the connection here?"
Kirsten: Exactly. Well, there's none. 
Sharon: Tell us about your business. You're a dealer.
Kirsten: Yes.
Sharon: Tell us about your business, who buys it, how you sell and that sort of thing. 
Kirsten: Yes, with pleasure. The business is a small business; it's just me. I started it from scratch after I decided that the company I used to work for and I had nothing left in common. I felt a bit restricted there, and I needed to get this creativity out. It was a little bit haphazard that I left. It was a bit quick. It was a little bit unplanned. I'm very happy being a small business. I would love some feedback from friends, from a colleague at some point, but we're small. Our clients have grown slowly throughout the two years of the pandemic, of course, but we've grown steadily. It's very organic. 
They have turned out to be mostly women. I would like to put an age bracket on it, but I can't because it varies from 30 to about mid-70s. They're all very strong, independent women, and they have their own taste. They know exactly what they like, what they can and cannot wear. Some are able to spend more than others. That makes absolutely no difference to me. I like the relationship. I've noticed that the customers I've developed have become friends, almost. We talk about other things. We go to the opera together. We're invited over for dinner. They share stories about their lives. For me, it's a whole package deal. I'm so happy when they have a great piece of jewelry that I believe in, but I also really want to understand them. I don't know if that's possible with all jewelry. Maybe other people have that as well, but I have a feeling I have that quite strongly. Maybe that's because I'm not too expensive, or maybe that's because I meet a lot of them at Portobello with a very friendly dialogue. I don't know, but it seems to be that.
Sharon: Do you have people who buy from you and come back to you?
Kirsten: Yes, I have a lot of return clients who, when they can, will say, "I'd like to buy something unique. Have you got anything at the moment?" I will be very honest with them if I haven't. I can say, "No, but maybe I can find something for you." That doesn't seem to bother them. If I have a little search in the market, if I can find something unique, that doesn't put anyone off. They are absolutely repeat clients. They don't have to come back every month, but I have noticed that some of them were there in the beginning and are coming back now, and it's four or five years later. They remember you, and I think it's because we have this wonderful, honest and open relationship. I am exactly who I am, and I will not pretend to be anything else. I think that might come across. I'm not pushy or menacing, so they come back.
Sharon: You were in a different business, in the corporate world. Had you been thinking about starting a jewelry dealership or whatever you want to call it?
Kirsten: No. I've always been interested in jewelry. I started in 1998 at Christie's in the jewelry department, and it developed from one jewelry world to the next. It went from valuing pieces as a junior employee at Christie's. Then I moved to Switzerland and I became the stone buyer for a company that did all this black diamond jewelry before black diamonds became what they are now. I bought their stones, so there was a wholesale aspect to that. Afterwards I went back to auction houses and ended up in a company in England doing valuation. It's always been jewelry-based, but I think what happened is in 2018, I thought I had done everything from wholesale to auction to retail. I thought the only thing I could do where I could be free—which is very important to me, to have that freedom—is to start a business, but it had never crossed my mind because it's a scary thing.
Sharon: It's interesting that you did have such a foundation. It is a very scary thing to go out on your own. Was there a catalyst? Was it just like, "It's time"?
Kirsten: I think it was time. I could feel that the company I was with was concentrating much more on paintings and sculptures. I was promised jewelry. It wasn't quite working, and I thought, "I can't go on like this. I'm going to waste my life away." I was probably in my mid-40s, and I thought it was time to grab life and to do something for myself and to take that responsibility. I thought, "I've had so much experience"—about 20 years up until then—"I'm sure I can make this work. If I don't make it work, then we'll see, but I think it's now the time to go." 
I have to add that when these crossroads or these junctions happen in your life, and it's a big step to take into a deep void—I had very little money in the bank, and I certainly had no clients that were going to come with me. Situations like that sometimes show you that there are one or two people who show up in your life who believe in you or have been in the same position earlier and want to help you. Of course, by helping me, they help themselves, so it's very equal. I think, as it turned out, one client did say, "I've got this jewelry. Can you help me?" And a dealer friend of mine was very kind to help me with Portobello. That was what allowed me to gain some confidence and finances to slowly, slowly make my own way, so to speak, without too much financial damage.
Sharon: Did you target Portobello? Did you say, "That's where I want to be"? Did you sell elsewhere?
Kirsten: No. I didn't know about Portobello because my education in jewelry was more or less abroad. I knew of it. I hadn't ever made the effort to go down there, but I was advised to do it. At the time, Portobello was a lot busier than it is now, especially since Covid. You might remember it much busier. I think I had to go every week for about year to say, "Can I have a stand?" In the end, I got one at the back of the gallery. I think as a newcomer, you're almost seen as fresh meat. I think they didn't really know what I was doing. It was a fairly nerve-wracking experience, especially at 5:30 in the morning, but it turned out well. 
It was only recently that I've understood the importance of Portobello. My career was a little bit backwards. I started at a wonderful auction house at Christie's, very protected, and slid down this pole and ended up doing Portobello, which is essentially an antique street market. Of course, I should have done it the other way around, but it so happened this is now, and I enjoy it very much. It's a very steep learning curve to see a piece of jewelry that you have to make an instant decision on because somebody else might buy it if you turn your back. I think there's a great education in—I don't want to say judging—I can't remember the word now, but seeing a person and understanding, "Are they a safe person to deal with? Are they here to steal something? Are they going to actually take this seriously? Where are they from?" I think people knowledge is very important. 
What's been wonderful with Portobello is the camaraderie with the other dealers. Something that doesn't make sense in someone else's showcase makes enormous sense in mine, and I understood that you don't always need to buy something. They're happy to lend it to you. It's a very friendly, I'll-scratch-your-back-and-you-scratch-mine situation. Everyone wants to make money at the end, and you do end up working fairly quickly with the people you have a connection with. It's extraordinary. I advise anyone starting or even not starting to do it occasionally. It's just once a month, and I think it keeps it real.
Sharon: That's a good way to say it. It's very hands-on. These are the people buying and selling, whether it's a Christie's or a Portobello.
Kirsten: Yes.
Sharon: Right now you're toward the front of the gallery. 
Kirsten: I think I got lucky because during Covid we lost—not literally, but a lot of elderly dealers decided to pack up the business at that moment, especially once it was going on for so long. They chose to go stay in the countryside and open a little shop there or trade from home through e-commerce. Portobello emptied out quite quickly as a result of that, but when we were able to start trading again after four months of severe lockdown, there was a certain amount of us that stayed loyal to Portobello. One, because we had to work, two, because we wanted to, but we were there when we were out of lockdown. It was still very much a scare. As a result of that, I got a very nice stand, I like to think. I don't know why I'm towards the entrance. It's a great location. I think people moved around. There may have been issues with some people getting government funding, others not. I don't know. Maybe different people have different deals with the people who run Portobello, but either way, I ended up in a very nice spot. It's very cold in the winter, but it's lovely in the summer.