Episode 165
What you'll learn in this episode:
Why art jewelry is a way to reflect current times
How Annette is trying to create an art jewelry gallery in Copenhagen
Why people often don't understand art jewelry, even in cultures with a tradition of goldsmithing, art and design
Why Americans are more willing to wear large statement pieces
About Annette Dam
Annette Dam is educated from the Oslo National Academy of the Arts in Norway in 1999 and has since worked conceptually and exhibition-oriented. Annette Dam's works have been exhibited at exhibitions in Denmark as well as internationally. In 2015 she was selected for the World Craft Council's European Prize for Applied Arts in Belgium. Annette Dam received the prestigious Skt. Loye award from the Kjøbenhavns Guldsmedelaug.
Additional Resources:
Photos: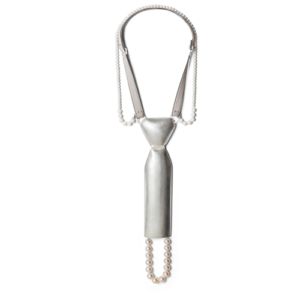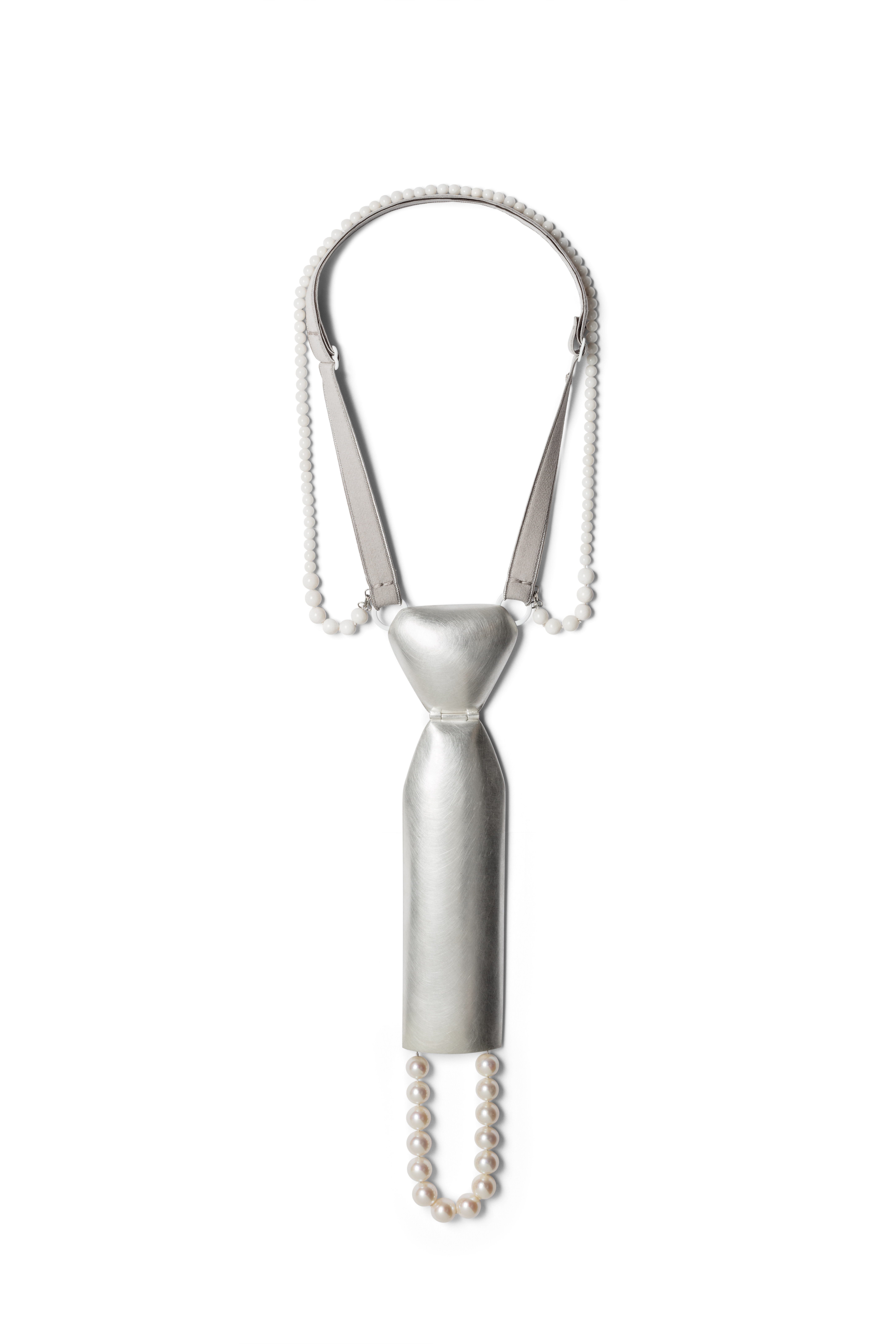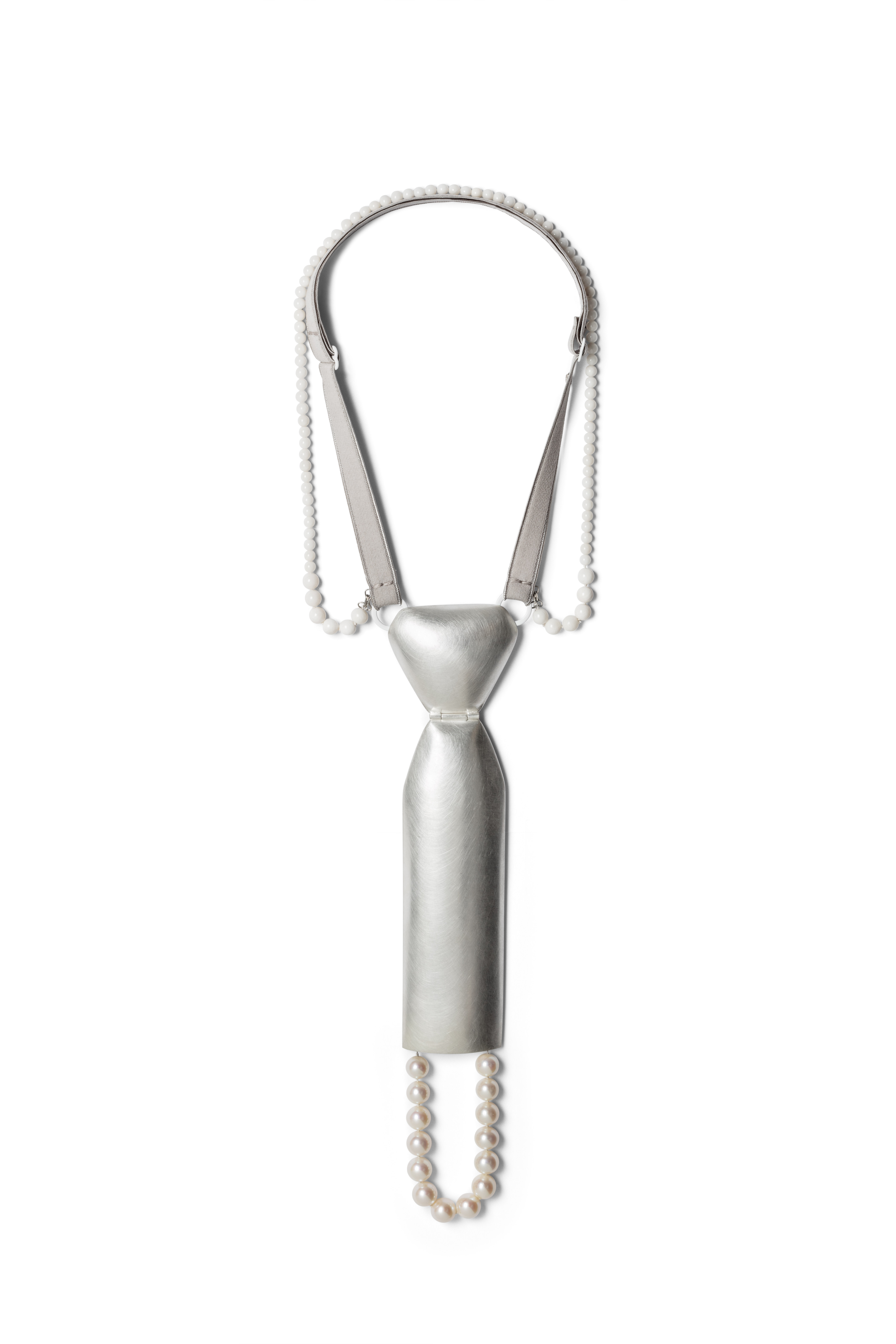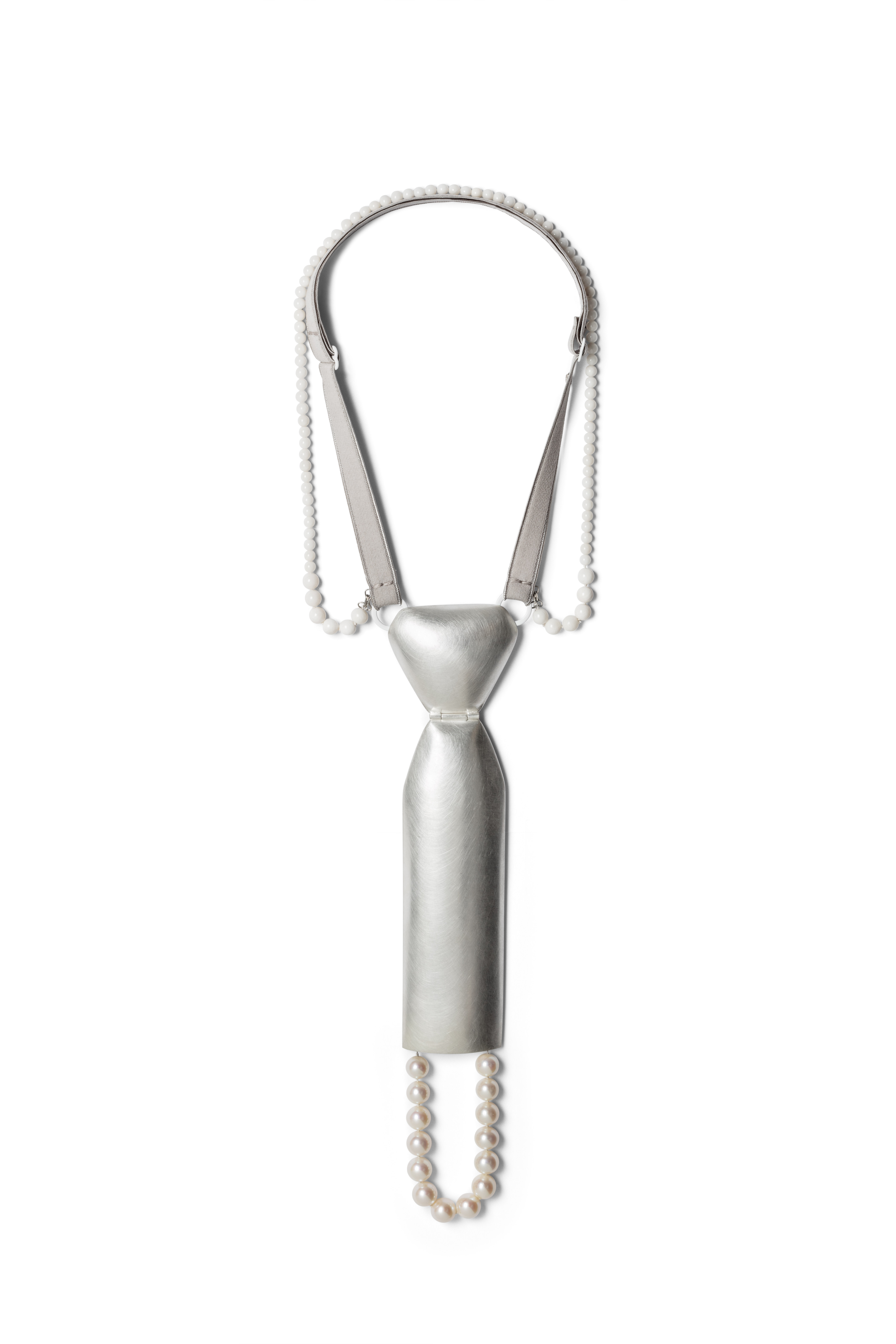 TAKING THE LIBERTY #2, neckpiece
Silver, freshwater pearls, corals, elastic band
36x14x1.5 cm.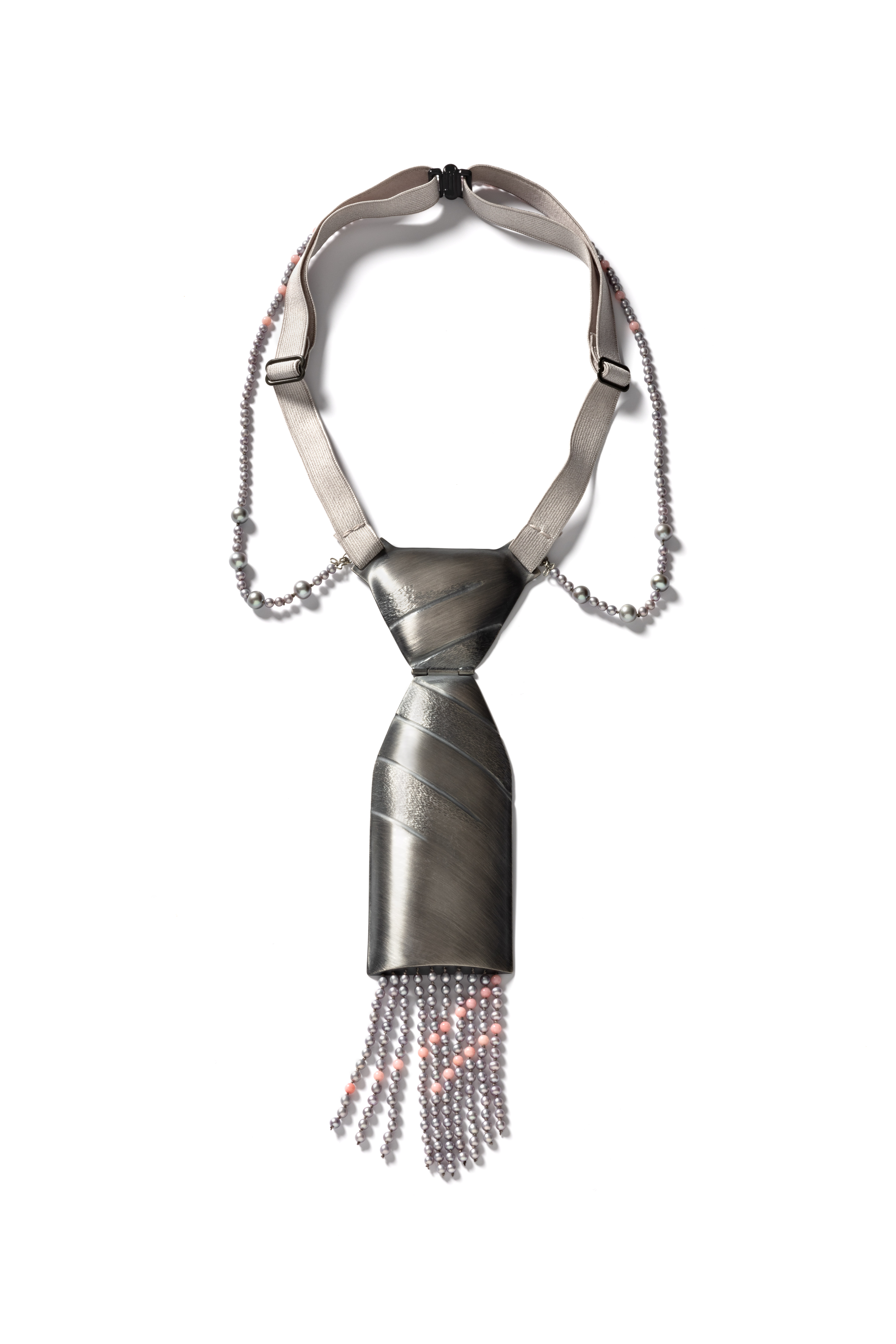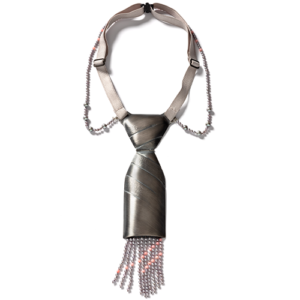 TAKING THE LIBERTY #3, neckpiece
Oxidized silver, freshwater pearls, akoya pearls, corals, elastic band
36x14x1.5 cm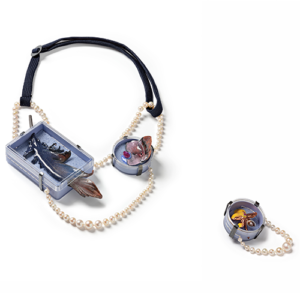 OUTGROWING #1, necklace
Oxidized silver, copper, enamel, ruby, pearls, silk thread, plastic box, silicone, resin, lacquer
30x18x3 cm
OUTGROWING #2, brooch
14K gold, oxidized silver, copper, ruby, pearls, silk thread, plastic box, silicone, resin, lacquer
8x4x2 cm
 Photographer: Dorte Krogh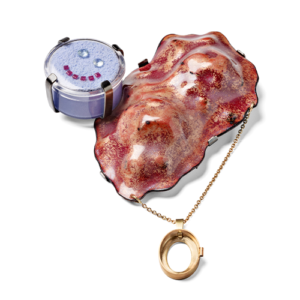 INTROSPECTION, brooch
14K gold, oxidized silver, copper, enamel, rubies, aquamarines, plastic box, silicone
8x2x12 cm
 Photographer: Dorte Krogh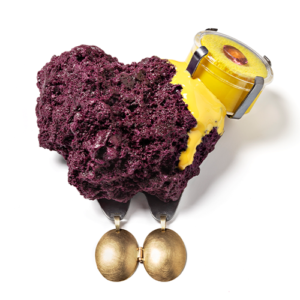 ONE DAY TIME WILL COME, brooch
14K gold, oxidized silver, resin, epoxy, pink tourmaline, plastic box, silicone
8×3.5×9.5 cm
 Photographer: Dorte Krogh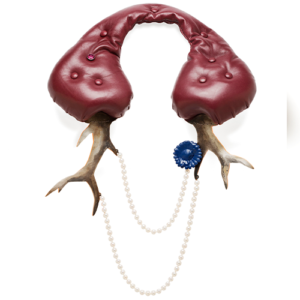 SOFA PIECE #1, necklace
Silver, pearls, topaz, leather, Daisy brooch, paint, Plexiglas
47x35x6 cm
 Photographer: Dorte Krogh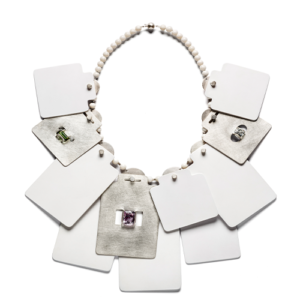 GETTING OFF THE RACK #1, necklace
Silver, tourmaline, topaz, amethyst, corals, polystyrene, wire
30x25x9 cm
 Photographer: Dorte Krogh
Transcript:
For Danish artist-jeweler Annette Dam, the appeal of art jewelry lies in the challenge of making it. How do you turn an idea or feeling into a wearable piece of art? That's the question she asks before starting any piece. She joined the Jewelry Journey Podcast to talk about her upcoming exhibitions and projects; how people from different cultures approach art jewelry; and why she wants to help the Danish art jewelry scene thrive. Read the episode transcript here.
Sharon: Hello, everyone. Welcome to the Jewelry Journey Podcast. This is the second part of a two-part episode. If you haven't heard part one, please go to TheJewelryJourney.com. Today my guest is artist-jeweler Annette Dam, speaking to us from Denmark. Welcome back.
You used the word concrete, which is exactly the word I used when I was making notes. I thought, "Oh my god, that's a real challenge." You say that what you're doing is a little bit like a riddle. You're trying to make something concrete that you're visualizing in your mind, but you want to make it real. That must be very difficult.
Annette: It is sometimes, but for me it's also where a lot of my drive is. It's where I get challenged. I get very frustrated and say, "I don't know. How do I do this?" but that is what I think is exciting. I must like it even though I get so frustrated. I think it's very hard sometimes.
For instance, I had an exhibition a while ago called "When Complexity Moved In." It was about getting older. When you get older and more experienced and more knowledgeable, you're able to see things from many different perspectives. You can see other peoples' reactions and you can see their points. You may not agree, but you can still see their view, and it's not black and white anymore. A lot of friends who are the same age as me have the same feeling. Life doesn't get easier. Even though you may know a lot more, you get more experienced, it seems like it's getting even more complex. All the grey, all the nuances, you get aware of them. How do I translate that feeling into jewelry? That is a real challenge.
Sharon: Yes, it sounds like it. It sounds like a brain twister.
Annette: Yes, it is, but that's where a lot of my energy comes from, this riddle that I have to solve to get it into a material. I make jewelry that, at least in my opinion, is somewhat wearable. Some might disagree. So, there's also a functional side to it, and I want it all to work together. Then you have a lot of ideas, and it's also about subtracting so it doesn't get confusing. That's a lot of elements in that creative process, but that's the one that drives me.
Sharon: That's interesting. I could see how you have to streamline things and say, "O.K., I have a lot of ideas, but they can't all go into this one piece."
Annette: No.
Sharon: I was intrigued by your—I'm looking for the name of it, the silversmithing program.
Annette: Yeah.
Sharon: Tell us about that.
Annette: I can say that whenever I start a new project, I always want to learn something new, not only in terms of investigating an issue, but also technical skills when I want to investigate a material. I want to challenge myself a little bit in that department as well. There's always a part of me trying out new thinking, being a beginner at something within the project.
In this case, it has a title called "Trespassing." It's about gender. It's about the balance between femininity and masculinity and power structures and stuff like that. It's things we talk about these days. It's also a way for me to educate myself within this area. I have two children, two daughters that are 18 and 20. They live in this, but I have to more actively educate myself in these gender themes. It's very interesting.
I started out doing these neckpieces that are a balance between a necktie and a traditional pearl necklace. It's a long process where I also have to deselect something to make it clearer. Where is the balance? How long should the tie be compared to the necklace before it's a necklace and not a tie? What does it really say? Does it say what I want it to say? That was a small beginning of it, but I had the chance to go to this very experienced, very good silversmith Carsten From Andersen. It was also something I got a grant for through the Danish Arts Foundation. I hadn't done a lot of silversmithing, and that's a hard technique. I had a little bit of teaching of it in school in Norway, but it has to be in your body in a way to actually do it. So, he's teaching me. I'm starting out doing these—are they called puff sleeves? Like the one Sleeping Beauty was wearing. It's clothes and a shoulder piece.
Sharon: In silver?
Annette: It's in silver, yeah. I'm a big silver fan. It also has references to and elements of the parade uniforms the military wears. It's morphing into a different plane with the balance between something innocent and very feminine and something very powerful and demonstrating military power. How can I make an interesting balance between that? I'm also making—what is it called? Like a jock strap.
Sharon: Yeah, a jock strap.
Annette: Combining that with a garter belt. It's a way for me to explore. So, I'm doing this project and learning this new technique. Part of the project will be shown at a small gallery Portabel, owned by Camilla Luin, in Norway in September. The first step in that project will be shown there and then we'll see where it goes.
Sharon: How long is this silversmithing program?
Annette: It's just him and I deciding. When I think I've done enough and when I'm finished with what we talked about. We're still not there, but it's really interesting.
Sharon: It sounds like it.
Annette: He's a great guy and he's so good at it. I'm so impressed.
Sharon: I can give you a lot of credit for wanting to embark on something like that. I like it when people explain things to me, when someone takes me on a tour of an art gallery and I say, "Oh yeah, now I see it, O.K." I saw your neckpiece with the pearls and the tie. I saw it online, and now that you've explained it, I go, "Oh yeah, I get it. That's really interesting."
Annette: Yeah, it combined those very traditional, classical, masculine, feminine accessories, and then combining them and seeing how it works out.
Sharon: That's really interesting. You say you like to exhibit things. Why is that? Why are exhibitions important to you?
Annette: I don't know. I think the pieces that I do, they relate to a topic, and it feels like I have this conversation doing it. I have conversations with myself, maybe with colleagues, family. But then to see it through someone else's eyes when the audience comes, those discussions are really valuable to me. I gain a lot from them, so I like to exhibit. I like to make bigger pieces. I know they are not production work, where I will not sell 10 of them, or thousands of them, but I still like to do them. I like to have this conversation between myself and the audience and the gallerist and whoever is there. It's very giving for me.
Sharon: You mentioned the question marks in people not exactly understanding when you say artist-jeweler. Did they understand it more in Norway or is it just in general?
Annette: A little bit more, actually. Yeah, they do. They have an art tradition. It's a recent culture for doing craft in general. In my opinion, it's more valued there. They appreciate it more. It was a good place to study. They didn't question me as much.
Sharon: They didn't say, "What are you talking about?"
Annette: I get questioned a lot in Denmark, but not necessarily other places.
Sharon: Interesting.
Annette: Isn't it?
Sharon: Yes. I know that at one point you lived in the States, in California, I think. Did you do your crafts—
Annette: No, my husband is from California. I have never lived there.
Sharon: O.K. I was wondering if you were doing art jewelry. Have you tried exhibiting here?
Annette: No, I'm represented by Charon Kransen, among others.
Sharon: By whom? Oh, Charon Kransen.
Annette: I've been traveling a lot doing exhibitions in the States, but I never worked there or lived there. I find that the American audience, they are braver in a way. They appreciate some of my bigger works that I would never sell in Denmark. As you know, there are a lot of collectors in the U.S. We don't have collectors in Denmark yet. We're working on it, but they're just braver in wearing extravagant jewelry in the US. They don't mind having those conversations. I think if they wear a big piece that has a lot to say, they know they're going to be questioned and they will have a conversation. I don't know if the Danes don't really want that, but the Americans, they don't mind it. They like it, right?
Sharon: That's interesting, because I know the pieces you have online, and from what I've seen, I don't consider your pieces really big. They're not small, but they're not huge. It's not like wearing a pectoral.
Annette: I totally agree. My jewelry is not that out there. They're not that weird, but that's a way to come for Danish wares.
Sharon: Do you see the market growing there for art jewelry?
Annette: No.
Sharon: No?
Annette: No, but I see it growing in other places, in other countries.
Sharon: In Scandinavia?
Annette: Throughout the world in general it's growing. I'm very pleased, but not in Denmark.
Sharon: Interesting. I'm surprised to hear that.
Annette We have a long tradition of making jewelry, so it concerns that we don't have an education for art jewelery at a higher level anymore. If you want to be educated within art jewelry, you have to go abroad nowadays. 
Sharon: What happened to the school?
Annette: It got closed down. They kind of made a school at this art academy, but they exchanged it for accessories, and that's not art jewelry. They kind of diminished that specific field within the accessory thing.
Sharon: It seems like there's a market in Canada. You're working on a project, the Nordic Bridges, in your exhibit in Toronto. Tell us about that.
Annette: Yeah, I was very pleased to get invited to this exhibition called Animal, Vegetable, Mineral. I was invited by Melanie Egan. She's a curator at the Harbourfront Centre in Toronto. In the year 2022, there's this project called the Nordic Bridges, which is a collaboration between the Nordic countries and Canada. The Harbourfront Centre is leading this project. There are exhibitions, venues with literature, film, dance, performance, gastronomy as well, all taking place at different places in Canada. It's a huge project. This is a part of it, this jewelry exhibition where there's one artist from each of the Nordic countries and I think six from Canada. I like the title.
Sharon: What does it mean?
Annette: It's a guessing game. I don't know. Do you have it in the U.S., a guessing game where the first question, at least in Canada, is animal, vegetable or mineral? In Denmark, it would be—how do I translate it? Is it living in the water, on earth or is it flying? You have to guess an animal in Denmark, but in Canada, I guess it's a little bit different. But this is the game, and that's the
…