Episode 165
What you'll learn in this episode:
Why art jewelry is a way to reflect current times
How Annette is trying to create an art jewelry gallery in Copenhagen
Why people often don't understand art jewelry, even in cultures with a tradition of goldsmithing, art and design
Why Americans are more willing to wear large statement pieces
About Annette Dam
Annette Dam is educated from the Oslo National Academy of the Arts in Norway in 1999 and has since worked conceptually and exhibition-oriented. Annette Dam's works have been exhibited at exhibitions in Denmark as well as internationally. In 2015 she was selected for the World Craft Council's European Prize for Applied Arts in Belgium. Annette Dam received the prestigious Skt. Loye award from the Kjøbenhavns Guldsmedelaug.
Additional Resources:
Photos: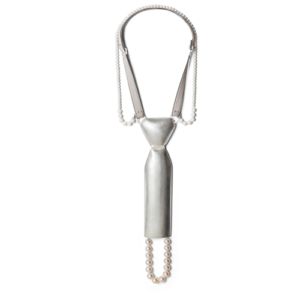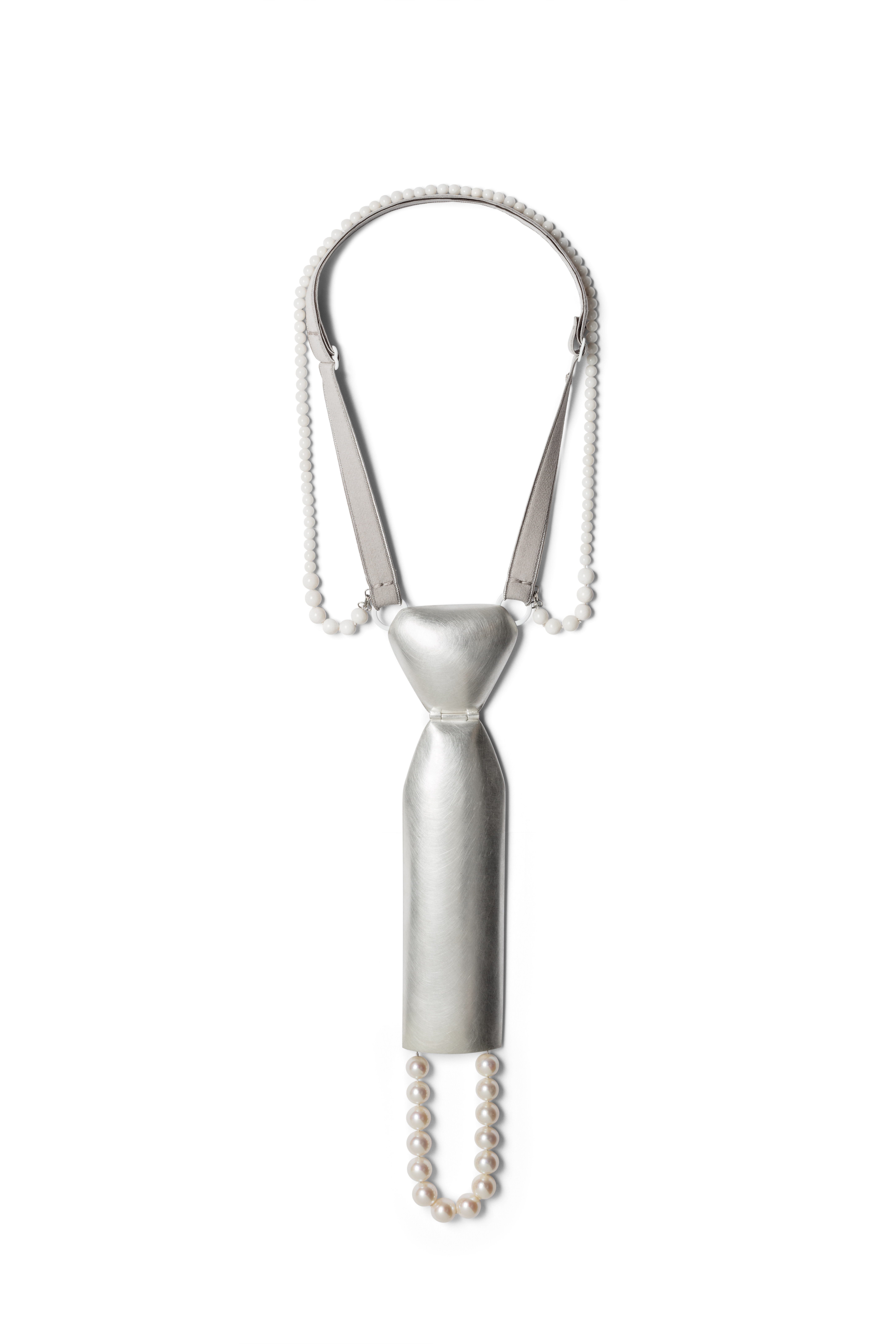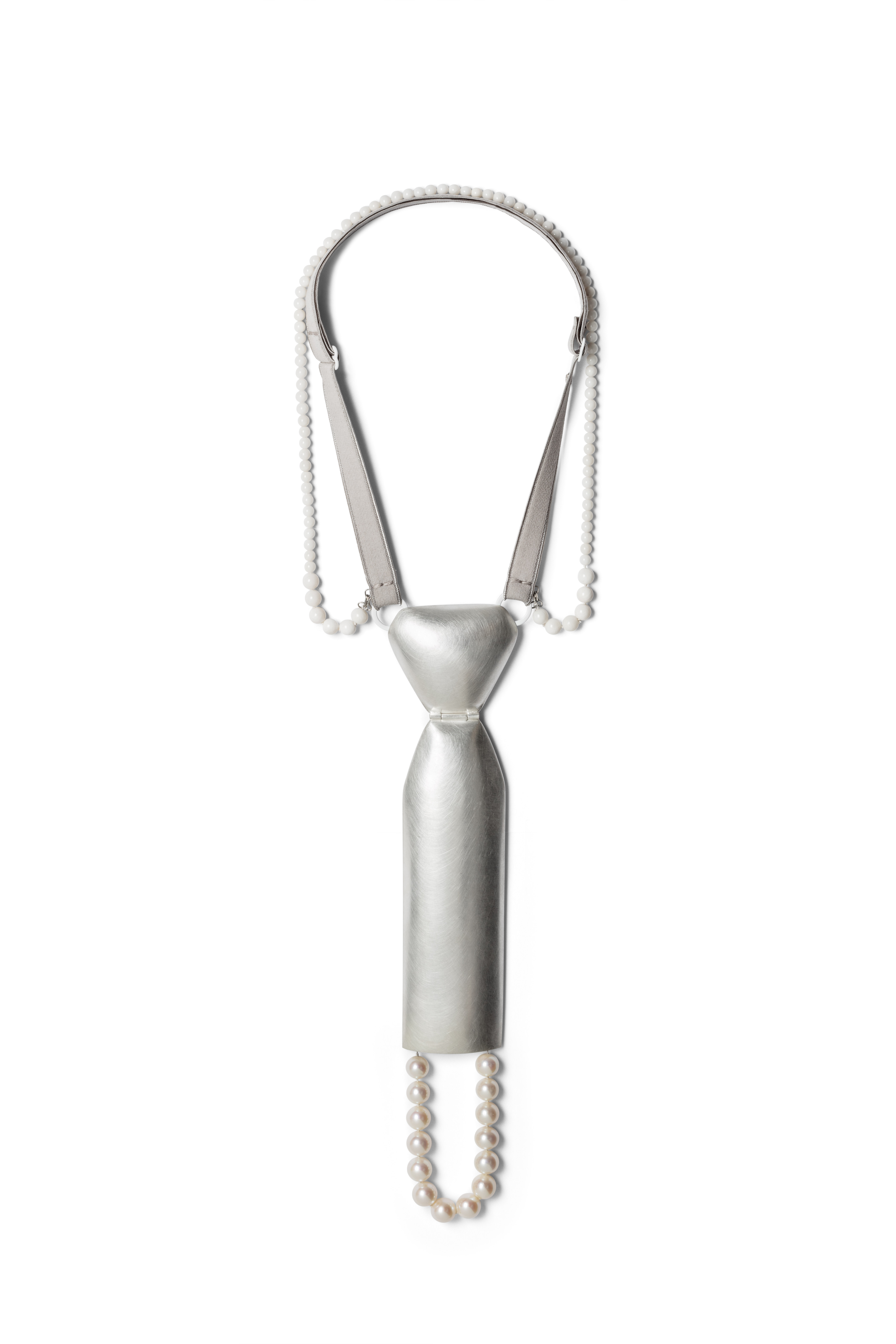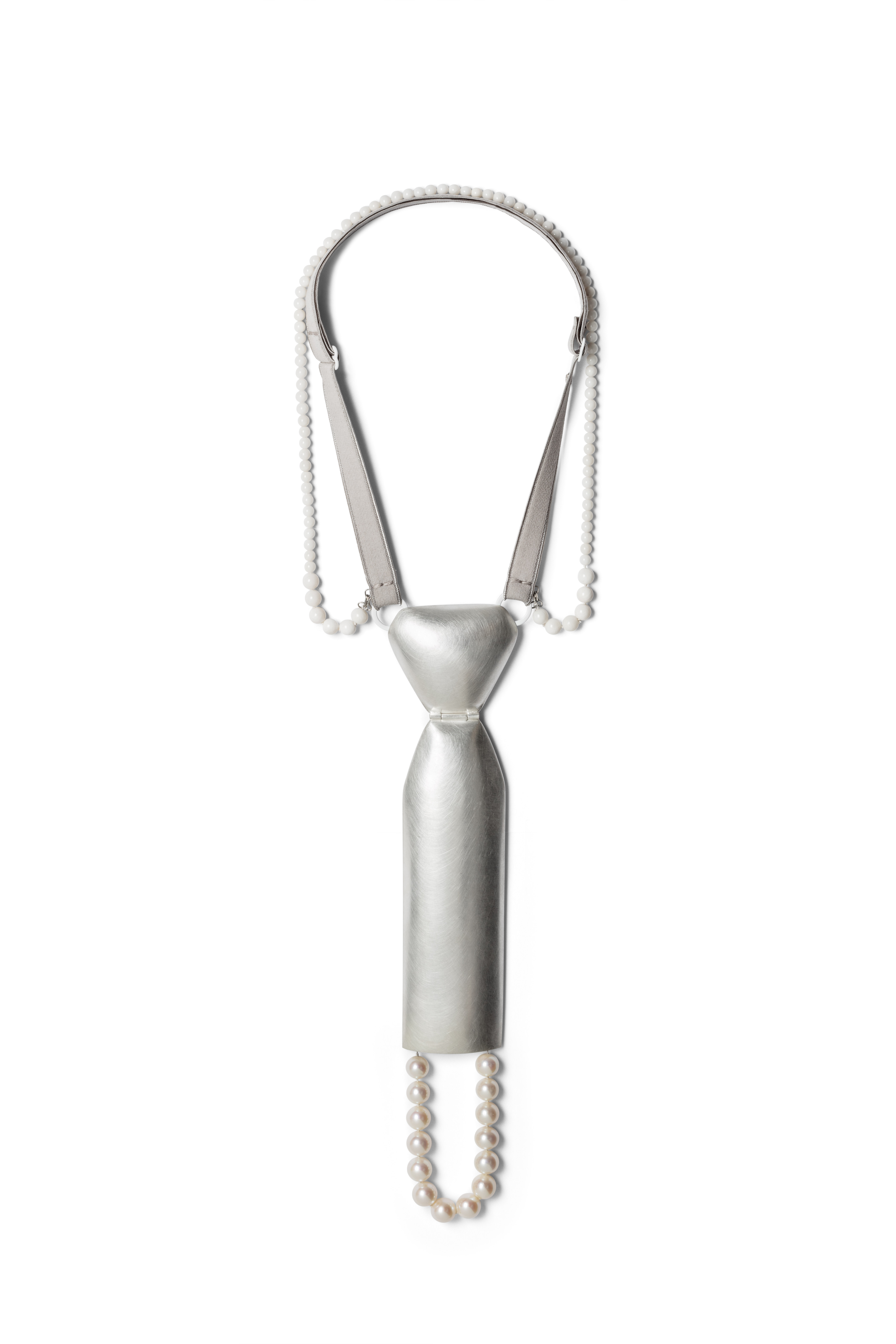 TAKING THE LIBERTY #2, neckpiece
Silver, freshwater pearls, corals, elastic band
36x14x1.5 cm.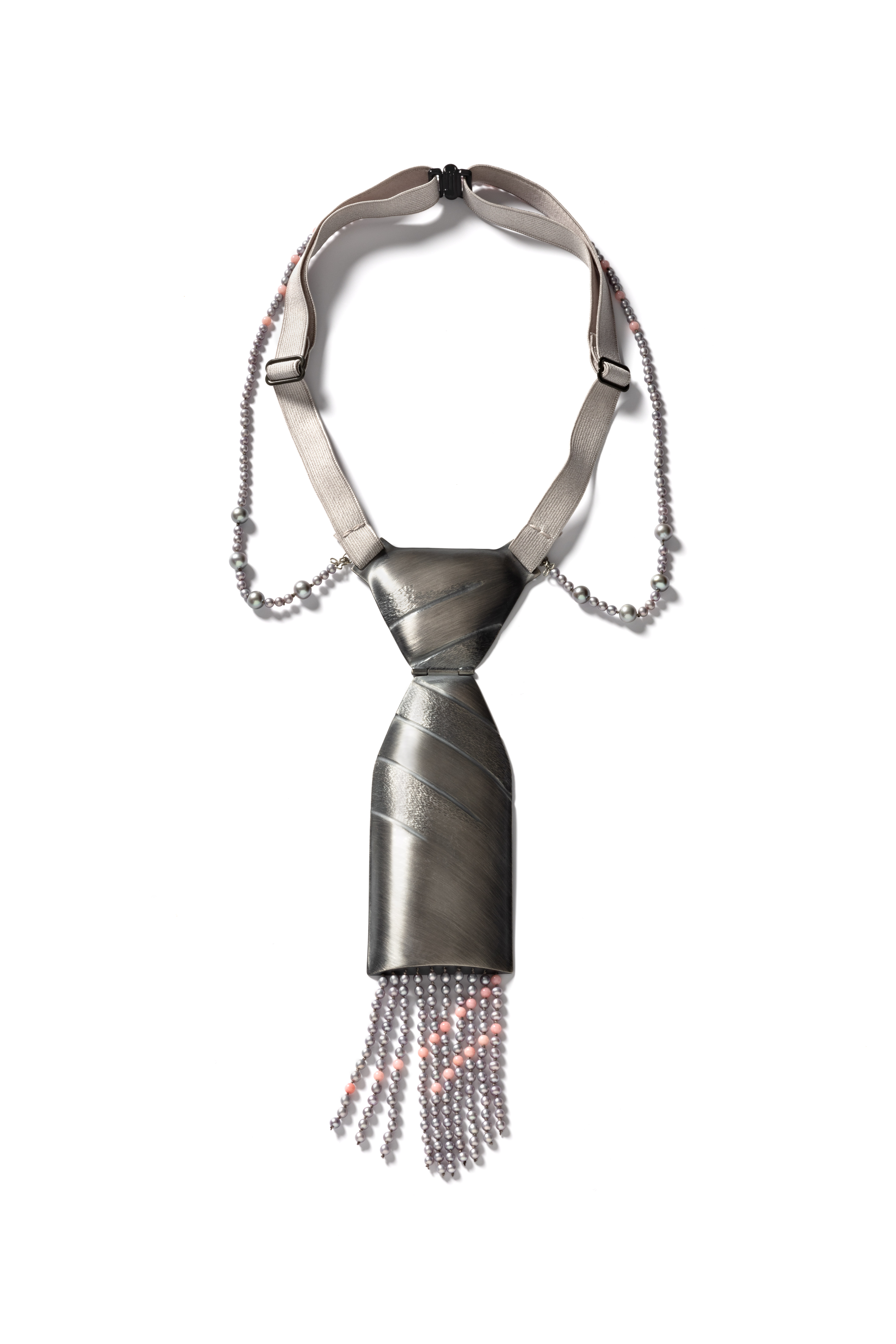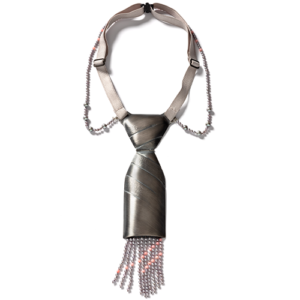 TAKING THE LIBERTY #3, neckpiece
Oxidized silver, freshwater pearls, akoya pearls, corals, elastic band
36x14x1.5 cm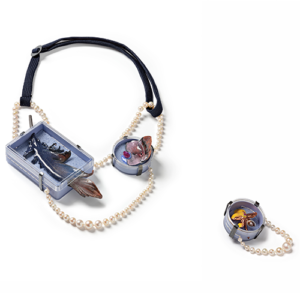 OUTGROWING #1, necklace
Oxidized silver, copper, enamel, ruby, pearls, silk thread, plastic box, silicone, resin, lacquer
30x18x3 cm
OUTGROWING #2, brooch
14K gold, oxidized silver, copper, ruby, pearls, silk thread, plastic box, silicone, resin, lacquer
8x4x2 cm
 Photographer: Dorte Krogh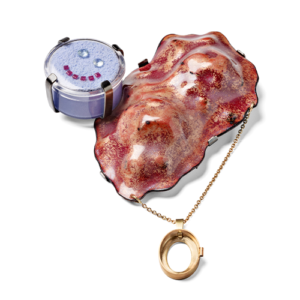 INTROSPECTION, brooch
14K gold, oxidized silver, copper, enamel, rubies, aquamarines, plastic box, silicone
8x2x12 cm
 Photographer: Dorte Krogh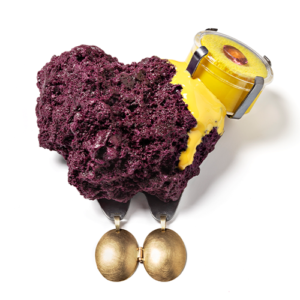 ONE DAY TIME WILL COME, brooch
14K gold, oxidized silver, resin, epoxy, pink tourmaline, plastic box, silicone
8×3.5×9.5 cm
 Photographer: Dorte Krogh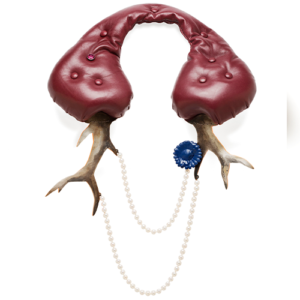 SOFA PIECE #1, necklace
Silver, pearls, topaz, leather, Daisy brooch, paint, Plexiglas
47x35x6 cm
 Photographer: Dorte Krogh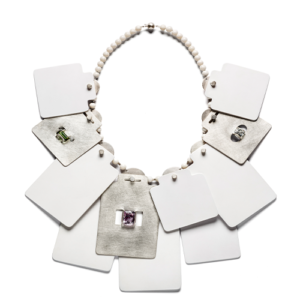 GETTING OFF THE RACK #1, necklace
Silver, tourmaline, topaz, amethyst, corals, polystyrene, wire
30x25x9 cm
 Photographer: Dorte Krogh
Transcript:
For Danish artist-jeweler Annette Dam, the appeal of art jewelry lies in the challenge of making it. How do you turn an idea or feeling into a wearable piece of art? That's the question she asks before starting any piece. She joined the Jewelry Journey Podcast to talk about her upcoming exhibitions and projects; how people from different cultures approach art jewelry; and why she wants to help the Danish art jewelry scene thrive. Read the episode transcript here. 
Sharon: Hello, everyone. Welcome to the Jewelry Journey Podcast. This is a two-part Jewelry Journey Podcast. Please make sure you subscribe so you can hear part two as soon as it comes out later this week.
Today my guest is artist-jeweler Annette Dam, speaking to us from Denmark. Annette's work is very intriguing. It's straightforward, but she also injects humor. When you look at her work, you say, "Oh, my god, it's so true what she's saying. It's so true, but it's also very funny. Why didn't I think of that?" Her work has been exhibited in museums and at shows around the world. She always has several projects going at once, which we'll hear about today. Annette, welcome to the program.
Annette: Thank you, Sharon. It's nice to be here.
Sharon: So glad to have you. Tell us about your jewelry journey. How is it that you got into art jewelry?
Annette: That was kind of coincidental, actually. I always drew a lot when I was a kid. I always did lots of arts and crafts. I come from a family of do-it-yourself types and creatives, but not in an artistic way. So, I'm used to drawing and stuff. I remember when people asked me, "What do you want to do when you grow up?" I said, "I want to be an architect." I kind of wanted to be that. There was also, I must admit, something about giving them an answer that they would accept and leave me alone. Then I got into this after gymnasium—
Sharon: High school.
Annette: Yes, high school, but in Denmark, it's like the last part of your high school and the first of college. Anyway, I came to this school. It was kind of a boarding school. You do it often on your sabbatical, but it's a very big thing in Denmark to go to these schools. They can be creative. They can be about athletics. They can be about politics. They can be about a lot of things. I went to, of course, an artistic one.
I was dreaming about coming into this class with glass blowers, but it was filled up, so I heard, "Well, maybe you should try jewelry," and I said, "O.K." It just opened to me because I had the image of jewelry as being precious materials, nice and fine, wearable, functional. Wedding rings and stuff like that. But that school opened up to me that jewelry could be so much more. This was in Denmark. After that, I wanted to search if there was a way for me to do jewelry. In Denmark, you could do goldsmithing. They had something called the Institute of Precious Metals, but it was an add-on if you were already a goldsmith, which I wasn't and I didn't want to become one. In my head, you would spend the first couple of years doing repairs, making coffee, and I wasn't into that.
I had already been to Norway working at this ski resort. I went back, heard about this school in Norway, and met a girl who had gone there as an architect. She explained it and I said, "This sounds amazing, just what I want," and she said, "Well, it's very hard to get in. You'll probably not make it." I have a stubborn side to me, so at the moment she said that, I definitely wanted to try. After a long application process, I got in. I had five years at Oslo National Academy of the Arts. It's a wonderful school. I can highly recommend it today.
I spent five years there exploring materials, concepts. The school is built on letting you a course of a lot of skills, technical stuff of course, but you always have to do something artistic with it. Even though you're learning a technique, it has to be more than that. I thought that was great, that I could express myself through jewelry, an art form I really enjoyed doing. Altogether, I spent 11 years in Norway. It wasn't planned, and my mother was saying, "When are you coming home?"
Eventually I had kids and I went back to Denmark. In Denmark, it's very common to stop at these—what do they call it?—joint workshops, where there are a lot of people sharing not only the space, but also the machines and the tools. As a startup jewelry artist, those machines are very expensive. For me, getting into this joint workshop, where we were 10 people at the time, was really good because I'm not from Copenhagen. I moved back to Copenhagen from Norway. I'm not from there, so I didn't have a lot of network there, but I got that through this workshop. There were a lot of wonderful people there. I wasn't limited by not having all the big machines because they were already there. I stayed in that workshop for quite a lot of years. I made a lot of good friends. I stuck to doing exhibition work. I wanted to do bigger projects and exhibition work, and then I would teach on the side, do odd jobs. I was able to do these crazy things that I wanted to do, and that worked out quite fine, I think. I've been doing that ever since, actually.
There at one of the workshops I met a now very, very good friend and colleague. We made this project called Art Jewelry Copenhagen. That's a platform where we make group exhibitions and workshops and seminars. We've been traveling a lot under this platform, Art Jewelry Copenhagen. When people asked me at the time, as a young chick, "What do you want to be when you grow up?" and I had answered, "An art jeweler," I don't know if I would have gotten off that easily as when I replied, "I want to be an architect."
Sharon: Art jewelry means so many different things. It's so hard to define. You're described as an artist-jeweler. Then there are people who say they're jewelry artists. How do you define art jewelry?
Annette: To me, art jewelry is a method to reflect current times. It's a way of having a discussion with myself and then doing these pieces that comment on it, as all contemporary arts comment on the present day. That can be either through form, material, aesthetics, or it could be making a statement or commenting on the political or environmental landscape we have nowadays. For me, it's this method of digging into things, having this discussion about how to look at it, a way through a process, investigating themes, materials that I didn't know before, and then putting it on my own body.
Sharon: Art Jewelry Copenhagen, it seems like it's been very well received. You went to Asia. You've been all over the world.
Annette: Yeah, the last exhibition we had was at ATTA Gallery in Bangkok. Unfortunately, just at the time it was looking up with Covid, we thought we were going there. We bought the tickets, and then suddenly Thailand made some restrictions so we couldn't go anyway. That was really sad, but we made this exhibition at ATTA Gallery where Marie-Louise Kristensen and I had invited seven other artists from Denmark making these—we call the exhibition COPENHAGEN ReARRANGED. It was basically about inspiring each other. As artists, we stand on the shoulders of many artists and designers before us, but we also get inspired to help each other. We all exchanged elements. I had very typical elements from what I'm doing, and I gave them to someone else in the group, and I received something from another person that I had to implement in a new piece. Denmark also has a long tradition of working together and the notion that you can do more together than alone. We have a lot of unions; we have a lot of them from old times, and these, I don't know, communities—
Sharon: Like guilds?
Annette: Guilds, but also for housing. There are a lot of groups that join forces, and then you can do something as a group that you could never do alone. We have a long tradition of doing that. That school I mentioned before is also a part of that culture where you join forces. So, in this exhibition, we joined forces with other colleagues that we enjoy working with and made this exhibition. The artists had their own work, and then you could very easily see which was a collaborative work and which was not. It worked out, but we would have loved to go and list it at a gallery again.
Sharon: Will you be able to do that now?
Annette: Yes, now we can do it, but the exhibition is over. We'll go another time. Actually, COPENHAGEN ReARRANGRD has been a gift to me. I'm also doing things with my friend and colleague. Marie-Louise Kristensen has made me do something I wouldn't have done alone.
Sharon: That's Marie-Louise Kristensen.
Annette: Yes.
Sharon: Another art jeweler who's very creative, also.
Annette: Yes.
Sharon: I'm jumping around here, but you mentioned the collaboration. You're starting to put something together that you call Spacious Copenhagen.
Annette: Yes.
Sharon: Tell us about that.
Annette: Yes. Marie-Louise Kristensen won't be in that project because she would prefer to stay free in a way. I think I'm at the point in my career and life where I'm ready to establish something that binds me a little bit more in Copenhagen, and I would love to create this space that I'm missing myself in Copenhagen. I'm trying to create this platform and artist space gallery called Spacious Copenhagen. I have plans for three exhibitions next year. I'm starting out. That's a lot of work before—Aleah – Is something missing here? Do I need to fill it out?)
Sharon: Yeah, I'm sure.
Annette: —if it's a bigger group exhibition. I have these three ideas that I'm going to carry out, and in the meantime I'll see if I can also find a permanent space in the inner city of Copenhagen ideally. I need to have funding and financial ballast to do that, but I'm starting out. I'm doing the platform and the website at the moment, so small steps, but I want to have this place where I can do whatever I want. I don't have to apply for someone else's space, and I can also invite internationally whomever I want. Ideally, I would also like to create something like an artist in residence over time. A lot of ideas, but I have to take small steps because I'm just me. And I´m not a full-time gallerist but an artist that aims to make an exhibition platform and doing my own work as well. (05_Annette Dam)
We don´t have many galleries showing art jewellery or museums with jewellery collections – the Danish Design Museum has some pieces in their general arts and craft collection, but not really a considerable collection representing the field. What we DO have though, is the Danish Arts foundation´s `jewelry box´ which consists of works they bought over, I think, the last 40 years, and those pieces of jewelry one can actually borrow and wear, if you in some ways are attending an official event or celebration.
The Danish Jewelry Box is a very special and democratic arrangement that you could probably do another podcast about – in that case I suggest that you talk with Anni Nørskov Mørch, who have an interesting jewelry journey of her own. (02_Annette Dam)
Sharon: What do Danish people say when you say you're an artist-jeweler? Do they understand what you're talking about? Because, you're right, Denmark has a long history of this sort of thing.
Annette: Yeah, but we have a long history within goldsmithing, art and design. When I say I'm an art jeweler, they have two question marks in their eyes and they say, "Hm, combining art and jewelry, what is that? Is it still functional or are we offering something for an art department?" I have to explain what I'm doing in more detail before they actually know what I'm doing. We do have a long design history, and that's very good. I really have a tradition to draw on and to reference. I use that in my pieces, but at the same time, it's not as big a gift as some might think—not to me at least—because you're also bound to it in a way. It's hard to break loose and step into the art field, so it's affected me there.
Sharon: How do you explain to people what you do when they have question marks in their eyes?
Annette: I get more concrete, and I show them and tell them the thoughts behind the actual piece. I'm getting much better at wearing my pieces, so they have the visual at the same time as me explaining. I think a lot of times they don't have any visual images on their retinas, so it's kind of hard to reference.
Sharon: Were you hesitant to wear your pieces?
Annette: At a certain point I was. I don't know. I got a little bit shy and a little bit humble at the same time. I'm getting over it. I'm getting older. If I want this field to grow in Denmark, I need to represent it also in wearing it.
Sharon: That's a good way to look at it. It's so much easier to explain to somebody if you're wearing the necklace or the neckpiece and saying, "This is what it is." It must create a lot of conversations when you're wearing it.
Annette: Yes, it does. People get amazed. They don't know how much thought goes into it, that there are so many perspectives and that it conveys a lot of talk and discussion about issues. You can discuss things, because this is a starting point for my view on the things and then go from there.