Episode 164
What you'll learn in this episode:
The surprising stories Prince Dimitri discovered while compiling material for his book, "Once Upon a Diamond: A Family Tradition of Royal Jewels"
How decorative and fine arts have influenced jewelry throughout history
Why paisley is an enduring motif in jewelry
Why mixing high and low jewelry and fashion has always been chic
How Dimitri's ancestor Catherine the Great created the royal uniform we recognize today
About Prince Dimitri
Prince Dimitri founded his company in 2007 after sixteen years as Senior Vice President of Jewelry with Sotheby's and later as head of Jewelry at Phillips de Pury & Luxembourg auction houses.
Dimitri's love of jewelry dates from his childhood and unique heritage of a family where the heads of European Royalty were closely tied together in an era of extreme opulence, beauty and culture all over Europe. He began designing jewelry in 1999, with a collection of gemstone cufflinks that was sold at Bergdorf Goodman and Saks Fifth Avenue. He also designed a line of women's jewelry that was sold at Barneys New York and Neiman Marcus. He has designed for Asprey's in London and done special lines for other American companies. With his own jewelry company he has been able to realize his own vision in his love of gemstones; the juxtaposition of unusual materials and color; imaginative forms and paying attention to detail and to superb craftsmanship.
Additional Resources:
Photos: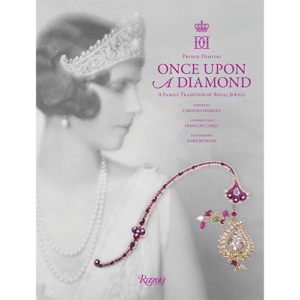 These pieces were all made by Squaremoose studio in NYC https://squaremoose.com/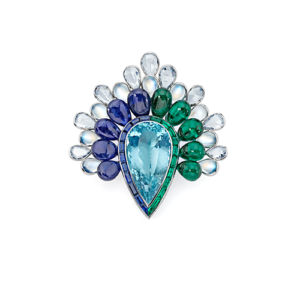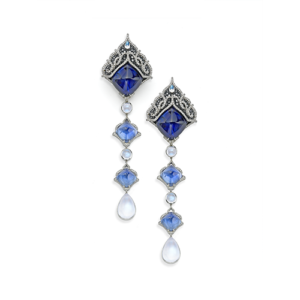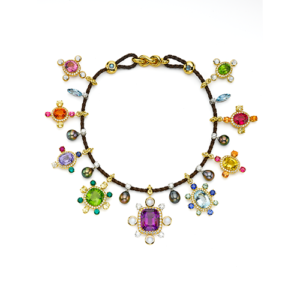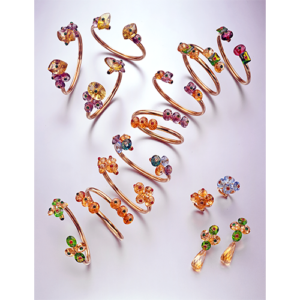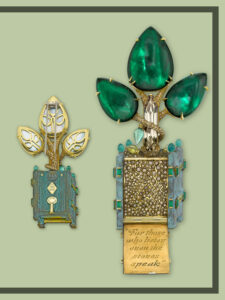 Transcript:
Growing up surrounded by the world's most beautiful jewels, it's no wonder that Prince Dimitri became a jewelry designer known for his gemmy creations. After working in the auction world for many years, he launched Prince Dimitri Jewelry, which offers a range of jewels from affordable to six-figure masterpieces. He joined the Jewelry Journey Podcast to talk about how jewelry became a symbol of royalty; the most memorable pieces that came across his desk at Sotheby's and Phillips; and where royal jewelers throughout history found inspiration. Read the episode transcript here.
Sharon: Hello, everyone. Welcome to the Jewelry Journey Podcast. This is the second part of a two-part episode. If you haven't heard part one, please go to thejewelryjourney.com. Today, my guest is Prince Dimitri of Yugoslavia. Welcome back. 
You know so much about this, I'm sure, because of studying through auctions, but is it because you looked at Russian jewelry, too, as part of your background?
Prince: Yes, and I've read all the Cartier books. My favorite book of the moment, apart from mine, is the one of Francesca Cartier. I did a podcast with her. The beginning of a certain style of tiara was the tiara of Grand Duchess Vladimir, my great grandmother. She had invited him to her palace in St. Petersburg and introduced him to the court. There was a particular tiara she liked that is now the property of the Queen of England. It's the favorite, actually, of the Queen of England, but Cartier also was her favorite. He asked her if she would be kind enough to loan it to him so he could get inspired by it. She, being the most important patron of the arts in Russia at the time, immediately said, "Yes, let them have it." 
His first tiara, he made it for an American heiress who had married one of the sons of the King of Greece. I show it in my book on two pages, one next to each other, the two tiaras. You can see exactly my great grandmother's tiara in it, but you can see exactly the Cartier style as well. It's unbelievable, the alchemy he did. He took the design, tweaked it, altered it, made some changes, and turned it into a typical Cartier thing. It's the typical art of the French. French art, I would say from the Middle Ages on, and especially in the 18th and 19th centuries, was the art of taking an element from foreign cultures, but doing the magic of turning it into a specifically French product. You see that with porcelains, with furniture, with Japanese lacquers and the Chinese porcelains mounted in the French bronzes, all of that. That's what Cartier wanted to reproduce in his workshop, this mentality of being able to create magic like that, which is true creativity. It all started during the Renaissance times, which marked the beginning of that mentality. Every artist today works based on that. 
Sharon: You like paisley as a motif.
Prince: Yes, I love paisley. 
Sharon: Why?
Prince: Because the shape is so pretty, and the history is so interesting. It is believed that it arrived in Iran and India more or less at the same time, during the conquest of Alexander the Great. He conquered half of the world in those days, and he died pretty young, at the age of 30, I think, in India. A lot of his armies didn't want to go back to Greece and just settled in India and then Iran. On the artifacts they had with them was a shape that was very similar to the paisley. It was the mango. The mango, in ancient Greek decorative arts, represented the symbol of fertility.
Sharon: What was the name of it? 
Prince: The mango, the fruit.
Sharon: Oh, mango, O.K.
Prince: Yes, the Greek mango was the symbol of creativity, fertility and all that. The Persians and the Indians were already an advanced civilization, and they loved the shape and created their own out of it. It's different from the mango, but when you see the two together, you understand how it originated. 
It then came back to Europe in the 19th century. There was a huge revival of paisley, and it was immediately applied to fabrics. The center of fabric in Europe was a town in Scotland where they made all the famous shawls that all the elegant ladies of the 19th century wore. The name of that city in Scotland was Paisley. That's why it's called paisley. In French we call it the Kashmir motif, and in Italian also, because it's from the Kashmir region of India. They made it very popular to the western world after it disappeared. It never came back. It's this idea of art going back and forth between different continents, which I find fascinating.
Sharon: Your jewelry is mostly by commission. Is it somebody bringing you a bag of their grandmother's stuff and saying, "What you can you do with this?" or is it, "My wife has a birthday coming up. What can you do?"
Prince: Exactly. We do a lot of that, or cufflinks for the husband or little pendants for young men for graduations. I do Damascus steel corsets, Damascus steel being the metal with which they made the swords for the crusaders. It's folding sheets of steel, like how you fold sheets to make a croissant, like a baked pastry. In my book, you will see how when you cut it, the way it's folded appears. It gives a wonderful design to the steel itself, and then you apply stones to it, and it makes something very, very interesting. I try and make it into my style of design at the same time to make it more interesting.
Sharon: And you say it's appealing to your male clients?
Prince: Male clients or female clients who like more toned-down jewelry, more masculine jewelry, because some jewelry is masculine. During the whole Art Deco period and the retro period, all of a sudden they veered away from all the flowers and the fussy things from before to make more geometric forms, which were more masculine. So did fashion. The fashion was more strict. There were fewer feathers, less fabric. It's a back and forth in history between the energies of yin and yang. You see it in decorative arts.
Sharon: Do you find it's become more popular or growing in popularity? What's the market?
Prince: The market nowadays is for smaller things that you can wear all the time and that you can dress up and down. I make things you can wear with a ball gown that will look amazing, but you could also wear it with a jean and a white T-shirt. It has this chameleon aspect to it. It will blend into your outfit and people won't realize what you're wearing. This is good. You want only the opinion of those who understand jewelry. You want them to understand. To people who don't understand, it doesn't matter. Stuff like that.
Sharon: I think—and this is based on some of the reading I was doing—you talked about it being very chic to mix the high with the low.
Prince: Yeah, to mix things like that. I remember during my second year at Sotheby's in Geneva, there was a lady who walked in who looked like a model. She was a model; she was actually a Serbian model of unbelievable beauty. She was wearing a white T-shirt and jeans and high heels, and on her pinkie finger she had stuck two rings. One was an emerald-cut, D flawless diamond of 30 carats, and the other one was a 25-carat cushion-cut Kashmir sapphire. I spotted those and I said, "Is this what I think it is?" and she said, "Yes, absolutely." You know who that lady was? Mrs. Rizzoli. 
Sharon: I'm sorry, who?
Prince: It was Mrs. Rizzoli.
Sharon: Mrs. Rizzoli, the publisher?
Prince: Yeah. I was told afterwards when she left, but it's Rizzoli who did my book. I always remember what an interesting way of wearing jewelry it was. She has certainly influence my creativity, I think. 
Sharon: I'm sorry; I'm just not following. Because you would expect somebody like that to be dressed a lot more formally?
Prince: I had never seen somebody with a jean and T-shirt wearing a 30-carat, D flawless diamond. She was wearing $10 million of diamonds on that finger, and nobody paid attention. I spotted it immediately because gems speak to me. 
Sharon: When they speak to you, are they telling you what to do with them?
Prince: Yes, sometimes, but I don't know. The first thing I notice is jewelry. It's like a sixth sense I have.
Sharon: I don't know how many places somebody's going to walk in with a 30-carat, D flawless diamond. Maybe in New York. How many do you see? I don't see that many, anyway.
Prince: Not anymore. Yeah, not anymore.
Sharon: You've probably seen a million. When I think of the high and the low, I think of people describing wearing something from Target and then something from, I don't know, Tiffany. Maybe not so much anymore.
Prince: Yeah, from Tiffany, of course, or Cartier or anything. Even Fabergé.
Sharon: Yes. You talked too about having different lines at different price points. You have it for the ultra-rich and then you have it—
Prince: At every price point there is, because I like the challenge of being able to do something very pretty that's affordable. With unlimited budgets it's easier, but I also like the challenge. For instance, this is the best example. The other day, I had to do an engagement ring for the daughter of a friend of mine. The boyfriend of the fiancé couldn't afford much. He didn't have a very big budget, and he was wondering if we could do a mounting that would make the diamond look bigger and add two on the sides and all that. I said, "No, no, no. You don't want a ring that says, 'This is all I can afford.' You want a ring that says, 'I have fabulous taste, and this is it.'" So, I gave him a one-and-a-half-carat diamond, which is small, but I did a really nice mounting. We did something called the love note on each side.
Sharon: The love song?
Prince: The love note. The love note is also known as the note of Savoy, which I speak a lot about in my book and my Instagram. It's the symbol of true love, and it comes with a motto: It binds you, but it doesn't constrain. I said, "You already have a wonderful symbol in this thing. We're going to make it in platinum. There's no underhand. I want the diamond to touch the skin of your fiancé so she can feel it on the palm. It's going to be a work of art." It worked. We kept the budget under $20,000.
Sharon: Wow! It's a love dot?
Prince: A love note.
Sharon: Is it a little knot on the side?
Prince: It's a love note, two of them. It's shaped like a figure eight, like an infinity note; one going up, one going down. It's the note Savoy. You'll see it in my book and on my website. I did an entire collection called "The New Look of Love," and I do the colored version of it in gold with little cabochon stones. They are about $4,000 or $5,000 and they're super nice.
Sharon: And you find those do well for you? 
Prince: Yes.
Sharon: I'm curious what you think. I was listening to a podcast this morning talking about inflation and whether there's going to be a recession with a little "r" or a big "r." What do you see in terms of jewelry right now? How is the market for jewelry? Are people uncertain? 
Prince: People are uncertain. It will slow down. I happen to be lucky right now. I have had a ton of orders lined up, but I don't know how long it will last. It all depends on how the economy does. It's always like that.
Sharon: Maybe you haven't experienced it for a while, but when times are slower in terms of jewelry, are you doing more drawings in preparation for when things pick up?
Prince: Yes, I do that. In 2008, I did that. I was drawing a lot because I like to draw.
Sharon: Do you wake up full of ideas?
Prince: Sometimes, yes. Not every day, but all of a sudden I do have ideas.
Sharon: And they're coming from things around you and things you see and what you read and history, like you talked about.
Prince: Yes, anything I could see in the street, for instance, any object, sometimes out of nothing comes an idea. You know what they say: for those who listen, even stones speak.
Sharon: That's interesting. I haven't heard that before. I think that's a great line. 
You talk about Catherine the Great being one of your ancestors. She was a fabulous marketer through her jewelry; her jewelry was a form of marketing. Could you tell us more about that?
Prince: Yes. She normally had a gold dress. The dress was very important. She had something like 150 brooches sewn on the dress. She looked like a Christmas tree, plus the tiara and the crown behind all of that. She understood that somebody walked into the palace in St. Petersburg, let's say. If they saw her looking like that, they would instantly know that was the empress and that's what she did. In a way, she invented the outfit, the uniform of an empress. 
It's funny you say that, because years later my grandmother told me, "Tiaras always give me a headache." I said, "And could you not wear them?" She said, "No, I had to wear them because that's what was expected of us. It was our uniform. We had to wear tiaras and jewelry and look the part because that's what we were; that's what our job was." You see it today. The Queen of England, who's a genius at what she does, is always the most elegant woman in England. If you didn't know she was the queen, which is impossible in the modern day because everybody knows what she looks like, but if you saw a lady dressed like that, you would instantly know she's somebody very important.
Sharon: You're communicating through your jewelry.
Prince: Yes, it's a uniform in a way. If you're a policeman, you were a policeman's uniform. If you're a nurse, you wear a nurse's uniform. If you're a princess or queen, you wear that kind of uniform.
Sharon: Which raises a question as you're talking, I'm thinking, "Why put tiaras with your jeans?" I don't know. 
Prince: No, that you can't do. That is the one thing left that—first of all, you have to be of noble or royal blood, and it's only with a white tie on certain, very rare occasions.
Sharon: Do you have to be noble if you can afford it? I'm just wondering.
Prince: Yeah. The protocol is that it's only ladies of the nobility and of the aristocracy, meaning the nobility or the royalty, only those ladies are allowed a tiara, and they have to be married. Normally unmarried girls don't wear tiaras yet.
Sharon: Interesting. 
Prince: No.
Sharon; Did you have a lot of tiaras cross your desk when you were in the auction houses?
Prince: Yes, quite a few from royal families in Europe. Yeah, very nice ones. 
Sharon: Did they want them melted down, or did they want you to try and auction them as tiaras?
Prince: Auction them as tiaras, because it makes more money like that. 
Sharon: Yes, I suppose—well, I don't. Would it? I guess it depends on what it was made of.
Prince: If you can wear it as a necklace, then it makes a lot of money. If you can't wear it as a necklace, then it sells for less because it's more a difficult thing to wear. A lot of those tiaras were necklaces fixed on an invisible frame that you put on your head. It stands up straight, and then you unscrew everything and you can turn it into a necklace, which was a very clever invention done in the 19th century. The Russians were the masters of that, jewels with a variable geometry, I call them.
Sharon: Jewels with a variable geometry. I think of the pieces that come apart as being more from the 30s and 40s, but you're saying it was done earlier.
Prince: Well before, at the end of the 19th century. The Russians did that. You could take the center parts and wear them as brooches. 
Sharon: I'm surprised to hear that you're not talking about Fabergé jewels. Did you see those? Were they in your background?
Prince: I sold those, yes, but those were extremely, extremely rare. The most famous one in existence today is the Cyclamen Tiara of the Duchess of Westminster in England, which also unmounted to become a necklace. It's absolutely a dream of a tiara. My grandmother had some necklaces and pendants and little things, but not many important ones.
Sharon: Fabergé, she had.
Prince: Yeah, it was mostly objects and little jewels. But tiaras, there were very few made, and they disappeared during the Revolution. 
Sharon: Prince Dimitri, where do you want to take your business from here? 
Prince: I want to keep on growing, wherever that will be. 
Sharon: Have you found it to be any help or impediment, being a prince? It must be, "Oh my god, it's a prince." There's an attraction there, but has it been an impediment in what you do?
Prince: No, not really. You're right; there's always a curiosity, but after a while, that's it. There's also a human being. 
Sharon: When people ask you what you are a prince of, what do you say? A Yugoslavian prince?
Prince: Yugoslavia, yeah. That's my birthright. When we were born, Yugoslavia still existed, even though it was a Communist country. Titles go on forever. They don't change in case of mutations or geopolitical upheavals and stuff like that. It's a birthright that follows the family forever because it proceeds from the family itself. One studies that in constitutional law in Europe, funnily enough, because some countries still recognize titles, the ones where there's a monarchy. On my English passport and Belgian passport, my title is written because they recognize it. On my American passport and my Italian passport, it's not written.
Sharon: Has it influenced your jewelry in any way?
Prince: No, it's all aesthetics. It's only about aesthetics.
Sharon: So it's removed from that.
Prince: Yeah. Movement is very important.
Sharon: What's your favorite jewel? What's your favorite gem?
Prince: I don't have a favorite gem because I really love all of them, but I have a favorite color combination, which is greens and blues together. For instance, there is nothing I like more than the mixture of aquamarine, emerald and sapphire together. There are lot of examples in my book based on that. 
Sharon: How about the cut? Is there a favorite cut you have of a gem?
Prince: I like emerald cuts. I like a square emerald cut with cut corners. I like antique cushion cuts very much, and I love cabochon also. 
Sharon: Do you work with all those?
Prince: I work with all of those. I also like pear shape, but it all depends on how it's cut. Some cuts don't work; others do. I like unusual cuts also, different shapes that are not seen very often. It depends on how you combine them.
Sharon: Right. I guess that's the artistry.
Prince: Yes.
Sharon: Thank you so much for being with us today and telling us about your line of jewelry. We can find it at Neiman Marcus. Besides that there's the book, which we can find—
Prince: You can find it on my website, Dimitri.com. You can find it on Amazon also. You can find it at Neiman Marcus in Dallas, Texas for the moment, along with a collection I designed specifically for them.
Sharon: For Neiman Marcus in Dallas. When you say specifically for them, how would it have been different if you had done it for Neiman Marcus in Los Angeles, for instance? What was specific?
Prince: From the moment I sold to Neiman Marcus, it was the one in Dallas. We just started last fall, and it's a variation of the cufflinks I was telling you about before. It's stones inside of stones, but with different colors, different assortments, a different way of designing it. Similar but different. That's what I'm doing only for Neiman Marcus.
Sharon: Do you see it throughout the states, though, in other places? 
Prince: No.
Sharon: It's basically Neiman.
Prince: Neiman in Dallas for the moment. I'm hoping to expand that.
Sharon: Well, we'll look for you elsewhere, and we'll also look at the book. Thank you so much for being with us today. We greatly appreciate it.
Prince: Thank you so much. It was so kind of you to invite me. I'm very touched.
Thank you again for listening. Please leave us a rating and review so we can help others start their own jewelry journey.