Episode 162
What you'll learn in this episode:
Why an empty mind is the key to creative exploration
The difference between an artist-jeweler and a jeweler or artist alone
What Fairtrade gold is, and how Ute became a pioneer in the ethical jewelry movement
Why greenwashing is the newest trend threatening the ethical jewelry market
How jewelry creates connections, even when someone wouldn't wear a piece themselves
About Ute Decker
Ute Decker, born 1969, Germany, lives and works in London, UK. The jewels of Ute Decker are described as "a powerful statement" that "sets a shining ethical example" (Financial Times). The Economist 1843 compares her "avant-garde sculptural pieces" to "swirling sculptures" while Christie's simply calls them "wearable works of art".
Ute's pieces are exhibited internationally and have won prestigious awards including Gold Awards from The Goldsmiths' Craft and Design Council, UK. Public collections include the Victoria & Albert Museum, UK; the Crafts Council, UK; the Goldsmiths' Company, UK; the Spencer Museum, USA; Musée Barbier-Mueller, Switzerland; and the Swiss National Museum.
As a political economist-turned-journalist-turned-artist jeweler, Ute Decker is a pioneer of the international ethical jewelery movement. She works predominately in recycled silver and was one of the first worldwide to work in Fairtrade Gold.
Additional Resources:
Photos:
"wild waters", 2022 arm sculpture, initialled & hallmarked 100% recycled sterling silver 10.5 x 9 x 6 cm
photography: @XavierYoungPhoto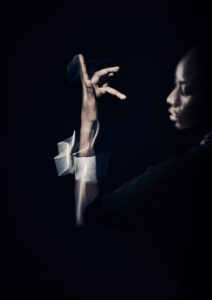 "wild waters" arm sculpture, recycled silver. photography: @XavierYoungPhoto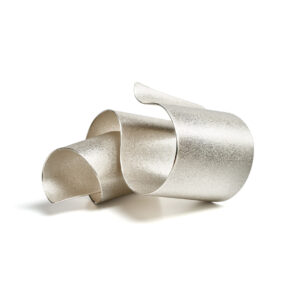 "rolling waves in moonlight" #5 sculptural brooch / pin, initialled & hallmarked 18 kt Fairtrade Gold 8.7 x 3.4 x 2.2 cm. photography: ute decker.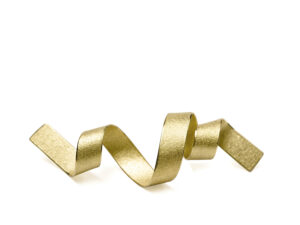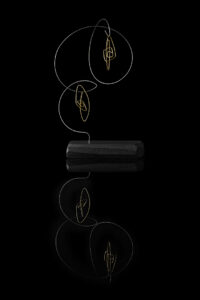 "improvisations on ovals", 2022 sculptural earrings, initialled & hallmarked 18kt Fairtrade Gold 4 x 10 x 3 cm one earring – 4.3 grs. photography: @XavierYoungPhoto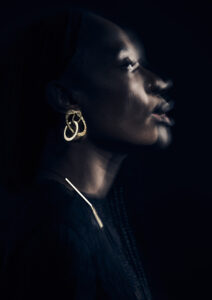 "the curling crest of a wave" sculptural ring, initialled & hallmarked 18 kt Fairtrade Gold. photography: ute decker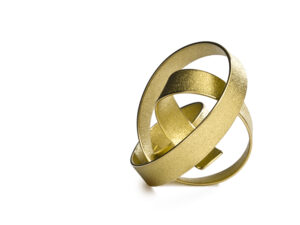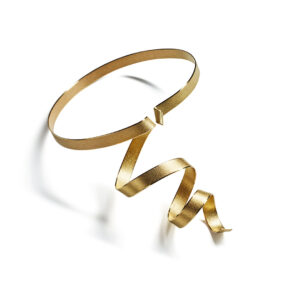 Transcript:
When it comes to ethical jewelry, artist-jeweler Ute Decker is the real deal. She was one of the first people to use Fairtrade gold when it became available in the U.K., and she has spent her career advocating for the use of truly ethically sourced materials in the jewelry industry. Above all, she's proven that ethical can be beautiful: her sculptural works have won several awards and are in the collection of museums worldwide. She joined the Jewelry Journey Podcast to talk about what Fairtrade means; how she approaches the creative process; and what makes an artist-jeweler. Read the episode transcript here. 
Sharon: Hello, everyone. Welcome to the Jewelry Journey Podcast. This is a two-part Jewelry Journey Podcast. Please make sure you subscribe so you can hear part two as soon as it comes out later this week. 
Today my guest is Ute Decker, talking with us from London. Ute is an artist-jeweler who's known for an innovative method of sculpting, bending and twisting metal into three-dimensional, wearable sculptures. She works in Fairtrade gold and recycled silver and is considered a pioneer in the international ethical jewelry movement. We'll hear more about her jewelry journey today. Ute, welcome to the program.
Ute: Sharon, thank you very much for having me. It's a pleasure to be here.
Sharon: So glad to have you. Tell us about your jewelry journey. How did you end up doing what you're doing?
Ute: Yes, it was rather unplanned. I'm the daughter of winemakers, several generations of winemakers. As a child, I thought that's what I wanted to be, making wine. So, I grew up in beautiful nature. As I grew up, I was more and more interested in politics, history, philosophy, and I ended up in political economics, because already as a teenager, I wanted to change the world. I thought it was best to have some understanding of how things work. During university, I did a six-month internship at the United Nations. It was also a real eye opener on how slow progress is made and lobbying, so I was quite disheartened after that internship. Then I worked as a journalist for a while, doing news, current affairs. I probably failed in that because I'm not a good storyteller. Words are not my medium. 
I was a little bit lost for a while as to what I really wanted to do. When I grew up, in primary and secondary school, art classes were all about figurative drawing and making. I admired it in other people when they can do it, but that's not my interest, and certainly I can't draw a stickperson to save my life. So, I left school thinking I'm actually not very creative or artistic because I failed in what was required. It was probably not until my mid-30s or maybe late 20s when friends said when I made something, "Oh, that's interesting." For years I was a closet creator. I went to evening classes and all kinds of workshops, whether it's large-scale sculptures, textiles—I love ceramics—several jewelry workshops. It really was doing workshops that I kept going back. 
Nearly for 20 years before outing myself as a jeweler, friends said, "You should do something with your jewelry," and I said, "Absolutely not." I loved it so much. There's no way I would like to make it something professional, to have that kind of pressure. I enjoyed it far too much, but then I was invited to take part in a group show. I thought, "It's fine; I'll add a few pieces and just see." That was quite amazing. That was in 2009. I won a prize and tons of press, and a couple of major collectors bought my pieces. I thought, "Wow, that's nice! I'll maybe do that one more time." Soon afterwards, I got a proper, full-time studio. The rest is history, really.
Sharon: I don't know if it's still in progress or you just finished up a solo exhibition at the Elisabetta Cipriani Gallery. Tell us about that. Did you feel it was fulfilling, the adulation?
Ute: Elisabetta Cipriani Gallery is absolutely wonderful. We met, I think, in 2013 at Design Basel where Didier gave me a spotlight showcase, and we've been working together ever since. As you know—you've done an interview with Elisabetta—Elisabetta primarily represents jewelry by artists. Probably the best known is Ai WeiWei, Rebecca Horn. She does collaborations with fine artists, and I was the first one that was more of an art jeweler than a fine artist making jewelry. Now she works with a few more art jewelers. Elisabetta is Italian and it's always "bella." What a joy to work with somebody who has a really keen eye, interesting observations, does some wonderful projects, is incredibly supportive and is just a joy to be with. 
For that exhibition, it's been in discussion for years. I maybe procrastinated a bit because it feels like—it's the same with how I never wanted to show my jewelry. It feels like you're offering it for others to judge. For me, it's a private thing in a way; it's my way of expressing. A solo show is similar. Here is me at this time. I didn't quite like the idea, but of course it's crazy to postpone an offer of a solo show. Then I finally said to Elisabetta, "Look, I will never be ready. Let's just set a date." So, we did, and then Covid happened, so it was delayed even more. But I created a new body of work for that show called "Creating Waves." If you have a chance to see it on Elisabetta's or my website—
Sharon: Which we'll list afterwards with show images.
Ute: Yeah. I've also worked with some system of loops because, for me, jewelry is about making connections. It's making personal connections, but it's making broader connections. Coming from that political/economic background in journalism, it's connections of materiality; it's connections where the material comes from. For me, the interlinking loops—and quite a few of those loops are open, so you can change which connections you would like to make and configure the piece. That's another strand that I developed for the solo show, yeah.
Sharon: I can see. We'll hopefully have a picture of it posted with the podcast. You're wearing one of your rings. Were the loops something you saw in front of you when the metal is flat? Was that something that came to you when you were playing around with it? How did that happen?
Ute: For me, making is very much an exploration. I might have certain ideas when I go into the studio and sit, but I'm very fascinated by Japanese Zen philosophy. That philosophy talks a lot about emptiness as well as empty mind. We in the West see emptiness as a void of something we absolutely, quickly need to fill, as something missing, while in that philosophy, emptiness is the vast openness for potential. For me, I don't want to come to the studio with a fixed idea of what I'd like to do, because then I've already determined it as if I know. I don't need to explore anymore if I feel I know. So, I always kind of know what I'd like to do, but then I usually do something completely different. It's that almost empty mind of exploring metal, shapes. 
Quite often it's the sculptural form that I explore. As I said, I can't draw, so I make maquettes in garden wire or in brass and explore the shape for its sculptural form. It's quite often only later that I decide for which part of the body that sculpture form would work best. Then it's weeks of tweaking the brass maquettes. I'm quite often seen wearing the maquettes, because when you create such large sculptural forms, they really need to balance and sit well on the body. It's important that I work that out while wearing them, how they engage with the body. It's only then, when I'm happy, I make the final pieces. It's only then, once the pieces are in front of me, that there's another thought process and those pieces remind me of something, remind me of the loops, how they're interconnected, how we can change our connections, other waves. 
I think if you gave me a commission to make a piece about waves, I would fail. It is rather I make a piece, and then it reminds me of waves when I see them. It's kind of arresting time of that kind of movement. I'm very happy with some of the pieces that have become quite special to me. Maybe if we can add a particular armpiece for your listeners to see, it is very much a large wave, but when you put the several maquettes next to each other and you don't have any idea of scale, some people who saw the maquettes said, "Oh, that looks like a Richard Serra that you could walk into." I think that's also why I give my pieces relatively open titles, because I don't want to pre-determine people's associations, just like I don't want to predetermine what reaction I might have to it. We all come with our own backgrounds, with our own thoughts to a piece, and it's the same. Any great artwork will elicit different reactions depending on what state of life we're in and recent experiences. I like to give pieces very open titles for the viewer and wearer to make it their own.
Sharon: So, you say you're an artist-jeweler. What is the difference between that and an artist alone or a jeweler alone? What is an artist-jeweler to you?
Ute: That is the eternal question, isn't it? That is the eternal question, and I still don't know how to answer that. When I'm asked what I do, if we're face-to-face it's very easy, because I usually wear one of my pieces. I hold it up and say, "This is what I do," and then you decide what that means to you. The other times when you say you're a jeweler, very few people know about the art jewelry world, really surprisingly. So, most people think you're designing little hearts for the high street shops. I think that's why an artist-jeweler will then elicit another question where you can go deeper into it, but it's all just words. This is what I'm doing. 
Sharon: No, it is. It's a very difficult question to answer. I usually ask people what they consider a collector, which also is a very difficult question. When you find the answer, give me a call. 
You tried textiles. You tried photography. You tried sculpture. What is it about the kind of jewelry you do; why did it attract you? Why did it stand out?
Ute: I guess jewelry is not called the most intimate of art forms for nothing. I love that you can disappear in your studio and quietly work. I create everything myself with my two hands. I sculpt everything myself. With large-scale sculpture, there's much more immediacy with jewelry because I can bend the shapes with my own hands. In fact, my jewelry studio has very few tools, has no nasty chemicals. It's really my hands, a few pliers, a few mallets, mandrels. I like being able to have a spark and immediately translate that into a shape. That's also why I love ceramics. I think in my next life I'll try ceramics as well, explore that.
After setting up as a jeweler, I was commissioned to make some large-scale sculptures, and I thought, "That's amazing. That's what you wanted to do, of course." But they're so large I had to work with a fabricator. It was a fantastic fabricator who had done it for very well-known artists, the YBAs, the Young British Artists, and did a fantastic job. But for me, it felt unfinished. I handed over the maquette. The fabricator did a wonderful job making a large piece, but usually when I finish a piece of jewelry, I then go and tweak it. It sits there for weeks, and I continue working on it. Here, I was handed over something finished. I don't want something finished. You can't bend it any more with your hands. So, it was surprisingly unsatisfying to make very large sculptures, but I'll do table-size sculptures where I can still be fully hands on. That is something I enjoy doing.
Sharon: Do you do that now, make table-size sculptures similar to jewelry that you bend?
Ute: Yeah, quite a few pieces. In fact, that is one of my favorite reactions when I show my work. People say, "Oh, this is a sculpture. I'm sure you can't wear it," and then I put it on my hand and the person's hand, and I say, "But surely you can't wear that piece," and it's wearable. Quite a few pieces look like they only could possibly be sculptures and there's no way to wear them. That's what I really enjoy. Many pieces have been purchased purely for the sole purpose of displaying them rather than wearing them. It's the liminal space between sculpture and wearable sculpture, and again, it's your choice.