Episode 158
What you'll learn in this episode:
Why brand recognition and signed jewelry have become so important in the last 20 years
What sets fine jewelry houses apart from other jewelers
How antique shows have changed, and why it has become more difficult to find quality jewelry at shows
What a jewelry wardrobe is and how to create one
How Doyle adapted its auctions during the pandemic
About Nan Summerfield
Nan Summerfield joined Doyle New York as Director of the California office in Beverly Hills in 2014. Ms. Summerfield, a GIA Graduate Gemologist, has been in the appraisal and auction business for forty-two years.
Nan began her career at the Gemological Institute of America in New York as a Staff Gemologist in the GIA Laboratory and later as an Instructor in the Education Division, before spending thirteen years as a Vice President in the Jewelry Department at Sotheby's, first in New York, then in Los Angeles. Nan continued to develop and direct Sotheby's jewelry auctions in Beverly Hills for eight years. For twenty years before joining Doyle, she owned Summerfield's, a successful firm in Beverly Hills that specialized in buying and selling estate jewelry.
Additional Resources:
Photos:
California Jewelry 05/06/2019 10:00 AM, Lot No. 474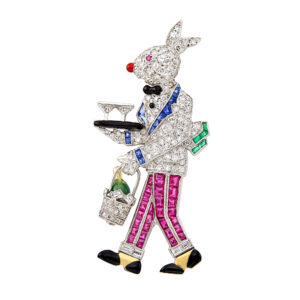 Art Deco Platinum, Gold, Diamond, Gem-Set and Enamel Rabbit Brooch, Raymond Yard
The stylized ruby-eyed rabbit waiter is wearing a tuxedo jacket pavé-set with single-cut diamonds together with a black bow tie & stud. The lapels & cuffs accented with buff-top calibre-cut sapphires. His square-cut ruby pants are edged with baguette diamond cuffs completed by gold spats over black enamel shoes.  In the Sommeliers left hand is an articulated bucket with a green enamel champagne bottle & diamond ice cubes, while an emerald edged serviette is tucked under his arm.  A black tray is balanced in the waiters right hand topped with two triangular-cut diamond champagne glasses, signed Yard, c. 1935, ap. 6.9 dwts.
Similar example on the back cover and pages 154-157 in Natasha Kuzmanovic's book, Yard, The Life and Magnificent Jewelry of Raymond C. Yard.
Estimate: $25,000-35,000
CONDITION:
Diamonds: G-H/VS
Rubies: lively, rasberry red color, lightly included, well matched
Sapphires: medium blue color, lightly included, well matched
Emeralds: bright, medium green, well-cut, lively
Enamel in good condition, very light loss.
Overall in good condition, normal wear to metal.
Measuring ap. 1 13/16 x 13/16 inches
Any condition statement is given as a courtesy to a client, is an opinion and should not be treated as a statement of fact and Doyle New York shall have no responsibility for any error or omission. Please contact the specialist department to request further information or additional images that may be available.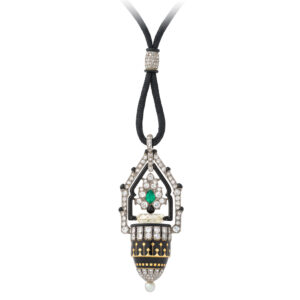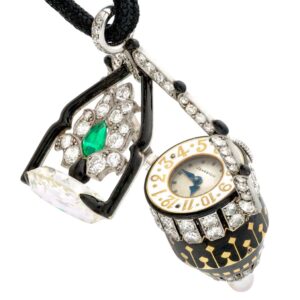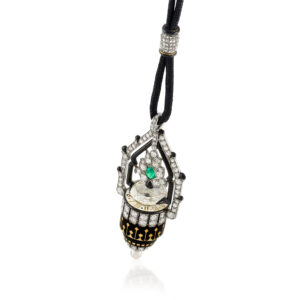 Art Deco Platinum, Gold, Diamond, Emerald, Pearl and Black Enamel Pendant-Watch, Janesich, France
The dome-shaped watch applied with a geometric design of black enamel, accented by diamonds, tipped by one pearl, topped by a diamond-set Arabesque panel accented by black enamel, suspending a movable panel of similar design applied with black enamel, centering a diamond-set panel further centering one fancy-shaped emerald, surmounted by one diamond rondel of light yellow hue approximately 2.50 cts., completed by a black cord necklace accented by a diamond-set slide edged by black enamel, signed Janesich, no. 7260, with French assay marks, circa 1925. Length 26 inches.
Estimate: $20,000-30,000
Property from the Wells Family Trust
CONDITION:
Watch not in working condition.
Emerald: bright medium green, minor inclusions, minor nicks on table edge, lively.
Diamonds: H-I-VS.
Diamonds briolette: light yellow (O-P), more yellow on faceted edge around center, VS.
Black enamel chip and repair patch to side of center circular panel, not visible from front, slightly visible from the side.
Pearl: slightly creamy, clean, good luster.
Good condition. 2 1/2 x 1 inch.
Any condition statement is given as a courtesy to a client, is an opinion and should not be treated as a statement of fact and Doyle New York shall have no responsibility for any error or omission. Please contact the specialist department to request further information or additional images that may be available.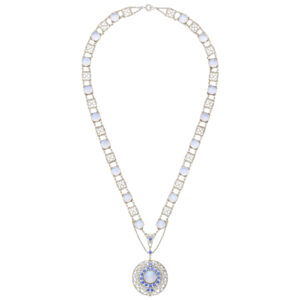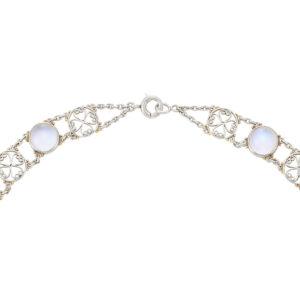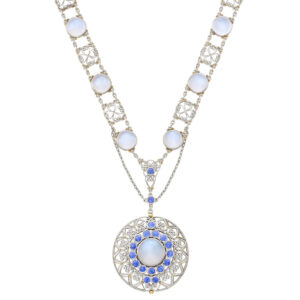 Fine Jewelry – Beverly Hills 11/16/2015 10:00 AM, Lot No. 3441
Platinum, Gold, Moonstone and Sapphire Necklace, Tiffany & Co., by Louis Comfort Tiffany
19 round cabochon moonstones, 18 round sapphires ap. 1.75 cts., signed Tiffany & Co., c. 1915, ap. 18.6 dwts. Length 17 1/2 inches. With signed box.
In 1837 the grand American company Tiffany & Co. was born in New York City. Tiffany & Co. began as a stationery and fancy goods store, promoting a luxury lifestyle to elite and prominent New Yorkers and travelers. The brand promoted a new "American" style which departed from traditional European fashion to a style inspired by the natural world, which was expressed in patterns of simplicity, harmony and clarity. By 1870 Tiffany & Co. had become America's premier silversmith and designer of jewelry, stones and timepieces.
In 1902 the company took a radical turn with the passing of one of the company's co-founders, Charles Lewis Tiffany, and the succession of his son Louis Comfort Tiffany, who became the company's first official design director. Having grown up working in the family business, Louis was considered one of the leaders in the American Art Nouveau movement and monumental in jewelry and art history. His pieces are sought after by collectors around the world for their affinity towards color, beauty and translucent light.
We are very excited to offer for auction a fantastic piece of Louis Comfort Tiffany Studio for Tiffany & Co. history with a circa 1915, legendary and rare handcrafted moonstone, sapphire and platinum necklace. Rather than creating the traditional diamond necklaces which he found to be monochromatic, Louis Comfort Tiffany loved playing with color and using moonstones. Moonstones reminded him of the translucent glass he created in the Tiffany studios, and he was inspired by the beauty of their special billowy sheen of blue adularescence. American blue sapphires from the Yogo mine in Montana further enhance the romantic colors of the necklace, and were set in the newly available and desired platinum metal, which allowed for fine and complex detailing. This beautiful necklace is a delightful piece of American jewelry history.
Estimate: $20,000-30,000
CONDITION:
In good condition, light to moderate wear to metal.
Moonstones: clear transparency, blue adularescence, eye clean to very light included.
Sapphires: blue color, light to medium color, medium saturation, lightly included.
Transcript:
After more than four decades working in estate jewelry as a dealer and at auction houses, Nan Summerfield knows a thing or two about how to select the best jewelry. Now Senior Vice President of California Operations for the auction house Doyle, Nan joined the Jewelry Journey Podcast to talk about the pros and cons of purchasing jewels from the major houses versus lesser-known jewelers; why the auction industry began to court private buyers in the 80s; and when it makes sense to take a risk on an unsigned piece. Read the episode transcript here.
Sharon: Hello, everyone. Welcome to the Jewelry Journey Podcast. This is the second part of a two-part episode. Today, my guest is Nan Summerfield, Senior Vice President of California Operations for the auction house Doyle. Welcome back. 
I wanted to ask you about something you said earlier, when you said that Doyle had decided they wanted to get out there more and get more private clients. 
Nan: It was Sotheby's that wanted that. 
Sharon: I'm sorry, Sotheby's. That's right. Was it by opening more offices?
Nan: No, at that point, when I had joined Sotheby's, they'd already done a big expansion worldwide. They were well-established. That was in the early 80s. What they did, and what Bain & Company suggested doing, was to reach out to the private clients and start adding auctions in California again so their private clients could come in. They tried to demystify the process and be more transparent about how it worked and the commission structures, that sort of thing, and to really make a concerted effort. I think that may have been when we started advertising in Town & Country and magazines like that, that were geared toward bringing in the private clients. That's when it started building, at that point in time.
Sharon: Why private clients? Were they bringing in pieces that were in their safe deposit boxes that you weren't seeing?
Nan: No, we were actually looking for private clients as buyers. Up until that point, it had been almost exclusively dealers that bought at auction. That's a whole other thing that was happening at that point. The dealers used to have what they called rings, and they would agree not to bid against each other in the auction. Then following the auction, they would have what they call the knockout, where they'd bid amongst each other and decide who gets what piece and that sort of thing. New York found out about that and outlawed it. 
They clamped down on it, but we'd always gotten jewelry from private clients. Most typically, I would say, it had been the estates that had come in and been sold at auction. With the new private clients, we wanted to bring them in as buyers but also as sellers, which they had been, but on a quieter exposure. It was good, but I think it was geared toward bringing the private clients in as buyers. 
Sharon: I love the word you used before, which was helping people decide what they wanted to have for their jewelry wardrobe, as opposed to their jewelry collection. I'm still trying to find that elusive definition of what collector is. When you talk about the jewelry wardrobe, can you talk about that? Is it that they have earrings, they have a ring? How do you look at the wardrobe?
Nan: I would say most people typically start with the basics, maybe their engagement ring. They might buy a pair of diamond-studded earrings and maybe get a diamond bracelet along the way. Then they go through life, and they're making a little more money and have a more sophisticated lifestyle. They start building it as you have your basics in your wardrobe. For example, I had diamonds that go with everything. In my case, I started buying things that were color coordinated. I love blues and greens, so I bought things that with emeralds or sapphires. I love pinks and purples. I have a fabulous Raymond Yard bubblegum 20 carat pink tourmaline ring that I love. I bought that way back in New York a million years ago. 
Anyway, with the wardrobe, it really is like getting dressed. What are you going to wear? You want earrings, a necklace, a brooch perhaps, a bracelet and rings. You want things that work together well. With necklaces, we can get a lot of variation with what's in trend. Right now, we've seen a lot of long necklaces. The long Alhambra chains that are Van Cleef or long pendant necklaces have been the trend where we were. Back in the 80s, the collar necklaces were what everybody was wearing. I think we're going to start moving back into that trend in the next few years, but it's always changing. Then the trends also change from white metals to yellow metals, and the swing happens in 10 or 15-year cycles. In the jewelry wardrobe, it's everything from color-coordinating and if gold is in or not. 
I also personally have nighttime jewelry, so if I'm going out to an event or black-tie thing, I've got platinum and diamonds or colored stone jewelry that's dressier. Then the daytime jewelry is a little more casual, but it also depends a lot on where you live. It's building what you personally love and what you're drawn to. It's a piece-by-piece adventure, and it's fun. It really is. It's exciting when you've been looking for the perfect pair of earrings to go with the necklace and bracelet you have, and then you finally find it. It's fun, and it's always treasure hunting. If you're a true collector, I think you never stop collecting. 
Sharon: I'd say that's probably true. It's interesting, some of the things you said. Yes, your style changes; you become more sophisticated. You say, "Well, that was me 30 years ago, but that's not me today." 
Nan: Exactly. 
Sharon: It's interesting to think about it more in a wardrobe sense, as opposed to, "I already have a Berlin iron, so I want to add that to my collection." Actually, my Berlin iron sits in my drawer because I'm afraid to wear it.
Nan: That's a very rare category too, the Berlin iron. It's such an interesting segment of history.
Sharon: Yes, some people would probably die, but I don't mind adjusting or modifying even a signed piece. I want to fit me. I want it to work for me. The next person can decide if they don't want the soldering I had done. I feel like that's fine. I don't give a hell if other people feel that way. It has to fit you, right?
Nan: Absolutely, but if you have to alter a piece, hopefully you can do it in a way where it might be able to be put back together. If you have a necklace you want shorter that has some links come out of it, or rings, which so often need to be sized to be worn, yeah. If you have a good jeweler that does it, then it should be less detrimental. 
Sharon: You talked about the fact that you left having your own business as a dealer, which you were in for 20 years.
Nan: 20 years. It was wonderful.
Sharon: Wow! And that things had changed, and that was one of the reasons you thought maybe it was time to go back into the auction house. What changed in that time?
Nan: It was very interesting, because as I mentioned earlier, probably the first 10 or 15 years I had my own business, it was so easy to find jewelry and beautiful things. I used to go to the flea markets, I'd hit all the tradeshows and I had private clients bringing me things all the time. What changed everything was the entrance of the internet right around 2000. In the beginning it was new, and people were still trying to figure out to how to navigate it. Then, probably in the last five to eight years I was in the jewelry business, we started seeing an increase in people doing things online. 
You had different platforms. I think eBay was one of the first to start selling things, and then 1stDibs came along. There were various platforms like that, where people started selling their jewelry online as opposed to bringing it to the tradeshows or the antique shows to sell. I think that was when it really started shifting, because we started finding less. When we would travel and go looking for things, whether it was at the flea markets or at the Hillsboro in the Bay Area, the antique shows or the big Miami show, it was just harder to find. 
It was an interesting period and I recognized that. Really, the way it happened with Doyle is that they reached out to me. They were interested in opening up a west coast division, and I had worked with the woman that is the head for jewelry for Doyle in New York. She and I had worked together at Sotheby's, so we had known each other for a long time. They reached out to me to see if I would be interested in opening up the west coast for them. They felt a jewelry person was probably the best direction to go because jewelry has a very broad reach. Everybody has jewelry. Not everybody collects old master paintings or impressionists or antique furniture or silver or whatever, but jewelry tends to cast a pretty wide net with people. Everybody has a mother or a daughter, somebody that has jewelry or loves jewelry. It was very timely that they reached out to me because my business was fine, but I could sense the changes that were happening. 
I loved the 13 years I had spent at Sotheby's. The auction world is really fun and interesting. You have such a huge volume of property that goes through your hands, and you meet the most interesting people that are both buyers and consigners. I find, like what I said before about working for Sotheby's, is that in the auction houses, generally the specialists are very generous with their knowledge and share it. In the trade, people are very close to the vest, because knowledge equates to money. If you know why something is special, you don't want to tell somebody else because you might lose your advantage. 
Anyway, for all these different reasons, the time was right, so we went back and forth, and I ended up going onboard with Doyle. It started in May or June, I think, and I ended up signing a contract with them in October and haven't looked back. It's so much fun, and we've had fabulous success on the west coast. It's interesting, because Doyle very much reminds me of the way Sotheby's used to be. It was like a family. At that point, John Meriam was the Chairman of Sotheby's, and he was such a wonderful man. Doyle has that same not-corporate feeling you have in so many companies these days, but more of a family that works there. It's been a wonderful experience; it really has.
Sharon: It sounds like it. You mentioned the office is moving. Doyle's office in Beverly Hills is moving from the upper floor to a ground floor.
Nan: Yes, we're very excited. We originally took over my old office that I had in Beverly Hills, and our business has just grown. It was again where the stars aligned. We'd opened a street-front gallery in Palm Beach, Florida, and New York was interested in opening a west coast branch in Beverly Hills on the ground floor. The head of our company had been out looking at colleges with her daughters over Labor Day weekend. They walked around Beverly Hills and noticed that a jewelry store in Beverly Hills had a sign that he was moving, and the space was available. She asked me to take a look at the space, which I did. He was so nice and took me on a whole tour and showed me that it was an enormous, beautifully built-out space. It was a small fortune in rent, but I went back.
As I was walking up to look at his space, there was a space downstairs in our building on Camden Drive, and it was closed. It was a gentlemen's clothing store, and they had a sign on the door that it was closed. I thought, "Well, let me go peek in the window and see what this space looks like, because this could be good for us." As I was looking in the window with my hands up on either side of my eyes, one of my old neighbors from when I was on the penthouse floor in our building was walking by, and he said, "Hey, Nan, what's going on?" I said, "Well, we've outgrown our space and we're exploring options." He said, "A friend of mine has this place. You need to call him," and he gave me his telephone number. After I had gone to look at this other space and videotaped it and sent it to New York, I called him up. He was the nicest man, and he told me he wanted to open another store. He had a son that was in New England in a cute little town, and his wife told him that if he was going to open a new store, he would have to get rid of another one. He had been through the pandemic, which had been stressful for everybody, so the space wasn't even on the market.
I had spoken to our real estate broker, and he had said, "Nan, I'm sorry. I know New York asked you to look. There's nothing on the ground floor level in the triangle. You're going to have to go south of Beverly," which in mind is no go; we only want to be in the triangle. We ended up signing a lease on that space. Another thing that makes it really wonderful is that we are located on Camden Drive, and two doors up from us is Christie's. There's Mr. Chow's, a restaurant, and Sotheby's is on the other side. So, we're on auction row for the entire west coast. We're thrilled about that too, because the auction house is on New Bond Street in England, the way when you're doing a road trip and all the fast food and gas stations are clustered together. It's sort of one-stop shopping. It feels like the jewelry district in New York. When you have similar businesses together, it drives business for everybody. So, we're very excited. 
Sharon: That's great. It sounds exciting. Would a private client bring a piece to you and say, "What do you think about this? What can I get for it at auction?" and then go to Christie's or Sotheby's? It seems like people would be walking the street saying, "What does everybody think? How much can I get for it?" What do you think about that?
Nan: Yes, I think that is certainly a part of the equation. Both Sotheby's and Christie's tend to be geared to try to get the very high-priced items. That leaves a lot of room in the mid-range and below where they won't handle property. We handle everything, from soup to nuts. We feel like when we're handling estates or clients, we don't want to cherry pick their best things and tell them, "You're on your own." We try to accommodate our clients, so we have different levels of sale. I think a lot of times it's about where you feel the most comfortable when you go and meet with different auction houses or specialists. I think it's a very personal decision for people.
Sharon: How many times a year does Doyle have jewelry auctions on the west coast?
Nan: We were doing jewelry auctions up until the pandemic. When we went into the pandemic, everything changed. We'd already had our May sale put together, photographed and catalogued and everything, when we shut down. It happened so quickly that we were scrambling. We had to ship all the jewelry to New York. At that point, we implemented quite a few changes in how we did auctions going into the pandemic. We recognized that when people are locked in from the pandemic, their only way of communicating with the world was their telephone, their television or their computer. Gone were the days that people could go wandering into a store and buy what they wanted. 
So, with that came a number of changes we made. We decided to make smaller sales. We typically had had about seven or eight jewelry auctions a year, and they would run maybe 500 lots for sale. We realized that people were looking at the sales on their phones and they would glaze over at 500 lots. So, we recalibrated it and started doing more auctions but smaller sales, about 200 lots per sale, which is more manageable. 
We also implemented another change where we started photographing the jewelry being worn. I will tell you that in the 20 years I had my own business, one of the most frustrating things for me was when I bought at auction. I remember buying a pair of earrings, and when they arrived, they were enormous. I thought they would be the size of not even a quarter. Having a sense of scale when you're buying online is very important, so we started having our shots photographed on some of our younger staff members—they're more photogenic—so people would have a sense of scale and could see how big that pendant necklace is, or how the earrings look on the ear or the ring on the hand. That was also very helpful for people to bid online. They got more information and had a better sense of what they would be buying before they had to commit to it. 
Now we're doing auctions more than monthly. We usually run an auction pretty much every month. There are a number of months where we'll have two or three auctions at different levels. 
Sharon: Online or in person?
Nan: The way it's structured, we have important sales, fine sales and online jewelry sales. The online sales are the less expensive things, group plots generally, things that are under $1,000. There will be some signed pieces. The online sales are handled only online. There's no public auction that goes on. You can bid on your computer in real time. You can bid up to that time. If you bid on something just before it closes and somebody comes in and outbids you, it gives you another couple of minutes to go back and raise your bid, so it's structured a little bit differently than our fine and our important sales. The online sales are virtually every month.
The fine and the important sales, now that we've come out of the pandemic, we're doing public exhibitions. We're doing previews in New York, and we try to do the previews in California as well. Once we open our gallery space, we should be getting all the fine and the important for previews for our California clients.
When people want to bid on the auctions, they have four different ways they can buy. They can come in person to the auction in New York and bid there. They can arrange to telephone bid. If they call us ahead of time, we'll set it up. On the day of the auction, we're all roped in on our computers, on Zoom calls, on the phone calling clients saying, "O.K., I'm going to be bidding with you on this lot that's coming up in four lots," and then we bidders sit there in the room. They can also leave an absentee written bid saying, "I like this bracelet. The estimate is $3,000-$4,000. I really love it. I'm going to bid up to $4,500." Then we will bid on their behalf against the competition until there's no competition, but if they get outbid, they won't get it. 
The last way, which has become so popular, is that people can actually bid on their computers in real time. Once the auction starts, if they go to Doyle.com, at the top there will be a banner that says, "Join the live auction now." You click that. You can see the auctioneer. You can see the piece of jewelry. You can see the estimate and description, and then you can see if the bids are going. It's a constantly scrolling thing. An auctioneer will be calling, "Yes, we have a bid at $8,500 from Nan in California. We've got a bid at $9,000 in the room" and so forth. So, people have four different ways they get on those sales.
One of the important things that's good for people to remember when they're bidding at auction is that, as is the standard in the entire auction business, there is a buyer's premium. The buyer's premium is on top of the hammer price it sells for, and it ranges from 25% to 30% depending on the auction house. At Doyle, it's 26%. It's really fun. It's very easy. We also do condition reports on everything so people can see what the quality of the diamonds is, what the size of the ring is, how long the bracelet or the necklace is, how much it weighs. We give a lot of information on our auctions, which gives people more confidence in buying things. If they have extra questions, they can reach out to us and we will follow up with them and give them more detail.
Sharon: There are a lot of different ways, a lot of different perspectives. It is very interesting. Some of the reasons that seem to excite you make me say, "Forget it," just because things are coming at you from so many different ways: online, in the room, on the phone, whatever. 
Nan: I can see how it would seem overwhelming, but I would say choose the avenue that's most comfortable for you. Just focus on that and let the rest of it fall away.
Sharon: That's good advice. I know it's the way of the world in terms of auctions, and the world has changed so much. Even as we're talking, the jewelry world has changed so much.
Nan: Dramatically, it has.
Sharon: Thank you so much, Nan, for being with us today and telling us about it. I've learned a lot and it's been really enjoyable. Thank you so much.
Nan: Sharon, thank you so much for inviting me. I really enjoyed it.
Thank you again for listening. Please leave us a rating and review so we can help others start their own jewelry journey.