Episode 158
What you'll learn in this episode:
Why brand recognition and signed jewelry have become so important in the last 20 years

 

What sets fine jewelry houses apart from other jewelers
How antique shows have changed, and why it has become more difficult to find quality jewelry at shows
What a jewelry wardrobe is and how to create one
How Doyle adapted its auctions during the pandemic
About Nan Summerfield
Nan Summerfield joined Doyle New York as Director of the California office in Beverly Hills in 2014. Ms. Summerfield, a GIA Graduate Gemologist, has been in the appraisal and auction business for forty-two years.
Nan began her career at the Gemological Institute of America in New York as a Staff Gemologist in the GIA Laboratory and later as an Instructor in the Education Division, before spending thirteen years as a Vice President in the Jewelry Department at Sotheby's, first in New York, then in Los Angeles. Nan continued to develop and direct Sotheby's jewelry auctions in Beverly Hills for eight years. For twenty years before joining Doyle, she owned Summerfield's, a successful firm in Beverly Hills that specialized in buying and selling estate jewelry.
Additional Resources:
Photos:
California Jewelry 05/06/2019 10:00 AM, Lot No. 474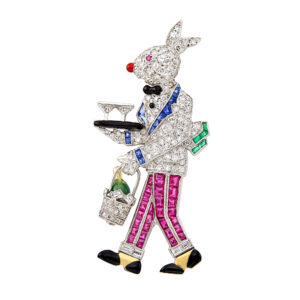 Art Deco Platinum, Gold, Diamond, Gem-Set and Enamel Rabbit Brooch, Raymond Yard
The stylized ruby-eyed rabbit waiter is wearing a tuxedo jacket pavé-set with single-cut diamonds together with a black bow tie & stud. The lapels & cuffs accented with buff-top calibre-cut sapphires. His square-cut ruby pants are edged with baguette diamond cuffs completed by gold spats over black enamel shoes.  In the Sommeliers left hand is an articulated bucket with a green enamel champagne bottle & diamond ice cubes, while an emerald edged serviette is tucked under his arm.  A black tray is balanced in the waiters right hand topped with two triangular-cut diamond champagne glasses, signed Yard, c. 1935, ap. 6.9 dwts.
Similar example on the back cover and pages 154-157 in Natasha Kuzmanovic's book, Yard, The Life and Magnificent Jewelry of Raymond C. Yard.
Estimate: $25,000-35,000
CONDITION:
Diamonds: G-H/VS
Rubies: lively, rasberry red color, lightly included, well matched
Sapphires: medium blue color, lightly included, well matched
Emeralds: bright, medium green, well-cut, lively
Enamel in good condition, very light loss.
Overall in good condition, normal wear to metal.
Measuring ap. 1 13/16 x 13/16 inches
Any condition statement is given as a courtesy to a client, is an opinion and should not be treated as a statement of fact and Doyle New York shall have no responsibility for any error or omission. Please contact the specialist department to request further information or additional images that may be available.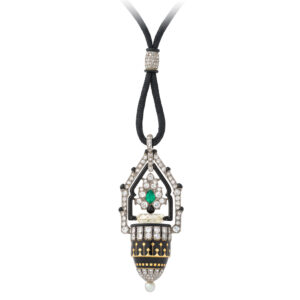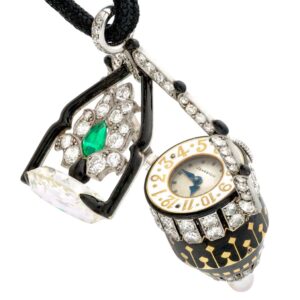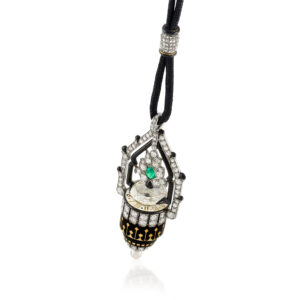 Art Deco Platinum, Gold, Diamond, Emerald, Pearl and Black Enamel Pendant-Watch, Janesich, France
The dome-shaped watch applied with a geometric design of black enamel, accented by diamonds, tipped by one pearl, topped by a diamond-set Arabesque panel accented by black enamel, suspending a movable panel of similar design applied with black enamel, centering a diamond-set panel further centering one fancy-shaped emerald, surmounted by one diamond rondel of light yellow hue approximately 2.50 cts., completed by a black cord necklace accented by a diamond-set slide edged by black enamel, signed Janesich, no. 7260, with French assay marks, circa 1925. Length 26 inches.
Estimate: $20,000-30,000
Property from the Wells Family Trust
CONDITION:
Watch not in working condition.
Emerald: bright medium green, minor inclusions, minor nicks on table edge, lively.
Diamonds: H-I-VS.
Diamonds briolette: light yellow (O-P), more yellow on faceted edge around center, VS.
Black enamel chip and repair patch to side of center circular panel, not visible from front, slightly visible from the side.
Pearl: slightly creamy, clean, good luster.
Good condition. 2 1/2 x 1 inch.
Any condition statement is given as a courtesy to a client, is an opinion and should not be treated as a statement of fact and Doyle New York shall have no responsibility for any error or omission. Please contact the specialist department to request further information or additional images that may be available.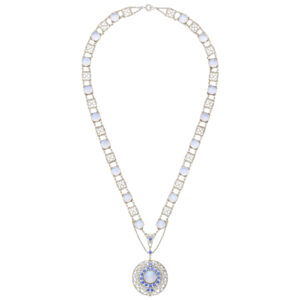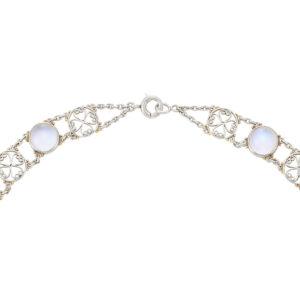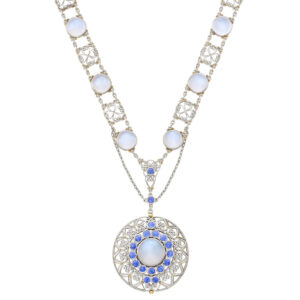 Fine Jewelry – Beverly Hills 11/16/2015 10:00 AM, Lot No. 3441
Platinum, Gold, Moonstone and Sapphire Necklace, Tiffany & Co., by Louis Comfort Tiffany
19 round cabochon moonstones, 18 round sapphires ap. 1.75 cts., signed Tiffany & Co., c. 1915, ap. 18.6 dwts. Length 17 1/2 inches. With signed box.
In 1837 the grand American company Tiffany & Co. was born in New York City. Tiffany & Co. began as a stationery and fancy goods store, promoting a luxury lifestyle to elite and prominent New Yorkers and travelers. The brand promoted a new "American" style which departed from traditional European fashion to a style inspired by the natural world, which was expressed in patterns of simplicity, harmony and clarity. By 1870 Tiffany & Co. had become America's premier silversmith and designer of jewelry, stones and timepieces.
In 1902 the company took a radical turn with the passing of one of the company's co-founders, Charles Lewis Tiffany, and the succession of his son Louis Comfort Tiffany, who became the company's first official design director. Having grown up working in the family business, Louis was considered one of the leaders in the American Art Nouveau movement and monumental in jewelry and art history. His pieces are sought after by collectors around the world for their affinity towards color, beauty and translucent light.
We are very excited to offer for auction a fantastic piece of Louis Comfort Tiffany Studio for Tiffany & Co. history with a circa 1915, legendary and rare handcrafted moonstone, sapphire and platinum necklace. Rather than creating the traditional diamond necklaces which he found to be monochromatic, Louis Comfort Tiffany loved playing with color and using moonstones. Moonstones reminded him of the translucent glass he created in the Tiffany studios, and he was inspired by the beauty of their special billowy sheen of blue adularescence. American blue sapphires from the Yogo mine in Montana further enhance the romantic colors of the necklace, and were set in the newly available and desired platinum metal, which allowed for fine and complex detailing. This beautiful necklace is a delightful piece of American jewelry history.
Estimate: $20,000-30,000
CONDITION:
In good condition, light to moderate wear to metal.
Moonstones: clear transparency, blue adularescence, eye clean to very light included.
Sapphires: blue color, light to medium color, medium saturation, lightly included.
Transcript:
After more than four decades working in estate jewelry as a dealer and at auction houses, Nan Summerfield knows a thing or two about how to select the best jewelry. Now Senior Vice President of California Operations for the auction house Doyle, Nan joined the Jewelry Journey Podcast to talk about the pros and cons of purchasing jewels from the major houses versus lesser-known jewelers; why the auction industry began to court private buyers in the 80s; and when it makes sense to take a risk on an unsigned piece. Read the episode transcript here. 
Sharon: Hello, everyone. Welcome to the Jewelry Journey Podcast. This is a two-part Jewelry Journey Podcast. Please make sure you subscribe so you can hear part two as soon as it comes out later this week. 
Today, my guest is Nan Summerfield, Senior Vice President of California Operations for the auction house Doyle. Nan has extensive jewelry experience, having worked with several major auction houses. In addition, for 20 years she had her business as a jewelry dealer specializing in estate jewelry. We'll hear all about her own jewelry journey today. Nan, welcome to the program.
Nan: Thank you, Sharon. It's great to be here.
Sharon: So glad to connect with you. Tell us about your jewelry journey. You've covered a lot of ground. Were you a child when you started liking it? How did you get into the jewelry profession?
Nan: I think I came out of the womb loving jewelry. When I was little girl, my favorite thing was to go through my grandmother's jewelry and try things on and look at them. I was that child that when I would be out with my parents at a mall, I'd see a jewelry store and I'd put my fingerprints and nose print on the windows to look at all the jewelry. I think I was just born loving jewelry from the day I came out of the womb.
Sharon: Did you know you were going to go into jewelry? Did you think about making it? Did you want to sell it? Did you just want to be around it? To have it?
Nan: It's so funny. I knew I always loved it, but I came back from a six-month backpack trip in Europe, and I had been invited to a Fourth of July party up at Lake Tahoe, where I was from. At that party, I was playing with a necklace my brother had given me with a small gold coin on it. This man that was at the party looked at me, and he said, "I sell jewelry like that. How would you like to work for me?" I thought, "Oh, my god, I love jewelry. I could actually work in it?" That's how it all started. He turned out to be kind of flaky, but I credit him with giving me the introduction into the business.
Sharon: Flakey is a word. It's serendipitous.
Nan: It certainly is. He veered off in other directions shortly after I got my introduction into the business, but I credit him with opening that door for me.
Sharon: From there, how did you segue into auction houses?
Nan: First, I had my own business for about a year. Through some people I met, I found out about the GIA. I applied and went to the GIA. When I finished, they offered me a job working for them in New York or Los Angeles. I thought, "Gosh, I've never been to New York. I've read all these books, like 'The Catcher in the Rye' and 'The Great Gatsby.'" It sounded so romantic to me. I thought if I didn't have a job, I wouldn't move to New York, but if I had a job, why not? So, I moved back to New York, and I worked in the lab doing certificates on diamonds for a year. Then they asked me to be a permanent instructor in the education department. I switched over to education and taught the residence program, the one-week classes.
I feel very lucky because these strange coincidences happened that have led me to where I am. I had a colleague I was working with. He was a friend of mine, and he had taught the new head of the jewelry department all of these things. He had taken a one-week course with him at the GIA. He really liked my friend, and he offered him a job to work for Sotheby's. But my friend had fallen in love with this girl in California, so he was moving out there. He said to this gentleman, "I can't, but I've got the girl for you," and he gave him my name and number. Then it all started. I went for an interview, they hired me, and I ended up spending eight years in New York with Sotheby's. Then I wanted to move back to California, so things finally worked out well. 
Part of what was happening at Sotheby's at that time was that Al Taubman had hired Bain & Company, the consulting firm, to look at the jewelry department worldwide and see how they could develop it and bring in more private clients. That was very interesting point in auction, too, the shift from dealers to embracing private clients. One of the recommendations Bain had come back with was that we start doing jewelry auctions in California again. We had them before, in 1981. In the crash of 1981, they closed down the big gallery we had. Anyway, I spent eight years with Sotheby's in California. It was a wonderful opportunity, and I had very generous people that I worked with. 
One of the things I found was that when I worked at the GIA, I had a number of friends that went out and worked for estate jewelry dealers in the business, but they were very close to the vest about the information they had. They didn't share why something was special, what made it important, what to look for. I was extremely fortunate because the other specialists that I worked with in New York were very generous with their knowledge. This is when the first reproductions of Deco and Edwardian were coming out, and they taught me so much. I'll be forever grateful for them being so generous with their knowledge. That's a long answer to your question.
Sharon: It's an interesting answer. I'm still on the fact that you had your own business for a year before you started doing anything else. What were you doing? Were you buying and selling jewelry?
Nan: Yeah, exactly. The gentleman that first brought me into the business, he took me to a sort of buying center of jewelry, a building that had multiple levels and booths of people selling. I would go down and choose the things I liked and then bring them back to Tahoe, and then I would sell them to my friends. 
Sharon: Wow! When you were talking about the auction houses, I never thought about the fact that some are selling to dealers, and some are more about developing private clients. Can you talk a little bit about that?
Nan: Yes, absolutely. Initially, when I first started there, it was almost entirely dealers that bought at auction. Another thing I look back on now is that when we would have viewings and dealers would be looking at the jewelry, it didn't matter to them if something was Cartier or Van Cleef or Bulgari or any of the big names. It was, "Oh, that's nice," but they never paid a premium or saw it in a substantially more valuable way. That's something that has dramatically changed from when I started to where I am today. As you know, anything that's signed by the big houses is going to bring a big premium today. 
During that period we had some private buyers, if I remember, but it was almost entirely dealers that were the buyers, and as I said, that started shifting. I think Al Taubman purchased Sotheby's in the mid-80s, and that's when he implemented these changes to make jewelry in the auction world more accessible to private clients and to demystify it. It was an interesting period. It was very transitional and very much a growth period in the auction world.
Sharon: Was Al Taubman a catalyst in terms of moving everybody to look at signed pieces? Did he care? What happened there?
Nan: No, that really wasn't his thing. He was all about getting the auction world out to private clients worldwide, which is where we are today. It's an enormous part of the auction market and the competition that we get. He was not focused on signed jewelry per se. I think that's something that happened—really, I started seeing that more in the 90s and going into the 2000s. It's been an upward trajectory since then with the really good names and the values they're bringing.
Sharon: What do you think changed? What propelled that? What are your thoughts about why names are more important today?
Nan: I think it's a combination of things. The really fine ones, Cartier, Van Cleef, Bulgari, Buccellati, David Webb, all of those have a level of quality you don't always see in other jewelry companies. I will know, for example, if I get a pair of earrings that are Van Cleef, they will always sit beautifully on the ear. A lot of jewelry that's not signed may look good, but it won't lay as well on a woman when she wears it, whether it's earrings or a necklace. It's that thoughtful design in the jewelry.
What I really think happened was that over the last couple of decades, we've had a real push toward brand recognition. I even think back to Calvin Klein and "Back to the Future." There was that scene where she said, "Oh, your name's Calvin," because he had underpants that had a Calvin logo on them. I think that's when it really started, and it's not just in jewelry that name brands have become important. It's also in purses. You look at what Chanel purses sell for, or Birkin bags and how desirable they are. I think we're much more focused on that these days, and that's happened over the last couple of decades.
With jewelry, there's also the estate jewelry. When I first got into the business, it was kind of up-and-coming. I think there are two jewelers that are credited with making estate jewelry desirable, and that would be Fred Leighton in New York and Frances Klein in Beverly Hills. Both of those people have died, but they were really the early ones that brought estate jewelry into the realm of being desirable and not old-fashioned or your grandmother's jewelry that you had to remake before you could wear it. You didn't want to be dated in our parents' day and age. Both of them also, I think, have a lot of signed jewelry. It's part of educating the clients. As more people learned about jewelry and learned about how fine a piece of Cartier jewelry is when compared with one that's not signed or made by an inferior jeweler, the appreciation for it and the desire for the signed pieces have grown exponentially.
Sharon: That's interesting. I think I'll pay more attention to how a piece lays. There are lot of times when I'm on Instagram and a post will say, "I think it's a Mauboussin. It's not signed, but I can tell by the way it's done." Do you think there's an amount of unsigned stuff out there that's quality?
Nan: What I will say is that over the years, I've had pieces of jewelry come through my hands from clients that were not signed but had been purchased from the house, whether it was a Cartier or Tiffany or Van Cleef. With almost every jeweler, at some point in time, there have been pieces that went through that were not signed. But I always encourage my clients, especially when they purchased it from that house, to go back and ask them to sign it. 
In general, most pieces are signed, but one of the things we have to be careful of these days is that as the value has gone up on the signed pieces, so have the fake signatures. For example, I remember this beautiful Art Deco bracelet that passed through my hands when I had my own business. It came back a year or two later signed Cartier, and I 100% know that bracelet was not signed Cartier when I saw it the first time. That's one of the things we have to be very, very careful about. A lot of the big jewelry houses will do certificates of authentication that you have to pay for. That's become something that is more desirable as well, because nobody wants to buy a fake or something that's signed that's not correct. 
Sharon: That's upsetting, yes. In my early days I bought a beautiful tennis bracelet. I still love it. The cut of the stones is a little different; some were different shapes. I was told it was Art Deco, and I know that's what they thought I wanted to hear. When I brought it in later to an appraiser, he said they never cut the stones this way until the 80s. So, I thought, "O.K."
Nan: I know. What I will say, to insert this on the signed pieces conversation, is that there are certain jewelers that don't always have their pieces signed. One of them is Paul Flato, who was a wonderful designer who was big with the Hollywood crowd. Verdura actually worked with Paul Flato before he went off on his own. There are a lot of really wonderful Flato pieces out there that are not signed. In those situations, we try to check. For example, I'll check with the woman who wrote the book on Paul Flato. I'll send her a picture and say, "Do you think this is Flato?" They have references to the original drawings that Flato made on the pieces. So, there are times that happens. You can have a piece that's by an important jeweler that is not signed.
Sharon: Are there things in the jewelry you recognize that make you think it's a Flato, even though it's not signed?
Nan: Yeah, Flato was a wonderful designer; he made fabulous things. He had certain types of things you'll see a lot. He did things that were made with leaves that have wonderful curling edges, or very whimsical things he would do. He made a lot of custom things for people that had a great sense of humor to them. Probably the best place to get a sense of what his designs look like is the Paul Flato book that Elizabeth Irvine Bray wrote, so I would suggest that. He has a very distinctive style. His things were beautifully made and really dramatic. Years ago, I owned a big brooch and earrings that belonged to Ginger Rogers that were so wonderful. He was a creative genius.
Sharon: That's interesting, because the first thing I thought of when you said Flato was the leaf and very large, over-the-top things. Just gorgeous, but it was the leaf that came to mind first, as when you said Calvin Klein, the first thing that came to mind was Brooke Shields.
Nan: Exactly, the beginning of the brand. I want my brand.
Sharon: Exactly, yeah. I'm dating myself, but O.K. I'm impressed that you left the auction house when you had been there a long time, seven or eight years, and that you went out on your own. To me, it's such a huge step. What was the catalyst for that?
Nan: I actually ended up spending 13 years with Sotheby's, five with them in New York and eight in Beverly Hills. I really felt like if I was going to go out and open my own business, I needed to do it when I was still young enough and had the energy to do it. I was very fortunate when I went on my own that I had so many clients that came and brought me jewelry they wanted to sell. They came to me for help buying things or finding things they wanted to build in their personal jewelry wardrobe. It was a really wonderful time. 
Also timing-wise, it was a fantastic time to enter as a dealer into the business. The big shows, the Las Vegas Show, which is typically in the beginning of June, end of May, and then the big Original Miami Beach Antique Jewelry and Watch Show, which is normally held in late January or early February every year, those two shows were fantastic in the day. They changed a lot, but I can remember when I first started doing the shows, there would be two days of setup at the Miami Show, and we would go and walk the show. We wouldn't even set up our jewelry because on the setup days, a lot of the dealers would go and buy from each other. They would find out what new things had come in, and they would scoop them up before the private clients came in for the show. 
We would do that, canvas the whole show and buy these wonderful things. There were things where people didn't understand how great they were, how important they were. They didn't price them at their value. We would buy and sell so much on the setup days. Before setup even ended, we would make our expenses, our airfare, our hotel, our booth rent, the showcases, the safe. Everything would be paid for, and then we'd start the show, and we'd be selling more and meeting more clients. It was a really wonderful time to go off on my own. It was fantastic.
Sharon: Is it because of the brands, whether it's Cartier or whatever, that the dealers weren't educated, that they just didn't know? They didn't have your background, so they didn't recognize things? How did you get these things? How could you identify them when they didn't know?
Nan: I think part of it is that I was so fortunate to have seen so much jewelry over those 13 years at Sotheby's and to have worked with people that were very generous with their knowledge. I can remember going to a show up in Hillsboro, which is south of San Francisco. They used to do that show three times a year. I remember I was up there with a colleague at the time, and I looked down into this tiny, little case at their booth. They had a lot of other things, but there was a Buccellati bracelet in there. I remember asking, "How much do you want for the bracelet?" They didn't even know it was Buccellati. They wanted such a low price for it. 
I think that's the thing; a lot of people did not know, and it was before the internet had really come into play. Unless people tracked auction catalogues, there wasn't an easy way to know what prices were for things on the secondary market. I think we benefitted from the exposure I'd had in understanding what was good and how to look for signatures. Certain jewelers, when they sign things, their signatures are more obscure. Some are easily found and read, but others are like Van Cleef. A lot of their old things are so hard to see. Once you find them, you go, "Oh, it is Van Cleef. I knew it." 
Sharon: I know when I've gone to some of the shows and expressed interest in a piece, the dealer would say, "Oh, I just bought that two days ago." I was like, "Everybody's supposed to come to the show and be able to look at things."
Nan: That's exactly what happened. They probably bought it during setup day. They just bought it two days ago, and you were the next person to come along and find it.
Sharon: Do you think knowledge had increased? I know dealers don't have any interest in doing research, and then there are dealers that research every little thing. Do you think knowledge in general has increased, or just interest? Some like to research and some don't.
Nan: I would say in general that knowledge of jewelers has increased with the internet. I will say that probably the most helpful thing I've had, next to working with very knowledgeable people that shared their knowledge, was the library. I started buying books when I was working at the GIA and never stopped, and I used my library. I have library books, all jewelry-related, about all the different makers and periods. That in itself is a huge source of information, but a lot of information in the books in my library is not accessible online. So, it's a combination of things. You can find fascinating articles that people have written on jewelers or periods or movements. The other way to develop your knowledge is by accessing the various books that have been written on whatever given topic you're interested in. I think that knowledge is more readily accessible, and I think that that's helped a lot as well. The more people know and understand, the more comfortable they are buying that piece of jewelry or being drawn to a certain period or knowing what to look for or why a piece is special.
Sharon: What about European makers that aren't as known here? Are there some that come to mind or that you recognize? Who would they be?
Nan: There are a lot of wonderful makers that are not as known. The brands that everybody knows are the Cartier, Van Cleef, Tiffany, Bulgari, David Webb, Buccellati, those kinds of names. But there are a lot of fantastic, wonderfully talented makers that came out of Europe, and many of them were French. One of the things I was taught early on is that the French make—how would I put this? They put detail and time and thought into the pieces they make. 
For example, something in the United States might be made so you see all the beauty on the part that faces forward. With the French, they'll think about the back side of it, too, or the edges. It'll be as beautiful on the back as it is on the front, and it's a more thoughtfully made piece. The French are wonderful workmen and artisans. That's one of the things that's a big plus. When I'm going over a piece of jewelry and doing all the work on it, I'm always happy to see a French mark.
An interesting thing to know about France is that they will not allow anything that's less than 18 karat to be sold. When you have marks on it—it's the eagle's head mark, which is a gold French mark—it guarantees it's at least 18 karat or higher. Then they have the platinum marks. If somebody wants to import their jewelry from out of the country into France and sell it, they also have to be 18 karat. In those cases, they get the stamp we call the hibou, which is like an owl that says it was sold in France but it was imported into France. The French have always had a higher level of expectation with jewelers, and their pieces in general tend to be really wonderful. Anything that's French is a plus in the jewelry world. 
Sharon: Today it seems like, when I'm looking Instagram, there are so many one-off jewelers. They're not just one-off pieces, but they're Danish or German or people you've never heard of. They can be American. Not to knock anybody, but is it the design that's more known as opposed to whether the earrings sit on the ear?
Nan: It's a combination of those things. At that end of the day, we as women are the ones that are going to be wearing the jewelry, and if it doesn't look good on them, that's not going to carry it forward in a positive way. I would say the French designs are excellent. Generally, they're designed to sit well, but honestly, quite often you'll find that with the good but less-known jewelers, the ones that are not signed or the no-name jewelers, you still need to check. 
One thing I have noticed over the years is in the Art Deco period, for example in the United States, the jewelry was so beautiful, and there was so much money in the roaring twenties that no expense was spared in the workmanship and the quality of the stones that were used. But quite often over the years, I've seen these Art Deco and 1930s bracelets out of France that are set with very imperfect diamonds, old cuts, low-quality stones, often off-color, and it's interesting. I think Europe must have been in a different economic place than the United States when these were manufactured.
Sharon: That's interesting. I was interested in Catalan Art Deco, and the dealers would emphasize to me that the stones weren't of the highest quality. They were used in the piece, but they weren't the highest quality.
Nan: Yeah, there you go. 
Sharon: I'm interested in the overall piece. If the stone isn't the highest caliber, all right, as long as it makes the piece. 
Nan: Exactly. If it speaks to you and you love it, that's the most important thing. 
Sharon: Do you agree with the dealers or the people in the jewelry business who say, "It doesn't matter if it's signed if you love it"? What are your thoughts about that?
Nan: I think good jewelry is good jewelry. I don't think it has to be signed to be a fabulous piece. The signature certainly helps in the overall value, and people are more aware of that these days than they used to be, but there's a lot of beautiful, beautifully made, beautifully designed pieces out there that are not signed. I'm a big believer in buying what you love. Don't buy what you're lukewarm about. Buy what you really love, and try everything on to make sure it sits the way you want and that you like it. If you really love it, I believe in paying more than you think it's worth. In my opinion, the pieces I love the most I paid so much for, more than I wanted to. I've forgotten about many, but to this day I still love and cherish those pieces.