Episode 152
What you'll learn in this episode:
How Jessica built her accessories business, and when she knew it was time to step away from it
What it was like growing up in a creative household with Vladimir Kagan, a leading mid-century furniture designer, and Erica Wilson, the "Crewel Queen of Needlework"
How to build a #neckmess that tells a story
How to make the most of Instagram, Etsy and other selling platforms
Why a Victorian jewelry padlock inspired Jessica's most recent work
About Jessica Kagan Cushman
Jessica Kagan Cushman is an independent jewelry and accessories designer who launched her career in 2004 with a line of hand-engraved ivory bracelets. Her line later expanded to necklaces, rings, earrings, and other accessories that were sold at Barneys, Bergdorf Goodman, and other high-end retailers.
Today, Jessica is known as the creator of #neckmess, a jewelry trend combining multiple necklaces, charms, and chains to tell a story. Jessica's latest endeavor is a line of antique-inspired padlocks and connectors that serve as the building blocks of #neckmess.
Additional Resources:
Photos: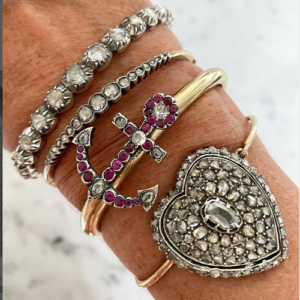 "schwing!! i got some #nauticalbling ? i just finished this conversion #cuff with an #anchor that was sold to me as vintage but turns out to be made by @gaetano_chiavetta!! i added a chunky #minecutdiamond to the top of it and attached it to a bracelet i made. im so happy to finally have a piece of his work ?"
-Jessica's IG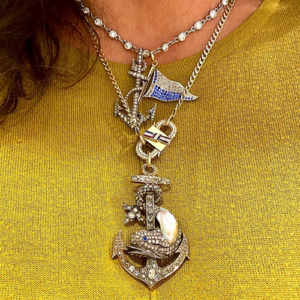 #yachty dinner #neckmess featuring #diamonds, #anchors and a special #padlock
-Jessica's IG
Transcript:
Jessica Kagan Cushman is a jewelry and accessories designer who struck gold not once, but twice: first with her hand-engraved ivory bracelets decorated with sassy slogans, and then with #neckmess, a style of jewelry wearing that layers multiple necklaces, charms and chains. She joined the Jewelry Journey Podcast to talk about what it was like growing up in her exceptionally creative household; how Instagram and Etsy have helped her business thrive; and how to build the perfect #neckmess. Read the episode transcript here.