Episode 151
What you'll learn in this episode:
Why jewelers from the Pacific Northwest have a singular style, and how Laurie draws inspiration from her environment
How Laurie and other artists in the Northwest School of Jewelers incorporate found objects, humor and wordplay into their work
What inspired Susan to focus on American jewelry
How Susan sorted through Laurie's 30-year archive, and what it was like to write "North by Northwest: The Jewelry of Laurie Hall"
About Susan Cummins
Born in 1946 in Minneapolis, Minnesota, but raised primarily in Atherton, California, Susan Cummins specializes in contemporary art jewelry and spent many years as a gallerist in Mill Valley, California. In 1983, Cummins took over Horizon Gallery in Mill Valley, re-naming it the Susan Cummins Gallery. Noting a lack of representation, Cummins settled on American jewelry as a primary focus for her gallery. Eventually, Cummins relocated to a larger space in Mill Valley and became known for representing painters and jewelers in the same gallery space, blurring the rigid distinction between fine art and craft. Cummins maintained the gallery until 2002. In 1997, Cummins helped found Art Jewelry Forum, a nonprofit tasked with connecting people working across the field of contemporary jewelry and educating new audiences. She continues to be a frequent contributor and is currently serving as the board chair. Cummins has also served on boards for arts organizations such as the American Craft Council and the Headlands Center for the Arts. Her primary focus in recent years has been her work as director of the Rotasa Foundation, a family foundation that supports exhibitions and publications featuring contemporary art jewelers. Susan Cummins was elected a 2018 Honorary Fellow of the American Craft Council.      
About Laurie Hall
Laurie Hall, along with Ron Ho, Kiff Slemmons, Ramona Solberg, and Nancy Worden, is part of what has been called the Northwest School of Jewelers, an influential jewelry art movement centered around an eclectic style of narrative and composition.
Laurie Hall is a long-time artist and educator from the Pacific Northwest, whose work has exhibited internationally. In 2016, her work was featured in Craft in America's exhibition Politically Speaking: New American Ideals in Contemporary Jewelry. Laurie's work is part of numerous private and public collections including The Museum of Art and Design in NYC, The Tacoma Art Museum, The Museum of Fine Arts, Houston.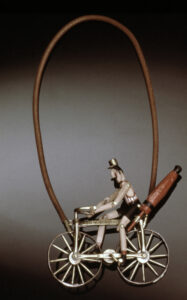 Coney Island Express
1983
Carved polychromed wood, bronze, sterling silver, string, and found cocktail umbrella
1 1/2 x 1 1/4 x 16 inches
Private collection
Photo: Roger Schreiber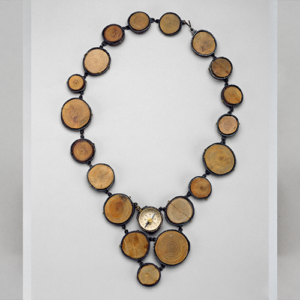 Stumped
1988
Yew wood, sterling silver (oxidized), and antique compass
13 x 1/4 x 3/8 inches
The Museum of Fine Arts, Houston, Helen Williams Drutt Collection, museum purchase funded by the Morgan Foundation in honor of Catherine Asher Morgan, 2002.3793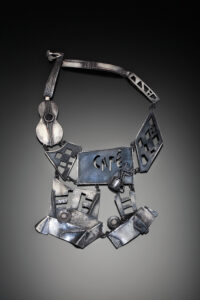 Cubist Café
1987
Sterling silver (oxidized)
6 1/2 x 12 3/4 x 1/2 inches
Tacoma Art Museum, gift of Mia McEldowney
Photo: Doug Yaple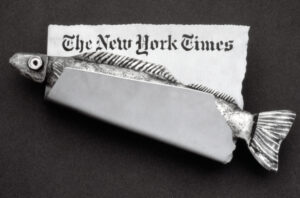 Wrapped Up in the Times
1987
Sterling silver (oxidized), aluminum sheet, and decoy fish eye
6 x 4 1/2 x 1 1/2 inches
Sandy and Lou Grotta collection
Photo: Richard Nichol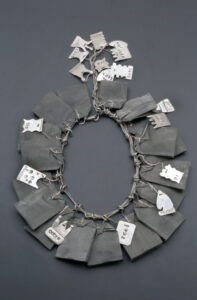 The Royal Brou Ha Ha
1996
Sterling silver (stamped), stainless-steel fine mesh, hematite beads, and sterling silver foxtail chain
10 x 10 x 1 1/2 inches
Tacoma Art Museum, gift of Sharon Campbell
Photo: Richard Nichol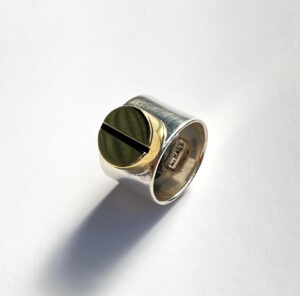 One Screw
2009
Bronze screw and sterling silver
1 x 1 x 1/4 inches
Curtis Steiner collection
Photo: Curtis Steiner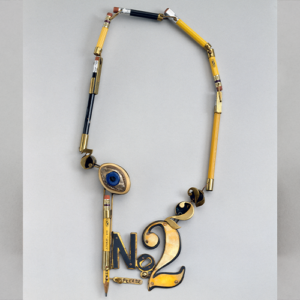 No. 2, Please!
1988
Bronze, found No.2 pencils, basswood, and color core
16 x 3/4 x 4 3/4 inches
The Museum of Fine Arts, Houston, Helen Williams Drutt Collection, museum purchase funded by the Morgan Foundation in honor of Catherine Asher Morgan, 2002.3791
Transcript:
Although her work has been shown internationally, Laurie Hall's jewelry is undoubtedly rooted in the Pacific Northwest. As a member of the influential Northwest School of Jewelers, Laurie's eclectic, often humorous work has drawn the attention of numerous gallerists and collectors, including Art Jewelry Forum co-founder Susan Cummins. Susan recently captured Laurie's career in the new book, "North by Northwest: The Jewelry of Laurie Hall." Laurie and Susan joined the Jewelry Journey Podcast to talk about the influences behind the Northwest School; where Laurie draws her inspiration from; and what they learned from each other while writing the book. Read the episode transcript here. 
Sharon: Hello, everyone. Welcome to the Jewelry Journey Podcast. This is the second part of a two-part episode. 
Today, my guests are Susan Cummins and Laurie Hall. Susan has co-authored with Damian Skinner a new book, "North by Northwest: The Jewelry of Laurie Hall." For 20+ years, she was the driving force behind Art Jewelry Forum, which advocates for contemporary art jewelry. Laurie is an arts educator and jeweler from the Pacific Northwest whose jewelry has been exhibited internationally. She's a key figure in the Northwest School of Jewelry, an influential jewelry art movement centered around an eclectic style of narrative and composition. If you haven't heard Part 1, please go TheJewelryJourney.com. 
Welcome back. Susan, did you see Laurie's work somewhere and said, "I want to show that," or did Laurie send you a photo and say, "Do you want to carry my stuff?" How did that work?
Susan: I don't think Laurie sent me anything. I think I saw her work in a gallery in San Francisco that had it before I did, the Lane Potter Gallery.
Laurie: Right.
Susan: It could have been that I saw it in the catalogue for Jewelry U.S.A. or another invitational of some sort, or I could have seen it through Kiff Slemmons, who I was also showing at the time. Somehow or another, I saw images of it. I had a show—I can't remember if it was a group show. Maybe it was Northwest jewelers; I don't remember the reason for the group show, but it seemed to me that Laurie's work would fit into that. That's when she did the café piece, because Laurie always was very conscious of where her pieces were going. 
If she was doing a show that was going to be in the San Francisco Bay Area, she wanted to do something that reminded her of that area that she thought people there would relate to. She thought San Francisco was kind of like Paris, in that there are cafés and Bohemians, life and art and all that. So, she made this café piece that looks like it could have been something that Brock or Picasso did early in their careers. There's a guitar in there. There are tables with plates and chairs and things askew, as if in a cubist painting, and the word "café" in big letters across the top. It was something she thought the San Francisco community would like. 
When she did something for the East Coast, she often thought about folk art and Americana, so she used whirligig figures, literally off of whirligigs, or folk art-influenced imagery, like people riding a bicycle, or a tall bicycle with a top hat on and a little message, or the words "Coney Island" on it so they would be thinking of Coney Island. It was very folk art, Americana-like, which she thought the East Coast would be more interested in. Laurie was definitely making work for these markets she showed in, very conscious of that and very accommodating to it. Anyway, did I answer your question? I think I got carried away there.
Sharon: Yes. Laurie, how did the fact that you were a teacher influence the work you did? I don't know if you're still teaching.
Laurie: I taught for over 38 years. The cubist café was because we were studying cubism. I taught calligraphy, lettering and graphics. I love lettering and graphics, and the kids influenced me a lot because they would comment on what I was making or doing. I didn't work at school, but I'd sometimes bring a piece in and show it to them. Did I answer it?
Sharon: Yes.
Susan: Why don't you talk about that piece you did that was a challenge for the students in your class to make something like it?
Laurie: Yeah, you mean the football thing. At Mercer Island High School, they always win all the sport competitions, football, basketball, baseball, soccer, everything. Sometimes they'd shut school down when they were in the finals. I had a whole bunch of football players in my class, and they all called me Hall. They all thought I was cool. 
Sharon: I'm sorry. You were cool? Is that what you said?
Laurie: They thought I was cool.
Sharon: For a minute I thought you said cruel, and I was going, "O.K." 
Laurie: No, they called me Agent Orange and Galleon. It was quite funny. They all wanted an A, and they kept coming up and saying, "What does it take to get an A? This is an art class. It must be easy to get an A." I said, "All right. We're making jewelry. You guys have to make a necklace and wear it into the lunchroom if you expect to get an A. You have to wear it. I really want you to wear it all day, but I won't be able to see you all day." Anyhow, they did it, and everybody enjoyed it.
Sharon: And did they get A's?
Laurie: If they deserved one. Just by them doing it, I thought they deserved an A because of that, yeah.
Sharon: It's a high hurdle, walking to the lunchroom with something like that.
Laurie: Yes, guys with big necks and everything. It was humorous.
Susan: You also did a piece yourself that had to do with the idea of football, which was a sandwich board piece you wear over your shoulders, front and back. It was called "Rah, Rah, Sis, Boom, Bah." There were footballs flying over the goalposts and flags and people waving and numbers and all kinds of things.
Laurie: I had a little candy. They used to give candy out. If you had a date to the football game, they'd give you a favor, a little tin football with some candy in it. So, I used that football on the necklace. That was my found object that I had, but how did I come about having that? I think it was in my brother's drawer upstairs in my parents' house.
Susan: No, somebody invited you to a football game and gave you a piece of candy. 
Laurie: I doubt it. I probably stole the candy in it. 
Sharon: Laurie, was there a point in your jewelry making that you were selling but making so much that you said, "I can't teach right now"? Was there so much demand, or no?
Laurie: No, I had a really good job. I needed the money. I had no other means of support because I'm a single lady, and I loved it. It was consistent. It was reliable. I had no desire to make production jewelry. I worked for Robert Lee Morris one summer for six weeks. It was interesting, and I really liked Robert. I went to his workshop up in Lake Placid, New York. He made that Coty collection of bracelets that are all aerodynamic, and he was talking about that. I used hollow construction a lot because I'm not a flat jeweler. I really make dimensional things.
Sharon: Yes, you can see that now.
Laurie: To me they're sculpture; they really are. They're sculptural, and I like the way they interact with the body. It's a sculpture on the body, as I said, but I'm not really intellectual about what I'm doing. I'm just recording things that I think other people could find interest in and making them. Do I know they're going to find interest in them? I've always been lucky my work has gone out. Am I big seller? I usually sell what I make, but I can't make that much. I've always been interrupted by school. I had a lot of kids every day. I was in a public school, and then I had to clean the room and get the supplies. I had a whole lot of energy. I'm kind of amazed at what I did at this point. 
Sharon: Have you ever put on a piece that you had been playing with and said, "This is too flat," or "It's not talking," or "This isn't what I had in mind"?
Laurie: You mean do I mess up and trash something? Yeah, of course. There's one piece in the book that's made out of an aluminum ruler. I made that piece three times and even had it photographed. I don't have a lot of money, but I don't think about that. I just go and do something because I know I'll have to figure it out later. When I finally got that piece done, it went to a gallery and it sold immediately, but I made it three times. I have evidence of the way it looked along the way.
Sharon: What was it the other times? You didn't think it was dimensional enough?
Laurie: It just didn't do it. That's all I can say. To be honest about it, it wasn't compelling. There are compelling ideas. Some people can sit down and design something and make it—I'd say there's the ordinary way things look where they're acceptable, like a lady the other day showed me a picture of something on a TV set and said, "Is this your piece?" I looked at it and said, "No. It's nice, but I don't make that kind of thing." I don't try to make nice. I don't try to make acceptable. I just try to make something that's got a little bit of magic to the message. You don't get it right away maybe, but you keep wanting to go back and look at it. That's what I hope for, and that's what it does to me when I make it. I either know it works or I know it doesn't work.
Sharon: Do you have a story in mind that you want to say, or message in mind that you want to get across in a piece before you start it?
Laurie: Sometimes, like when I found the screw, I knew what I was going to do with it. I saw what was behind the Eight Ball. I saw that ball thing, and I had some Corbusier letters. They were stencils, and I had the monkey. I knew I wanted to make a marriage of a metal ball, and I wanted to see how round I could get it. That was the high bar, so it was technical in one aspect. I try to go over the high bar sometimes. 
What other piece can I talk about? The "Wrapped Up in the Times" piece doesn't have any found objects in it other than a glass eye, but I had aluminum, and I made the newspaper out of aluminum because I could cut letters. If you know how you can do it with the materials you have available—and I work with anything. If I think it will work in the piece, I work with it.
Susan: We should say that "Wrapped Up in the Times" is a fish wrapped up in The New York Times. It's a pun. I was going to say a couple of things about Laurie's work. One is that she really does describe the Northwest. If you've ever lived in the Northwest, which I have, either in Portland or Seattle, there are so many references to her place of origin that you just can't miss them. For example, there are a lot of boats in her work. There's water or fishing references. There's a bridge. One necklace is of the bridge. Portland, if you've ever been there, there's a river that goes through the city, and over the river are many, many bridges. There's also a lot of wood and log sections, like rounds of cut wood which came from some branches of a hawthorn tree—I forget what it was.
Laurie: Yew wood.
Susan: Yew wood, yeah. Those sections were all arranged around a necklace with a little compass down in the bottom, which refers to a story about Laurie getting lost in the woods. She called it "Stumped," again referring to getting lost in the woods, but also referring to the fact that Portland was a big source for lumber companies back in the 19th century for wood. For a long time, they cut the trees and left them stumps, so there are vast areas where there were stumps. Even today, Portland is known by the nickname of Stumptown, and you can find Stumptown coffee around town. It's a brand of coffee. There are parts of the city that are called Stumptown. So, it's a joke, and yet she made this necklace that has this title. 
A lot of Laurie's pieces are like that. They are puns or plays on words, or just something funny. There's another piece called "The Royal Brewhaha," which is about brewing tea. It's got tea bags all around it, all of which Laurie made, but it's about the English, so the royal part comes in making a deal about something. It's just funny and fun. She's often very clever about how she names them. It's also things that are coming from this area, except maybe "The Royal Brewhaha," but many things—
Laurie: Except it was Princess Di and the royal family. I am Scottish, English, Irish, all the British Isles, so I couldn't help but identify with her because she was so tortured by the royal family. I hated that, so I had to make a piece about it.
Susan: Everything that she's doing is coming from her place, her environment. Everything around her and in her life is incorporated one way or another into the pieces.
Sharon: Susan, in writing the book and interviewing Laurie and going through the archives, what surprised you most about Laurie's work?
Susan: I knew Laurie to some degree before, but not all that well. It is fantastic when you write a book about somebody and you get to ask them every single question you can think of about themselves, about their lives, about their backgrounds, about the piece they made. We literally went through all the work Laurie had ever done that we had pictures of, and I said, "O.K., Laurie, what's this piece about? What's it made of? When did you make it? What were you referring to?" So, we have something written up in our archive about every single piece.
I don't know if there's any one thing that surprised me about Laurie, but everything about Laurie was interesting and funny and fun and amazing in how original her work is, and how she embodies a certain area of this country, and how she was a very American jeweler who was interested in stories and her place of origin. I think none of that was a big surprise, but it all was really interesting to me.
Laurie: Ramona had used things from other places in the world, and I could relate to what she had done, but I didn't want to do it again. I knew I wanted to celebrate American things, and that was it. Then I went about trying to describe it, not thinking it out until I had to make things. I'm very driven by a deadline and a vacation and having time to work, because I worked all the time. 
Sharon: Were you picking things not just from America, but from the Pacific Northwest?
Laurie: I was living there and I loved where I was from, so I couldn't help but record what was going on in my life.
Sharon: I'm curious, because in the past 30 years, let's say, everyone has even less of an understanding of your work. I could see how it would be like, "Oh look, you have this ethnic jewelry over here, and you have your cool jewelry over here," which is really unusual. Have you seen more "I don't get it" in the past 30 years?
Laurie: If someone saw the café necklace on, they'd want it, or they'd say, "Well, maybe I can't wear that, but I really like that." I don't want to worry about that. I didn't worry about it, and I'm still not worried about it. That's what's wrong. I think Dorothea Prühl was not thinking too much about acceptability. I love her pieces. Being free and expressing your own self or your original thoughts is better than anything else. It really is. 
Susan: I think Laurie's work speaks to American interests. I don't think those interests have changed a huge amount from when she made these pieces, but she's been making pieces all along. She's still making pieces. She's still reflecting her times and her place. I think we're talking more about the beginnings of her career or some of the earlier pieces, but the later pieces are also very similar in their humor and their personal reflections of where she is. That doesn't change much over time. Your environment is your environment. The Northwest is the Northwest. There still are influences from nature, from First Nations people. There's a lot of imagery you can see all around Portland and Seattle from the Native Americans who were there originally, which influenced Laurie's work as well. 
Laurie: I love that stuff. It's the same feeling. It was looking at the materials. Making with materials is so exciting with the colors, the textures, all of those things. It's just so exciting putting them together.
Susan: And that's pretty much constant with what Laurie's made all along.
Sharon: Laurie, was there something surprising or interesting that was thought-provoking as Susan was interviewing you and you were thinking more about the work? Were there surprises or reflections you had that hadn't occurred to you?
Laurie: I think Susan explained how I think. That was a surprise to me, because I didn't think anybody could figure out how I think. That was the biggest gift she gave me. I was so pleased with the writing and also with Damian, with some of the things he'd say to me. It was fun. We interviewed a lot, and it was always exhilarating. 
I never did this because I was trying to make a living or be famous or anything, but I did it because I liked expression. Even from when I was a kid, I won a poster contest. I was in the fifth grade. Everybody at the school entered and I won; the fifth grader got first prize. I never felt that my primitive style would be rejected. I also felt that I could go ahead and be the way I am inside, put it down in paint, put in down in printmaking, put it down however—not that I didn't have to work hard to get one composition to work, but another one would fall into place. There are quick pieces. Then there are long, hard pieces that you work on. They're all different.
Susan: We should also say, Laurie, you were teaching art in general in your high school classes.
Laurie: I wasn't just a jewelry teacher. I was teaching painting, printmaking, graphics, textiles, everything. I had to go out at the end of the day and go from one end of Seattle to the other getting supplies. Then I'd go down to Pacific Island Metal where they have all this junk, and I'd think, "Oh, look at that! Look at that, this metal!" I love metal, I really do. I can make sculpture for the body, but when you think about making your sculpture that is freestanding, I haven't done much with that yet. I still want to make some tabletop ones, little ones, but it's putting things together that's so exciting. 
Sharon: So, there's more to be explored. I have to say the book is very clear in terms of explaining your thought process behind each of the photos, which are beautiful, as well as your thought process in general. It's published by Arnoldsche. How do you say that?
Susan: Arnoldsche. They've published a lot of books on contemporary jewelry, especially European ones, but they've also published more American writers about American jewelers now. Toni Greenbaum just published one on Sam Kramer. The influx book that Damian and Cindi Strauss and I worked on was also published by Arnoldsche. They are really the best distributors of contemporary jewelry publications.
Susan: Yes, and I was excited they were going to publish my book.
Sharon: It sounds like such an honor. It's a beautiful book. It's available on the Art Jewelry Forum site, ArtJewelryForum.org, if you want to see a beautiful book. It's also a very readable book with the pictures. Thank you both very, very much. It's greatly appreciated. I hope to talk to you about the next book.
Susan: Thank you, Sharon. Thanks so much for having us.
Laurie: Thanks, Sharon.
Thank you again for listening. Please leave us a rating and review so we can help others start their own jewelry journey.