Episode 151
What you'll learn in this episode:
Why jewelers from the Pacific Northwest have a singular style, and how Laurie draws inspiration from her environment
How Laurie and other artists in the Northwest School of Jewelers incorporate found objects, humor and wordplay into their work
What inspired Susan to focus on American jewelry
How Susan sorted through Laurie's 30-year archive, and what it was like to write "North by Northwest: The Jewelry of Laurie Hall"
About Susan Cummins
Born in 1946 in Minneapolis, Minnesota, but raised primarily in Atherton, California, Susan Cummins specializes in contemporary art jewelry and spent many years as a gallerist in Mill Valley, California. In 1983, Cummins took over Horizon Gallery in Mill Valley, re-naming it the Susan Cummins Gallery. Noting a lack of representation, Cummins settled on American jewelry as a primary focus for her gallery. Eventually, Cummins relocated to a larger space in Mill Valley and became known for representing painters and jewelers in the same gallery space, blurring the rigid distinction between fine art and craft. Cummins maintained the gallery until 2002. In 1997, Cummins helped found Art Jewelry Forum, a nonprofit tasked with connecting people working across the field of contemporary jewelry and educating new audiences. She continues to be a frequent contributor and is currently serving as the board chair. Cummins has also served on boards for arts organizations such as the American Craft Council and the Headlands Center for the Arts. Her primary focus in recent years has been her work as director of the Rotasa Foundation, a family foundation that supports exhibitions and publications featuring contemporary art jewelers. Susan Cummins was elected a 2018 Honorary Fellow of the American Craft Council.      
About Laurie Hall
Laurie Hall, along with Ron Ho, Kiff Slemmons, Ramona Solberg, and Nancy Worden, is part of what has been called the Northwest School of Jewelers, an influential jewelry art movement centered around an eclectic style of narrative and composition.
Laurie Hall is a long-time artist and educator from the Pacific Northwest, whose work has exhibited internationally. In 2016, her work was featured in Craft in America's exhibition Politically Speaking: New American Ideals in Contemporary Jewelry. Laurie's work is part of numerous private and public collections including The Museum of Art and Design in NYC, The Tacoma Art Museum, The Museum of Fine Arts, Houston.
Photos: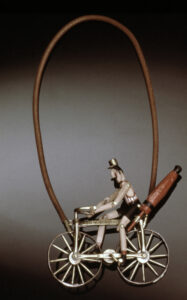 Coney Island Express
1983
Carved polychromed wood, bronze, sterling silver, string, and found cocktail umbrella
1 1/2 x 1 1/4 x 16 inches
Private collection
Photo: Roger Schreiber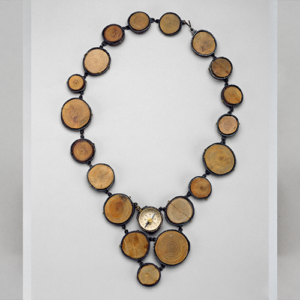 Stumped
1988
Yew wood, sterling silver (oxidized), and antique compass
13 x 1/4 x 3/8 inches
The Museum of Fine Arts, Houston, Helen Williams Drutt Collection, museum purchase funded by the Morgan Foundation in honor of Catherine Asher Morgan, 2002.3793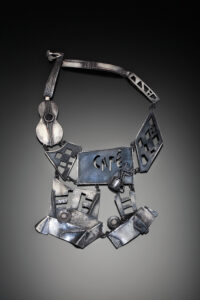 Cubist Café
1987
Sterling silver (oxidized)
6 1/2 x 12 3/4 x 1/2 inches
Tacoma Art Museum, gift of Mia McEldowney
Photo: Doug Yaple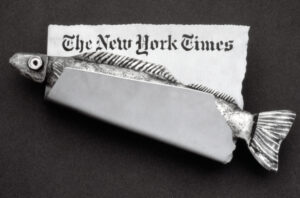 Wrapped Up in the Times
1987
Sterling silver (oxidized), aluminum sheet, and decoy fish eye
6 x 4 1/2 x 1 1/2 inches
Sandy and Lou Grotta collection
Photo: Richard Nichol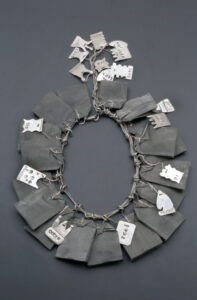 The Royal Brou Ha Ha
1996
Sterling silver (stamped), stainless-steel fine mesh, hematite beads, and sterling silver foxtail chain
10 x 10 x 1 1/2 inches
Tacoma Art Museum, gift of Sharon Campbell
Photo: Richard Nichol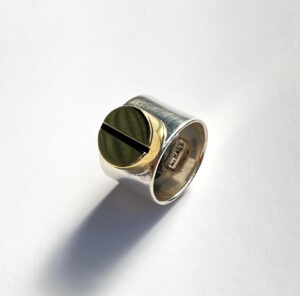 One Screw
2009
Bronze screw and sterling silver
1 x 1 x 1/4 inches
Curtis Steiner collection
Photo: Curtis Steiner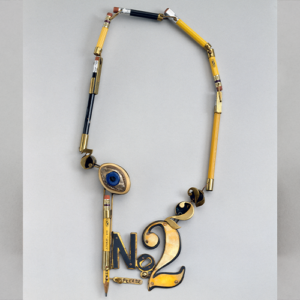 No. 2, Please!
1988
Bronze, found No.2 pencils, basswood, and color core
16 x 3/4 x 4 3/4 inches
The Museum of Fine Arts, Houston, Helen Williams Drutt Collection, museum purchase funded by the Morgan Foundation in honor of Catherine Asher Morgan, 2002.3791
Transcript:
Although her work has been shown internationally, Laurie Hall's jewelry is undoubtedly rooted in the Pacific Northwest. As a member of the influential Northwest School of Jewelers, Laurie's eclectic, often humorous work has drawn the attention of numerous gallerists and collectors, including Art Jewelry Forum co-founder Susan Cummins. Susan recently captured Laurie's career in the new book, "North by Northwest: The Jewelry of Laurie Hall." Laurie and Susan joined the Jewelry Journey Podcast to talk about the influences behind the Northwest School; where Laurie draws her inspiration from; and what they learned from each other while writing the book. Read the episode transcript here. 
Sharon: Hello, everyone. Welcome to the Jewelry Journey Podcast. This is a two-part Jewelry Journey Podcast. Please make sure you subscribe so you can hear part two as soon as it comes out later this week.  
Today my guests are Susan Cummins and Laurie Hall. Susan has co-authored with Damian Skinner a new book, "North by Northwest: The Jewelry of Laurie Hall" For 20+ years, she was the driving force behind Art Jewelry Forum, which advocates for contemporary art jewelry. Laurie is an arts educator and jeweler from the Pacific Northwest whose jewelry has been exhibited internationally. She's a key figure in the Northwest School of Jewelry, an influential jewelry art movement centered around an eclectic style of narrative and composition. We'll hear more about Susan's and Laurie's jewelry journey today. Susan and Laurie, welcome to the program.
Susan: Thank you, wonderful to be here.
Sharon: So glad to have each of you. Susan we'll start with you. Can you tell us about your jewelry journey?
Susan: My jewelry journey did not start until I was running a gallery in Mill Valley. I showed a lot of crafts in the gallery, and that introduced me to some American jewelers who were part of that craft movement in the 80s and 90s. I started to show those American jewelers in the gallery and after a while, I began to realize how smart and how very skilled they were, and how wonderful it was to work with them. There were no other galleries that just showed American jewelers in the United States at that time. All the other galleries that existed showed a lot of European work. So, I thought, "O.K., this is going to be my specialty." That's mainly what I did and what I showed, and I became very infatuated with jewelry at that moment in time.
Sharon: Is that when you started Art Jewelry Forum?
Susan: I started Art Jewelry Forum in 1997, and the gallery I had in the 80s and 90s. So, it was a while before that came to be, but yes, within that period of time.
Sharon: Laurie, what's your jewelry journey?
Laurie: As a kid, I started doing art right away. My parents observed me drawing horses on the wall and my mother said, "Bill, I think we have an artist here." I was given their stamp of approval from the very beginning. Did I think about being a jeweler? No, it's always been about art and making things like accessories, costumes, that kind of thing. I just wanted to be an artist, whether it was a visual artist or making things. I liked making compositions that were about something.
Sharon: Did you first meet Susan when she had the gallery? How did you two first meet?
Laurie: I met Susan at the gallery in Mill Valley. She requested to show my work, so of course you respond; you don't hesitate on that. I knew Susan's reputation already and I was thrilled. As usual, it was a bit of a hot potato because I taught full time and it was hard to get the pieces done. I think I squeaked in at the last minute, but I did get there.
Susan: Laurie is famous for being late, especially delivering work to every show she was ever in, but I have to say doing this book, she was right on time with everything. It was a miracle. She really, really performed in this case.
Sharon: There are some beautiful photos, so I can imagine pulling them all together must have been such a task. 
Laurie: It was, but it was fun.
Susan: She kept very good records and we had access to all of those. For years she'd been taking photographs. Unless an artist does that throughout their career, it going to be hard to even put together a monograph of their work.
Sharon: I bet it would be, if you had to go back and start pulling things from 30 years ago. Laurie, in the book, "North by Northwest," it talks about the influence that Ramona Solberg had on you. Can you tell us who she was, what happened and how she influenced you?
Laurie: I came to Seattle to teach. I taught a couple of years on Vashon, and then I was recruited to go to Mercer Island, which was—I didn't know at the time—the best school district in Seattle in terms of kids and the economics of it and everything. It was a public high school. I went to a conference down in Tacoma, and Ramona was there. It was an art education conference. I walked in, and she had this whole table of ethnic jewelry, which was the rage, and I liked it. Everybody liked it. It really put things on display, and she had her own work right next to it. 
I think her aesthetic was something I always had to begin with, in some ways. I like making compositions; I like collage and printmaking; I like painting; I like sculpture; I liked all of that, and there it was in some ways. All of her pieces were made with found objects. A lot of people do found objects, but they don't remove them from looking found. Hers were integrated into the composition, somewhat of a cubistic-looking composition. 
Her persona, she was a big gal, but she always wore polka dots and stripes and bright colors. She was cheerful looking, and she would wear a bandana around her neck. Everybody loved her and I could see why. She reminded me a little bit of my mom. My mom was a version of Ramona and her sense of humor. Ramona would call it like it is. She didn't ever try to make it up. She wasn't charming for the sake of being charming; she was matter of fact, right on. She called it, and you stood there at attention. I just liked her no-nonsense approach, and her jewelry to me was art. I was looking for something I could devote myself to. I had painted. I had done printmaking. I had done everything in college, and everybody was impressed with what I made. I sold everything, but I was looking for something I could wrap my mind around and my physical self around. It seemed like it was the thing, and it certainly was.
Sharon: What was it that moved you so much? Was it the fact that the found objects were integrated so they became part of a piece? What was it that opened your mind to that?
Laurie: Graphically her pieces were—you wanted to own them. You wanted to put them on. They were pendants and things like that, but they were very appealing to me. It harkens back to me going to a house dance down in Salem at Atlanta University, and there being this barn and this guy collaged all this barn stuff all over the wall. I thought it was beautiful. There was a collage like that that Ramona was making, but it wasn't just Ramona; it was the wholeness of Ramona. She not only had these collections, but she could talk about objects. She had traveled a lot. She had been in the Army, and she had been over in Europe. She had had adventures and was part of the world. She was really a beacon for me.
Sharon: Susan, you knew her too, because I think the first time I ever heard the name was from you.
Susan: I did know her. I think we should also bring in here that the point in time Laurie is talking was during the 60s and 70s, when there was a strong feeling of interest in objects and aesthetics from other cultures. People were wearing beads and bright-colored clothing, and all the things Laurie's talking about that were in Ramona's purview were part of what was happening then. Ramona just did it with a particularly great style and attitude. So, I think there was a proclivity at the time for somebody like Laurie, an impressionable young thing, to be intrigued by Ramona.
Laurie: And then the Pencil Brothers and all the things that were going on in Seattle. Seattle was ripe for craftspeople.
Sharon: The Pencil Brothers?
Laurie: The Pencil Brothers, yeah.
Sharon: Who were they?
Laurie: If you read Susan's book, "In Flux," you will see—help me out here, Susan.
Susan: It was Ken Cory and Les LePere who were from eastern Washington. They used to show in a gallery called Margolis Gallery in Seattle. Other people from that eastern part did a lot of what Laurie's calling funk jewelry. We talked about of this in the book "In Flux: American Jewelry and the Counterculture." Those kinds of things were circulating around at the time in the 60s and 70s in Seattle. The Northwest was very strong in that regard.
Sharon: Laurie, you're described as being part of the School of Northwest Jewelry. What is that?
Laurie: The Pencil Brothers are part of it, Ken Cory being one of them, and the other one is Les LePere. Ramona is part of that. Merrily Tompkins and Don Tompkins, who were—Merrily was one of Ken Cory's students. They were all over in Ellensberg. That scene was going on, and then in Seattle there was Ramona. It started with Ramona, but I was paying attention to what I saw. 
Susan: Ron Ho.
Laurie: Yeah, Ron Ho.
Susan: Kiff Slemmons
Laurie: Kiff Slemmons, yes, absolutely.
Sharon: What was it, a belief? What made them a part of it?
Laurie: I think a lot of us liked the same kinds of images in terms of the found objects. They were using pencils. Number two pencils; Ramona used those. Ken Cory used them obviously, but I can't remember if he got the idea from Ramona or he got the idea himself. I saved pencils when I was in college. It was just something you did. I liked them. I like carpenter's pencils. I'm not explaining this too well, I don't think.
Susan: Let me give it a try. The Northwest Group, which is mainly Kiff Slemmons, Laurie, Ron Ho and Ramona—those are the major players—they were all doing work that had some familiarity with each other. They were using found objects as part of it, but they also often were making statements or telling funny stories or representing something more dynamic, like traveling the world and collecting bits and pieces from things. Ron Ho was a gay man who was Chinese. The other three were all students of Ramona, and they all did work that was similar to hers, but also very distinctively different. They all had something to say about different topics, and they all saw each other and saw each other's work. I think there was a strong difference between what they did and what everybody else was doing in the United States at the time. I was interested in showing it in the gallery because I thought it was particularly interesting in that it had something to say and was saying it with objects you could understand, like the pencils Laurie was describing.
Laurie: And the rulers and the compasses. Ramona used dominos. I remember going to New York for my show at the Elements, and I knew were really doing something different than the East Coast. They were into slick things and production jewelry and titanium and all that stuff. I'd seen that in London when I went there. Ramona did a study abroad program, and I went on it with Ron Ho. We saw Caroline Broadhead and Catherine Mannheim and Wendy Ramshaw and all those people. We went to see Wendy Ramshaw, and I realized we were doing something different. It's what I felt comfortable with: liking antiques, liking the Asian influence in the Northwest, liking the colors. To make things and put rivets in was very exciting. It was a formative way of making jewelry, put a rivet into something and rivet the whole thing together. How exciting.
Susan: And how simple and how direct.
Laurie: And how hard, oh my gosh! You can't believe once you start putting something together. You're not in charge; it's in charge. It's on the table. It's flat. You've got to make it so it can go onto somebody, and you don't know how it's going to get there. You tape it together; you string it together; you do anything you can to make it look like you could put it on. You put it on and say to somebody, "How do you think this is working?" "Well, I think it's good." 
I remember the café necklace, when I made that, I worked on it Thursday, Friday, Saturday and Sunday. I have to say I skipped school, not Thursday, but Friday and then Monday I think I skipped school too. I never would skip school, but it was very important to me. It was going to Susan. Anyhow, did I know it was going to work? No, that's half the reason you do it. The way I work, that's why I do it. I have an idea or I have something I've seen, and suddenly you'll come down to your worktable and everything's been rearranged. You look down and see an idea right there on the table. It's very creative. It's about the piece dictating to you what to do next, and you just keep working.
Sharon: With found objects, do you have a box? Do you collect them on the beach and put them in a box, and you look at it one day and it says, "Make me into this"? How does that work? 
Laurie: I don't always use found objects. Ramona thought it was funny; I said I make found objects, and that's the truth. I think so much of this jewelry that was made with found objects, people didn't really make it into a conversation. They just plunk them down. Do I go out to garage sales and all that kind of stuff? No, I've got too much stuff to begin with. 
I find things incidentally. There's a ring in the book that's a one-screw ring. I found that screw on the floor in my school workshop. I asked the guy I worked with if he knew who it belonged to and he didn't know, so I thought, "O.K., it's mine." The eight ball, I found that on the floor in Multnomah Arts Center where I was teaching here in Portland. You just see things. Sometimes it's a fragment that nobody could even identify, but it makes you have juices in your eyes. You're really excited. Do I know what I'm going to do with it? Not necessarily.
Sharon: How about when you saw the screw? Did the screw talk to you and say, "Make me into this"?
Laurie: Yeah, I thought that could be a ring because I'd already made a two-screw ring with the flange that I found in the same workshop. I thought it was kind of dirty and funny, which is the juvenile part of me, and that's why he bought it. 
Sharon: How did you segue? You said in school you studied printmaking and all kinds of different arts, but how did you come to jewelry? Did you just keep doing more jewelry?
Laurie: I took a jewelry class from a visiting professor at my university. It wasn't Ramona, and the guy didn't know what he was doing, so I had to learn by myself. That didn't bother me. I'd seen Calder's work, so I wanted to make jewelry. My first work doesn't look like Calder exactly. It was of that time period, and Calder had a huge influence on all of us. It was that forging of metal and changing it from one thing to another. Susan, you have a picture of you wearing that wonderful piece—it might be Dorothea Prühl —that looks like great, big paperclips, the steel piece.
Susan: Probably Dorothea, yeah. 
Laurie: Yeah, I love her work. There's this essence of originality that some pieces have, and if you can get in touch with that in your own soul, that's the best kind of art that can be made because it's original. I knew right away because I had a fantastic art history professor at Atlanta University. I knew what monumental was; I knew what original was; I knew you had to have a style. It wasn't that it scared me; it excited me that I could express myself and it could be mine, not anybody else's. It wouldn't look like everybody else's.
Sharon: So, that's what brought you to jewelry.
Laurie: Yes. 
Sharon: How do you describe your jewelry to people when they say, "What do you do?" If you say you make jewelry, they think gems and gold.
Laurie: I always tell them I don't make jewelry. Sometimes it can be worn. It sometimes goes on the wall in a frame. It is wearable, but forget the word jewelry. It's a composition that I'm making with different materials.
Sharon: Do people usually get that? Do they understand what you're saying?
Laurie: Not necessarily. Most people think of jewelry as a category and they can't escape it. It's too bad, because more of the exciting pieces are being made with Legos and pieces of wood and recycled stuff. Maria Phillips is shredding a cup, and she'll put it together with popsicle sticks or whatever. Everything can become a beautiful or interesting piece to look at that ignites another thought. That's what you want to do. You want to put something out that ignites a thought. 
When the piece is in charge, it says what it wants to say. I'm separate from it. It's like giving birth to child, I suppose. You've got to let it free, let it go out there and walk. You put it on somebody, and that's where the ethnic jewelry—it was on parade. People were wearing it and it was colorful. It had funny things in it that they had never seen before, but you adopted it and you liked wearing it. It fit your style and people were dressing in really fun ways.