Episode 150
What you'll learn in this episode:
Why the beauty of ancient and antique jewelry may not be evident at first, and why that makes them all the more interesting to Marc
How ancient jewelry has been passed through generations of collectors
What streets to visit for the best jewelry shopping in Paris
How Marc sources jewels from antiquity, and why provenance is of the utmost importance

 

Why Marc chose to list the prices of his pieces in his boutique window display
About Marc Auclert
The grandson of an antique dealer, Marc Auclert has had a passion for antique jewelry and objects of curiosity from a young age. Having spent over 20 years working for some of the most prestigious jewelry houses worldwide, including De Beers and Chanel, he opened Maison Auclert in 2011. The boutique specializes in mounting museum-worthy ancient jewels as pieces of contemporary jewelry. 
The works of art selected to be mounted are sourced from a broad range of periods, cultures and geographical regions. Each object is chosen for its beauty and rarity; each elegant mounting is designed to showcase, and not overwhelm, the objects' preciousness, color, patina, shape or symbolism.
Designed to celebrate and enhance the singularity of each Antique work of art, every piece in the Maison Auclert collection is unique, hand-made and embellished by the artisans of the best contemporary workshops in Paris.
Additional Resources:
Additional Resources:
Photos: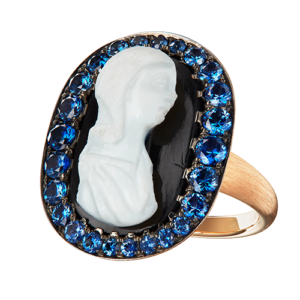 Roman Cameo Ring
White and black two-layered onyx cameo representing the bust to the right of Julia Mamaea, mother of Emperor Severe Alexander, Roman Art  of the 3rd century AD,  mounted on an 18K red gold ring with a surrounding of sapphires (total 1.39 carat).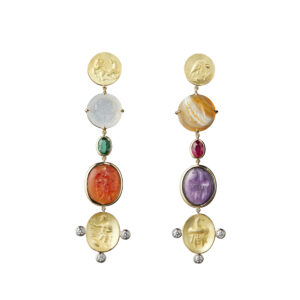 Impression Intaglio Earrings
18K gold long earrings, set with a Burmese ruby (1.05 carat), an emerald (0.56 carat), 6 diamonds (0.63 carat) and 4 "Grand Tour" intaglios (19th century) in  amethyst, chalcedony and carnelian, and their impressions in gold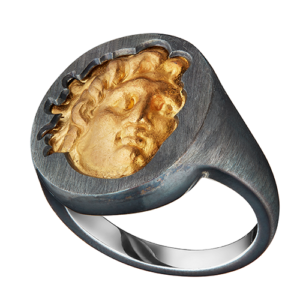 Helios Ring
Oxidized silver ring with a cut-out that reveals the effigy of the god Helios on a gold stater from Rhodes of the 5th century B.C.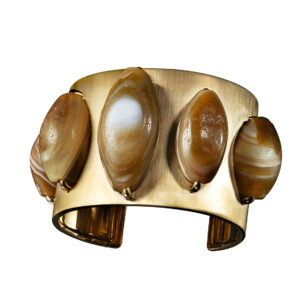 Agate Cuff
Large cuff bracelet in 18K brushed gold set with 5 rhomboid-shaped agate necklace beads, known as "Medicine Beads" for their prophylactic power, Indo-Tibetan art of the 1st Millennium B.C..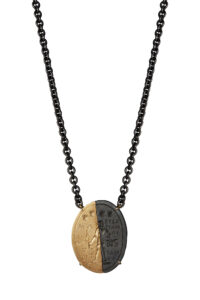 Magical Intaglio Necklace
Pendant set with a lacunary hematite «  magical » or gnostic intaglio engraved with the right part of a gnostic lion-head deity, the sliced winged-head of the Gorgon in the left hand, two  scarabs, Greek letters (???? for the magical incantation Abraxas, ??? for the jewish god Yahwe, etc.), Egyptian scarabs and stars in the field, Egypto-roman Art from the 1st-3rd century A.D., a modern extrapolation of the missing part hand-engraved in 18K gold, mounted on a black lacquered chain.
Transcript:
Thanks to jewelry designer Marc Auclert, you can wear a piece of jewelry history around your neck. At his Paris boutique Maison Auclert, Marc transforms jewels from antiquity into contemporary pieces, all while preserving the soul of the original jewel. He joined the Jewelry Journey Podcast to talk about why ancient jewelry carries more emotion than contemporary pieces; how he finds jewels dating back to BC; and why the time it takes to appreciate antique jewelry is well worth it. Read the episode transcript here. 
Sharon: Hello, everyone. Welcome to the Jewelry Journey Podcast. This is the second part of a two-part episode. Today, my guest is Marc Auclert, owner of Maison Auclert. After stints at some of the world's most prestigious auction and fashion houses and having lived all over the world, he now combines museum-quality antiquities with contemporary settings and fashions them into unique and wearable jewelry. Welcome back.
So, people may be walking along, looking at everything glittering in all the windows, but they see your window and say, "Oh, this is really interesting" and come in? Does it stop them? How does that work?
Marc: You can see that it puzzles them. They look at it, and you can see there's a big question mark, like, "What is that? It looks old, but it's not antique. Yes, there are antiques in the middle, but the mountings are definitely modern. The volumes are large." You can see they have to use a few minutes to understand what's going on. I have to make sure the store is very well-lit and you can see inside very well. They see that there are lots of other things to discover. You need to be a bit courageous to press on the buzzer to be let in, but these people—I've seen many, many things. They press on the buzzer. They walk in and say, "What's going on here?" and very quickly, in two or three sentences, I explain to them that we take genuine antiques that we mount on modern mountings. These are one of a kind. 
The other thing I've done which you'll probably find interesting, Sharon, is on the outside display, I've put the prices. Lots of friends have said to me, "Oh, I've talked about you to my friend. She knew exactly who you were, but she didn't go in your store because she said it was expensive." I heard that several times. Because the pieces are original, people thought they were very expensive, whereas in fact, I'm not expensive in terms of money. Prices here go from $3,000 to $50,000 if you want it. It's lots of money, I understand, but compared to Place Vendome, these are not huge amounts. I even had a person who's quite important, I saw them at a dinner party and they said, "But Marc, you have nothing less than 50,000 euros," and I said, "No, I actually have nothing above 50,000 euros." That's when I understood that I need to make people understand what type of price position we're talking about; hence, I put the prices outside with explanations so people would understand. People have walked in much more since.
Sharon: I know that's a big step. I can see what you mean when you say it takes courage to press the buzzer, because you think, "Oh my god, this is just too exclusive a place." But if you know there's something that's possible within a budget, that you're not going break the bank, you go in.
Marc: Exactly. Think of the youngsters. You're 35 years old. You've got a budget of $3,000 to $5,000, which is a lot of money. Pressing on the button of a high-end jeweler is super difficult. Pressing the button of any jeweler takes a bit of guts. By putting the prices out, they can see, "Oh, this cute little necklace is $2,800. Let me go and check it closer." Once the person is inside, you make them feel very comfortable. That's part of the shopping experience. Then they understand that for their budget, there's some choice and they can get a wonderful gift.
Sharon: Do people bring you their antiquities and say, "Can you do something with this?"
Marc: I try to avoid that for several reasons. First of all, sometimes these antiques are fragile, and you only discover it when you mount them. When you mount them and break them, then it's a bore because you have to explain to someone that you broke their piece. When I break my own pieces, that's fine; that's my problem. That's another issue. 
Also, it's because working on a custom order is very difficult. You have to come up with the designs, show the designs to the client, then they come up with reactions. It's a long, heavy process that sometimes can be very boring because clients have their own idea and you have your own ideas, and only mine are good, let's face it. When it's for inventory, I know exactly what I want to do with it, and that's it. It's my issue. When you're interacting with a client, it can be a very cumbersome process. 
One of my best clients is American; she's a New Yorker. She buys from me, and she came into the store about a year ago and said, "Look, I've got these two things. Please mount them for me." Obviously to that lady, I can't say no; that's for sure. We do work together and, as I know her well, it was rather easy. She was super happy with the result, but you take a risk because if the person doesn't know jewelry very well, if she doesn't know how to look at a drawing and understand it and read it, it is very difficult. You and I, if I show you a drawing of a piece of jewelry, you will understand what it will look like in reality, but lots of people don't read that well. When you submit the end result to them, they go, "Ah, really?" or, "Can you alter this and do this?" No, too late. It's done. So, it's dangerous. To answer your question, I try to avoid it, and I only do it with people I know well.
Sharon: Custom orders to me are nightmares.
Marc: Exactly.
Sharon: I'm sure you make them happy in the end, but it's hard to read somebody's mind.
Marc: Exactly, and people don't always say what they think because they're not always in tune with what they think. Instead of saying, "Oh my god, I've always dreamt of having the same ring as my grandmother, a ring that was lost." O.K., that's easy. Show me a picture and we'll do something around that. Instead, they'll beat around the bush because they're not in tune with their inner thoughts. This is psychoanalysis.
Sharon: For the most part, the things in your shop are things you've sourced yourself.
Marc: Exactly. To end what we were saying about sourcing, I must add something very important. Now that I'm 10 years old, I've got my own network of suppliers. I've become friends with lots of them, which is wonderful. They continuously offer me things. They'll say, "I know you're into luster and vibrant colors and this, this and that. I thought of you for this Hellenistic intaglio. It's garnet. The polish is right. The subject is wonderful. Would you like that to mount as a ring?" Yes, because they understood what I'm looking for after 10 years. They make offers to me spontaneously, which is great. You can imagine this is wonderful.
Sharon: What did you during Covid? How did that affect you?
Marc: Nothing much. First of all, for many months, it was compulsory in France to be closed. The French government was extremely generous with businesses like mine being closed. We got some allowances that helped me pay for everything during those closed months, so thank you very much, government. On the other hand, nothing happened in terms of sales because I'm probably not good enough on the internet side of things. Those who did well are those who had e-commerce platforms or were very active on the internet side of things. I'm not. The question is, is my business the type that could have good sales on the internet? 
I'm always surprised by the Instagram accounts and the reaction I get on them. I do make one or two sales a month thanks to Instagram. So, the fact that these are oldies but goodies doesn't mean they can't be sold on the internet. It's just me being a mature purveyor that's not in tune with the most modern things. So, that's definitely something I'm thinking of, and that's a result of the Covid period. 
Sharon: You have a couple of sales a month through Instagram, and you also buy things you see.
Marc: Yes, only from people I know well for the buying, but for the selling, definitely. It's mostly American clients. I even sold a piece that was $35,000 thanks to Instagram. It was a wonderful piece posted on Instagram. I got a nice word, "May I have some more information?" I said, "Yes, of course. Here's my email," and we started exchanging and the lady purchased it. I was a bit surprised because you know I'm French; I'm traditional, but for her, it was certainly normal. When she received it, I said to myself, "I hope she enjoys it as a much as she thinks she will," and she was thrilled with the piece.
Sharon: I don't know what we all would have done without Instagram during Covid. I think a lot of jewelers had to scramble to get online and get up and running. Your Instagram is nice and you have some very nice pictures, and the fact that you sold them through Instagram is great. 
Marc: It just proves to you that this is a new world and you'd better adapt to it. I'm giving a good thought to visibility, communication, e-commerce, all of these things. I may be a traditional jeweler, but it doesn't prevent me from being savvy and in tune with this time.
Sharon: To me, that sounds like you do have an e-commerce platform. Are you saying you're thinking about doing more with your website? What do you mean?
Marc: Yes, exactly. No, I'm not doing enough. I'm actually a bit lazy on that side of things, and there's much more to be done. I think if you want to be successful, you have to tackle these subjects, absolutely. 
Sharon: It's a learning curve and it takes time. I've seen more and more on Instagram. I'm thinking of jewels, but I'm also thinking of shoes, where the website had nothing, but it was the Instagram account that gave all the information. 
Marc: My communication agent, David, says to me, "Don't waste your time on your website. Who cares? Spend time on your Instagram. How much are you posting?" "Well, I don't know, once or twice every week." "No, I think you should post twice a day." I said, "Well, I don't have two posts a day." He says, "Find them. You will." What's interesting and what corroborates what you just said is that he says, "Don't waste your time on your website. Spend time on Instagram." Interesting.
Sharon: I am certainly not a techie, but it seems like websites have become secondary, almost.
Marc: Exactly. That's what my communications agent would say. That's what he says, loud and clear.
Sharon: You said that ancient and antique jewelry has a soul. What does that mean to you?
Marc: It's very difficult to explain. You either feel it or don't feel it. If you don't feel it, you're not a client of mine, obviously. I'm not superstitious. I don't believe in ghosts, and I don't believe in the power of crystals or whatever. I'm really down to earth. My great grandparents were peasants, and that's what I am deep down. But I do feel that when jewelry has been worn thousands of years ago, appreciated, changed hands to hands, has seen good moments, bad moments, tragic moments, wonderful moments, it seems that they get impregnated with something that's beyond the intrinsic material. It can be a building; it can be a picture; it can be a piece of jewelry. There is something about antiques that holds stories. Once again, I'm not superstitious, but there is something. When you hold an intaglio that's 1st century A.D. and you know it's been worn by a Roman lady or a Greek or Egypto-Greek gentleman, there is something different than if the intaglio were cut 20 years ago. That's for sure. How, I can't explain it further than that. It's a vivid impression.
Sharon: It's seen a lot. It's definitely seen a lot.
Marc: It went from hands to hands to hands to arrive to today, where it arrives in my hands, and then I will do something to put it in another one's hands. It's like a long chain, which I think is very beautiful and very assuring in terms of constancy. It's very mathematical.
Sharon: Have you looked at antique pieces or antiquities where somebody said, "This is from this century," but you've looked at it and it seemed dead to you, like you felt there was no life?
Marc: In my place, it's more aesthetic. For instance, today I was shown a very important intaglio that depicts a house. It was Hellenistic, 3rd or 2nd century B.C. Usually intaglios of that period depict gods and goddesses, princes, etc. Very rarely do they depict architecture, so these are super rare, very valuable, museum quality, museum worthy. But when I held it in my hand, I was like, "It says nothing to me. It's just a house on an intaglio." I guess it was more the aesthetics that did not speak to me. 
Sharon: I may be naïve in asking this, but the people who bring you these things, where do they find things from the 1st and 3rd centuries? They're not lying around on the ground. 
Marc: They're not lying on the ground anymore, but don't forget that since the Renaissance, the 16th, 17th century, definitely 18th century and 19th century, there's been lots of digging in Italy and Europe. These pieces have been collected since the Renaissance, so you find them in jewelry cabinets. They could be coins; they could be intaglios or cameos; they could be naturalia. They could be all of these things you find. 
There is the notion, "wunderkammern," which is this German word saying that anyone who had a culture in the Renaissance would have had their cabinets full of wonders, wonderful, natural or man-made wonders. If you were anyone of rank, you had to show that you had culture and taste, and you would be a collector. So, these little babies have been collected since the Renaissance, and that's where we find them today, in big collections. These collections can hit the market, and they have done so since the 19th century. If you take the Marlborough gem collection, for instance, it was sold at auction at the end of the 19th century. That's how it works. That's the mechanic of the collection: it is assumed, dissembled at auction, reassembled by certain people, etc. 
Sharon: I envision that you have a box somewhere in your shop where you collect things you may not have time to do something with right now, but you said, "Oh, this is really interesting. I'm going to hold onto this."
Marc: Correct, I have two things in the store. I have things that I've bought that I haven't mounted yet. I know exactly what I want to do with them, but I haven't mounted them yet because I don't want too many pieces in the collection. I have 80 pieces. That's enough; I don't need 120. 
Secondly, I have my own private collection. Sometimes I see a piece and say, "I have to buy this and keep it. I've never seen that before. It's wonderful." It's my own private collection. I own lots of jewelry myself and I never wear any jewelry. I've got probably 12 super rings with glyptic on them. You will never see me wearing a ring because it doesn't suit me, but I have the rings.
Sharon: Do you wear some of the ancient stuff you've made?
Marc: No.
Sharon: Nothing?
Marc: No. I love jewelry, but not on me. It doesn't work on me. I don't have the right hands. I don't have the physique, and I'm of this generation where men don't wear jewelry. You just wear a band and that's it. When I see those youngsters and they're carrying jewelry very, very well, they're having fun because it's a wonderful world. In my case, I'm too traditional; I already told you. I can live with that. 
Sharon: It sounds like the jewelry you have is beautiful. Marc, thank you so much for talking with us today. 
Marc: No, thank you for inviting me. That was super sweet. When are you coming to Paris?
Sharon: In the next six months, I hope to get there. It's been a while, but who's gone anywhere, at least from over here? But I will stop in and say hello. Thank you so much.
Marc: No, you don't stop and say hello. You come. You make an appointment and I'll invite you for drinks.
Sharon: Well, I'm going to end the recording and we can talk about where we're going to go. Hold on one second.
Thank you again for listening. Please leave us a rating and review so we can help others start their own jewelry journey.