Episode 150
What you'll learn in this episode:
Why the beauty of ancient and antique jewelry may not be evident at first, and why that makes them all the more interesting to Marc
How ancient jewelry has been passed through generations of collectors
What streets to visit for the best jewelry shopping in Paris
How Marc sources jewels from antiquity, and why provenance is of the utmost importance

 

Why Marc chose to list the prices of his pieces in his boutique window display
About Marc Auclert
The grandson of an antique dealer, Marc Auclert has had a passion for antique jewelry and objects of curiosity from a young age. Having spent over 20 years working for some of the most prestigious jewelry houses worldwide, including De Beers and Chanel, he opened Maison Auclert in 2011. The boutique specializes in mounting museum-worthy ancient jewels as pieces of contemporary jewelry. 
The works of art selected to be mounted are sourced from a broad range of periods, cultures and geographical regions. Each object is chosen for its beauty and rarity; each elegant mounting is designed to showcase, and not overwhelm, the objects' preciousness, color, patina, shape or symbolism.
Designed to celebrate and enhance the singularity of each Antique work of art, every piece in the Maison Auclert collection is unique, hand-made and embellished by the artisans of the best contemporary workshops in Paris.
Additional Resources:
Photos: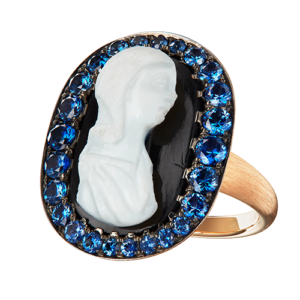 Roman Cameo Ring
White and black two-layered onyx cameo representing the bust to the right of Julia Mamaea, mother of Emperor Severe Alexander, Roman Art  of the 3rd century AD,  mounted on an 18K red gold ring with a surrounding of sapphires (total 1.39 carat).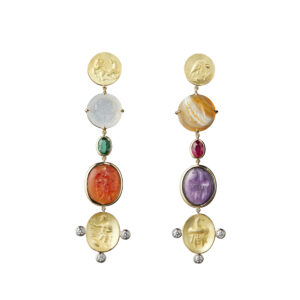 Impression Intaglio Earrings
18K gold long earrings, set with a Burmese ruby (1.05 carat), an emerald (0.56 carat), 6 diamonds (0.63 carat) and 4 "Grand Tour" intaglios (19th century) in  amethyst, chalcedony and carnelian, and their impressions in gold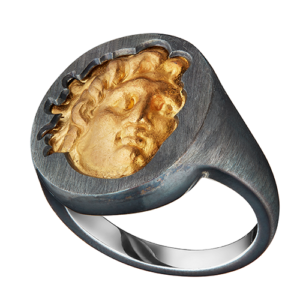 Helios Ring
Oxidized silver ring with a cut-out that reveals the effigy of the god Helios on a gold stater from Rhodes of the 5th century B.C.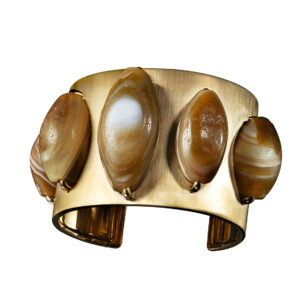 Agate Cuff
Large cuff bracelet in 18K brushed gold set with 5 rhomboid-shaped agate necklace beads, known as "Medicine Beads" for their prophylactic power, Indo-Tibetan art of the 1st Millennium B.C..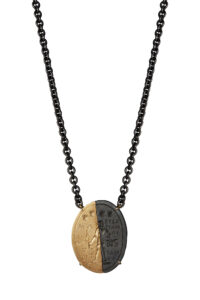 Magical Intaglio Necklace
Pendant set with a lacunary hematite «  magical » or gnostic intaglio engraved with the right part of a gnostic lion-head deity, the sliced winged-head of the Gorgon in the left hand, two  scarabs, Greek letters (???? for the magical incantation Abraxas, ??? for the jewish god Yahwe, etc.), Egyptian scarabs and stars in the field, Egypto-roman Art from the 1st-3rd century A.D., a modern extrapolation of the missing part hand-engraved in 18K gold, mounted on a black lacquered chain.
Transcript:
Thanks to jewelry designer Marc Auclert, you can wear a piece of jewelry history around your neck. At his Paris boutique Maison Auclert, Marc transforms jewels from antiquity into contemporary pieces, all while preserving the soul of the original jewel. He joined the Jewelry Journey Podcast to talk about why ancient jewelry carries more emotion than contemporary pieces; how he finds jewels dating back to BC; and why the time it takes to appreciate antique jewelry is well worth it. Read the episode transcript here. 
Sharon: Hello, everyone. Welcome to the Jewelry Journey Podcast. Here at the Jewelry Journey, we're about all things jewelry. With that in mind, I wanted to let you know about an upcoming jewelry conference, which is "Beyond Boundaries: Jewelry of the Americas." It's sponsored by the Association for the Study of Jewelry and Related Arts, or, as it's otherwise known, ASJRA. The conference takes place virtually on Saturday and Sunday May 21 and May 22, which is around the corner. For details on the program and the speakers, go to www.jewelryconference.com. Non-members are welcome. I have to say that I attended this conference in person for several years, and it's one of my favorite conferences. It's a real treat to be able to sit in your pajamas or in comfies in your living room and listen to some extraordinary speakers. So, check it out. Register at www.jewelryconference.com. See you there.
This is a two-part Jewelry Journey Podcast. Please make sure you subscribe so you can hear part two as soon as it comes out later this week. Today, my guest is Marc Auclert of Maison Auclert. After stints at some of the world's most prestigious auction and fashion houses and having lived all over the world, he now combines museum-quality antiquities with contemporary settings and fashions them into unique and wearable jewelry. We talked with Marc pre-Covid and are pleased to be visiting with him again. We'll hear all about his jewelry journey today. Marc, welcome to the program.
Marc: Sharon, thank you for inviting me again.
Sharon: So glad to have you. Tell us about your jewelry journey. It seems you've been everywhere.
Marc: Well, not really. Recently we've been a bit stuck at home.
Sharon: That's true.
Marc: But beyond that, business has started back and that's really nice. Clients are back in Paris. Parisians are starting to spend again. It's been nice since Christmas. We've had a very good time. The journey is continuing. This company, which I founded in 2011, is 10 years old, so it's pretty old. This is a landmark.
Sharon: Congratulations. That is a big deal.
Marc: Thank you. I've worked for many grand houses for whom 10 years would be nothing, but when it's your own company, 10 years is a sweet number, I must admit. I'm very happy. It's doing well in the sense that it's making momentum. It's becoming more and more known, and this is extremely important. Today's awareness is tomorrow's success.
Sharon: That's true.
Marc: My first goal when I opened the company was not to make sales, though it is very important that the company has the cashflow in order to survive, but my first real goal was to build awareness, because I knew from my business experience that today's awareness is tomorrow's sales.
Sharon: Well, you got a lot of press early on.
Marc: Yes, I've been very lucky. First of all, don't forget I've been in the business for many, many years, so I know many actors, including the press people. So, when I opened my business, I was able to very easily reach out to lots of key people in the communications industry. This, of course, was a great help, and then it was a snowball.  You start getting some press releases, and other people take interest. You get French press, then the English will look at it, then the Americans will look at it, etc. So, that's been very, very good.
Sharon: That's quite a lot of presence. How did you get into jewelry? Did you always like it?
Marc: I guess so. I have no clear memories of saying to myself, "I want to do this." The only thing I remember is when I was a child, I was fascinated by the crystal world. I moved from collecting rough crystals to liking cut gemstones. After my general studies I thought, "Oh, that could be interesting, to do a course in that field." That's how I went to the GIA in New York, but it was more like a hobby than anything. It was a crisis at the time when I was getting my first job. It wasn't very easy to get a first employment, and one of the possibilities was to join the industry. As I had general studies under my sleeve plus a GIA diploma, that was my first job I got. That's how I got interested in jewelry, from crystals to faceted stones to jewelry. Today, to continue the journey, as you call it, I'm more interested in antique jewelry, antique gold, intaglios, cameos and things like that, which is continuing on that path.
Sharon: Why is it that jewelry from antiquity fascinates you?
Marc: I think it's because I understand modern jewelry very well and it doesn't fascinate me. Only very few people and very few pieces fascinate me. It's not because they're not good; they are wonderful. But the proposition we're getting, it's an easy proposition, whereas if you look at antique jewelry, antique stones, antique jewels, be them historical or in museums or whatever, I think they're more difficult to understand because they're less pleasing to the eye, but technically and in terms of art history, they're much more interesting. That difficulty makes them so much more attractive to me, and that's why I'm selling them to my clients, basically. 
Sharon: And they sell to you, I presume, when they bring in something and tell you about it.
Marc: Absolutely. Your question is very important because when you look at a 15th century B.C. intaglio, it's tiny; it's not even an inch long. If you don't actually sit down and have a proper look at it and detail it, which requires a few minutes, then you don't get it. This is really in opposition to what we see today in jewelry companies' displays. It's, bang, in your face. It's gorgeous. It's luminous. It's full of diamonds and stones and it's evident. Those antique intaglios are not evident. That's what I like.
Sharon: When did you first start encountering antique jewels? At the auction houses? At the fashion houses? 
Marc: When you're interested in jewelry like you or me, we've been in museums. That's when you get that first encounter and you compute those first pieces you get to see, so there isn't a step where you actually shift to that. Actually, you get to see them on a regular basis. You don't stop, really, but they're growing on you. At a certain age—because I do think it's a question of acquired taste, hence a question of age—they come back to you. You know these are interesting pieces you need to go back to and understand. So, to answer your question, I've been looking at them for a long time, but I've been starting to understand them not so long ago. Does that make sense?
Sharon: Yes, I think I understand. I think you're looking at a 15th century piece and the person on it is talking to you, in a sense.
Marc: Exactly. It says so much about the history of art, about humanity, about who did it, how he did it, what tools were used and in what environment. Think no electricity, no motor, everything was handmade in a dark workshop in the pits of a town like Rome or Alexandria. Then you start to understand who wore it, why they wore it, on what they wore it, on what occasion, and you're really entering history. That's fascinating.
Sharon: You were with some prestigious auction houses—was it Sotheby's?—and you started the high jewelry at Chanel. How did you segue to this?
Marc: For me, it's a journey. It's a jewelry journey. You start with easy pieces, diamonds for instance. Diamonds are easy. You look at a 10-carat, D, flawless, XXX emerald cut, type 2A with a comb, that's easy. Everybody loves it. You don't need to be especially knowledgeable to get it. As you are working with those items, in parallel you know that there are other things that are gorgeous and much more difficult to understand. As you grow older, that's where your interest goes towards. 
You start with the beginning. You start with the diamonds and the gemstones. You start with the gorgeous jewelry, and then you move slowly to Art Deco pieces, then to 19th century, then you go to the 18th century. Then you go to more difficult, the Renaissance, Medieval. Then you go to Byzantine jewelry, and then you enter the whole world of antiquity: Roman, Hellenistic, Greek, Mesopotamian, Egyptian. The further you go up the stream, the more difficult it is, because it's not as appealing to the eye as your 10-carat cut diamond.
Sharon: I don't stumble across the 10-carat so much, but I can understand what you're saying.
Marc: Well, you see them in the windows. 
Sharon: Tell us about Maison Auclert. Tell us about the business and what you do. What do you describe at a dinner party if somebody asks?
Marc: It's exactly how you explained it in the introduction. My job is to find antiques. They can be Mesopotamian; they can be 19th century German or French. The definition of antiques is very broad. There is no geographic location. It can be South American Pre-Columbian; it can be French; it can be Asian, depending on what I find and what my taste goes for. 
When I see those antiques, I have to think about how I'm going to introduce them onto a piece of jewelry. Often antique dealers show me beautiful pieces and say, "Look at this. It's gorgeous. You could make a lovely piece of jewelry out of that." No, to make a piece of jewelry, you also need some requirements, which is that it has to be jewelry pretty. It's not because it's antique that it will be jewelry pretty. It has to be durable. It has to have the right color, the right sheen, the right durability. That's also an important factor. If it's too brittle and too fragile, you're not going to mount it on a piece of jewelry, especially on a ring. In addition to the antique purchasing, which is what all antique dealers do, I also introduce the notion of the jewelry mounting aspect of it. 
So, my first job is buying antiques. My second job is then to design around them. That's another interesting factor in what I do, in the sense that you have designers that take hours, that think about things for hours and ponder and come back to the drawing. In my case, it's a very instinctual type of creation. When I look at an antique piece, very rapidly I know what I'm going to do with it. If I don't know what I'm going to do with it, I still buy it. Then it'll be in my box for many, many months before I have an idea. Basically, if I don't have the idea straightaway, I forget. 
It's kind of like, "Take me, because you're going to do this." It's simultaneous. It's rather interesting, the way it works in my little head. I know other designers that work for hours and hours and come up with wonderful designs. In my case, maybe I'm very lazy, but the design comes straightaway, and that's that. 
Then, of course, I finalize it. I speak with the workshop and say, "This is what I have in mind. Here's a quick sketch. How are you going to make it happen?" There's the whole technical part of it that is discussed with the workshop. That's why you have to work with wonderful workshops in the sense that they have to bring that notion of technicality, which is important. That's how the piece of jewelry gets constructed on paper. Then they will take it onboard—when I say "they," it's the workshop. I only use Parisian workshops—and they will start building the piece with a wax model and then cast it in gold. I will go the workshops once a week to follow the building of the piece. Why is that important? Because in the case of my jewelry it's only one-of-a-kind pieces, so each piece is actually a prototype. So, I have to be there on a regular basis. That's the reason why I can't outsource in Italy or Asia or whatever. It has to be made around the corner. I am Parisian. It has to be made in Paris. 
Sharon: It's not because the workshops are better. It's just that they're close to you.
Marc: Or better. Parisian work is really, really good.
Sharon: Are they?
Marc: Yes, definitely. A company like Tiffany, they produce their high-end jewelry in Paris. I think that says a lot. You have lovely, wonderful jewelers in Italy and Lebanon. We've met them over the years, but I must admit in Paris, we still have a knowhow that is extremely important. How long will they last? I don't know, but right now, it's still very much cared for.
Sharon: How do you find these antiquities? Where do you find them?
Marc: All over the world. I browse a lot on the internet. I check all the sales at auction houses, big auction houses, small auction houses, tiny, local, regional auction houses. I have two workers who help me look for what I'm looking for: antique dealers, of course, collectors, private people. But I have to be very careful because, as you know, there are different problems involved with antiquities, regional problems like in the Middle East. There have been lots of naughty diggings being done in certain regions, and hence you get some illegal pieces arriving on the market. That for me is a no-no, first of all because ethically it doesn't suit me at all, and secondly, I'm a young company, so I can't afford to be in a pickle. That for me is very, very important. It's key. The whole issue of provenance, which has to be pristine, is very important. So, I only buy from very, very reliable auction houses, antique dealers, collectors, private people only if I know them very, very well. If someone came off of the street and said, "Hi, look, I've got these wonderful intaglios. Are you interested?" my answer would have to be, "Sorry, no," just because of those subjects.
Sharon: For some reason, I envision that most of your clientele is male. Is it both?
Marc: It's absolutely both. It's the same as in the classical jewelry industry. 50 percent of my clientele is female; 50 percent is male. I see exactly the same pattern as the Place Vendome. She will walk in; she will buy for herself, or she will be scouting and then she will be back with someone else to pay for the piece of jewelry because it's a gift. It's exactly the same pattern, with more and more women buying the jewelry for themselves. I often get ladies that already have the engagement ring, the tennis bracelet—yes, antique isn't everything—and they're in for an intaglio, for instance. They don't own a Roman intaglio and that's what they would like, and that's something they will come and do on their own, definitely, especially as the prices are softer than with precious stone jewelry.
Sharon: Do people stumble on your store? You have a nice storefront. I haven't been there for a few years now.
Marc: It hasn't changed. It's still there, still the same. Now, to answer the question, there are two things. It's the network. The network is very, very important in any business, especially if it's a retail business. When I started that business, I already had a client book, and that proved to be extremely important. I also have business partners who have very, very good contacts, so that's great. That definitely was, how do you say, a jumpstart? That was a very good jumpstart in the beginning.
The second very important thing, as you mentioned, is obviously the location. I have a small boutique, but it's very well located. In Paris right now, the good retail is concentrating around Place Vendome, Rue St. Honoré, Rue de Castiglione. This area, which always has been good, is now becoming excellent. Avenue Montaigne is going down. St. Germain is going down, to the benefit of the area where I happen to be very lucky to have a boutique. 
Sharon: You are in a fabulous location. Are people walking along the street?
Marc: I'm in the middle. All the big the palaces and hotels are around us: the Ritz, the Meurice, the Bristol, Mandarin Oriental. Most of the big hotels are around this area. Of course, you can imagine the type of clientele that walks in front of the window, and that's wonderful for a small company like mine.