Episode 149
What you'll learn in this episode:
How David earned the nickname the "100-carat man" for selling some of the most expensive jewels in history
What type of buyers are interested in eight-figure gems
How David got the opportunity to write "Understanding Jewelry" with Daniela Mascetti
Why the most incredible jewelry may be off the beaten path
Why 18th century jewelry is so rare, and why people have refashioned old jewelry throughout history
About David Bennett
Regarded internationally as a leading authority in the field of precious stones and jewelry, David Bennett is best known in his role as Worldwide Chairman of Sotheby's Jewelry Division, a post he held until 2020, after a brilliant 42 years career at Sotheby's. During his prestigious career David sold three of the five most expensive jewels in auction history and as well as seven 100-carat diamonds – earning him the nickname the '100-carat man'.
David has also presided over many legendary, record-breaking auctions such as the Jewels of the Duchess of Windsor (1987), The Princely Collections of Thurn und Taxis (1992) and Royal Jewels from the Bourbon-Parma Family (2018).
Among the many records achieved during his career as an auctioneer is that for the highest price ever paid for a gemstone, the CTF Pink Star, a 59.60ct Vivid Pink diamond which sold for $71.2 million in 2017, and the world record for any jewelry sale where he achieved a total of $175.1 million in May 2016.
David was named among the top 10 most powerful people in the art world in December 2013 by the international magazine Art + Auction. In June 2014, Swiss financial and business magazine Bilan named him among the top 50 "most influential people in Switzerland".
David Bennett is co-author, with Daniela Mascetti, of the best-selling reference book Understanding Jewelry, in print since 1989. They have also co-written Celebrating Jewelry, published in 2012. In 2021, David and Daniela launched a unique website showcasing their unparalleled experience and knowledge in the field of jewelry.
David Bennett grew up in London and graduated from university with a degree in Philosophy, a subject about which he is still passionate, alongside alchemy and hermetic astrology.
Additional Resources:
Website:
https://www.understanding-jewellery.com/
Instagram:
https://www.instagram.com/understandingjewellery/
Facebook:
https://www.facebook.com/UnderstandingJewellery
Twitter:
https://twitter.com/UJewellery_
LinkedIn:
https://www.linkedin.com/company/19192787
Photos:
Lot 95: 
From the Royal Jewels of the Bourbon Parma Family / 14th November 2018, Geneva
Diamond brooch, second half of the 18th century 
Of double ribbon bow design set with cushion-shaped and circular-cut diamonds, second half of the 18th century, supporting a detachable pendant set with a pearl-shaped diamond of yellow tint, probably early 19th century 
The double ribbon bow from Marie-Antoinette, Queen of France (1755-1793)
Sold for $2.1m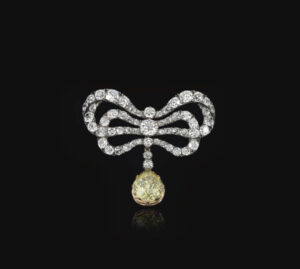 Lot 100:
From the Royal Jewels of the Bourbon Parma Family / 14th November 2018, Geneva 
Exceptional and highly important natural pearl and diamond pendant, 18th century 
Formerly in the collection of Marie-Antoinette, Queen of France (1755-1793) 
The pearl and diamond bow motif were suspended from Marie-Antoinette's three strand pearl necklace 
Sold for $36.2m | The world record price for a pearl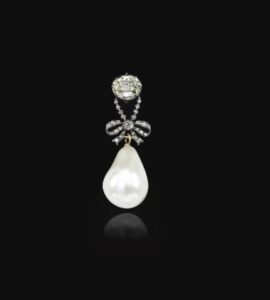 Pink Star, sold April 2017, Hong Kong 
Oval mixed-cut, internally flawless fancy vivid pink diamond weighing 59.60 carats, mounted in platinum 
Sold for $71.2m |  The world record price for any jewel at auction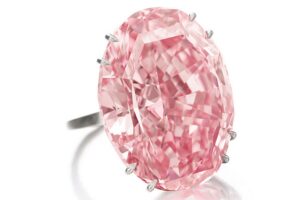 Star of the Season, sold May 1995, Geneva
Pear-shaped, internally flawless D colour diamond weighing 101.10 carats
Sold for $16.5m | The world record price for a diamond at the time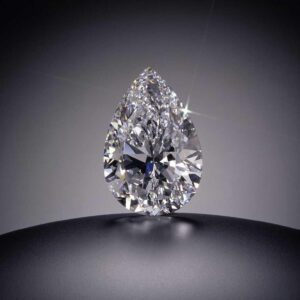 Transcript:
Whether you know his name or not, David Bennett is responsible for some of the most significant jewelry auctions in history. Before retiring from Sotheby's in 2020, David sold the Pink Star, the most expensive gem ever sold at auction, and whopping seven 100-carat diamonds. He's also the co-author of the jewelry bible "Understanding Jewelry" with his colleague Daniela Mascetti. He joined the Jewelry Journey Podcast to talk about his new business with Daniela; what it was like to handle some of the world's most precious jewels; and why he thinks gemstones hold incredible power. Read the episode transcript here.
Sharon: Hello, everyone. Welcome to the Jewelry Journey Podcast. Here at the Jewelry Journey, we're about all things jewelry. With that in mind, I wanted to let you know about an upcoming jewelry conference, which is "Beyond Boundaries: Jewelry of the Americas." It's sponsored by the Association for the Study of Jewelry and Related Arts, or, as it's otherwise known, ASJRA. The conference takes place virtually on Saturday and Sunday May 21 and May 22, which is around the corner. For details on the program and the speakers, go to www.jewelryconference.com. Non-members are welcome. I have to say that I attended this conference in person for several years, and it's one of my favorite conferences. It's a real treat to be able to sit in your pajamas or in comfies in your living room and listen to some extraordinary speakers. So, check it out. Register at www.jewelryconference.com. See you there.
This is a two-part Jewelry Journey podcast. Please make sure you subscribe so you can hear part two as soon as it comes out later this week. Today, my guest is David Bennett, who you may be familiar with. He coauthored with Daniela Mascetti what is often referred to as the bible of the jewelry industry, and that is the ubiquitous book "Understanding Jewelry." David spent his 40-year career at the international auction house Sotheby's. When he left, he held the position of Worldwide Chairman of International Jewelry. He's a veteran of gemstones and is often called the "100-carat man" because of his multiple sales of hundred-carat diamonds at record-breaking prices. 
He and Daniela just published "Understanding Jewelry: The 20th Century." They've also launched an online business, UnderstandingJewelry.com, which encompasses education, appraisals, travel and more. In his spare time, he is a part-time lecturer in philosophy, and he's also an astrologer. We'll hear more about his extraordinary jewelry journey today. David, welcome to the program.
David: A pleasure.
Sharon: So glad to have you. Tell us about your jewelry journey, how you became involved with jewelry and how you joined Sotheby's. It's an interesting story.
David: As you've already mentioned, I graduated in philosophy. Most people are rather surprised about that. It's a wonderful thing to study. It was a long time ago in the distant past. I graduated in 1973. I wanted, after university, to go to the London Film School because I've always been interested in film as a medium, but my father, who was basically a Victorian, thought that Hollywood was not the sort of thing for a young gentleman. He cunningly invited me for lunch with a friend of his who was a director at Sotheby's. He painted Sotheby's so glamorously, I might say, more than anything else, and he invited me to come on a one-year training in all the things that Sotheby's sold, from contemporary art to silver. I thought, "Oh, O.K., that's another year of education." It was the beginning of many years of education, but I thought I'd try that.
In May of the following year, Britain and most of the world had fallen into disastrous economic times. London was working a three-day week because there wasn't electricity to power it. It's amazing when you think of it. Of course, as a result, there were very few jobs, so for the first time in my life until that point, I suddenly thought, "I'd better get about what I'm going to do." Literally, I hadn't thought about it. I thought, "Well, something will come up, maybe a lecturer in philosophy." 
So, in this very difficult environment, my father's friend came to me and said, "Look, David, I've got a job for you." I said, "Great, what is it?" He said, "It's in the jewelry department," and I said, "The jewelry department. I don't even know how to spell sapphire. Is it two p's or one?" He said, "You'll love it. They have sales. They just started having sales in Switzerland. There's a lot of travel, and you'll be getting in at the ground floor of very interesting subjects." I was very skeptical about it, but he said, "Look, more important than anything else, you need a job because the world's going into a very difficult time." In fact, he turned out to be right, because it was at least 15 years before we started to get out of this massive crisis at the time. So, I took the job and that's how I got into it. It was sort of through the back door. 
I knew nothing about jewelry, absolutely nothing about jewelry. It was a huge learning curve, a huge apprenticeship. I think I mentioned to you that I went out early on and bought some sheets of gold and silver. I learned how to work with the metal and how difficult it is to set a stone in a ring. I wanted to know about everything. I wanted to know about Roman jewelry, Greek jewelry. I thought, "If I'm going to spend my whole life doing this, I don't want to have any bits that I don't know at least something about." 
So, that's how I began. As always in careers, you get a lot of lucky breaks. People seemed to like me, which is very surprising, so there you are. I got quickly promoted, and my first big job was running the London Jewelry Department. That was in 1984. I took my first auction in 1979. The big break after that was that I was promoted to head of jewelry in Europe and the Middle East in 1989. I moved with that promotion to Geneva, which was a great move, a wonderful place. Then I started having to make my mark. I was in a highly competitive environment. Christie's the main competitor. It's an extremely good company as well.
We ran sales in Geneva. My principal sales were in Geneva twice a year and once at St. Moritz in the winter, at which we competed to do the largest turnover and the biggest, record-breaking sales and the biggest, record-breaking stones and so on. It was a great time, and I continued doing that until two years ago when I retired. By then, I'd become Worldwide Chairman of Sotheby's. During this career, I was very lucky because I saw some of the greatest jewels in the world. I still hold the world record for the most expensive diamond ever sold at more than $70 million. I sold the most expensive ruby ever sold for more than $30 million. There were so many wonderful collections, like the Windsor Sale in 1987, which is what made my name really. The jewels of the Duchess of Windsor are still the most incredible auction. So, it was a combination of determination and lucky breaks. Everybody's career is like this.
Sharon: What were your thoughts the first time you looked at a 100-carat? Was it, "Oh, there's another diamond?" or was it "Oh my god, how could that be?"
David: The first time I saw one was in the summer of 1990. I had just arrived in Geneva. I put together my first sale, really, in Geneva, and I wanted to make a mark, to do something that nobody else had done. I can see it now. In those days, I was in this splendid Medieval chateau in the middle of nowhere in France, and I got a phone call. In those days, mobile phones were virtually unheard of, so it was a big thing like a brick, and this chap said, "I've heard about you. I've got a very important stone I'd like you to come and see. Would you be able to come to Antwerp to meet me?" In those days, the answer was always yes. So, I left my family there and took a plane right to Antwerp. 
This young chap, about the same age as me, passed a little bag across the table, and there was the first hundred carats of the Pashe Stone. Extraordinary. It was D color, internally flawless, actually like a piece of ice. It was absolutely crystal clear. I fell in love with it, so he said, "Do you think you could sell it?" I said I had absolutely no idea, but I'd love to try. He said it was $12 million. I can't remember the exact figures for it. That was probably nearly double what any other diamond had ever sold for, but in the beginning when you take risks, you're very comfortable. 
When I got home that night, my wife said to me, "You look worried. What's the matter?" I said, "Well, I think I may have made the biggest mistake of my career." She said, "What?" I said, "I've taken a diamond worth $12 to 15 million." And she said, "You're kidding me." I said, "No." And then she said that awful question that began to haunt me: "Who would you be selling it to?" At that point, I didn't know. I had three months to find somebody. I remember it was rather amusing because the timing could not have been worse. A week after that—you're just about old enough, I think, to remember—Hussein invaded Kuwait. Do you remember?
Sharon: Yes.
David: You may remember what happened, because I remember it vividly. The world went into shock. Markets dropped. In Switzerland—can you believe it—we all had to suddenly take rations into our air raid shelters. I thought, "Oh, that's that, then. At least it lets me off the hook. Maybe he doesn't expect it to sell now." Either way, it was a bit of a relief. 
After this, I decided to start taking it around the world a bit. I took it to certain countries in the Middle East and began showing it to possible clients. One chap, I'll never forget it, came in and said, "Sir, can I see the stone?" and I said, "By all means." He's looking at the stone, and I'm thinking, "He's been looking for a long time. Honestly, he really seems to like it." So, I said, "Sir, are you buying for your wife?" There's a young man talking; my naivete. He looked at me with a slight grin and he said, "No." So, I said, "For somebody else, then?" He said, "No, it's for nobody." I said, "You want it because you think it's an investment?" He said, "Maybe partly, yes." I said, "What's the main reason?" He said—it's something that's stuck in my mind ever since—"How can I put $14 million in my pocket any other way?" Maybe uranium. You'd still need a lead box, but it was an extraordinary thought. When you've got war around, this sort of thing matters, doesn't it? It's portable value. Throughout history, for the last 4,000 years, jewelry has also been used for that specific purpose because it's very portable. 
So, I get up on the rostrum. I have no idea that I'm going to sell it. I think there were 200 lots before the final lot with this 100-carat diamond. The sale was going quite well. I opened the lot. I think I opened at $8 million. There wasn't much interest at all when they start bidding. Suddenly, right at the back of the room, this chap started waving his hand. I took the bids from him and knocked it down for him, "Sold!" All the cameras and TV stations and radios in the room are approaching the rostrum where I was standing. Of course, the first question to me is, "Who's the buyer?" Now, I looked at the back of the room, and the man who had raised his hand, as I was being asked the question, was moving very quickly out of the back of the room. I said, "Oh my god!" because that was the worst possible thing that could have happened in those days. This was before you had to register to bid. It could have been some sort of maniac. So, I quickly got my colleagues sitting beside me. I said, "Run after him. Find out who it is." Luckily, they found him as he was leaving the hotel where we had been holding the sale. He was in fact the driver, the chauffeur, of the buyer. So, I was lucky that I was able to announce the buyer.
That was the first of many extraordinary experiences with highly valued stones, pink diamonds, blue diamonds. They make millions and millions. Within 10 or 15 years, $12 million had been dwarfed by bigger stones and higher-value things. It was an extraordinary career when I look back at it. I'm quite busy doing what I'm doing now, to be honest with you. There comes a point where something like that, that is so unpredictable—you don't know what the next stone is going to be, what the next collection is going to be—you suddenly start thinking, "Actually, I've done that. I'd like to do something else." That's when Daniela and I, about two years ago, decided we would retire. We were above the age we were expected to do that, so we set up this company, which so far has been great fun. 
Sharon: You mean your online company, UnderstandingJewelry.com.
David: Yeah.
Sharon: Did you decide to write the book and then it occurred to you to do this?
David: No, the history of the book is a thing in itself. Believe or not, I'm thinking back to 1986. I got a phone call. I'm in the office and this chap was on the phone. He said, "Mr. Bennett?" I said, "Yes." He said, "I'm so-and-so. I'm from a publishing company. I'd like to take you for lunch," and I said, "O.K." We fixed it for a week's time. We arrived at this restaurant, and he said, "Thank you. Now, I'll explain why I want to see you," and as he did so, he slid across the table an envelope. He said, "Have a look inside." Inside in the envelope was a check for a man who just had his second baby, a check for the sort of sum of money that makes you think. I said, "What is this for?" because I was suspicious. He said, "That's an advance, because you're going to write me a book, and it's going to be called 'Understanding Jewelry.' Amazing, isn't it?" I said, "Really?" and he said, "Well, what do you think?" I said, quite candidly, "That amount of money is quite persuasive. Let me think about it." I thought about it for a couple of days and said yes, and he said, "O.K., I want the first manuscript within a year," and they published the book within two years.  
When I got back to the office, I said, "Goodness me, O.K. Well, you'd better get started." I began quickly to realize that I wasn't going to be able to do this on my own because I had so many other things going on. Daniela was working with me in London at that time, so I approached her because she's a real academic. She loves research and everything else, so I said, "Look, would you be interested?" and she said, "Yeah, absolutely. Let's do it." That's where it began. 
It took about two years to write it. In those days, writing a book like that was much more complicated because when you put the book together, you have the negatives of everything, and you can imagine there were a huge number of photographs in the book. Each one of them had to be printed. It's not like nowadays, where you have digital photographs. It was a massive task, and without Daniela it would never have been written. We brought it out in the autumn of 1989, just as I was leaving to go live in Switzerland, and it was a huge success right from the word go. We thought, "We'll sell a few copies." In fact, it's been incredible. They're saying it's the largest selling hardback book in jewelry in the world. It's been around so long. 
Sharon: It wouldn't surprise me. I know you've had several updates.
David: And 10 reprints, separate editions in Russian, Japanese, Italian, Hungarian, even. It's been great. In 2012, we decided that we'd become old and ugly enough to think about another book, so we wrote one for ourselves called "Celebrating Jewelry," which was done for our own pleasure. We just chose items that we'd sold throughout our careers and wrote a book about it. That was also celebrating the new photography that was available. "Understanding Jewelry: The 20th Century" came out at the end of last year. It's selling very well. We're working now on another book, "Understanding Jewelry: The 19th Century." We're both looking forward to it, as it's one of our favorite periods of the history of jewelry.
Sharon: What made you decide to write "Understanding Jewelry: The 20th Century?" What made you decide it was time to write another book? 
David: It was very simple, actually, because "Understanding Jewelry" runs a timeline. It begins from about 1750 and runs all the way through to when it was written, the late 20th century. With 20 years of hindsight about the 20th century, we're a little bit distant; we have a little bit of perspective about it. We thought the obvious thing to do was to complete the last two decades of the 20th century with the best of hindsight and everything else. It became clear to us that we'd like to do that also to the 19th century. So, we decided to have two new volumes which go into more depth about each of the time periods.
Sharon: Did you decide to launch the online business when you were writing the book? Did you think, "Oh, this would make a great business online?" or had you already thought about doing an online business?
David: I was thinking about it with what's happened in the last 10 or 15 years in our careers. What became quite clear to me was the power of the internet, particularly, for example, on the auction business. 20 years ago, you would have had virtually no bids coming online because they wouldn't be online. Even before I left two years ago, huge portions of the sale were being sold to online bidders, very often people who'd never seen a piece of jewelry that was being sold. It seemed to me that there was this opportunity for us to offer a service to people who were collectors of jewelry, but weren't able to see the jewels themselves. A lot of the new collectors are, as you know, from the Far East and, increasingly and in very recent times, from mainland China. What I think people need in this new online world is—we wanted to offer a sort of endorsement. We wanted to be able to say that we think this is a wonderful piece of jewelry. We've seen it. We've handled it. 
We have this section to bring out very shortly, in the next month or so, beginning with London and Geneva and then New York and other cities, looking at what's on offer within the trade. We call it "Hidden Treasures," because a lot of the great jewelry retailers or specialized retailers are not shop fronts on Madison Avenue or on Wall Street. You have to know where they are, and we've chosen pieces in their retailers to write about. We're not owned by price; we're not trying to sell them. It's just to say that these are great pieces; have a look at them. See what you think, and we offer other services that offset our evaluation services. 
This summer in June, we're starting our first tour. It starts in Burgundy, where I'm sitting now, at my property in Burgundy, and then we move to Paris. We're going to take a group of 12 or 14 collectors. It'll be lectures and visits. Hopefully, the idea is that it'll be nearly a week of entertainment but also study. It's meant to be a learning thing as well as being entertaining. We're going to visit some great restaurants around here, great restaurants in Paris. We're going to visit the remaining French crown jewels. We've also been invited by some of the major historic jewel companies, Cartier, Boucheron, Valeria, so we'll be taking this group there to have an insider's look at these companies. This particular course, which will be between Burgundy and Paris, as I said, will feature jewelry from 1880 to World War II, so Belle Epoque, the Gaden style and Art Déco very roughly. It will be quite an intense six days I think, speckled with fun. 
Sharon: I'm sure. It sounds very intense. It sounds like somebody would learn a lot.