Episode 148
What you'll learn in this episode:
How New York City Jewelry Week supports the jewelry industry year-round
Why the best way to reach potential jewelry consumers is through education, not through a hard sell
How the pandemic helped Bella and other jewelry educators get their message out to more people
Why Bella and her partner JB wanted New York City Jewelry Week to feel like opening a jewelry box
How you can support the upcoming 2022 New York City Jewelry Week
About Bella Neyman
Bella Neyman is the co-founder of New York City Jewelry Week. She is also an independent curator and journalist specializing in contemporary jewelry. Most recently she was on the Curatorial Advisory Committee for 45 Stories in Jewelry: 1947 to Now at the Museum of Arts and Design in New York. Since graduating with a Master's Degree in Decorative Arts and Design History from Cooper Hewitt, Smithsonian Design Museum & Parsons, The New School for Design in 2008, she has worked for some of New York City's leading design galleries. Bella's articles have been published in The New York Times, American Craft, and the Magazine Antiques. She is also a frequent contributor to Metalsmith magazine. Bella is on the Board of Art Jewelry Forum. She resides with her family in Brooklyn.
Additional Resources:
Links for two of Bella's upcoming classes:
Studio Jewelry: From Mid-century to the Present starting Monday, March 14th!!

Jewelry Jaunts- Mondays, April 25th – May 23rd  11am-12:30pm
Photos:
Amy Lemaire, Pollen Count II, mirrored borosilicate, steel, rubber, 2021. Photo by John Rogers Photography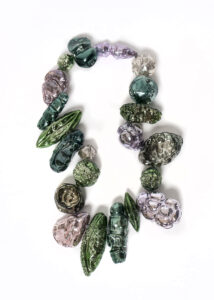 Sheryl Jones, a luscious ring of blue-green pear shaped indicolite (13.8 x 7.9 mm, 4.38 cts) and multicolor 1.10 w green/blue tourmaline stones are set in 18kt white gold.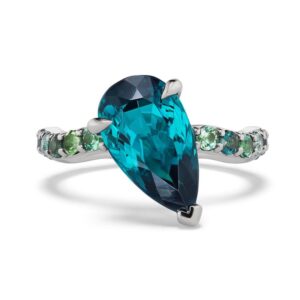 Transcript:
Now in its fifth year, New York City Jewelry Week has changed the American jewelry landscape for good. The annual jewelry show is much more than just shopping—with workshops, educational opportunities, and showcases of every type of jewelry imaginable, there is something for every jewelry lover. NYC Jewelry Week co-founder Bella Neyman joined the Jewelry Journey Podcast to talk about what she and her partner JB Jones have in store for 2022; why they want the week to feel like opening up a jewelry box; and how you can support NYC Jewelry Week's programs. Read the episode transcript here.
This is the second part of a two-part episode. Today, my guest is Bella Neyman, a woman who wears many hats in the world of jewelry. The primary one is as a mover and shaker among jewelry professionals. Her other hats include jewelry curator, historian, author, educator and cofounder of New York City Jewelry Week, or NYCJW as it's known. If you haven't heard part one, go to TheJewelryJourney.com. 
Welcome back. As a curator, I know you curated a glass jewelry exhibit several years ago. Are you thinking about anything else right now? Is there anything on the horizon?
Bella: At some point, I started working at a jewelry gallery—this was prior to Jewelry Week—and I had the opportunity there to curate many shows. That was essentially my role there. Since then, Jewelry Week takes up so much of my time. The lectures are great because I can do them in spurts, but I don't really have the time that curating an exhibition requires. I was part of the curatorial committee for "45 Stories in Jewelry."
Sharon: At MAD, the Museum of Art and Design.
Bella: MAD, yeah. I was part of that, and that was incredible. It was an incredible experience and I loved it. I have been asked to curate some exhibitions, some gallery shows outside Jewelry Week. It's a bit hard because Jewelry Week takes about 10 months to put together, so it becomes too challenging to focus on.
Sharon: Just to make sure everybody knows, it's November 18 or 14 to 20.
Bella: November 14.
Sharon: Mark your calendars. It's in November, and that's around the corner when you think of all the work that has to go into it. Are you partnering with anybody this year? I know you have in the past. Are you doing it yourself? How is that working?
Bella: We are going into our fifth year, and JB Jones is my partner. She's the other half of New York City Jewelry Week, and we're really excited about this year. As I said, it's our fifth year, so it's a big deal for us. This is the time of year when we start thinking about what the program will look like. We're already having conversations with some of our previous sponsors and partners who come in on some of the different initiatives we work on throughout the year. 
I think what most people don't recognize or realize, I should say, is that New York City Jewelry Week, while we have this one week in November, we work year-round, not just on planning the week, but on supporting the industry in ways that are meaningful to us. We have two platforms. One is called Here We Are, which is our platform dedicated to equity and inclusivity in the jewelry industry. We have another platform called One for the Future, which focuses on mentorship for emerging creatives in the jewelry industry. We spend a lot of time focused on both of those platforms. Education is also incredibly important to us, so we partner with the 92nd Street Y, for example, on educating youth about opportunities in jewelry post-high school graduation. There are lot of things we work on even before we get to November.
Now is when we are starting to have conversations with jewelers, with artists, with curators. This is really exciting for us because everything is fresh and everybody's buzzing with ideas. It's really great to see how important and meaningful Jewelry Week has become, especially to independent jewelers. So many of them plan for it throughout the year. Last year, so many jewelers approached us and said, "O.K., for 2022, this is what I'm doing." It's great to start having these conversations with them now because, yes, it's around the corner, but at the same time, there are so many things that can still happen between now and then. So, it's really exciting for us.
Sharon: I'm in awe and amazed that it's your fifth year. I can't believe you created this and kept it going. It's amazing. What made you and JB decide to start it?
Bella: We didn't realize how much work it was going to be. I think if we knew back then what we know now, we might have reconsidered. In all seriousness, the reason we did it is, first, I know this sounds cliche, but we love jewelry. We really love and value the independent voices and creatives that make this industry what it is. It's not easy. Being a jeweler is not easy, so we wanted to create a platform that would celebrate jewelers, that would make it a little bit easier for them to reach a consumer. There's a lot of competition. There's a lot of jewelry out there, so we wanted to make sure we did something that would support them. 
There are other examples of jewelry weeks around the world. We're not the first ones, certainly. My exposure to jewelry weeks came from the European model, going to SCHMUCK, going to HOYA, going to Paris for Cours de Bijoux. I saw their festivals and the energy, and that to me was so wonderful. We wanted to do it in New York, but again, we wanted to do something that included all different types of jewelry, because we really believe in providing something for everyone. That's important. We all come to jewelry from different places. Jewelry's a powerful thing. We all adorn our bodies in different, meaningful ways, and we wanted to create something that was for everyone. Our motto is "Jewelry for All," and we really believe that. That's why Jewelry Week, as we curated it, is very different from other jewelry weeks, because it's fine jewelry; it's costume jewelry; it's antique. It's jewelry from non-precious materials. 
If you open up a jewelry box, most of the time you have different things in there. You have things you've picked up on the street. You have things that were given to you by your partner, something passed down from your grandmother, some things you love, some things you don't, some things you want to recreate into something you're going to wear every day. That's what we wanted. We wanted it to be like a jewelry box. You open it up, and there's this explosion of different things and a sense of discovery.
The last five years have been incredibly difficult, to be honest with you, because we're very grassroots. We fundraise. Every year, in the beginning of the year, we start fundraising for the year ahead. JB and I don't take a salary. I've talked about this before, but we don't take a salary. We have an incredible group of volunteers and consultants we work with. Most people volunteer their time. That has been one of the most beautiful things about this week, and we hope it's made a difference. I think it has, because, as I said, I have jewelers reaching out to me a year in advance saying, "Next year, I'm doing a solo show during Jewelry Week." That has been really special for both JB and me.
Sharon: That's exciting. I don't have all the experience you have in terms of going to different shows, but the ones I have gone to, the way New York City Jewelry Week is different is like you were saying. You cover equity and diversity and all these things. To me, everything else is a show. It's like, "How much can I sell? Here's my table of wares." 
Bella: Yes, absolutely. We believe to reach a consumer, you have to do it through education first and foremost. For us, it's not about the hard sell. It has never been about how many trunk shows we can pad this one week with. It has always been about beautifully curated moments. It's been about intimate settings. It's been about exhibitions. It's been about access. It's been about giving people an up-close look into work that maybe they weren't familiar with. It's about opening the doors to a museum collection. It's about having lectures and talks and workshops, and it's really meant to be a discovery. 
Yes, it's in New York, but it's more than that. New York is home to so many different voices and different cultures, and that's what we want to celebrate. Everybody says to us, even if they're coming from another part of the world, "Oh my god, I want to do this in New York," because New York has always been the pinnacle. It's this city. If you've made it in New York, then that's it; you can make it anywhere. As cliche as that sounds, it's really true. We do have a lot of New York-based designers who participate, but we also have artists coming from all over the world. We help them do pop-up spaces, and they do exhibitions and talks and panels. It's a great week for discovery. 
Sharon: Wow! It sounds like it. I'm thinking about how hard it must be trying to find even one space to put on a panel. How about sponsors? Do you find more sponsors now by saying, "This is real. It's not just a flash in the pan." Do you find more are coming to you?
Bella: Yes and no, absolutely. We still have to send a deck, but we do have a lot of returning sponsors, which has been wonderful. We really believe in building relationships, and we've been fortunate to have some great sponsors over the years who keep coming back: 1stDibs, eBay. They've been wonderful. 
It's also been great to find new partners and sponsors to work with every year. We welcome that, just like every year we want to work with new and different designers and creatives and retailers, but the last two years have been incredibly difficult because of the pandemic. Like other small business, we've obviously felt it. Budgets aren't what they were, marketing budgets and production budgets and event budgets. Events were cut and, essentially, we're an event. In some cases, it's been easier; in some cases, it's been very difficult. We're optimistic and we're still here, but the only way we can continue growing and continue existing is if we continue getting sponsorship dollars. So, if you're listening and you're interested in becoming a sponsor, please reach out to us. You can always reach out to us on Instagram, or you can email me. We'd be happy to have a conversation.
Sharon: There's a lot of exposure for your sponsor, so it's definitely something to consider. You're doing it virtually and in person.
Bella: Yes. Last year we did a hybrid model, and we're going to be doing it again. It's a wonderful way to reach a broader audience. It's also a wonderful way for us to include artists and designers who might not be able to participate otherwise. Some of my favorite moments of the last two years were from the virtual programing. We did this incredible program of jewelers from South Africa two years ago. They recorded a fashion jewelry show for us. Last year we also did a presentation with Wallace Chan. Wallace Chan released a new book last year. There were, I think, five different authors for that book, and they're all in different parts of the world. What a great way to have Wallace do an intro and be present and to have these authors be present. Again, we reach a much broader audience that way, too.
Sharon: It's such an entrepreneurial endeavor, Jewelry Week. It's creating something out of nothing. Is this something that runs in your blood? Is it in your family?
Bella: Not at all, absolutely not at all. I think JB and I were so excited and so passionate about this, and we thought, "Let's just do it." But no, no entrepreneurs in my immediate family.
Sharon: I realize it's a lot of work, but you must be so proud of what you've done going into your fifth year. That is amazing and awe-inspiring. 
Bella: Yes, I guess. I never think about it until it's over, until that Sunday in November when I look around and think, "Oh my god, that was magic. We did that." Until I get to that point, it's a lot of hard work.
Sharon: Watching your posts on Instagram, it seems like it's never over. You have a lot of after-marketing, too.
Bella: Yeah, it's never over. Again, our goal is to support the industry year-round. It's never over because, for the jewelers who we partner with and are part of Jewelry Week, it doesn't end for them. Jewelry Week is just one week. They're making work, they're selling work, and we want to be there to keep shining a light on them. Our work is never done.
Sharon: Let's say you go to SCHMUCK or to another gallery and you see a jeweler you've never seen before, do you say, "Hey, would you like to be part of Jewelry Week?" Has that happened?
Bella: Absolutely, all the time. That's actually how year one happened, because nobody knew about us. Now we have people who apply and are participating. We also curate a large portion of it. We invite people, but people can also apply to participate. I think for me, that's also been one of the most challenging things with the pandemic. I haven't had the opportunity to travel to see someone's studio. I haven't had the chance to be inspired in the way I would be otherwise. But yes, all the time, we see work we love. JB is always searching and researching on social media, discovering new voices, new work. We try to make sure the program is different from year to year. If somebody showed last year, we probably wouldn't invite them back unless there was a real good reason to. So yes, we're always looking, always discovering, always inviting.
Sharon: It's a great calling card in so many ways. I'm imagining how it was the first year. Potential sponsors were probably saying, "Yeah, come back to me when it's bigger."
Bella: Yeah, absolutely. People always want to see you prove yourself, especially when it comes to giving their time and money. They always want to make sure you're serious about what you're doing. To be honest with you, we won part of the jewelry industry. Most people in the jewelry industry didn't know us unless they were in the contemporary jewelry world, and then they already had a sense of who we were. Otherwise, it was like, "Who are these two women? What is this they're trying to do? What's a jewelry week? Why do we need it?" There are some partners who—for example, Bergdorf Goodman has always been this bastion of cool, chic, New York glamor. They've been with us from the beginning as a partner. There are some individuals who believed in us and have been with us for five years. Other people were like, "Yeah, let me see how it goes and come back to me," and that's fine too. We get it. We understand.
Sharon: Can somebody be a real member of the jewelry industry without being in New York or London or Paris? We're in Los Angeles. Not that there aren't great jewelers out here, it's just not New York. What do you think?
Bella: I think you can find success no matter where you are, especially in this day and age, with everything being done virtually, with business being conducted over Instagram. I know designers living in New York who don't produce their jewelry in New York; they produce it in L.A. I think you absolutely can if you're passionate about what you're doing, if you have a vision, if you have a business you build right. Everything takes time, but I think if you love it, if you believe in what you are doing and if it drives you, then you can be successful no matter where you are.
Sharon: You certainly have been successful. Have we covered everything? You have such a wide variety. Is there something else you want to mention?
Bella: I would say that if you're interested in what we're doing, you should follow us on Instagram. It's @NYCJewelryWeek. That's also our website. Over the last five years, we've grown quite a bit. We have a wonderful blog—it's really interesting and informative—called Future Heirloom. Even when there isn't a program up on our website, there's always great content. I encourage everyone to check out our Instagram and to go to our website.
If you're interested to know what classes I'm teaching, you can follow me on Instagram. It's just my name, @BellaNeyman. I'll always share what I'm up to. And just reach out. We're not a large corporation. We are two individuals who love what we do, so we hope people feel comfortable being in touch, and I should say most people do. They tell us what they love, what they hate, if they need help, even if they've never meet us. Most people feel comfortable chatting with us, so stay in touch.
Sharon: We'll have links to your social media on the website when we post the podcast. I do have to say that I've discovered a lot of your courses and other things you do because I follow you. I'll say, "Oh, she's teaching that," or "She's doing that." That's great. 
Bella: Thank you.
Sharon: Thank you so much for being with us today.
Bella: My pleasure.
Sharon: It's been great. Thank you.
Thank you again for listening. Please leave us a rating and review so we can help others start their own jewelry journey.