Episode 148
What you'll learn in this episode:
How New York City Jewelry Week supports the jewelry industry year-round
Why the best way to reach potential jewelry consumers is through education, not through a hard sell
How the pandemic helped Bella and other jewelry educators get their message out to more people
Why Bella and her partner JB wanted New York City Jewelry Week to feel like opening a jewelry box
How you can support the upcoming 2022 New York City Jewelry Week
About Bella Neyman
Bella Neyman is the co-founder of New York City Jewelry Week. She is also an independent curator and journalist specializing in contemporary jewelry. Most recently she was on the Curatorial Advisory Committee for 45 Stories in Jewelry: 1947 to Now at the Museum of Arts and Design in New York. Since graduating with a Master's Degree in Decorative Arts and Design History from Cooper Hewitt, Smithsonian Design Museum & Parsons, The New School for Design in 2008, she has worked for some of New York City's leading design galleries. Bella's articles have been published in The New York Times, American Craft, and the Magazine Antiques. She is also a frequent contributor to Metalsmith magazine. Bella is on the Board of Art Jewelry Forum. She resides with her family in Brooklyn. 
Additional Resources:
Links for two of Bella's upcoming classes:
Studio Jewelry: From Mid-century to the Present starting Monday, March 14th!!

Jewelry Jaunts- Mondays, April 25th – May 23rd  11am-12:30pm
Photos:
Amy Lemaire, Pollen Count II, mirrored borosilicate, steel, rubber, 2021. Photo by John Rogers Photography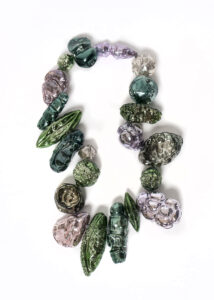 Sheryl Jones, a luscious ring of blue-green pear shaped indicolite (13.8 x 7.9 mm, 4.38 cts) and multicolor 1.10 w green/blue tourmaline stones are set in 18kt white gold.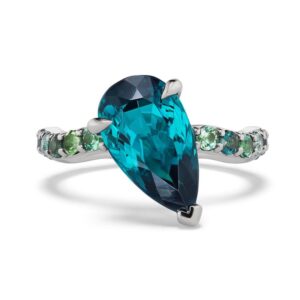 Transcript:
Now in its fifth year, New York City Jewelry Week has changed the American jewelry landscape for good. The annual jewelry show is much more than just shopping—with workshops, educational opportunities, and showcases of every type of jewelry imaginable, there is something for every jewelry lover. NYC Jewelry Week co-founder Bella Neyman joined the Jewelry Journey Podcast to talk about what she and her partner JB Jones have in store for 2022; why they want the week to feel like opening up a jewelry box; and how you can support NYC Jewelry Week's programs. Read the episode transcript here. 
Sharon: Hello, everyone. Welcome to the Jewelry Journey Podcast. Here at the Jewelry Journey, we're about all things jewelry. With that in mind, I wanted to let you know about an upcoming jewelry conference, which is "Beyond Boundaries: Jewelry of the Americas." It's sponsored by the Association for the Study of Jewelry and Related Arts, or, as it's otherwise known, ASJRA. The conference takes place virtually on Saturday and Sunday May 21 and May 22, which is around the corner. For details on the program and the speakers, go to www.jewelryconference.com. Non-members are welcome. I have to say that I attended this conference in person for several years, and it's one of my favorite conferences. It's a real treat to be able to sit in your pajamas or in comfies in your living room and listen to some extraordinary speakers. So, check it out. Register at www.jewelryconference.com. See you there.
This is a two-part Jewelry Journey Podcast. Please make sure you subscribe so you can hear part two as soon as it comes out later this week. Today, my guest is Bella Neyman, a woman who wears many hats in the world of jewelry. The primary one is as a mover and shaker among jewelry professionals. Her other hats include jewelry curator, historian, author, educator and cofounder of New York City Jewelry Week, or NYCJW as it's known. Bella joined the Jewelry Journey Podcast several years ago talking about NYCJW when it was in its infancy. Today, we'll hear more about her own jewelry journey, what's in store for NYCJW this year, and more about her background. Bella, welcome to the program.
Bella: Thank you so much, Sharon. Thank you for having me back again. It's exciting to be here. Thank you.
Sharon: You're involved in so many things, it was so difficult to write an intro. 
Bella: When I hear that, it makes me think, "Wow, is she talking about me?" I don't know. I do the things I love. Sometimes I forget I do so many things.
Sharon: Did you set out to do that? Did you know that when you became a jewelry professional? I'm sort of backing into this, but did you know that you were going to be involved in so many things when you became a jewelry professional? Or did you have one specific thing in mind?
Bella: I had no idea. To be honest with you, I didn't really know that I would end up in jewelry. I went to Cooper Hewitt/Parsons for their Decorative Arts and Design master's program. I never took the jewelry course. I was interested in design and decorative arts. Getting ready to have this conversation with you, what I realized is that I didn't find jewelry; jewelry found me. I'm glad it did, obviously, because I love what I'm doing, but I did not think jewelry was going to be my focus at all, actually.
Sharon: Were you a designer? Were you artistic as a kid?
Bella: No, not at all, and I'm still not. I can sew a button. I can draw a straight line, but I'm completely not artistic. I've always loved art. I grew up around it. I was actually born in Russia—geographically, I should say I was born in Ukraine, but I'm Russian. I moved here when I was seven years old. I moved to America; I moved to New York. 
My parents were always interested in the arts. My mother was a librarian at an art museum in Odessa, which is the city where I was born. I am an only kid, so my parents always took me with them to wherever they were going. My father is a collector, so I always grew up around it. When we came to this country, because my parents didn't have anyone to leave me with, I always went with them everywhere. That's how I'm raising my daughter now. She goes with me everywhere, and we try to expose her to so many different things. 
So, I was always interested in the arts, but I never thought I would have a career in the arts. My parents, while they were always really encouraging, I don't think they thought I was going to end up in the arts either. 
Sharon: Did they support you if you wanted, or were they more like "Be an engineer"?
Bella: Basically, yes. They were like, "You should do the thing that's going to make you money," because we came to this country and didn't have much. I went to a public school. The college I went to is a city college. So, they really wanted me to do something that was going to make me a good living, but they also believed I should follow my heart and do what is going to make me happy. 
Even when I went to college, I didn't know what I was going to do. I was thinking, "Well, maybe psychology." That was a popular thing at the time, but I took an art history course, and I was hooked. My bachelor's was in arts administration. I knew that I wanted to remain in the arts, but I wanted to do something where I was able to approach the art world with a sense of practicality, with a sense of having some knowledge of business skills, marketing, finance, because I always knew I wasn't going to be an artist. As I said, I'm not creative. So, I wanted to approach it from a place where I could support myself and support others.
Sharon: Arts administration, that sounds intriguing. That sounds like a great foundation for what you're talking about.
Bella: Exactly, something practical. Then, of course, for my master's degree, I decided that I wanted to go into the decorative arts, not into the fine arts. Again, thinking about what I could do to contribute to this thing I'm going to be embarking on studying. I just felt like the fine arts were saturated. There aren't any work opportunities. I thought, "What am I going to contribute to this field that hasn't already been done? There are so many other voices. Why do I need to do this? Why should I pursue this?"
I always loved the decorative arts and I thought, "You know what? This seems like more of a niche, and maybe I can do something that would be more worthwhile." I was thinking about, "O.K., can I be a curator? Can I be a writer? Can I work in a gallery? Can I work in an auction house?" Always thinking practically about how I could make a living doing this thing I love, I ended up in this master's program, which I absolutely loved. I chose it because I can work with objects. The two years that I spent there—we were at the Cooper Hewitt—were an incredible experience, but I never took a jewelry class.
As I said, jewelry found me, because when I finished my master's degree, I was incredibly fortunate to find a job right away. I started working in a decorative arts gallery called Primavera Gallery. They had just moved to Chelsea. This was 2007, so Chelsea was really developing. Audrey and Haim, who owned the gallery, had an incredible collection. At that point, it had been in business for about 30 years, and they have an incredible collection not just of furniture and glass and ceramics and metalwork spanning the 20th century, but they also had an incredible collection of jewelry. Again, 20th century was the focus. They had really important signed pieces by many prominent European makers and designers. They also had great Georgian jewelry and Victorian jewelry because Audrey was always so passionate about jewelry. It was something she really loved. So, that was the first time I got to handle jewelry and start to appreciate it and look at it as an art form.
Sharon: That's a great way to start out. Is Primavera still in business?
Bella: At this point, Audrey and Haim have retired. I think they're probably still open by appointment. They still have a collection, but they're no longer in Chelsea.
Sharon: I've never been, but I've always heard they were a fabulous gallery.
Bella: Yeah, it was a great place to work. They were one of the first to sell Art Deco. When they were starting out, a lot of the pieces were still coming out of the original homes, the families that purchased these pieces. They were collecting them in the 70s, when there was a huge revival of Art Deco. So, it was a great place to work.
Sharon: Wow! I'm always envious of people who got into the Cooper Hewitt in that program. I wish they had something out here like that. Tell us, were you hooked on jewelry from there?
Bella: Yes, absolutely, I became hooked on jewelry there. As I said, it was the first time I was able to handle it and start to appreciate it. I think Audrey's stories about the pieces in their collection sparked an interest in me. I was always thinking about what else I could be doing. It's funny, because when you're in school, you're so busy trying to keep up with the curriculum. Once you graduate, you almost feel at a loss, like, "I have all this free time on my hands." I really wanted to start writing, and I came upon a piece in their collection that I absolutely fell in love with. It was a necklace by the jeweler Sah Oved, and I wanted to investigate who this woman was.
Sharon: I have to interrupt you—who was the piece by?
Bella: Sah Oved.
Sharon: Oh, Sah Oved, wow!
Bella: I had started keeping a blog because, as I said, this is like 2007, 2008. Blogs were quite popular. I started a blog so I could write and have something to present should I ever find myself ready to pitch an editor, because I really wanted to write.
I found this piece by Sah Oved in Audrey's collection. I wanted to know more about it, and that was the first time I wanted to explore somebody's jewelry story. Who was this woman? Why was this piece made? Why is it so different from anything I had seen? That really is what started it for me. I wrote this article. It was my first publication in a magazine, and I was hooked. I was really, really hooked and, as I said, I think jewelry found me. 
Sharon: I'm curious because so much of Moshe's work, you can't tell the difference. How did you know this was Sah Oved versus Moshe?
Bella: Yeah, Sah was the jeweler. Moshe, his contribution to jewelry has been the animal rings that come on the auction scene every once in a while. Sah was really the jeweler. He was this eccentric businessman. He was a great supporter of the arts, but he didn't make that much jewelry. She was his partner. She worked with him at the Cameo Corner, which was his shop. She did a lot of repairs for him; she did custom work, but she had been interested in jewelry prior to working for him. She had her own little studio in London. So, part of the challenge was to find out who this woman was, because not much had been written about her.
Sharon: There's still not much about her.
Bella: There still isn't. I'm hoping to change that, but yes, there still isn't.
Sharon: I know you gave a talk last year to the Association for the Study of Jewelry and Related Arts, which was fabulous because nobody ever talks about them, really.
Bella: No, they don't.
Sharon: The last time I saw a piece by you, it was in an antiques magazine. You also teach. How did you start teaching? Tell us about that.
Bella: The teaching is something that is pretty recent. That's been a product of the pandemic. What happened between leaving Primavera Gallery and finding my way to where I am today is that I also discovered contemporary studio jewelry, which is how you and I know each other through Art Jewelry Forum. I was always interested in finding work and artists whose work speaks to me and sharing their stories, whether it be through writing, through lecturing, through New York City Jewelry Week, which I know we'll get to later on. That's what I've always been interested in, sharing those stories. 
I teach at two institutions. I lecture at the 92nd Street Y and at Christie's. I love jewelry, so for me, it has been wonderful—especially during the pandemic, when everybody was doing everything virtually and we were glued to our computer screens—to not only my share my jewelry knowledge, but also to broaden my jewelry knowledge. I teach a wide variety of courses. For example, next week, I'm starting a class at the Y on costume jewelry. In the past, I've taught classes on women designers in the 20th century. I've done an overview of jewelry history in the 20th century. For me, it's always been about sharing my knowledge, but also broadening my own knowledge. There's so much information out there, and to be able to take that information, make it digestible for my students and to hopefully inspire them and pass on my love of jewelry to them has been really special, especially during the pandemic, when it's been hard to be out and do things that we love.
Sharon: I'm really looking forward to this class on costume jewelry because nobody talks about costume except Bakelite maybe once in a while. Tell us about it. How did you decide to do that?
Bella: Absolutely. I've taught this class covering 100 years of jewelry and this other class on women designers, and when I put my courses together, I want to make sure I present the full scope of jewelry, all different types of jewelry. As I mentioned, while I worked for Audrey and Haim and worked with these important signed pieces and fine jewelry, in my personal life, I'm much more interested in contemporary studio jewelry and jewelry made from non-precious materials. So, when I teach these classes, I make sure I include all different types of jewelry because, to be quite honest with you, I think jewelry, regardless of what it's made from, it all informs. It informs each other, whether it's fine or studio or costume. So, when I put these classes together, I always want to make sure I cover a broad span of different types of jewelry. 
When I was working on the women designers course, I realized that a lot of women designers started out in costume jewelry, much more so than in fine jewelry, which has traditionally been a very male-dominated industry. But in costume jewelry there were a lot of female designers, and that sparked my interest. I've also been interested in fashion jewelry and fashion designers like Coco Chanel or Elsa Schiaparelli, who used costume jewelry historically to build their own image or to embellish their own collections. I was interested in that relationship as well, and that's how that class came about. You're right; not much has been done on costume jewelry. There are some publications, of course, but I haven't seen any classes. It was of interest to me, so I assumed it would be of interest to others.
Sharon: It's unusual, because you can find other courses on jewelry history which are great—it's refreshing, I guess is the word.
Bella: Good. I hope everyone signs up. The class starts next Thursday, February 24 at the 92nd Street Y. It's a virtual class. It's a six-week course. It's a little bit longer than my usual courses because the other thing I've enjoyed is having guest speakers join me in my classes. With everything being virtual, that's something that's easy. So, I have some fun speakers lined up as well. I'm really excited for it.
Sharon: I'm sure it's going to be great. Do you think you'll continue at the Y with jewelry classes?
Bella: Yeah, I think so. This is now my third course for them, and it's great. I love it. I enjoy meeting all the different individuals who sign up for the courses. I feel like we end up becoming friends. They're always so eager to reach out, and the class is really wonderful. They're virtual, so we can reach more students.
Then, of course, at Christie's, we've also been able to do classes. I do virtual classes at Christie's, but I have recently started doing an in-person course called Jewelry Jaunts. It's really nice to be among other jewelry lovers, to be out looking at jewelry, trying it on and picking it up, investigating.
Sharon: That sounds great. What are you teaching virtually at Christie's? I didn't know you were teaching virtually for them.
Bella: At Christie's, I teach two courses. One of them is starting in March, and that's on the history of studio jewelry. Then the second course I've taught there is on artist jewelers. All these classes inform each other, as jewelry does. I look at a lot of the classes I teach as a part one and a part two, so, if you're interested in studio jewelry, there's a little bit of an overlap. That's why I wanted to add this other class focusing on artist jewelers. The virtual studio course is going to run in March, and the class I'm teaching now, as I said, is in person. It's fun. We'll hopefully do that in the spring again.
Sharon: Wow! You're busy.
Bella: I'm busy, but at the same time, it's been such a challenging couple of years, so it's a nice way to distract yourself.
Sharon: It sounds like they're things you might not have been able to do or focus on. From my perspective, you cover everything from antique to art jewelry, but you're saying you like contemporary jewelry. I call it art jewelry. That's what you like, but you teach everything it seems. Is that what you're saying?
Bella: I love jewelry. When it comes to the things I collect or the things I covet, most of that is contemporary studio jewelry or art jewelry, absolutely, but I love all jewelry.
Sharon: I like that word, covet. 
This is a two-part Jewelry Journey Podcast. Please make sure you subscribe so you can hear part two as soon as it comes out later this week.