Episode 147
What you'll learn in this episode:
Why even the most skilled jewelry experts should be open to learning new things
Which jewels stand out the most out of the thousands of pieces Daniela has seen over her 40-year career
How Daniela and her co-author David Bennett have updated their seminal book, "Understanding Jewelry," for the 21st century
Why the public has started to appreciate jewelry for its artistic value rather than just its intrinsic value
Why a strong jewelry collection doesn't have to include hundreds of pieces
About Daniela Mascetti
Daniela Mascetti is one of the jewelry world's most experienced scholars specializing in the history of jewelry. Daniela joined Sotheby's in 1980, and soon after opened the firm's Jewelry department in Milan. After a distinguished career of 40 years at Sotheby's, she was appointed Chairman Jewelry, Europe, a position she retained until 2020.
As one of the most renowned and experienced of scholars specializing in the history of jewelry, highlights from Daniela's distinguished career include research for the sales of historic collections such as the Jewels of the Duchess of Windsor (1987) and The Princely Collections of Thurn und Taxis (1992), Elton John, Maria Callas and Gina Lollobrigida. Most recently she was responsible for the academic research for the record-breaking sale of Royal Jewels from the Bourbon-Parma Family which included treasures from Queen Marie Antoinette. Daniela also provided research for the auction Castellani & Giuliano: The Judith H. Siegel Collection held in New York, a landmark event which reinvigorated the interest in and demand for revivalist jewels.
Daniela regularly lectures on jewelry and was responsible for Sotheby's Institute of Art Jewelry Courses. She is co-author with David Bennett of the best-selling reference book Understanding Jewelry and Celebrating Jewelry, published in 2012. She has also co-written The Necklace from Antiquity to the Present, Earrings from Antiquity to the Present and a Bulgari monograph with Amanda Triossi. In 2021, Daniela and David launched a unique website showcasing their unparalleled experience and knowledge in the field of jewelry.
Daniela Mascetti grew up between Lake Maggiore, Lake Varese and Lake Como and graduated in Archaeology from the University of Milan, where she developed the analytical skills required for the dating, researching and valuing of historical jewels.
Additional Resources:
Website:
https://www.understanding-jewellery.com/
Instagram:
https://www.instagram.com/understandingjewellery/
Facebook:
https://www.facebook.com/UnderstandingJewellery
Twitter:
https://twitter.com/UJewellery_
LinkedIn:
https://www.linkedin.com/company/19192787
Photos: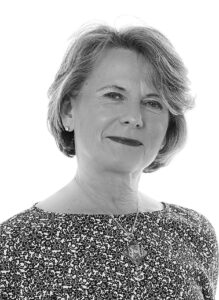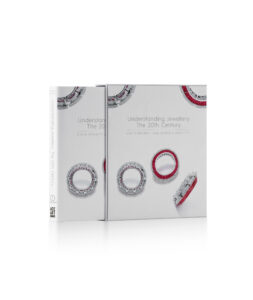 All photographs courtesy of Sotheby's
– From the Collection of  the Bourbon Parma Family: Queen Marie Antoinette's pearl and diamond pendant, 18th Century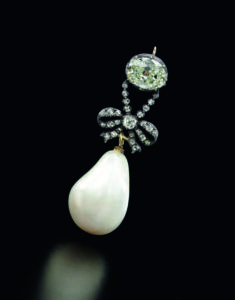 – From the Collection of  the Bourbon Parma Family: Queen Marie Antoinette's diamond ring with her monogram over a lock of her hair, 18th Century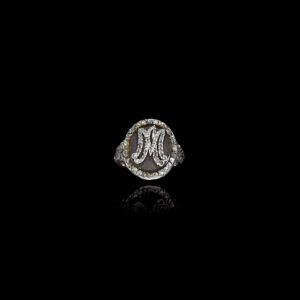 – From the Collection of the Duchess of Windsor: The Panther Brooch, Cartier Paris, 1952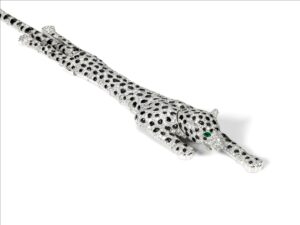 – From the Collection of the Duchess of Windsor: The  Flamingo Brooch, Cartier Paris, 1940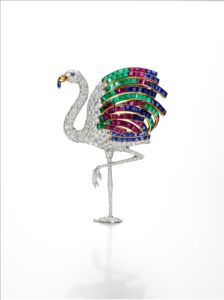 Transcript:
Almost any jewelry lover would be jealous of Daniela Mascetti. Over her 40-year career with Sotheby's, Daniela got to handle some of history's most beautiful and iconic jewelry, including the Bourbon-Parma collection and the Duchess of Windsor collection. She is also the co-author of the jewelry industry bible "Understanding Jewelry," which she has updated with a new website and corresponding business with her co-author, David Bennett. She joined the Jewelry Journey Podcast to talk about why she considers herself an archaeologist of the jewelry world; the biggest successes and lessons learned during her career; and which jewels she'll never forget. Read the episode transcript here.  
Sharon: Hello, everyone. Welcome to the Jewelry Journey Podcast. Here at the Jewelry Journey, we're about all things jewelry. With that in mind, I wanted to let you know about an upcoming jewelry conference, which is "Beyond Boundaries: Jewelry of the Americas." It's sponsored by the Association of the Study of Jewelry and Related Arts or, as it's otherwise known, ASJRA. The conference takes place virtually on Saturday and Sunday, May 21 and May 22, which is around the corner. For details on the program and the speakers, go to www.jewelryconference.com. Non-members are welcome. I have to say that I've attended this conference for several years, and it's one of my favorite conferences. It's a real treat to be able to sit in your pajamas or in comfies in your living room and listen to some extraordinary speakers. So, check it out. Register at www.jewelryconference.com. See you there.
This is a two-part Jewelry Journey Podcast. Please make sure you subscribe so you can hear part two as soon as it comes out later this week. Today, my guest is Daniela Mascetti, a well-known name in the high-end world of jewelry and auctions. She spent four decades at Sotheby's and holds the position of Senior Specialist Worldwide. She's co-author with David Bennett of the bible for jewelry professionals, "Understanding Jewelry." Daniela and David also co-authored the recently published "Understanding Jewelry: The 20th Century." With this publication, they've also launched a parallel business, Understanding Jewelry, which includes something for everyone in the jewelry profession, from novices to the most experienced practitioners. We'll hear more about Daniela's jewelry journey today, and I have to say it's an extraordinary journey. Daniela, welcome to the program.
Daniela: Thank you for having me, Sharon. It's very nice to see you today.
Sharon: Daniela, tell us about your jewelry journey. It was by happenstance that you got into jewelry, it seems.
Daniela: I'm afraid I'm not giving you the pleasure of hearing that I always played with jewels when I was a girl. I used to collect pebbles on the beach. I was very much a tomboy, and it was certainly not on my horizon in my youth. Actually, I studied classics. Then I got into archaeology, and I specialized in Greek and Roman archaeology at university. So, I sat on my career in a very academic way, and I was expecting to go on working in museums and once or twice a year have my dig in the southern part of Italy, which is so rich with treasures. Everything went all right until I realized that working in archaeology, you have to be able to cope with bureaucracy, and I was not very good at that. 
I was then in my part-time job at university, a part-time job in a museum in Milan, thinking of something new and more exciting. I couldn't find anything, but I decided to take a sabbatical and improve my knowledge of the English language. I knew English well enough to be able to follow an art course in English rather than take a proper language course. Then I found out that, among the many courses, there was one run by one of the bigger English auction houses, Sotheby's in London, and I applied. I was accepted and I joined, and I had a most extraordinary, wonderful year of my life. I realized that art was something that had been created to be bought, sold and enjoyed, whereas the art I was dealing with in the museum was something so important you couldn't touch it. You couldn't really enjoy yourself as an individual. So, I spent a most beautiful year around silver, carpets, furniture, sculpture. 
When I ended the course, I was ready to go back to the archaeological world, and then something happened out of the blue. I was asked to attend an interview at Sotheby's. I went to the interview. I was told—I'm Italian by birth and at the time I was living in Italy—that someone was hiring people for that expanding Italian adventure. I went to that interview with very little hope, but five minutes after chit chatting, I was told, "You have the job." I said, "Fantastic! I'm so excited. Where and when?" And they said, "Well, we want you to start in about two months' time in Milan, and you have to start in the jewelry department." My heart stopped beating and I said, "But do you realize I know nothing about jewels?" The person who was interviewing me said, "Well, do you think that's a problem? Can't you possibly learn?" And that was the stimulus. That encouraged me not only to learn about jewels today, but the history of jewelry and jewelry design. That allowed me, over the years, to put together my two passions, history and archaeology, and apply them to jewels. In a way, I like to be considered an archaeologist of the jewelry world.
Sharon: Was that your career trajectory? Did you then decide, "O.K., I'm going to stay with this"?
Daniela: Yes, it was a great challenge. This was always the backup to my archaeological background. I could always come back to that if this didn't work, but the year I spent at Sotheby's of London learning about the mechanism of the auction house really excited me. I said, "I think I can fit into this world much more than the completely academic world of a museum." It was a perfect way of balancing academics and hands-on work with the object.
Sharon: So, you started your jewelry career as a paid professional in Milan with Sotheby's.
Daniela: Absolutely. I developed a very important art, at least the art of listening to your clients. At the beginning, I couldn't give any advice whatsoever, so I would say, "This is a very interesting piece and I really like it. Can I take a few Polaroids to send to the specialist in London to ask for advice? How did you get it? Was it in the family for a long time?" I tried to encourage the owner of the jewel to tell me information that I was then repackaging for the owner as an answer. "Oh yes, of course, it is Art Déco style," and all that. So, at the beginning I was trying to work as a sort of mirror, but it taught me one important thing: never rush to your judgment and your comment. Always listen to other people, because you may be the most important, the most skilled specialist in your field, but it is always that little thing you do not know, and you can learn from somebody unique. 
Do you want to know one of my major mistakes? I still blush when I think of it, but it's interesting. I was handling a piece of Lalique jewelry. I was a few years into my career in at Sotheby's. I looked at this lovely brooch and told the client, "It is really, really lovely, in pure omnibus style. It couldn't be more Lalique. You have the enamels. You have the lovely chasing. It's a perfect example, but it isn't signed." I was looking at it very carefully, examining the back of the piece of jewelry, where in 99.9% of the cases, you have the signature of the artist. Then the client—a very nice, elegant, mature lady—told me, "My dear girl, perhaps if you turn the brooch over and you look at the front, you can see that the name of Lalique is stamped on the front." I felt bad, embarrassed. In all careers, you have your mistakes, and you learn from your mistakes. That is one of my mantras: listen and learn from mistakes. Once you've made that mistake, you never repeat it. It's much better to make a mistake and learn from it than always stay in between the answers, just to not say something that is wrong.
Sharon: You have had so many successes that it's interesting to hear about one mistake. That applies to anything in terms of listening to the client. Listening applies to any field. One thing that kept occurring to me as I was reading about you and talking to you: do you think you would have been as intrigued or interested if Sotheby's had said, "We need somebody as a carpet specialist"?
Daniela: Perhaps not in the carpet section, but I could have been in the old masters department or the antiquities department, because in those days, even in London, Greek and Roman and Egyptian antiquities were being sold. In fact, when I was told I got the job, the first thing I thought was "They want to put me in the antiquities department." The other departments I would have fit in, but not carpets, perhaps not silver, but certainly I would have in ceramics, old masters and antiquities.
Sharon: Did you ever think about going back to archaeology after you started your career in the auction world?
Daniela: I must say I was ready to leave it. There's a still passion. I still read about it. I still have very good friends that kept on in that field. We exchange ideas, but no, I thoroughly embraced jewels and I love it now to the very core.
Sharon: You've handled some extraordinary jewels. What would be the highlight? I was reading about everything you've done. What would be the highlight of the jewels you've looked at or been in charge of auctioning off?
Daniela: I am an object person, a jewelry person rather than a gem person. I'm not saying I do not like a fantastic ruby, but my instinct goes to an object that has been crafted and that perhaps has a history. At the beginning of my career—I started at Sotheby's in 1980—we had the fabulous sale of the jewels of the Duchess of Windsor in 1987. Many years later in 2018, towards the end of my 40 years at Sotheby's, we had another fantastic collection, the Bourbon-Parma jewels. Within these two collections are some of the jewels I will always remember. 
Within the Duchess of Windsor collection, there are two items for two different reasons. One because of its beauty and the way it was absolutely perfectly crafted: the Panther Bracelet. So subtle, so realistic, so sensual. Once you had it on your wrist, you wanted to keep on stroking the panther as if it were your little kitten. You can feel it with your fingers, the bones under this wonderful pelt of sapphires and diamonds. One of the best, not only in my opinion, of all the great cats created by Cartier.
The other jewel that I think is an icon of the 20th century is the Flamingo Brooch by, again, Cartier and created in 1940. It's one of the jewels that, in my opinion, is a mark of the 20th century because, if you look at it, you can't really date it. It could be 1920s. It could be 1930s. It could be 1960s. It could have been made yesterday. It is so much of the 20th century all together. When I'm asked what the most iconic jewel of the 20th century is, I say definitely the Duchess of Windsor Flamingo Brooch. 
When you come to the Bourbon-Parma collection, which we sold in 2018, obviously there was a jewel that was so poignant and so emotional, and that was the pearl that belonged to Queen Marie Antoinette of France. It was extraordinary, the handling of a jewel that had been created for a queen that became so famous for all the wrong reasons. That she lost her head as a consequence remained with the family for the next 200-odd years. Handling it was a really wow factor, but even more so, it was an amazing piece of jewelry that we valued at $1 to $2 million. It sold for, I think, $36 million. It was not the pearl for $36 million; it was the Marie Antoinette factor.
The other one in the collection that really gave me frisson was a ring that had the monogram of Marie Antoinette in a glazed compartment set on top of a lock of hair of Marie Antoinette. When it was on your finger, you thought, "Wow, I'm wearing not only something that belonged to Marie Antoinette, but also a little bit of Maria Antoinette herself." So, it was very, very emotional.
Sharon: Wow! I can see how that would be incredible from a jewelry perspective, from a history perspective. So, you opened the jewelry department for Sotheby's in Milan. Is that where you met David Bennett?
Daniela: Yes, that's how we met. My superiors at Sotheby's had the grace to believe in me, and they also realized I was very junior to the job, and I needed a lot of support. David was, in those days, one of the specialists in London and young enough to be told, "Come on, get on a plane and go down and help Daniela put together this scene." That's how we met. He knew a bit more than I did. He was about four or five years into the career by then. To my eyes, he was amazingly knowledgeable. That's how we met, and from the very beginning, I think we clicked. We discovered we had a lot of common interests and we were on the same wave length. We look at jewels in the same way. It was late 1980 when I met him.
Sharon: How did the book come about? You both decided you wanted a book?
Daniela: That is an interesting story. I think you may have to ask the question of David to get his part of the story. I came in at the second stage. David asked me, "Daniela, I was given the task of writing this book last year. I haven't done anything. Can you please help me?" I'm sure he will tell you how he got into that situation if you ask him. I don't want to say the wrong thing. But, of course, I said, "Yes, I will be delighted," because it was a great chance for me to get into a publication. I thought I could do it because I had the background, the organized mind to do the research, to put all my docs in line together and then cook the cake, so to speak. Over the next year, I collected all the information. I sourced all the images, and then writing the book was very much four-hands, two-brain work, mine and David's.
Sharon: Did you anticipate that it would be such a foundational work?
Daniela: Not at all. It was really great to see the book selling. At the beginning, I could not believe it, but there was a market for it. As the years passed and the editions kept being published throughout the whole world, I thought perhaps we had done something that really hit the right mark. I think the success, if you want to call it that, of the book was that it was informative, but not written in an academic way. It was accessible to everybody. It was accessible to somebody who knew about jewels, so we were not patronizing, but at the same time, we gave information that perhaps not everybody who was working in the field had. It really could be bought as a present for the girlfriend who loves jewels, but it was a book that was bought by most members of the trade. In fact, it was divided into decades and groups of 20 years, so it was so well-structured from the time point of view. 
Sharon: It's such a bible of the jewelry profession. I think I told you that when I first got into jewelry, a dealer said to me, "If you have one book, this is the book, 'Understanding Jewelry.'" How did the updates come about? Did editors come to you and say, "There's new information," or did you to go the publisher? How did that work?
Daniela: It was me going to the publisher. The publisher was happy to keep on reprinting the book because the book was selling. The first edition came out in 1989 and covered from 1780 and basically went up to the 60s and 70s. It was too early, in 1989, to write anything about the 80s. We didn't have a clue. We were living in the 80s, so it was impossible to judge. It was back in 2003 when we had a proper revamp of the book with the third edition. We brought it to the year 2000.
We considered if we should do another version and stretch it to 2010, 2020. I said, "No, we will be in the same position we were in 1989. It's very difficult to judge what's happening at the moment. You really need everything to sediment and to look at it from a distance. So, we thought, "Why don't we do something more up to date?" We considered going digital, doing a digital version of the book, but we thought perhaps we could do a bit more than that. So, we have a platform, UnderstandingJewelery.com. We have the whole book, "Understanding Jewelry," but the book is continuously growing with the addition of images and quite extensive captions in all the different chapters. So, you not only have the book that you can buy in the shop, but you have a book that keeps on growing. We are making a point to keep this process a steady progress and giving it a chance for the book to become an encyclopedia if we want, the bible of jewels. 
Sharon: I've only been able to look so far on the website. Are you talking about "Understanding Jewelry: The 20th Century"? That's your most recent book, right?
Daniela: That is recent, yes. That came from the fact that we realized we are now quite well into the 21st century and we can look, even in the last two decades of the 20th century, with a different eye, with a more critical eye. We decided to split the 19th century from the 20th century, and we decided to unpack one subject at a time. The difference between the part dedicated to the 20th century, which is in Understanding Jewelry, the original version, is that this looks more to the social history, the fashion history, the political history and the economic history that was the background to jewelry production throughout the 20th century.  It will not present the development of brooches from 1900 to 1960, but we still give a very good example for each decade of the most iconic jewels of the period.
Sharon: I love the way it's divided and goes decade by decade. It may start at 1900 or the 1890s, but you're very clear on what the period is. It's very clearly written.
Daniela: Thank you. We tried our best. It's nice to hear that we have reached the aim we were trying to achieve.
Sharon: This is a two-part Jewelry Journey Podcast. Please make sure you subscribe so you can hear part two as soon as it comes out later this week.