Episode 144
What you'll learn in this episode:
Why the Thai art jewelry market has been slow to grow but is poised for an explosion
How Thailand's tradition of decoration and fine jewelry influences what customers are looking for
Why Atty wants the artists she showcases at ATTA Gallery to express themselves through their work, without regard for trends

 

Why Atty often calls her pieces "wearable art" rather than art jewelry

 

How Atty's background in science helped her become a successful business owner
About Atty Tantivit
Atty Tantivit is a jewelry designer/maker, a gallerist and a creative entrepreneur based in Bangkok, Thailand. In 2010 Atty founded ATTA Gallery, the first and only gallery that specializes in contemporary art jewelry, aka wearable art, in Bangkok, Thailand. Since the opening of the gallery, Atty has played many roles in the field of contemporary art jewelry, both locally and internationally—a gallery director, a curator, an educator, an artist, a writer, a mentor, a collector and an advocate. She has been given an honorable award for being an inspiration and an influencer in the field of jewelry design by a Thai governmental agency and has been invited to share her experience at international symposiums.
Atty had been nominated to be one of the ten most influential creative drivers in Bangkok for the Creative Cities Project 2013, showcased at Kaohsiung Design Festival in Taiwan. She has been an active member of the steering committee for the Creative District movement in Bangrak/Klongsan area of Bangkok.
Atty is passionate about forging sustainable creative and art development in Thailand.
Additional resources:
Photos:
Atty with her art and jewelry collection exhibited at the gallery in How She Collects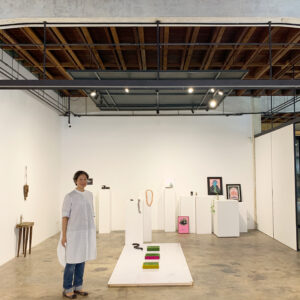 Exhibition of necklaces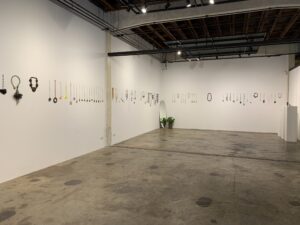 Front of current gallery with our new logo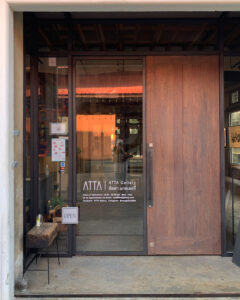 Front window looking at current material based art exhibition by local artist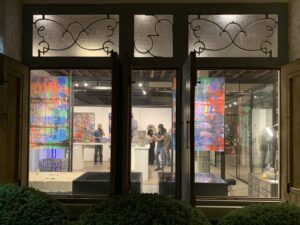 New Gallery Space 1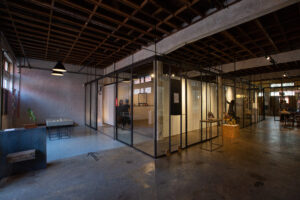 Transcript:
Atty Tantavit forged a new path for art jewelry when she opened ATTA Gallery, Bangkok's first and only art jewelry gallery, in 2010. Educating Thai customers on the history, value, and potential of art jewelry has been challenging at times, but Atty is determined to bring attention to this field and support the artists she works with. She joined the Jewelry Journey Podcast to talk about the differences between contemporary jewelry in Thailand, Europe and North America; when she knew it was time to leave her science career for a career in jewelry; and why her customers tend to connect with the term "wearable art" instead of "art jewelry." Read the episode transcript here. 
Sharon: Hello, everyone. Welcome to the Jewelry Journey Podcast. This is a two-part Jewelry Journey Podcast. Please make sure you subscribe so you can hear part two as soon as it comes out later this week. 
Today, our guest is Atty Tantivit, founder and owner of ATTA Gallery. The gallery, which was founded in 2010, is Bangkok's only art jewelry gallery. It's one of the few in southeast Asia. In addition, Atty has an extensive background as a maker herself. Today, we'll hear about Atty's own jewelry journey, both as a maker and a gallerist, and we'll learn about her expansion plans. Atty, welcome to the program.
Atty: It's my pleasure to be here.
Sharon: So glad to have you. Tell us about your jewelry journey. Did you play with it when you were young, or did you come from an artistic family?
Atty: I grew up being the only girl in the family, and I loved jewelry growing up. I collected trinkets, like little plastic earrings here and there. When I travel, I collect bracelets made of little gemstones. I was always fascinated by jewelry growing up. I think that was instilled in me when I was young by my mom because I was the only girl in the family. She was telling me how to love jewelry, teaching me how to do it. 
I remember for one my classes we had to make works out of paper, and my mom taught me how to make paper beads out of magazine paper. That was my first experience making so-called jewelry, and I loved it. I also loved art, but in Thailand, even if you excel in the arts, if you can do science—back in the day, teachers and parents encouraged their kids to stay in science, so as I was approaching my high school and college years, I decided to pursue a career in science over art.
Sharon: After you graduated, did you work in science for a while?
Atty: Yes, I studied environmental science in the U.S. and I went onto receive my master's in marine resource management in Miami. I worked in the field for a few years before deciding to switch gears and change fields.
Sharon: What happened? How did the change happen?
Atty: It happened slowly, really, because even though I was in the science field, I kept my interest in arts alive by taking classes. I was still collecting jewelry in college. My college town was in the middle of nowhere, in Lewisburg, Pennsylvania, and on the drive from Lewisburg to the nearest airport, there's a Native American outpost. I would stop there every so often to find myself Native American necklaces. Those were my passion back then.
When I went down to Miami, I found a small gallery shop there and bought what I called my first contemporary jewelry art piece. That's how I got interested in jewelry. In college, I also took an evening class called "How to Make a Ring," I believe. I made a ring, and it was a very inspirational experience because I had a plan in my head; I had a vision of the ring I wanted to make, and I was able to make it. To see an idea come into reality with my own head, that was amazing.
Sharon: Did you come to the States to study science?
Atty: Yes.
Sharon: But eventually you went to the Gemological Institute of America, GIA.
Atty: Right. After I received my master's and started working in Miami, I found a workshop to learn how to make jewelry more in depth during the week. I started taking that and soon after, I found that was what kept me going during the week. Rather than going to work, I would say, "O.K., when am I going to this workshop? What am I going to make next?" I started making beaded jewelry, and I sold it at a small shop in Miami. In a way, it was like art was knocking on my door again after a long time of being in hibernation. 
I was in the process of applying for a Ph.D. program. I needed to take some more tests and rethink my thesis, and during that time, I ran into a problem with my visa. I was on the wrong kind of visa, so, in order to apply for my Ph.D. programs, I would need to come back to Thailand for a year and then go back to study again. I was like, "I don't know. If I come back home for a year and do nothing related to science, I don't know if my fire will still be on. It might be extinguished by then." I thought to myself, "Maybe the universe is telling me it's time to look at other things." So, I took the big step of leaving my career in science and started to do something with jewelry. Coming from Thailand, growing up, the only kind of jewelry I knew was fine jewelry with gems. That's why I decided to go to GIA, because if you want to work with jewelry, you have to know about gems. So, that's how I got started.
Sharon: Before you went to GIA and started doing your jewelry, did you find that you had a desire to know about gems at all? 
Atty: I didn't collect gems, but little stones and specimens when I was growing up. In college, I actually loved geology.
Sharon: Which campus did you go to for GIA? 
Atty: Carlsbad.
Sharon: It's a beautiful college. Carlsbad is a beautiful campus.
Atty: Yes, I loved it.
Sharon: Yeah, it's gorgeous. There are not that many people involved in the world of art jewelry who know much about gemology. They may work with stones, but they aren't gemologists; they're not GGs, graduate gemologists—is that the diploma? 
Atty: Yes.
Sharon: How does that influence what you do or how you evaluate things?
Atty: I don't see my gemology experience interfering or hindering me from looking at contemporary jewelry—let's put it that way—because I think you can't really compare the two. They are both good and they have their own values. They're complementary in some cases, and I think that's how I approach the field.
Sharon: No, not that it would have a negative influence—I guess I rarely meet anybody who is involved in art jewelry who knows gems the way you do, so I was wondering how it impacted how you look at things. If it's a piece of art jewelry, even if it's made of paper, if there's any—perhaps the crystalized shape of the paper—I don't know.
Atty: Right, a few artists work with the shape of diamonds, different cuts and things, and that's very interesting to see. You capture the intrinsic value of the gems in terms of the form rather than the gems themselves. That was interesting. At the beginning, here in Thailand, when I opened the gallery, we had works by a local artist who made wood into the forms of diamond rings. We had a local come in and say, "Where is the actual diamond? A diamond isn't in this ring; it's just wood cut into the shape of a diamond."
Sharon: That's interesting, especially in a culture where you're surrounded by a lot of gems and fine jewelry, because it seems like that might strike you hard as opposed to somebody who sees more of that. When did you come back to Bangkok? Right after you finished your gemology diploma?
Atty: I finished the GG in 2003. After that, I wanted to learn about jewelry making. Because I was having problems getting a visa in the U.S., I decided to go elsewhere. I went to Italy and joined a small workshop run by an Italian and a New Zealand guy. I did that for six months and learned a little about design there as well. After that, I went back to the U.S. to the Revere Academy of Jewelry Arts and studied with Ellen Revere for their intensive program. That was really helpful. After that, I came back to Thailand towards the end of 2005 and started setting up my own studio. 
Sharon: Did you have the idea in your head that you wanted to have a gallery?
Atty: When I was in Miami, I told you I found a small gallery that sells various things, including contemporary jewelry. I thought to myself, "It would be perfect if I could have a store like this, selling work from all over the world." That was in the back of my mind, but at that point in time I enjoyed making, so I thought I would make. I wasn't thinking about opening a business, but when I came back to Thailand, I found out that practicing as an artist-designer without having a storefront or a knowledgeable person to tell the clients about what it entails, why a piece of wooden jewelry is more expensive than a piece of silver jewelry—if you don't have anything like that, it's not going to work. That's why I decided it would be a good opportunity for me to open a gallery: to help myself and help others who are struggling with the same problem.
Sharon: That's such a huge step, to open your own shop. Did you have a problem finding other people whose work you could show?
Atty: Yeah, at the beginning when I decided to open the gallery, I went back to Italy for the second time and studied at Alchimia for two months—
Sharon: Alchimia the school?
Atty: The contemporary jewelry school. I wanted to understand more about conceptual jewelry and what contemporary jewelry in Europe is all about. I spent most of my time in the U.S., but not in Europe, so I wanted to know more about it. During that time, I visited Schmuck and other galleries in the Netherlands—
Sharon: Schmuck being the art jewelry fair. 
Atty: Right.
Sharon: There will be a lot more on that, but yes, O.K.
Atty: I started to connect with artists there. I also visited Louisa Smith Gallery towards the end of their business. I told Louisa I was inspired to have a gallery in Thailand, and she was very helpful guiding me. She said, "O.K., if you want to do this, this is a good artist to work with." She was helping me start, so that was very helpful.
Sharon: I'm not familiar with her. She had a gallery, and she was closing. Where was she located?
Atty: It's in Amsterdam.
Sharon: O.K., to have somebody you can turn to and get advice. 
Atty: Just by chance, I went in as a young student and bought my first piece there by Bedanya Kessler.
Sharon: Bedanya Kessler the art jeweler, yeah.
Atty: She started sharing her passion with me. I was very inspired to see people who have been in the field for a long time and still have the passion to do what they do.
Sharon: When you approached people she pointed out, did they say, "Who are you? Where are you?"
Atty: Let's look back a little bit. When I first started, I approached local artists for support as well. The decision to open the gallery came after I met two people who were instrumental in having the gallery open. One is an artist called Ruby Benzarin. I met her at Alchimia. She was a TA. She's from Thailand, but she was working at Alchimia after she graduated. We met there, and she moved back to Thailand just about the same I started thinking about opening up a gallery. 
Another person is an artist who was teaching in the U.S. in San Diego and just returned to Thailand at about the same time. His name is Towissa Manserrat. 
Sharon: I won't try to pronounce that name. 
Atty: We met up. Towisa was teaching in a university, and Ruby was thinking about opening a school for contemporary jewelry art more for hobbyists and non-official students. The three of us got together and I was like, "O.K., let's do this. I'll promote contemporary jewelry art to the general public. Towissa would work in the formal education areas, and Ruby would work on the informal education side." So, the three of us would try to lift up the profile of contemporary jewelry arts in Thailand. That was why we opened the gallery.
At the beginning, I got support from local artists. At that point in time, it was rather new. People didn't really know what contemporary jewelry is all about, so I worked with about 11 Thai artists to begin with and some young artists in Europe I met through fairs and what not. Surprisingly, some big-name artists also approached me to have exhibitions at the gallery. 
Sharon: Wow!
Atty: Yeah, I was surprised.
Sharon: They probably saw this as an opportunity to be in an area of the world where nothing had been happening.
Atty: Right. For me, it was intriguing to be approached by artists. I thought galleries would have to be doing all the work of approaching artists, but reality is the other way around.
Sharon: Wow! Do you still have those partners you started with?
Atty: I still represent Ruby as an artist at the gallery. She still has her jewelry school. Towissa quit his job in the university. He has shifted his focus to performance arts now, so I haven't been working with him for two years now.
Sharon: I'm curious, because you mentioned conceptual jewelry in Europe versus the U.S. In your eyes, from your perception, what was the difference? I'd be curious to hear.
Atty: Nowadays they're getting closer together. When I first started, it was quite different. In Europe, they're more into new materials, non-precious materials. In the U.S., I think it's still more craft-based with metal. That's the one thing I noticed. The wearability is a bit different also. In the U.S., more wearable pieces would be better. In Europe, there are very large, avant-garde pieces that attract more attention.
Sharon: That's interesting. In reading about your philosophy and your gallery, you mentioned you look for strong, conceptual work. What does that mean to you?
Atty: In Thailand, we have a strong tradition of decoration and ornamenting. That is something we see quite a bit here in Thailand, so I want to step away from that. I'm hoping to work with artists who have created their pieces based on their ideas and concepts rather than on visual cues or decorative ideas. That's why I said more conceptual.
Sharon: Do you mean more conceptual as in you haven't seen it before, or it's not derivative?
Atty: It's not like I haven't seen it before, but it's more that the integration of the ideas and the execution of the pieces go together well. The idea could be very fluffy, out in the air, very conceptual in that sense, but if the artist can capture that idea and translate it into their pieces well, I think that is what catches my attention rather than seeing something visually pleasing, but there are no strong ideas behind it. I'm more interested in the two sides, the concept and the craftsmanship, rather than just the craftsmanship alone.
Sharon: You opened the gallery in 2010. Have you seen an increase in awareness and educational interest in art jewelry in Thailand over the years?
Atty: Definitely, yeah. It's not a big jump. So many people are more aware of it, but that doesn't mean it translates into sales.
Sharon: Yes, that's a problem. A lot of your stuff is on Etsy, but it doesn't mean they'll buy it. How about art jewelry in general? You mentioned that you saw growth in the market. I was surprised, because I've heard a lot of art jewelers say "It's flat," or "It's going nowhere." So, I was interested in that.
Atty: I think in the markets where the field has been developed and established for 30, 40 years, they might have seen that trend going on, but in Thailand, it's a very new market. We've been open for 11 years, 12 years, something like that, so it's still considered fresh in our audience's mind. I think that's one reason why artists are more interested in going away from the centers, going to South America, going to other parts of the world, to Asia, because the market is still untapped in a way.
Sharon: Yeah, there's a lot of potential everywhere, but I suppose there's a lot in areas where it's just been introduced in the last decade or so.
This is a two-part Jewelry Journey Podcast. Please make sure you subscribe so you can hear part two as soon as it comes out later this week.