Episode 83
What you'll learn in this episode:
What resources Valerie used to teach herself jewelry making.

What sacred geometry is, and how it influences Valerie's work.

The process behind creating "The Gauntlet," a bracelet featuring stunning Queensland black boulder opals.

How jewelry is similar to architecture.
About Valerie Jo Coulson
Valerie Jo Coulson is an American designer whose brand is strongly defined by her personality and philosophy. She has worked as a studio jewelry designer, metalsmith and lapidary for more than 35 years. Her background is in Fine and Decorative Arts with particular interests in art history, architecture and design.
All of her pieces, unique as they are, have strong emotional and literary connections and are created first and foremost for herself, but "within the context of communicating a collective consciousness." Valerie's traditional fabrication methods and the prolific and intricate use of stone inlay, as well as her choice of materials make a strong visual impact.  
Additional resources: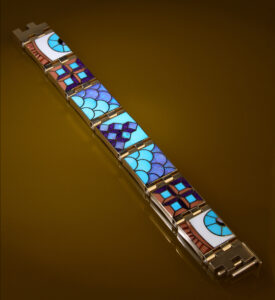 'Heaven and Earth' bracelet fabricated in 18k Gold inlaid with Australian Opal, Sugilite, Turquoise, Tiger Iron, Black Jade and Jasper.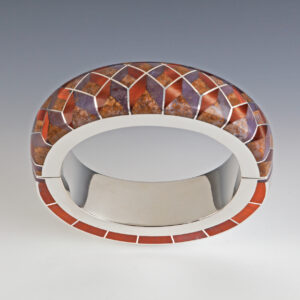 The 'Firenze' Bracelet, Sterling Silver, inlaid with Tiger Iron, Purple Agate and Cady Mountain Agate. 'Best of Show' 2017, Saul Bell Design Awards. In reverence to a nearly lifelong enchantment with the artists and architects of Florence Italy, cradle to the Renaissance.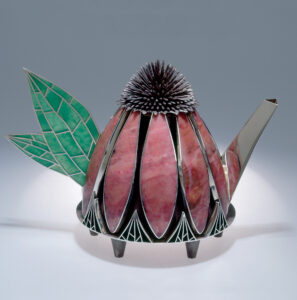 'The Echinacea' Teapot and Trivit, Sterling Silver with oxidation, inlaid with Pink Rhodonite and Chrysoprase. 'Second Place' Holloware/Art Objects, 2019 Saul Bell Design Awards. The seen and unseen order of nature and the cosmos; interrelation and interdependence.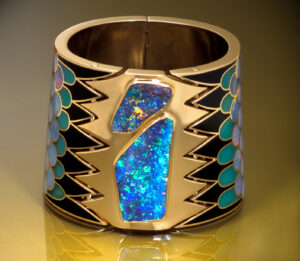 'The Gauntlet' Cuff, 22k Gold, 14k Gold (inner band fabrication), Queensland Black Boulder Opals, Ruby, inlaid with Black Jade, Chrysoprase, Coober Pedy Opal and Almandite Garnet.